Two very happy (and very full) bloggers
A few weeks ago, I was contacted by Katrina from Eating London about joining one of their tours. If you've been reading this blog for a while, you may have noticed that I haven't accepted many tours or trips; it's just a personal thing. After reading Tom's post about the same tour, though, and when I realised that the tour would take place in my neighbourhood, East London, I became very, very intrigued. Since moving to London I've decided that I'd like to do a bit more "backyard blogging", which is writing about the place in which you live. As I live in the best city on earth, and in the best neighbourhood in the best city on earth, this means writing a lot more about East London and how much this part of town has to offer. And yes, the rose-coloured glasses are still firmly on, thanks.
My good friend Alyssa and I met our guide Nicole on a sunny Wednesday. I was expecting a food tour of East London – what I got out of it was so much more. While Eating London graciously hosted me on this tour, make no mistake: I would have paid full price, and then some. In all my travels, I've done a lot of so-so tours, a few terrible tours, and a couple of absolutely fantastic tours. This one definitely falls into the latter category, and I can't recommend it enough.
But enough of that. Let's talk food.
London isn't exactly known for its food, at least not to those who either a) have never been to London or b) visited London but stuck to the major tourist areas (and probably ate at an Angus Steakhouse at some point). The truth is that London is an incredible culinary jackpot, full of cuisines from around the world that are crafted with equal parts technique and love. The eight stops that the Eating London tour takes you on showcases some of the best, and you learn how the history and the culture of East London have produced some fantastically unique dishes. Nicole, one of the best tour guides I've ever met, researched and wrote the tour herself, spending over three months reading and eating (not a bad three months). The result is a tour that is just as fun as it is informative.
1st Stop: St John Bread and Wine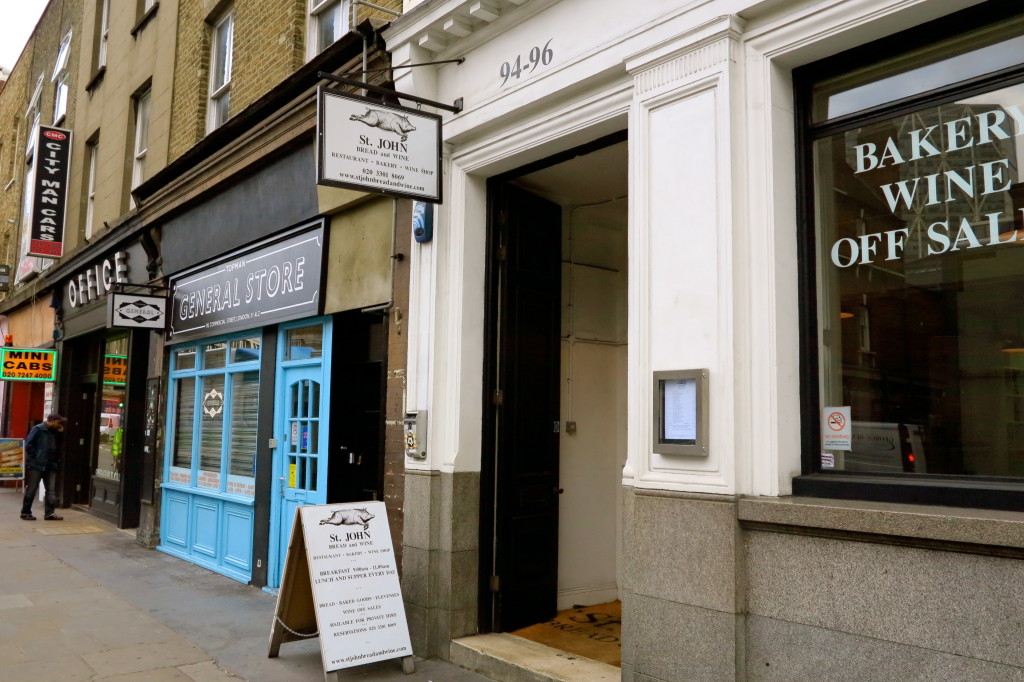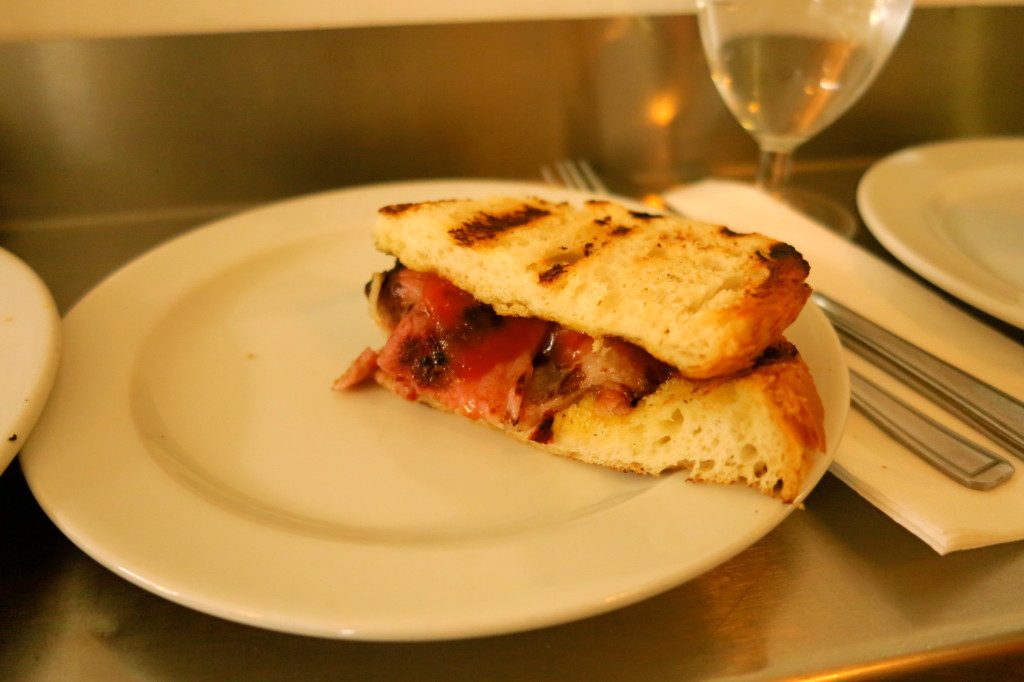 I have walked by this restaurant many times, and had always wanted to try it. Now that I've actually tasted the glory that is their bacon sandwich, I will be sure to visit many times in the future. St. John is known for their nose to tail technique, meaning they use every single part of the pig. In an age when we waste too much food, I love this idea. While the menu changes every day, and they're known for their experimental dishes, this seemingly simple bacon sandwich remains a staple. The meat is cured in brine for two weeks, the bread is char-grilled and buttery, and their homemade ketchup is to die for. I am making a huge mistake writing this at breakfast time, because my stomach is growling for one of these right now.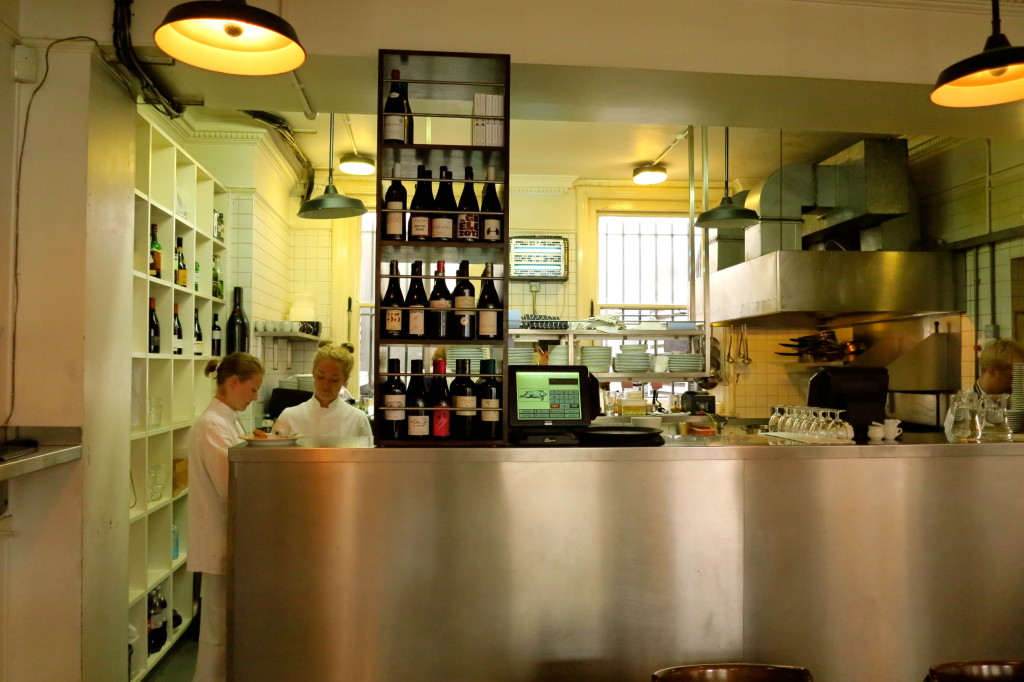 2nd Stop: The English Restaurant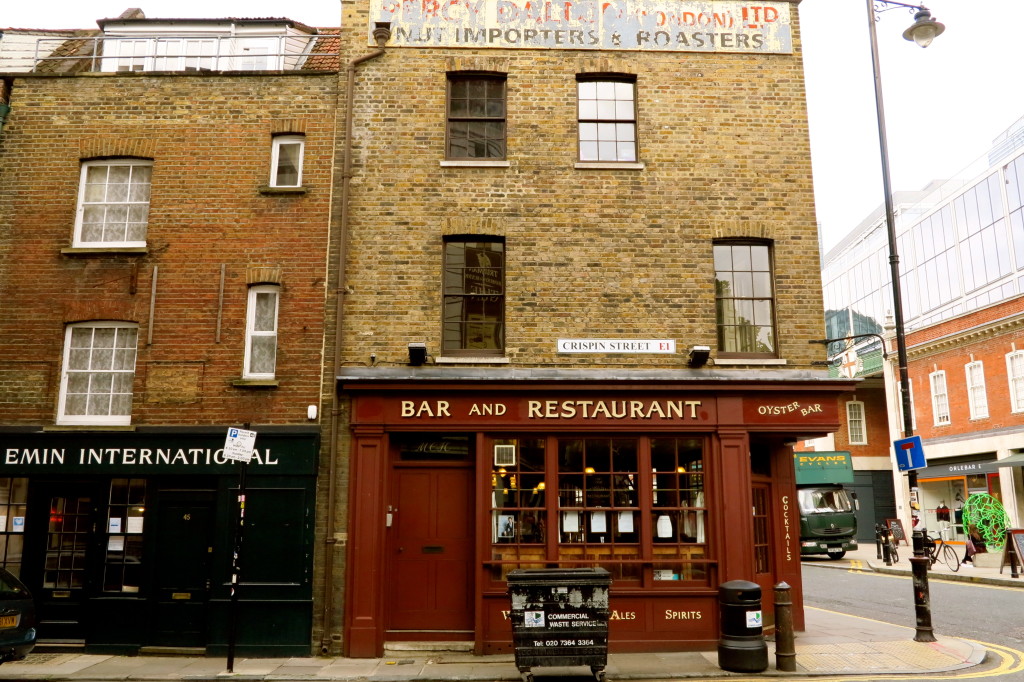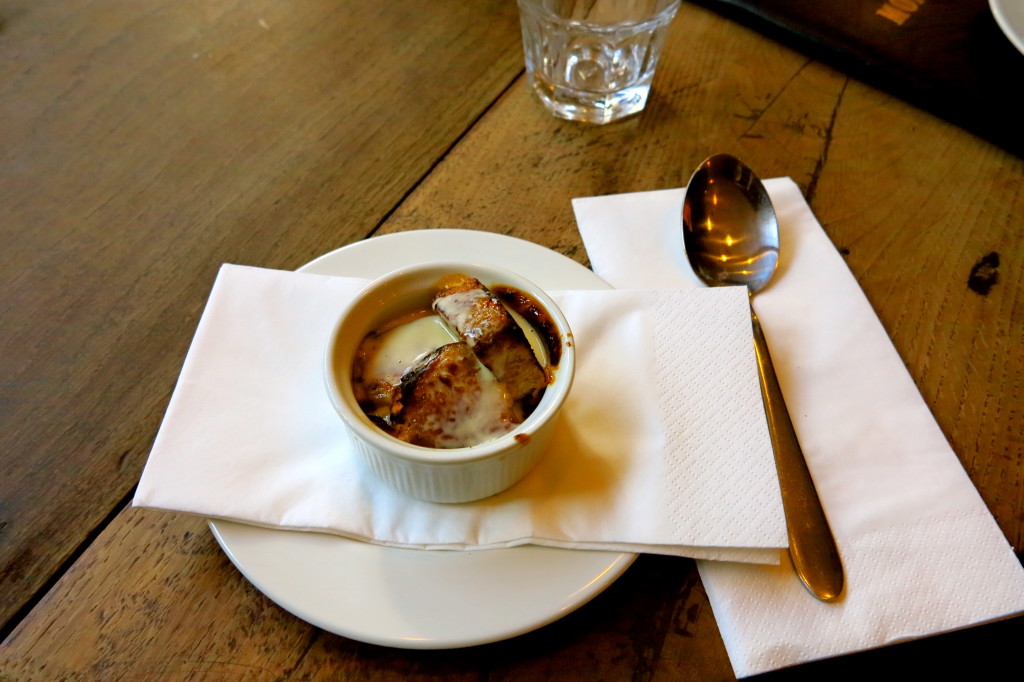 Full confessional here: I have never liked bread pudding. My family has this fascination with a certain blueberry bread pudding at a restaurant in my hometown, and I never indulge. In the name of getting to know my neighbourhood, though, I gave the banana bread pudding with vanilla rum cream at The English Restaurant a go. And…oh my God. I like bread pudding now. I love it now. I am terrible at describing food, so I don't know exactly what it was that made it so delicious, but I am kind of obsessed with this pudding. The restaurant itself has a ridiculously fascinating history, with many transformations in its past; now, it hosts some of the 17th century wood panelling salvaged from the church down the road after it flooded. It even has pews! I'll definitely be back at this place.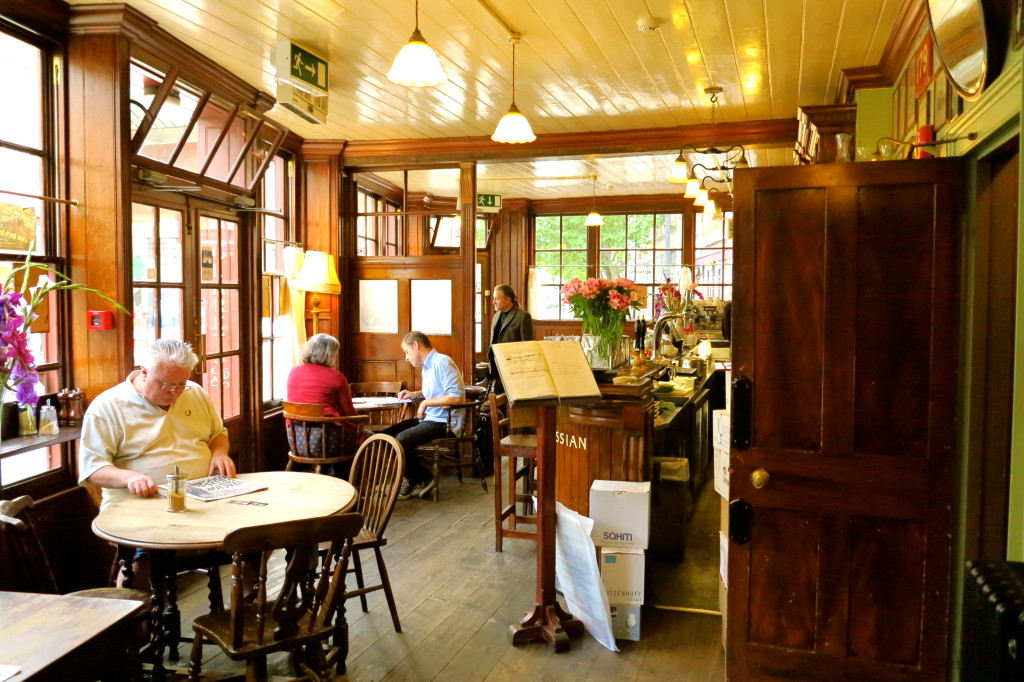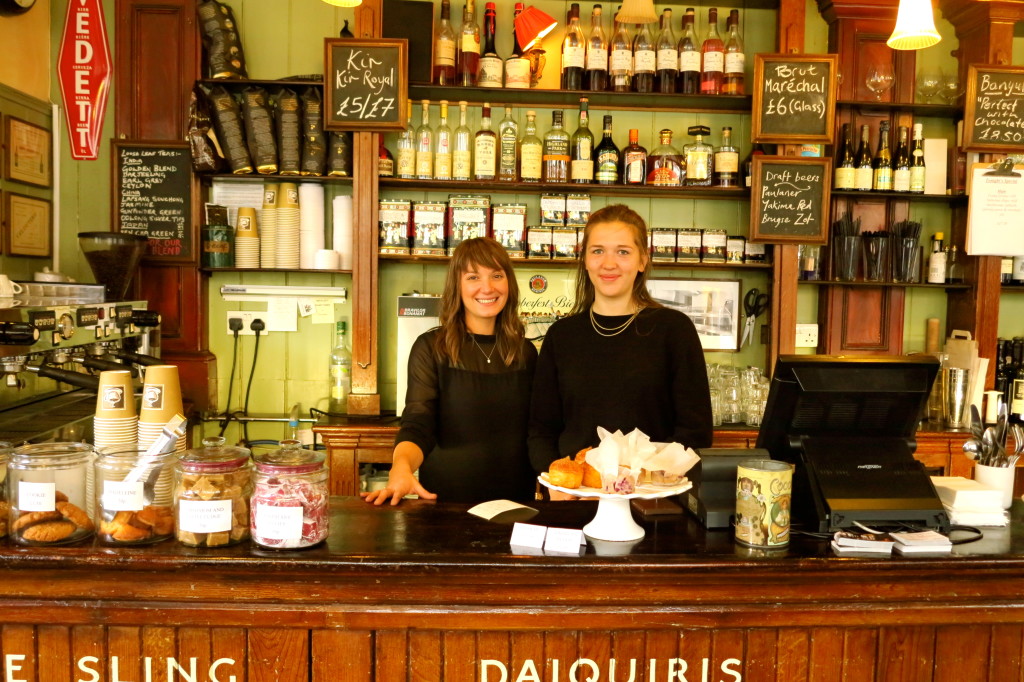 3rd Stop: Androuet London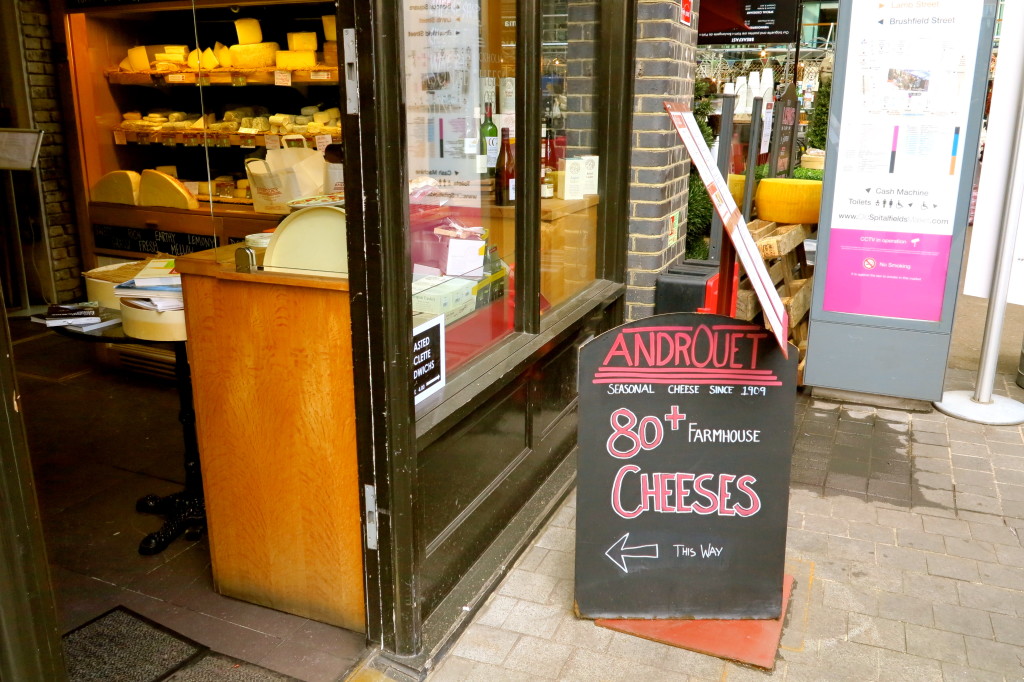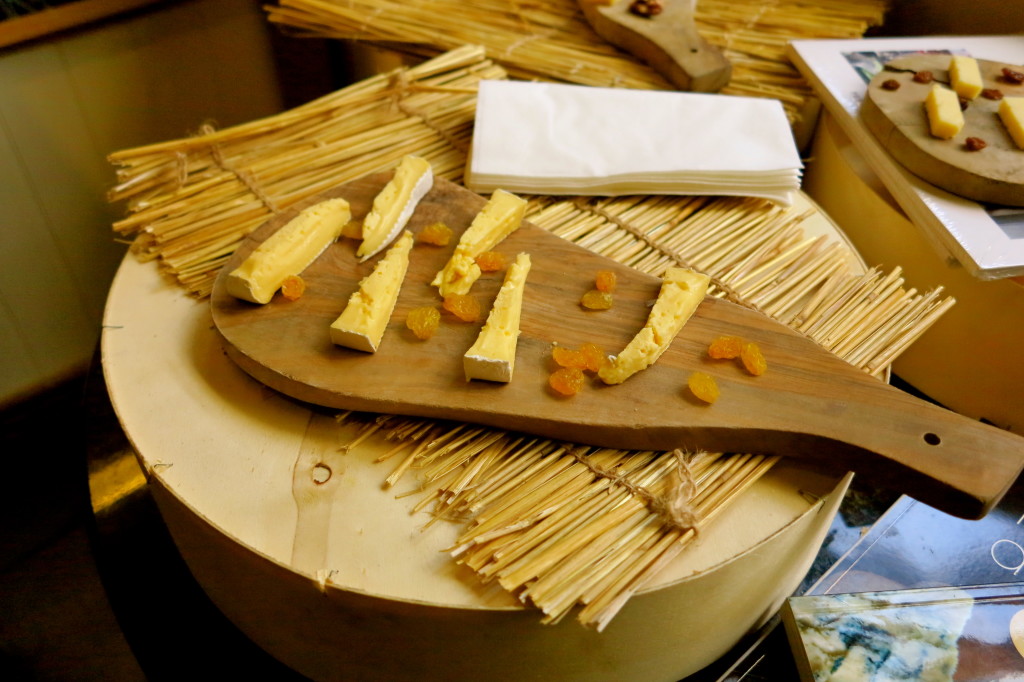 Cheese is my favourite food, and I eat some form of it every day. So when you take me to a cheese shop with its own maturing room, I am going to be in heaven. Androuet has roots going back 100 years, starting in France, and it has since made a home in Spitalfields Market. Though they have plenty of French and international cheeses, they also showcase some of the best cheese that England has to offer; cheesemaking is an art, and Androuet have certainly mastered that art. Perhaps I really am becoming too English for my own good, but their Stilton was one of the absolute best I have ever tasted. I'm so thankful to have found my local cheeseshop.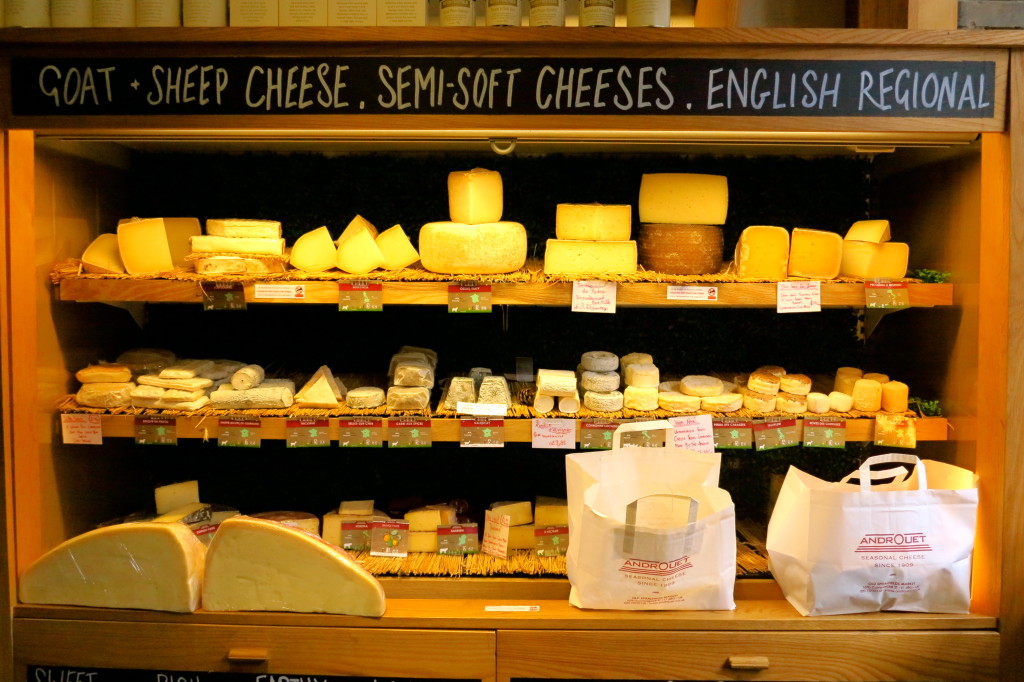 4th Stop: Poppies Fish and Chips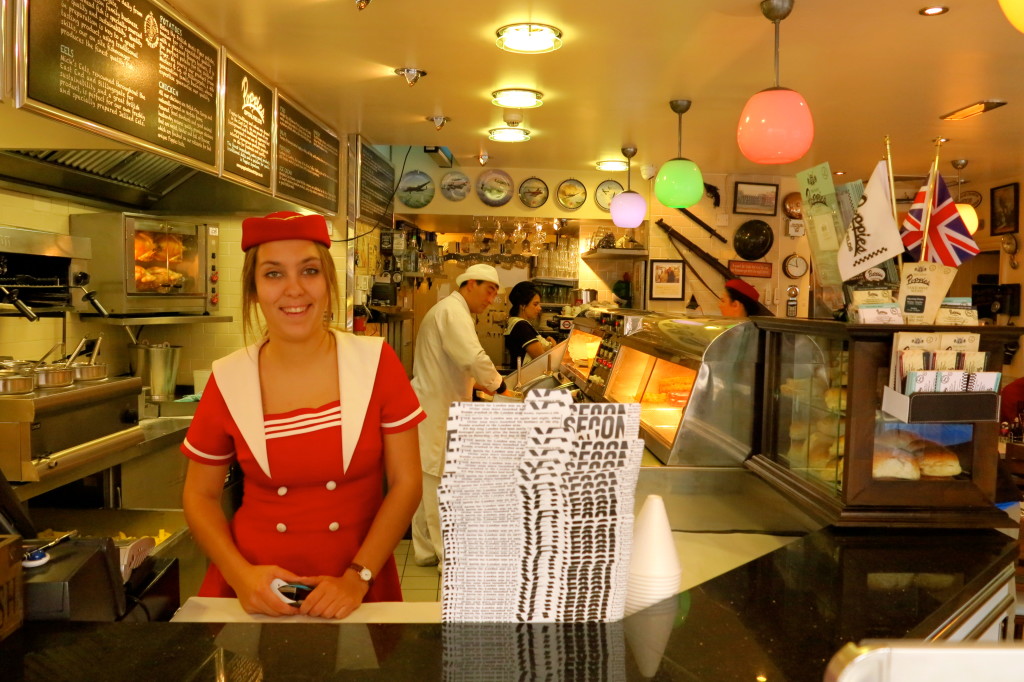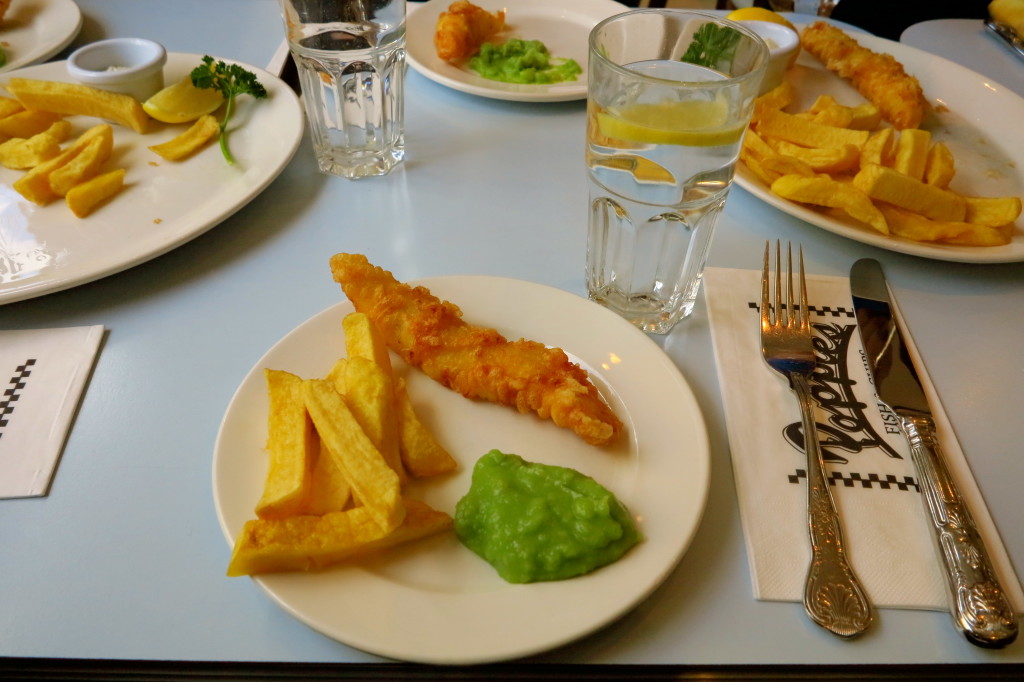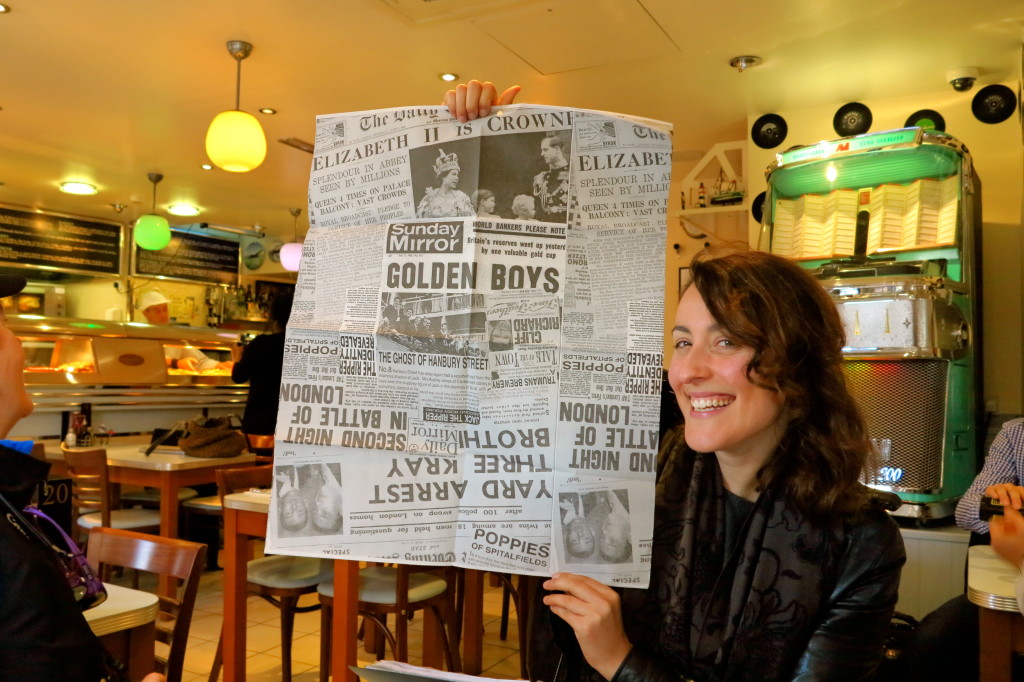 Our lovely guide Nicole with one of Poppies' newspapers – as all fish and chips should come wrapped in newspaper!
You can't have a food tour of London and not include fish and chips. With over 10 000 shops in the UK, the food is ubiquitous to the country. But with that many, how do you find the best? Enter Poppies, a shop that has been running in London since 1945. It has a distinct 50s flair to it, with uniforms, a jukebox, and plenty of nostalgic items scattered throughout. What really defines Poppies, however, is the quality of the food: only the finest fish is served here, and it is all sustainably caught. While I am no expert on fish and chips, the plate of cod, chips, and mushy peas was, for lack of better words, awesome. I've walked by this shop a few times and it is always packed; now I know why.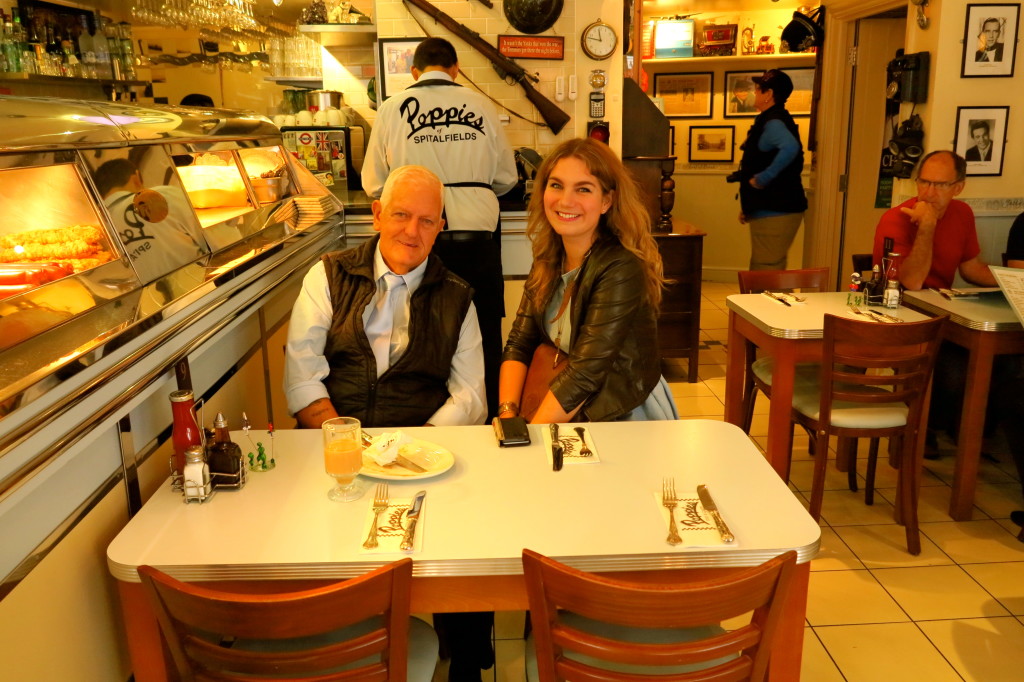 I even got to meet the man himself – Pop!
5th Stop: Pride of Spitalfields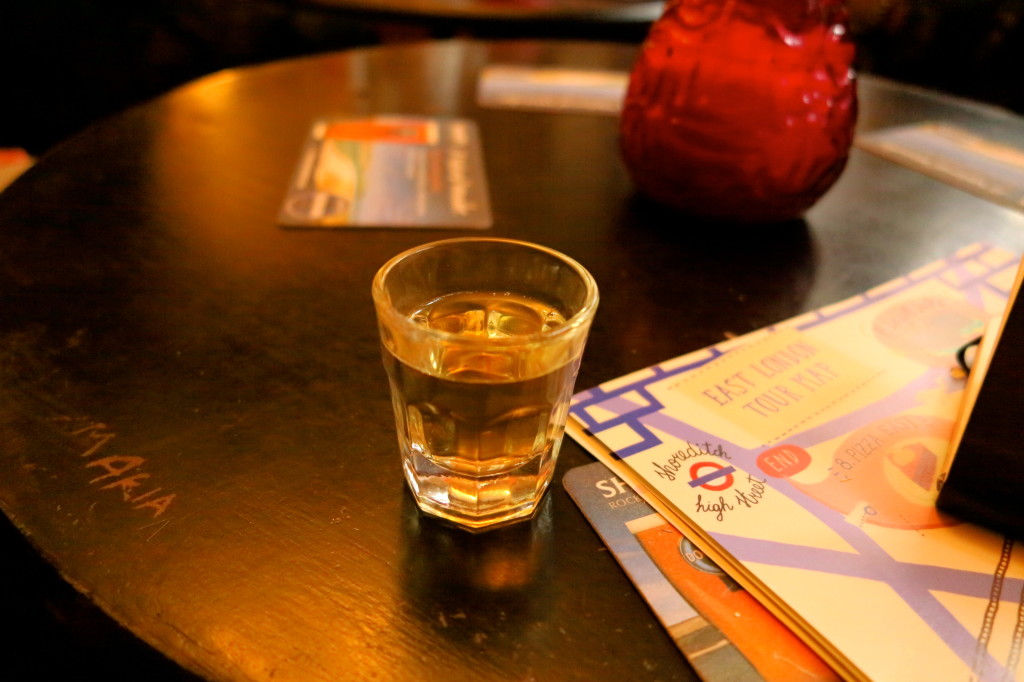 Since moving to London six weeks ago I haven't visited that many restaurants. I have visited, however, a great many number of pubs. Ah, that classic English pub: the image is iconic. One of the best in East London is the Pride of Spitalfields, where we indulged in a few sips of some local beers. First, a Truman ale, and second, an Orchard Cornish cider, which is made with 90% fermented apple juice. Ale, lager, cider: I absolutely love all kinds of beer, and so it's always a treat to try local brews. The fact that this pub has a resident cat (Lenny, who is famous in his own right), makes it the perfect place to spend a Sunday afternoon.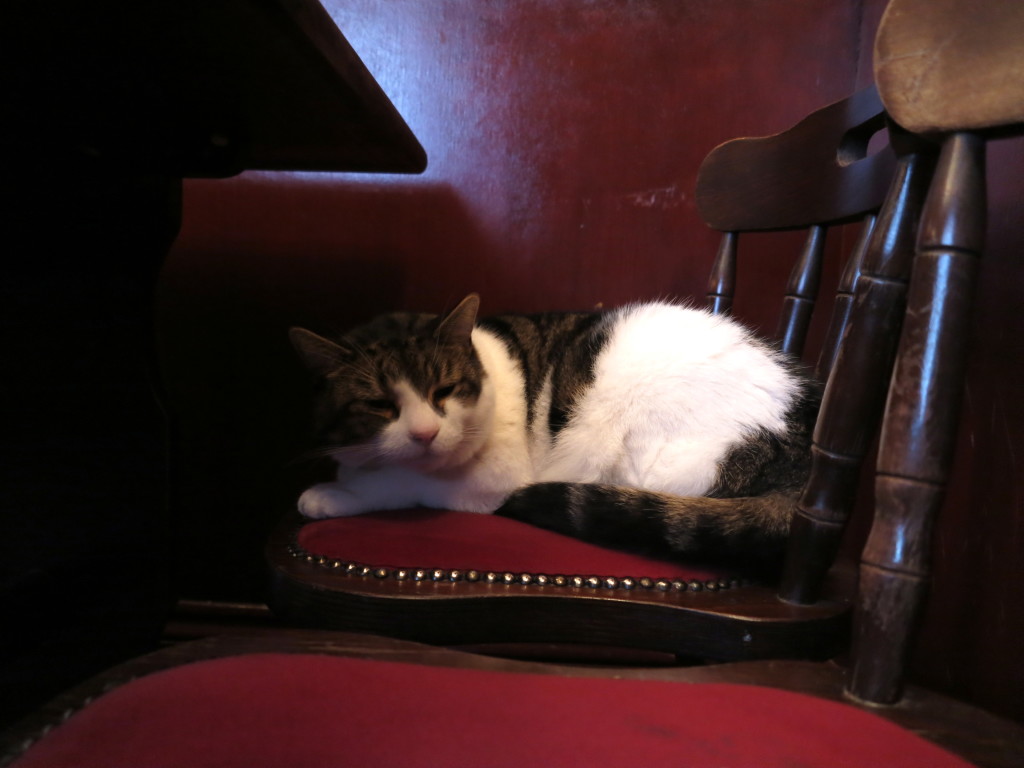 6th Stop: Aladin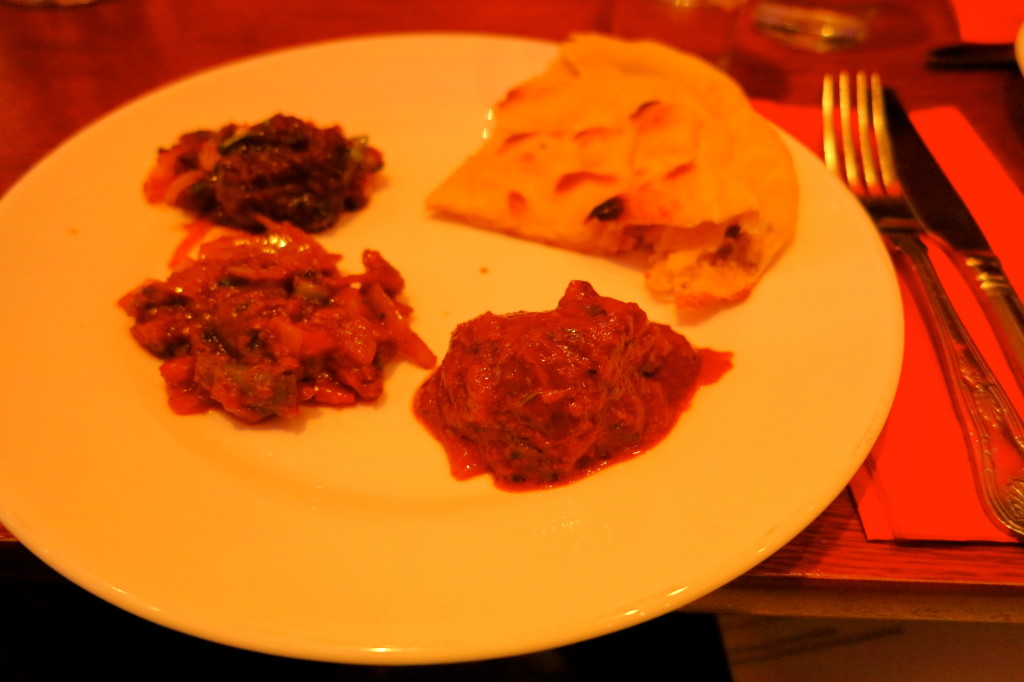 Forget bubble and squeak, bangers and mash, jellied eels or Yorkshire puddings, the real national dish of England is…curry. With over 15 000 curry restaurants in the UK, you're sure to try it at least once if you visit. Though I've walked down Brick Lane a thousand times, I've never gone into one of the curry restaurants (you'll find out why in a moment). I am so glad that Nicole took us to Aladin, though, because now I know which one to choose of the dozens that line the street. There's a large Bengali population in East London, and so there are plenty of restaurants to choose from, but Aladin seems to be the best. With a taster of vegetable bhuna, lamb pathia, and chicken madras, each of the curries was full of flavour. My favourite was the lamb pathia, so I'm sure to be back to get a whole dish of it.
7th Stop: Beigel Bake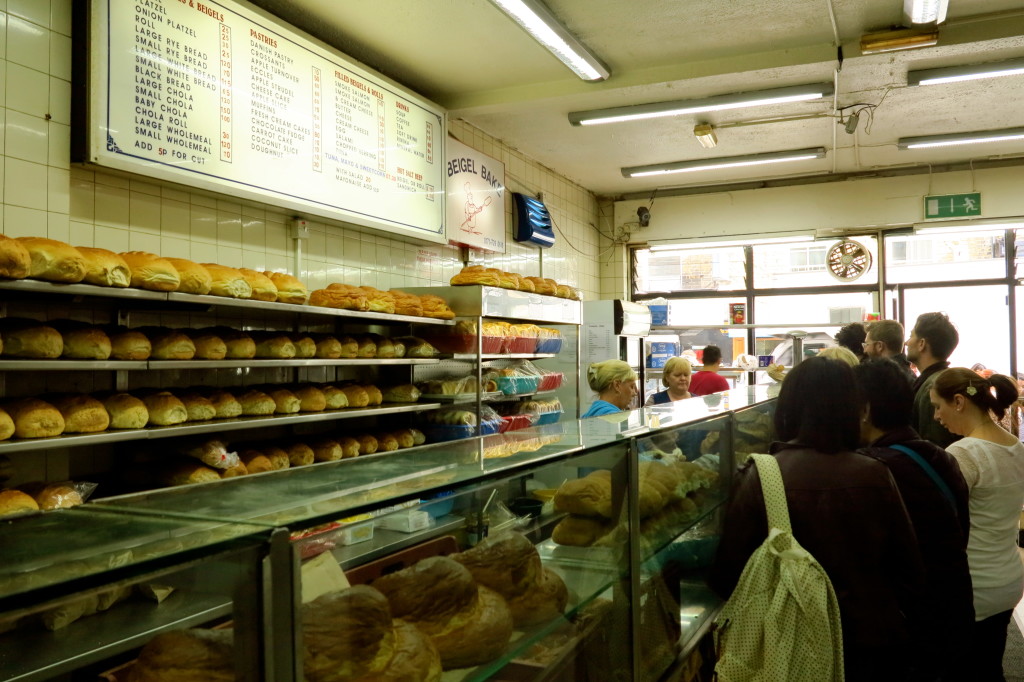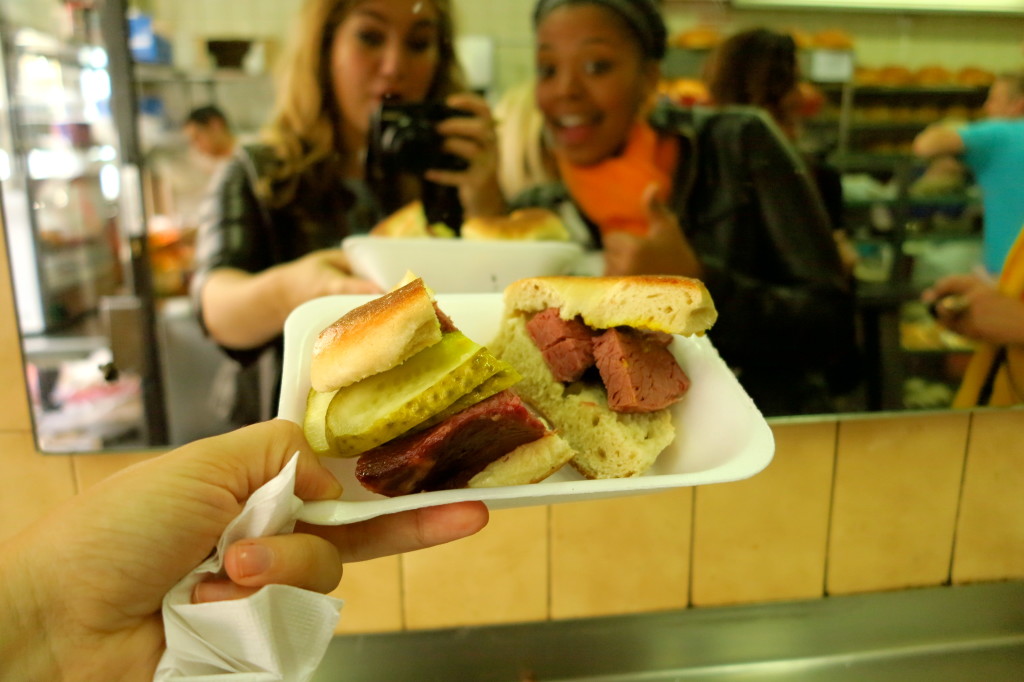 Remember when I said I had never been into a curry restaurant on Brick Lane? Beigel Bake is to blame. Every single time, I repeat, every single time I walk down Brick Lane, I buy something from Beigel Bake. I buy all of my bread from there. I buy my tea from there. I buy my "afternoon salmon and cream cheese bagel snack" from there. I buy my "it's 4am and I'm super drunk and yum bagels!" bagel from there. What can I say? I love it. It made perfect sense for us to visit, as their hot salt beef bagels are so delicious it should be a crime to serve them; the beef actually melts in your mouth. The shop's roots trace back to the times when East London was a home to many Jewish families. An absolute institution in East London, you simply must try a bagel from Beigel Bake for yourself. Just be prepared to queue, no matter what time of day or night.
8th Stop: Pizza East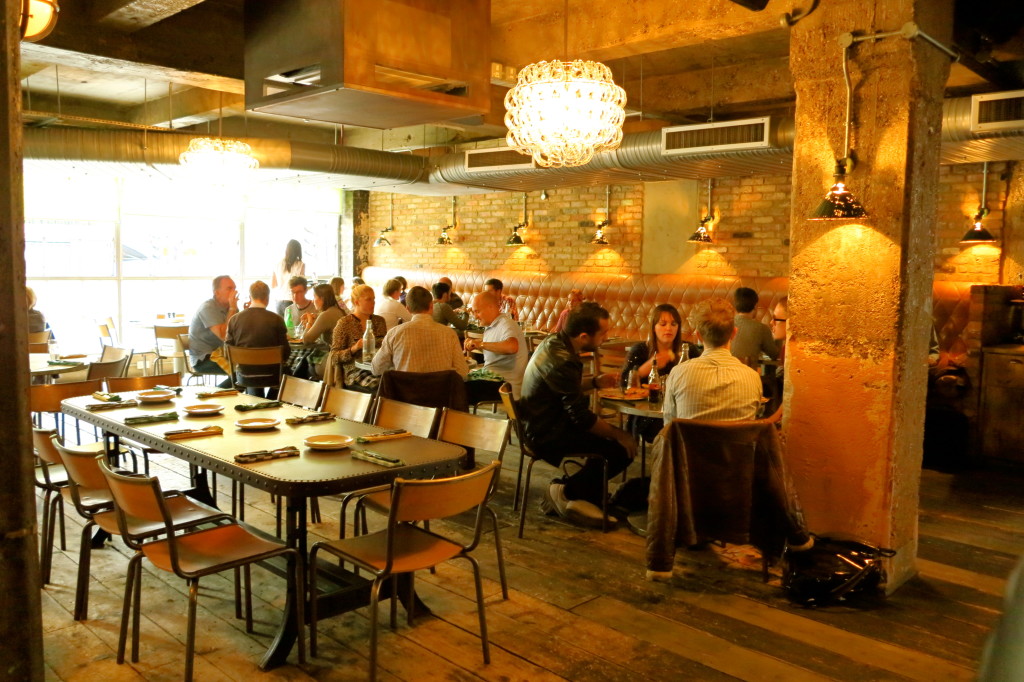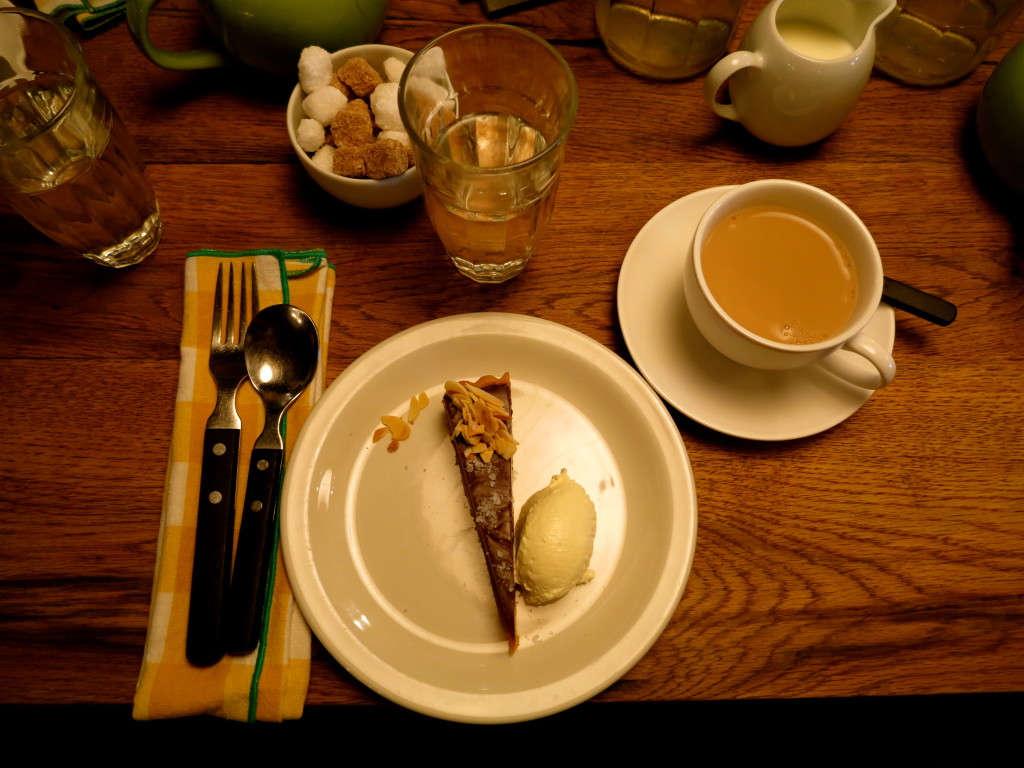 Pizza East is located in an old factory, and I'm so glad that I finally went inside; it's located only 15 minutes from my flat, and I always wondered what was behind its doors. Though I'd love to try a full meal there, by this stop we were so stuffed that we only had room for dessert. Oh, but what a dessert. Perhaps my favourite kind of desert, if I may be so bold. A salted caramel and chocolate tart, so good that I think I actually "mmm"ed after each bite. Chocolate and salt is one of my favourite combinations (I even learned how to make my own salted chocolates in Guatemala last year) and this tart was absolutely divine. I thought there was no way I could finish that sliver of cake after all of the other meals, but in the end I'm sure I could have downed a piece at least four times the size. Nay, five times the size. It was that good.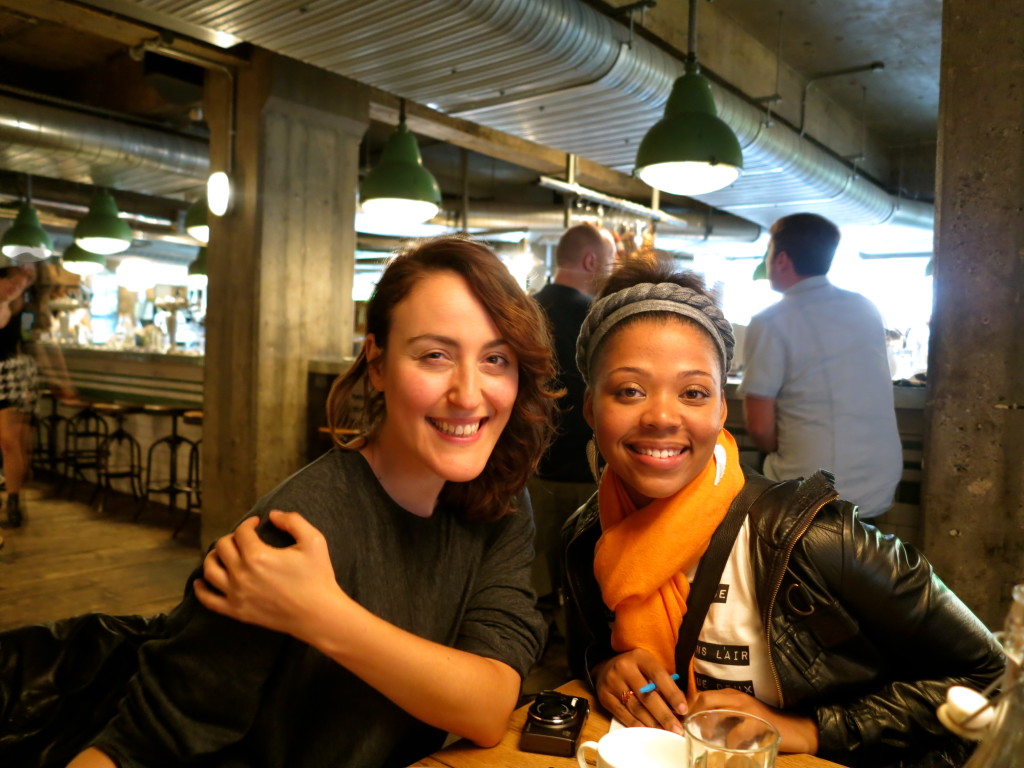 Nicole and Alyssa
As I said in the opening, this tour was one of the best I've ever been on, if not the best. Aside from the delicious food, we got to learn about the history of the area, and why certain restaurants opened where they did; it was fascinating to learn how different cultures all made their mark on East London throughout the years. Nicole certainly knows her stuff, and it was a tour of every aspect of the area. There's even a little Jack the Ripper thrown in for you murder mystery fanatics.
I suppose the true test of a good tour is if I would want to do it again. In this case, I am in fact doing it again in November, with my mum. Whether you're a local Londoner or just visiting for a few days, I highly recommend the Eating London tour. And tell Nicole I say hi!
You can also follow Eating London on Facebook, Twitter, Pinterest, and Instagram. Or, check out their food blog.
What do you think? Which of these meals looks the best to you? Would you like to do this tour?