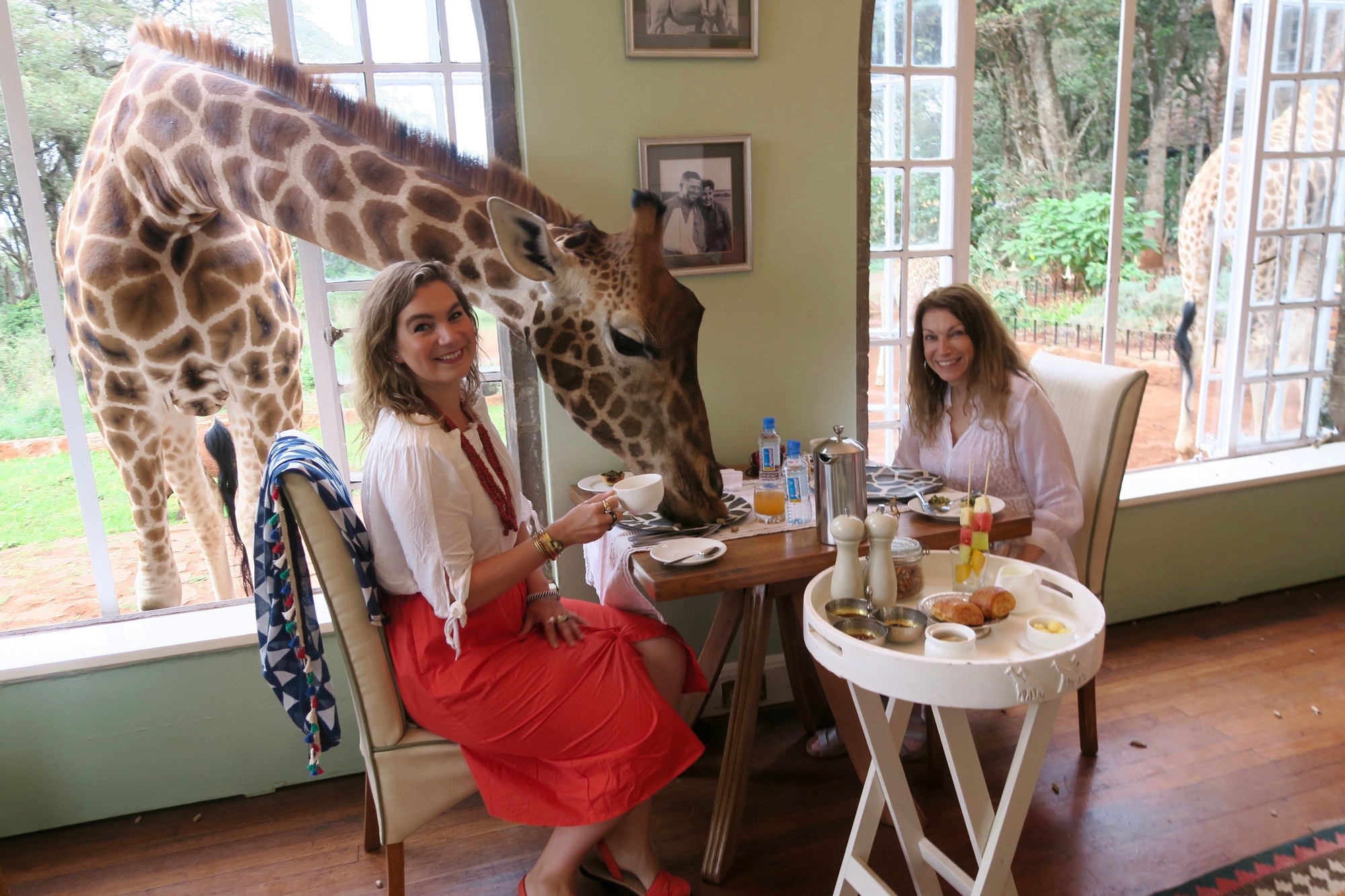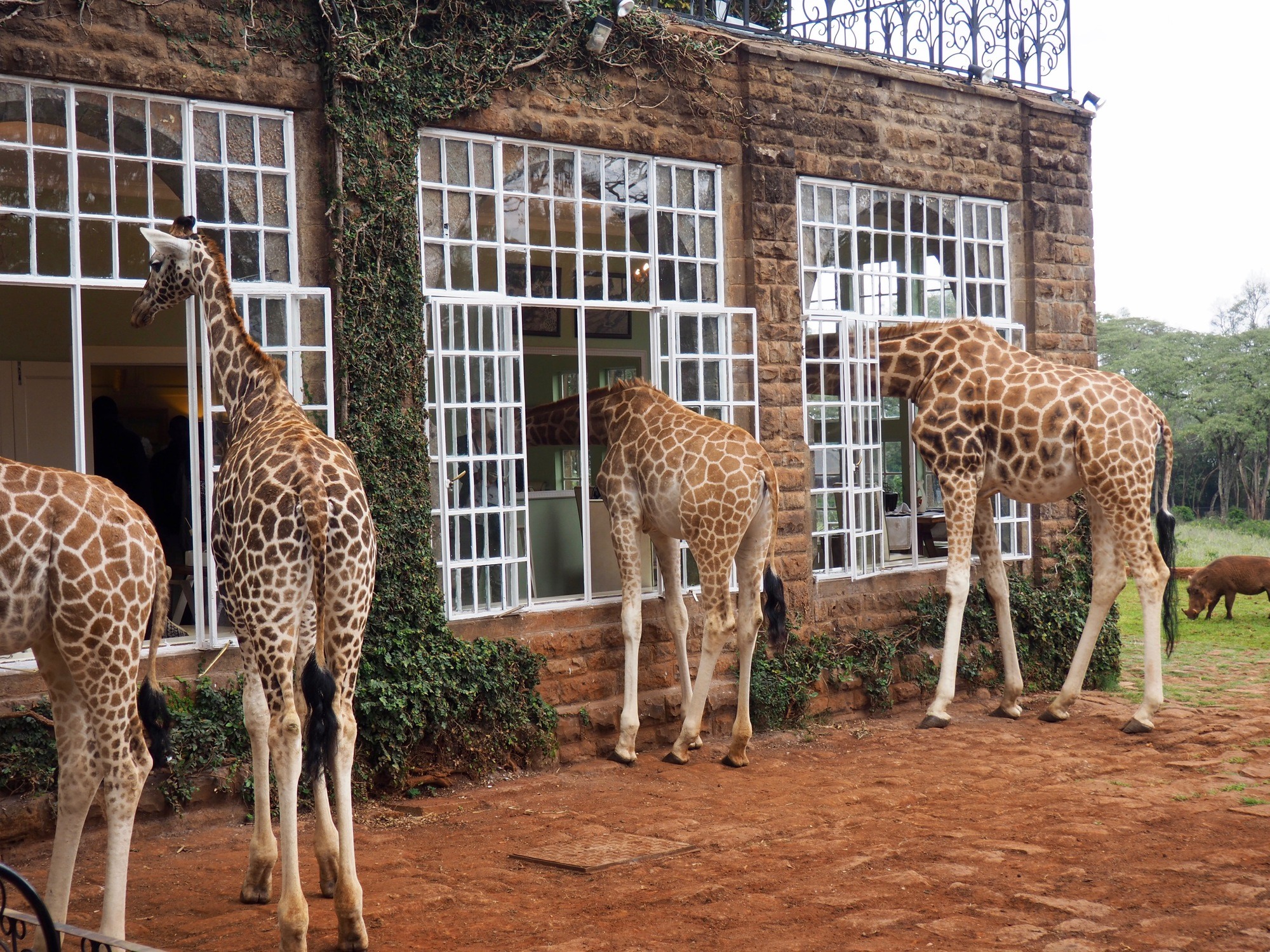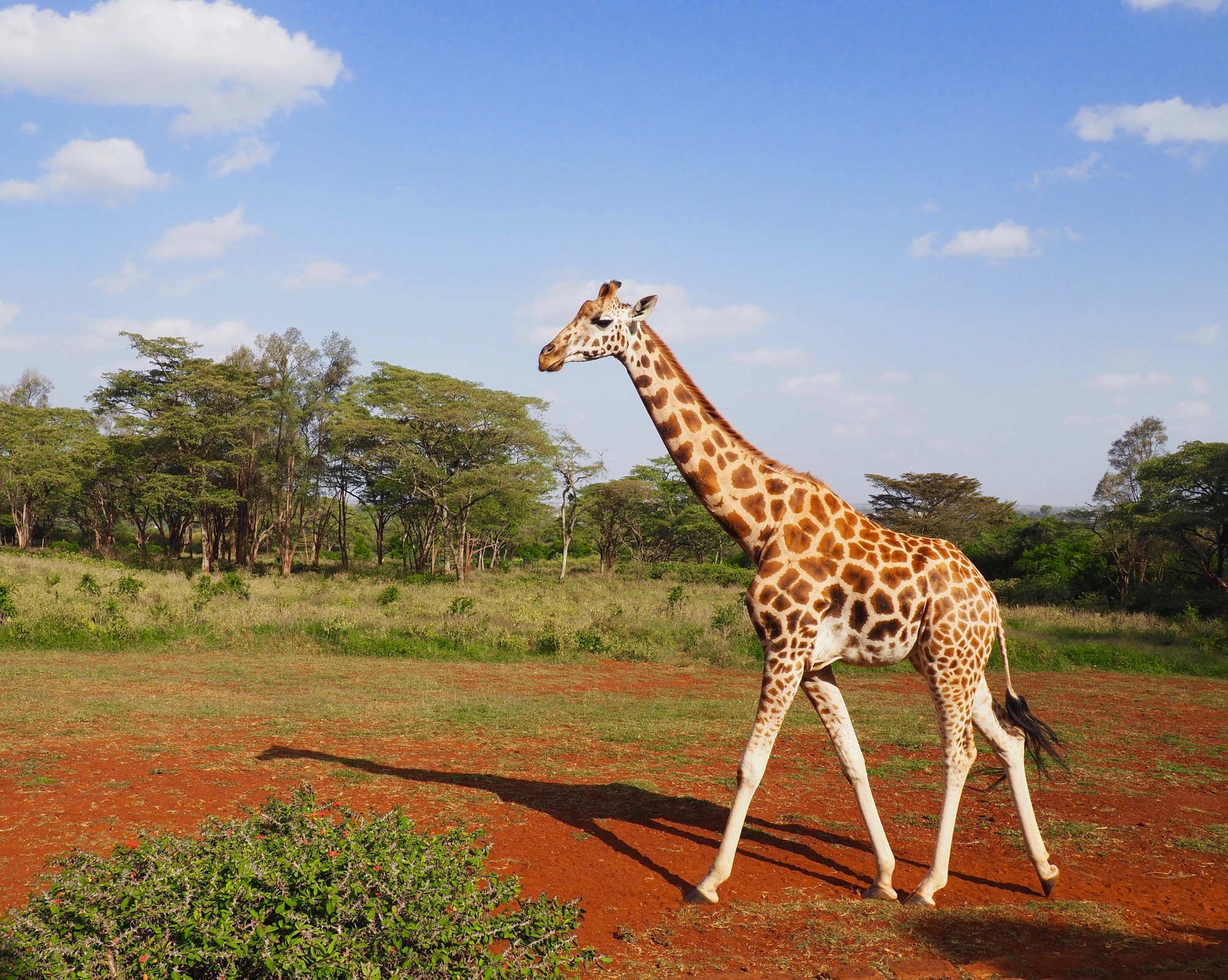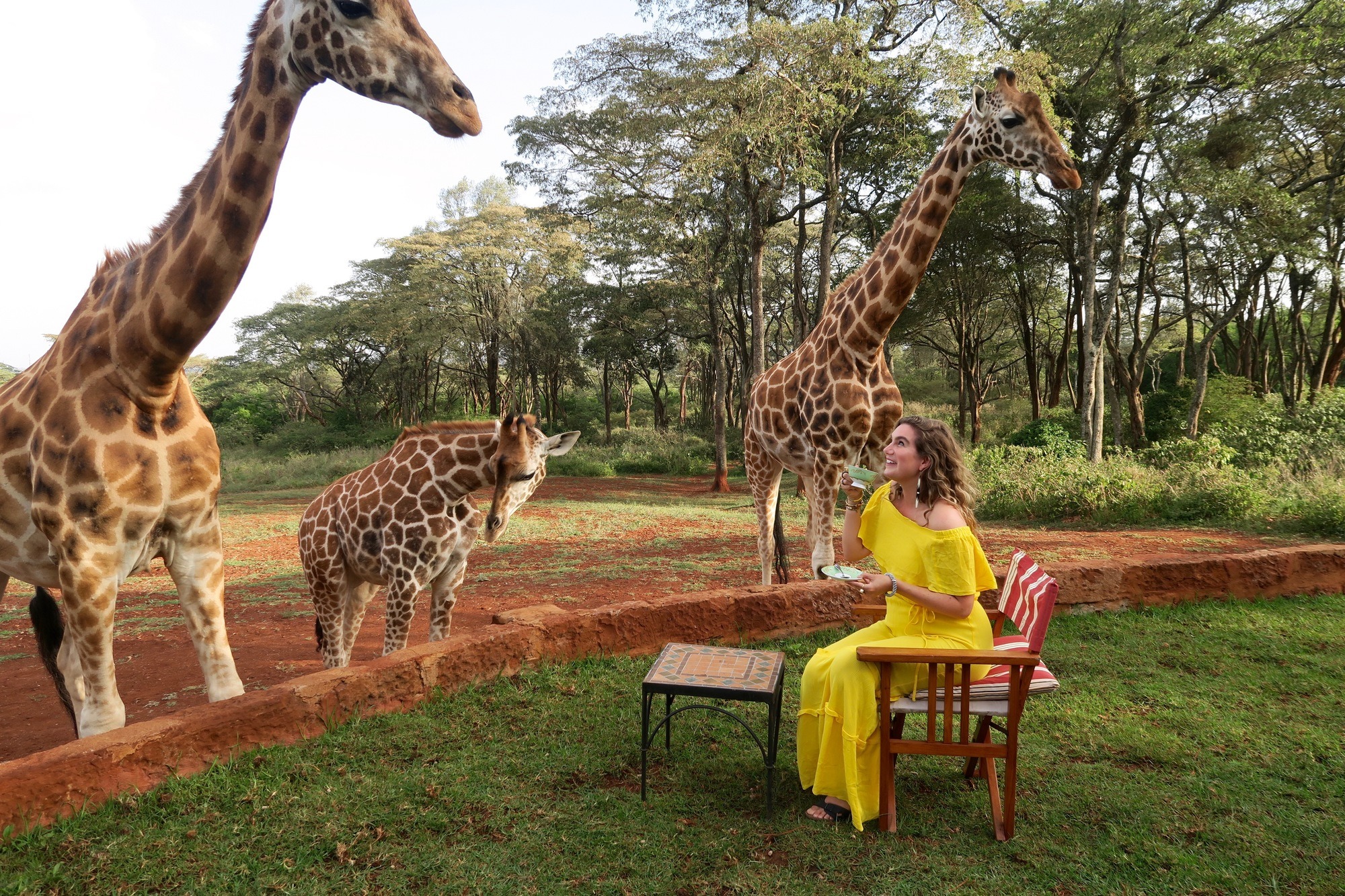 As some of you may know, this summer I spent six weeks travelling through East Africa, seeing parts of Kenya, Rwanda, Uganda, and Tanzania. While there are many, many incredible experiences I've yet to cover on this blog (safaris! hot air ballooning! gorilla trekking!!) there's one experience I've noticed people keep asking about again and again, whether online or in person. That experience is staying at Giraffe Manor in Nairobi, Kenya.
You may recognise the photos before you recognise the name; I mean, where else in the world can you eat breakfast while a giraffe pokes her head in the window to say hello? Staying at Giraffe Manor is high on many people's dream travel lists – as it was mine – and in this blog post I'd like to share my experience staying there as well as answer the questions I seem to get the most, which are: Giraffe Manor costs how much?! And… is staying at Giraffe Manor really worth the cost?!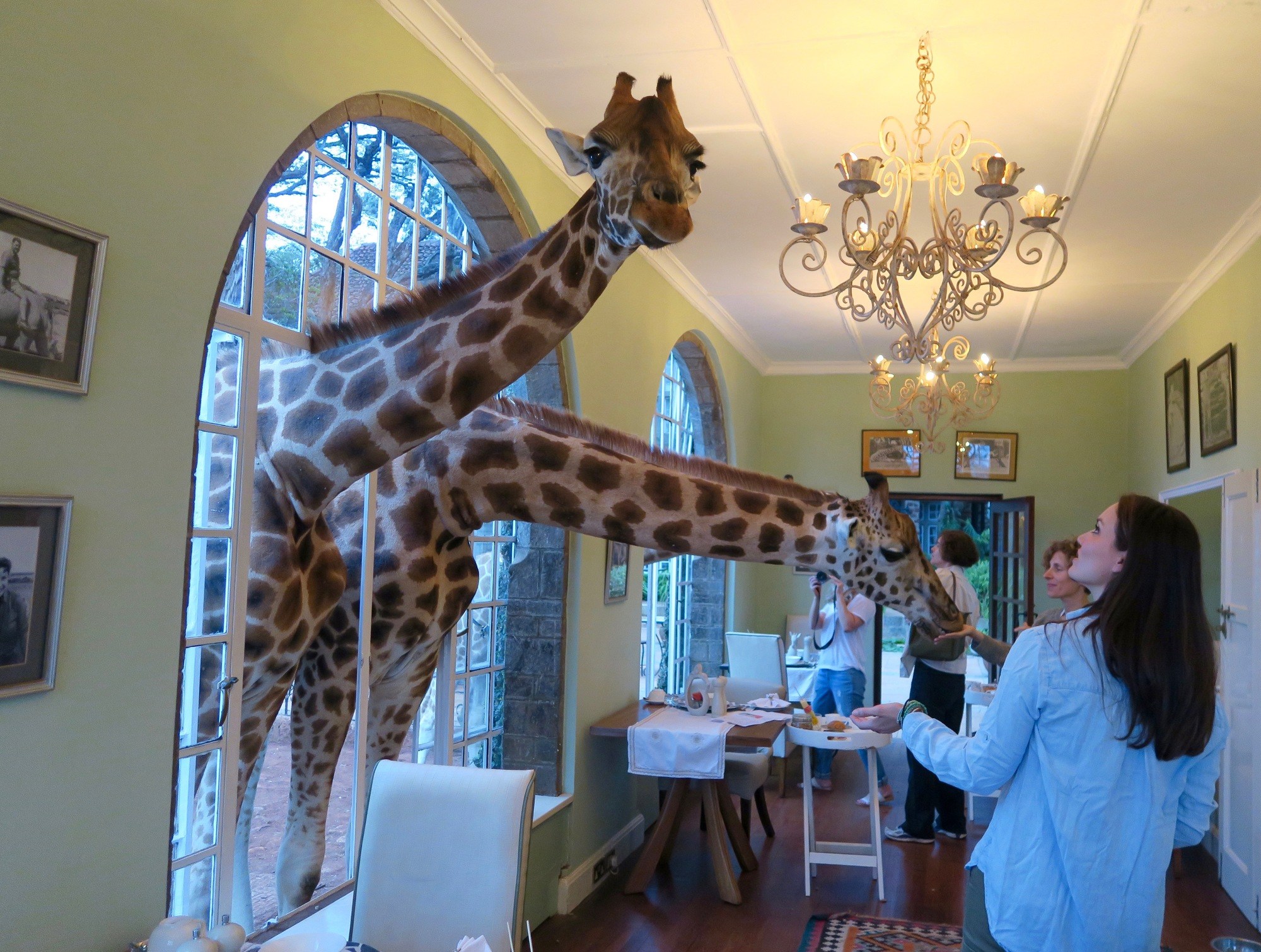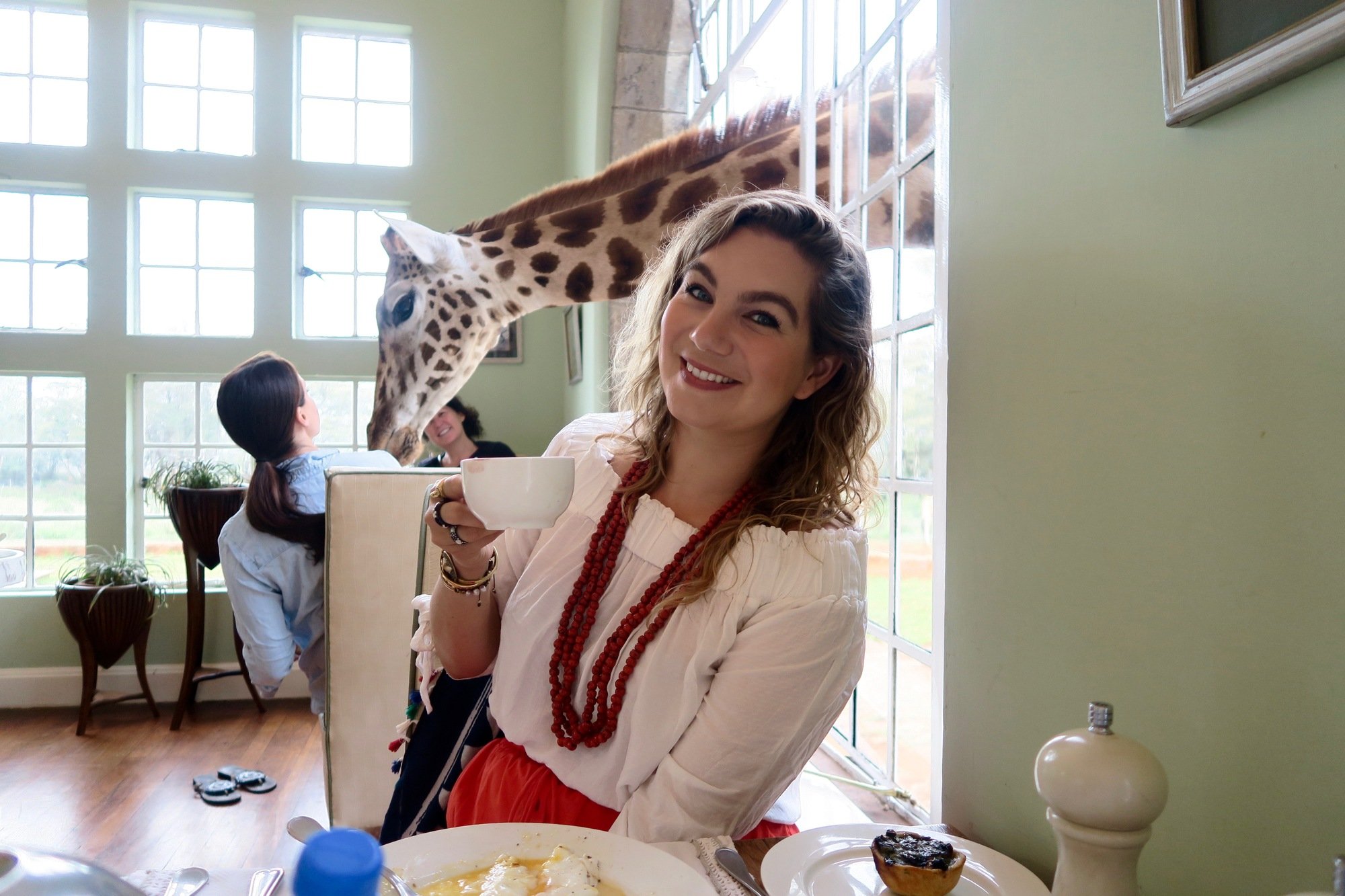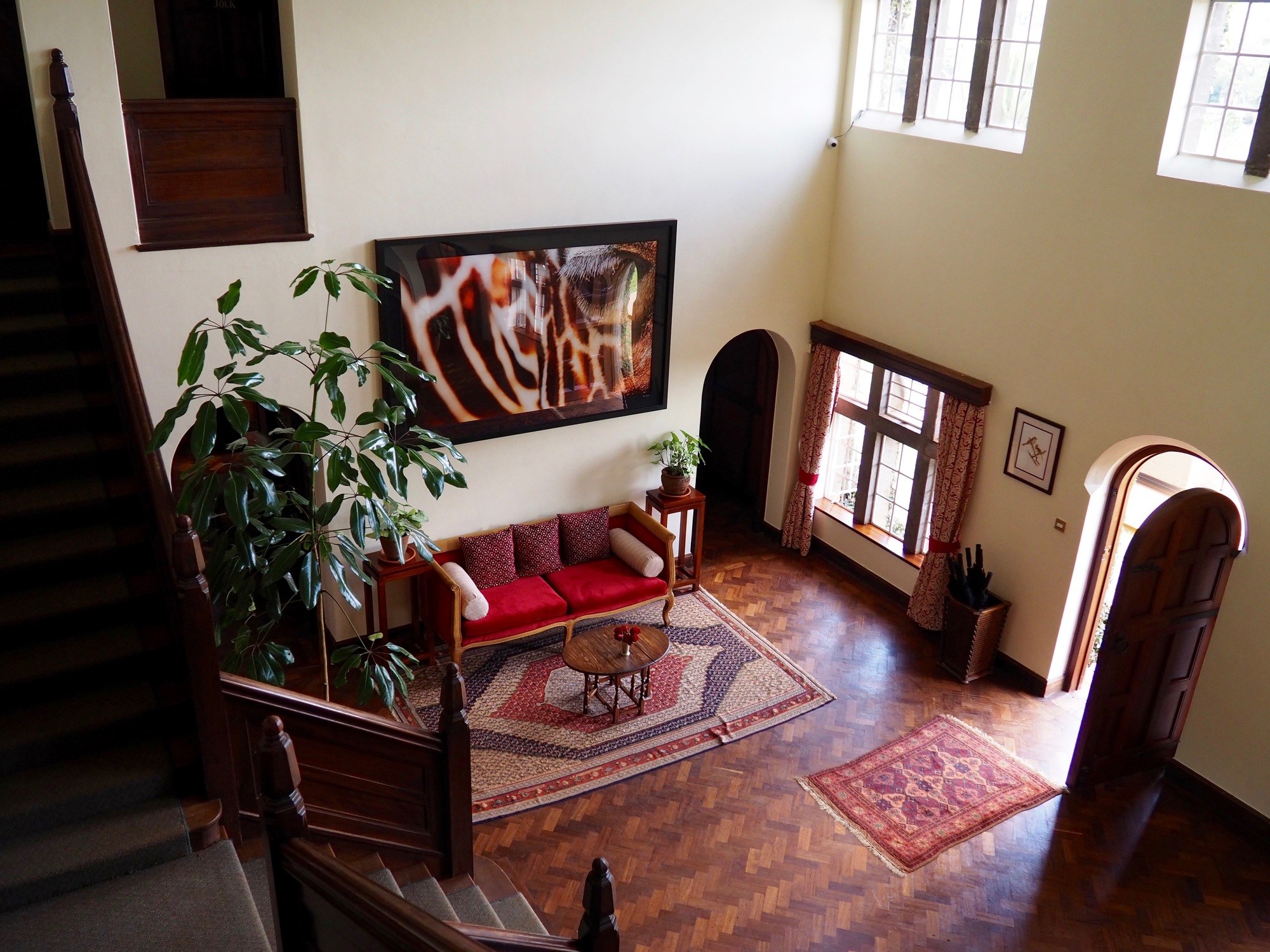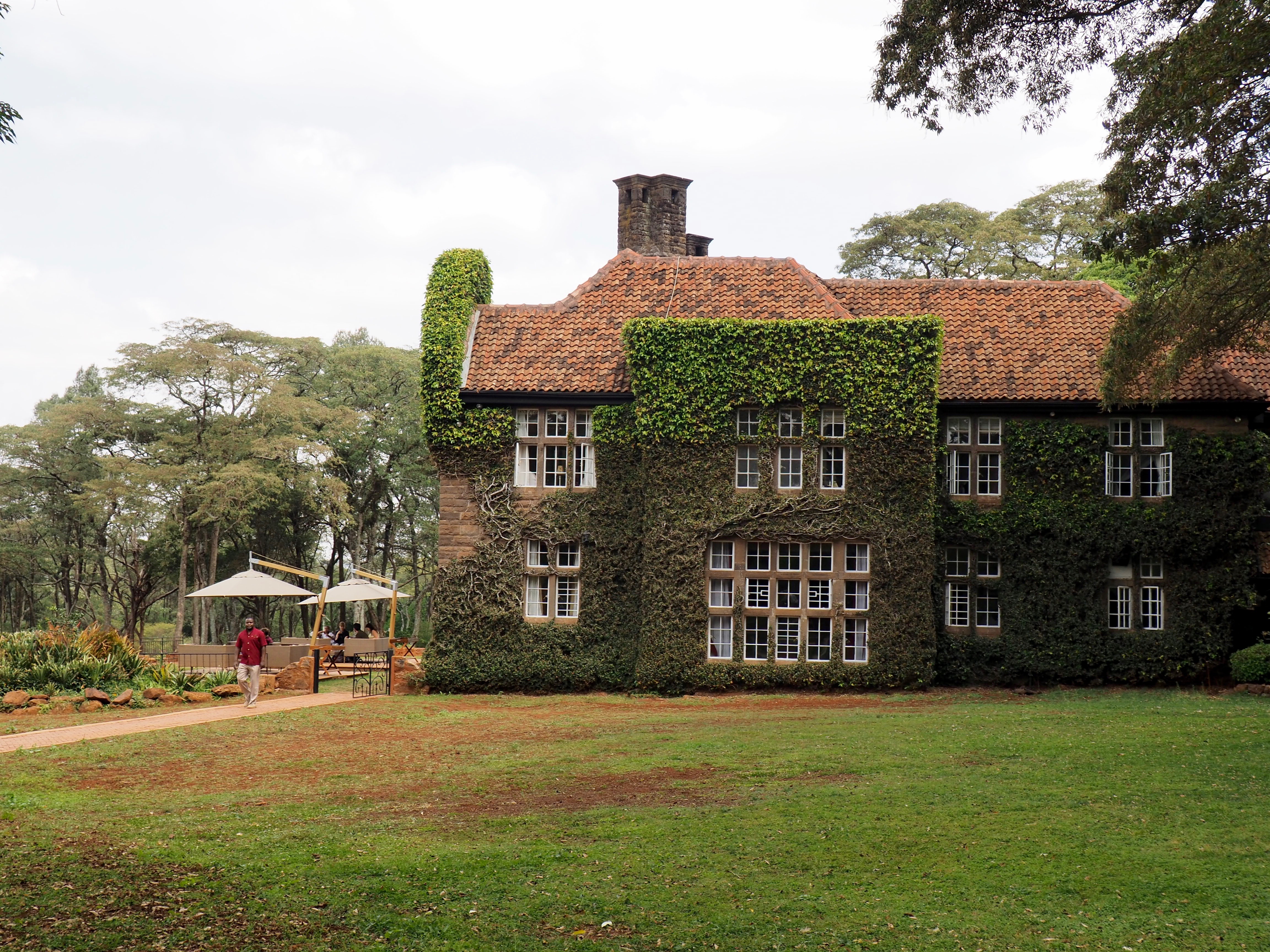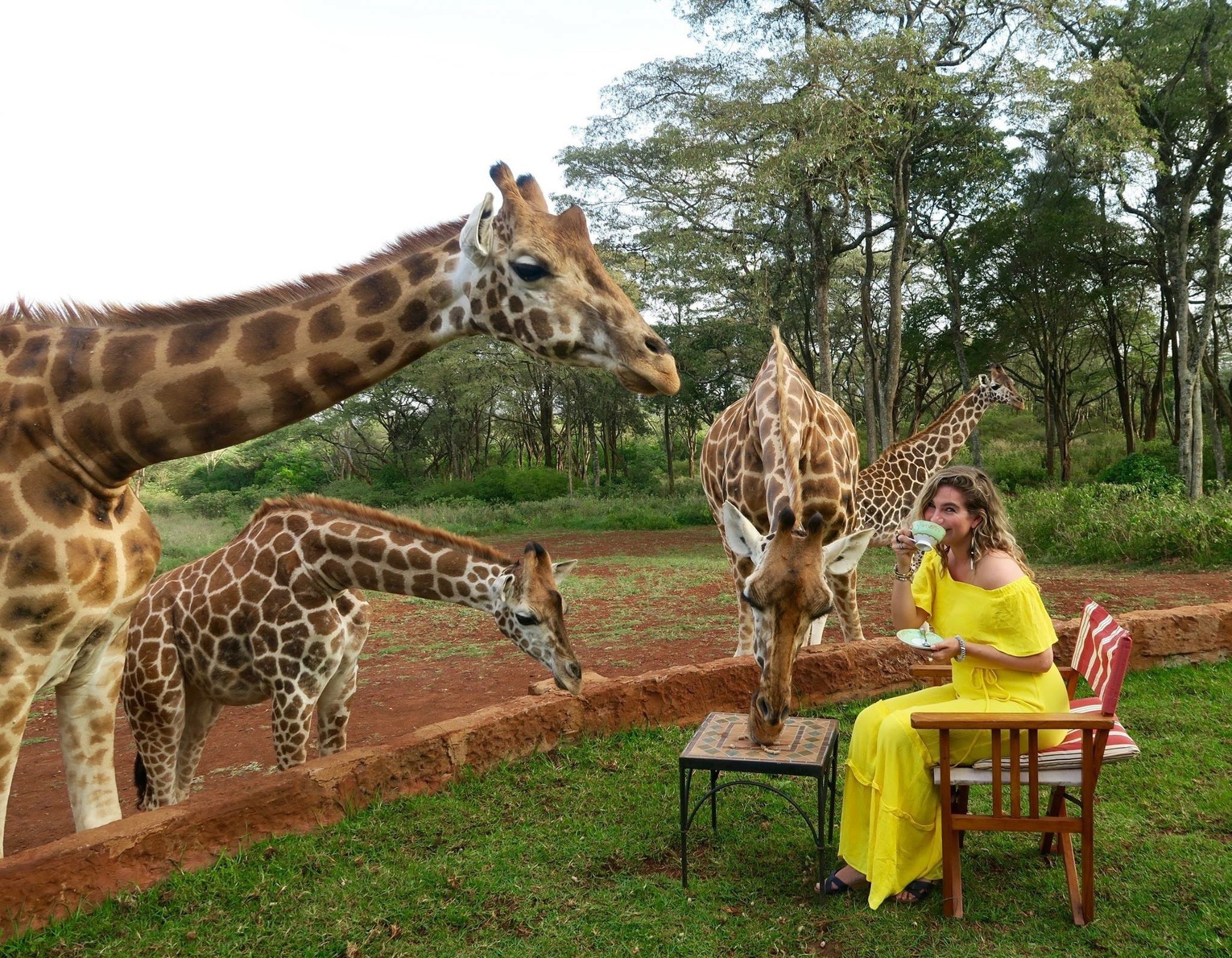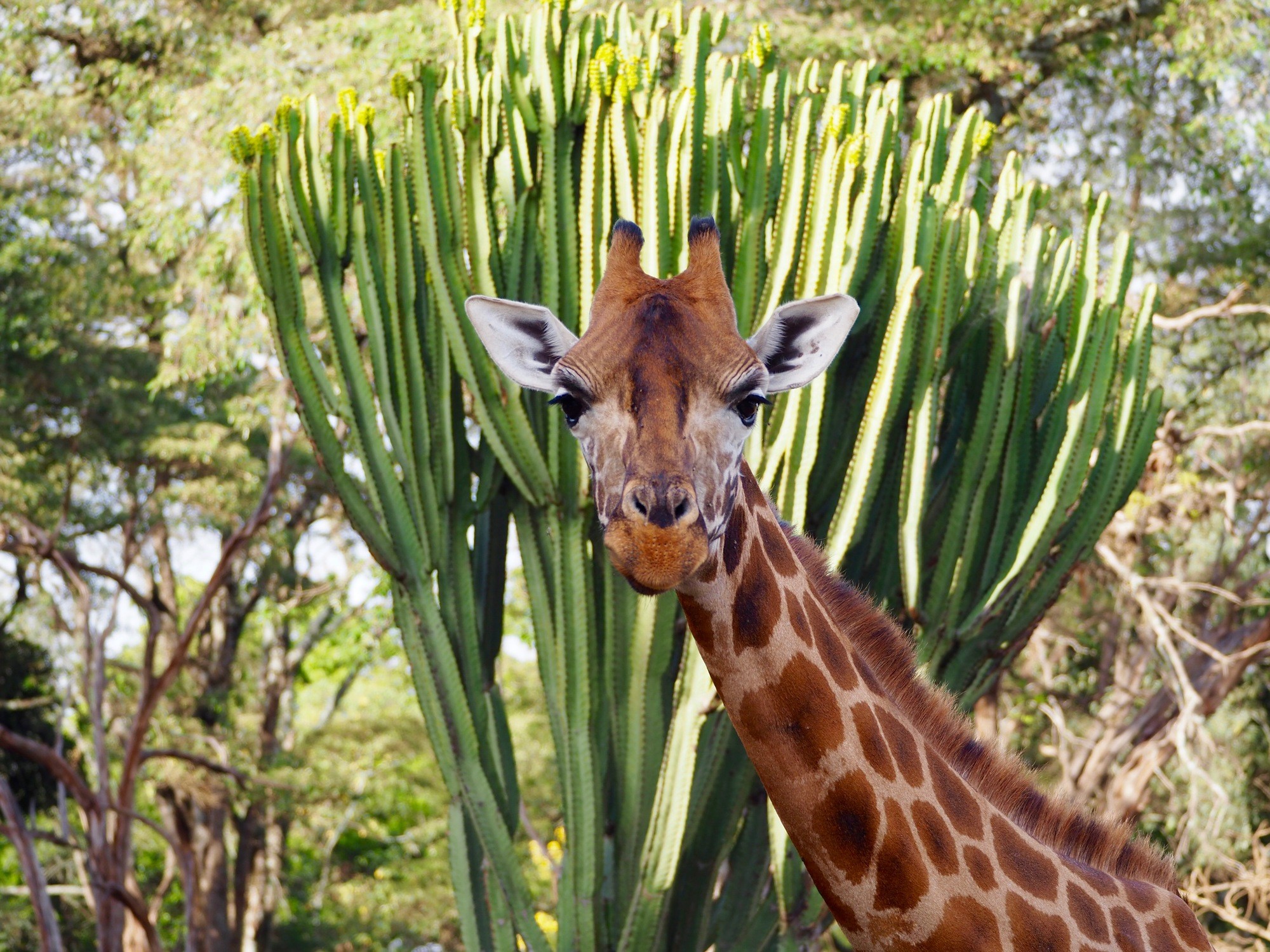 First, a little bit of background about Giraffe Manor. Established in the 1930s, the manor is now a boutique hotel with 12 rooms set on an area of private land that measures 12 acres. Nearby is the Giraffe Centre, which is a sanctuary for the ten giraffes that live on this land (giraffes are endangered animals). The manor itself is gorgeous, with plenty of common space both indoors and outdoors. Everything from the towels to the chess set to the napkin ring – everything down to the finest detail – has obviously been meticulously chosen to represent Kenya and to represent the animal it calls neighbour: the Rothschild giraffe.
Because of course: as beautiful as this vine-covered manor is, the main draw is undoubtedly the fact that Giraffe Manor is frequented by a family of giraffes. While these are still wild animals and no interaction is guaranteed, the giraffes know that there are certain times of the day (early morning and mid-afternoon) where guests will be ready with buckets of grass pellets to feed them. Some of the front-facing rooms also get to feed giraffes through their windows if they're lucky. At breakfast time, the giraffes stick their heads in the window in order to be fed, which looks a little something like this: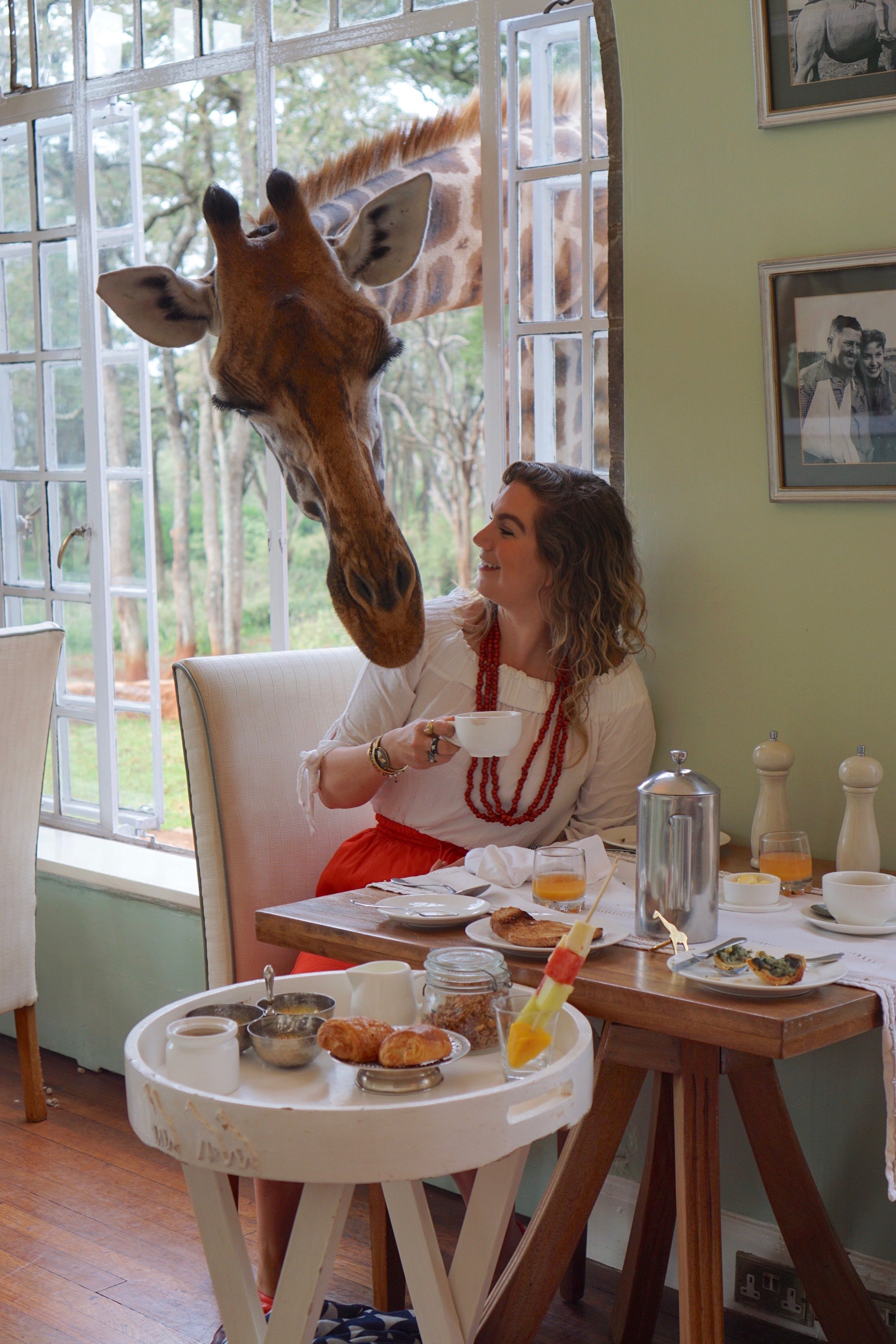 Sounds like a dream, right? I mean, who wouldn't want to stay here?
Alas, as many "big-ticket" experiences in East Africa go, staying at Giraffe Manor does indeed come with a hefty price tag. Rooms at Giraffe Manor start at $1100 USD – yes, you read that correctly – so the cheapest room averages to $550 per adult.
If you want to stay in a bigger room (honeymoons are popular here!), the price obviously goes up from there. You can check out the rate card here, and please note that these rates are only until December 15, 2017; as Giraffe Manor has become increasingly popular due to social media and other media coverage, I would expect these rates to go up in the new year. In fact, a quick look at their availability for 2018 is now showing $1130 for the same room I stayed in. FYI, it also appears that half of their rooms can only be booked if you stay at one of the other Safari Collection sites in Kenya.
As my trip to Giraffe Manor wasn't sponsored (none of my East Africa trip was sponsored, as I wanted full control and I also wanted to, you know, not work while on my dream holiday), I forked over my $550 while my mum paid the other half. And so the 64,000 dollar 1100 dollar question is: Was the cost of Giraffe Manor worth it?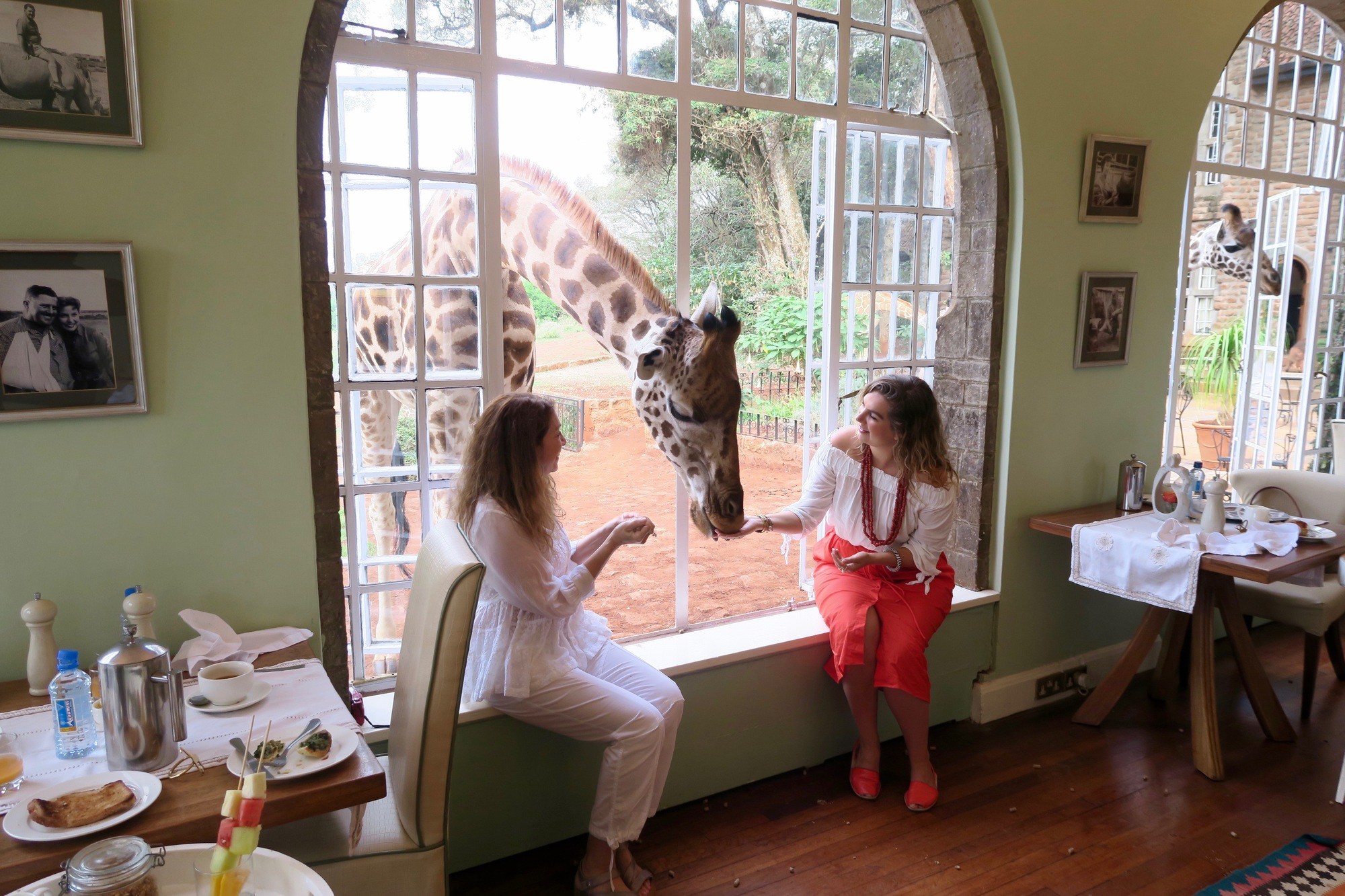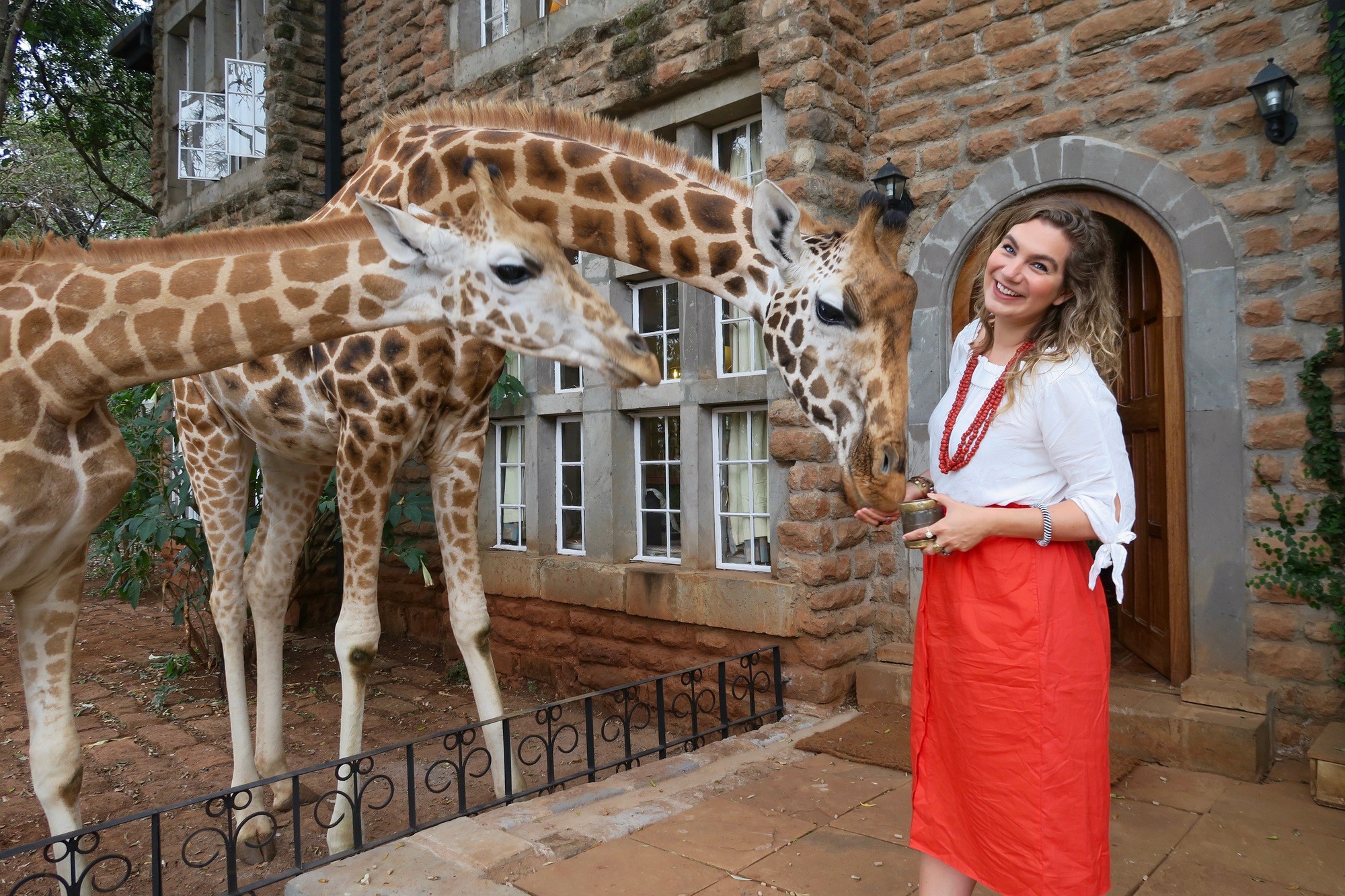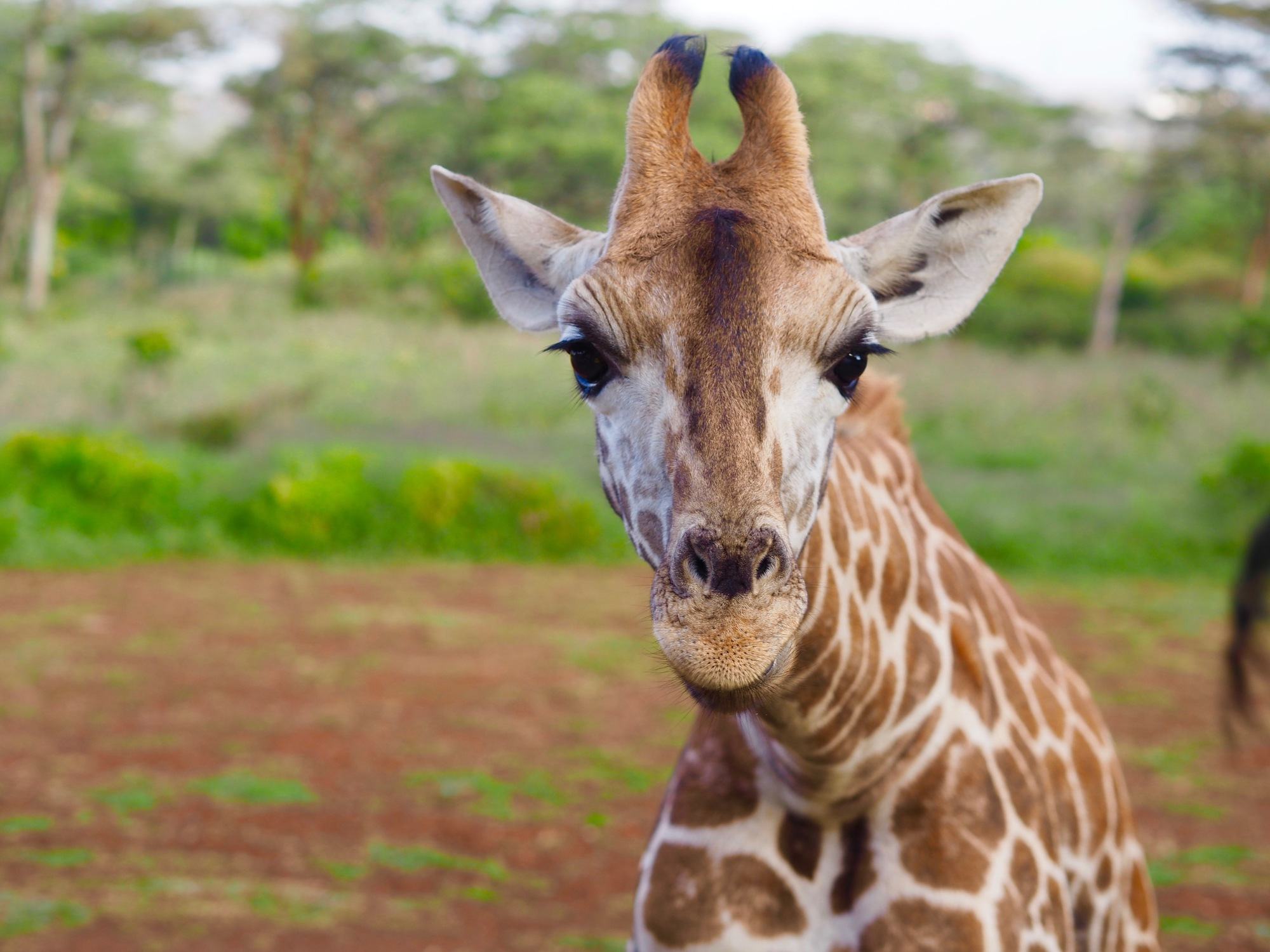 Hell yes. Worth every single penny. I would gladly pay another $1100 to stay at the manor again (once my giant credit card debt is paid off from the last trip). Because you're not just paying to eat breakfast with giraffes, although that is a huge bonus. You're also paying for full board (that's three gourmet meals plus afternoon tea), all the alcohol you can drink (more on that in a second), a beautiful, luxury hotel with a top-of-the-line spa, and impeccable service. We even arranged with Giraffe Manor to pick us up from our first Nairobi hotel, take us to the David Sheldrick Wildlife Trust to see the baby elephant feeding time, wait for us, and then take us to the manor.
To put this price in perspective, I paid the exact same price – $550 USD – to go hot air ballooning for one hour in the Serengeti. I also looked up what an average Four Seasons room was for a night in Florence, Italy, and surprise! Their junior suite is the same price. For one night. With no food or alcohol. And definitely no giraffes.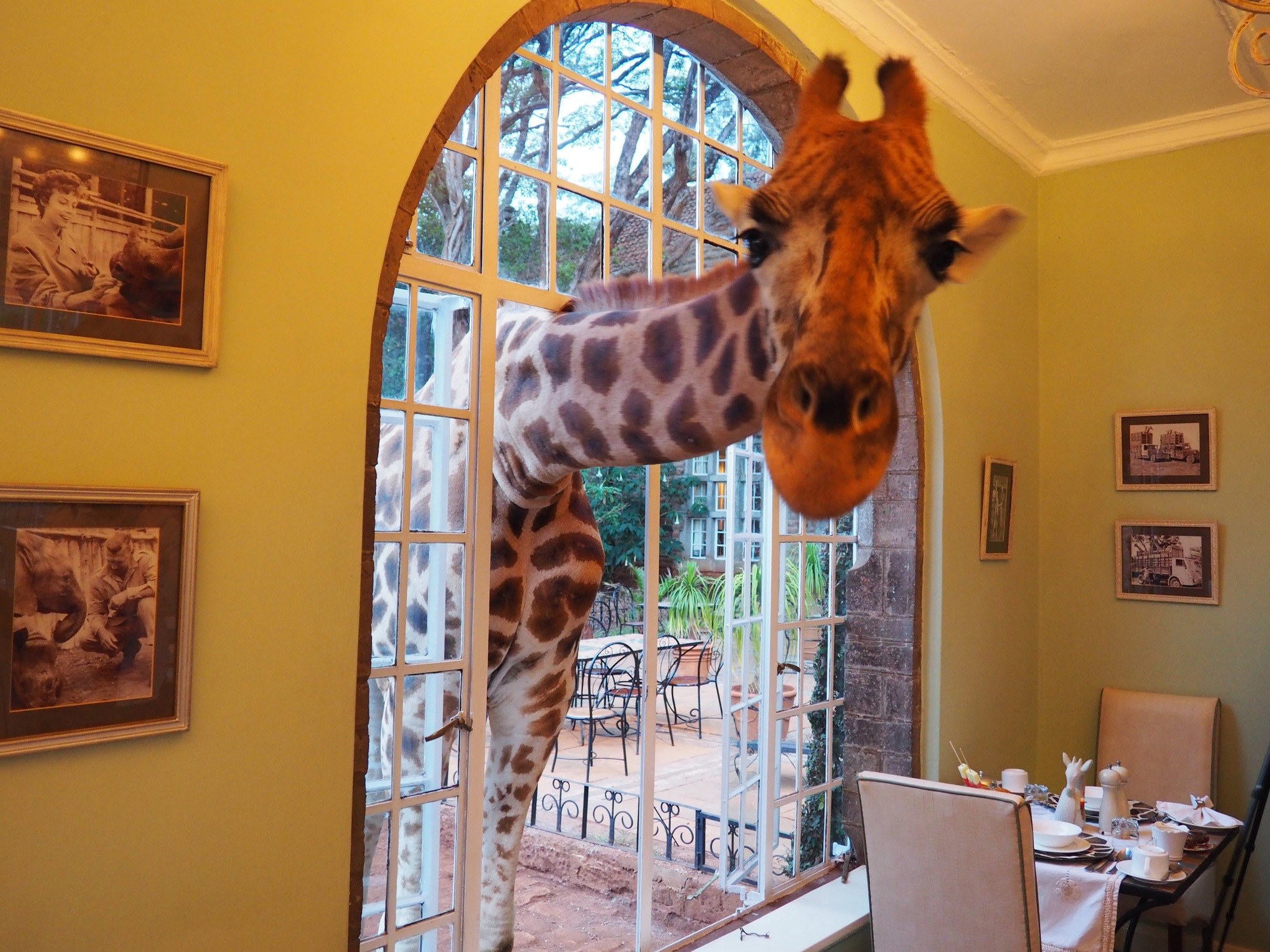 You don't get that at the Four Seasons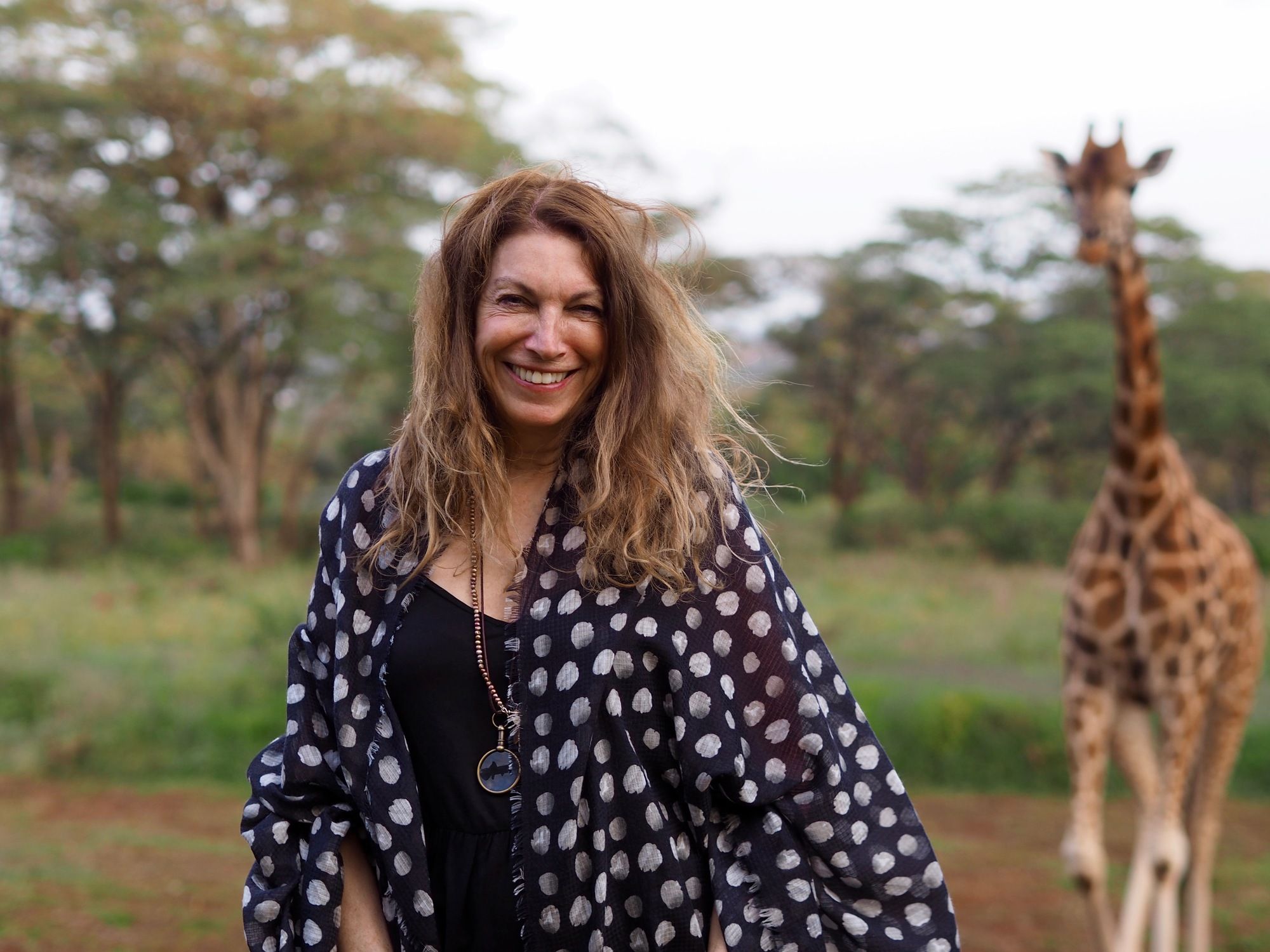 Behind you!!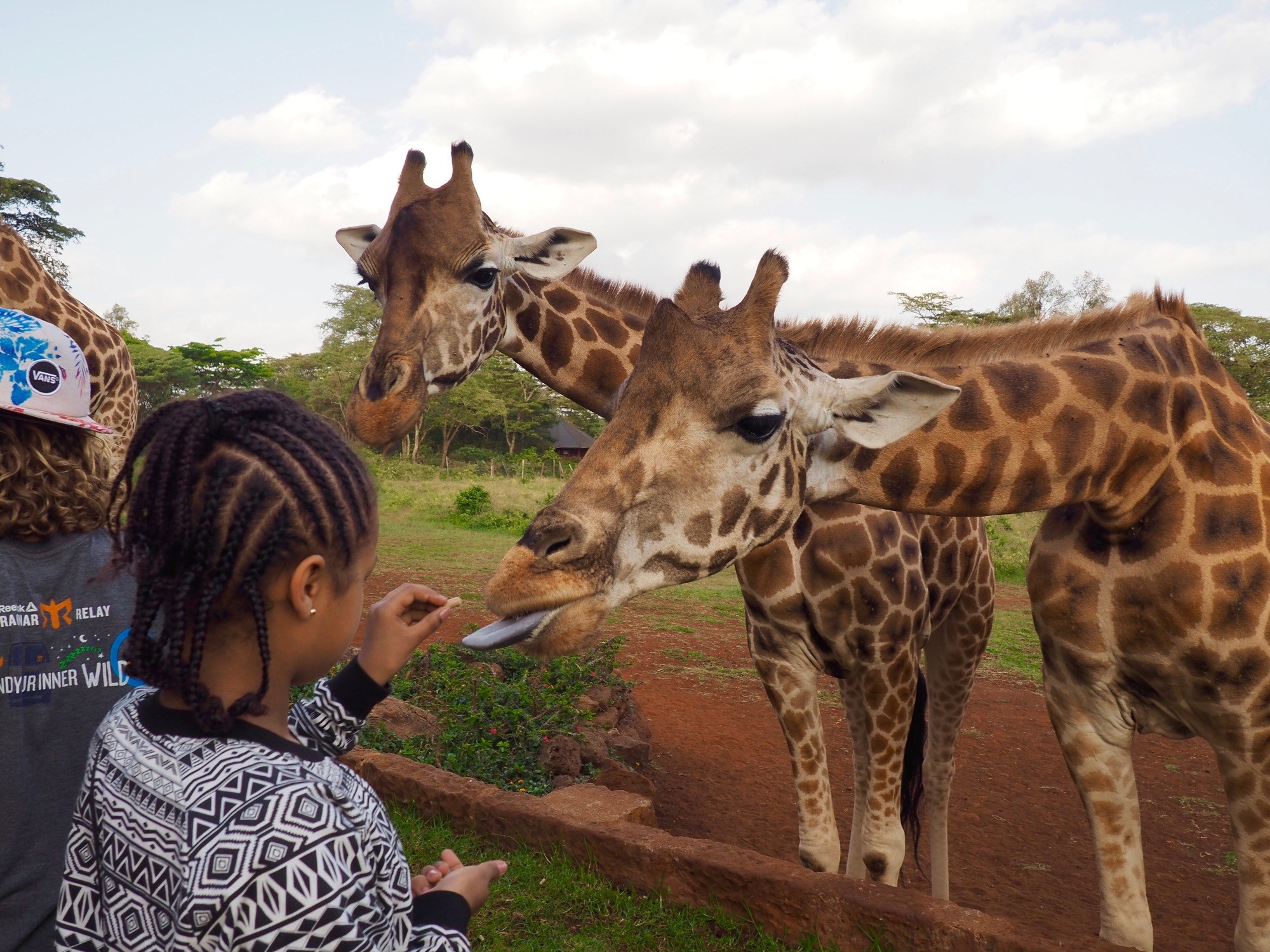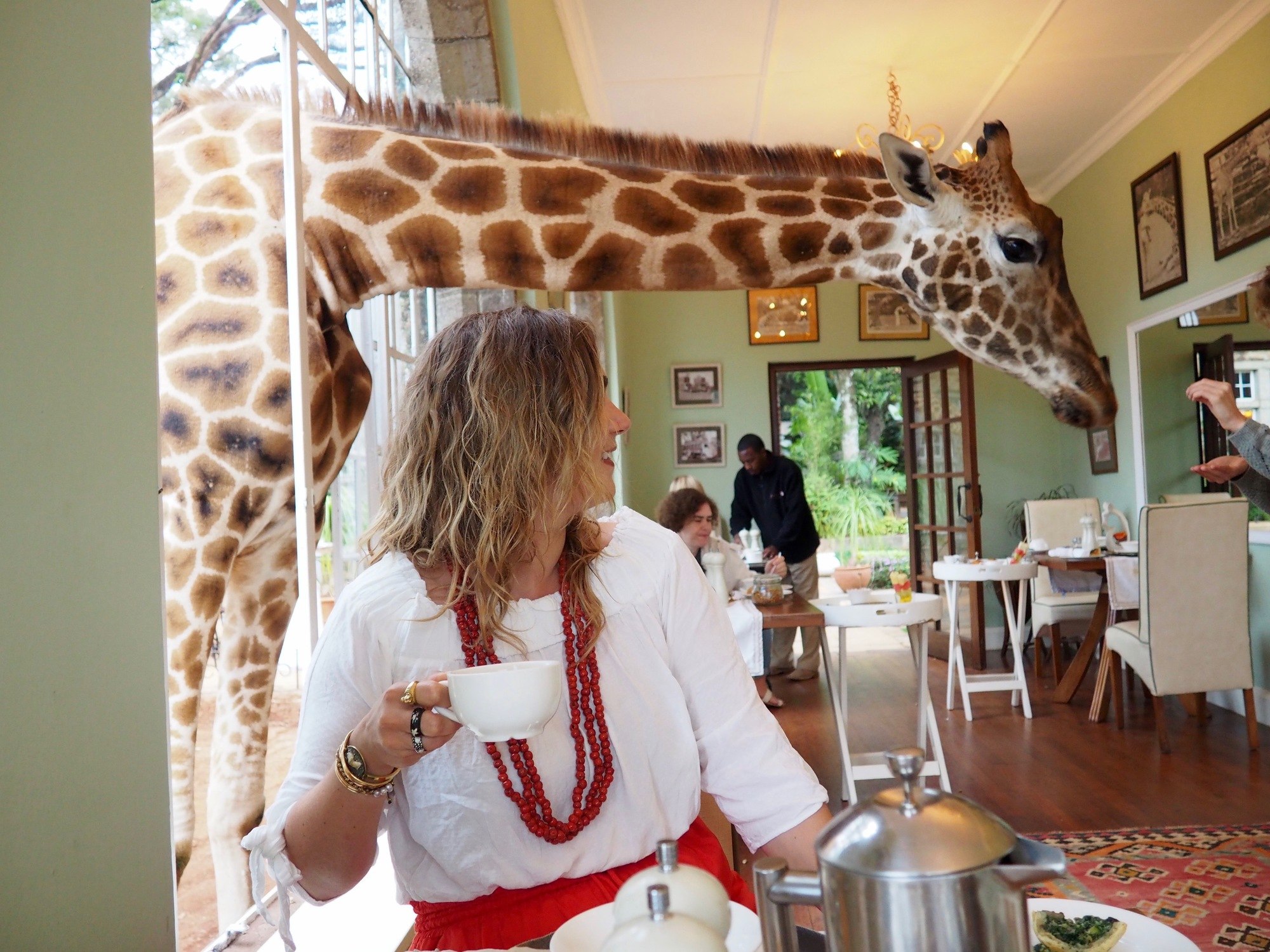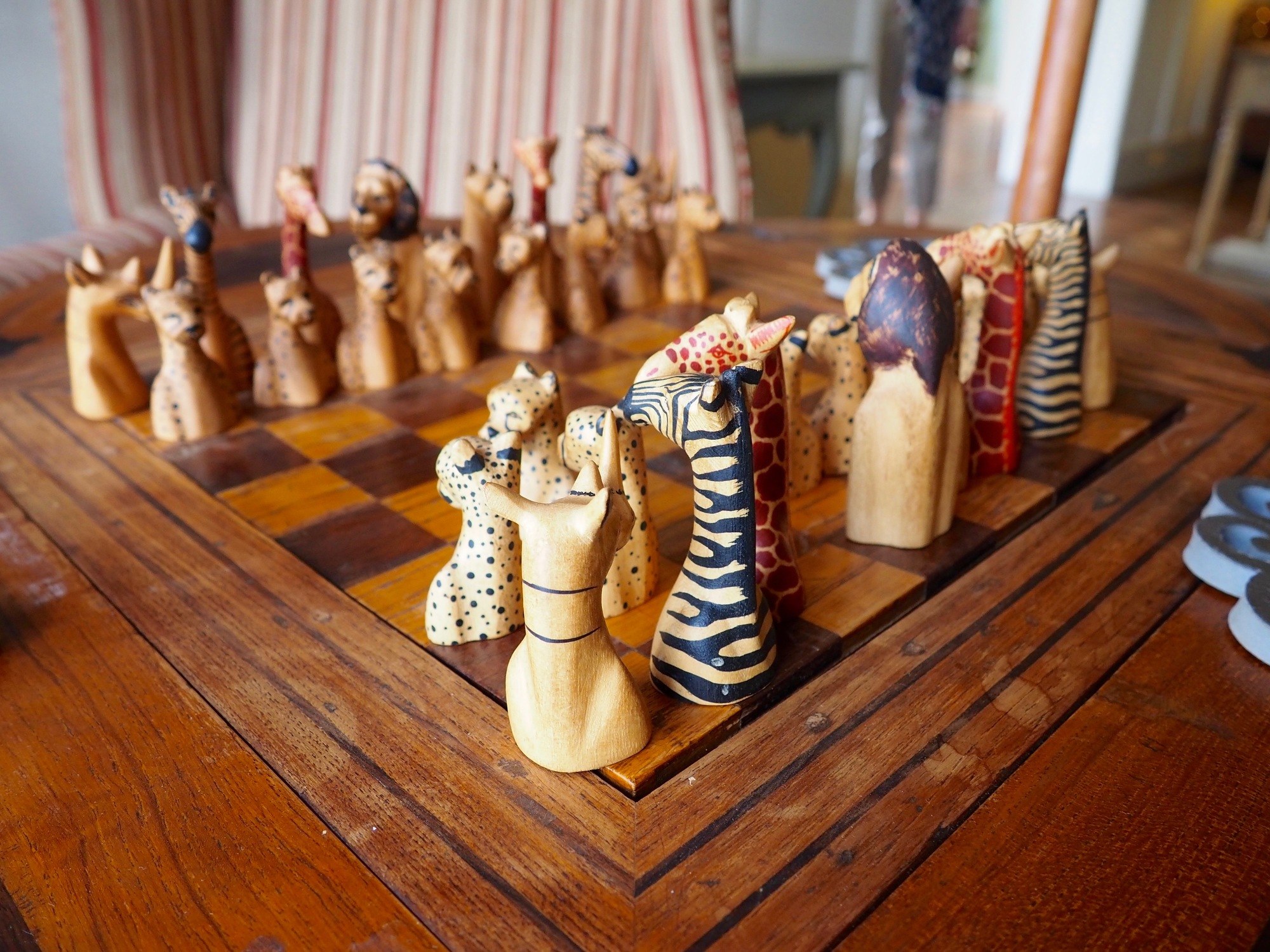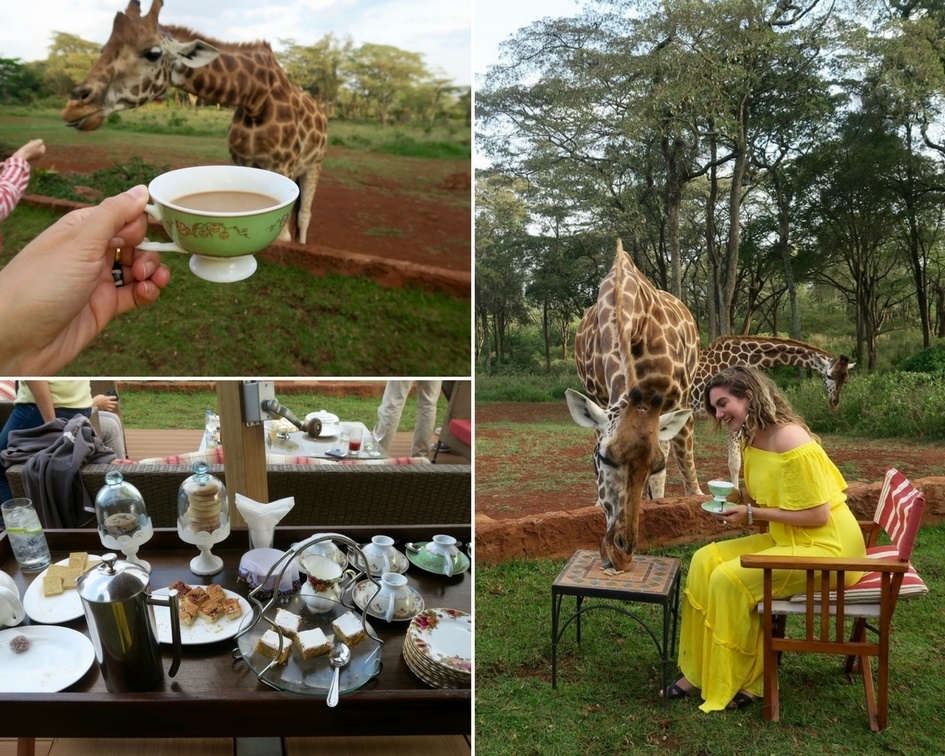 Listen, I'm not trying to say that Giraffe Manor is cheap – it isn't, especially for a person like me who normally goes for budget to mid-range travel options. What I am saying is that, for a big ticket item, the cost of Giraffe Manor is absolutely worth it. If you're going to splurge here and there during your travels, this is one time I'd wholeheartedly say, "Go for it."
There are few experiences as incredible as spending this much time up close and personal with these beautiful, graceful, gentle creatures. Each one has a name and a story – you can read about them here – and each has a very distinct personality. I felt overwhelmed in their presence, and not just because they are so freaking tall. Seriously. So tall.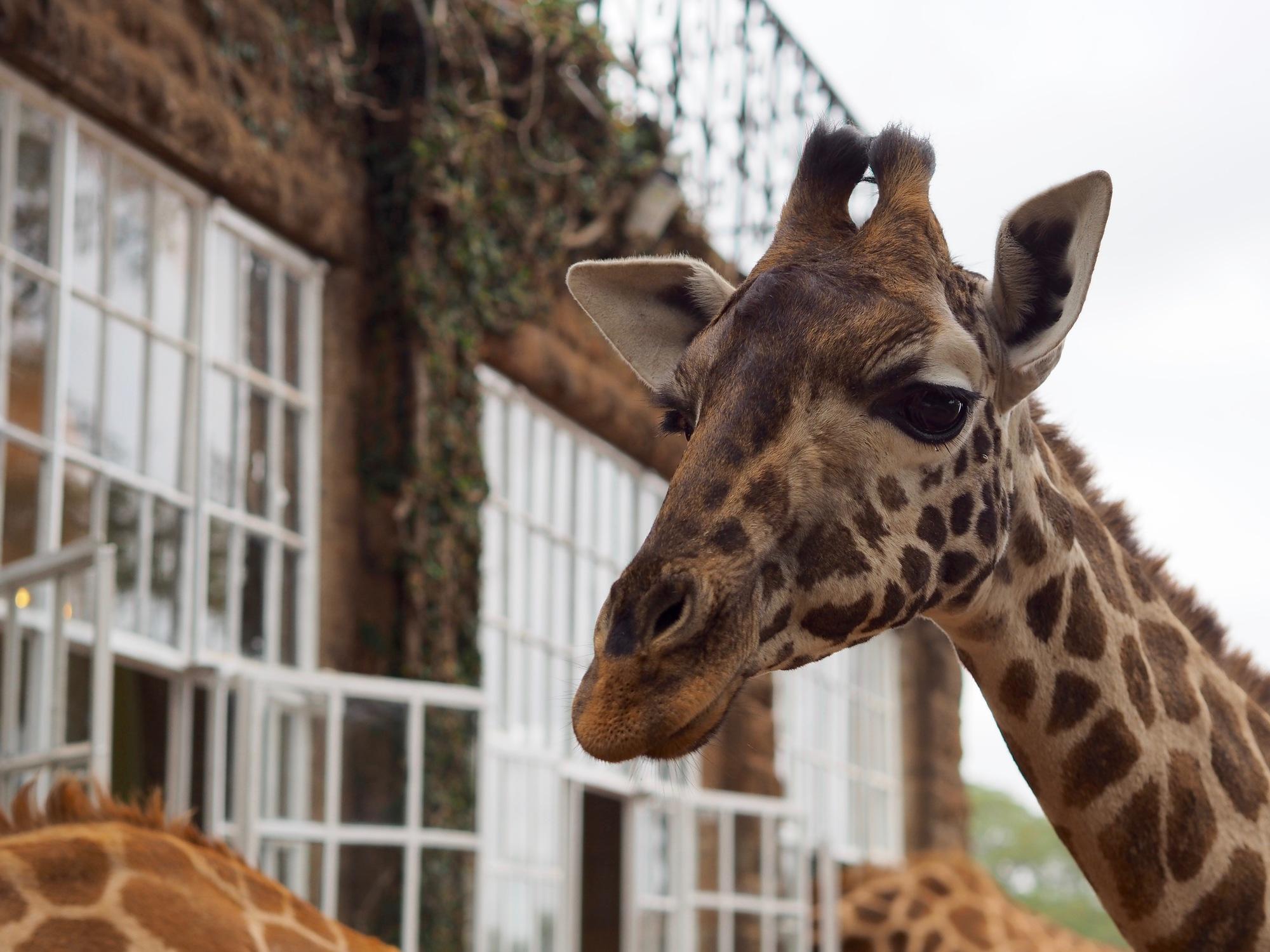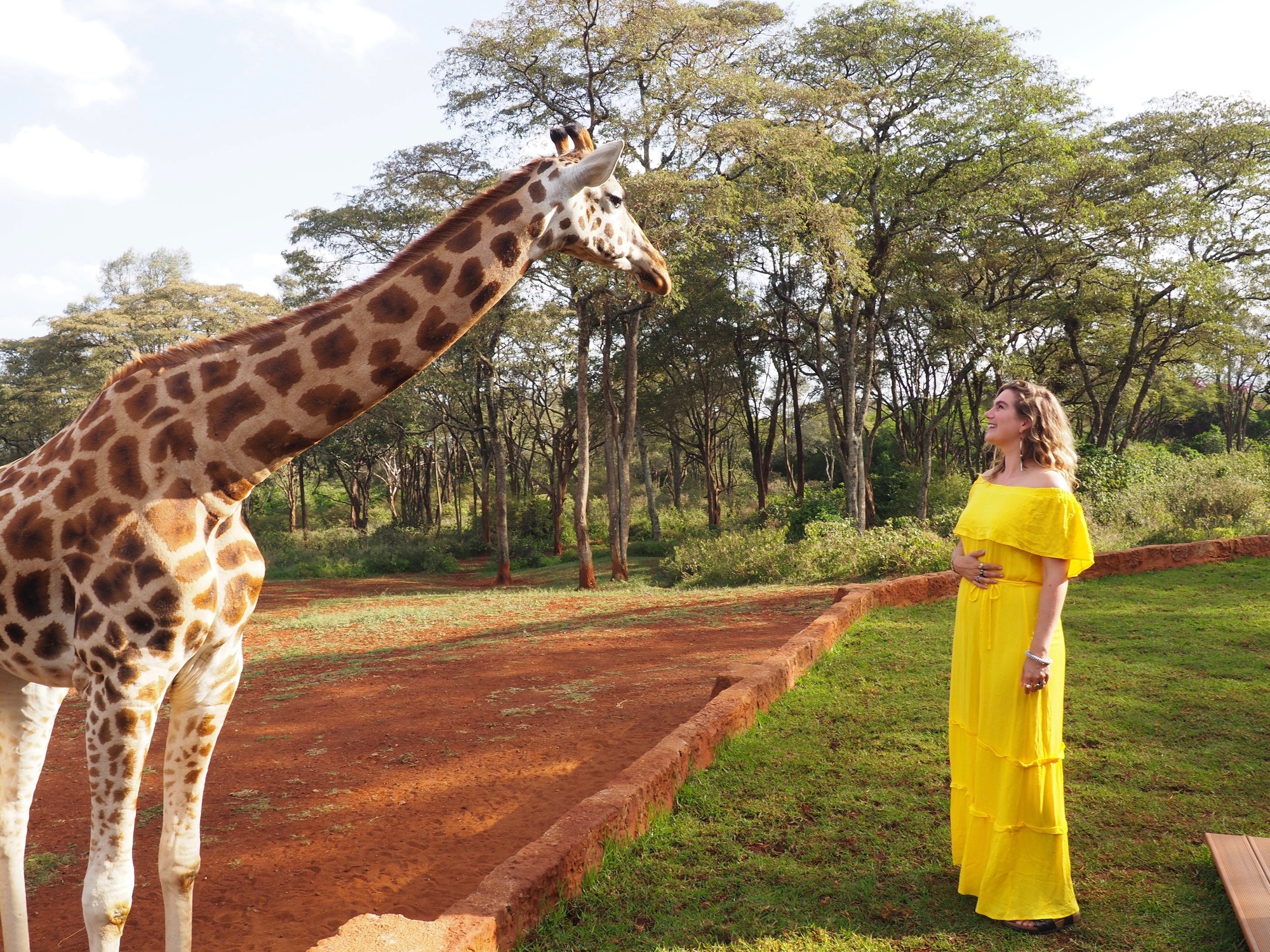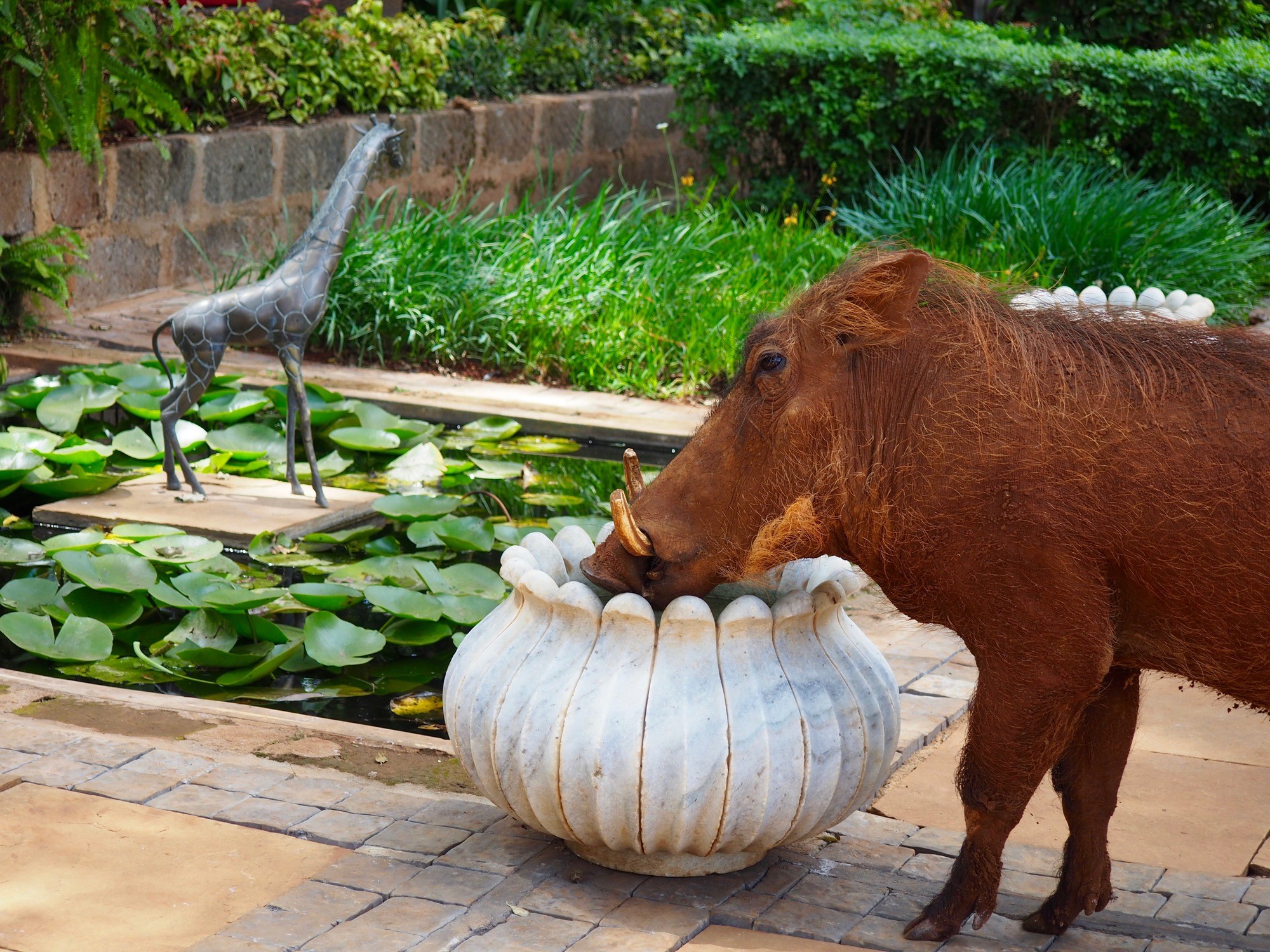 There are some warthogs hanging around as well!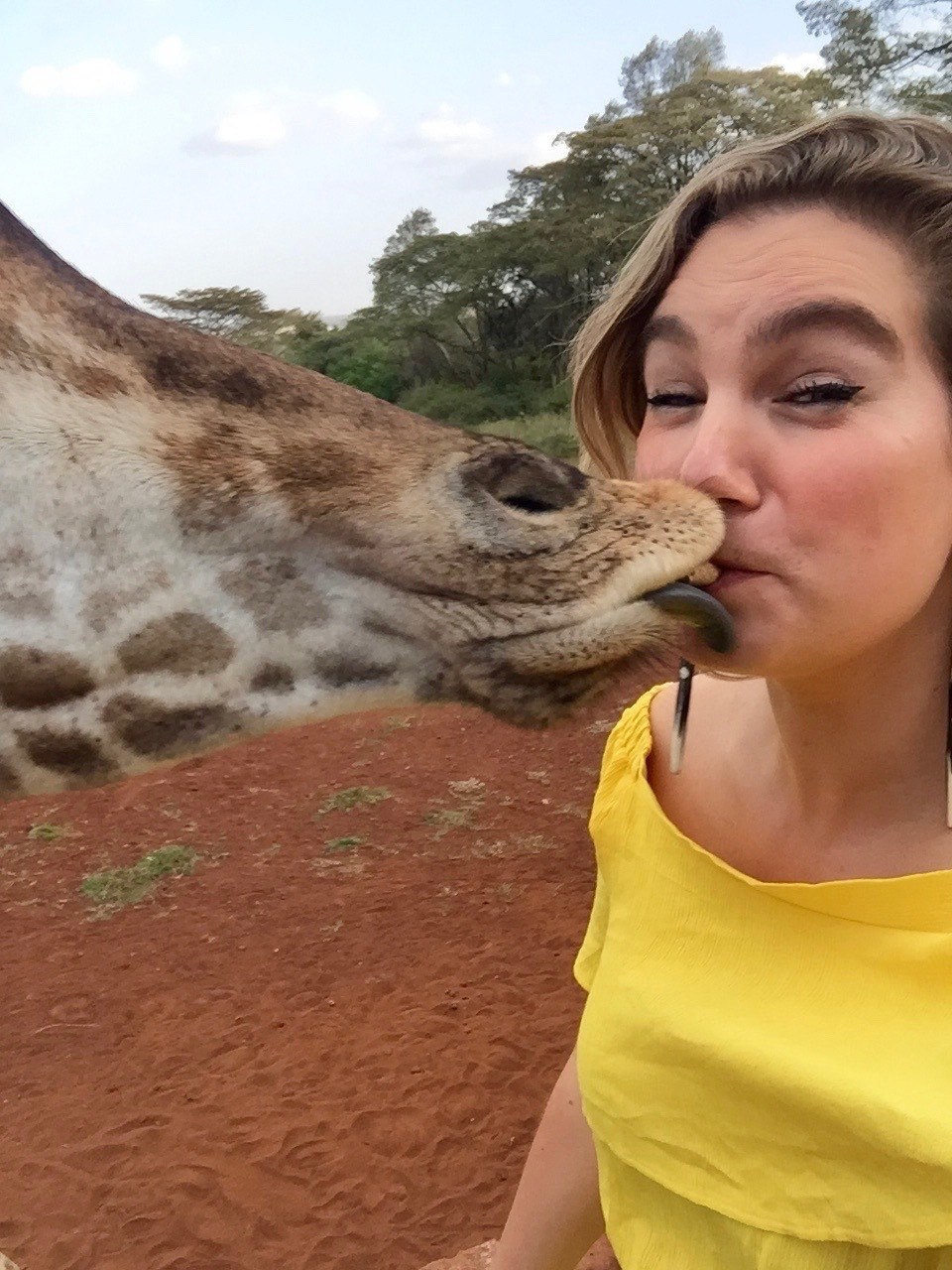 You can't leave without getting a giraffe kiss (much better kisser than my ex, I'll add)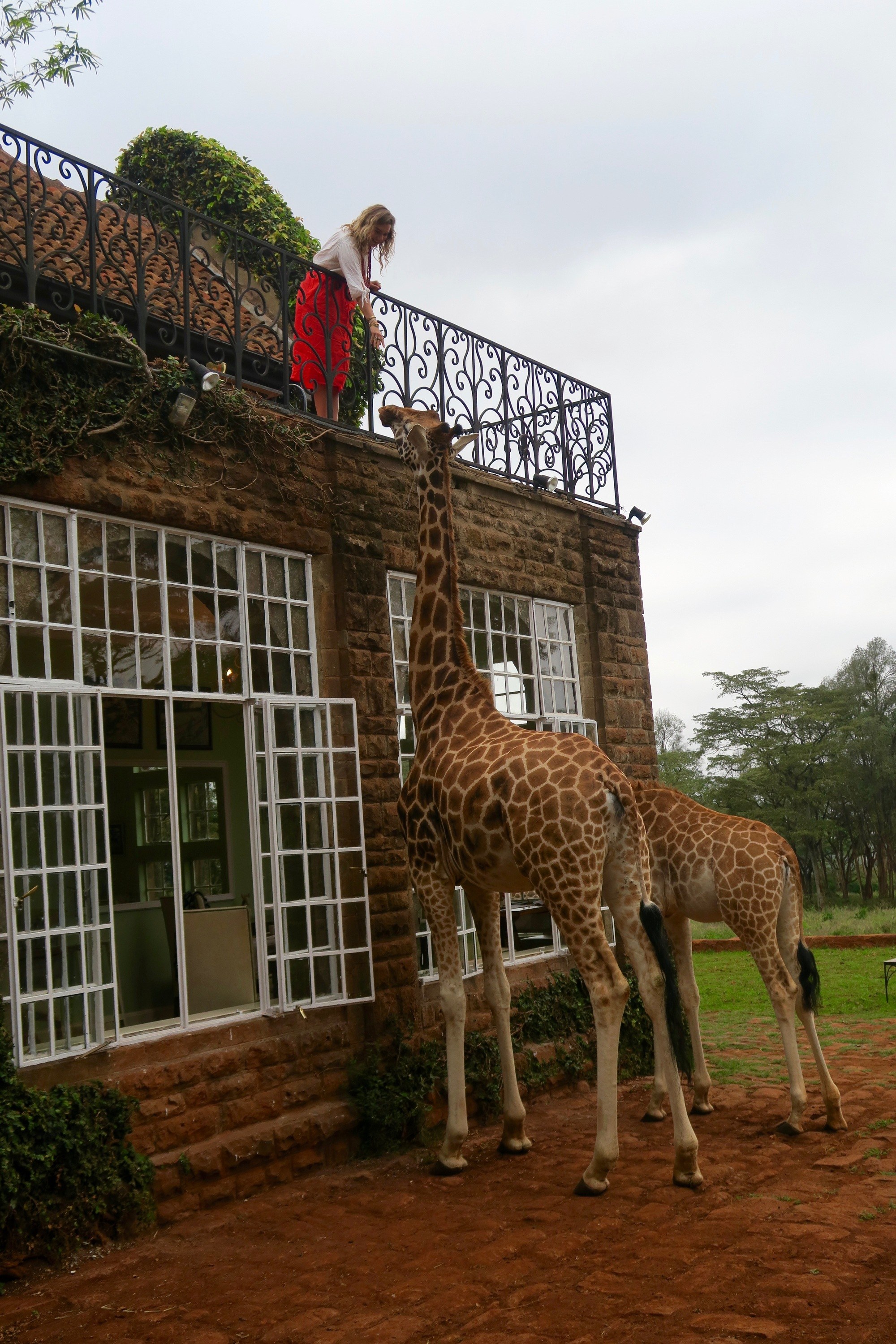 I'm going to write an entire post just on eating breakfast with the giraffes, because that in itself is a pretty crazy experience, but I hope that the photos and video I've provided here can paint a fairly accurate picture of just how special staying at Giraffe Manor is. Of course, you can also visit the Giraffe Centre across the way for a tiny fraction of the price, but nothing compares to the experience of staying at the manor and having so much time with the giraffes (and in such a small group).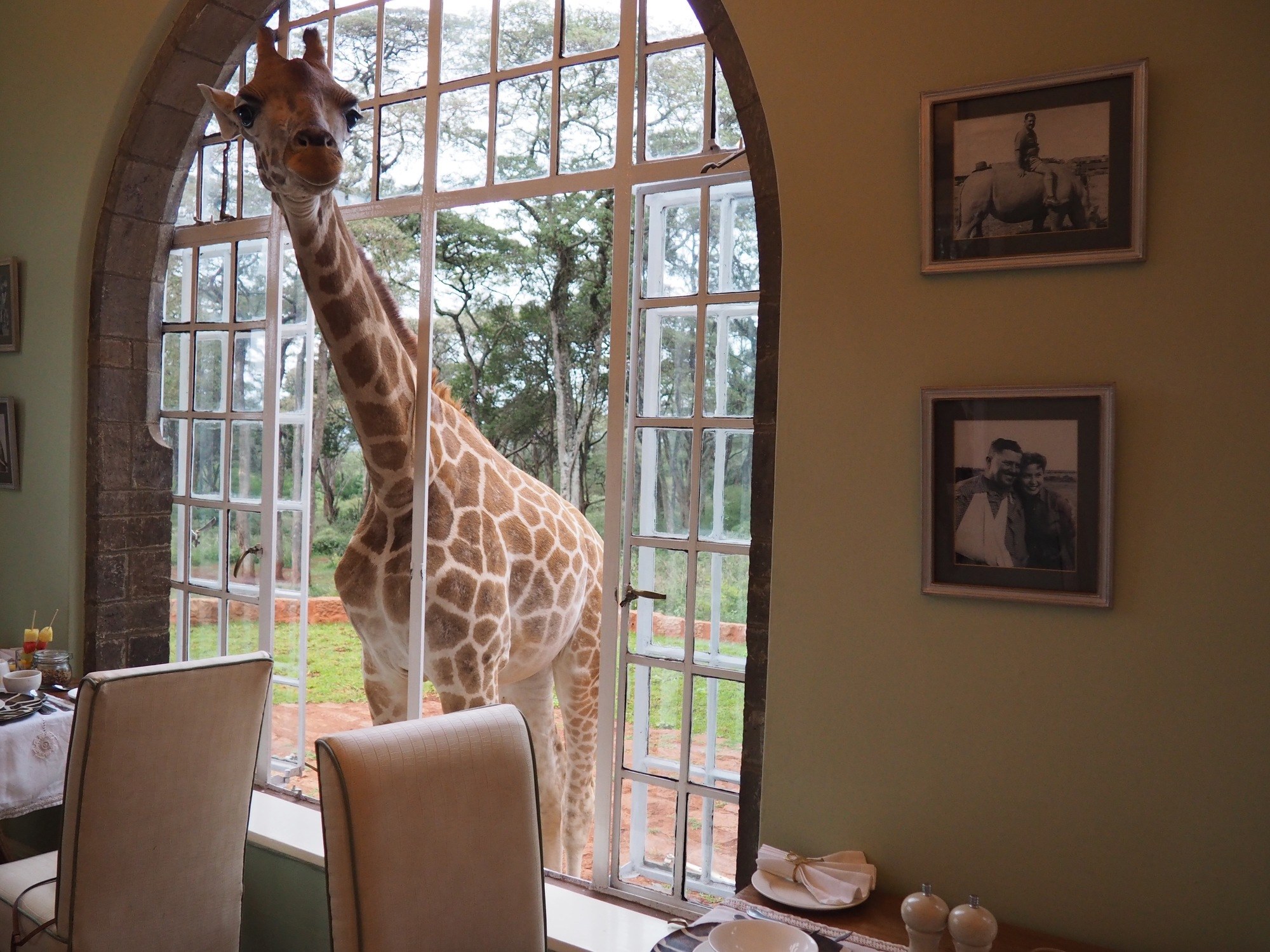 Here are some frequently asked questions that I've received about staying at Giraffe Manor:
How are the giraffes treated at Giraffe Manor?
I thought about this before visiting, as I would never want to participate in an activity where animals are under stress or forced to do something against their will (see: riding elephants, petting tigers, swimming with captive dolphins, etc). However, as Giraffe Manor shares its land with the Giraffe Centre, a fantastic sanctuary for these endangered animals, I felt confident that the giraffes were taken care of. The result: I didn't for one second feel that these animals were under any stress whatsoever. We were told explicitly how we could interact with them, when we could interact with them, and so on. We were constantly monitored by staff. And as much as I'd like to think that the giraffes were just as excited to see us as we were to see them, let's be honest: they just wanted those tasty grass pellets. As soon as the pellets were gone, they left for (literally) greener pastures.
When in Kenya my mum and I donated to both the Giraffe Centre as well as the David Sheldrick Wildlife Trust (I fostered a baby elephant for my mum for Mother's Day) – I recommend both of these charities.
Can I visit Giraffe Manor if I'm not a paying guest, i.e. for a tour or for a coffee?
No. Plain and simple, no. I totally get it – this place would be overrun if they allowed non-paying guests to come by. According to the Safari Collection website, it seems they sometimes open up meals for non-paying guests, although I definitely wouldn't rely on that.
What is the food like at Giraffe Manor?
Very, very tasty. I was totally satisfied with the three meals plus afternoon tea I had in my 24 hours there. I imagine the menu changes often but you can stipulate if you have food allergies or dietary requirements.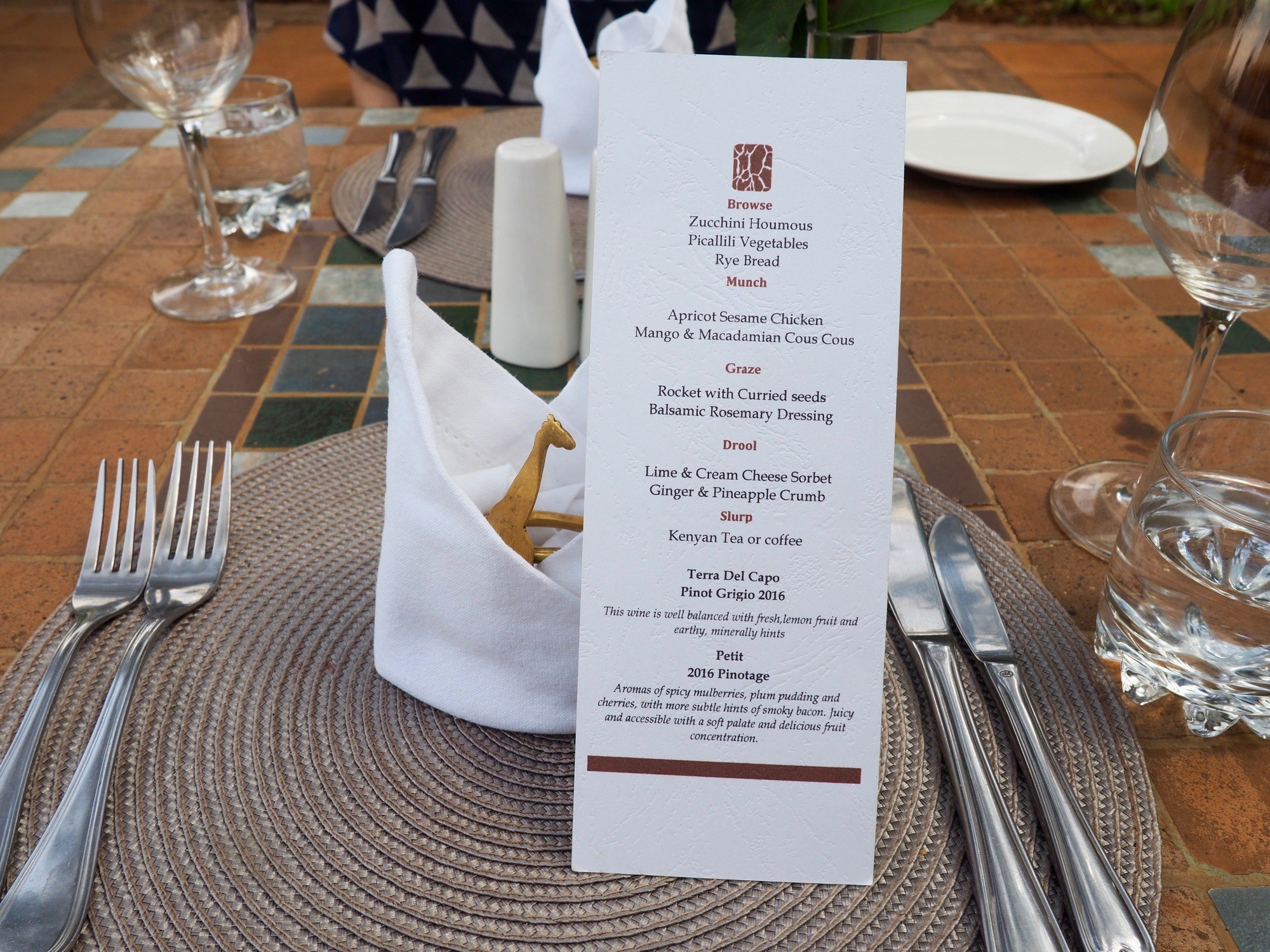 Browse, Munch, Graze, Drool, Slurp… I see what you did there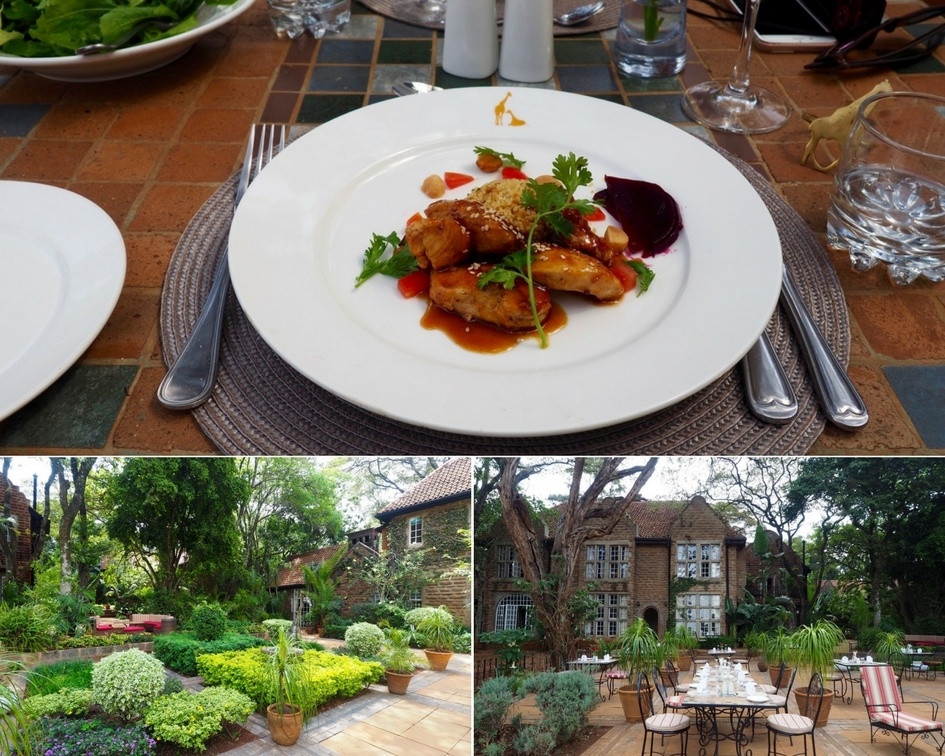 What is the staff like at Giraffe Manor?
The service at Giraffe Manor, as mentioned previously, is impeccable. I was extremely impressed with the level of care they took for each guest, making each of us feel instantly comfortable and at home. Not only that, the staff all know each giraffe very well, so can tell his or her story. They will also help you during the giraffe feeding time, helping to set up photos or even take the photos for you.
How far in advance should I book a room at Giraffe Manor?
Book as far in advance as you possibly can, at least six to twelve months. As there are only twelve rooms – only six that you can book on their own, without combining it with another Safari Collection stay – the schedule books up incredibly fast. My mum and I were extremely lucky, as there was obviously a cancellation that we were able to snatch up; we booked in March and got the only room available in all of June and July. We then planned our entire East Africa trip to make sure it was able to accommodate that day in Nairobi.
Check out their availability calendar here, and note that most of 2018 is already booked.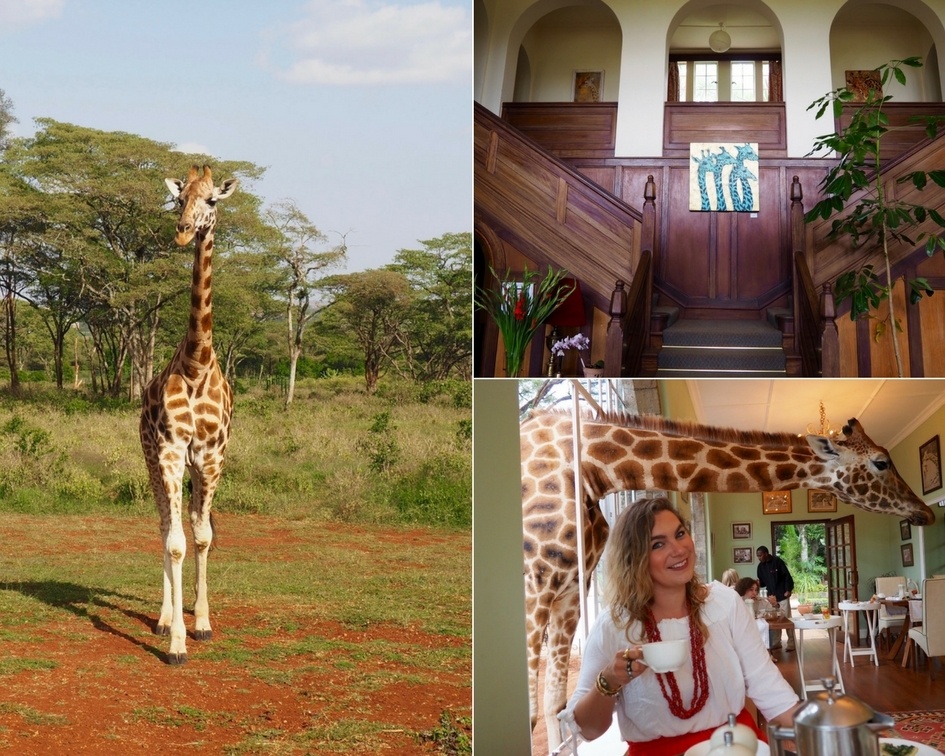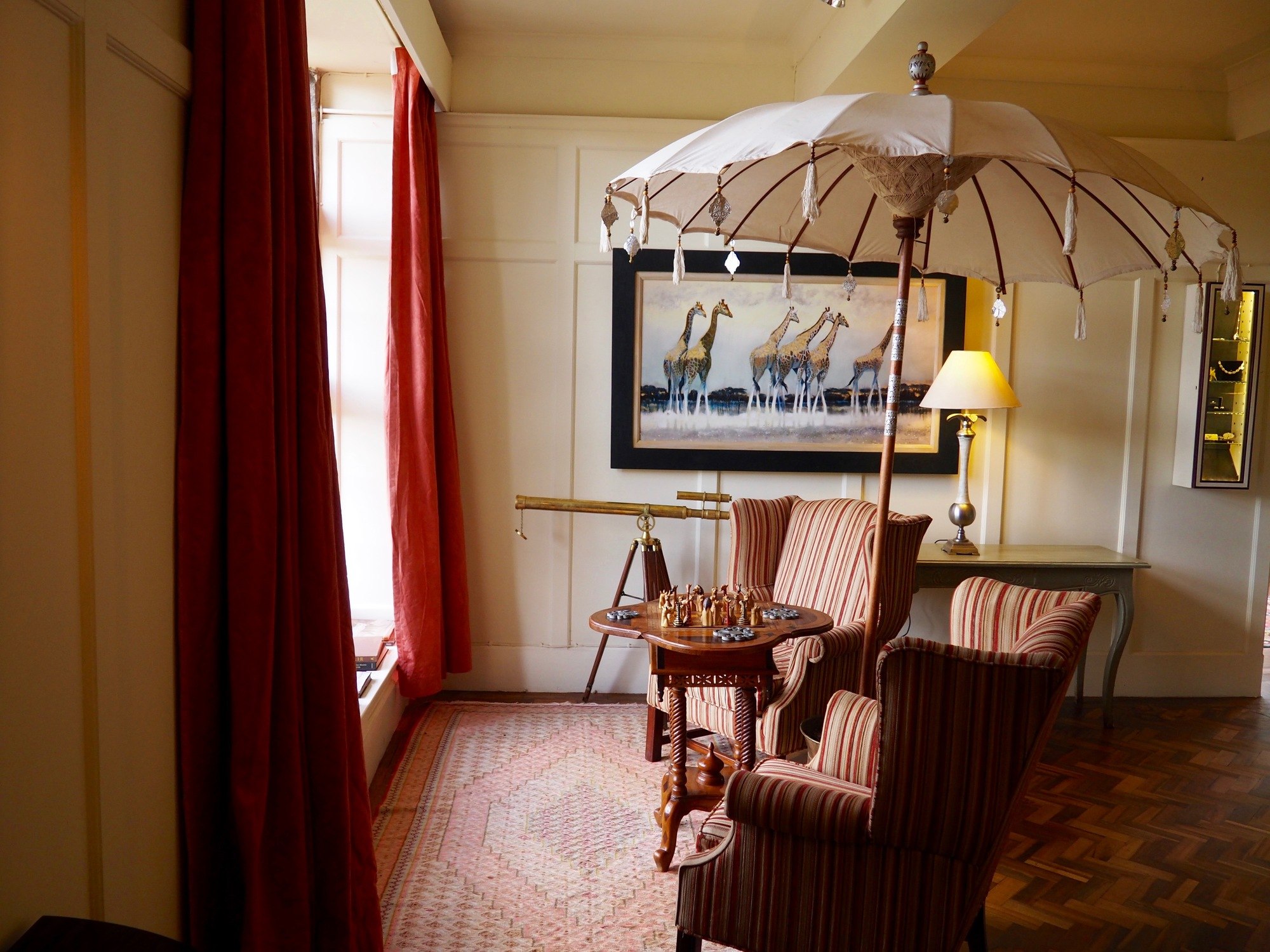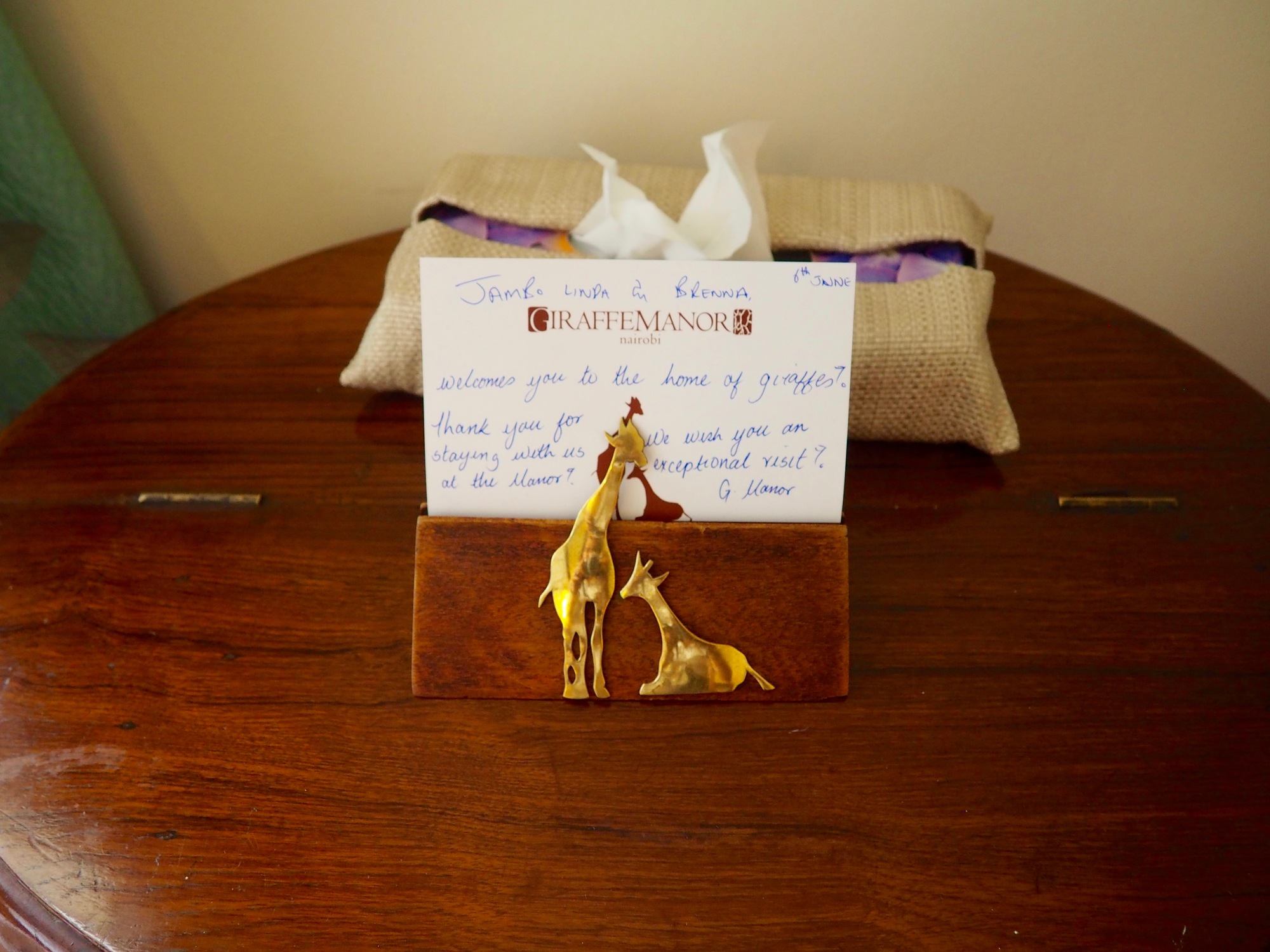 Are kids allowed at Giraffe Manor?
Yes! Kids under 11 years old get a discounted rate.
What should I wear at Giraffe Manor?
I've written an entire post about what to wear in Kenya, but my suggestion would be smart casual; think a sundress for women or a short-sleeve collared shirt for men. I deliberately chose clothing without too many patterns to let the giraffe print really stand out in photos.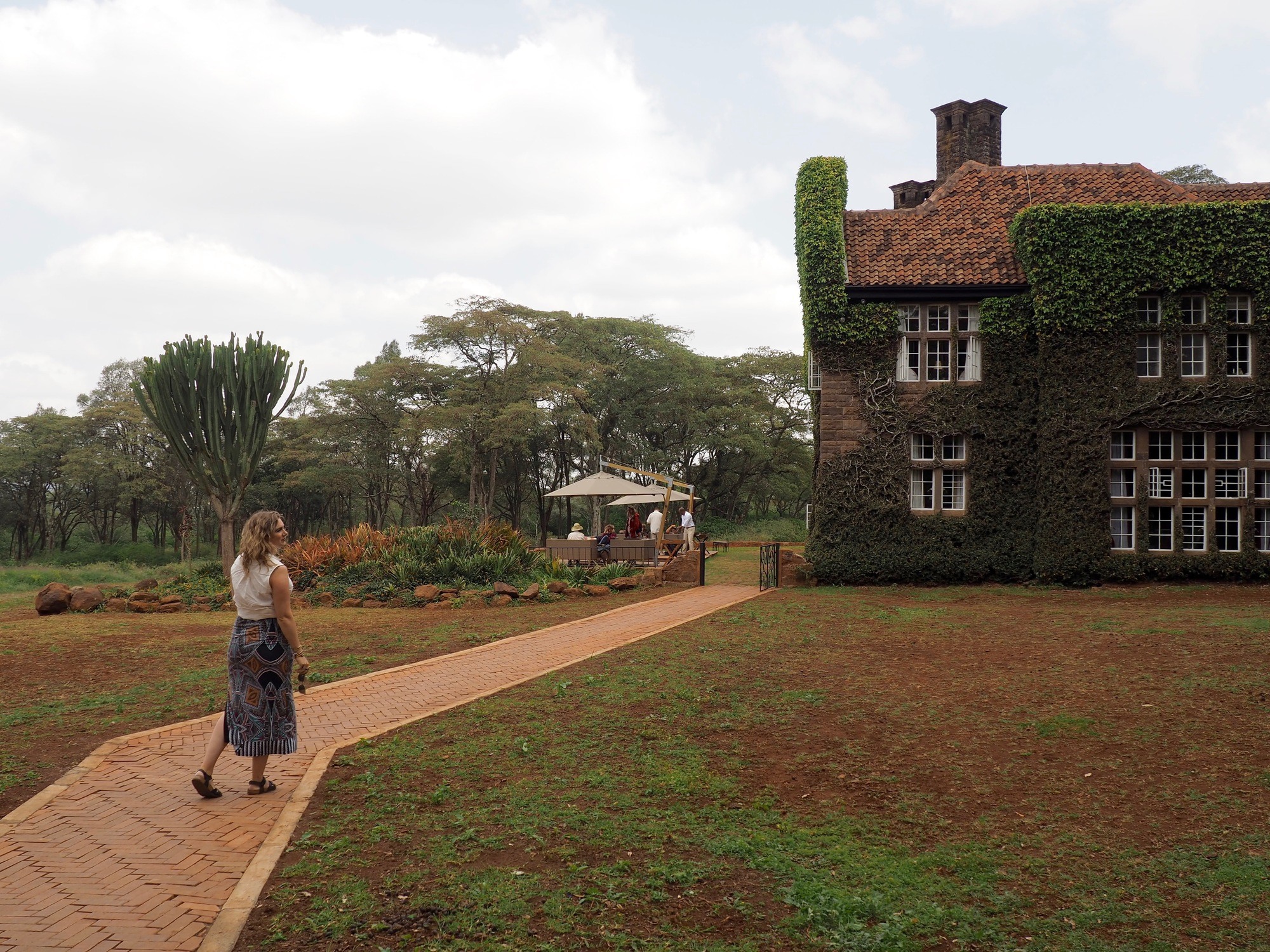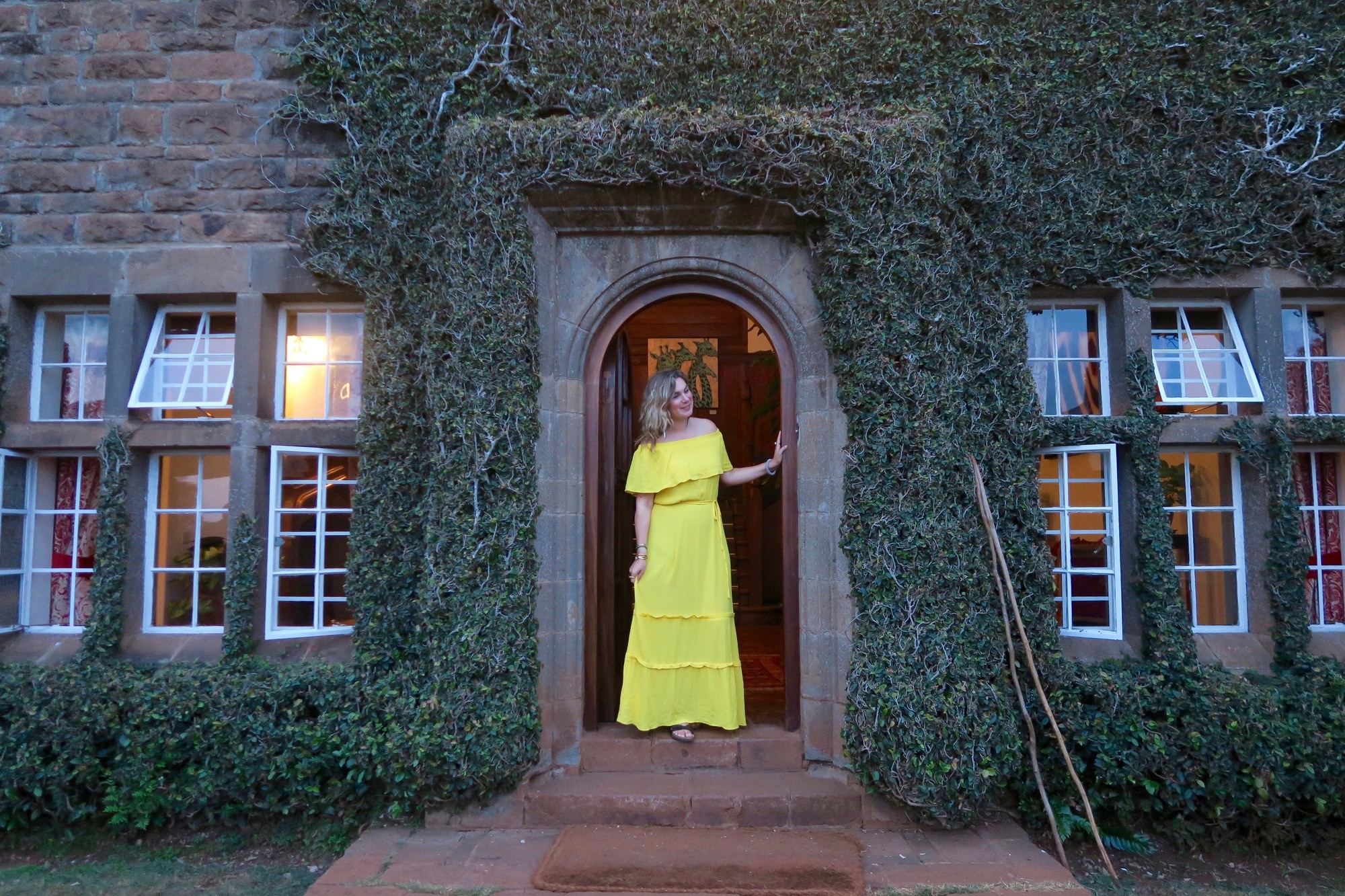 When is the best time to visit Giraffe Manor?
Giraffe Manor is open all year with the exception of mid-April to mid-May, which is when they do maintenance and repairs. As Kenya is close to the equator, there are few seasonal differences, although the rainy seasons are mid-March to May and mid-October to December. When I was there, in June, the weather was lovely, although a gloomy morning meant disaster for trying to get good photos at breakfast. You never know what you're going to get!
Will I get amazing photos at Giraffe Manor?
Hmm. This is a tricky question, and one I plan on going into in the next post about Giraffe Manor, which will specifically be about eating breakfast with giraffes.
Before I went to Giraffe Manor, I saw a couple of huge Instagram accounts with phenomenal photos. Like, jaw-dropping, beautifully-lit, holy-crap-I-want-that-experience photo. I can't say with certainty that this is true, but I'd imagine that some of those photos were taken specifically as part of campaigns, where people were given lots of space and time. In reality, although the manor has plenty of room for all guests, every single person wants a great photo when the giraffes are around, especially at breakfast. That means that twenty-odd people are running around, all snapping photos and posing and trying to not get in each other's ways. And oh yeah, you also have a whole bunch of giant animals walking around, too, sticking their heads in and out of windows.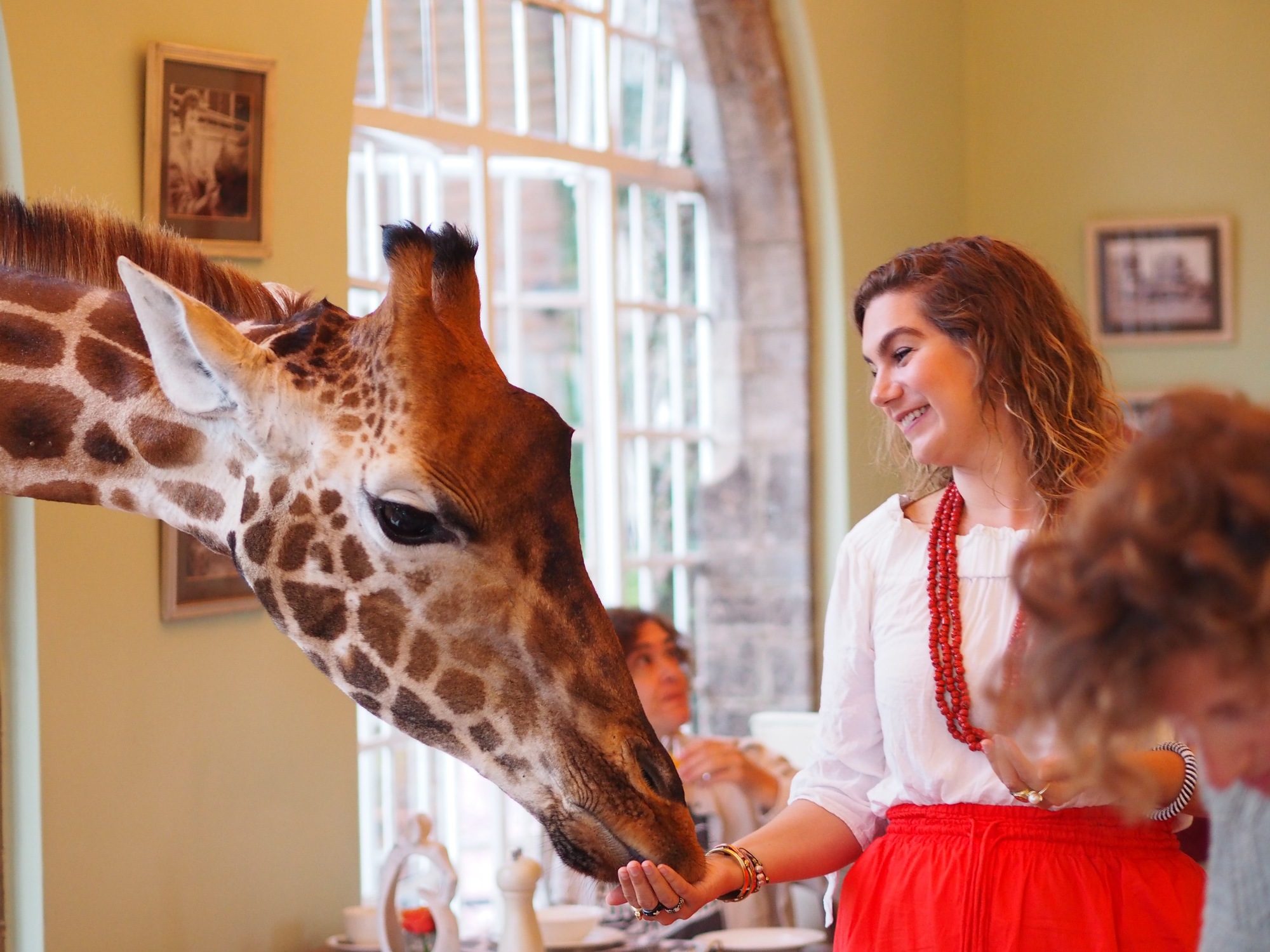 So close to being a great photo
What that means is that a lot of the great photos come down to luck: you have to be in the right place at the right time, with no other people around, and with the giraffe also staying still long enough to get the right shot. I actually felt quite stressed in the morning as the lighting was horrible and there were a few guests who were completely oblivious to anyone else who wanted to get a photo (i.e. constantly walking in everyone's shots to try to get their own). My mum and I got the table, the best table in the house, which meant that everyone else wanted a chance to sit at that table and get their own pictures, which… I totally understand, but let's just say my mum and I didn't eat very much.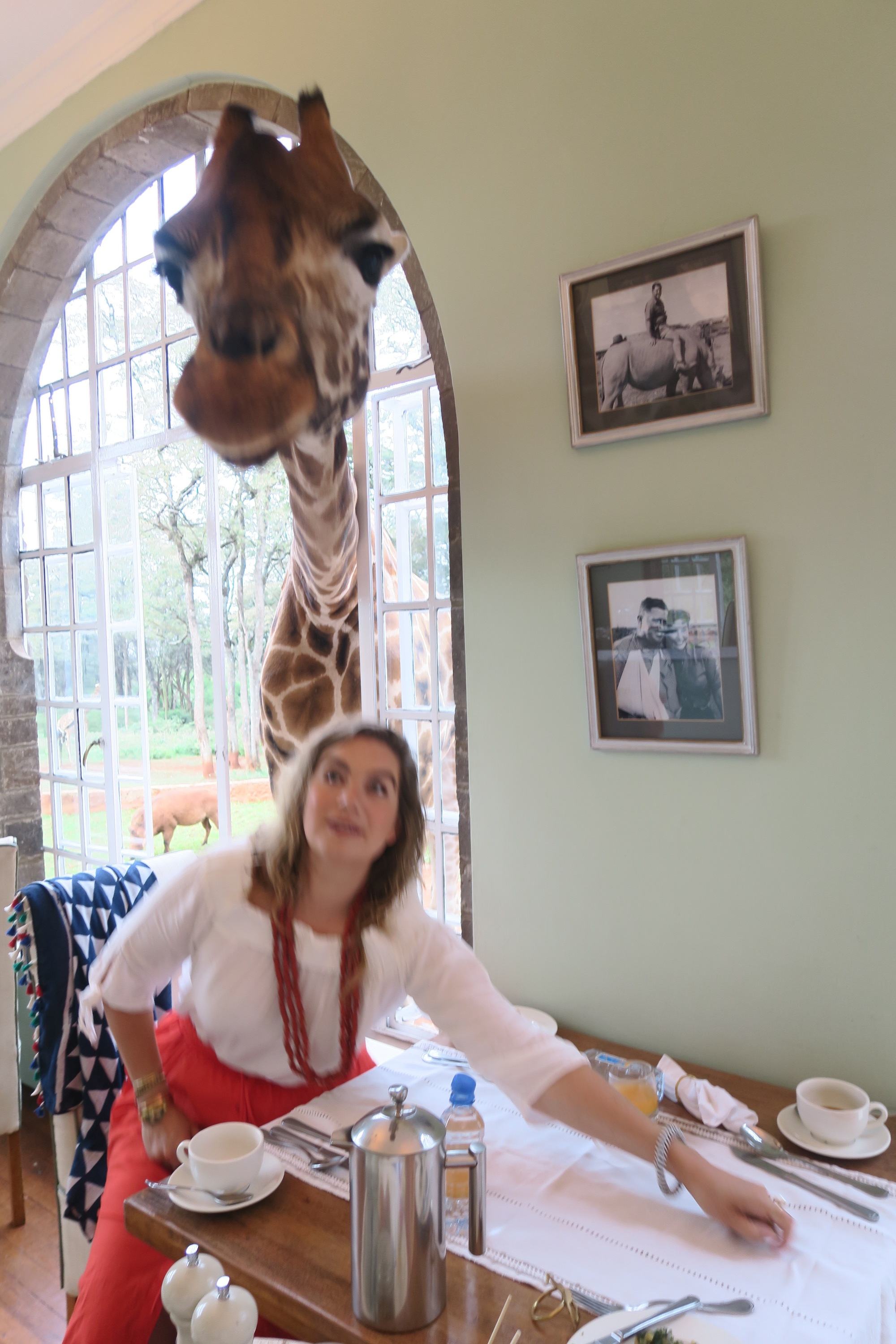 Get ready for a whole lotta blurry action shots
I actually found that the afternoon tea the day before the infamous breakfast was much more relaxed, as it was outside and there was a lot more room for people to move around.
More on this in the next post, including some behind-the-scenes photos and a whole lot of bloopers! My recommendation? Go for the experience, not just the photos. Trust me, if you get about five great photos, that's all you need.
Some final tips for staying at Giraffe Manor:
-Make sure to tip the staff. I am a big believer in tipping, especially when the service is so fantastic. There is a tip box in the foyer although you can also tip individuals who were especially helpful or kind.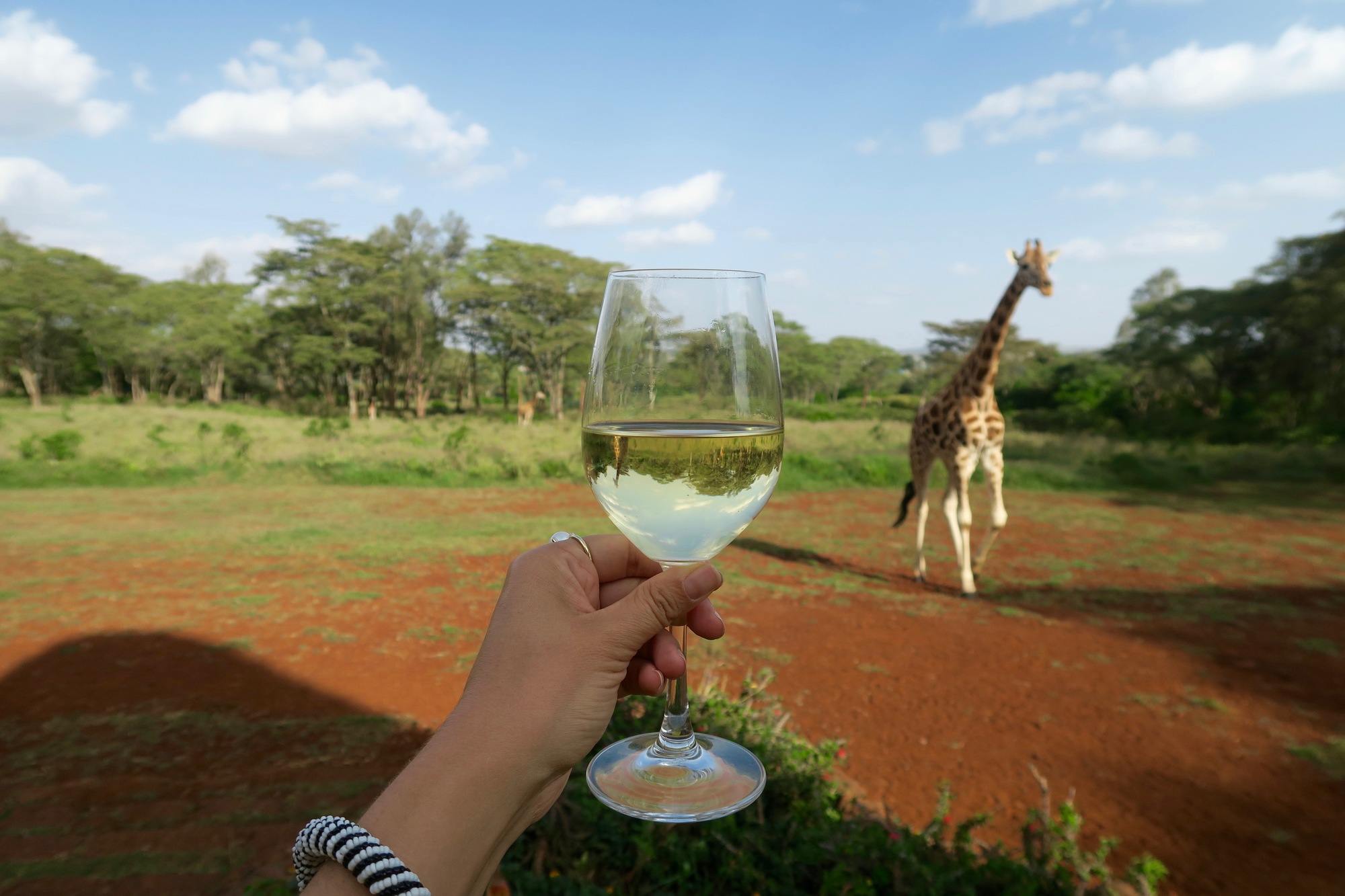 -Don't drink too much. I say this because there were two guests who definitely took advantage of the all-you-can-drink part of full board and not only made an absolute fool of themselves throughout the afternoon/evening (think falling out of chairs, openly weeping, shouting over other guests, etc) but were so hungover the next morning they had to skip a portion of the breakfast with giraffes. My mum and I can laugh about it now, but they were extremely annoying at the time!
-Get up as early as you can so that you can take your pick of the breakfast table, and also so that you can be there for the giraffes' arrival! My mum and I were downstairs by 6:30am.
-Although some people were happy to just take photos on their phones, I recommend a camera with a bit more oomph to it so that you can get those high-quality shots. I used both the Canon G7X (a fantastic camera for quick photos, and it fits in your pocket!) and the Olympus OM-D E-M10 Mark II, a great mirrorless camera that can make even a photography amateur like me take the occasional perfect shot. Please note that those are both affiliate links!
I made a little video of the slightly blurry/way too excited footage I took that day!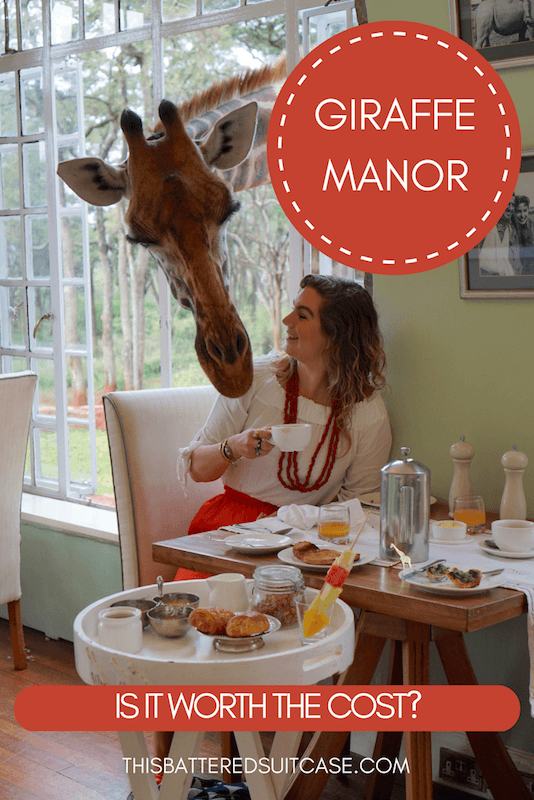 What do you think? Would you pay to stay at Giraffe Manor?
Huge shoutout to my mum, the staff at Giraffe Manor, and fellow guest Lizzie for being great photographers!