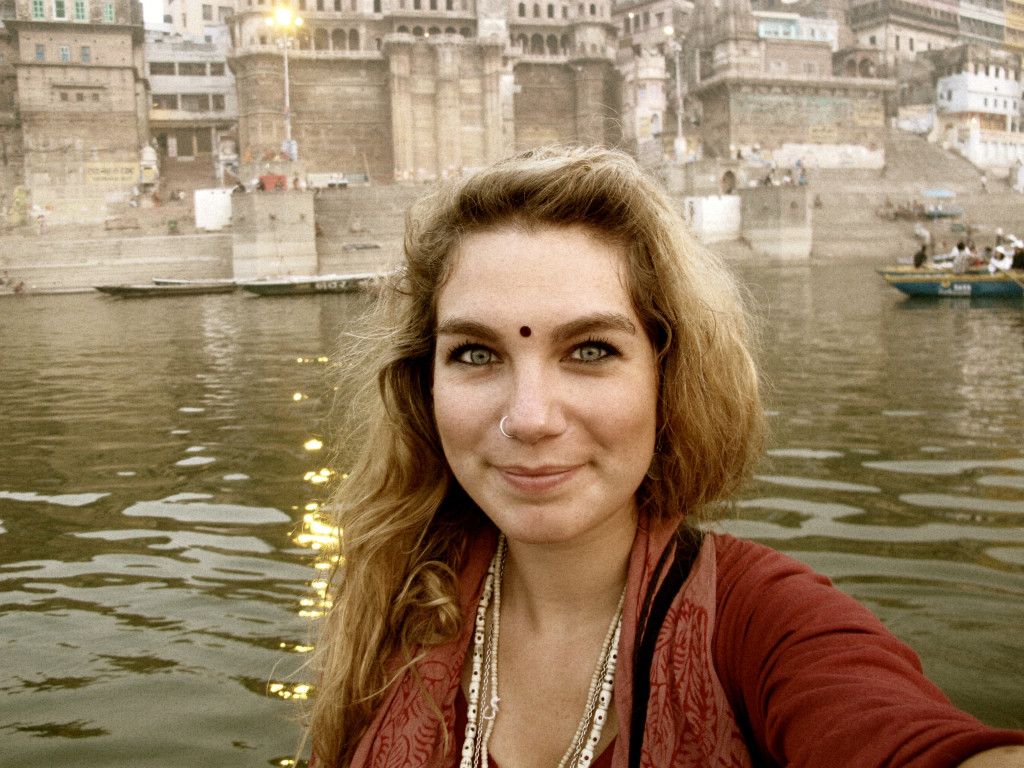 I have received a few emails about what to wear in certain countries around the world – especially what to wear in India – and I usually give the same answer no matter what the country: wear whatever you feel comfortable in, provided you're aware of and respect the local customs.
When in doubt, it's better to be a bit cautious, especially if you're a first-time traveller or in a new country. In general, I look to the women around me and take clues from them as to what to wear. While I would love it if all women the world over could dress exactly as they wanted to, the reality is that you will probably feel more comfortable abiding to that culture's norms.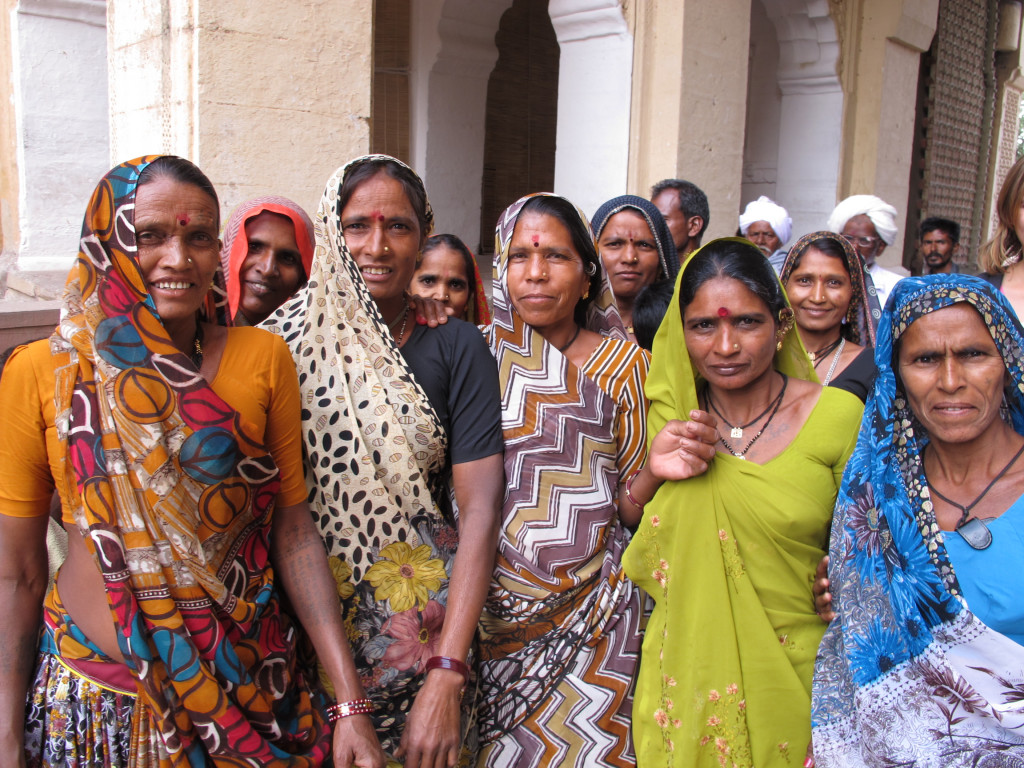 Lots of bright colours and patterns are the norm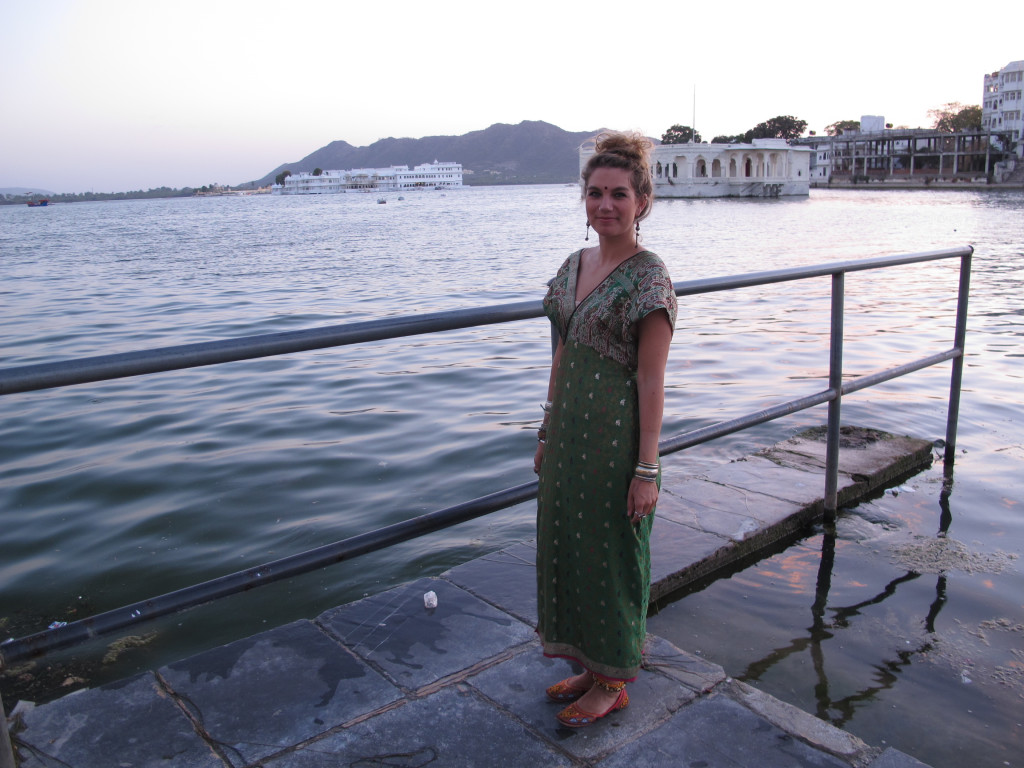 Wearing a dress made from an old sari – bought in Udaipur for approximately $10
Please note that this post has some affiliate links; as always, I only recommend products I use and love!
Of the countries I've been to, I loved my Indian wardrobe the best. My biggest piece of advice, no matter where you go, is to shop locally.
My dream is to one day arrive in a place like Thailand or India with a completely empty backpack and purchase all of my clothing there; not only is it usually much cheaper than clothes in Canada, the US, or the UK, but you'll have a lot more fun with your fashion.
You also get to support the local economy. I can't remember ever spending more than ten dollars on an item, be that a bag, a dress, or a pair of shoes. That being said, it's probably a lot more practical to have at least a few pieces with you when you arrive!
I'd also recommend bringing a good guide to India with you; as much as blogs help, I always love having either a physical guidebook or a great e-book downloaded and ready to go. While guidebooks are often a couple of years out of date, I still love carrying one with me for those times when I don't have wifi or service on my phone (they're great reading material on long train rides, too). They're fantastic for quick information like maps, important phone numbers, and so on.
I personally brought the Rough Guides guidebook to India with me, but the Lonely Planet guide to India is also a winner!
Here are a few of the things I wore while in India; of course, these are just my own recommendations, and your opinions may differ, but I hope it gives you a rough guide.
What to wear in India: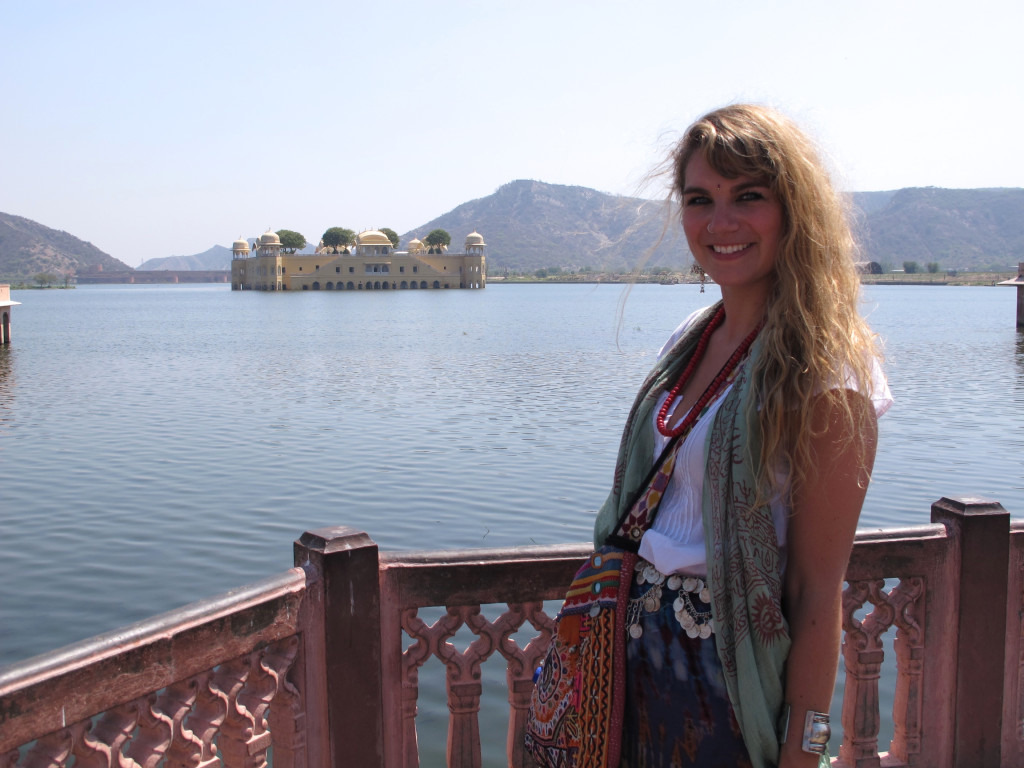 1. Scarves.
I believe scarves are the number one item for any travelling wardrobe, in pretty much any country. Not only are they incredibly easy to find, they can be used in so many ways.
I ended up buying five or six different ones in Southeast Asia and India in a variety of colours and they were not only useful, but added that extra something to my outfits. In India, women almost always have their shoulders covered; I often wore a scarf around my shoulders, either tying it in front or securing it with a safety pin or knot. This meant I could still wear the t-shirts and tank tops I already had with me, but I was both dressed appropriately and still kept cool. They're also super cheap – I never paid more than a few dollars for each.
Another suggestion might be to take a travel scarf with you – these scarves have zippered pockets so you can keep your money and travel documents safely around your neck at all times. Practical… and much cuter/easier than a money belt!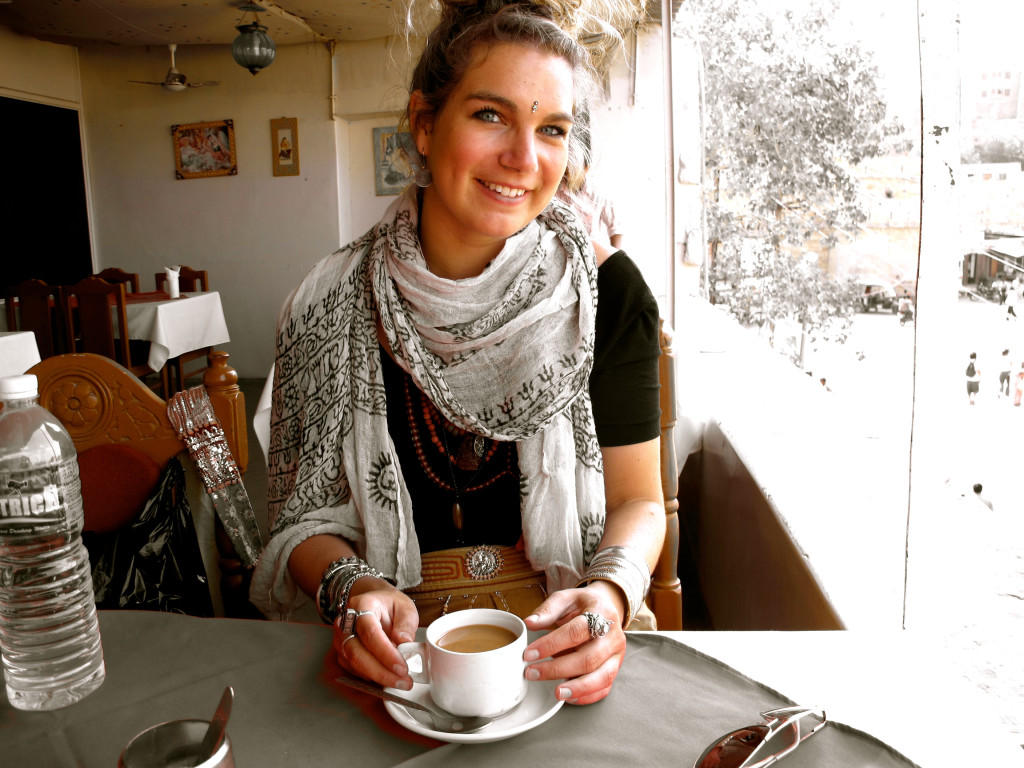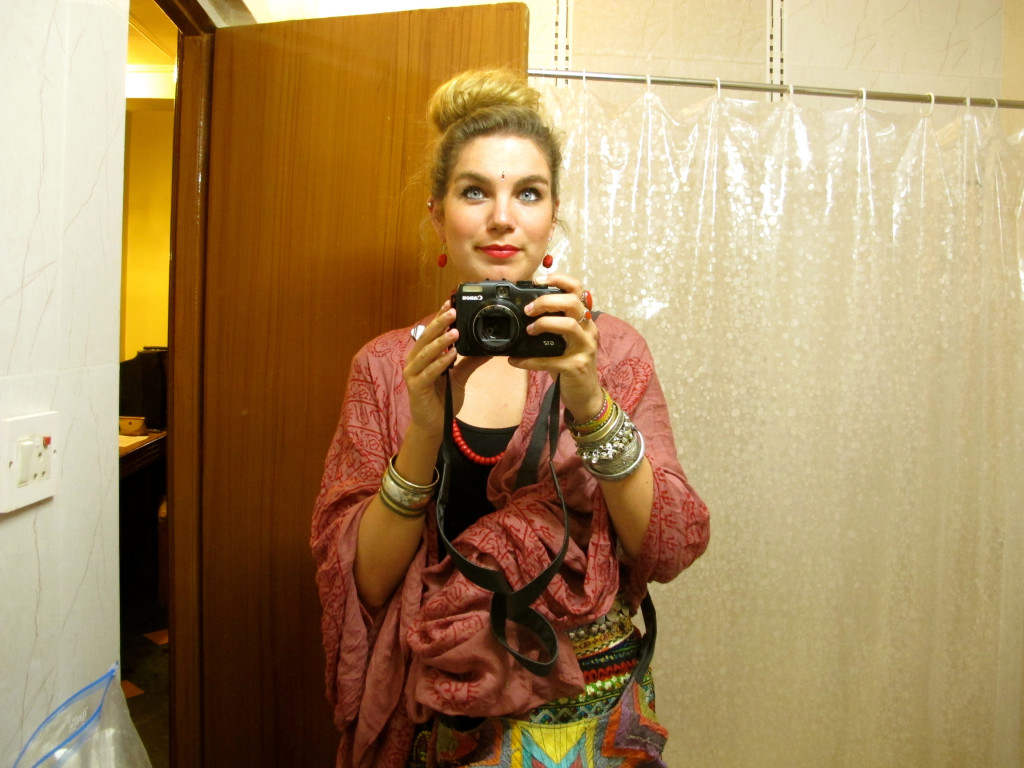 What was once a potentially inappropriate outfit – a black tank top – is easily remedied by a scarf. The mirror selfie, on the other hand, is unforgivable.
Another thing you can do with a cheap scarf is to cut a hole in the middle, making it into a poncho-esque top (words I never expected to type on this blog, let alone recommend). I did this to a blue scarf I had, and was able to wear it as a top and as a scarf whenever I wanted.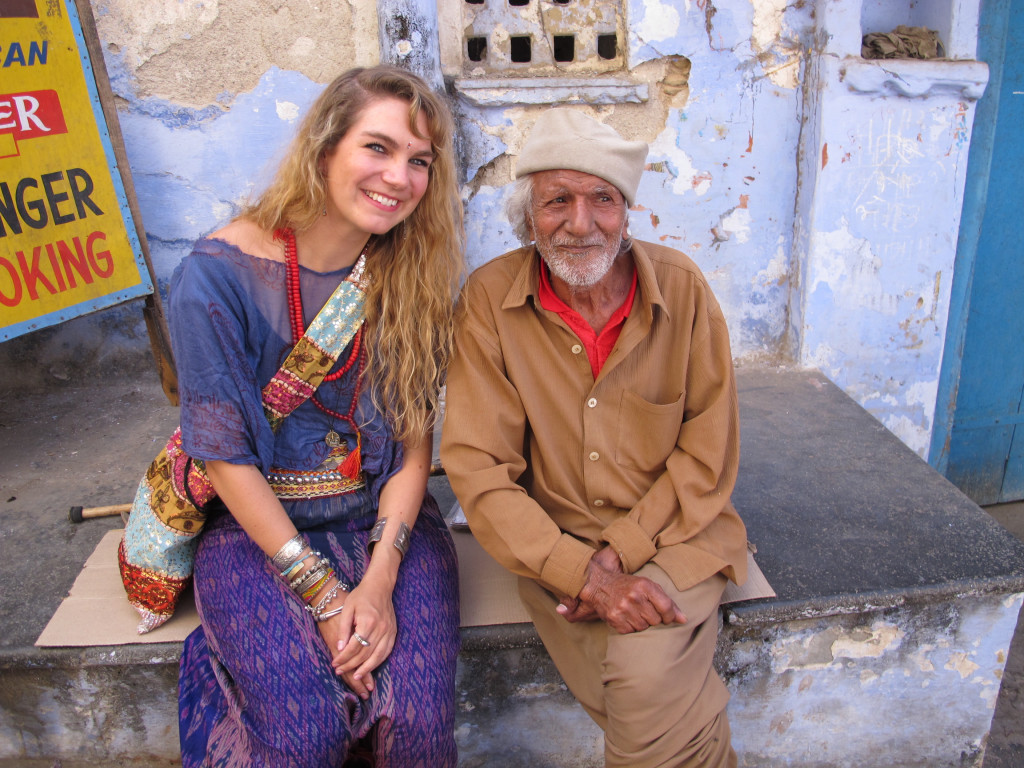 First a top…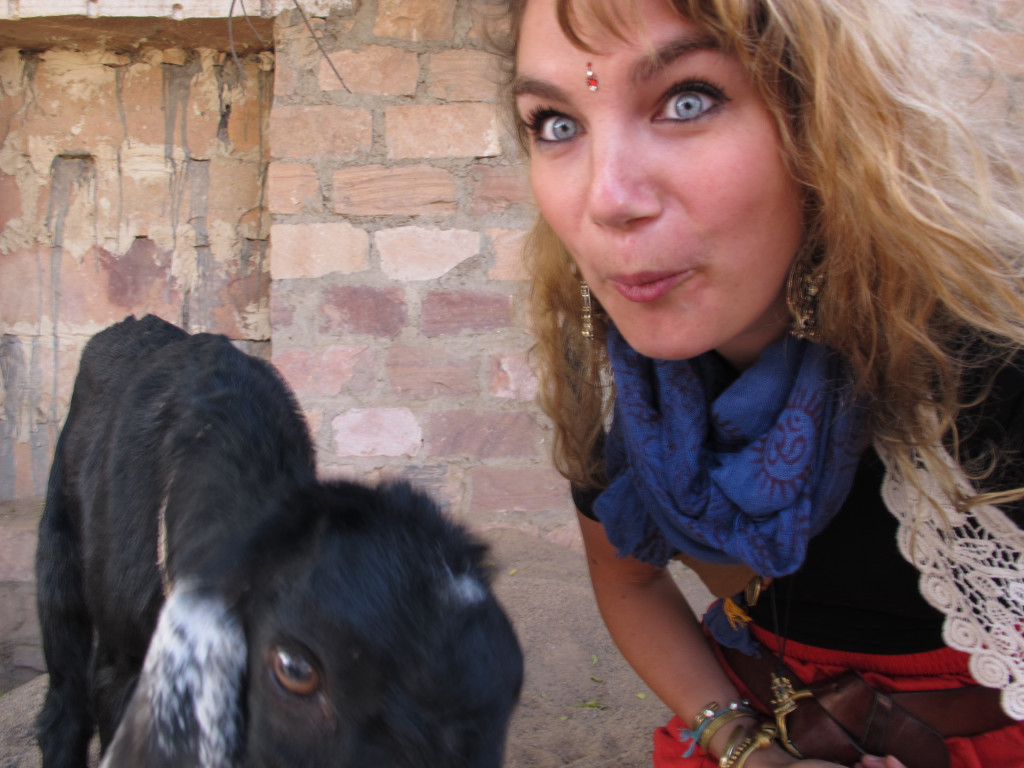 And then a scarf! Also that goat and I had exactly the same facial expression in every shot
Scarves are also very useful as head coverings, which are required for entry to some places, so it's important to have at least one on your list of what to wear in India.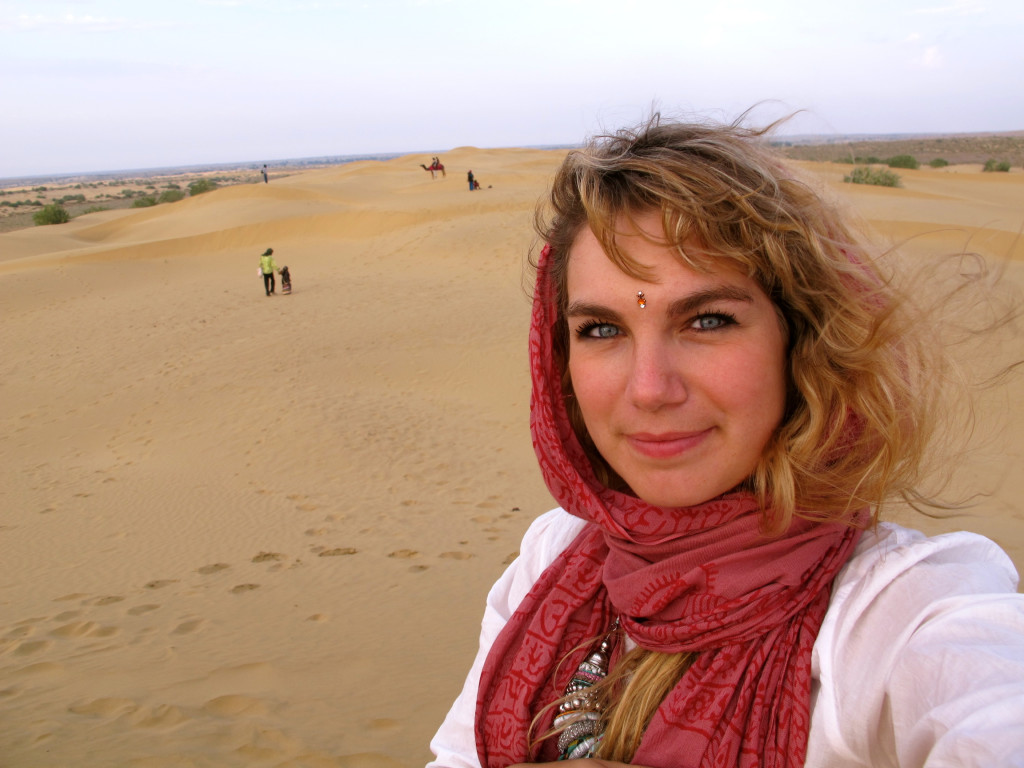 One more reason to buy scarves… if you go for a thicker variety, which I ended up buying in Nepal, they can be used for warmth (not only as scarves, but as blankets or wraps). I definitely encourage you to buy these locally! Click here to see what to wear in Nepal.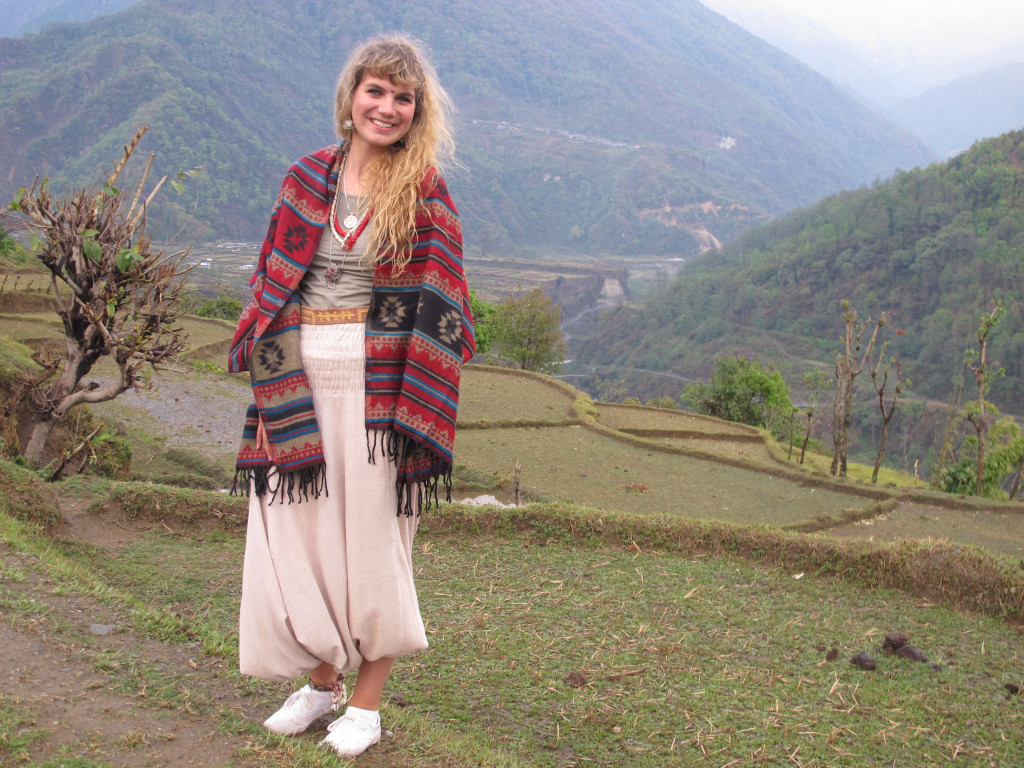 2. Long skirts.
I am a huge fan of long skirts when I travel to hot countries. As most women in India cover their legs, I wanted to follow suit – I also find long skirts to be incredibly comfortable and surprisingly cool. I wore a longi I had bought in Myanmar; a longi is essentially a long piece of fabric that you wrap around you and then tie at the waist, and I was able to recreate this with a sarong I bought in Thailand.
Be inventive with your wardrobe, especially if you're travelling for a long time with the same clothes. You can always wear leggings under your skirts for extra coverage and/or warmth.
My favourite maxi skirts right now are ones that have a lot of stretch to them (did I mention the amazing food in India?) and ones that can easily be thrown in the wash.
I really like skirts that have roominess and versatility; this long skirt comes in a variety of colours. If you're going for a bit of drama – perfect for in the evening, or for a photoshoot at the Taj Mahal! – there's nothing wrong with wearing a skirt with volume that you can spin in.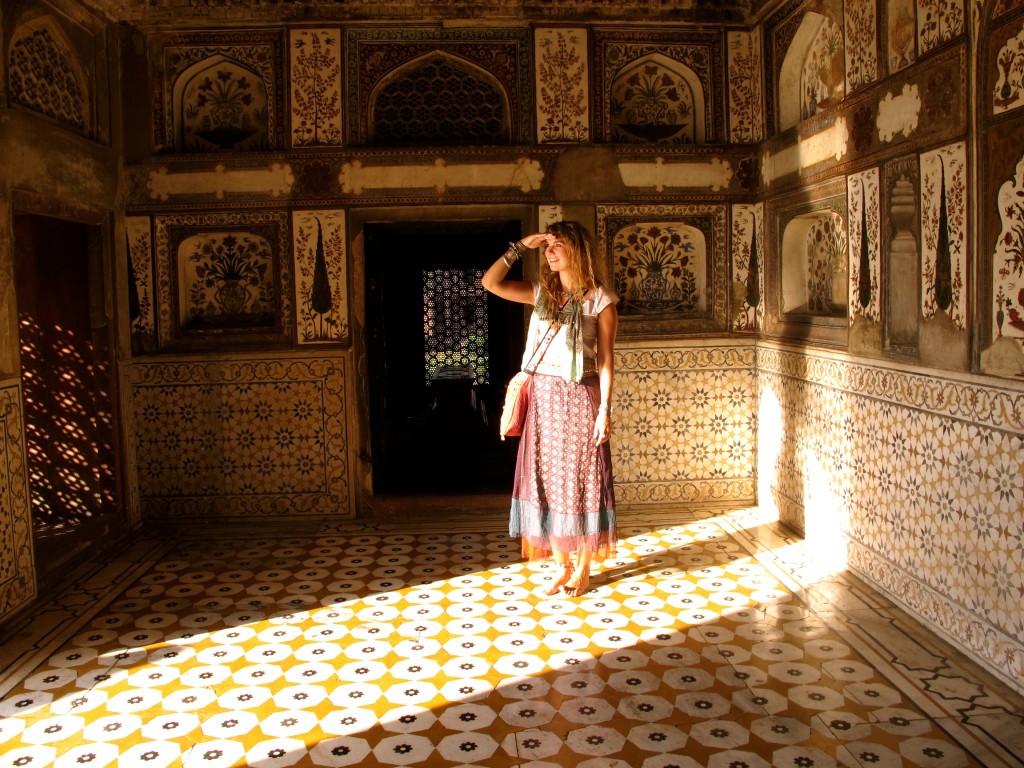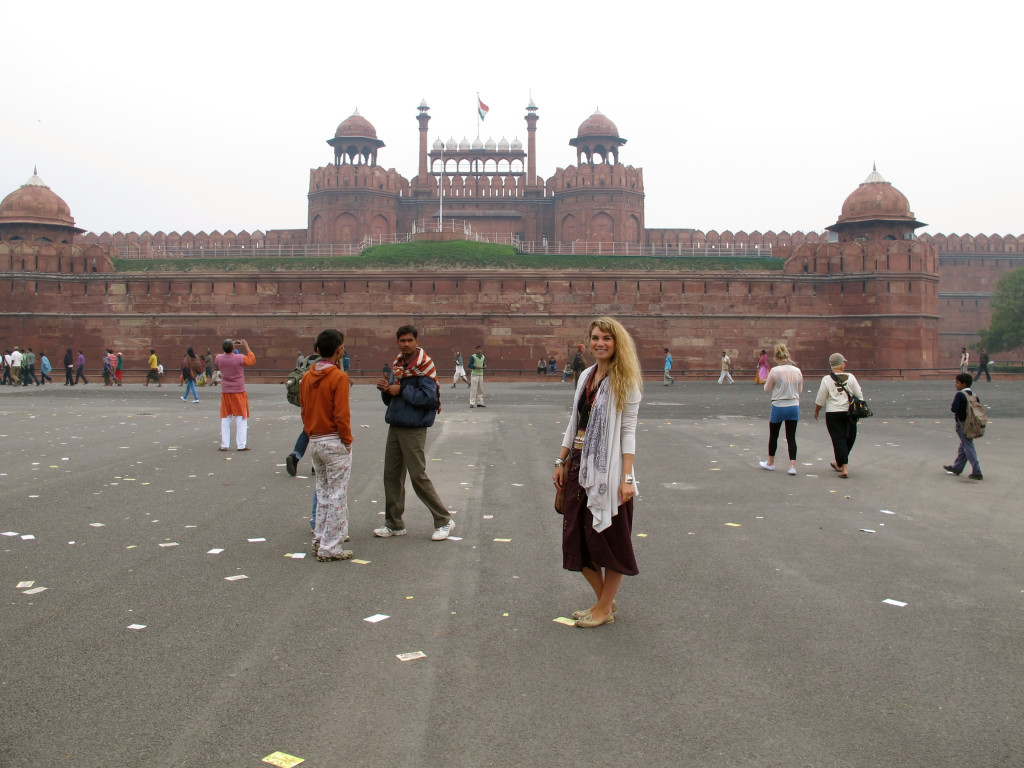 Wearing a Burmese longi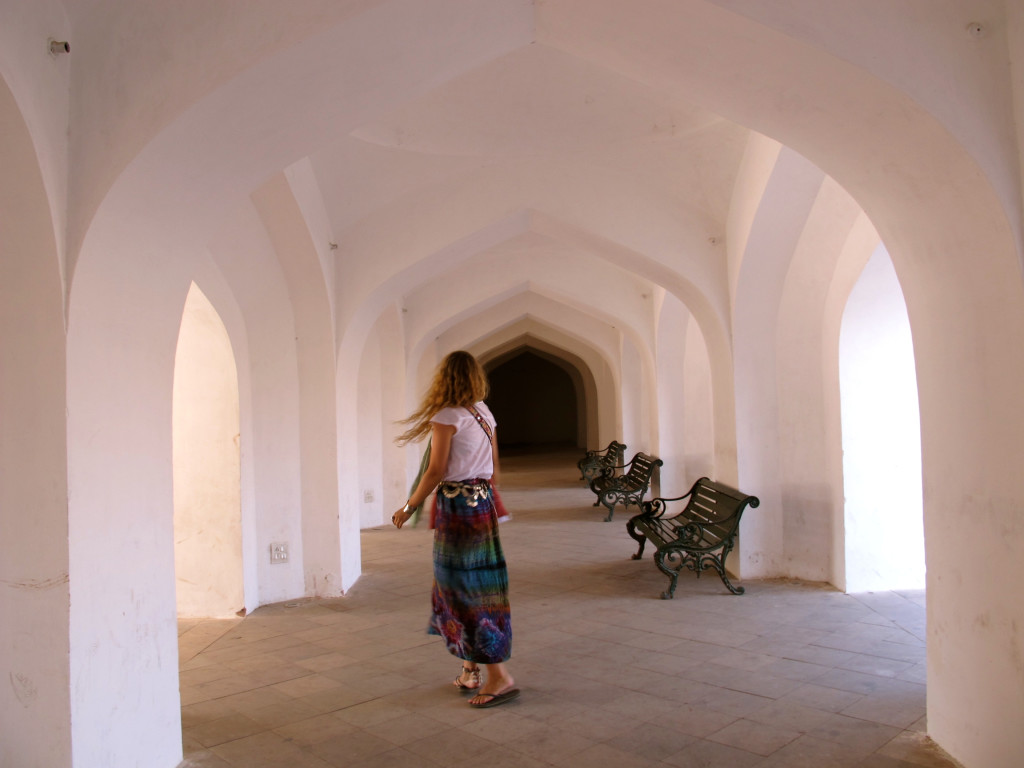 A sarong converted into a long skirt
3. Cotton blouses.
It may seem counter-intuitive to wear white when travelling, but I found white cotton blouses to be the easiest things to wear in India. Not only do they keep you a lot cooler than a black or dark-coloured top, they are easy to wash and dry really quickly.
I had two or three cotton blouses on rotation for my entire time there. Many tourists also buy kurtas, or long blouses, to wear over their t-shirts. I bought a really light cardigan to wear over tank tops, which also works.
While I bought a few cotton blouses in India, I arrived with two already in my bag (you need something to wear to the market, after all!).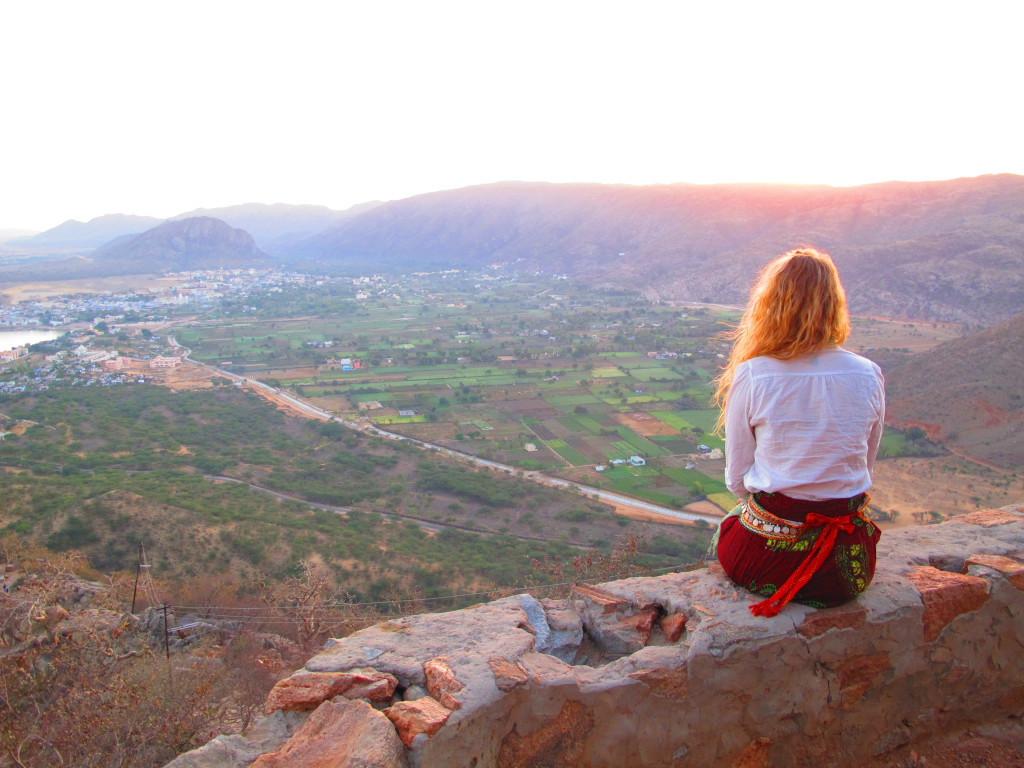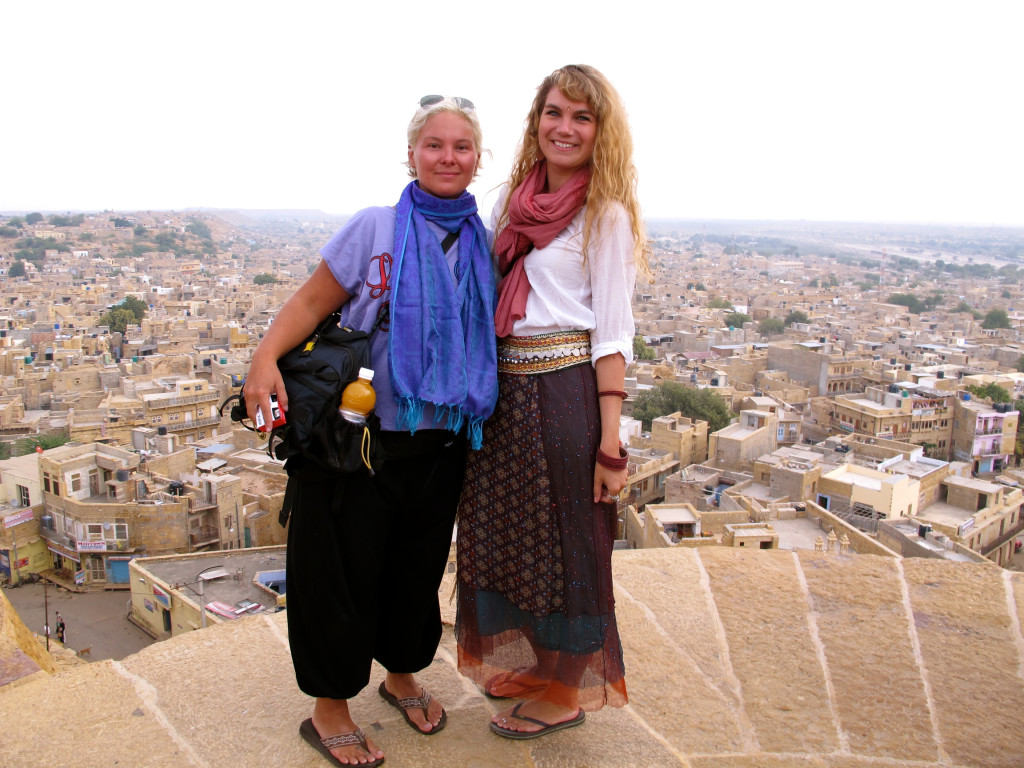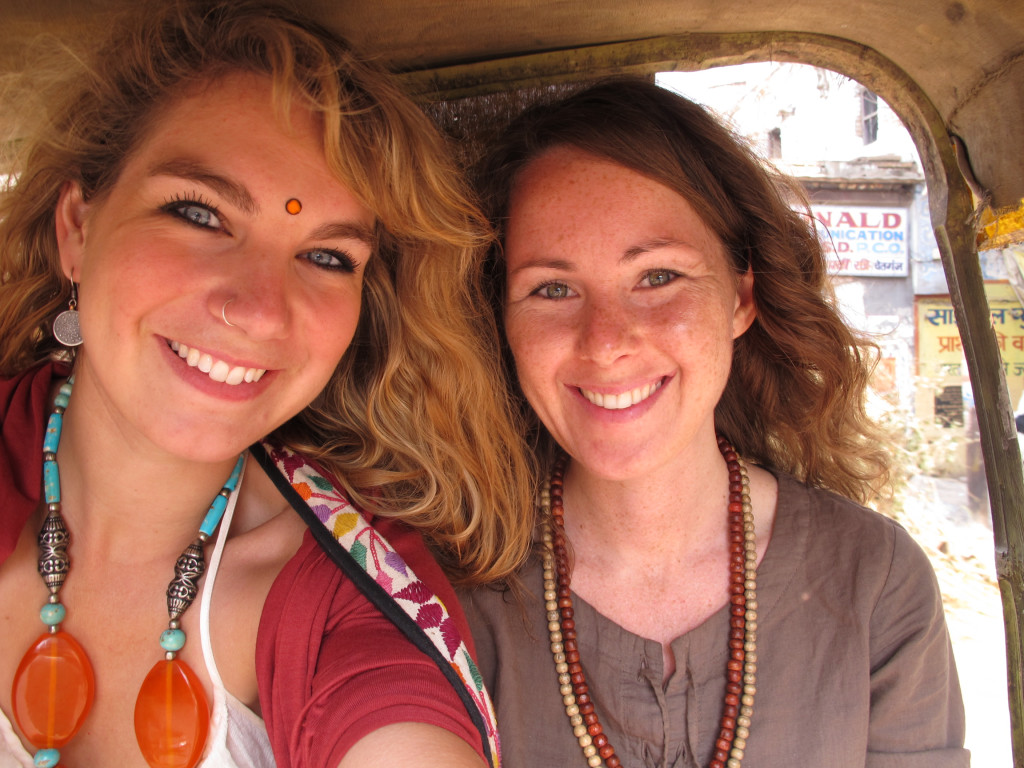 A cardigan bought in Pushkar allowed me to still wear my tank tops from Thailand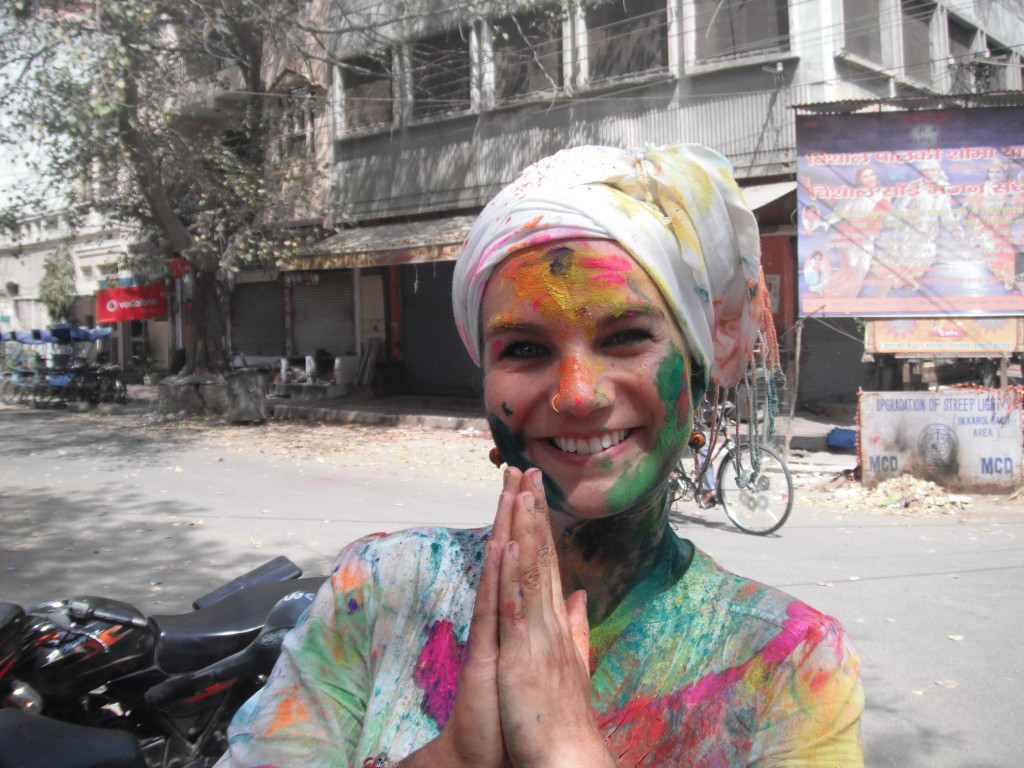 If you're going to attend Holi, be warned that everything you wear will be ruined. I personally think this shirt got infinitely better.
Or… just screw all this advice and buy the loudest shirt you can find
4. Genie pants.
Genie pants, or harem pants, are everywhere in Southeast Asia and the Subcontinent, so you'll always be able to find a pair in a colour or pattern you like. Despite being an almost cliched part of the backpacker uniform, I still felt I was able to make them look fashionable. I almost never wear trousers, but I found these to be amazingly comfortable and really fun to wear. Still trying to figure out how to wear them in London…
I'd start off with a pair of harem pants like these ones (or a couple of pairs if you'd like to try different shades), which are ideal for travelling. I love that you can dress them up or down!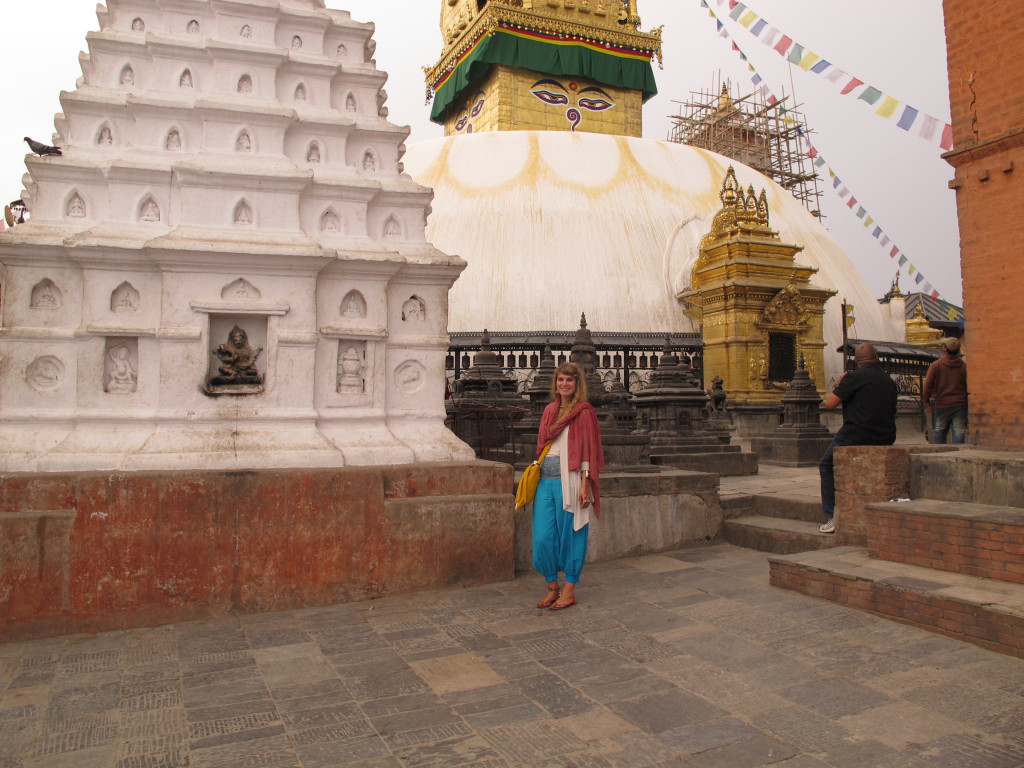 These wardrobe tips can also apply to some other parts of Asia, including Nepal!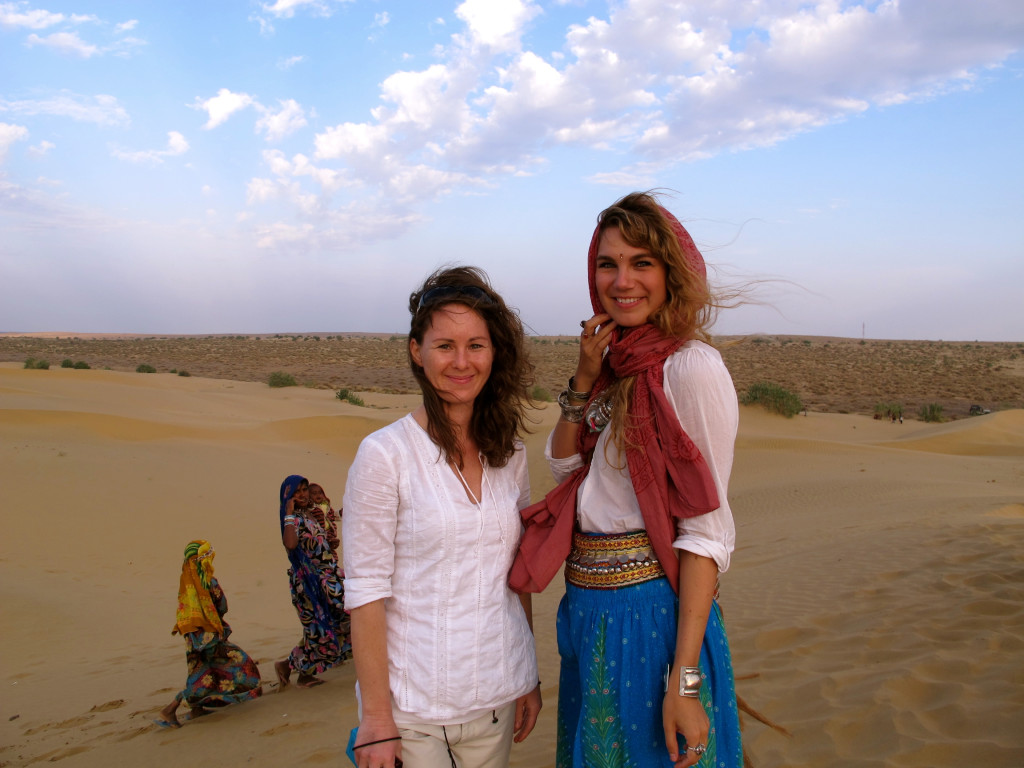 5. Saris.
Saris can be incredibly cheap in India (I paid approximately ten dollars for each, but be warned that you get what you pay for). I felt absolutely beautiful whenever I put one on, and was encouraged by my Indian friends to wear them while in the country, so I wore them for special occasions. There are plenty of tutorials on YouTube on how to tie one, but after I was shown once by a friend it was fairly easy to do.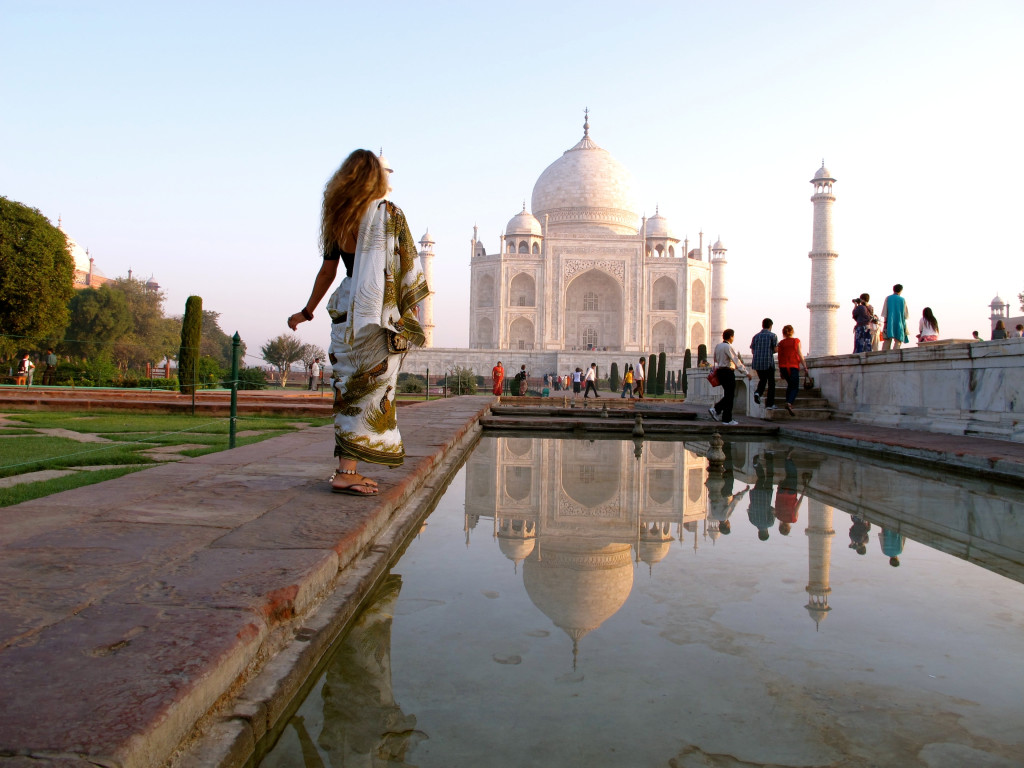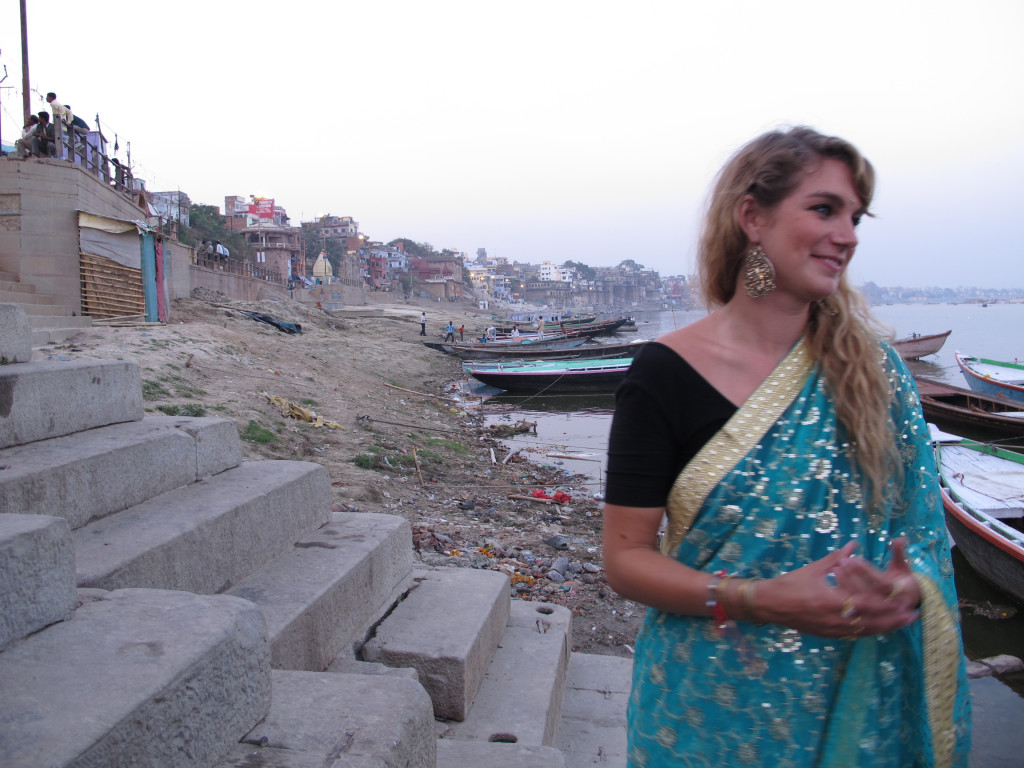 6. Leggings.
I have to admit that I hate leggings, and I never wear them in London. While travelling, however, they can be great to wear under short skirts for coverage or under genie pants for warmth. I brought along a black pair from Canada and they were invaluable during my travels around Asia and South America.
I often committed the fashion horror of all fashion horrors and wore leggings under jean shorts whenever I'd go hiking or do more adventure-based activities. True hikers and adventurers might scoff at me (and fashionistas may laugh at me) but that combination always did the trick for light hikes.
Please note that if you'll be doing serious hiking in India, you'll definitely need more than just leggings!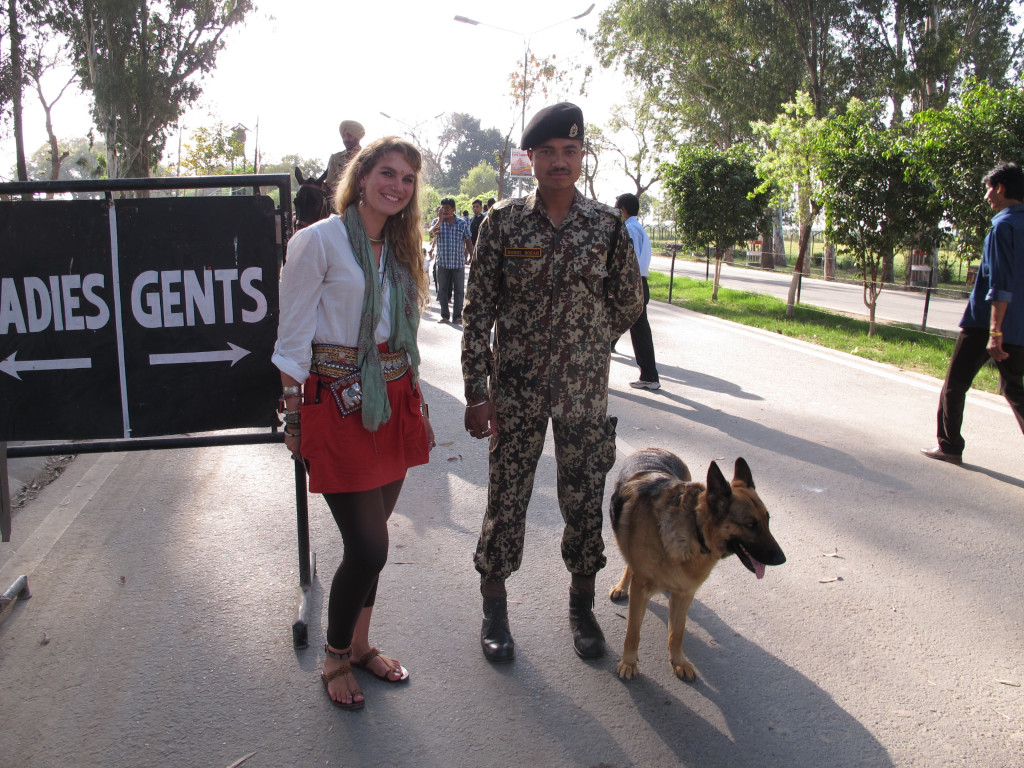 7. Shoes.
Well yeah, obviously you are going to wear shoes, unless you're that girl I met who didn't wear shoes for three months in India (you do you, I guess?). But alongside my usual trainers and flip flops, I decided to buy leather sandals and slip-ons from around India. Again, they are really comfortable, and they looked so much cooler than my imitation Havaianas from Khao San Road in Bangkok.
Make sure to have at least one sturdy pair of closed-toe shoes for journeys on public transportation, especially trains – those bathrooms can be a tad bit dirty, to say the least (hell, even train bathrooms in England give me the creeps).
I'd also recommend bringing at least one pair of reliable walking/hiking shoes you feel comfortable in. I personally always bring Keds when I travel, as I find them both comfortable and fashionable. They also last a long time – I had the pair in these photos for a good three years through 25+ countries – so they're a great investment.
I now swear by Naot sandals when I travel; they're super comfortable to walk all day in. As it's nearly impossibly to find sandals that are both cute and comfortable, I really wish that I had had these when I went to India the first time.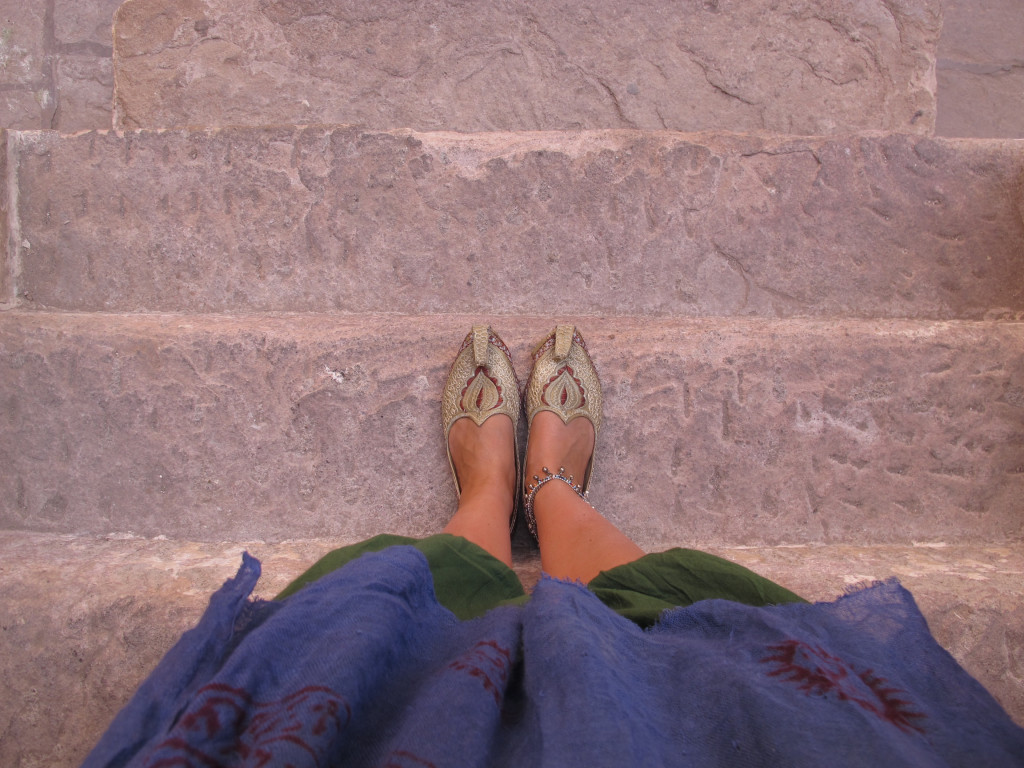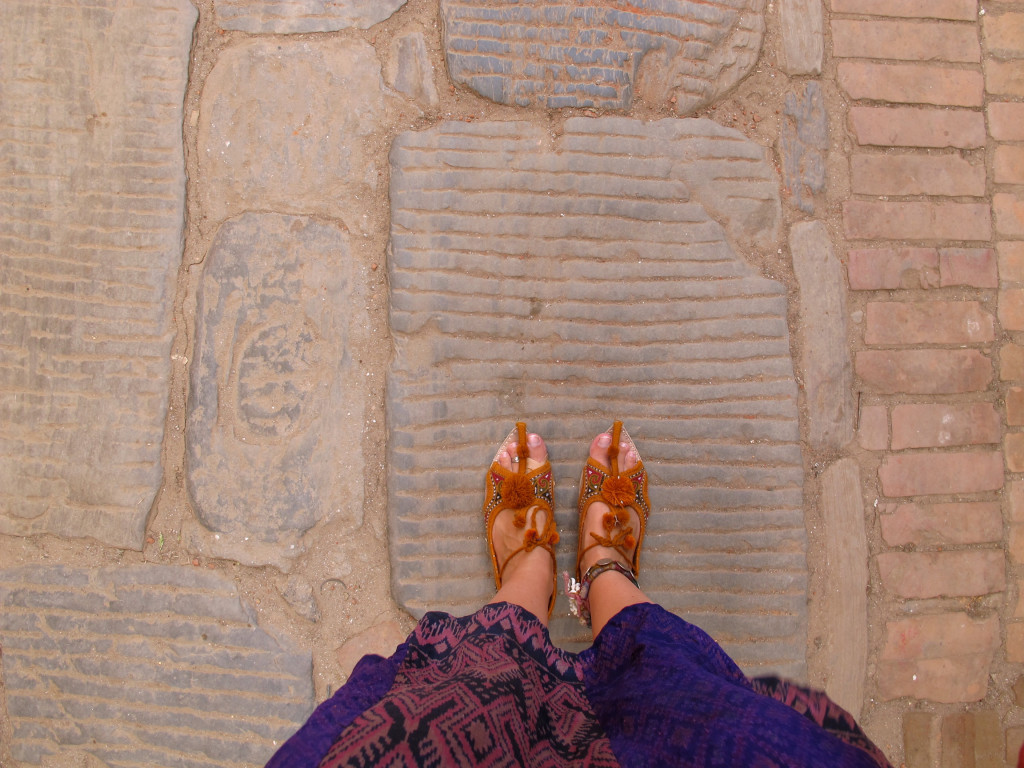 It also helps if you have a predilection for shoes like these
8. Jewellery.
I have often read that travellers should not wear jewellery. Anyone who has ever met me knows that I simply do not abide by that rule, nor do I believe in it. I wore enough jewellery in India to become every airport security staff's nightmare on a daily basis.
The key is to wear local jewellery – I would never go out dripping in diamonds and gold (mainly because I can't afford any of it, but also because I don't like it as much). Wearing jewellery from the place you're in is not only fun, but collecting these pieces is a great way to bring home cheap and easy-to-carry (as in, wear it all so that you don't have to pack any of it) souvenirs.
While I have long heard rumours of jewellery attracting too much attention, I believe that most thieves are a lot smarter than we may think. They're probably not going to go after your cheap bangles. They'll be after your smart phone, camera, passport, laptop, tablet, credit cards, and cash (joking… but not really).
Here's the thing: wearing cheap jewellery doesn't make you look like you have money. Simply being a foreigner does. The simple fact is, if you're travelling in India, you have money. Wearing a few rings from the local market isn't going to make you look any richer than you already do. Even though I regularly look like Mr. T, I have never had any jewellery stolen from me in any country.
And here's where, of course, I reject my own theory: beware of kids rushing up to you in groups. I was swarmed a few times in India and the first thing I did was grab my bag and lift my arms up to my chest. I hate to sound so paranoid and/or like I hate children (only one of those statements is vaguely true), but this is a common technique for pickpocketing.
I have also had children try to take off my bracelets while doing this – who knows if they were actually trying to steal them, but I didn't particularly feel like finding out. More often than not the kids just want to chat and play, but it's better to get a feel for the situation first.
At the end of the day, when travelling in any country, I try not to bring any jewellery that I would be devastated to lose. Also, one last tip, because it's worth saying here: of all the items of jewellery I've heard of going missing or being stolen while on the road, the worst offender seems to be long-chained necklaces of silver or gold. They are easily ripped off. So yeah, just go to the local market and buy some beads, okay? Everyone wins.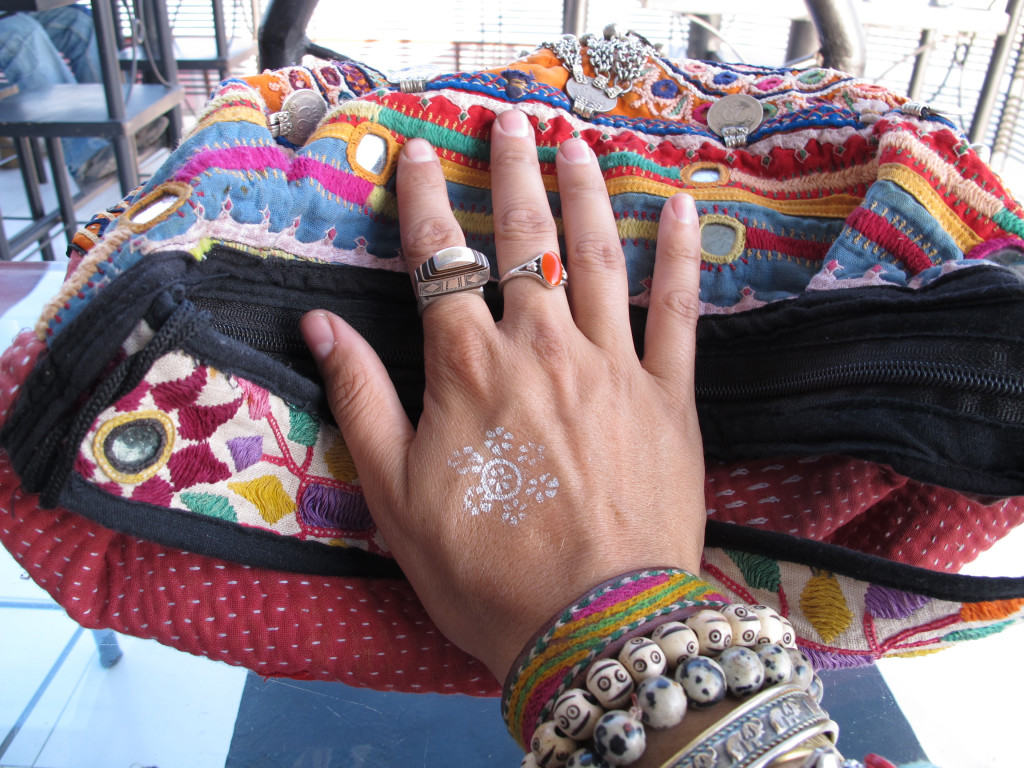 Another tip – wear your local jewellery and clothing when you go to the markets. Wearing these things establishes that you have already bought some, and you know the deal. Whenever I haggled with someone for a new bracelet or scarf, I could simply point to whatever I was wearing and say, "But I only paid X for this one." It worked every time.
Belts and bags are also really great things to buy – I always went for really colourful and sparkly ones, because my fashion choices haven't changed since my mum found me in her closet at two years old, draping all of her brightest clothing and sparkliest jewellery on myself.
Finally, as you can see, I'm wearing bindis in most of these photos from 2011. As a white woman, I personally wouldn't wear a bindi anymore. At the time, I was encouraged by women in India to wear bindis – I was often given sheets of them as gifts from friends or people I met – but I think, knowing what I now know about cultural appropriation, I would choose not to wear them again.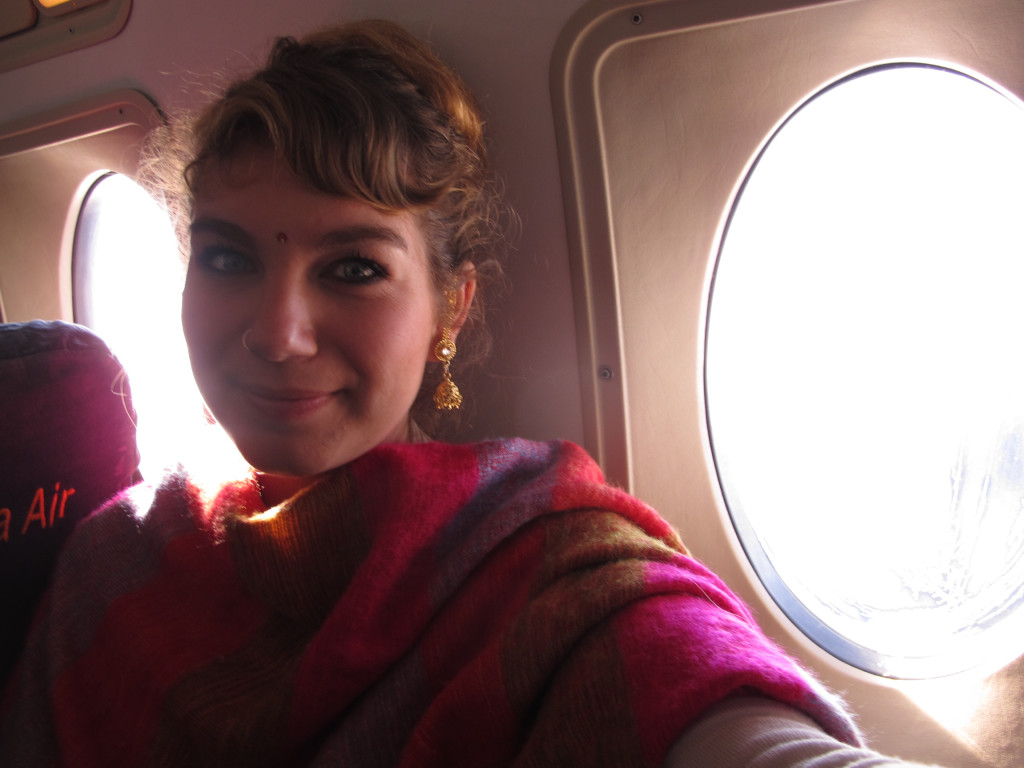 Indian earrings
9. Makeup. 
You've probably noticed that I'm wearing makeup in these photos. It's absolutely fine to wear makeup when travelling – if you wear makeup at home, why not wear it abroad? As India can get quite warm, it's best to avoid heavy makeup on your face (such as a heavy foundation). I personally wore concealer, powder, bronzer, eyeliner, and mascara every day, and my go-to eyeliner was actually kohl that I bought in local Indian markets.
My very best makeup tip? Use an eyeshadow primer, even for eyeliner. I hate to say this stuff changed my life, but as someone who wears black eyeliner every single day… this stuff changed my life. I can put on my eyeliner in the morning and it won't budge all day. My favourite eyeshadow primer is this one by Urban Decay – one tube tends to last me a year, so it's a great purchase.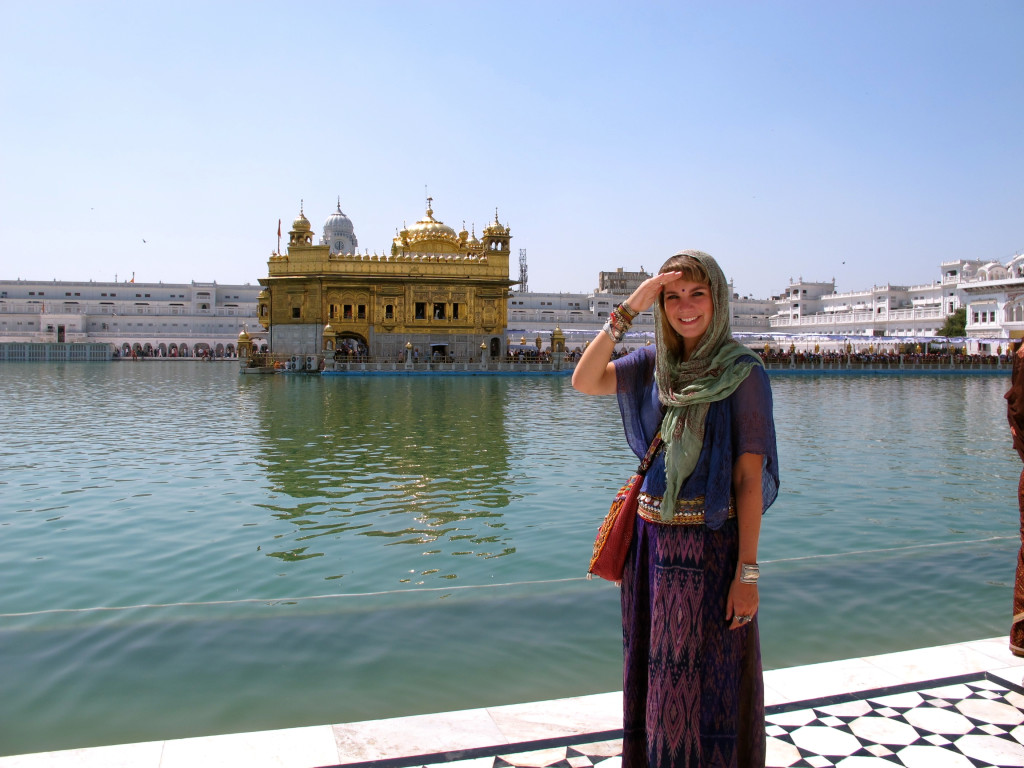 At the end of the day, only you will know what you feel most comfortable in. What I found was, by dressing in the local clothing and jewellery, I felt both physically and mentally comfortable. I did draw attention to myself… but so did the other people I was travelling with, and they were wearing jeans and t-shirts.
In my month in India I only received positive responses from Indian people regarding the way I was dressed. Many women came up to talk to me, or vendors in the market would compliment my style. I believe that dressing respectfully in the local fashion shows appreciation and admiration for the culture and its people.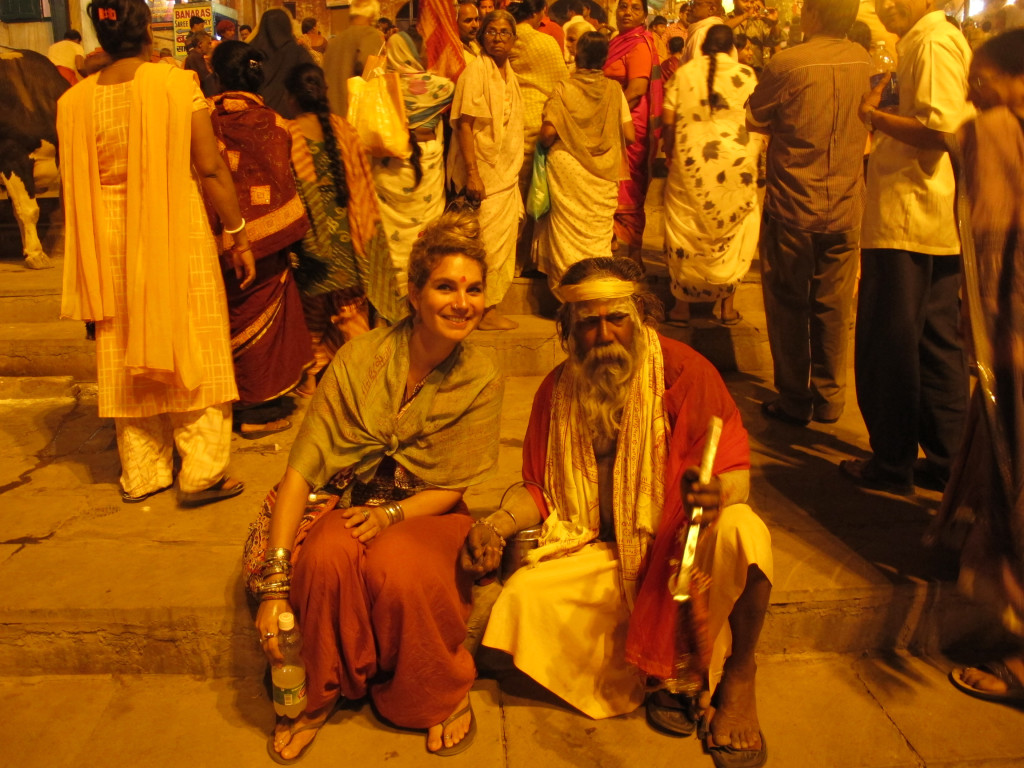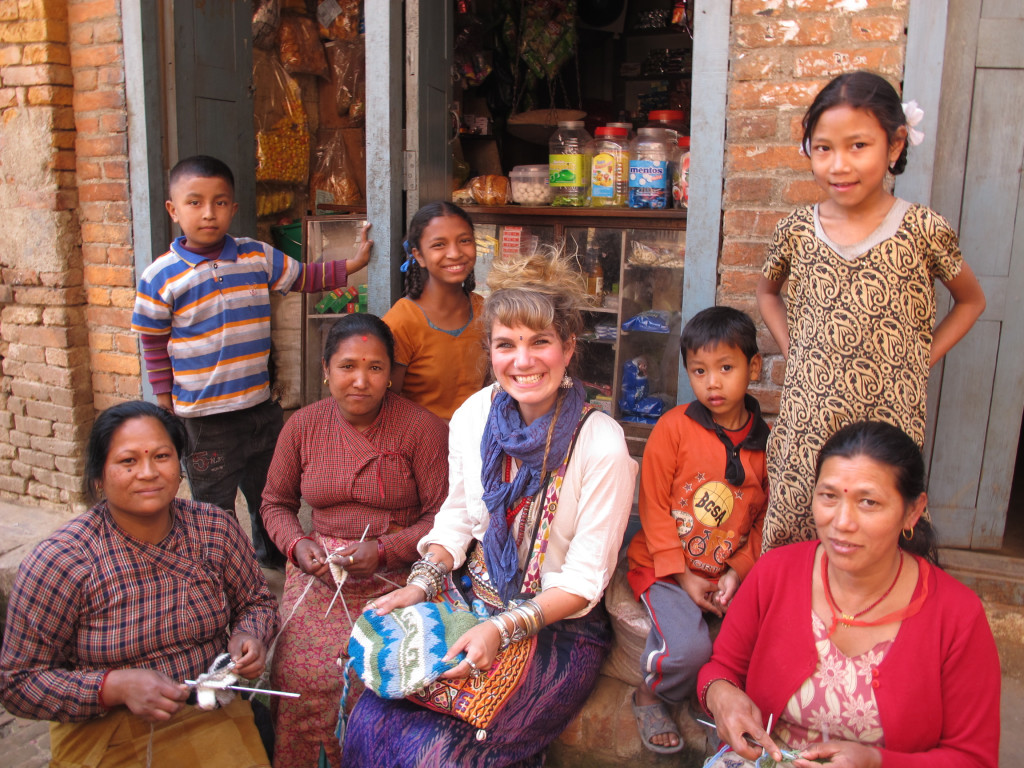 Another shot from Nepal; note the long skirt, white blouse, scarf, colourful bag, oodles of jewellery, and ridiculous grin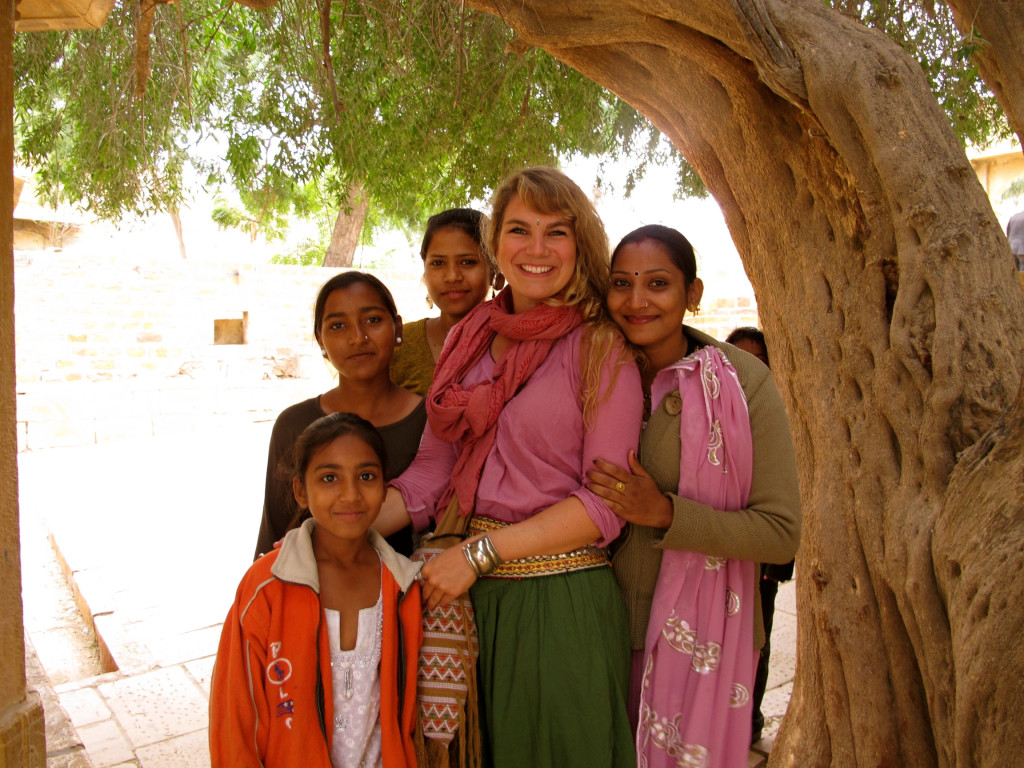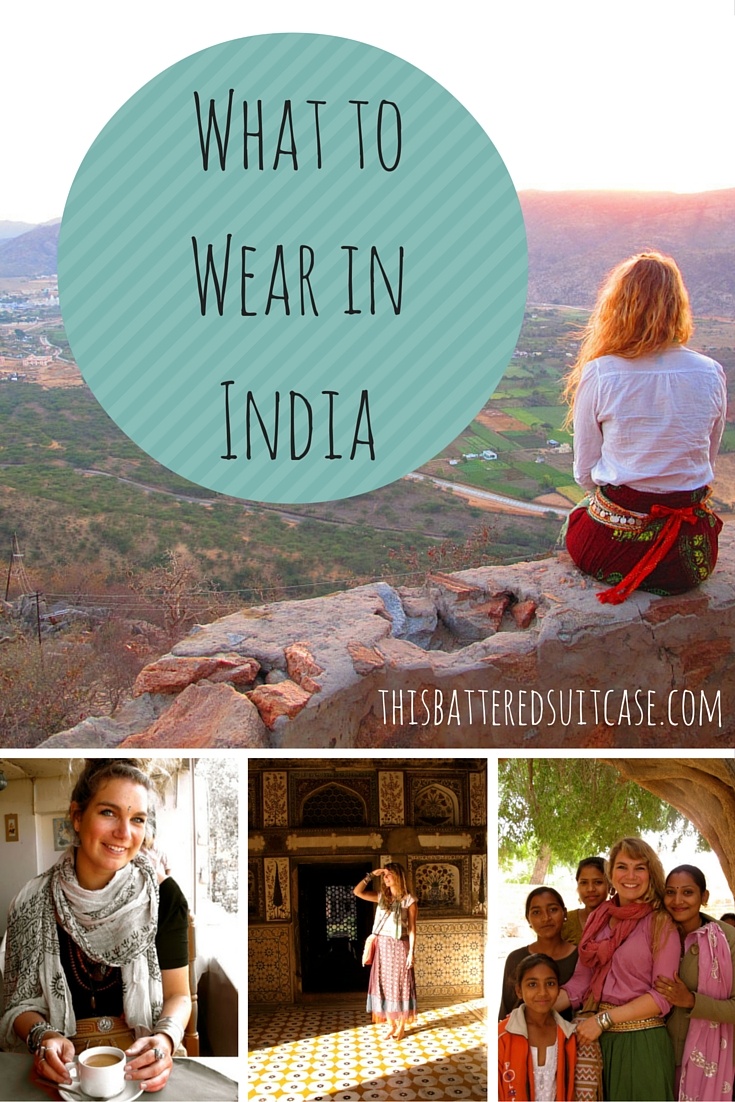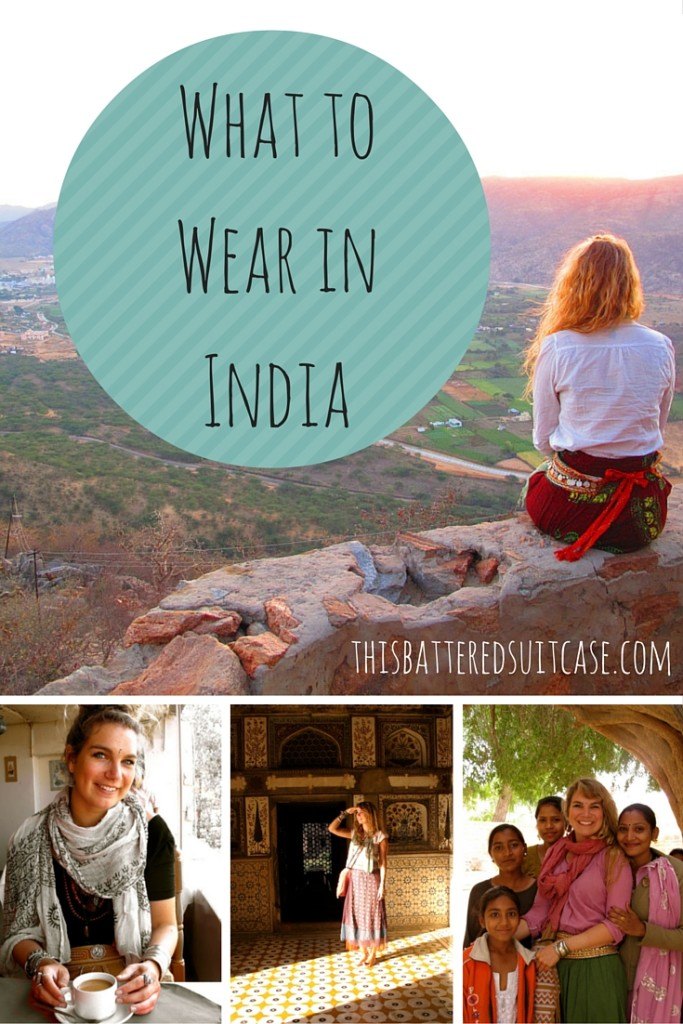 Have you been to India? What does your wardrobe consist of when you travel?
If you're interested, here's another article I wrote about feeling fashionable while travelling. Additionally, you can check out what to wear in Thailand, what to wear in Nepal, what to wear in Bhutan, what to wear in Russia, what to wear in Cuba, what to wear in Canada in winter, what to wear in Kenya, and what to wear in Colombia.