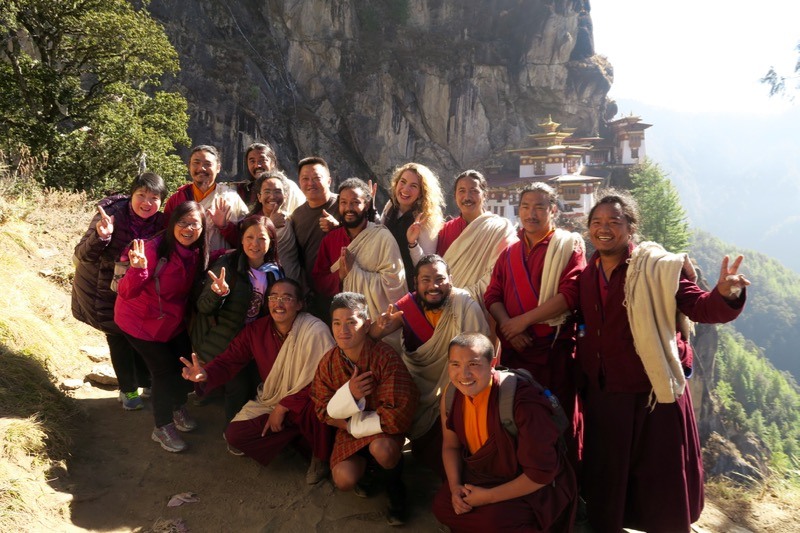 A country that long topped my "dream list" of travel destinations, Bhutan is also a country that I didn't know very much about. Despite a few websites and a guidebook in my arsenal, Bhutan seemed draped with mystery even the day before my arrival, when I'd fly over the Himalayas and land in its tiny Paro airport. Because I was visiting in December, I worried that the country would be freezing cold, and I didn't want that to hinder my enjoyment or appreciation of the adventure. When turning to the internet for advice on what to wear in Bhutan, however, I didn't find much by way of packing tips – "Bring a jacket" one website told me. Another said to "dress appropriately for the weather." Gee, thanks. How helpful.
The first thing to note about packing for any country is what time of year you'll be visiting. I always check the average temperatures for the month I'll be there, and take note of the rainy season and so on. Bhutan's averages (for the lower elevations, i.e. not the mountains) look something like this:
March – April: Dry, spring-like temperatures
May – June: Occasional showers, warmer temperatures
July – September: Rainy season, with warmer temperatures
October – November: Occasional showers, cooler temperatures
December – February: Occasional snowfall, with colder temperatures
Accordingly, then, the high seasons are spring and autumn (March, April, May, September, October, and November) because they have the nicest weather. I visited in December, when the temperature was a bit chilly but the skies were beautiful and bright (and the daily tariff was also lower, which you can read more about, including the process of getting a Bhutanese visa, here).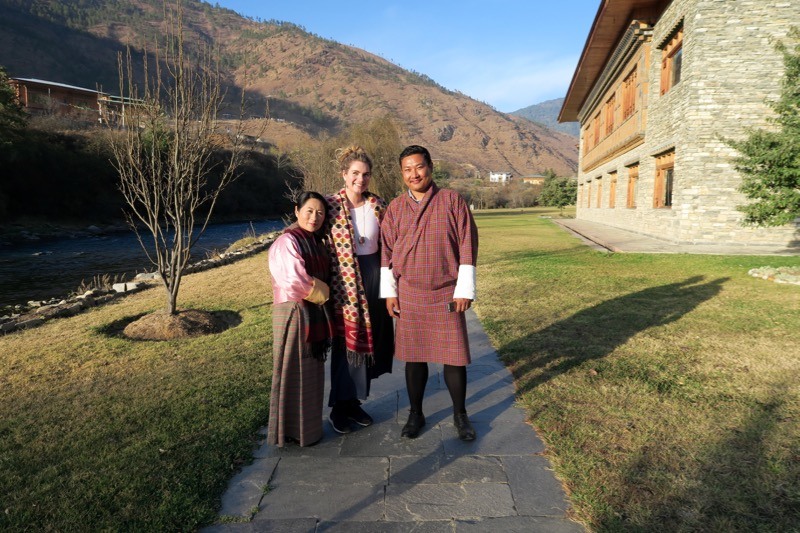 With my lovely guide and his wife from Bhutan Namdruk Adventure, the tour company I would recommend if planning to visit Bhutan
Another important thing to always take note of is what the local people wear. While I'm a feminist and I wish that all women all over the world could wear whatever the damn hell they want, the fact of the matter is that it's still important to be respectful of the country's customs.
In Bhutan, I took this to mean being covered up most of the time; women wear long tops and long skirts, but as you can see, so do the men. While this is obviously due to staying warm, most Bhutanese wear their traditional clothing with great pride in their daily lives. I do not want to jump to any conclusions, but I imagine that clothing in summer is not much different, and that we as tourists should respect these choices and abide as closely as we can to them, especially when visiting religious sites. That being said, the people of Bhutan were so lovely that I doubt anyone would have any issue of what you choose to wear. Not once did anyone act disrespectful of me or make me uncomfortable – it's rude to stare in Bhutan, so all tourists are treated like anyone else, regardless of gender or race.
While I was there on a cultural trip in winter and a lot of people visit Bhutan in the warmer months, and a lot of people visit to go hiking/trekking, I'd still like to go over some of the main points of packing for this beautiful and isolated country. A lot of this is pretty standard advice, but considering I found very little in terms of what women should pack when visiting Bhutan online, I figured I'd share what I learned through personal experience. Without further ado, here's what to wear in Bhutan.
Please note that this post has some affiliate links, but, as always, I only recommend products I already use and love!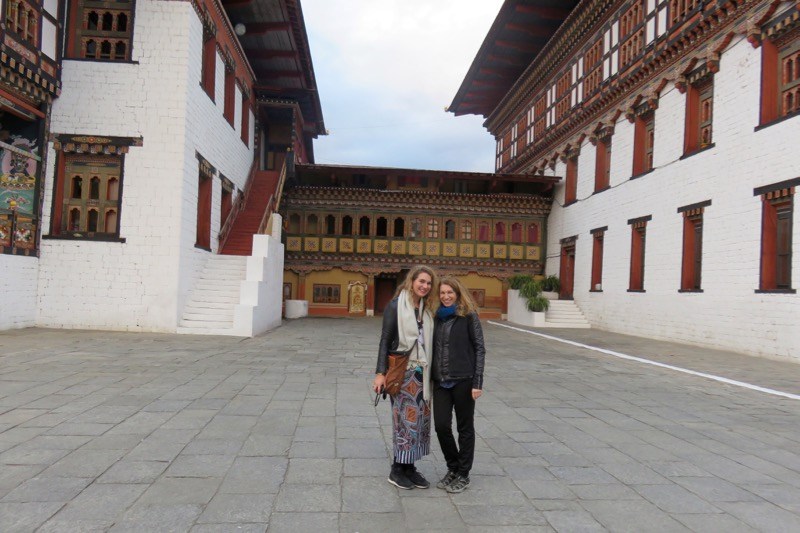 A jacket. Yep, I guess that website was right. Before I left for my trip around Asia – the one that included a fairly difficult packing task, as I was visiting beaches, cities, countryside, and mountains, with temperatures ranging from -5 to +35 degrees celsius – I thought I'd have to purchase one of those expensive, special jackets made of Gore-tex or fleece or something. And then I thought about my own advice on this blog, where I often say to bring clothing that you already wear at home. So if I could keep warm in low temperatures here in London, why couldn't I wear the same things in Bhutan?
Armed with that knowledge, I brought my trusty leather jacket that I've had for a few years and love very much. It was perfectly warm and totally appropriate for early December temperatures in Bhutan. If you are going in January or February, or plan to be hiking in the mountains, I do recommend bringing something a bit warmer (and, if you're hiking, something that will breathe better and allow for a better range of movement). My mum brought a jacket she often wears out in Toronto, and that was also totally fine. My point is, always think about what you already own before splashing out on an expensive or superfluous item of clothing that you may not really need. Wearing something you wear at home will also mean that you feel totally comfortable and fashionable in it.
As I had been travelling around Thailand and Nepal beforehand, I also had my faithful denim jacket that I bring on every trip. This was also handy for some of the warmer days in Bhutan, and I also once layered it under a wool jumper for warmth. I'm a big fan of cropped, classic denim jackets as they provide some shape.
Another thing to keep in mind is a rain jacket. While I personally didn't bring one on this trip, I often recommend tucking a small rain jacket in your bag that can layer on top of another jacket if need be. On this particular trip, I knew there was no rain forecasted, so I just brought a travel umbrella and hoped for the best. If I was going in rainy season, I'd take one like this that could fold down easily (and it comes in lots of colours, which are great for photos).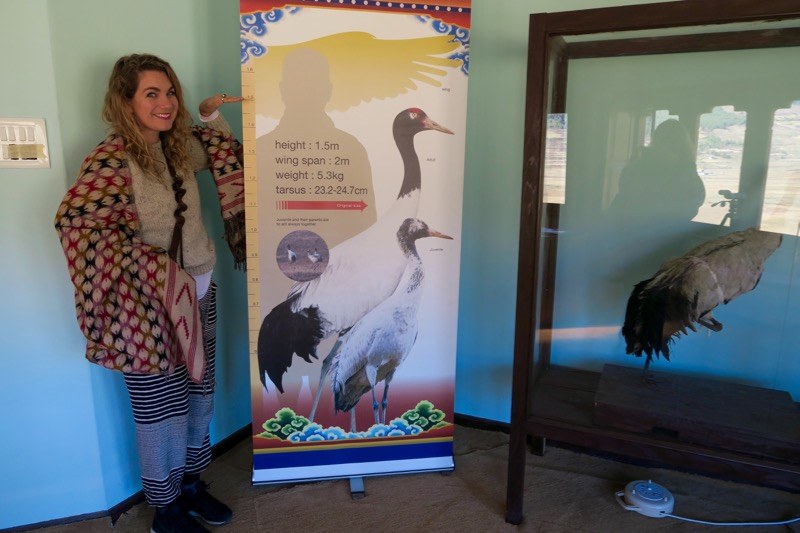 A jumper/sweater. That being said, one of the best purchases I made before my trip was this yak wool jumper I bought in Kathmandu, as I didn't already own one in London. It cost around $20 and was so incredibly warm I only wore my leather jacket a few times while in Bhutan. Because it was a neutral colour, I could wear it with just about everything I brought, and it makes for a great souvenir from Nepal. Even if you're visiting in summer, I'd recommend bringing a warmer jumper or sweater, as any country in the mountains can get quite cool at times, especially at night. Something like this wool sweater is absolutely perfect for staying warm in Bhutan.
I personally did not do any shopping for clothes in Bhutan, nor did I really see where to do it, so I'd recommend buying any needed items before you arrive (I bought most of what I needed in Kathmandu, where you can find tons of stuff meant for warm weather).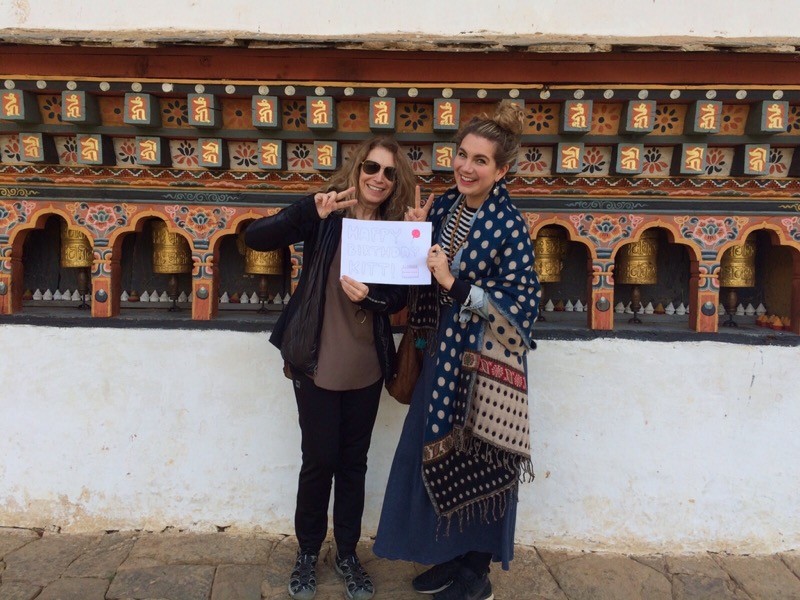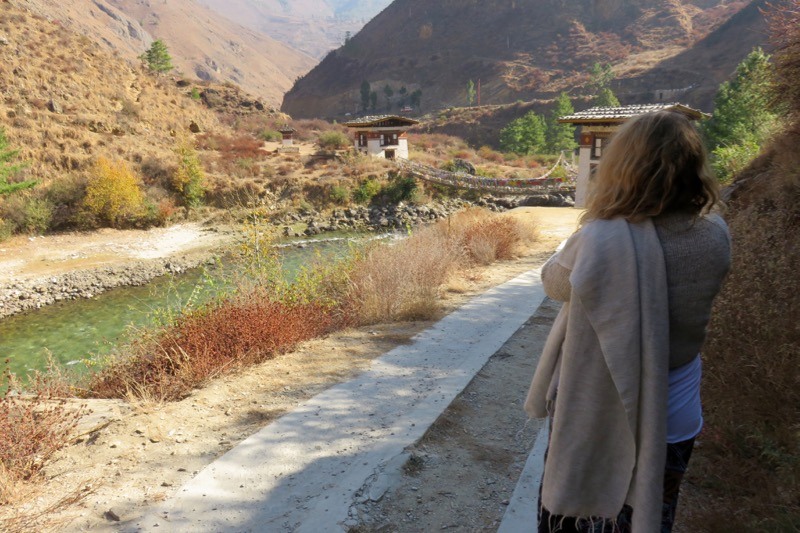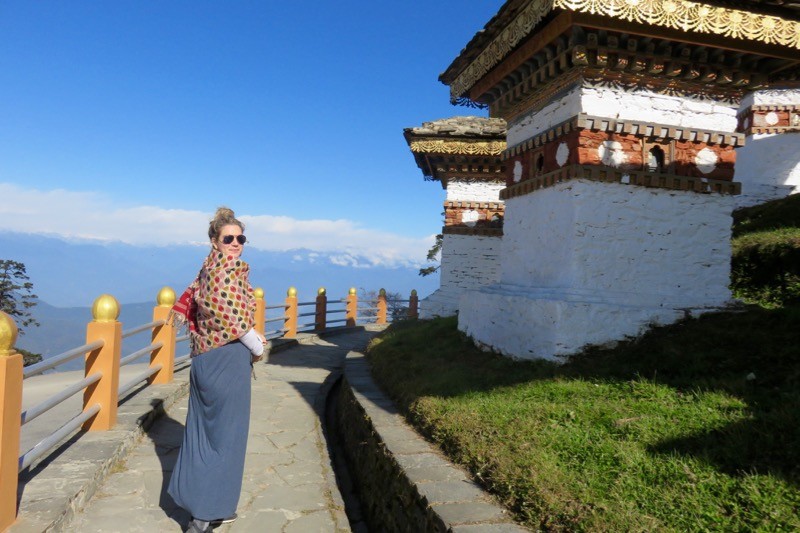 A scarf. I will never not recommend a scarf or sarong in any packing list, no matter where you're going or what the weather is like. They are so versatile, and in the case of Bhutan, a warm scarf/shawl like the ones I'm wearing in pretty much all of these photos is the perfect way to keep warm. On most days I simply wore a long-sleeved top or jumper and wrapped a scarf around me when I got cold. Just like the yak wool jumper, the scarves I'm wearing are also yak wool, and were also bought in Kathmandu for about $5 each.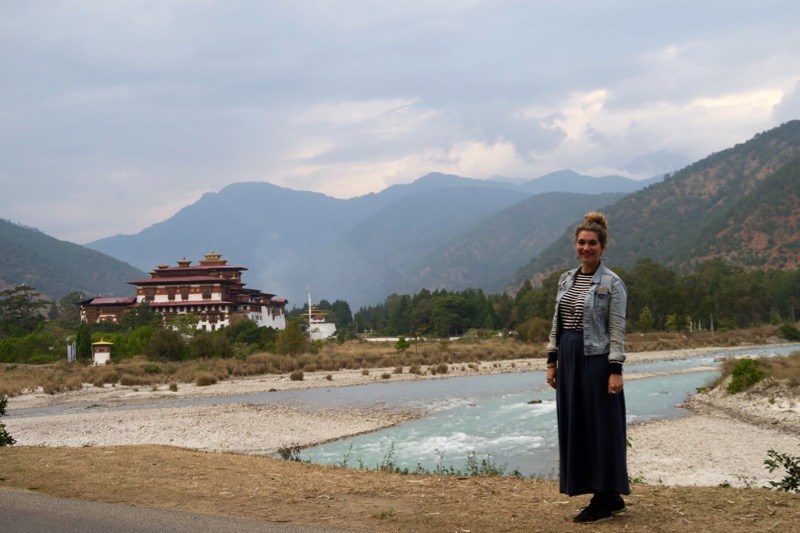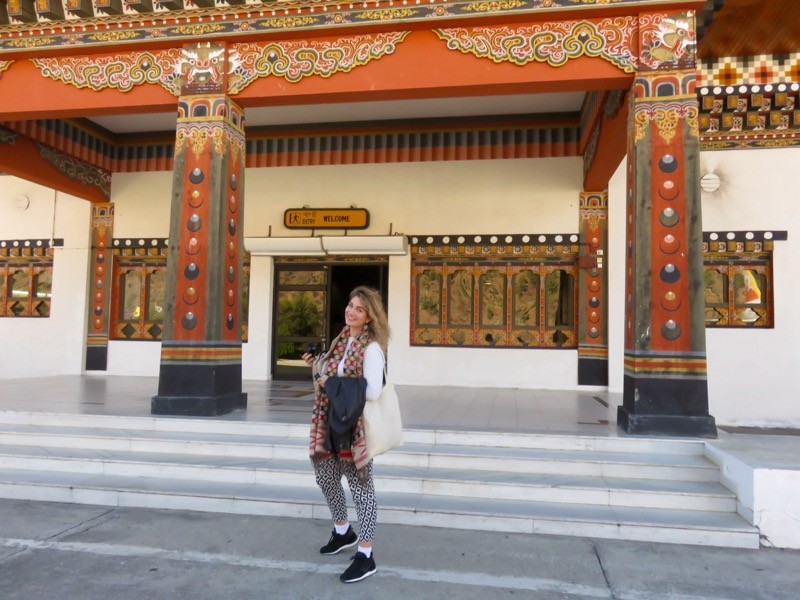 Trousers/long skirts. As any long-time reader of this blog knows, I have a very strong aversion to trousers. I rarely find pairs that fit me correctly – take note of the super cool length on those bad boys above – and I just prefer the look and the feel of skirts. In Bhutan I did indeed wear some trousers, but I mixed it up with long skirts with leggings underneath. As you'll be moving around a lot in Bhutan, it's essential to feel comfortable. It's also essential to feel warm and to feel like you are dressing appropriately, so I'd advise against really short skirts or shorts, even if visiting in the summer months (it rarely gets hot enough to warrant them anyway).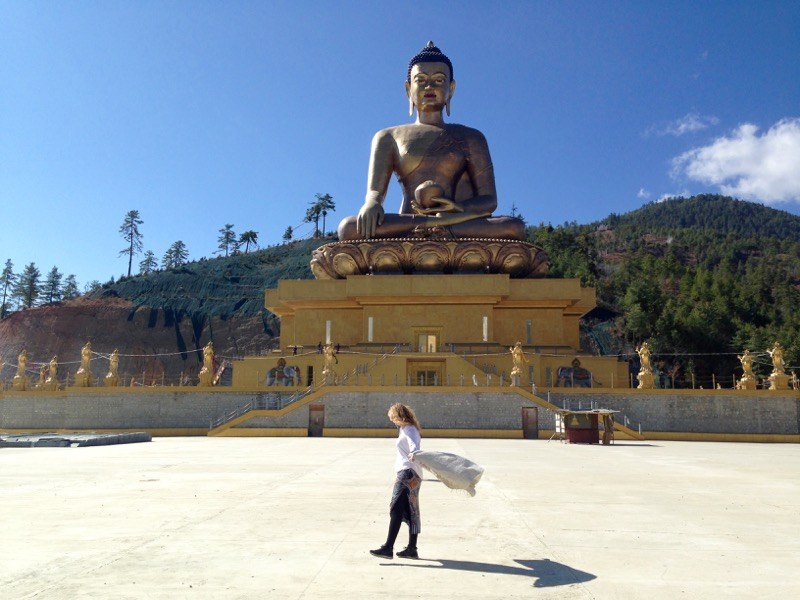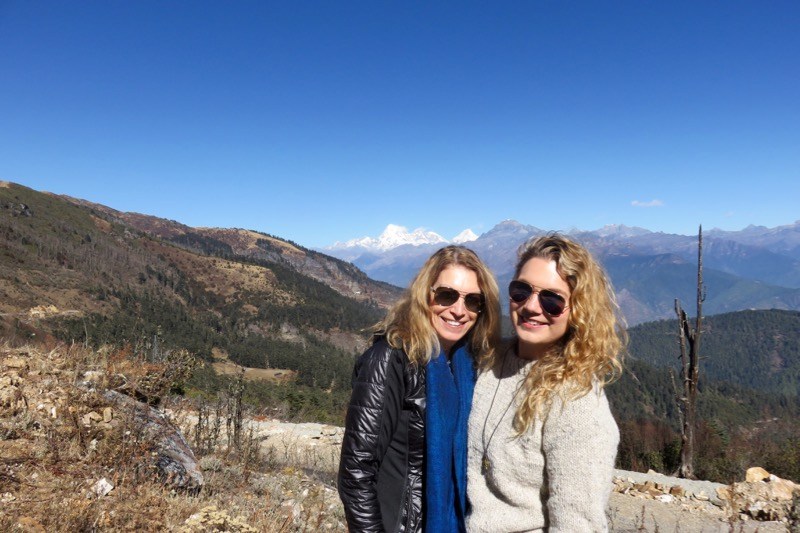 Long layers. As I also recommend for any country with colder weather, long layers are essential. In my suitcase I brought a variety of long-sleeved tops (three in total) and leggings to wear under jumpers, trousers, and skirts, and I was never cold.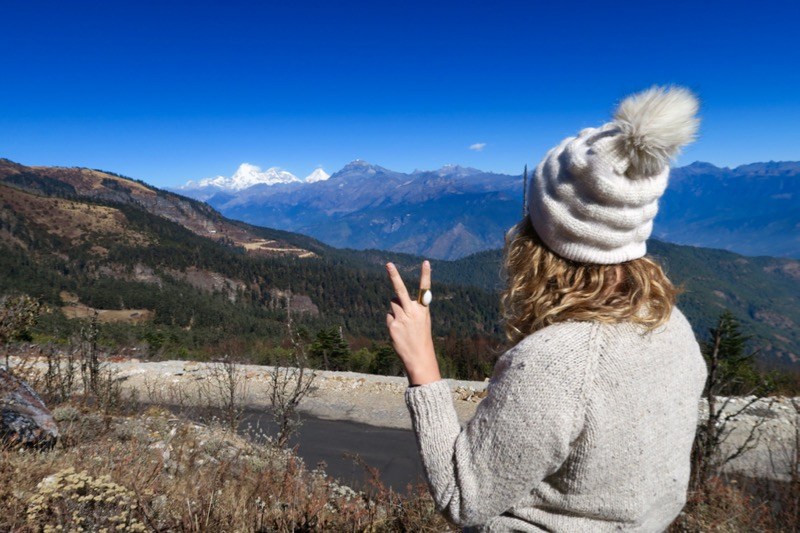 Warm accessories. As I wrote about when discussing what to wear in Russia, it's always smart to pack warm accessories when visiting a country in the winter months, even if you don't think it will get that cold. Though I barely wore my mittens and toque (that's a beanie or wool hat for all you non-Canadians), I was glad to have them just in case. You'll definitely need them in January and February in Bhutan, and if you plan on doing any trekking in the mountains they are absolutely essential.
Even in the winter months, I'd also recommend bringing sunglasses.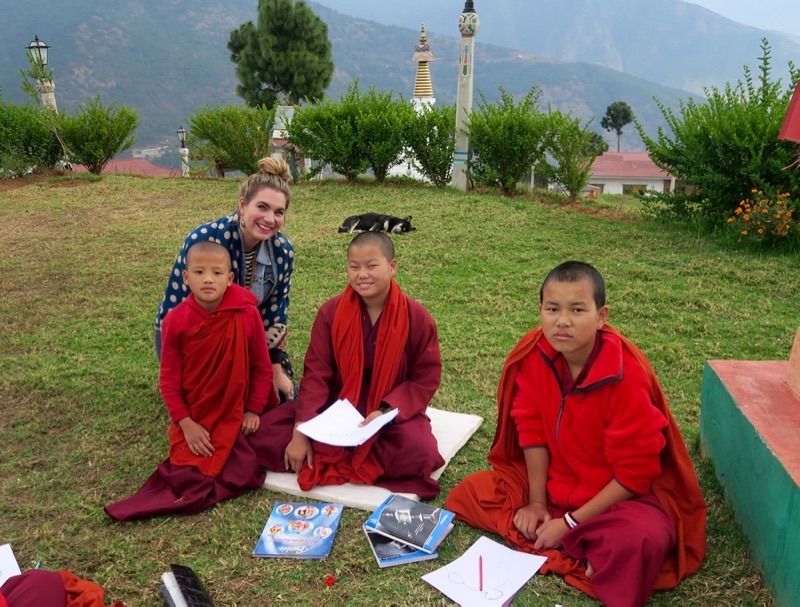 Socks. OK, yeah, this is obvious. Warm socks are a necessity in Bhutan, especially at night or if planning on doing any trekking. I bought some knock-off North Face socks in Kathmandu for very cheap, and they were great. I also bought some warm slippers in Nepal which I wore around the hotel rooms at night.
Please note that even if you are visiting in summer and decide to wear sandals, you should have a pair of socks in your day pack/handbag at all times, as if you visit monasteries or nunneries you'll have to take off your shoes (and you might not want to walk around barefoot).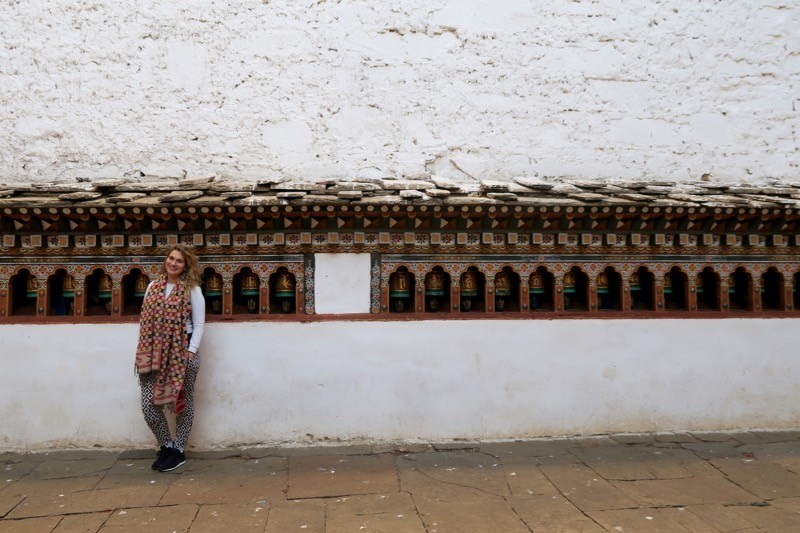 Comfortable shoes. If you've read any of my other packing lists, you know that walking shoes and/or hiking boots are the bane of my existence. In London I'm always wearing Chelsea boots or heels or Oxfords… and almost never trainers or anything similar, unless I'm exercising or walking to work. Because I knew I wouldn't be doing any hiking in Bhutan, I figured I could get away with some black Nike trainers, and I was right. They were comfortable, warm, and fairly fashionable (though I cringe slightly when I see them paired with some of the outfits I've posted here). If I was visiting in the warmer months I definitely would have worn comfortable sandals when walking around the cities of Paro or Thimphu, but keep in mind that not all places in Bhutan have paved roads (in fact, very few places have paved roads).
If you plan on hiking or trekking in Bhutan, you'll obviously need the proper footwear. I'm a big fan of these particular hiking boots.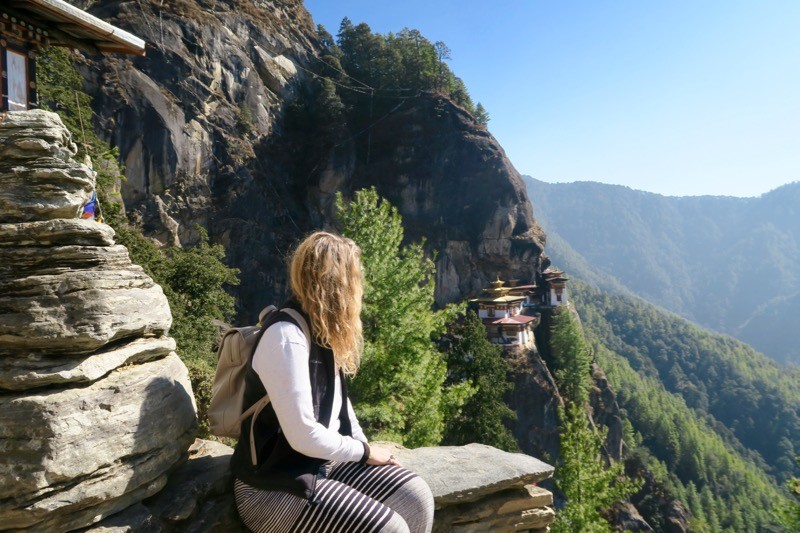 A backpack and/or comfortable handbag. I was a bit worried that my trusty Matt and Nat backpack (I'm in love with this brand, so stylish, so comfortable, and, best of all, Canadian – see a similar style here) wouldn't be allowed into monasteries or nunneries, but this was never the case. You'll be moving around a lot in Bhutan, no matter what you do, so having a comfortable day bag is a necessity. I regularly carried a bottle of water, my camera, an extra layer or two, my wallet, snacks, and whatever else I needed for the day, and whether you are trekking or visiting cities, I guarantee you'll want a handy and a comfortable bag to carry everything in.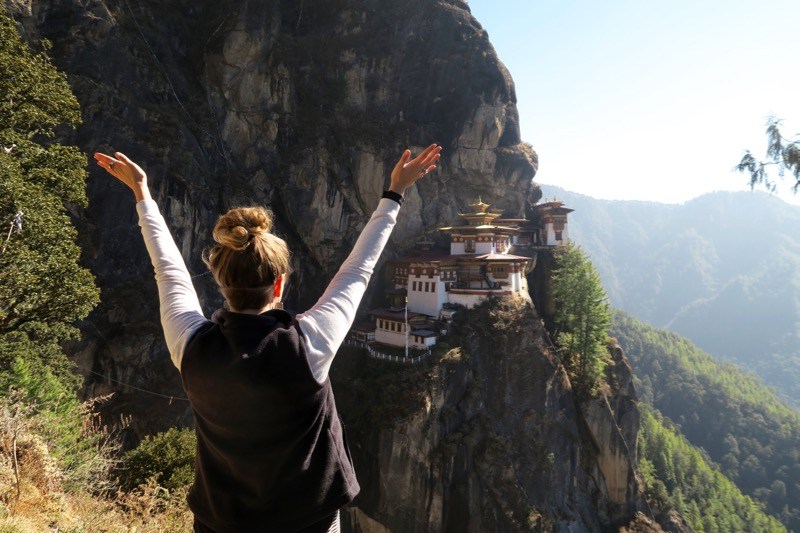 I also borrowed this fleece vest from my mum when hiking to Tiger's Nest Monastery
My main advice for what to wear in Bhutan is the same advice I'd give for pretty much any location: pack clothing you feel totally comfortable and great in, and pack clothing that's appropriate for both the weather and the culture. Layers are your best friend, basically, and there is absolutely no need to rush out and purchase a bunch of expensive "travel clothing". As you can see from the photos, I didn't have a hugely varied wardrobe for the eight days I was in Bhutan, but I was always very comfortable and, for the most part (save those damn trainers), I felt as stylish as I could for someone spending most of their time on dirt roads, in the back of an SUV, or climbing mountains to get to monasteries. If you are staying in five star hotels (which is an option, though an expensive one), I would probably pack one or two nicer outfits as the restaurants and bars can be quite fancy. Other than that, though, a comfortable, casual wardrobe is what you'd be aiming for when visiting Bhutan.
So, in conclusion, here's what I wore in Bhutan:
-leather jacket and denim jacket
-wool jumper
-long-sleeved tops (three cotton, plus one hoodless sweatshirt)
-trousers (two)
-long skirts (two) with leggings underneath
-trainers
-warm accessories (three scarves, one pair of mittens, one toque)
-warm socks (I had four pairs)
Another note is that I wore my regular jewellery while in Bhutan, which included some rings, earrings, bracelets, and necklaces. I personally do not wear anything with much value, though it's perfectly safe to do so (there are very, very, VERY few crimes against tourists in Bhutan, if any, and it's definitely one of the safest places I've ever been in my life). I did notice that local women do not wear much jewellery, but my guide assured me it was OK to wear my own.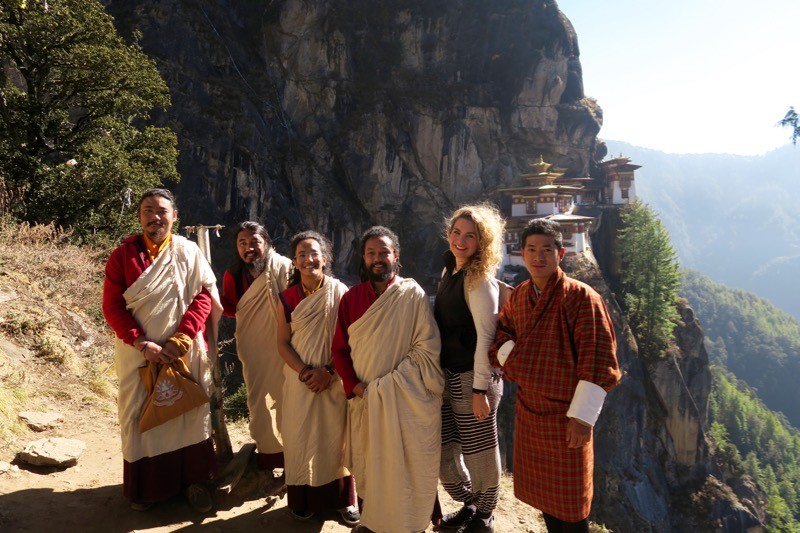 Have you been to Bhutan? Would you add anything to this list?
For what to wear in Nepal, click here.
For what to wear in India, click here.
For what to wear in Russia, click here.
For what to wear in Thailand, click here.
For what to wear in Colombia, click here.
For what to wear in Cuba, click here.