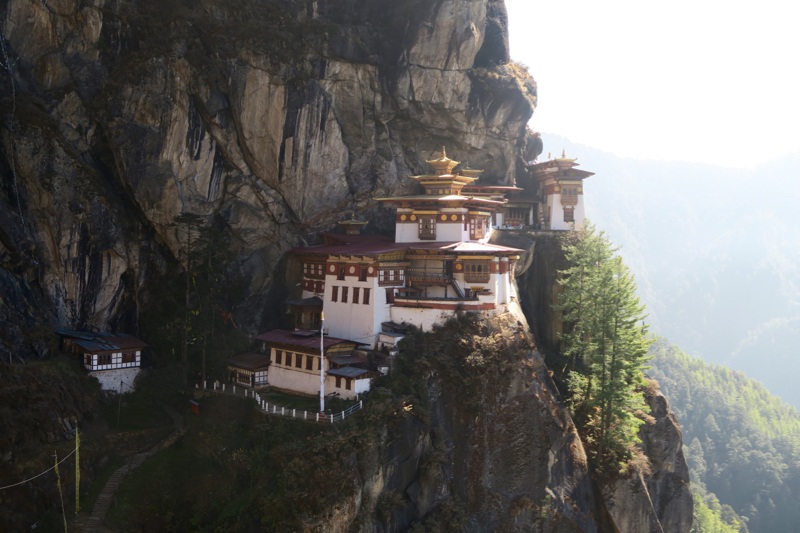 "We're almost there," Thinley reassured me. He had barely broken a sweat despite the warm December sun, used to this trail and this altitude. Never one for hiking, I nevertheless knew that this trek would be well worth it; I had been waiting for this view for years.
***
I arrived in Bhutan at the beginning of December with my mum. We had flown from Kathmandu, skimming the tops of the Himalayas, the peak of Everest in our sightline. Bhutan had long been a country of great intrigue for us; it seemed wildly inaccessible for some reason, a small nation tucked between faraway mountains. And while it was not nearly as difficult to get to as we had first thought, even after we arrived, it didn't lose any of its magic.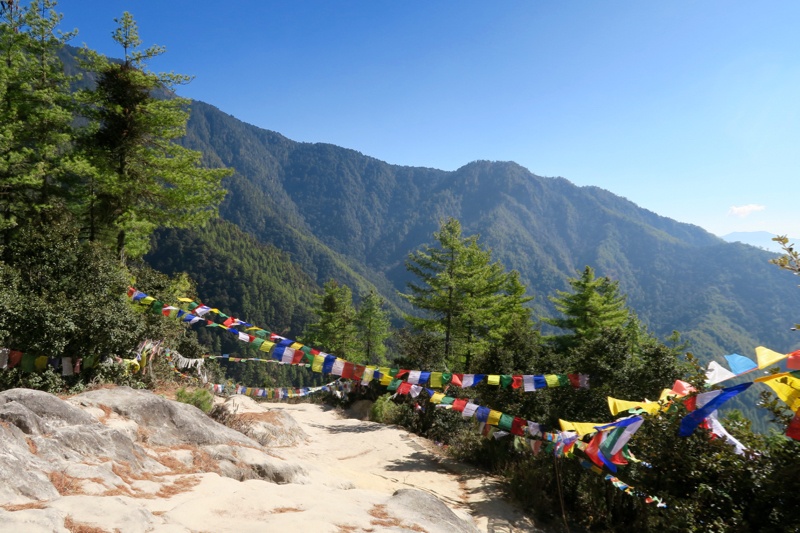 Found in the Himalayas between China and India, Bhutan is a deeply Buddhist country. As I've written about before, there is no limit to how many tourists enter per year, as some people may believe; however, each tourist is required to pay a daily fee, part of the "High Value, Low Impact" policy of the country (I go into detail on how much it really costs to visit Bhutan in this post). And as I've written about before, Bhutan is worth every penny of that daily fee.
For starters, there's the backdrop: the snowcapped mountains rising in the distance, the sweeping forests of green, the emerald rivers that run throughout. There's the culture: the dance festivals, the archery competitions, the spicy, delicious food. There are the people, so welcoming, helpful, and enthusiastic about sharing Bhutan. And then there's the architecture, the ornate monasteries, nunneries, and dzongs (similar to fortresses), each one beautiful and unique. The most famous of these? Taktsang Palphug, commonly known in English as Tiger's Nest Monastery.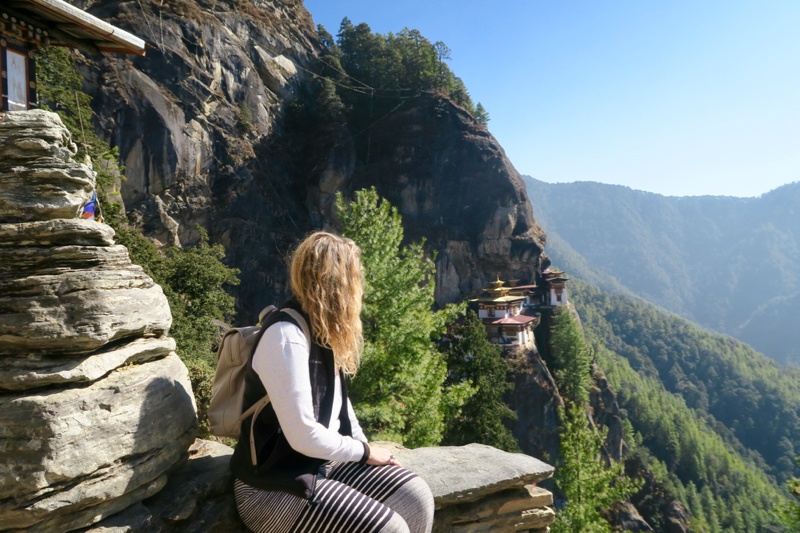 The legend goes that Guru Rinpoche (also known as Padmasambhava), an 8th century Indian Buddhist master, flew to the site of the monastery on the back of a magical tigress in order to calm a local demon. He then meditated on the site for three years, three months, three weeks, and three days; he is credited with bringing Buddhism to the country, and many Buddhists have since come to this place to meditate. The monastery was formally built in the late 17th century, and has been rebuilt many times over the years (including after a recent fire).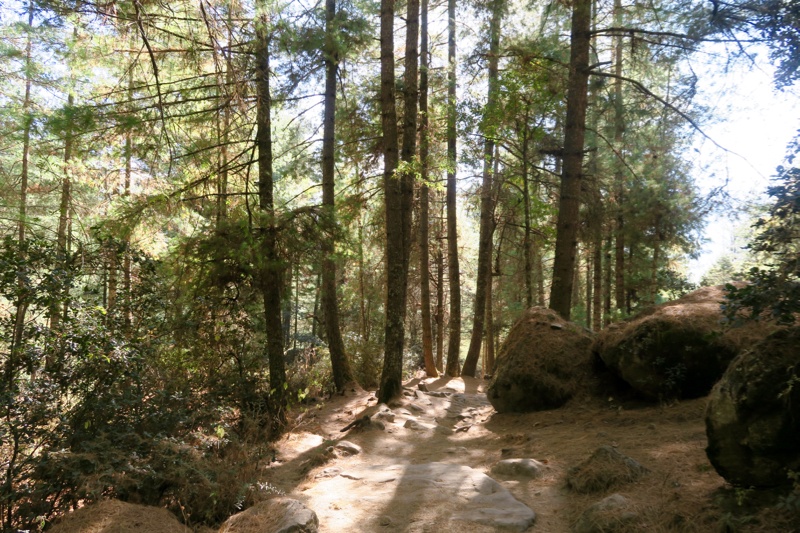 Near the beginning of the hike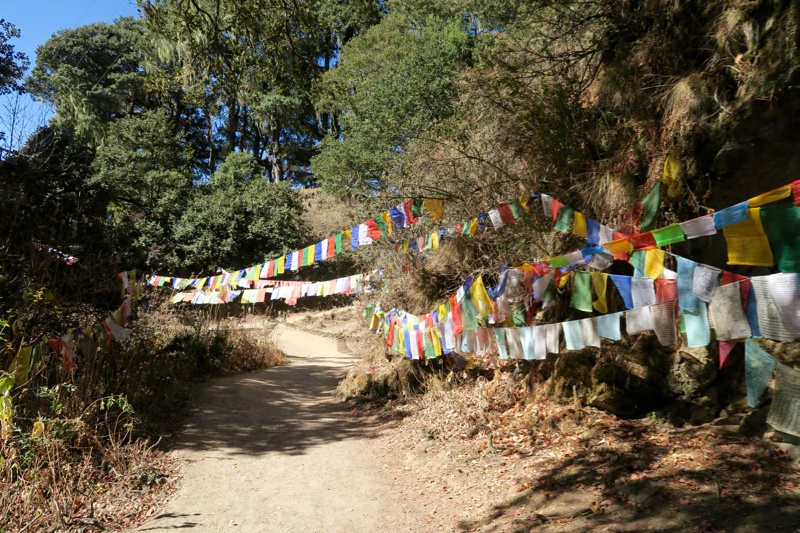 Found 10 kilometres to the north of Paro, we spotted Tiger's Nest from the ground as we drove toward it, a white speck against grey stone. Located over 900 metres above the Paro valley and over 3,000 metres above sea level, the temple is built directly into the cliffside. As it's undoubtedly one of Bhutan's most famous sites, it can also be one of its busiest; I was glad that we were visiting in low season, as there were hardly any other tourists near the start of the hike up. And despite the fact that December is low season, we were afforded bright blue skies – I saw it as a good omen. We had saved this special place for the end of our trip to Bhutan, knowing how much it would mean to us after eight days of exploring the country.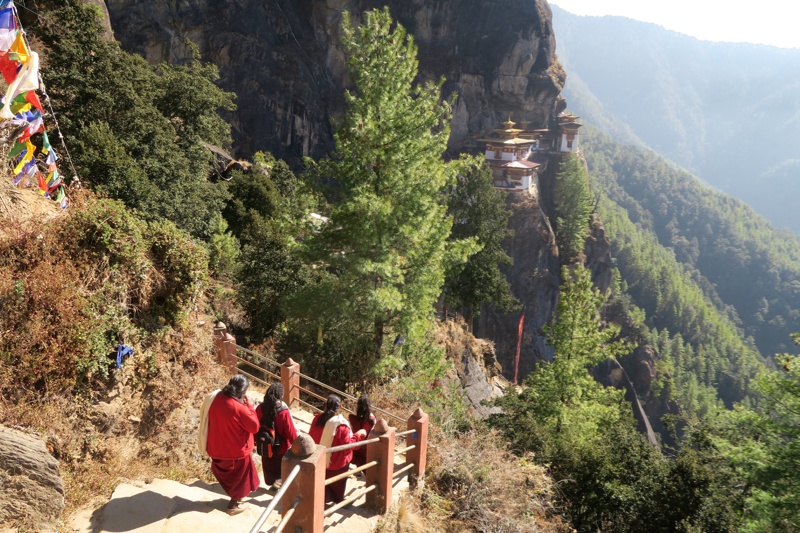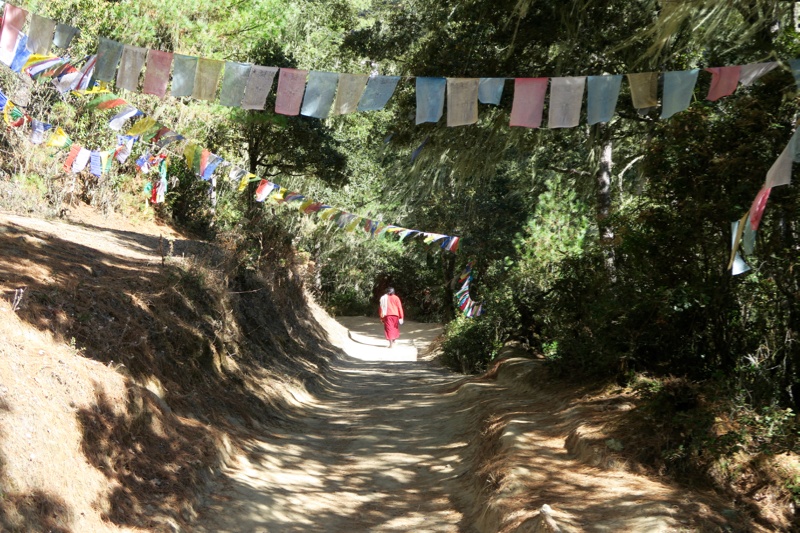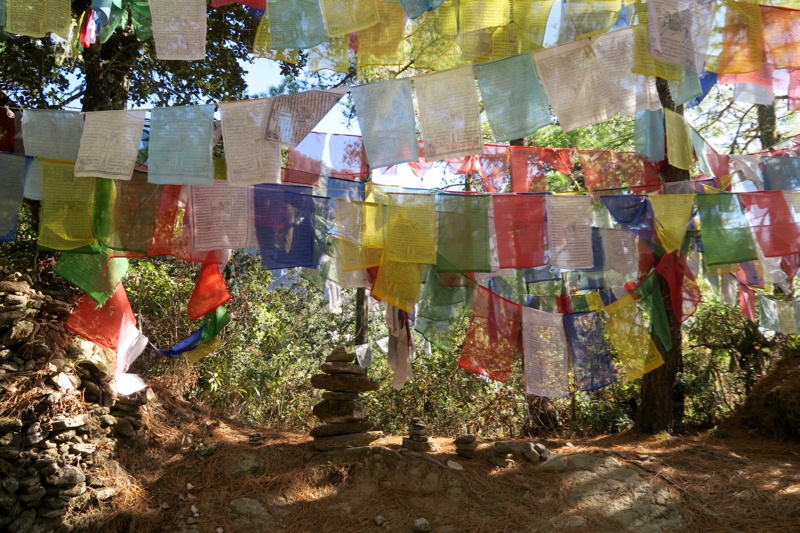 I hadn't even really thought about how to reach Tiger's Nest before visiting Bhutan, but the only way to see the temple up close is to hike to it or – and more on this in a minute – to ride a horse. Hiking to Tiger's Nest is definitely not the most strenuous hike in Bhutan (the country is famous for week-long and even months-long hikes in the surrounding mountains) but you should be prepared to climb steadily for at least two hours, give or take. There is a wooden teahouse about half of the way up where you can stop for refreshments; after your hike to the temple, this is where you can have lunch, too.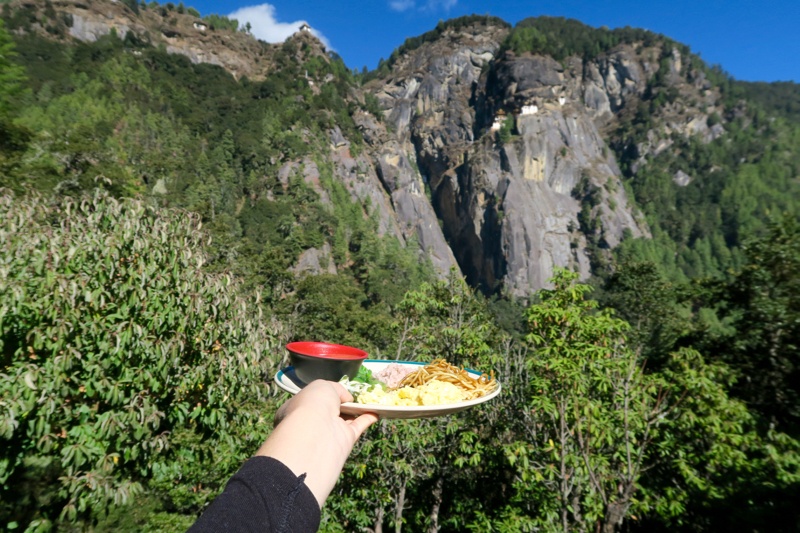 While my mum is extremely healthy and in very good shape, she has a heart condition that prevents her from hiking. Because of this, we opted to go up by horse for the first half. I read on another blog that riding horses on this trail is dangerous, but this was not the case at all; these horses are used to the route, and your guide is there with you every step of the way. My mum then waited at the teahouse (where the views of the monastery are still spectacular) as I hiked the rest of the way with my guide, Thinley.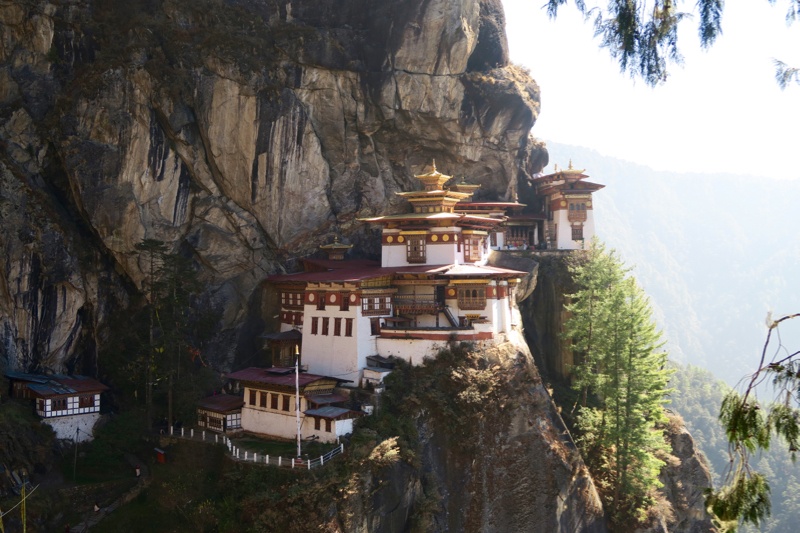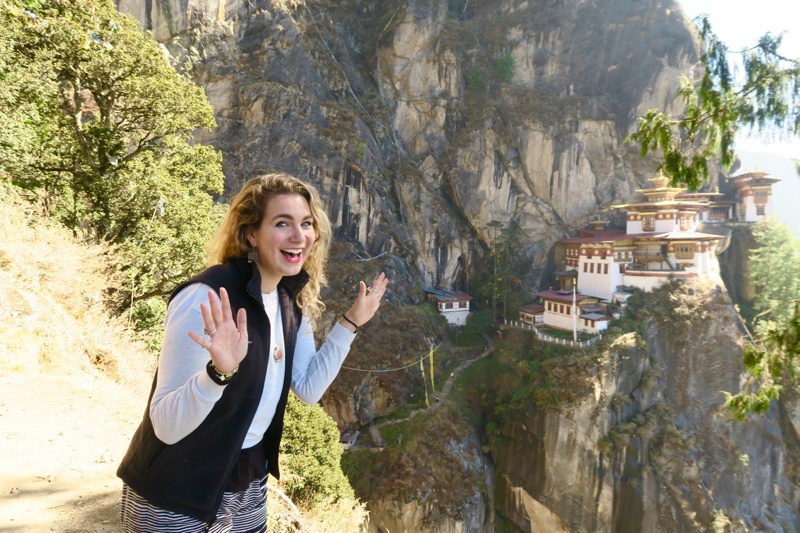 Just mildly excited to see Tiger's Nest
With my guide, Thinley
And, despite seeing hundred of photos of Tiger's Nest over the years, when it finally came into full view in front of me, I was left speechless. There's something about finally seeing something you've dreamed of for years, that quick thud of your heart… I couldn't stop smiling. As we stopped to take photos, the blue sky above and the dusty earth at my feet, I experienced one of those priceless travel moments, when everything seems to align, when your focus is on the present and nothing else.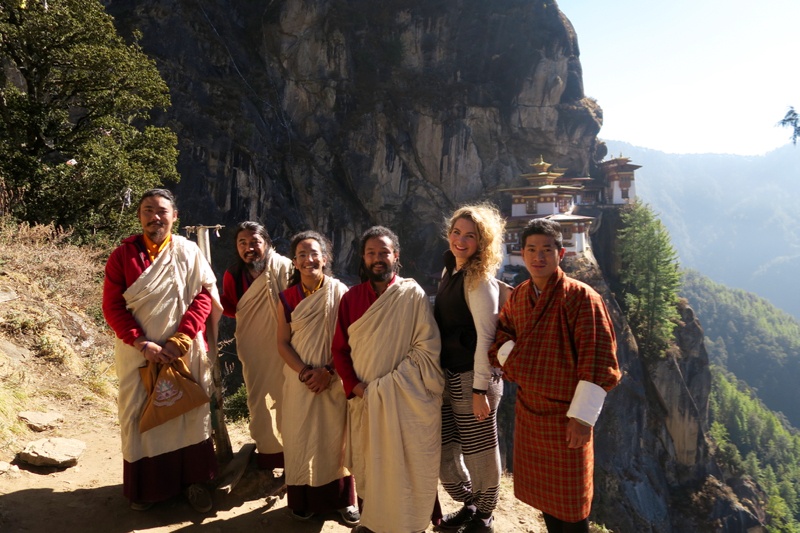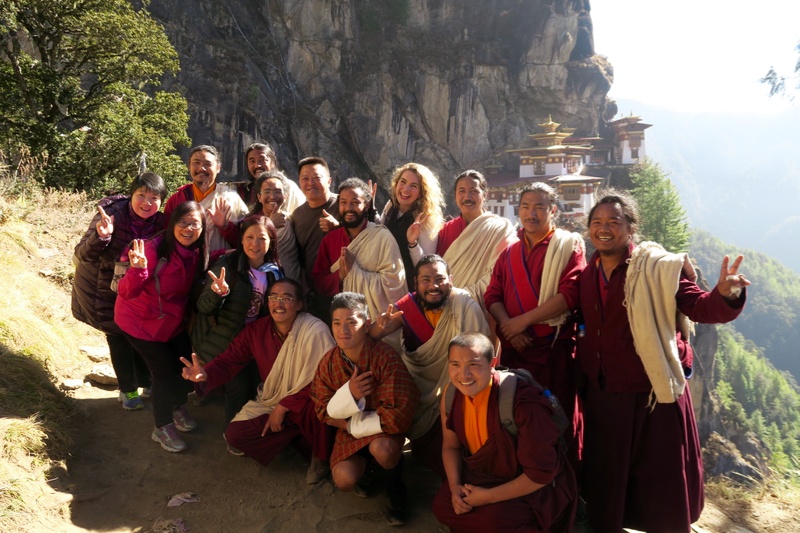 As we stood there for a while, taking in the monastery's tranquility, we met a couple dozen other tourists and visiting monks, all of them wowed into silence by the power of this place. Together, we took photos and shook hands, Tiger's Nest bringing together cultures, religions, and nationalities. It remains one of my favourite moments in all of my travels.
I made the decision not to hike on to the monastery itself; I knew that my mum was waiting for me, and frankly, I wanted to share the joy of being there with someone I loved (even if it meant viewing it from afar from the teahouse). I made up my mind that I would return one day – it's just too beautiful and too spiritual a place to warrant only one viewing.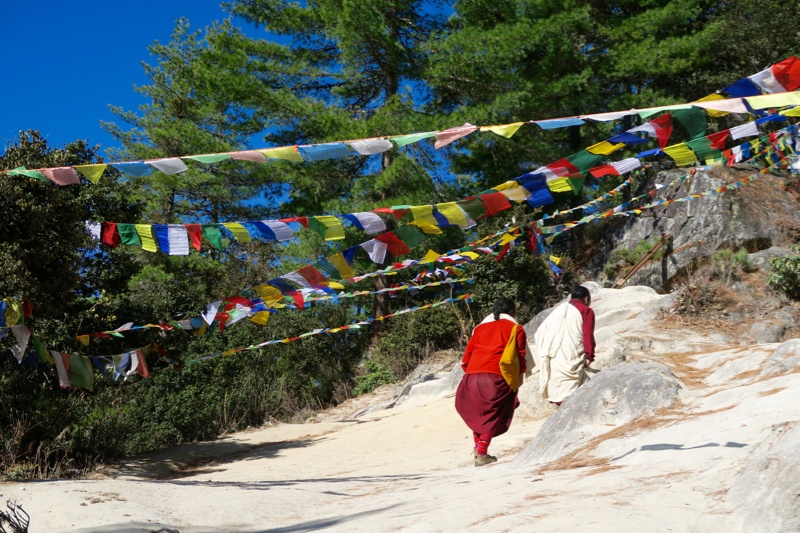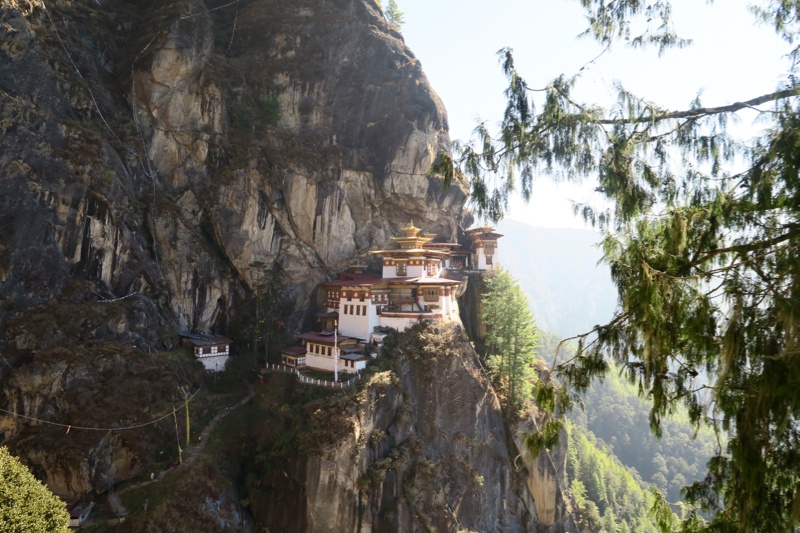 Some tips for hiking to Tiger's Nest:
-wear good hiking shoes; the path can be rocky and steep at times
-if you are there in high season, arrive as early as possible to avoid the crowds, or save it for late afternoon (note that the temple is closed for lunch between noon and 1pm)
-depending on the time of year you visit, dress in layers; you might find you're a bit chilly at the bottom, where there is more tree cover, but get hotter as you climb (more on what to wear in Bhutan in this post)
-bring lots of water as there is only the stop midway for refreshments
-it's probably best to time your hike depending on the rest of your time in Bhutan; if you're hiking a lot, use it as a warm-up, but if you're not hiking much, save it for the end of your trip so that you're acclimatised to the higher altitude
-there is no rush – walk at your own pace!
-no bags or cameras are allowed inside the monastery (meaning no photography is allowed inside)
-you don't need any money while on the trail – your guide will sort out your lunch and entrance to the temple. You will only have to pay if you hire a horse or if you'd like to buy a souvenir (there are some merchants selling trinkets and jewellery at the bottom of the hike, near the parking lot)
-we hiked to Tiger's Nest with (and sorted our entire trip with) Thinley from Bhutan Namdruk Adventure; I highly recommend the company, and they can sort out your perfect itinerary no matter what you want to do in the country.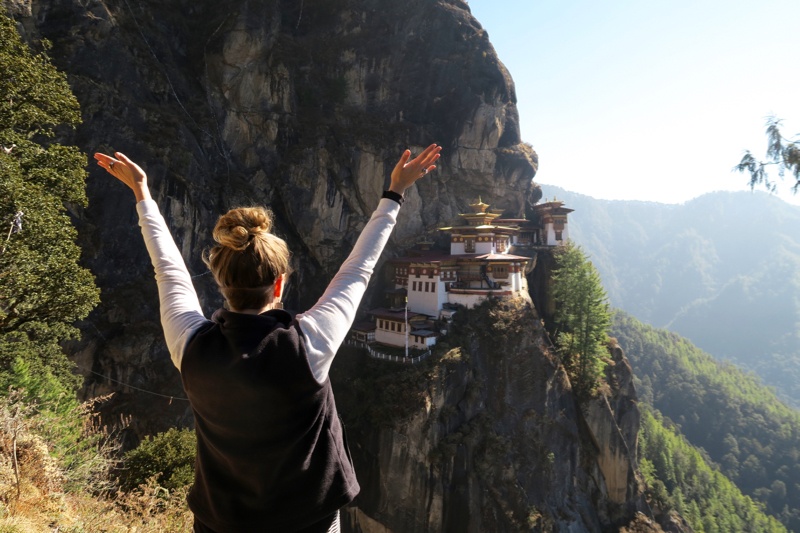 Have you ever been to Bhutan, or have you heard of Tiger's Nest monastery before? If you haven't been, would you like to go?
For more on Bhutan, check out:
How Much Does it Really Cost to Visit Bhutan?
Is it Difficult to Get a Visa for Bhutan?