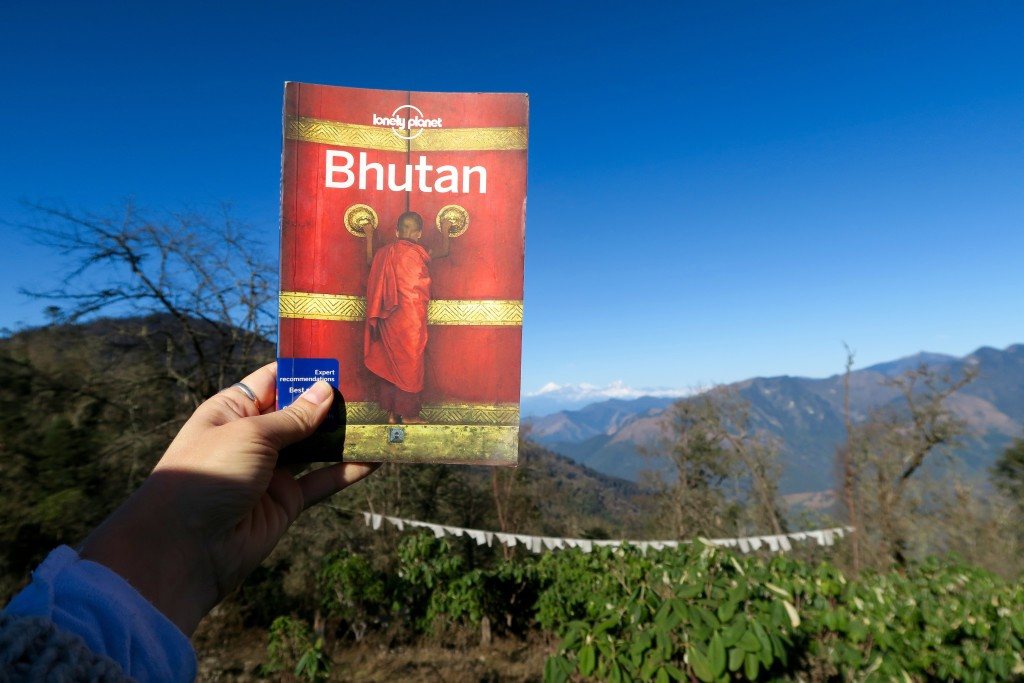 When I first started talking about visiting Bhutan, and later when I began posting photos and stories from my trip there, a few of the comments I received were along the lines of, "I wish I could go there… if I had more money" or "Wow – you must be rich."
Firstly, I can assure you I am not rich, but I'm not broke either; I do have some savings and I definitely prioritise travel in my yearly budgeting plans. In my mind, my finances align with an average 30-something who works full-time (and who doesn't have any kids or dependents to support). And while Bhutan is definitely not a budget destination, I do believe that it is affordable on a mid-range travel budget.
So how much does it really cost to visit Bhutan?
Before getting into the specifics of how much you pay and where your money goes, I think it's important to touch on Bhutan's tourism policy. Situated in the Himalayas, it is a small, Buddhist nation of around 800,000 people. Bhutan certainly has a reputation for being difficult to get to, with a myth floating around that the government only offers a limited amount of visas to tourists each year.
As I wrote about previously, that is indeed a myth; anyone can visit Bhutan as long as he or she is willing to pay a daily fee (more on that in a minute). Bhutan's tourism policy is "High Value, Low Impact", meaning they want tourists to have the best possible time visiting the country while still respecting its culture and its environment. The best way to ensure that? Well, make people pay.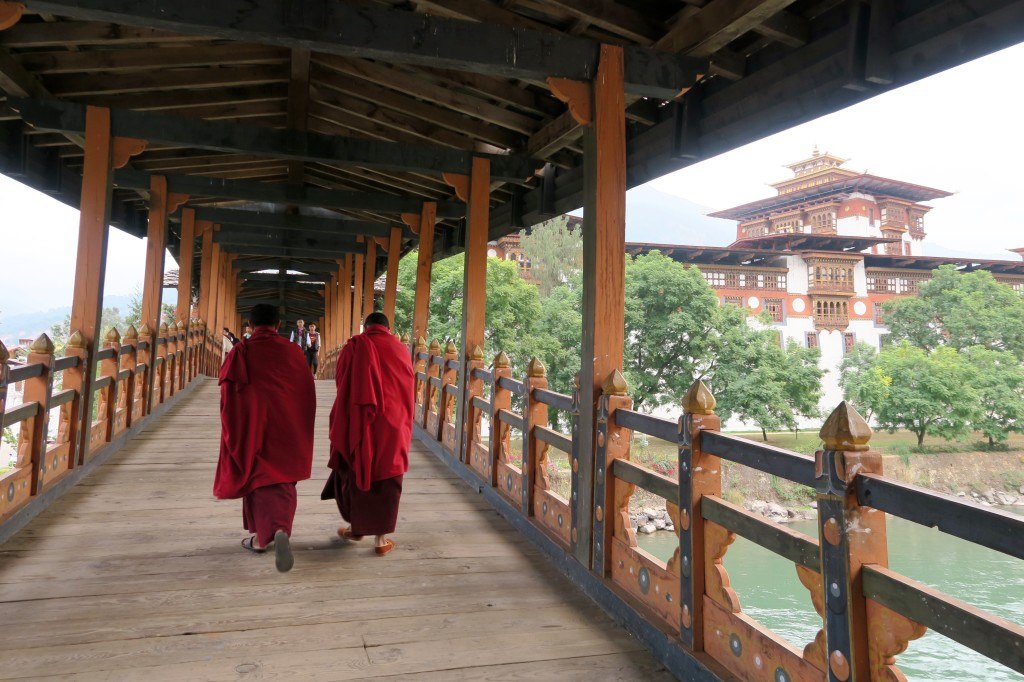 So exactly how much does it cost to visit Bhutan? In high-season months (March, April, May, September, October, and November), the cost of visiting Bhutan is $250 US per person per day. If you are travelling solo, you unfortunately have to pay a surplus of $40 US a day, bringing your total to $290 US a day.
In the low-season months (December, January, February, June, July, and August), the cost of visiting Bhutan is $200 US per person per day (though the $40 US charge for a solo traveller still stands). There are a few discounts available for children and students that are worth looking into if you're travelling with kids (and if you're a full-time student under the age of 25, you get 25% off the daily fee).
And what exactly does your money get you? I totally understand that $200-$290 a day may seem excessive, especially if you're hoping for a budget holiday. And before I went to Bhutan, I thought that price was crazy… all that money per day, and I still have to pay for hotels, food, etc?
But that's where I was totally wrong. In fact, your daily fee covers everything, and once you are in the country you do not pay a single penny. 
That's right, that daily fee includes all accommodation, food (minus alcohol), ground transportation, entrance fees, and a private guide and driver (sometimes this is the same person). While I was in Bhutan for eight days last December, I only used my bank card to withdraw money once (there are now ATMs in the major cities, and I had no problem using my UK bank card at one), and that was only so that I could have cash to buy souvenirs and tip our guide at the end of the trip. Travel insurance and flights are also not included, and there is also a visa fee of $40 (which your tour company will arrange for you – more about this in the post about getting a visa to Bhutan).
Please note that you arrange your private tour before arriving in Bhutan and have to pay the company in full before being granted your visa. I know it sounds a bit sketchy, but I've never heard of any problems with it – the government monitors each tour company closely to ensure they follow strict guidelines on treating tourists properly. You must book your tour with an approved tour company; here is a list of all of them in Bhutan.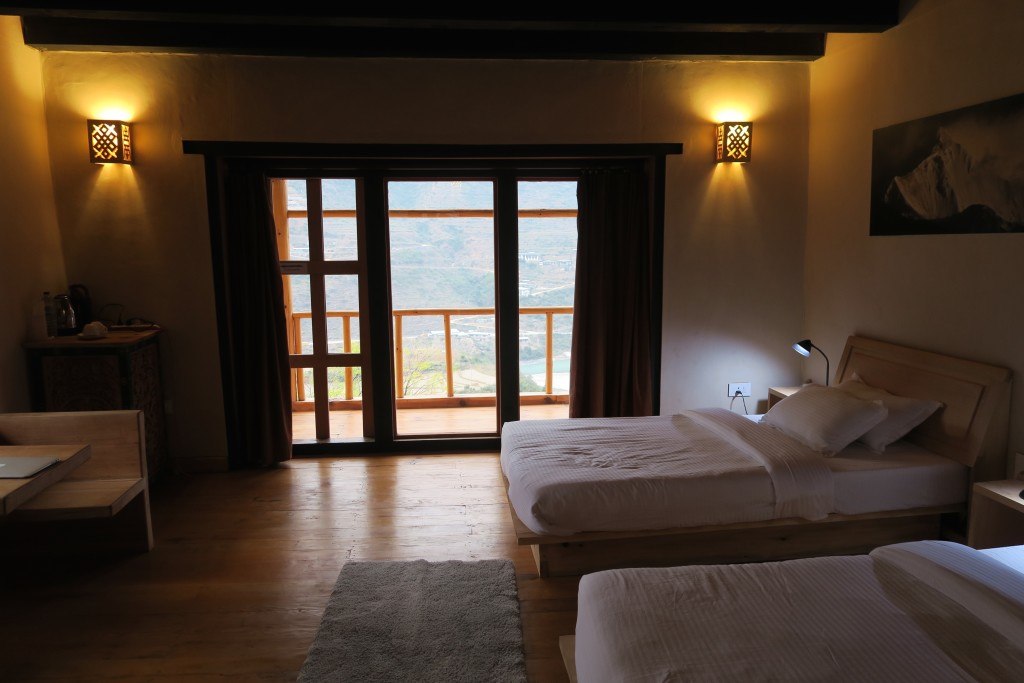 Hotel room at Wangdue Eco Lodge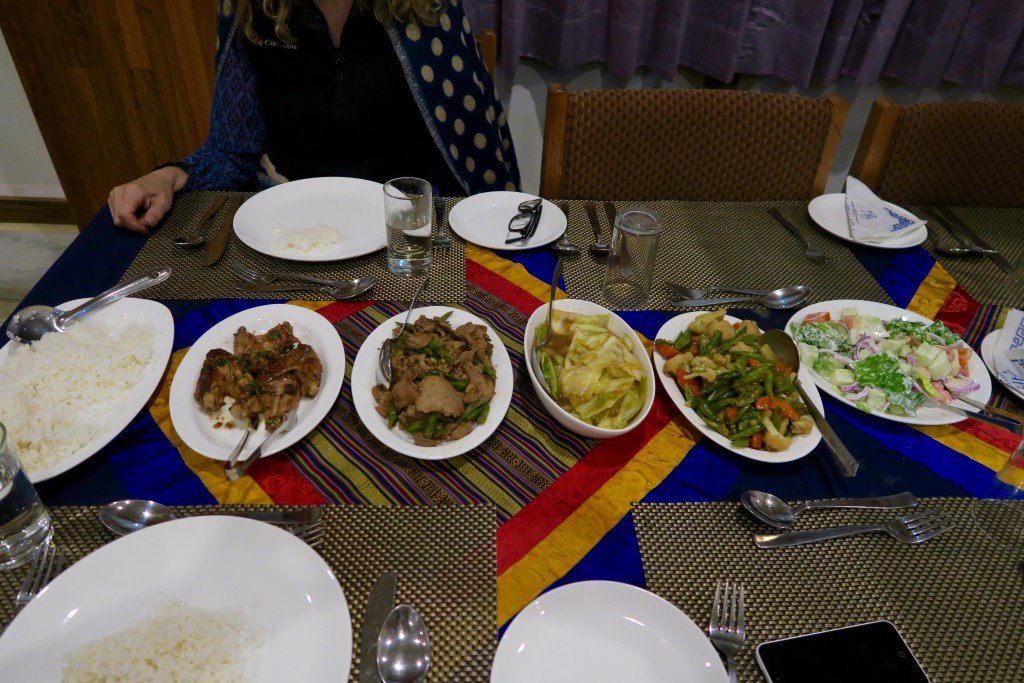 Huge meal for two (vegetarian meals are available)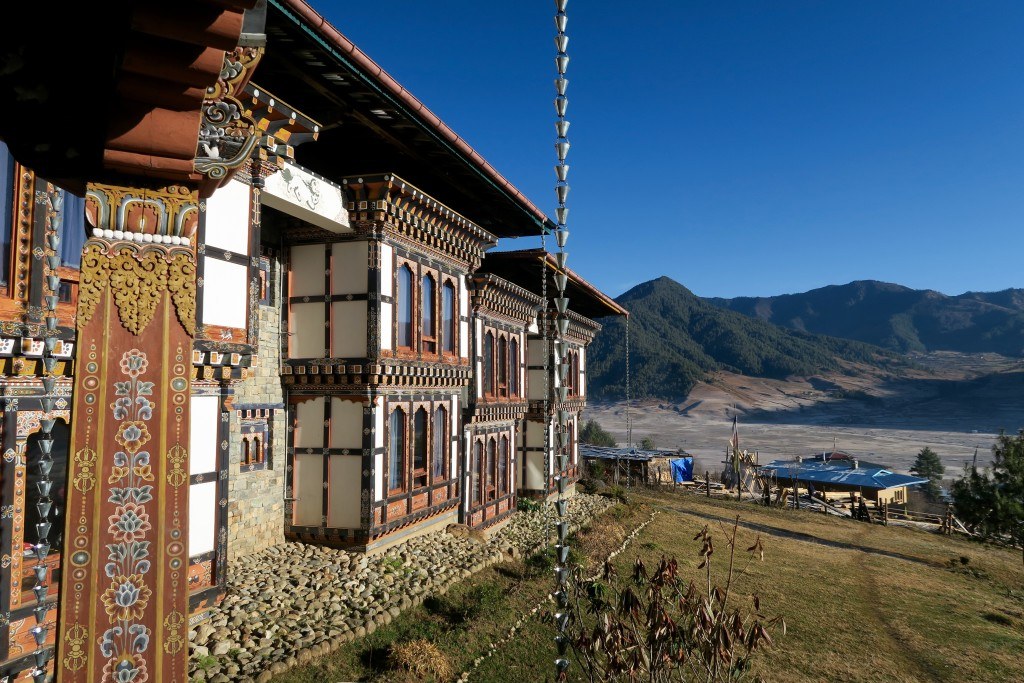 Exterior of the Dewachen Hotel in the beautiful Phobijka Valley
To reiterate: the money you pay in the beginning covers absolutely everything you could possibly need while in the country, and you get your own guide who creates a custom itinerary for you and caters to everything you've asked for, whether that be hiking, birdwatching, a cultural trip, and so on. I can't imagine this only costing $200 a day if I was in pretty much any developed nation in the world; imagine, for example, visiting London and getting your three-star hotel, all meals, all entrance fees to sights, all (private) transportation, and a private guide to show you around the city for under £140.
Just for a comparison, I looked up what a mid-range safari through South Africa costs per day as well as what an all-inclusive trip to a resort in the Caribbean might be, and the prices were the same and/or very similar to what my trip in Bhutan cost. Again, I'm not saying that Bhutan is a budget destination – there really isn't any way to travel through Bhutan on a budget – but I'm trying to highlight that it's not as expensive as some people may believe it to be.
But the money you're paying isn't only covering your personal costs. $65 of your daily fee is actually designated as a royalty fee; this money helps Bhutan's infrastructure, paying for the country's education, health care, repairs, and more. By paying your daily fee, you're also contributing to keeping the country happy, healthy, and clean. It's pretty hard to argue with that.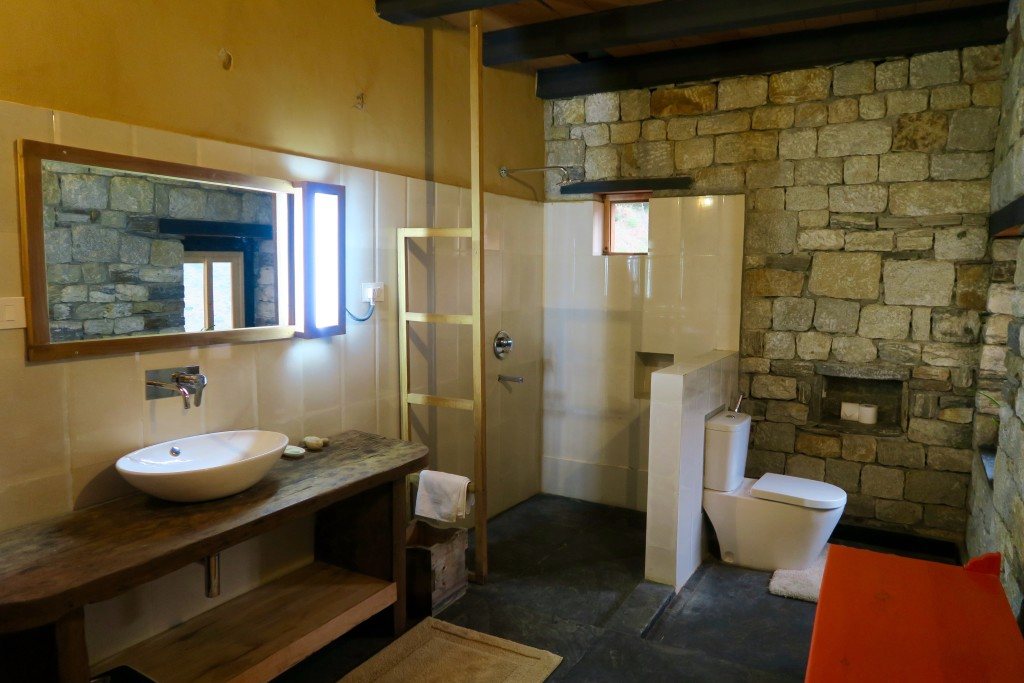 Bathroom of the beautiful Wangdue Eco Lodge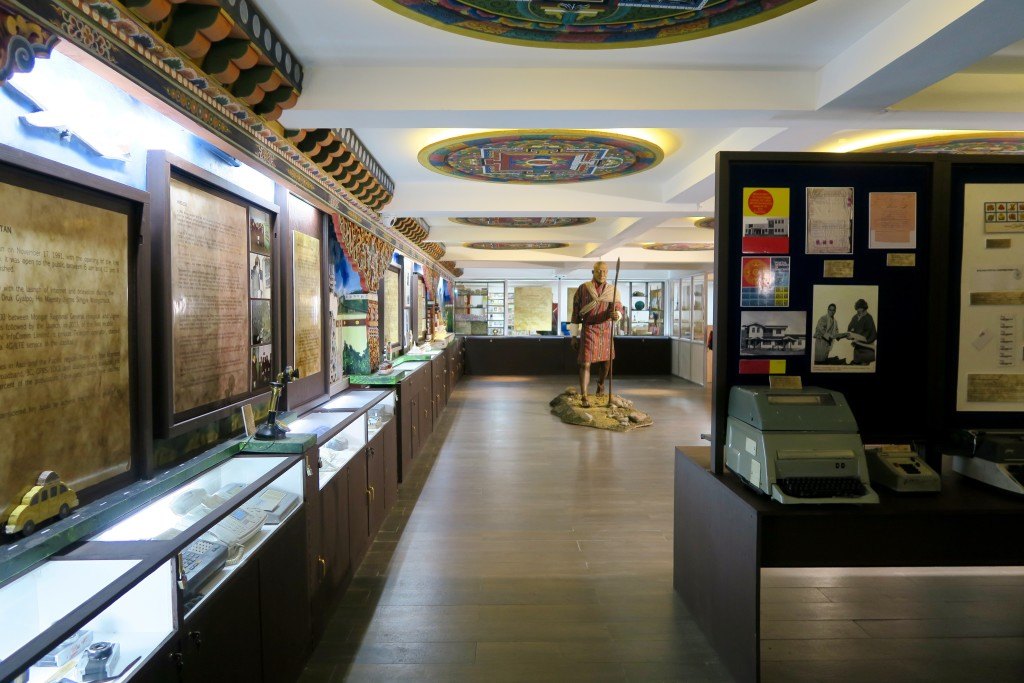 Postal museum in Thimpu (surprisingly interesting!)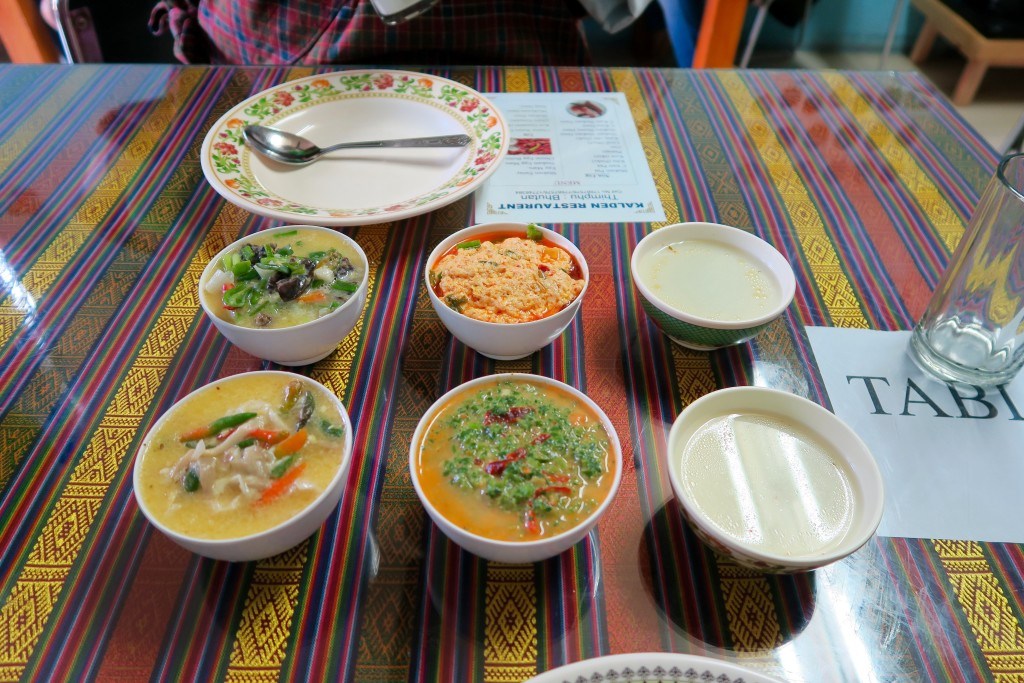 Traditional Bhutanese meal in Thimpu
And as you can see, your money gets you some amazing perks, including beautiful hotels, filling meals, all the monasteries/nunneries/museums you're up for, and a comfortable journey (our guide had a new Hyundai SUV). If you wanted to, you could pay even more to stay in 5-star hotels, but in my experience the 3-star hotels were more than enough (and Bhutan has impeccable service and hospitality… we were given exceptional treatment).
To top it off, as we visited in December, we were often the only tourists in some of the locations we visited. Though it was chilly, the weather was terrific and sunny for our entire time in the country.
So the final question remains: was the price of visiting Bhutan worth it? 
A huge, resounding YES. Bhutan is a country unlike any other I've been to, with gorgeous scenery, fascinating history, and an overwhelming sense of spirituality and peacefulness. Bhutanese people are incredibly welcoming, and with the amenities that our daily fees covered, we stayed in lovely hotels and ate a variety of local food. We were never once uncomfortable, hungry, or put-out in any way, shape, or form. Our tour guide, Thinley from Bhutan Namdruk Adventure, made sure that we had exactly the tour we wanted, so we got to choose just how much or how little we wanted to sightsee and explore.
You can certainly find cheaper destinations in the Himalayas for hiking and cultural experiences, but if you are considering a trip to Bhutan and you have the savings to do it, I cannot recommend it enough.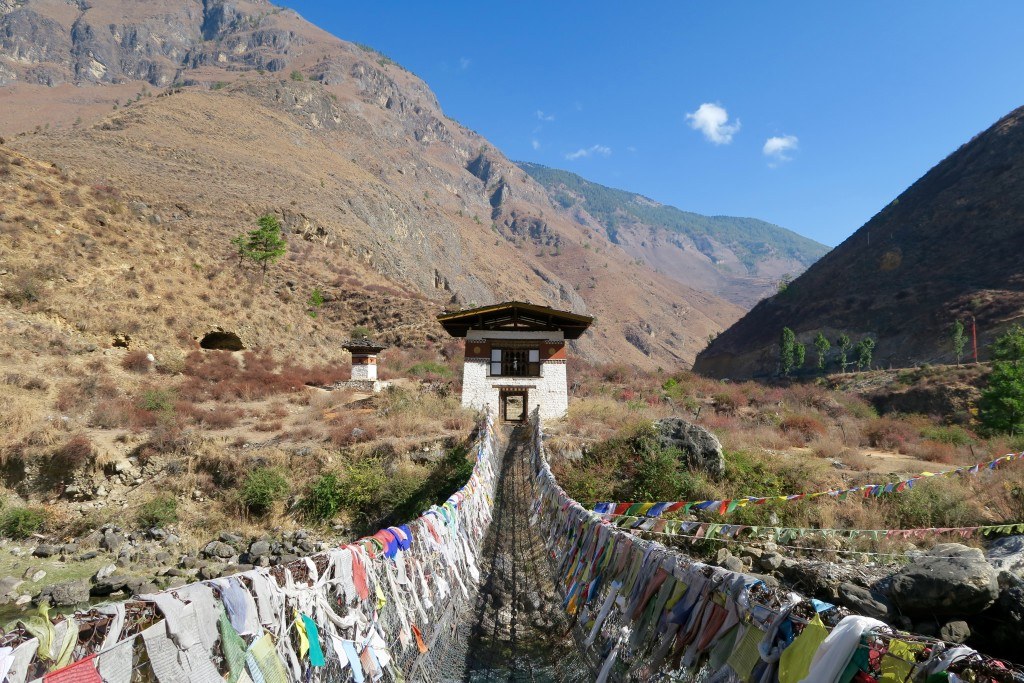 Please note: Getting to Bhutan, at least in terms of transportation, is easier than you may think; there is a direct flight from Kathmandu every day to the Paro airport, and there are also direct flights from Delhi, Kolkata, Mumbai, Dhaka, Bangkok, and Singapore (as well as a few more smaller cities in India), all through Druk Air.
Just a side note about flights: on the way to Paro from Kathmandu, try to get a seat on the left side of the airplane to see Mount Everest. And yes, the rumours are true – in order to fly into Paro the pilots must navigate quite a difficult passage through the mountains, but my journey was nothing but smooth and stress-free (they know what they're doing, in other words). It is also possible to drive into Bhutan from India, though I am not familiar with that route.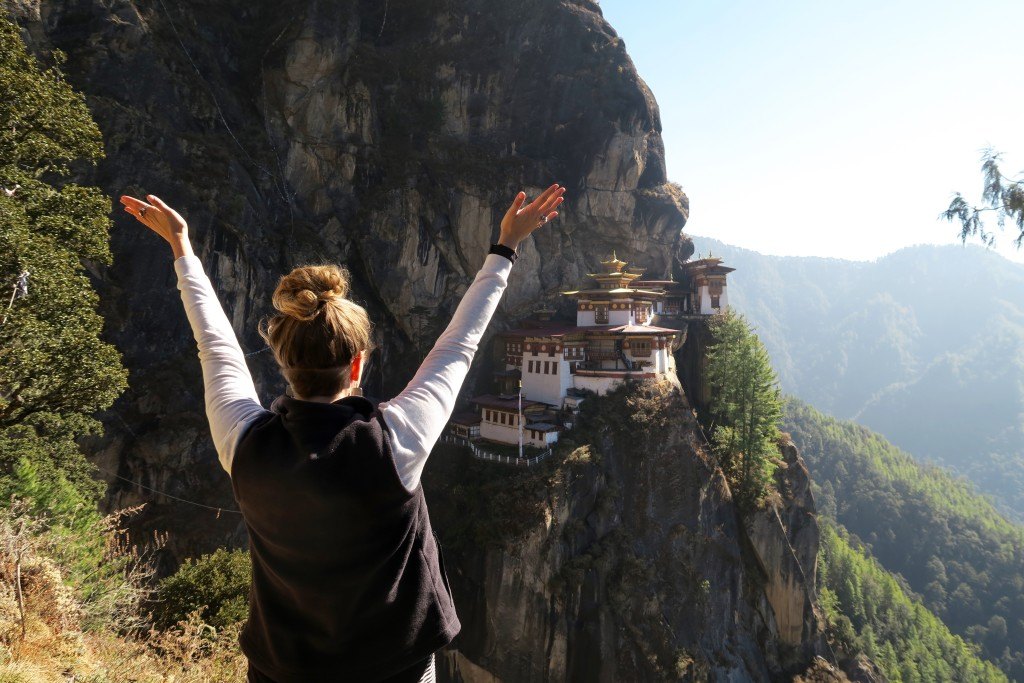 One last thing: you've probably noticed I've written three very practical guides to Bhutan over the past few months: this one, what to wear in Bhutan, and getting a visa to Bhutan. This is quite unlike me – I'm never this organised about writing these sorts of posts so quickly after visiting a place. The reason I've done this, however, is so that now I can get on with sharing all of the amazing stories and photos from my time there, knowing that if you have any questions about the practicalities of Bhutan, they're right here on the blog.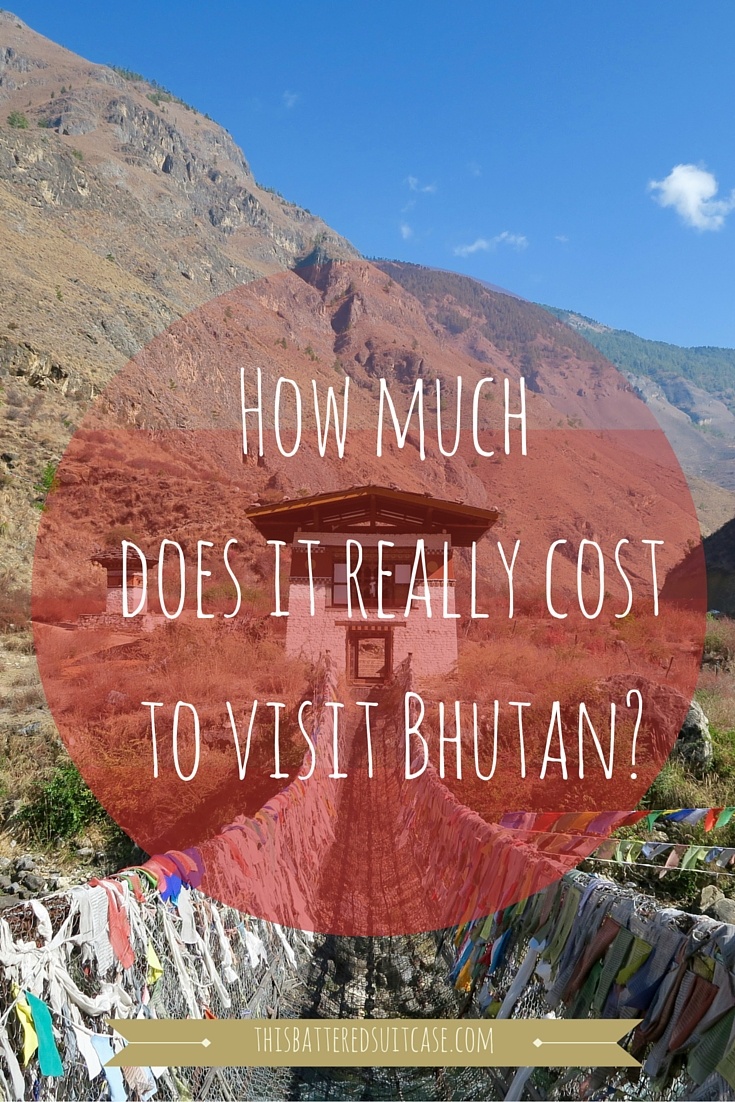 What do you think? Do you feel that the daily fee is worth visiting Bhutan? Would you like to visit?