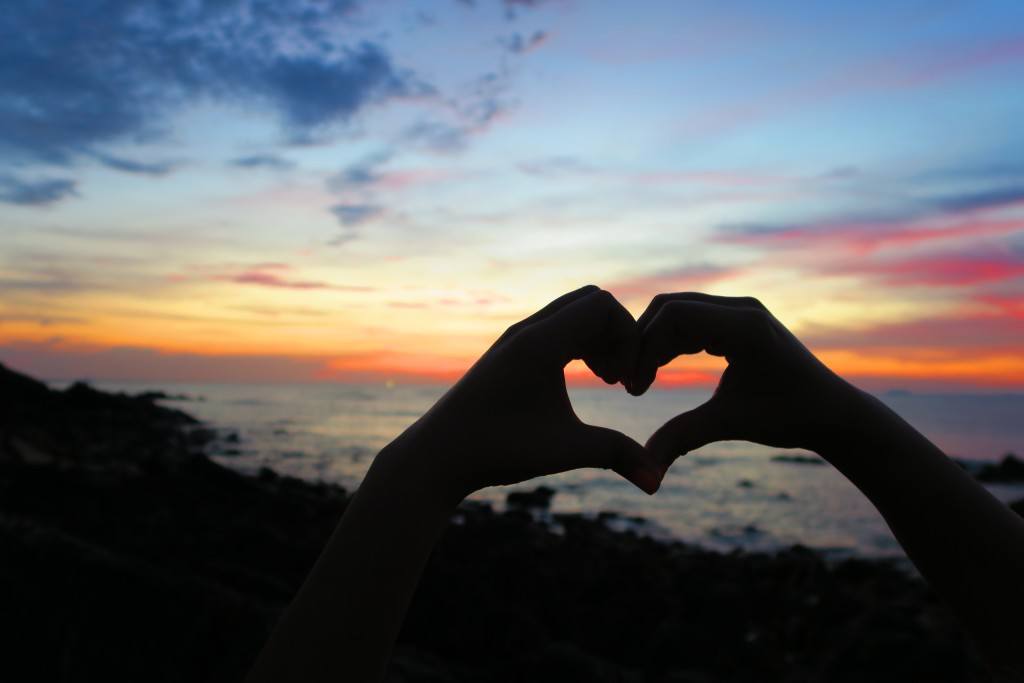 Koh Lanta, Thailand
What a post to write on Valentine's Day, I know.
I don't have a good track record with Valentine's Day, at least not with romantic partners. The only one I can remember well is the one where my boyfriend at the time came home after we'd both been at work; he threw a box of chocolates down on the coffee table, saying, "Well, I hope you're happy now." We had argued over whether or not to celebrate it, with me taking the stance that we should use the day as an excuse to celebrate over two years together. In retrospect, of course, we shouldn't have needed a commercial holiday to celebrate our love, but that relationship was doomed anyway.
While this is primarily a travel blog, I've never been shy about writing about other aspects of my life, including romance. There's a whole series of my past travel romances, for example, and my post on whether or not to choose travelling over a relationship is one of my most popular. I also don't shy away from the fact that I'm, for lack of better words, single as fuck. There's no-one I'm texting, flirting with, going out for drinks with, nothing. I'm not particularly active on any dating sites, nor do I actively look for guys when I'm on a night out with friends. For the most part, I'm cool with being single. I love my life in London. I have a great job, wonderful friends, an amazing flat, a close relationship with everyone in my family, lots of hobbies, and I travel nearly every month, if not more. I have a terrific life, one that I've slowly but surely built for myself, all on my own. To be honest, it would take someone extraordinary for me to make room in an already fulfilling and happy life. I don't say that to brag, but I'm proud of being at this point in my life.
If you've read this blog long enough, you'd know that I haven't been in a serious relationship for a while. I've dated here and there, and met some absolutely lovely people. I have never considered myself unlucky in love, not at all; in fact, I consider myself extremely lucky in love, simply from the fact that I've had the chance to get to know some absolutely wonderful people from around the world. Because I don't put much pressure on myself to get married or have kids, I've been able to date around, have fun, and figure out what it is I truly want out of a partner.
And as much as we all like to think we're open-minded when it comes to relationships, and we all like to think opposites attract, there are some things I would like out of a romantic partner. He's funny as hell, of course, and he makes me feel funny as hell, too. He can watch football with me over a pint of Guinness and then go home and listen to records and talk about books and films into the night. He has travelled, or he at least wants to travel. He just… feels right. He fits. He's my best friend who I also happen to have crazy chemistry with. He's kind and he's polite. OK, and superficially he's taller than me and has big thighs (everyone has their thing, all right?). And while I've met many men who have made me very happy over the years, it's never truly worked out with anyone, nor have I felt I had met the perfect man. Until I met Scott, of course.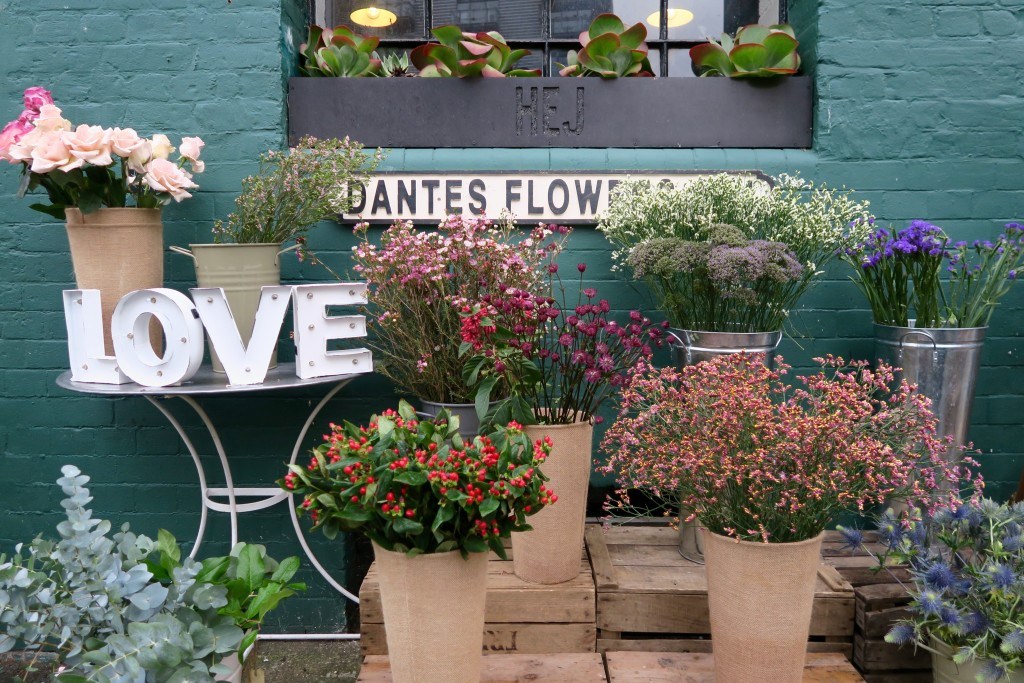 London, UK
OK, that's not his name, but let's go with it. Scott was tall and handsome and had a ridiculously sexy accent. He approached me at a bar in London that I went to quite a bit, or maybe we just started chatting organically. Either way, we talked all night – about what, I can't remember, but I laughed a lot and didn't want the bar to close. He was hilarious and intelligent and thoughtful and gentlemanly, and at the end of the night we both sort of just stopped, awkwardly, waiting for something to happen, or somebody to make a move. Neither of us did. I left that bar and thought I'd never see him again.
Six months later we ran into each other again. In a city as big as London, this was something of a miracle. We wasted no time. We spend that entire day together, and the next day, too. Over the next couple of months we met up at least once a week. He exhausted me both mentally and physically, which in retrospect was probably not a good thing.
Scott was everything I thought I was looking for in a partner. He was worldly and artistic, and he challenged me constantly. But Scott left me feeling quite hollow, too. He was terrible at texting me back, sometimes disappearing for days on end, or not confirming plans until the day of. He didn't want to introduce me to his friends. It got to the point where I eventually told him to stop texting me all together, preferring to make plans with him in person, just like the old days.
And then, one idle Tuesday, we met at a local bar. We were going to go for dinner and drinks, maybe check out a movie.
"I can't do this anymore," he told me. My heart dropped.
His excuses were paltry. "I like you too much," he said. "I'm not ready for this," and "I don't want to get involved with someone right now." He claimed he wanted to travel or live somewhere else for a while, and having a girlfriend in London would obviously hinder those plans. Just like that, my perfect man walked out of my life, never to be seen or heard from again.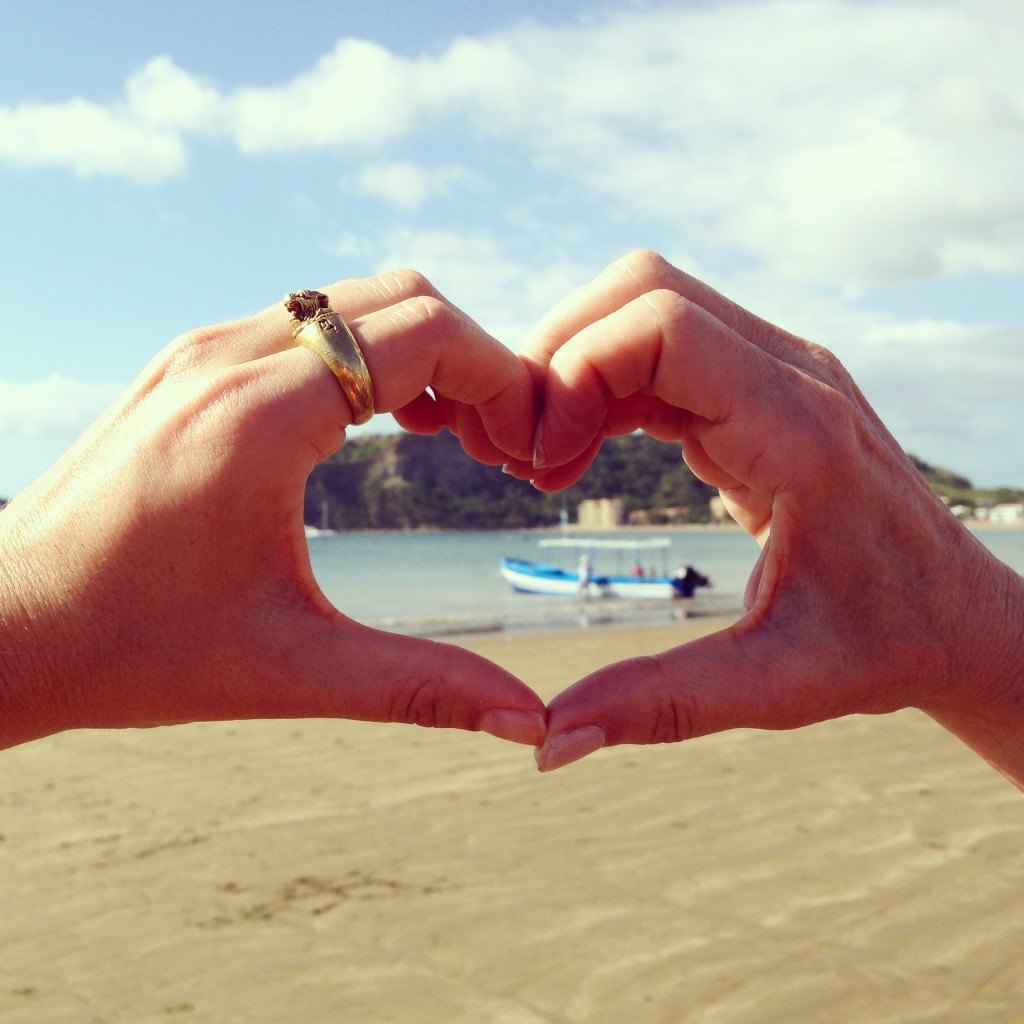 San Juan del Sur, Nicaragua
I was upset in those first few days, of course. Though we hadn't dated for very long, I had grown to look forward to our time together. As much as I love my independence and my freedom, it's always nice to spend time with someone who really gets you. And yeah, I loved dressing up and going out for drinks and sharing my bed with someone, someone who'd wake me up with a cup of tea and a fun plan for the day, somebody who I could talk to about politics and literature and David Bowie and everything in between. I had always fully supported his plans to travel and live abroad, but in the back of my mind I thought that, if things were really as great as I wanted them to be, we would have worked it out somehow. That I would have been enough. When we broke up I don't know if I was really mourning him, or perhaps mourning the idea of him and what our life could have been.
But then I started thinking about it. You know, it really did annoy me that he didn't text me for days on end, or that he'd stand me up an hour before we were supposed to meet. Maybe he wasn't so thoughtful or so gentlemanly after all. Or maybe, just maybe, as much as I wanted to be, I wasn't his perfect woman, or at the very least a woman who he truly wanted to be with. That, in his mind, I wasn't enough after all.
That could have brought me even lower. I could have dwelled on it, or let it impact how I felt about life, about love, or about myself. And while I can't say that I immediately felt at peace with it, over the course of a few weeks I realised that getting dumped really wasn't so bad. At the end of the day, why would I want to be with someone who didn't want to be with me? All the pints of Guinness and long talks about the Coen brothers meant nothing if the person I was with didn't truly respect me, care about me, or see a future with me. Mark Manson writes an absolutely brilliant post about this that I think everyone should read; it's certainly helped me achieve some clarity in past relationships.
Scott may have, on paper, appeared to be my perfect man. But when he dumped me, he made me realise that there's no such thing. It's easy to yearn for the person who's dumped you, to create scenarios in your head where you fix everything and he comes running back. Very quickly, however, I understood that if he didn't truly want to be with me, he wasn't the man for me, pure and simple. He was far from perfect, just as we all are; it's about finding the person whose imperfections you love just the same. It's about finding someone who loves your imperfections just as much back.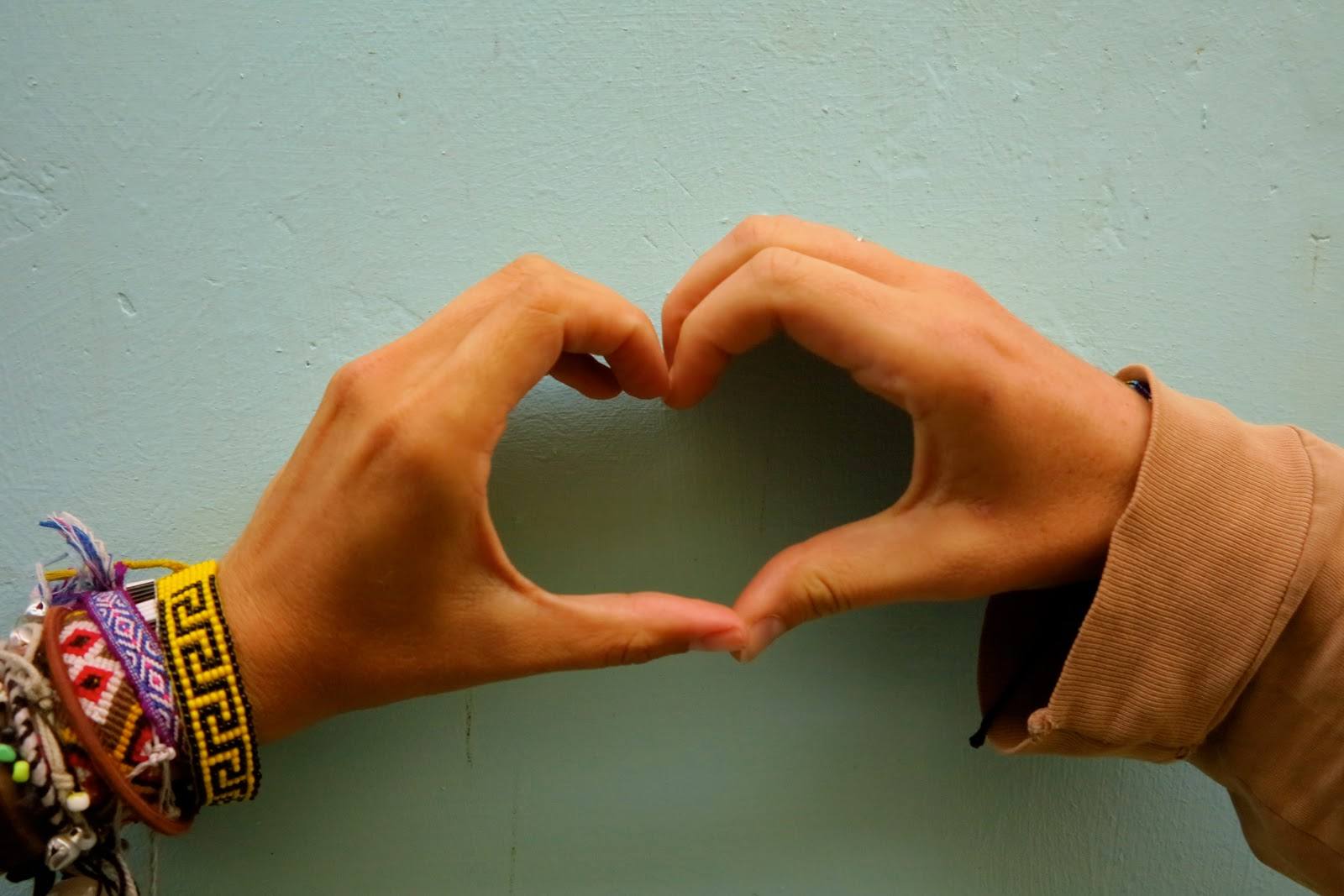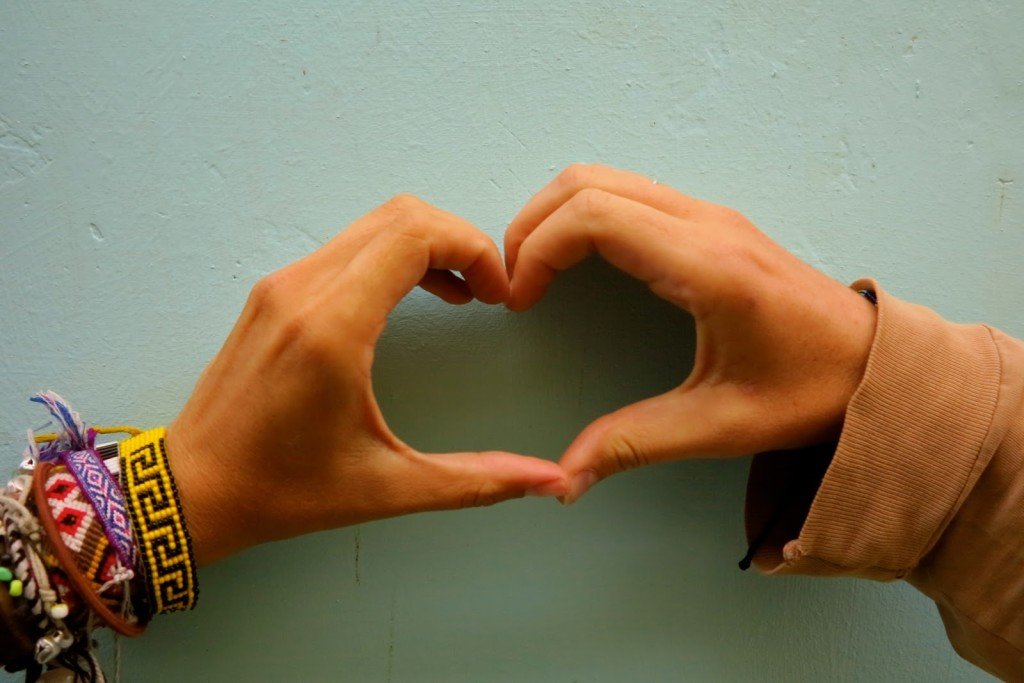 Valparaiso, Chile
I don't think that any of my time with Scott was a waste of time, nor do I feel that feeling sad about him was a waste of time, either. He taught me what I did want out of a partner (laughter, chemistry… and OK those pints of Guinness are really a favourite of mine) and what I didn't (flakiness, disrespect, uhhhh the fact that he didn't feel the same way). What would have been a waste of time would be to continue to pine after him, or, worse, if we had stayed together for even longer, with him knowing it would never amount to anything serious or substantial. That's not to say that we shouldn't have a mourning period after breaking up with someone we care about – that can be very healthy and very necessary, too – but in the end I'm grateful that Scott dumped me, because it paved the way to figuring out what I do and don't want out of my next relationship.
Since Scott, I've gone on a few dates with a guys, in London and abroad. One was really, really weird (that story for another day), one turned out to be a bit of an asshole (OK, a huge asshole), and one, the most recent one, was lovely and kind, but not the man for me. So I'm single on this Valentine's Day, but not in any way lonely or sad; I had an amazing day with an amazing friend, and I'm so excited about the future I'm creating for myself. I still love my independence and my freedom. Maybe one day I'll meet that one, you know, that one who makes me laugh and likes my cooking and wants to stay up watching Indiana Jones with me all night, that one who just fits… but for now, I'll happily buy my own pints of Guinness.
Oh, and by the way? The next time I ran into Scott, he seemed… shorter somehow. And his jokes didn't land quite like I remembered. Just some food for thought.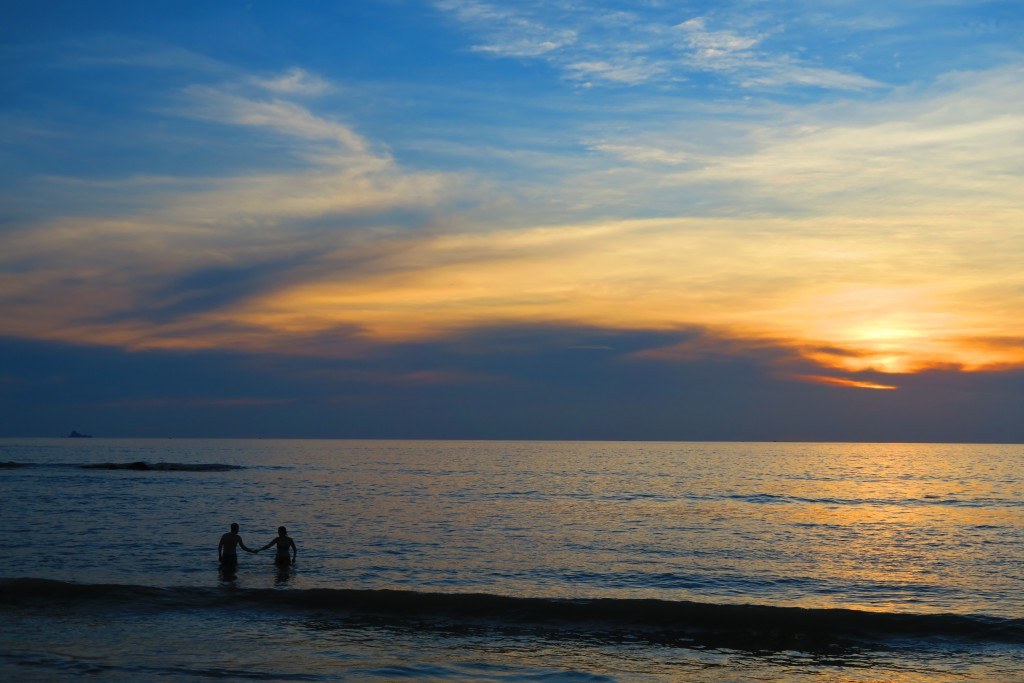 Koh Lanta, Thailand (not me, just some random strangers in love)
Have you ever been dumped? What did you learn from it?