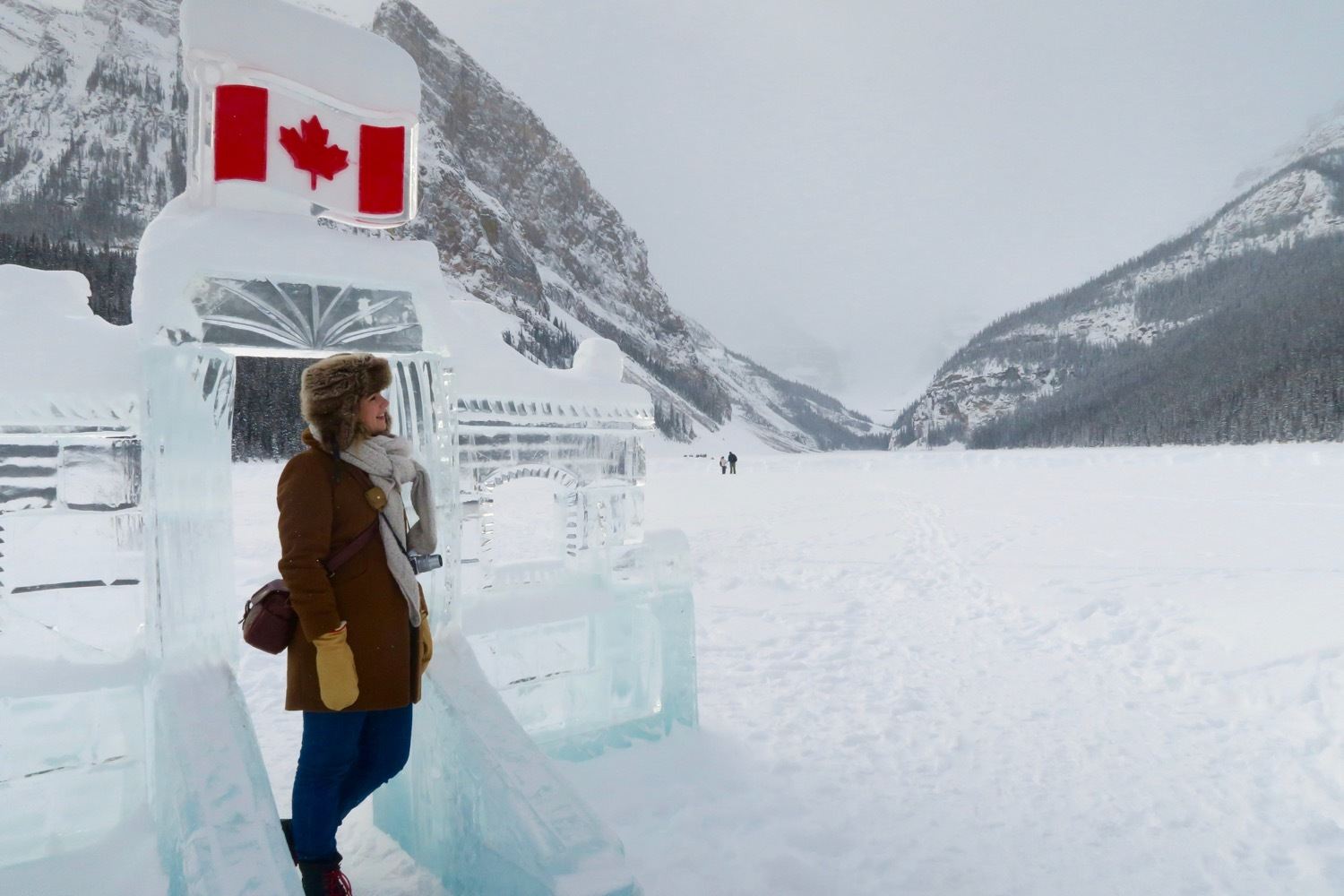 Ah, Canada. Beautiful, huge, and diverse, it hasn't taken much for me to fall in love with it all over again in these past few months. Despite being born and raised in Winnipeg, Manitoba, I actually haven't spent that much time in Canada over the past decade or so; with the exceptions of a few stints here and there over the years, I've mostly been abroad. So what to wear in Canada in winter?!
I also haven't spent that much time in Canada in winter, unless I was home for Christmas. So in coming back to Canada for three months in some of its coldest months, even I, a Canadian was stumped. What do I wear in Canada when it's that cold? I mean… I wanted to be warm, but I also wanted to be cute, you know?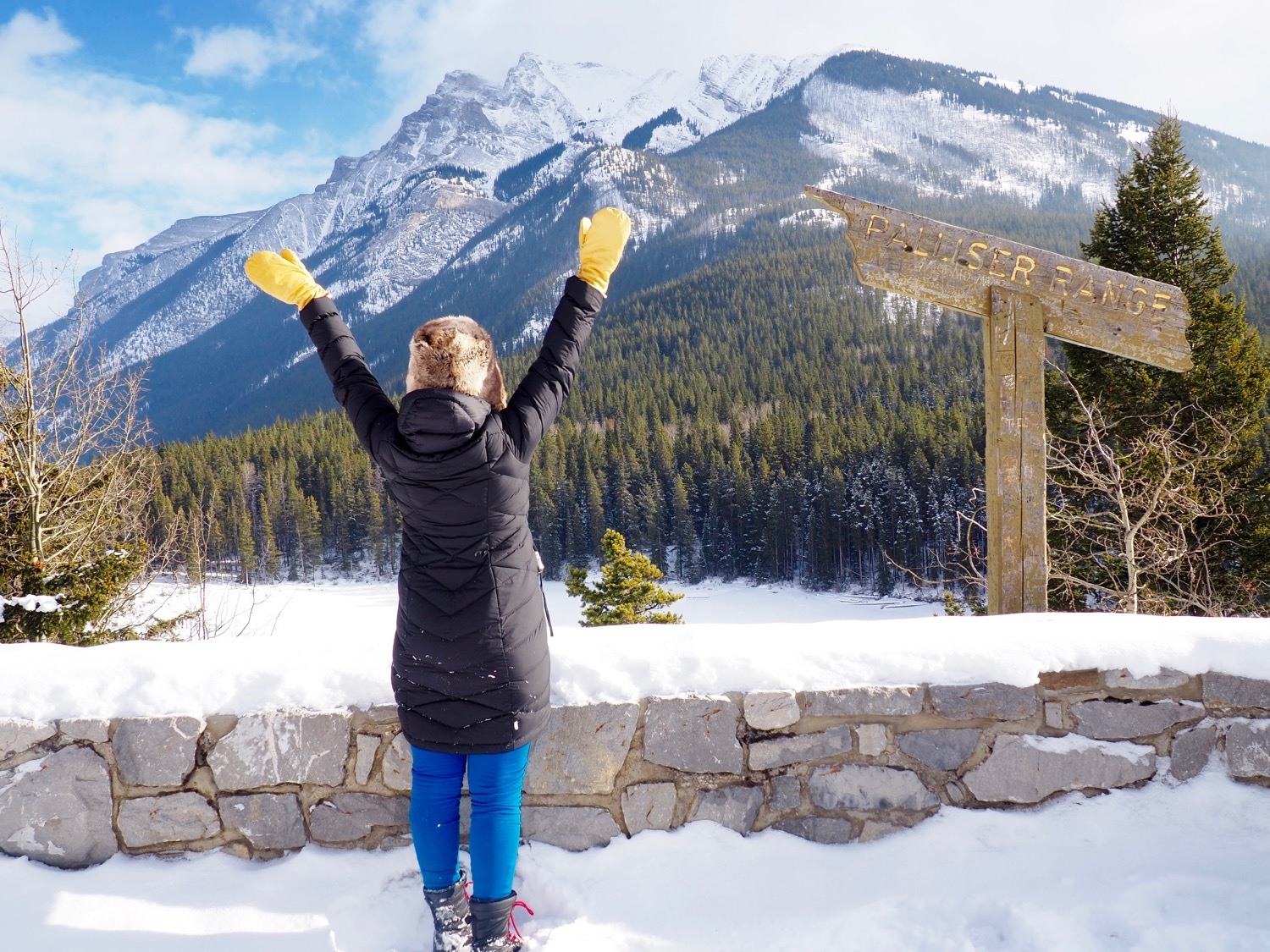 And although Canada is MASSIVE – seriously, it's the second biggest country in the world – I've found that there are some basic rules for what to wear in a Canadian winter, no matter where you are in the country.
Sure, some provinces and territories will be a lot colder than others, and some will get more rain than snow (I'm looking at you, coastal BC), but I wanted to cover at least the basics of how to dress in Canadian winters. I'm sure a lot of you reading will be like, duh, I'm from Idaho, but after being on a tour across Canada with forty Australians, some of whom had never seen snow before, I felt the urge to write about it.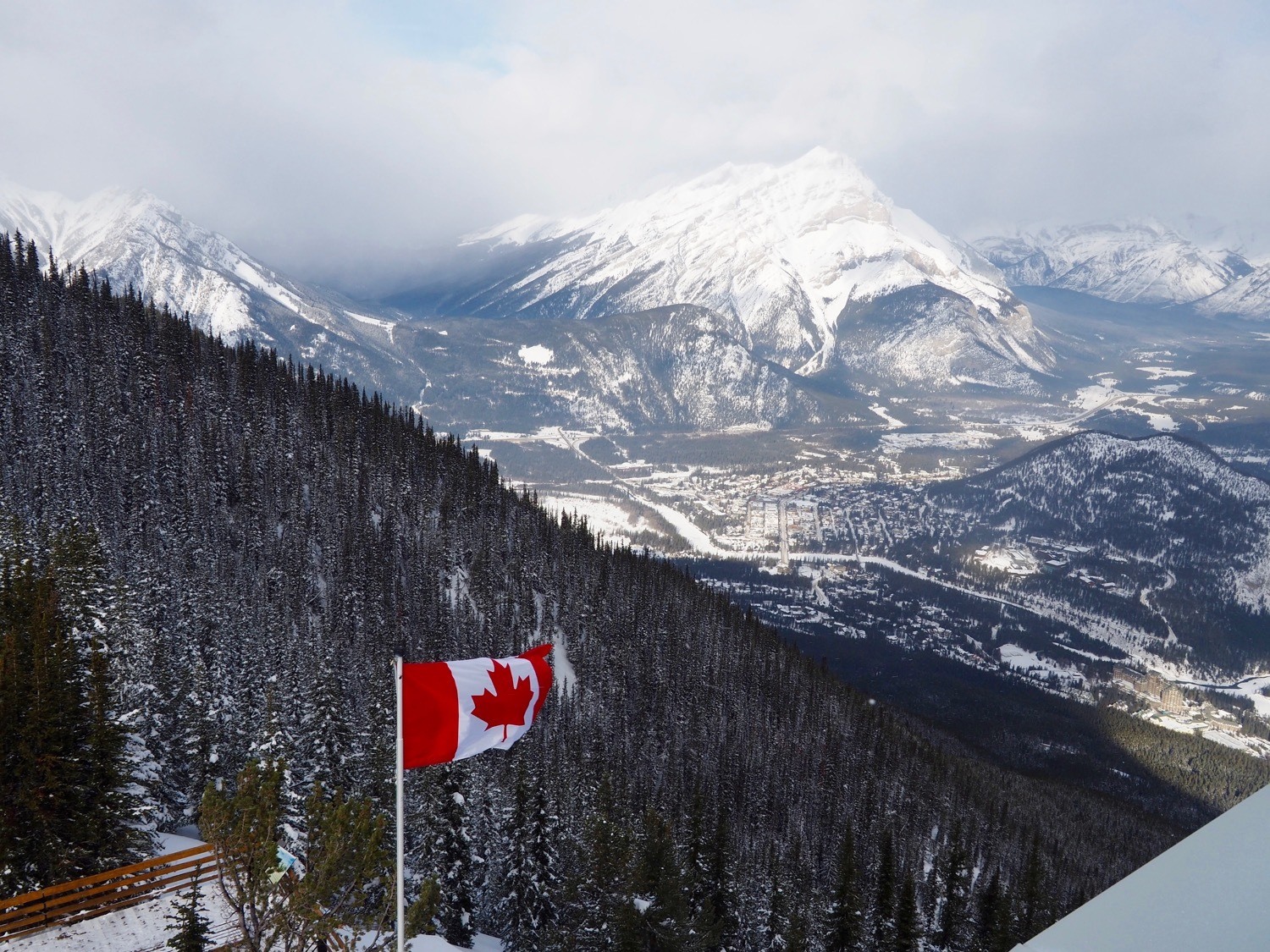 And again, while there are definite variations in winter in Canada, the general rule is that you'll need warm winter clothing from October/November until March/April.
This can vary depending on where you are and when – it has snowed in October in Winnipeg before, and it has also snowed in May – so it's always best to check the forecast for the week ahead and plan accordingly, especially if you are travelling to more remote places or to very touristy places (like Whistler or Banff) where buying a warmer jacket will set you back a pretty penny.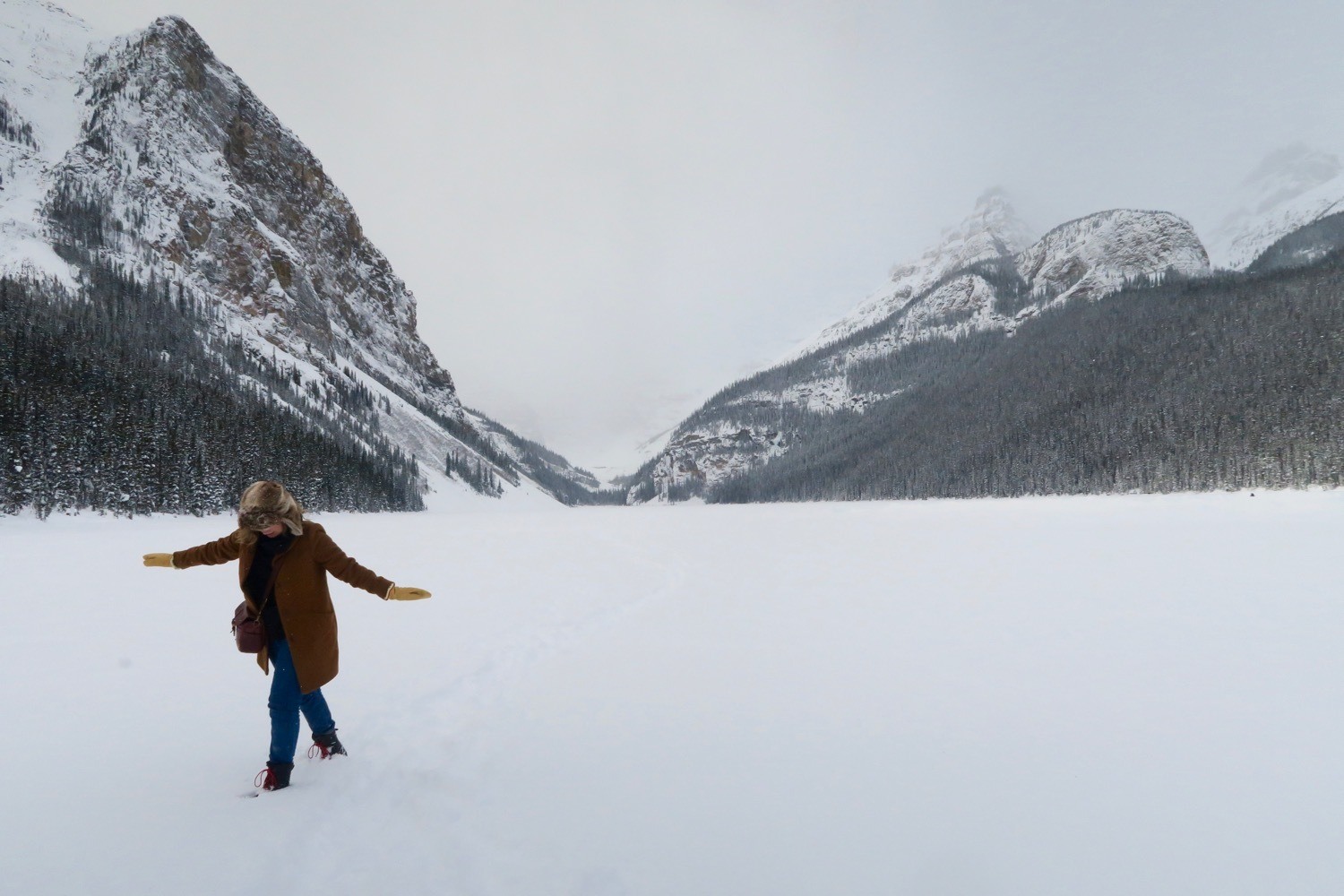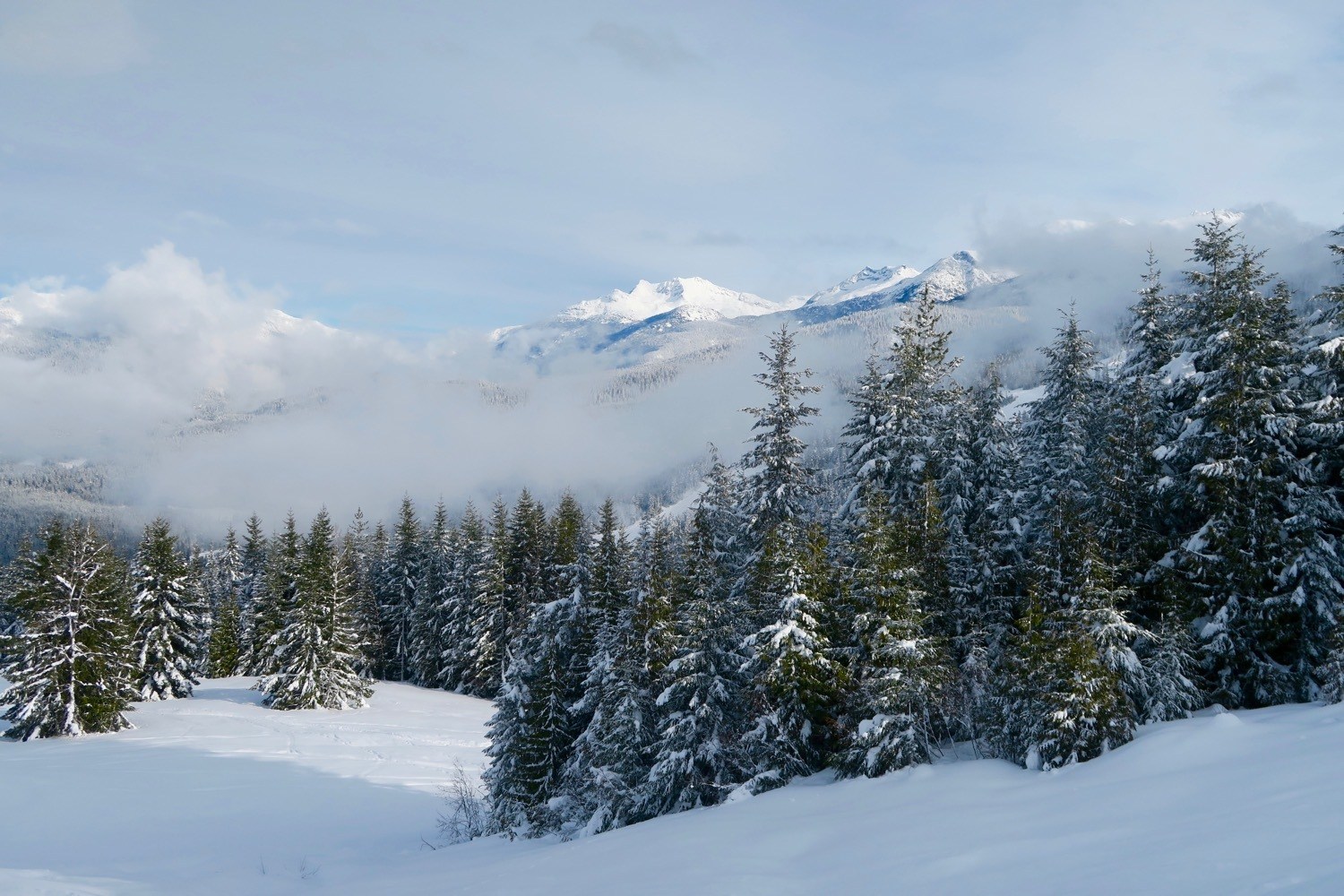 So without further ado, here's what to wear in Canada in winter. I am focusing pretty heavily on clothing to wear while participating in winter activities, but even if your trip is fairly city-based, it's still good to take a lot of this advice to heart.
Your regular outfit of jeans, sneakers, and a leather jacket will most likely not cut it if you fly into pretty much any major city in Canada in the dead of winter… trust me. I was a teenager in Canada. I am pretty sure the majority of my teenage years just consisted of me saying, "Mum! I don't need a scarf!! I'm fine!!!" and then shivering until the brink of hypothermia at the bus stop. Don't be like me at 16, I beg of you.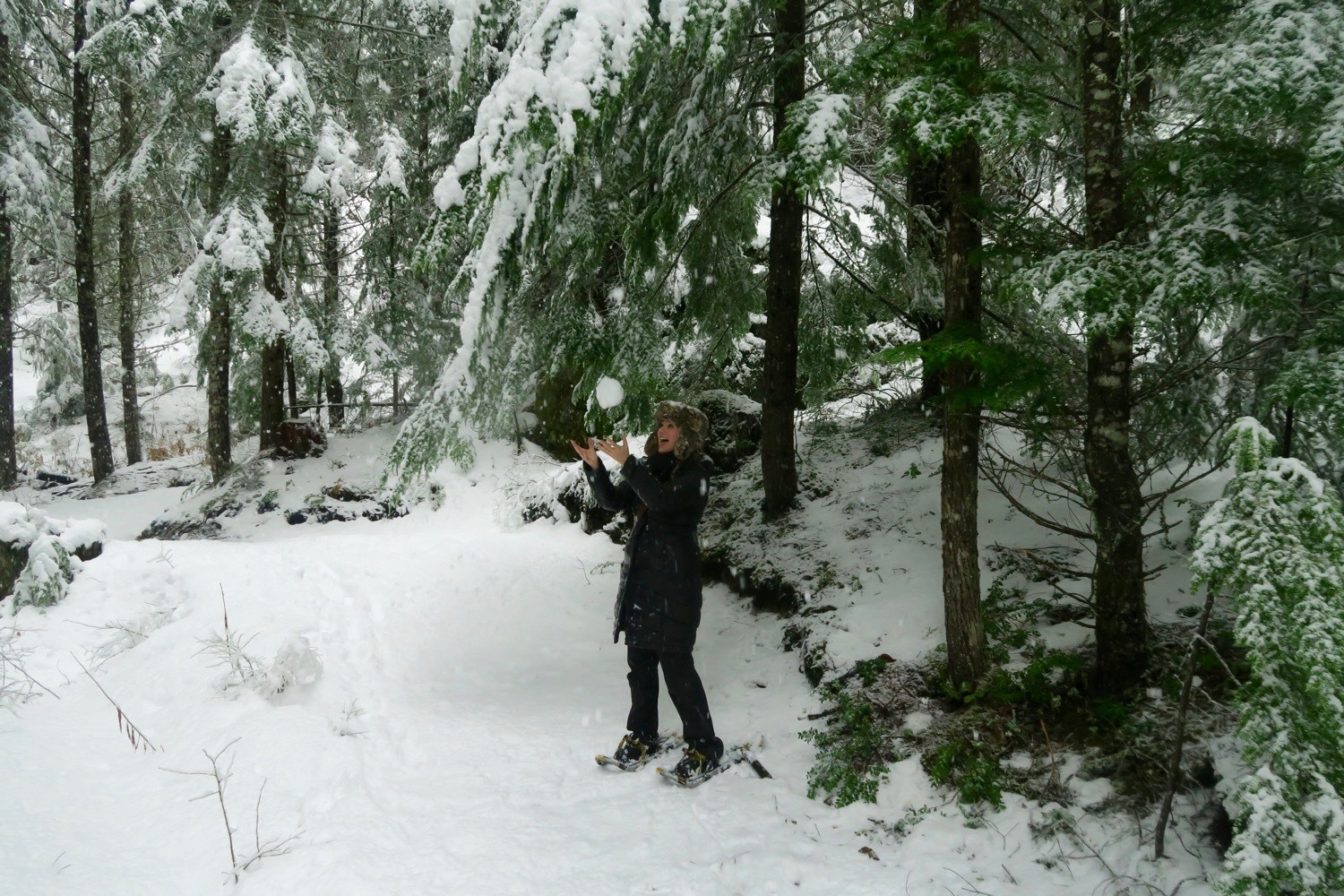 Please note that this post includes affiliate links, and, in this particular article, I was given some clothing to review. I've had a lot of people tell me they like my what to wear posts but would appreciate links to clothing I'd recommend, so I'll try to do that from now on. As always, though, I would encourage you to try to shop locally whenever possible; my favourite travel wardrobes are always those that include a lot of the local clothing and jewellery!
What to wear in Canada in winter: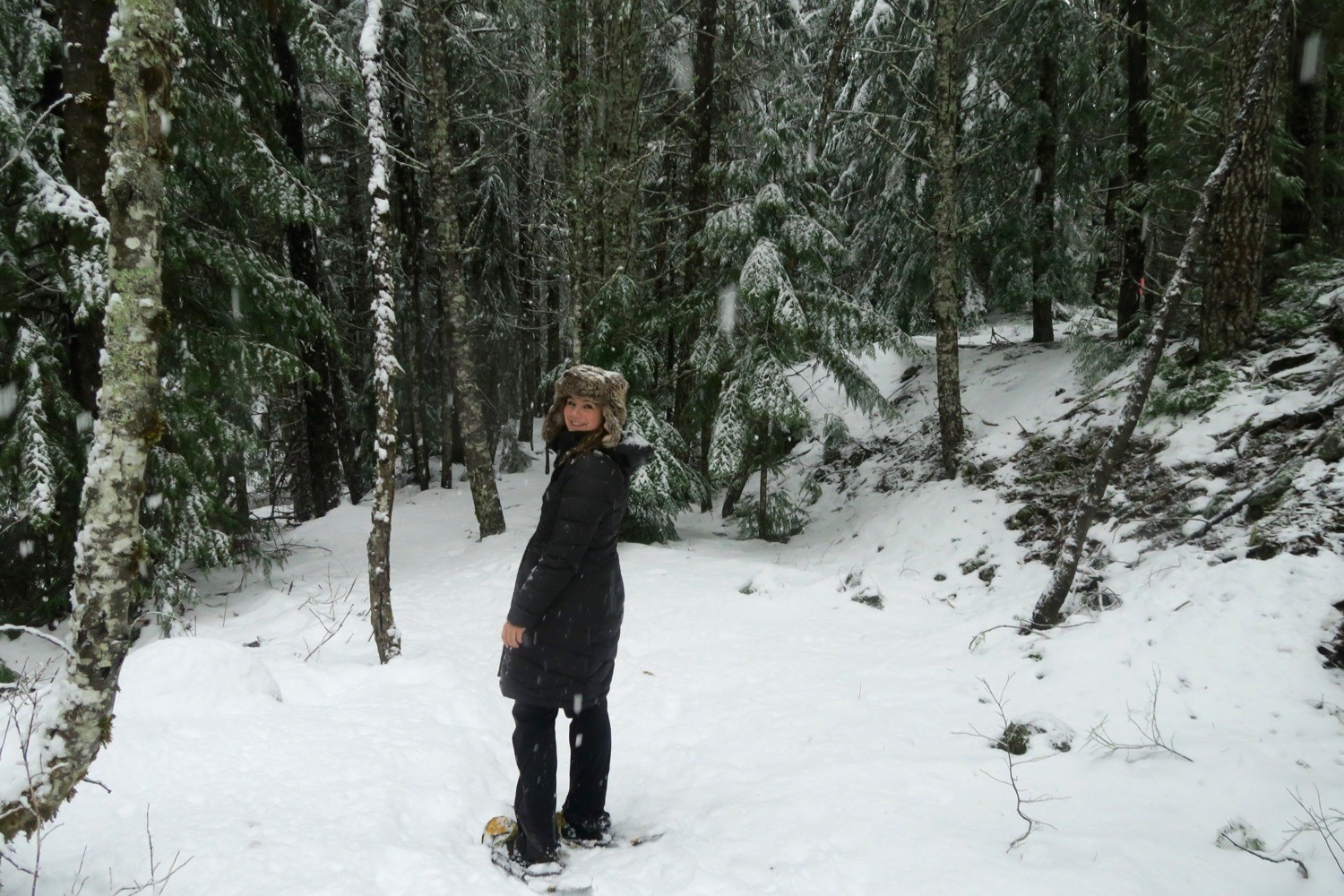 1. A Jacket (or three)
"Wowwwww," I can just hear you saying while rolling your eyes, "How original." But yes, it's true – no matter where you are in Canada in winter, you are going to need a really good, comfortable, warm jacket.
If you are going to spend any time at all doing anything in the snow – think skiing, snowmobiling, skating, even just building a snowman – you are going to need something beyond your average city-appropriate outerwear (so as cute as it is, your peacoat probably won't make the grade in this situation).
Unless you are planning to spend most of your time in a West Coast city like Vancouver, I can guarantee you that you will need a reliable, practical jacket while in Canada in winter. For the record, I have been in British Columbia, Alberta, Manitoba, Ontario, Quebec, New Brunswick, and Nova Scotia in winter, and I have lived in Manitoba, Ontario, and Nova Scotia. Trust me: just buy the warm jacket, OK?
In Manitoba this winter, I experienced temperatures that dropped down to -37 degrees Celsius, while in The Rocky Mountains of Alberta, it got down to -15. You can read more about what temperatures to expect in winter in Canada here.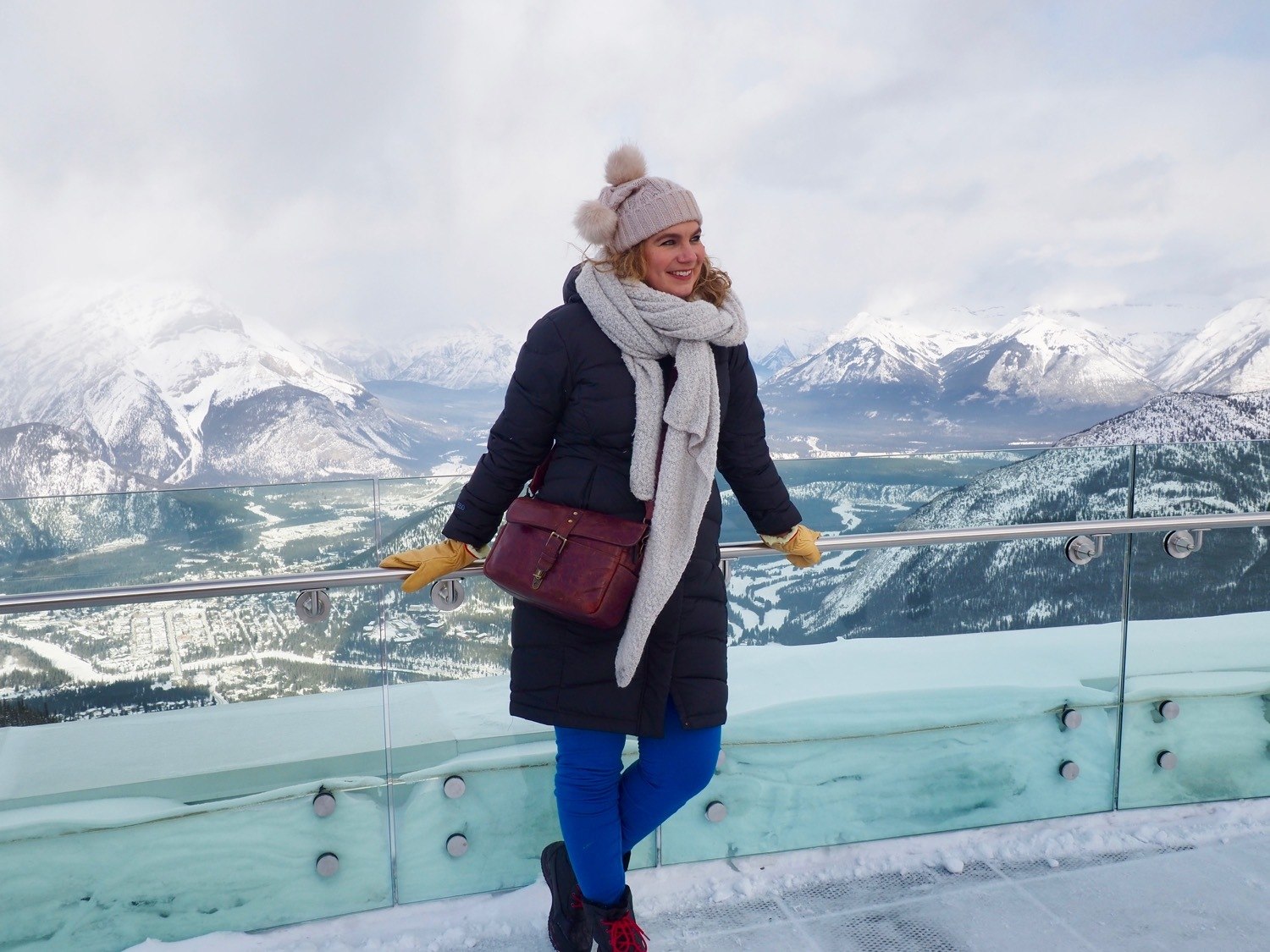 My biggest struggle was finding a jacket that could withstand those temperatures but still look reasonably fashionable. It just so happens that, around that time, the outdoor clothing company Kathmandu got in touch with me about reviewing some of their clothing.
Normally I turn these kinds of requests down, but I knew I'd be in Canada for three months and I knew their products would really come in handy (if they worked, that is). I opted for a jacket which is both long and down-filled, and hoped that it would not only keep me warm but leave me feeling somewhat stylish (I liked how it came in at the hips).
It ended up being the perfect jacket for outdoor winter activities in Canada; I wore it in freezing conditions all over the country, and not once did I feel cold. I had held off buying this kind of practical jacket for years, but it turns out – surprise! – they really are ideal for frigid, snowy temperatures. You'll want to find something similar for your time in Canada.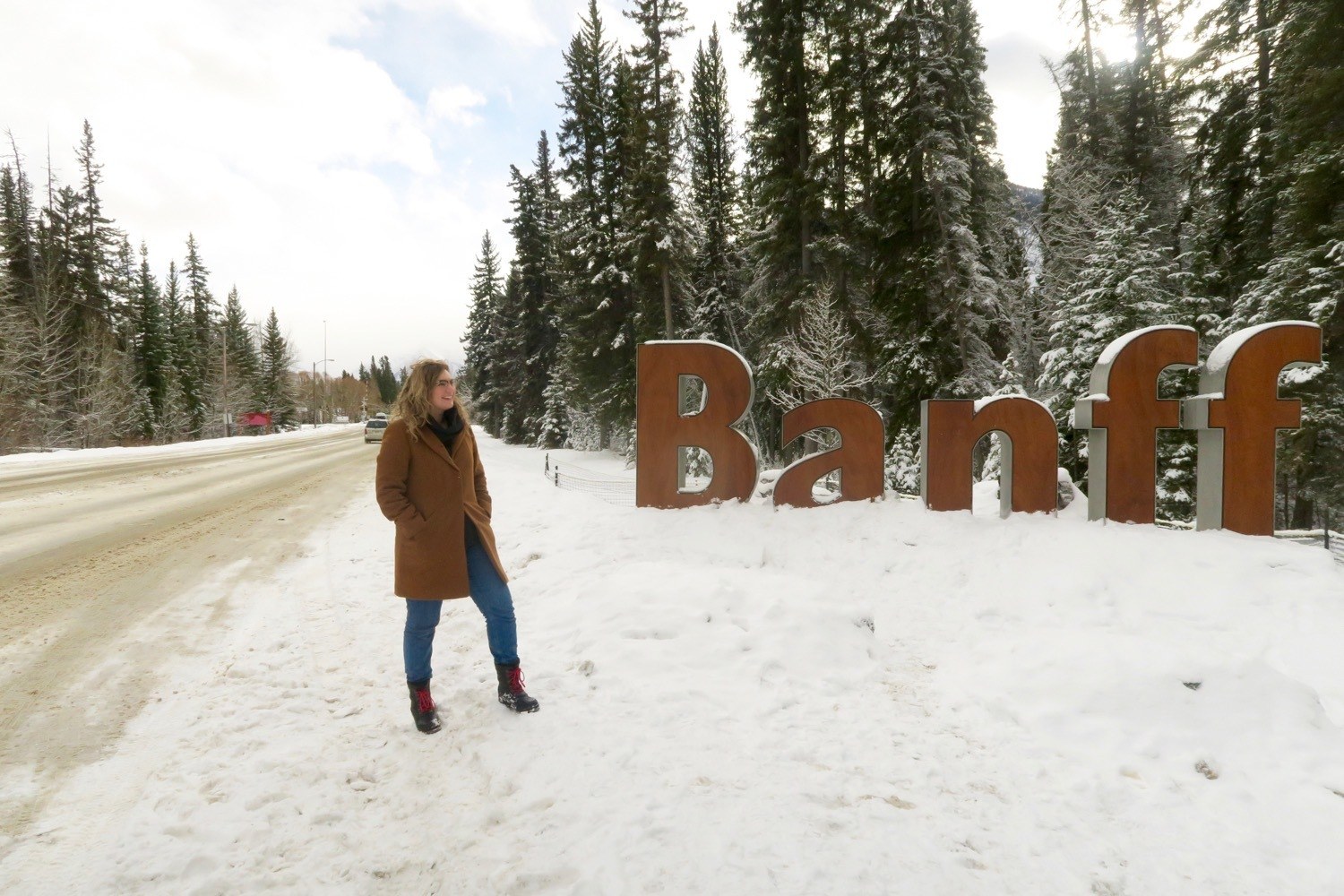 But because I'm a true Canadian at heart, one jacket is never going to be enough. While the Kathmandu coat was perfect for outdoor activities, I also like to have a jacket that is a bit more cosmopolitan and looks nice for going out at night. I wore the "Cocoon Coat" from Aritzia and loved that it was both stylish and warm (although I wouldn't want to go rolling around in the snow in it, as it's quite expensive).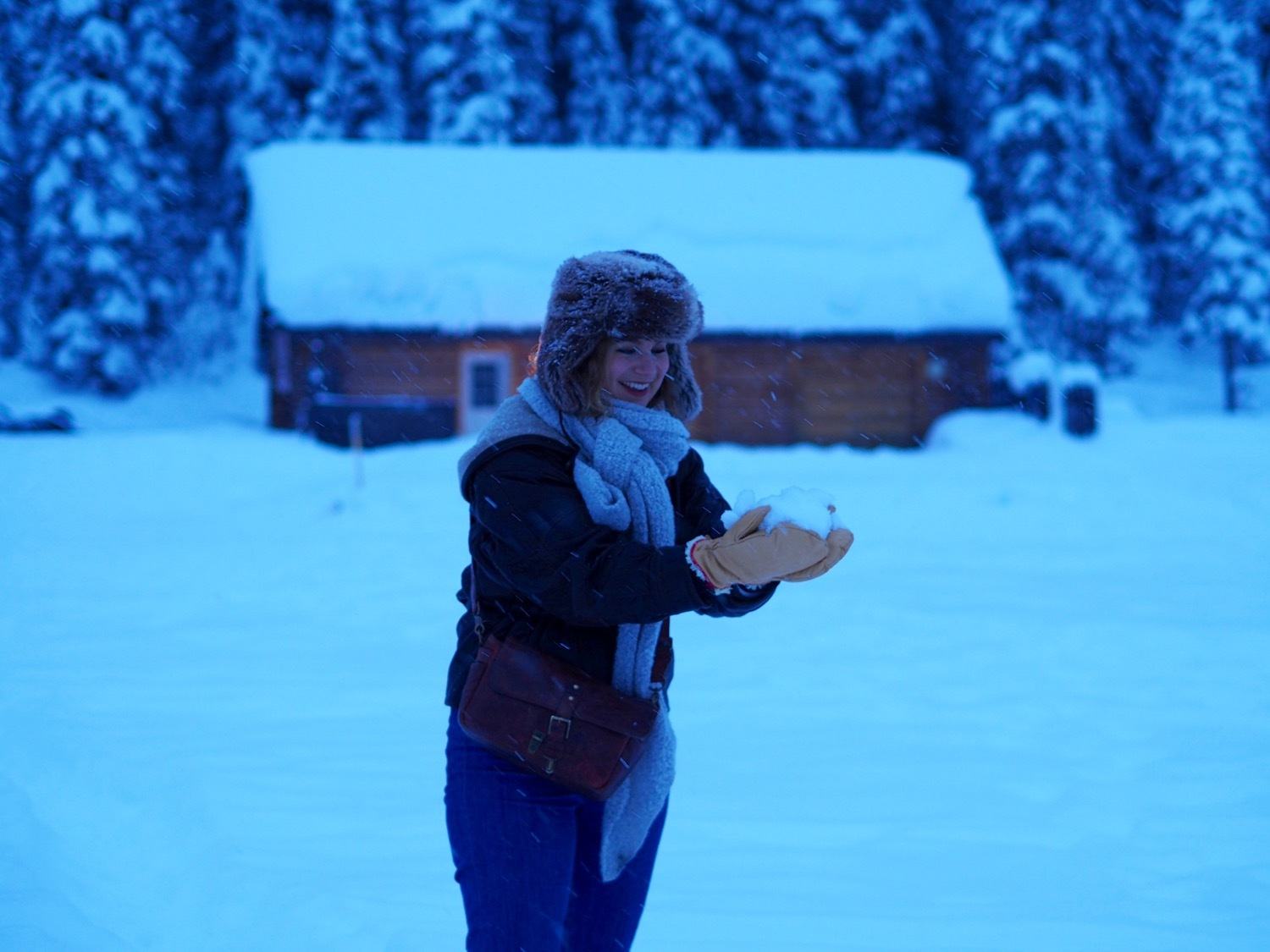 Another tip for finding stylish, warm jackets to wear in Canada in winter? Head to thrift shops. I personally shop at Value Village, a thrift chain across Canada.
I have one winter coat I wear all the time that was purchased more than a decade ago, while this past season I bought one black fuzzy winter coat for eight dollars (eight dollars!) and a belted leather bomber (don't judge, I swear it's cool) for a mere twenty bucks. If you have some time to spare and want to do some shopping, I highly recommend buying a vintage or secondhand coat – they're everywhere in Canada and it's great for the environment to buy secondhand.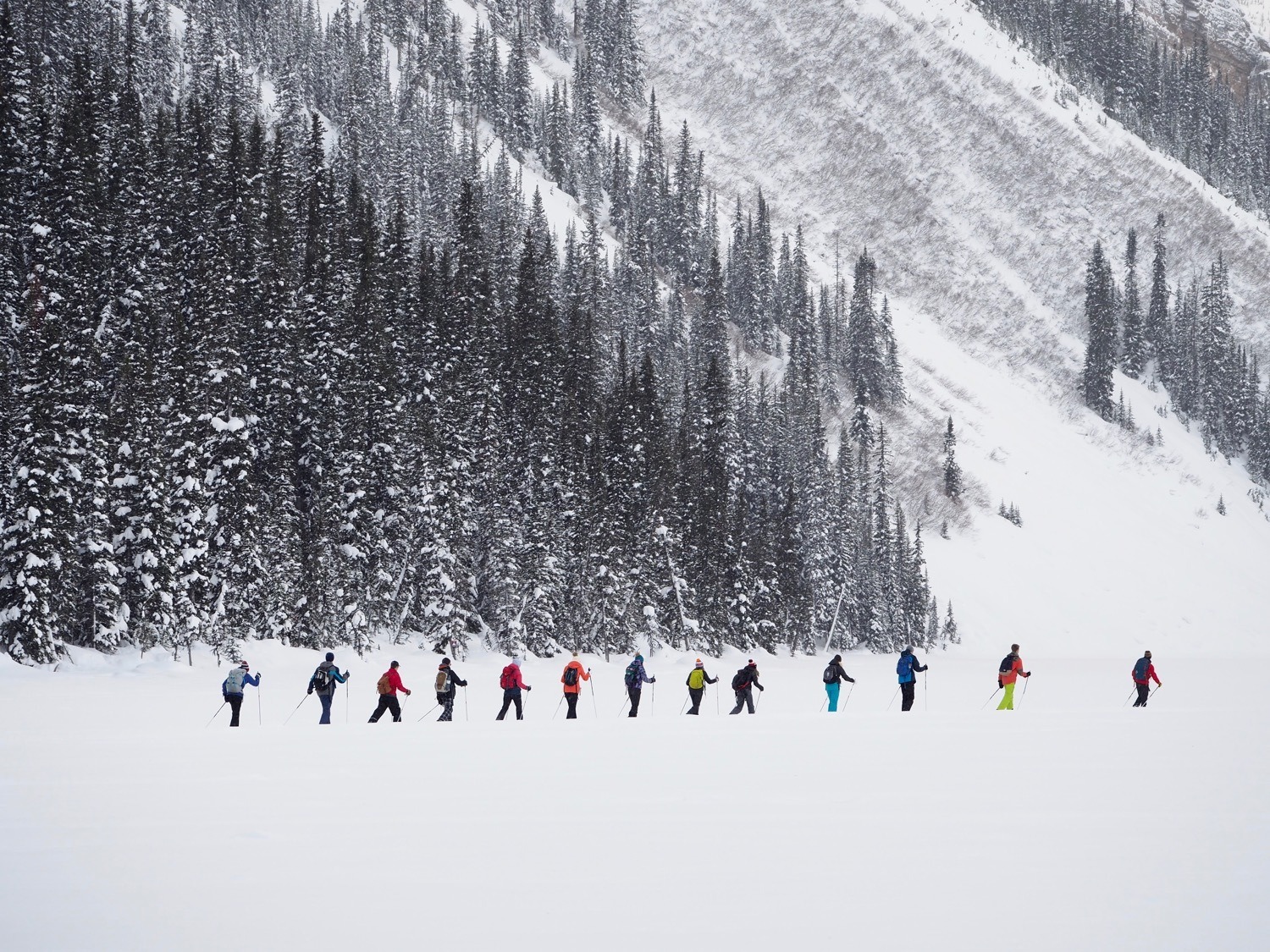 Of course, if you're a skiier or snowboarder, there are jackets specifically designed for you. I can't speak much on these – I don't ski or snowboard – but this list has quite a few good options for the necessary gear. A lot of Canadians wear Canada Goose coats, so they're worth looking into (but very expensive!).
There actually was a fire in there, I'm not just posing
2. Sweaters
Without a doubt, you are going to need a few sweaters for your winter in Canada. While these are fairly easy to buy just about anywhere, I'd recommend going for at least one heavier sweater, preferably one made of wool.
I've picked up a few yak wool sweaters while in Nepal, but more recently in Canada I wore a turtleneck sweater similar to this one. They're pricier, yes, but you get what you pay for: it really is worth the price. You'll notice that, unlike packing for warmer climates where you can buy a few cheap cotton dresses, it makes so much more sense to spend a little bit more money on high-quality items so that you're guaranteed to say warm while in a Canadian winter.
I've recently also discovered the warmth of cashmere – yeah, I'm kinda posh now, apparently, or maybe just old – and I can also recommend getting clothing with a bit of cashmere blended in (the company Kit & Ace has lots of nice options).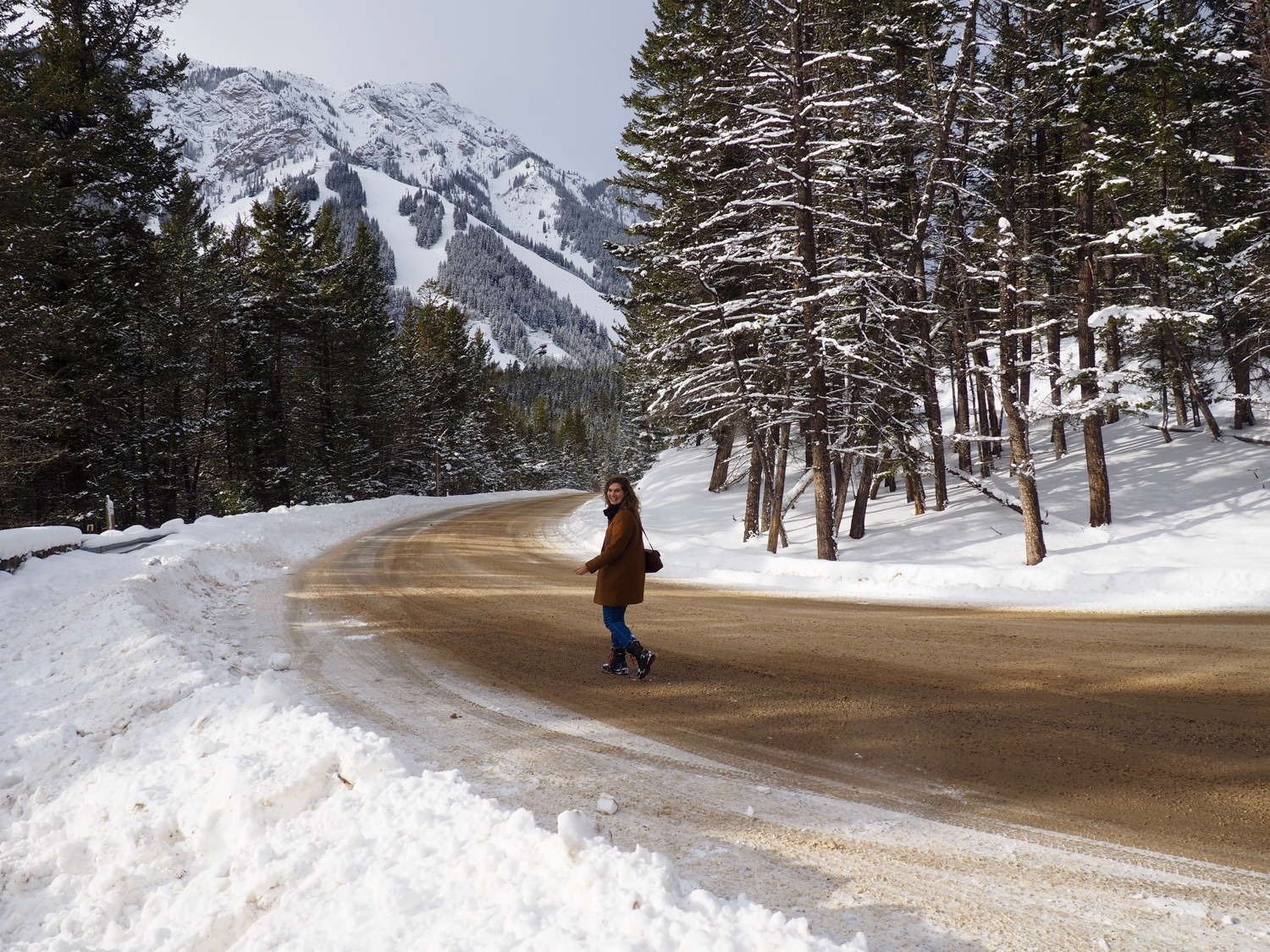 3. Jeans and trousers
If you've read one of these guides of mine before, you know that I very rarely recommend bringing jeans, and usually bring only a pair or two of trousers on my travels if I think I'll be hiking or doing something active.
Well… I've crossed over, my friends. I've finally found a few pairs of jeans (all from the Gap or ASOS) that fit me quite well, and I can say that they've been lifesavers while in winter in Canada, because I got too cold wearing only skirts. If you go for trousers, again, make sure to invest in a heavier fabric, not something that will provide absolutely no protection from the cold or the wind. Wool is almost always best.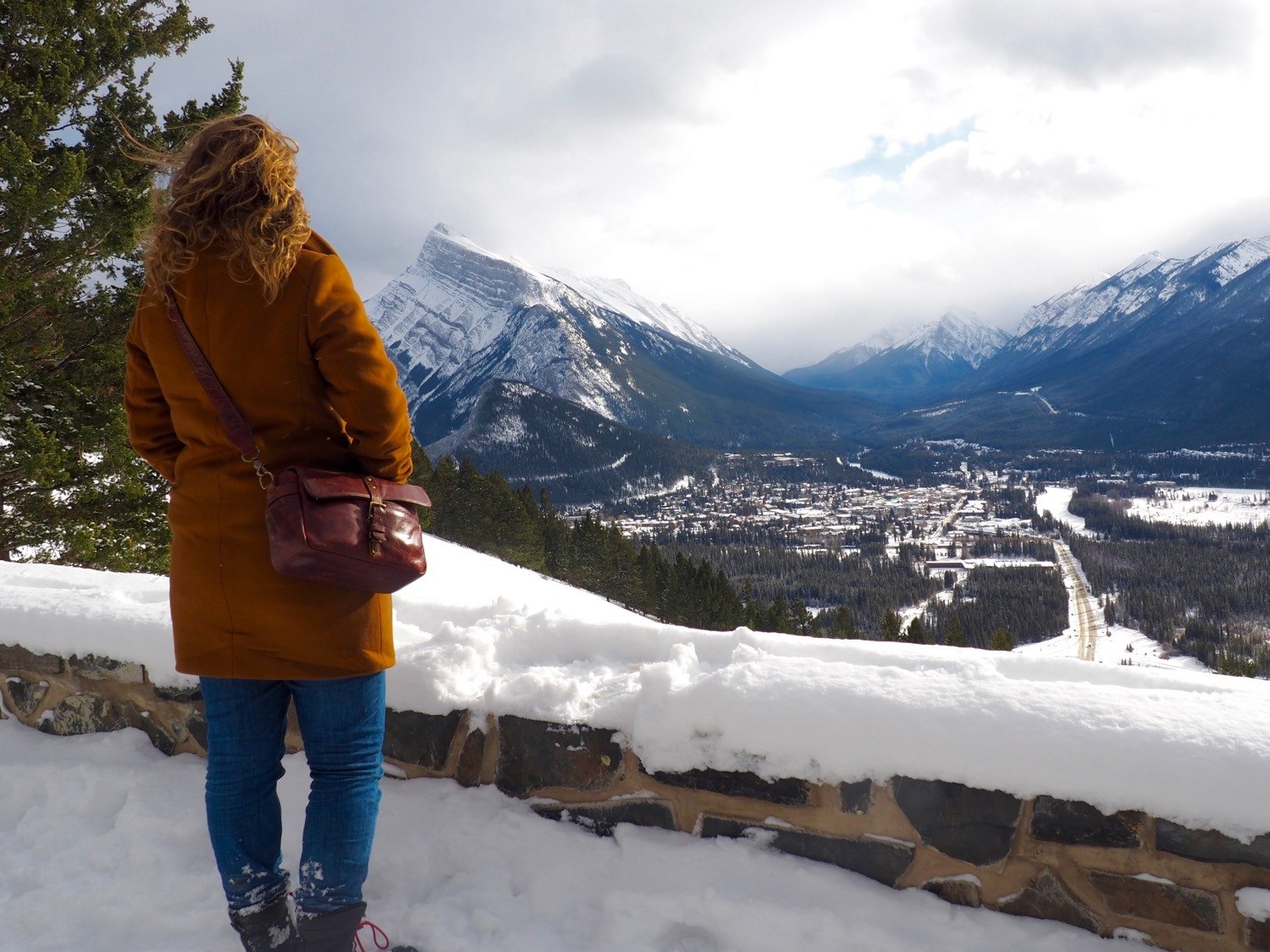 Although I still definitely wear my usual skirts and dresses if I am going out at night or if I know I won't be outside for that long, wearing long trousers or jeans is totally the way to go to stay warm in winter in Canada for everyday wear. Keep in mind you won't want to wear jeans or trousers while you're doing any serious winter activities (see below for my tips). I also sometimes layer tights or long underwear under my jeans if they're baggy enough.
If you DO want to wear skirts and dresses while in Canada in winter, make sure to invest in a few pairs of warm tights to wear under them, tights like these ones. They're expensive, yes, but they'll last a long time and are MUCH better than the typical cheap stockings or tights you'd buy for everyday use.
One more tip: wool tights are much more likely to ride down your body, leaving you with the dreaded drop-crotch feeling. I always, always wear black bicycle shorts or, if I know I'm having that extra slice of cake (so, every day), Spanx on top of my tights to prevent them from riding down.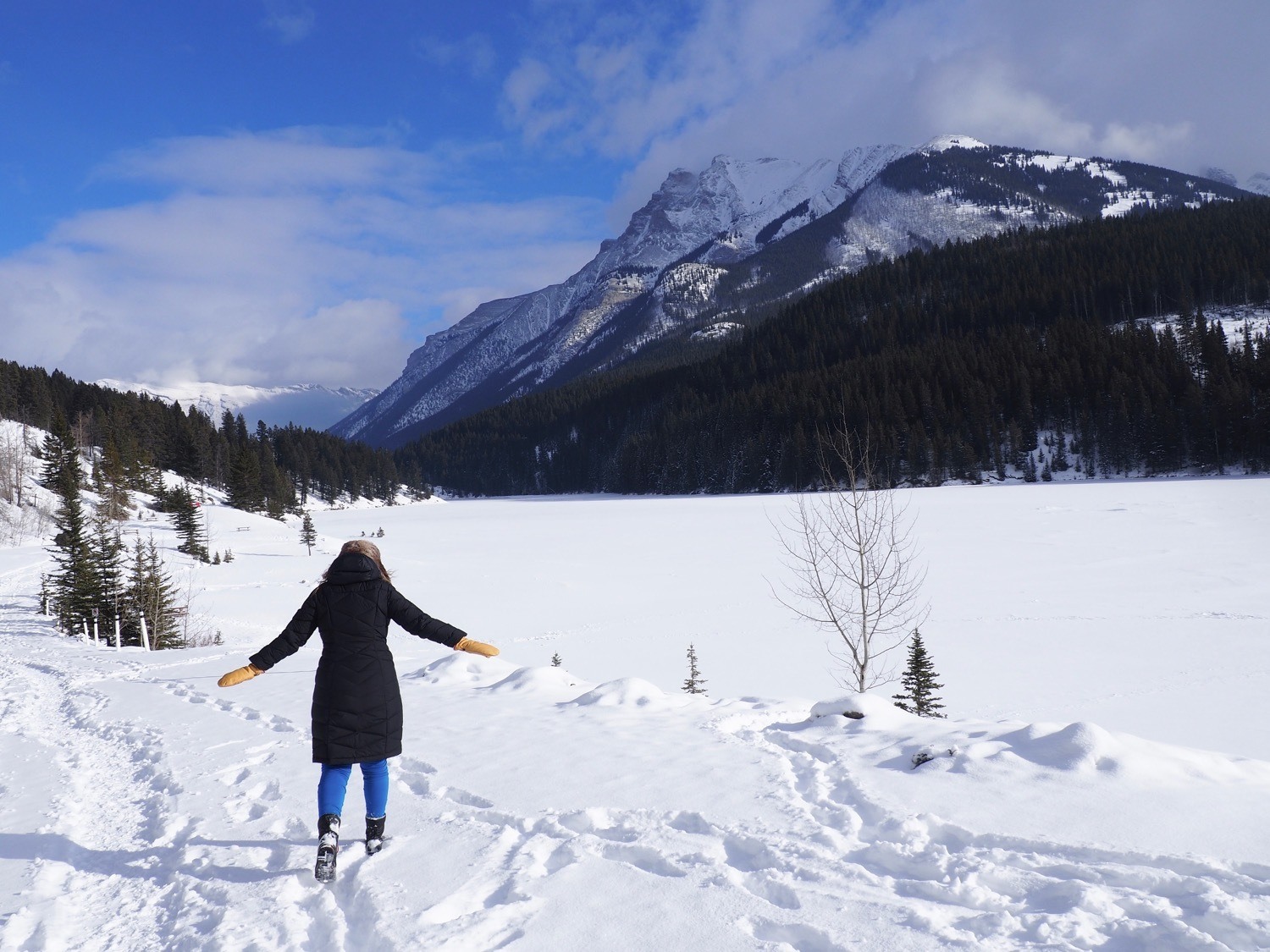 4. Long johns
Oh yes. Long johns, or long underwear, are THE BEST. Invest in a good thermal pair of tights or long johns to wear under your jeans/trousers OR to layer (I layered a thermal pair of tights under long underwear UNDER snowpants to stay warm).
I actually found a pair of thermal leggings to layer, which help significantly with staying warm in Canada in winter. You'll need them or something similar if you'll be in the cold and snow for long. Alternatively, going for the classic long johns (apparently these are only made for men, but hey, other genders have legs, too) is another great option for layering.
Keep in mind these are also cosy to sleep in… but most homes and hotels in Canada are very well insulated, so they stay quite toasty at night!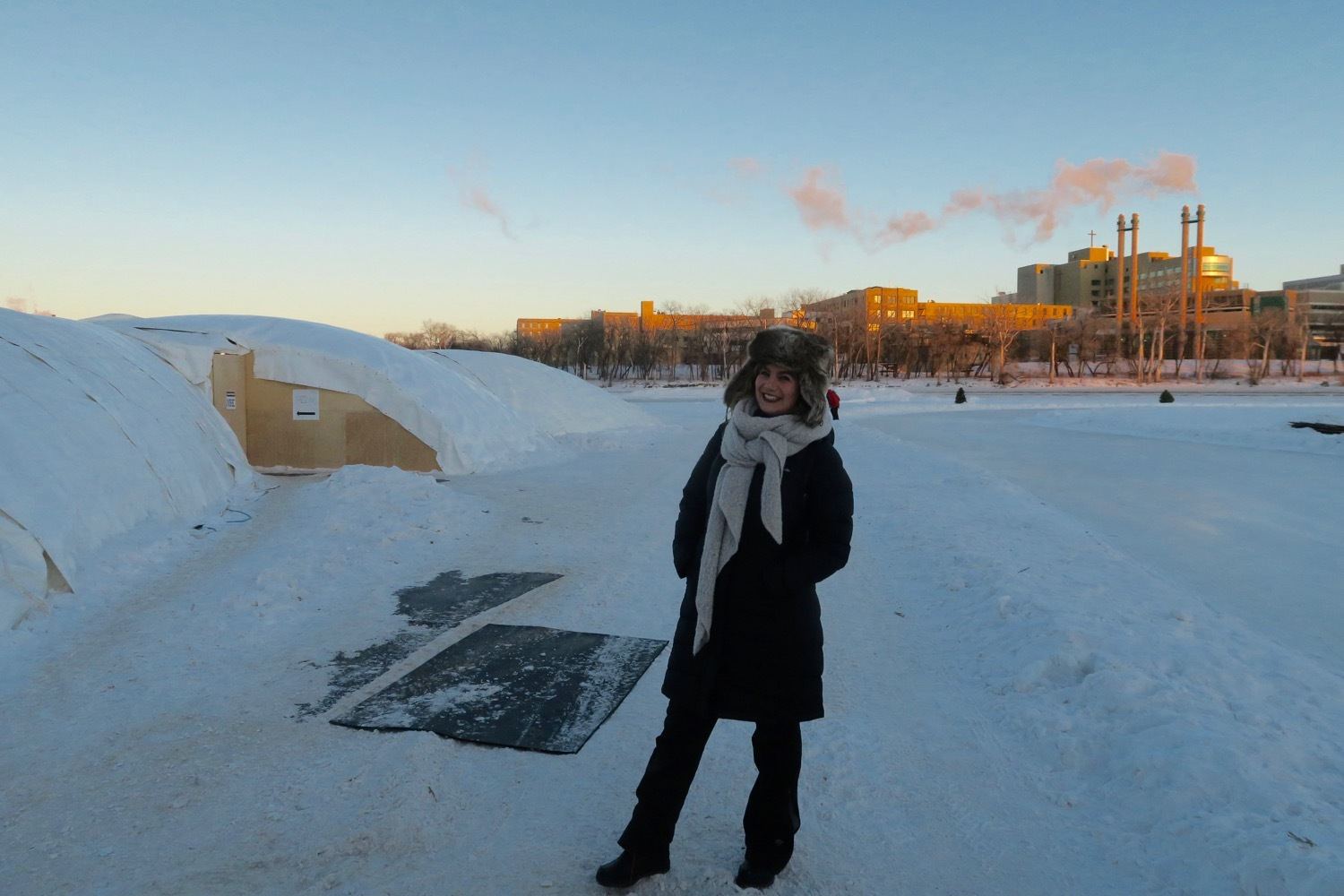 5. Snow pants
Again, if you are planning on spending any time in the snow whatsoever, you are going to need snow pants during a Canadian winter. The great thing is, once you buy a pair of these, they're usually good for life (or at least for many years).
A durable, warm pair of snow pants will normally run you at least a hundred dollars, but they are an essential part of winter dressing. Buy something insulated and waterproof, much like these ones. Now is not the time to scrimp – I find my legs, especially my upper thighs, are the first parts of my body to get cold even if I'm bundled up.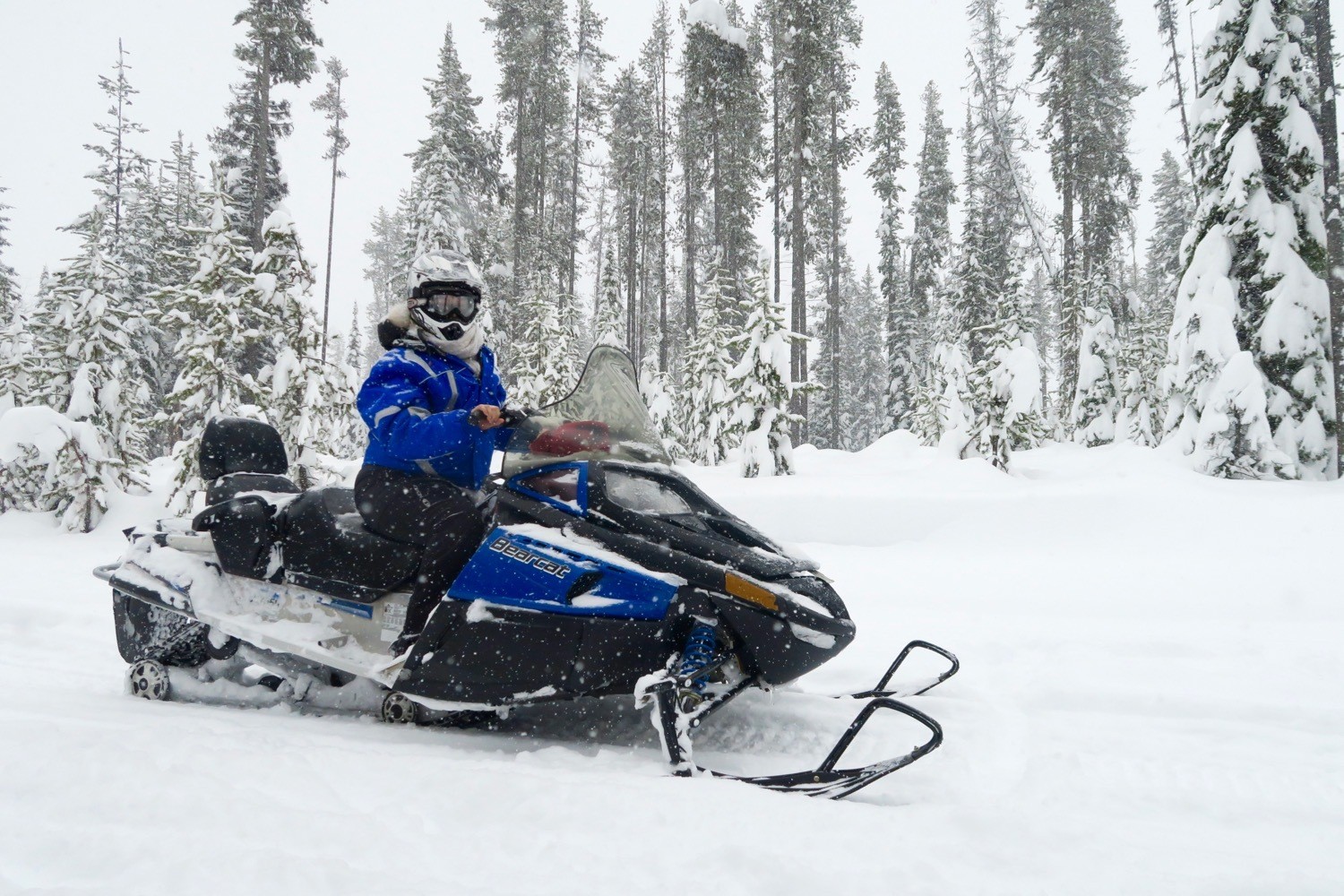 Wearing pretty much every single thing on this list (including an extra jacket) to snowmobile in Big White
6. Thermal tops
If you know you're spending a day outside in the Canadian winter weather, the absolute best thing you can do is layer your clothing. Layering is KEY to staying warm, and hey, if you start to get hot while skiing or tobogganing (it happens!), you can always remove a layer. Much better to be able to take something off than wish you had something else to put on!
If you'll be spending the day outside, I recommend layering something like a thermal top under your sweater. Long-sleeved t-shirts will also work, but best to go for something specifically made to keep you as warm as possible.
Another tip? If you bring lots of "under" layers like thermal tops, you won't have to worry about washing the heavier stuff that often, meaning you'll only need to bring one or two big sweaters alongside your lighter, easier-to-wash thermal layers.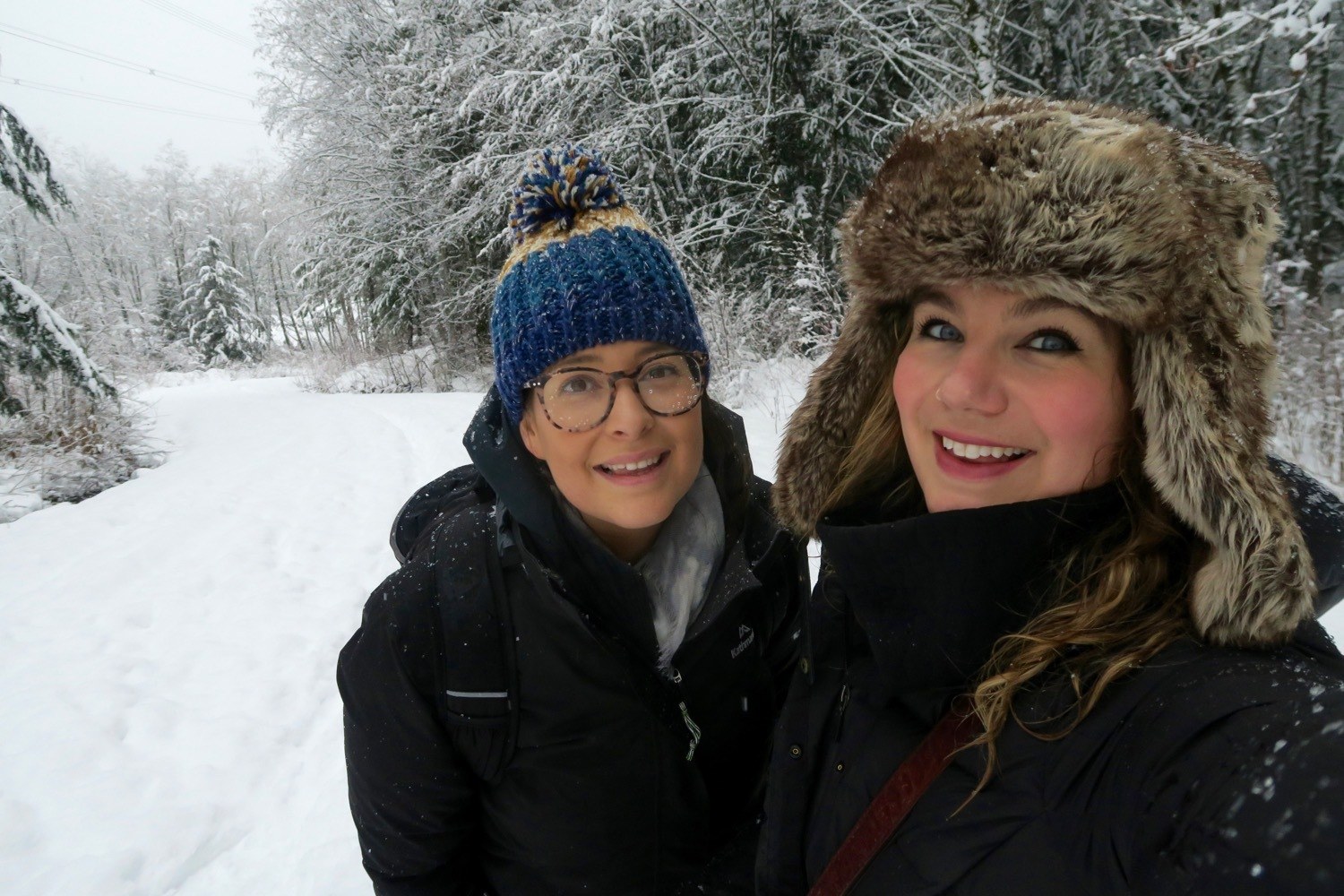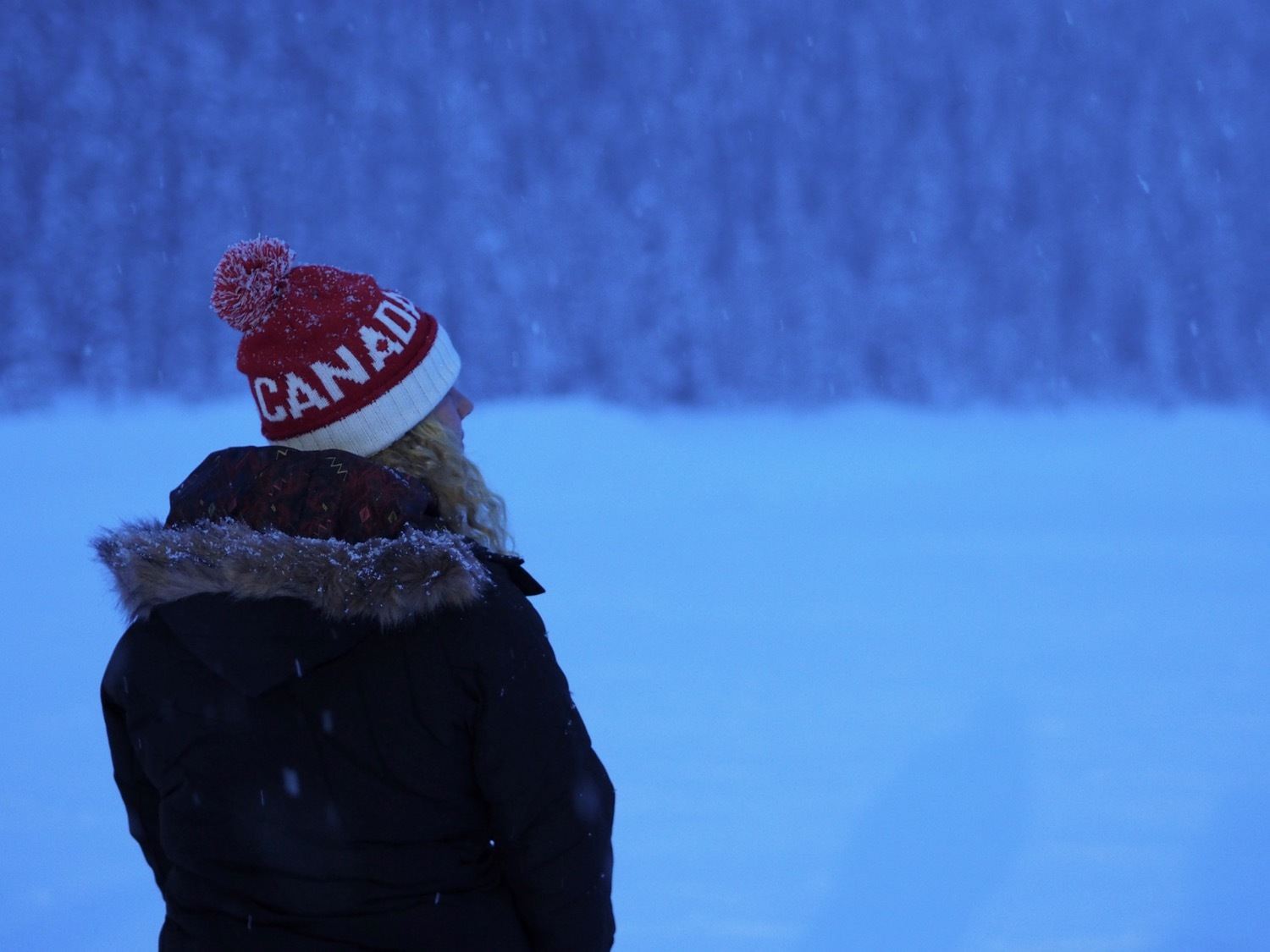 7. A toque
You will absolutely, definitely, 100% need a toque when you visit Canada in winter. A toque, you say?! A toque is what we call a beanie or wooly hat in Canada. Fairly easy to come by in the country, it's still best to go for one that totally covers your ears and one that won't let any wind through.
I was a big fan of the fake fur one I'm wearing in most of these photos purchased from H&M years ago, because it was super warm and also pretty fun to wear. Roots also has some very cute ones!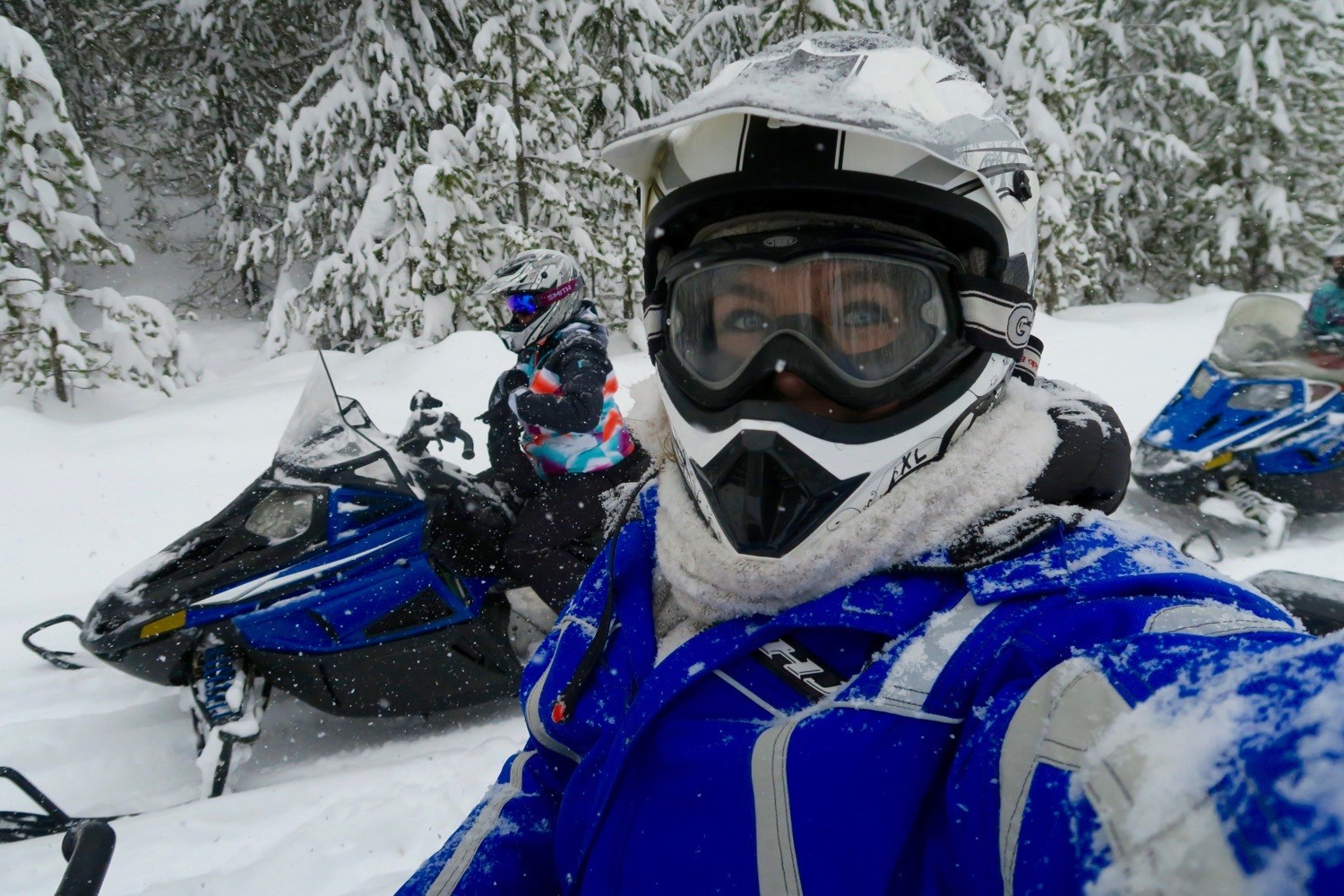 8. A scarf
Again, you want to go for a durable scarf made of wool, fleece, or another material that is guaranteed to keep you warm. I tend to choose larger, almost shawl-like scarves, because I like being able to wrap them multiple times around my neck and shoulders.
If you'll be spending lots of time in a frigid temperature, I recommend adding a fleece neckwarmer underneath your scarf. Again, layers are key when it comes to what to wear in Canada in winter.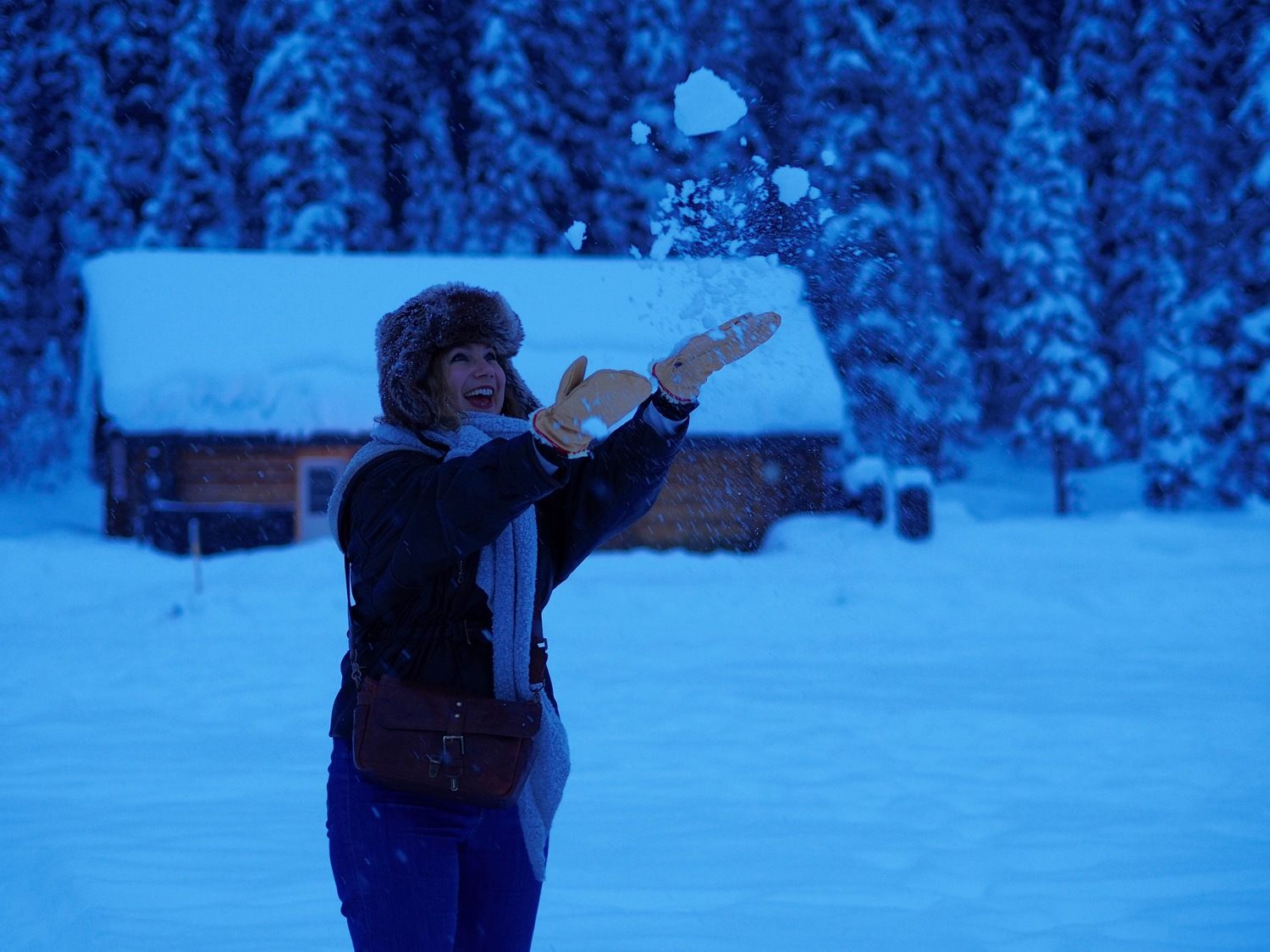 9. Mittens
One of the biggest mistakes I saw many of the Australians I met last month in Western Canada make was that they almost all brought gloves. And I know – mittens seem kind of childish, right? The thing is, in so many cases, mittens will keep you SO much warmer than gloves.
With mittens, your fingers are able to move about and work together to keep themselves warm, as opposed to being wrapped individually. A lot of Manitobans wear "garbage mitts" – this actually just might be a Manitoba saying coined by the Raber company – and I can tell you: these are the best mittens around. Super warm, locally made (and made by hand!), and built to last a lifetime, I love my pair of Raber mittens. I mean, the RCMP has worn them, so you know they're good.
Again, if you're skiing or snowboarding, you may wear different accoutrements – just something to keep in mind.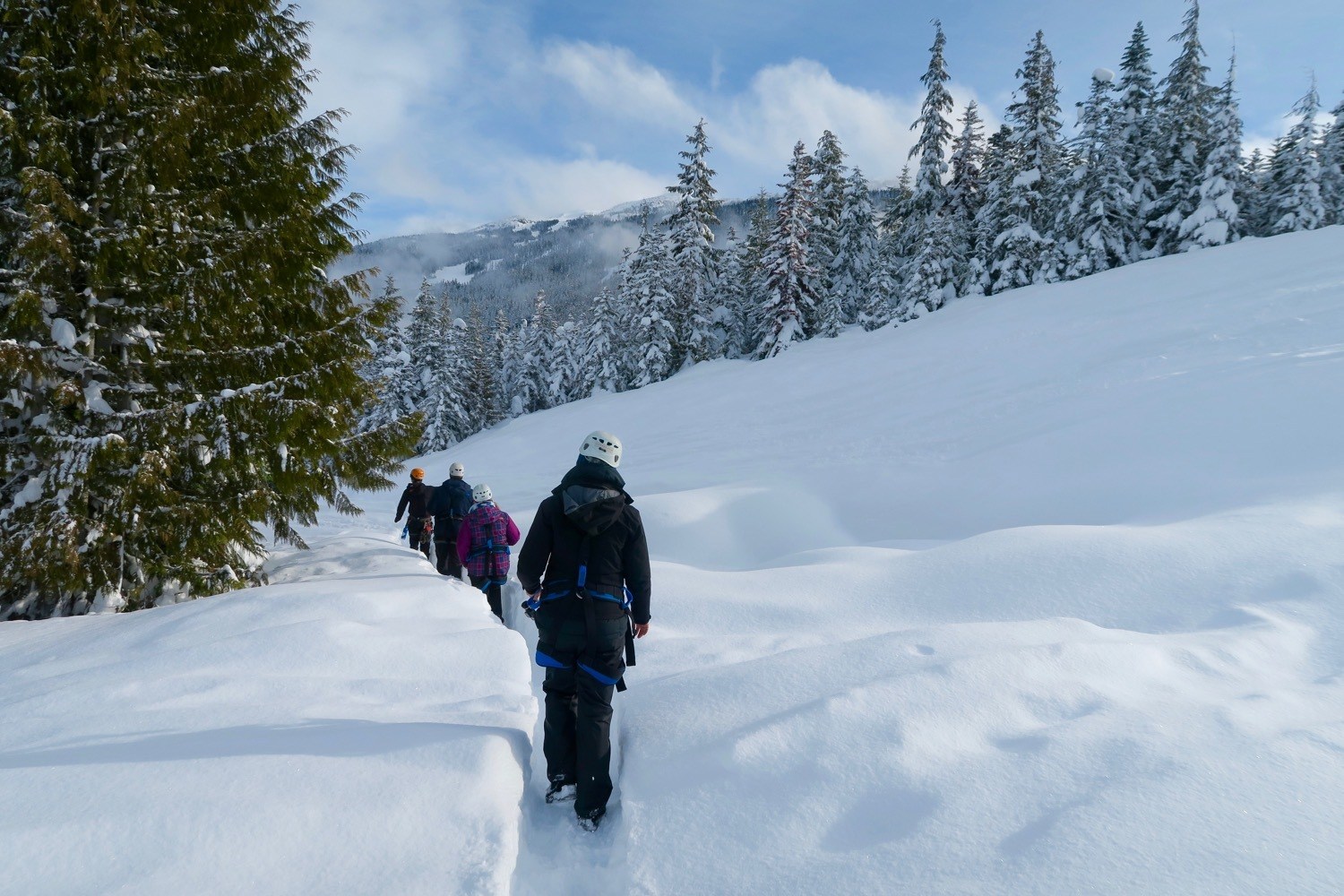 10. Socks
Um, yes, you'll need to wear socks in winter in Canada. Again, splurge a bit and buy some very thick socks meant to be worn in cold weather, and be prepared to double up if need be. Just make sure, when you are wearing your thick socks and your winter boots, that you can still move your toes… this will help prevent frostbite and keep them nice and toasty!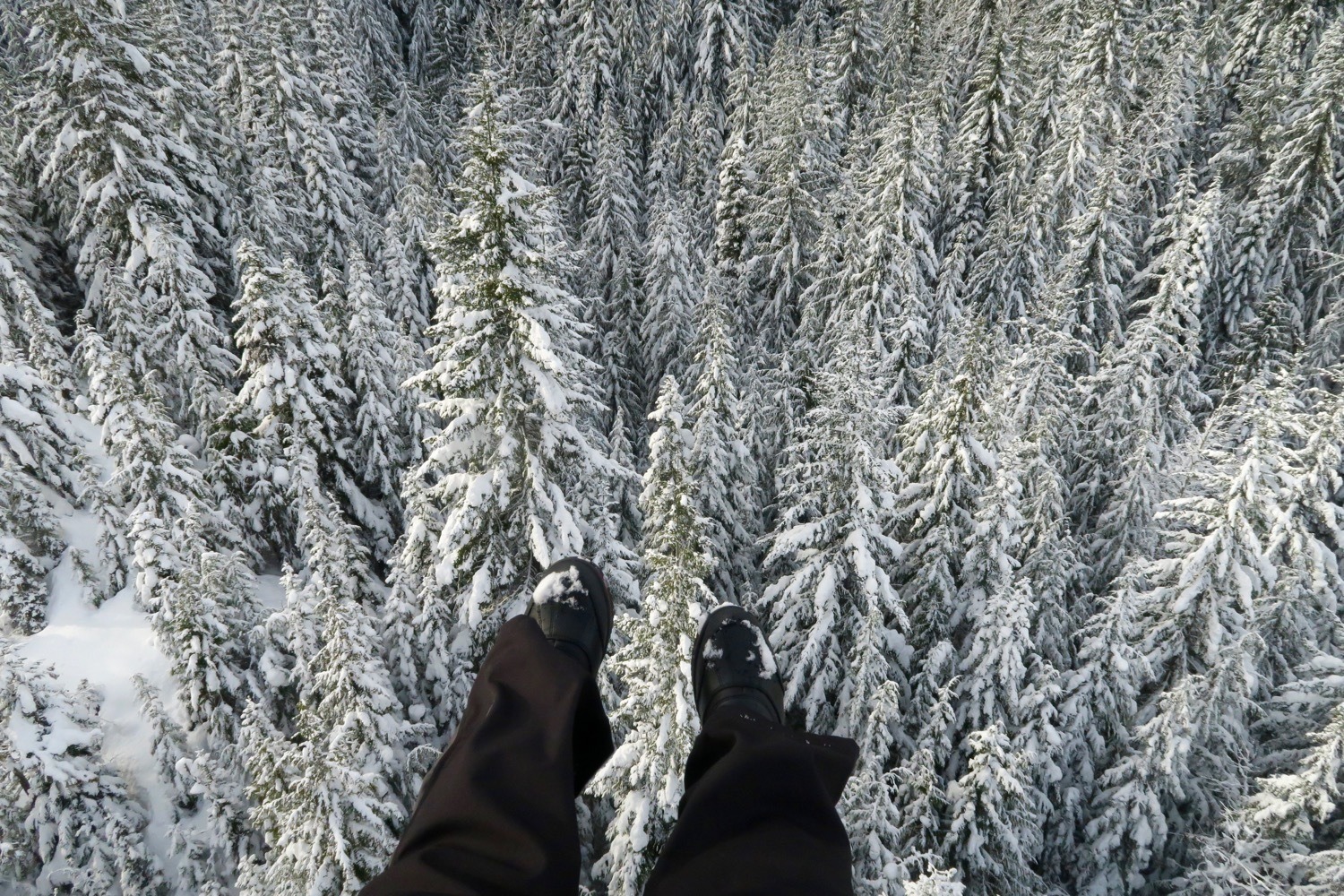 11. Winter boots
It is very, very difficult to find stylish winter boots, trust me. A lot of Canadians wear Sorels in winter, although I found a pair of Steve Madden winter boots and, with the exception of one -20 night when I stood in a line outside for over an hour (we Canadians are hardcore like that), my feet were warm for the entire winter season. I'm also a huge, huge fan of Timberland fleece-lined boots; I can wear them all winter long with wool socks.
The best thing I can say is make sure you really test the boots you choose out in the store or at home before wearing them outside; they need to be snug but not too snug. They should also be fake-fur or fleece lined, and I highly recommend buying some that are waterproof. Great traction on the bottom is an absolute must as well, because where there's snow, there's ice.
Speaking of ice, if you know you'll be doing a lot of walking outdoors in winter, I recommend buying a pair of winter cleats or ice grippers. I am OBSESSED with my Icetrax, which fit nicely over my Timberlands; I walk two dogs twice a day in winter and never slip. They're also really affordable, making them a great investment.
If you'll mostly be in cities, you can definitely get away with a more stylish boot – think a riding boot, or, my favourites, Doc Martens – but you'll still want to wear warm socks. If you're wearing a leather boot, make sure to spray them with protective spray before subjecting them to the cold and snow.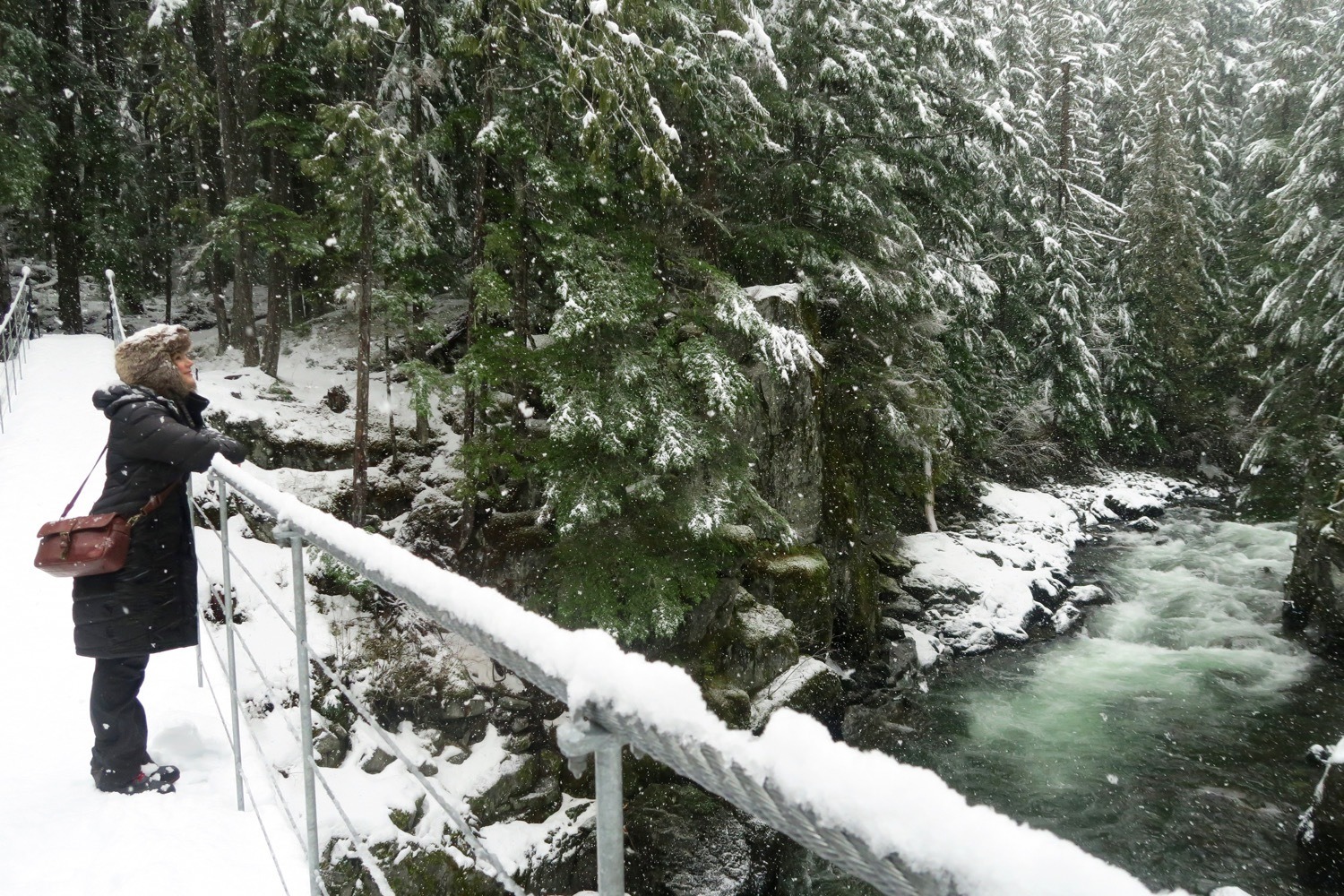 12. Makeup and jewellery
So I'm sort of lumping these two together here, but as I usually address them, I thought I'd do the same for this list! In general, you can wear exactly the same makeup and jewellery as you'd wear at home when you're in Canada. However, if you're going to do any sort of winter activity outdoors, I'd recommend leaving any valuable jewellery in the hotel safe. Trust me, if you drop an earring or a ring in the snow, it'll be lost forever.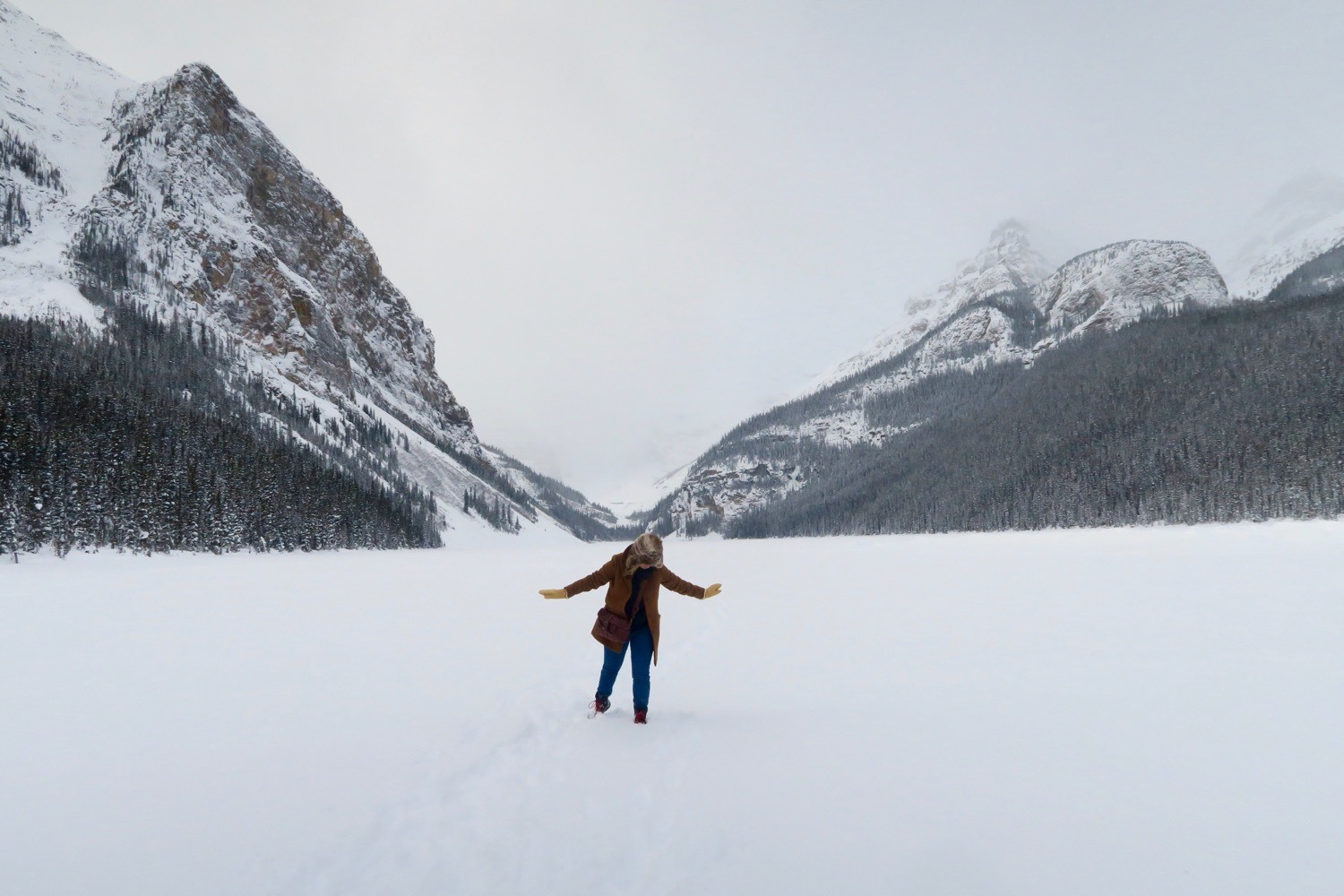 As for makeup, I wear the same makeup pretty much all year round, although my skin gets very, very dry in winter, especially in places like Manitoba where the air is naturally drier.
I recommend lots and lots of moisturiser – I'm a fan of Aveeno and Body Shop products, including their body washes. Good lip chap is a must, and if your feet get really dry like mine in winter, a foot mask is necessary (and disgustingly fun).
Finally, you wouldn't think it, but you should definitely wear sunscreen while out in the snow all day, as the snow reflects the sun and often results in sunburns. C'mon now, this look is not a good look on anyone (and that's not even mentioning the damage to your skin).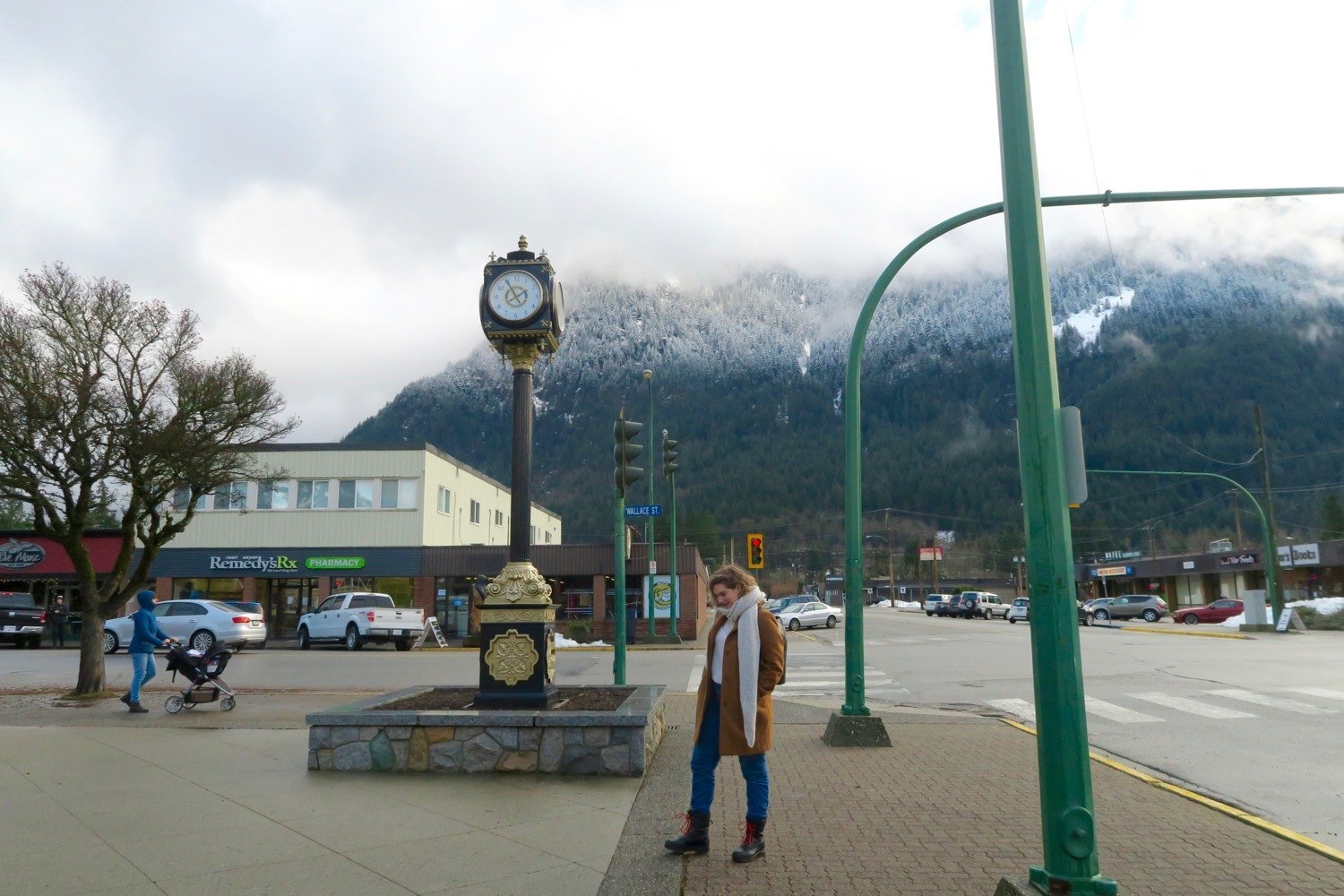 So, I know that this list sounds like it's for an expedition to the North Pole or something (please do not follow this packing list if you are actually doing that, FYI… if you're spending any time outside overnight in a Canadian winter, that would most likely require expedition gear), but the fact remains that it is so much better to be over-prepared for the cold than under-prepared.
This list is primarily for outdoor activities, but if you're in the city you'll still probably wear some version of this (boots, jeans, a sweater, a jacket, scarf, and mittens). The ultimate goal is to feel comfortable and warm, because you really don't want to risk frostbite or hypothermia, not to mention how much being cold can really ruin your holiday.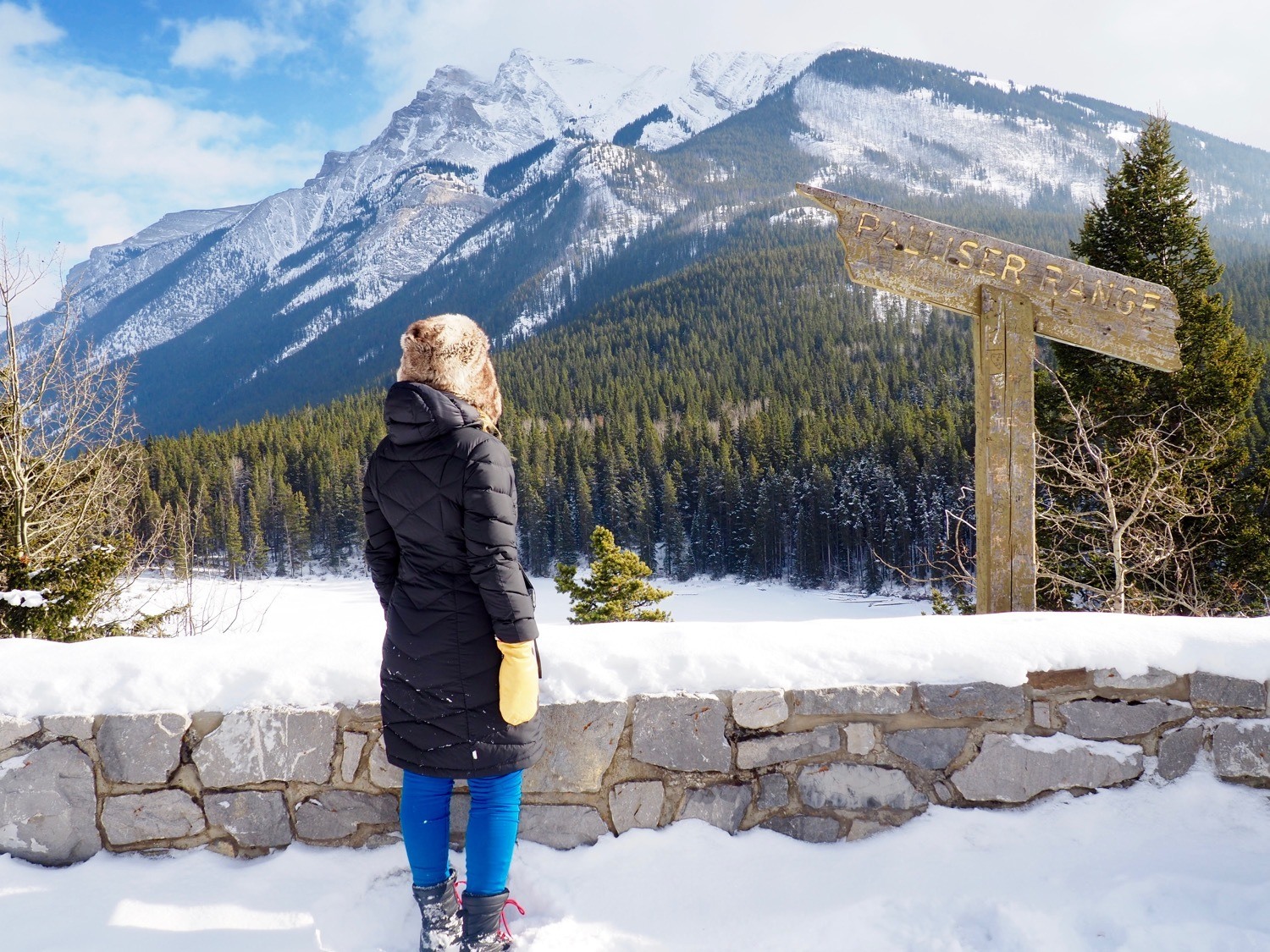 As I participated in a lot of winter activities this year – tobogganing, snowshoeing, zip lining, snowmobiling, long walks, as well as visiting ice castles and even dining on the ice in -25 degrees Celsius – I wore some version of these items of clothing a lot all winter, and I can happily report that I was very rarely cold. In terms of what to wear in Canada in winter, I stand proudly by this list.
Bottom line: don't worry too much about the fashion side of things while dressing for winter in Canada. Trust me, everyone else will be wearing their warmest gear, too. Focus on staying warm and staying happy, and you'll be just fine.
In conclusion
My packing list for a recent two-week trip across Western Canada in January looked like this:
-three jackets (one extremely warm and down-filled, one for warmer/city days, and one leather bomber, but this was excessive; the first would have been fine on its own)
-two warm, heavy sweaters (one black and one white turtleneck)
-four long-sleeved thermal/warm tops (two were nice enough that I could wear them out in the evening with a skirt)
-two pairs of jeans
-one pair of thermal leggings and one pair of long johns
-one pair of snow pants
-one pair of winter boots and one pair of lighter leather boots for going out at night
-two hats/toques
-two scarves
-two pairs of mittens (one I wore every day, with one in my suitcase for backup… we all know mittens are easy to lose!)
-one fake leather skirt (I'm fancy like that)
-two pairs of warm tights
-seven pairs of wool socks
-a bunch of duster/kimono jackets (OK, these didn't make this blog post, but I'm obsessed)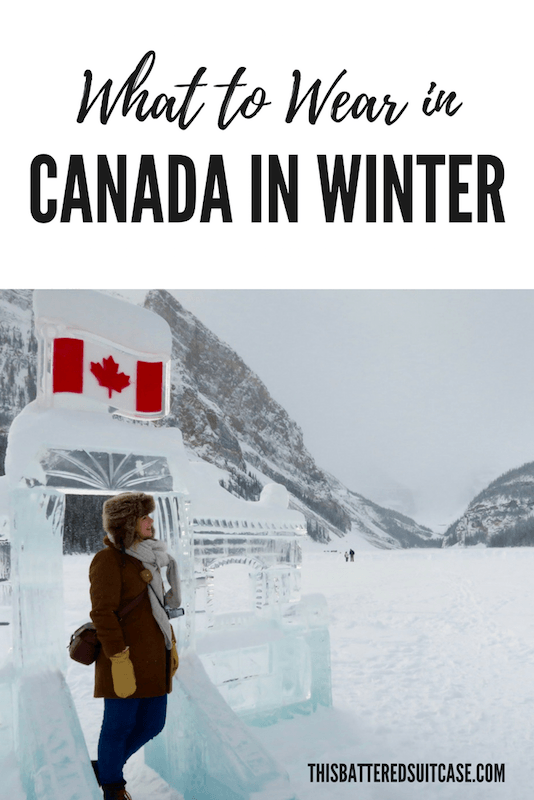 Have you been to Canada in winter? What would you add to the list?
Make sure to check out the other What to Wear posts, including packing lists for Thailand, Cuba, India, Kenya, Colombia, and more!