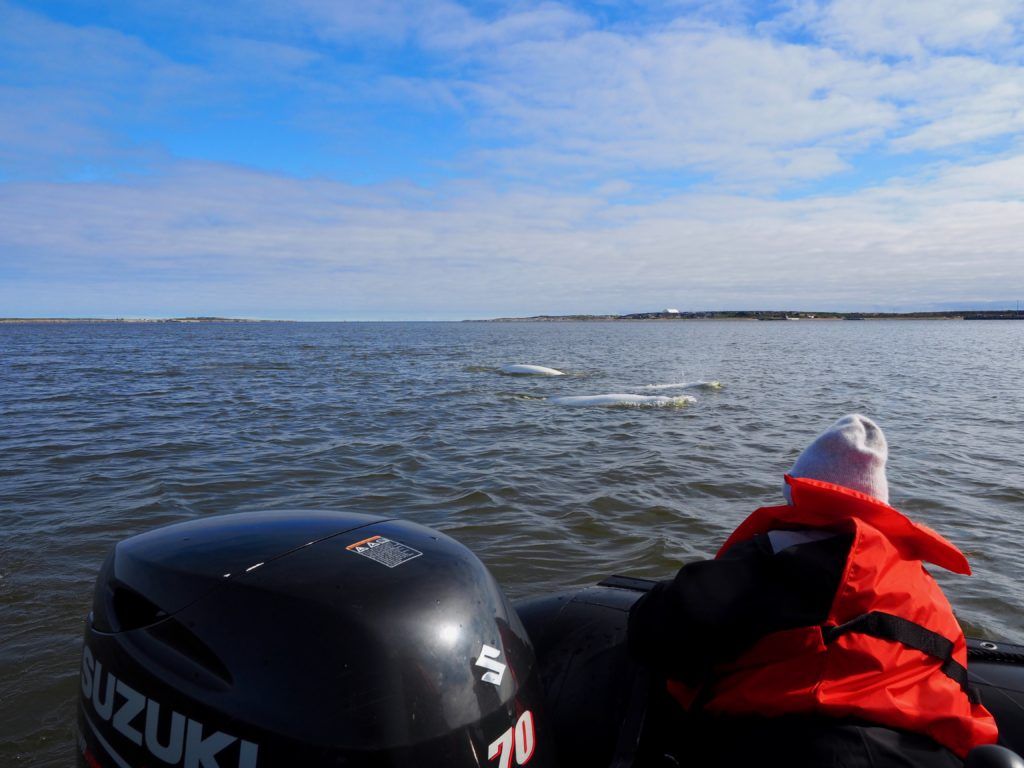 As a Manitoban, one of my greatest travel dreams has always been to see beluga whales in Churchill. While Churchill is often considered a polar bear destination – it's often referred to as the "polar bear capital of the world" – Churchill is home to tens of thousands of belugas, too! And finally, earlier this month, my dream came true to see beluga whales in the wild.
Churchill is a small town located on the Hudson Bay, in the far north of Manitoba. With a population of approximately 900 people, the town's main industry is tourism, and for good reason: there are few places in the world where you can see such an abundance of polar bears, beluga whales, and Northern Lights, often all on the same trip!
And while I have done a bit of whale watching in my life, nothing prepared me for seeing beluga whales in Churchill. It is one of the most intense, wonderful experiences I've ever had with animals in the wild, and I very quickly fell in love with beluga whales. Thankfully, there are many safe ways to see beluga whales up close and personal, so I wanted to write an article that included everything you need to know about seeing beluga whales in Churchill.
Please note: this was a sponsored trip to Churchill through Lazy Bear Expeditions and Travel Manitoba, but, as always, all opinions are completely my own.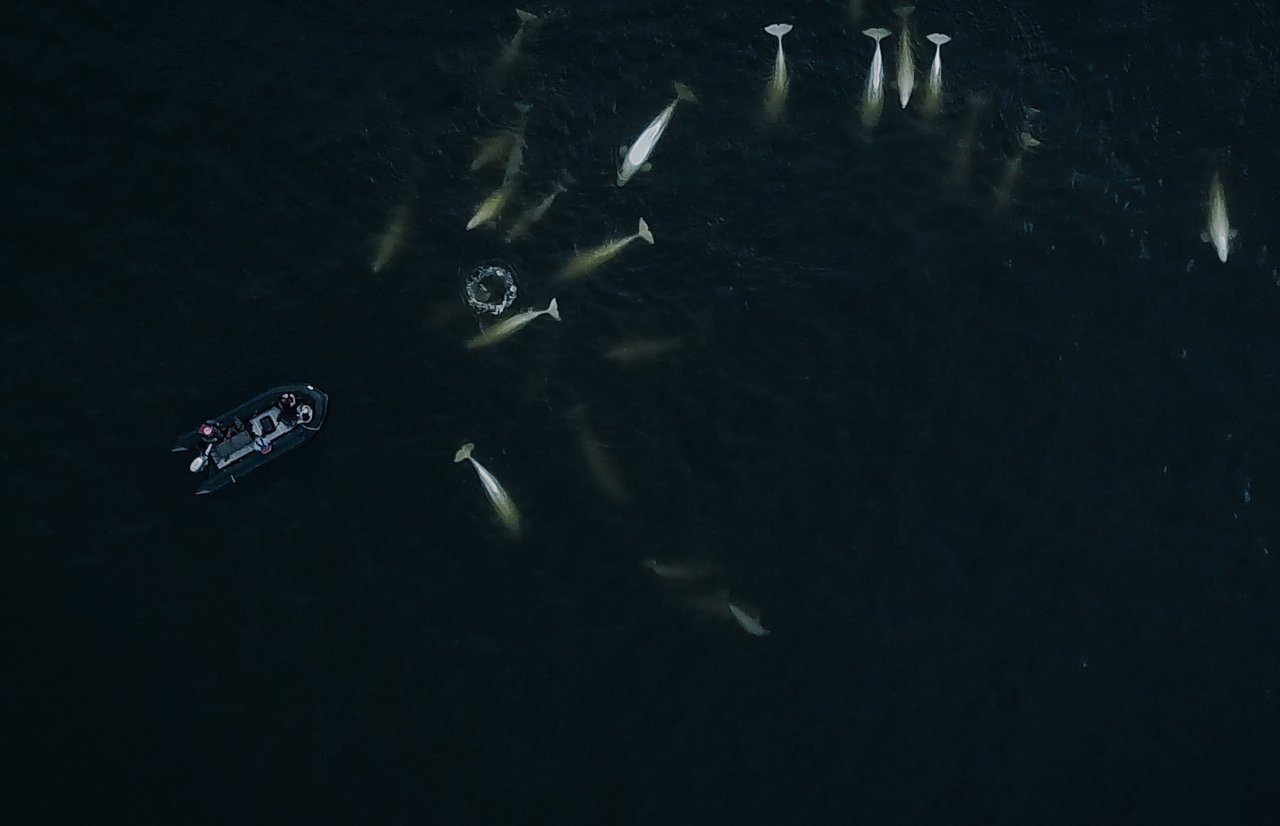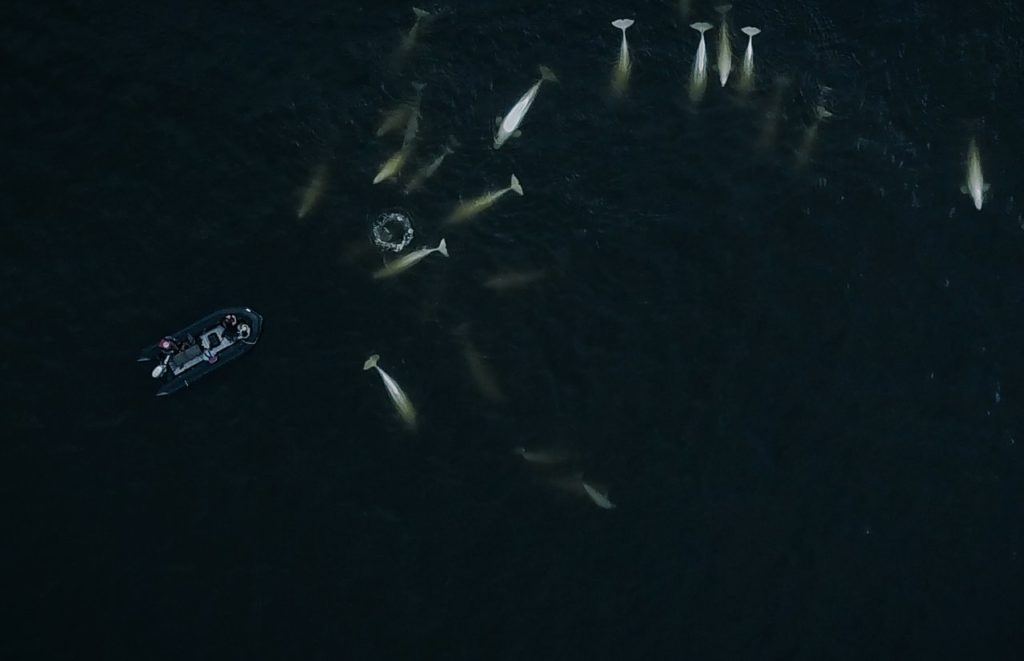 A quick guide to Churchill
I'm going to be writing a much longer post about general things to do in Churchill and information about Churchill, but for now, here are a few logistics.
Churchill is on Treaty 5 land in Manitoba, Canada.
How to get to Churchill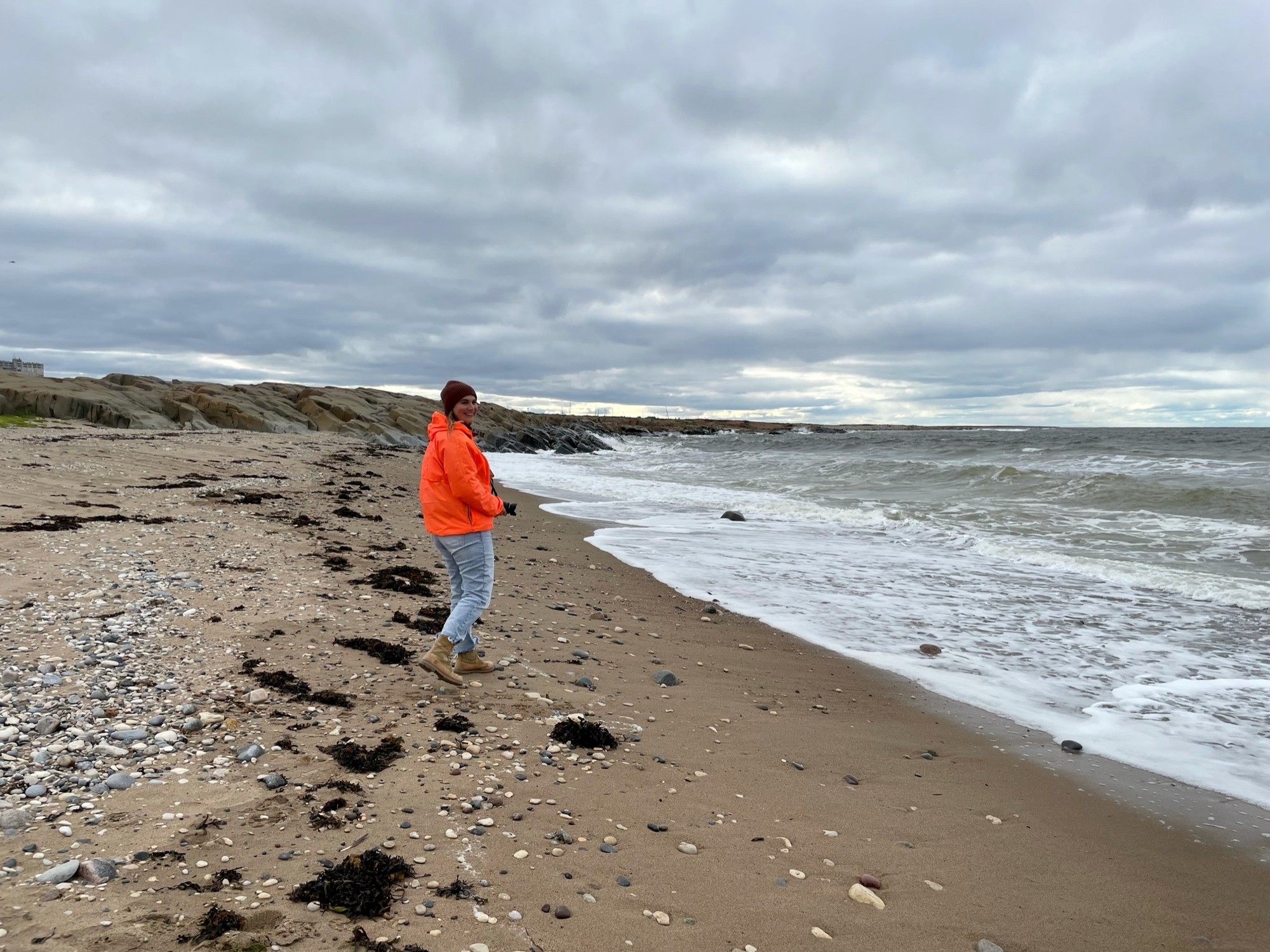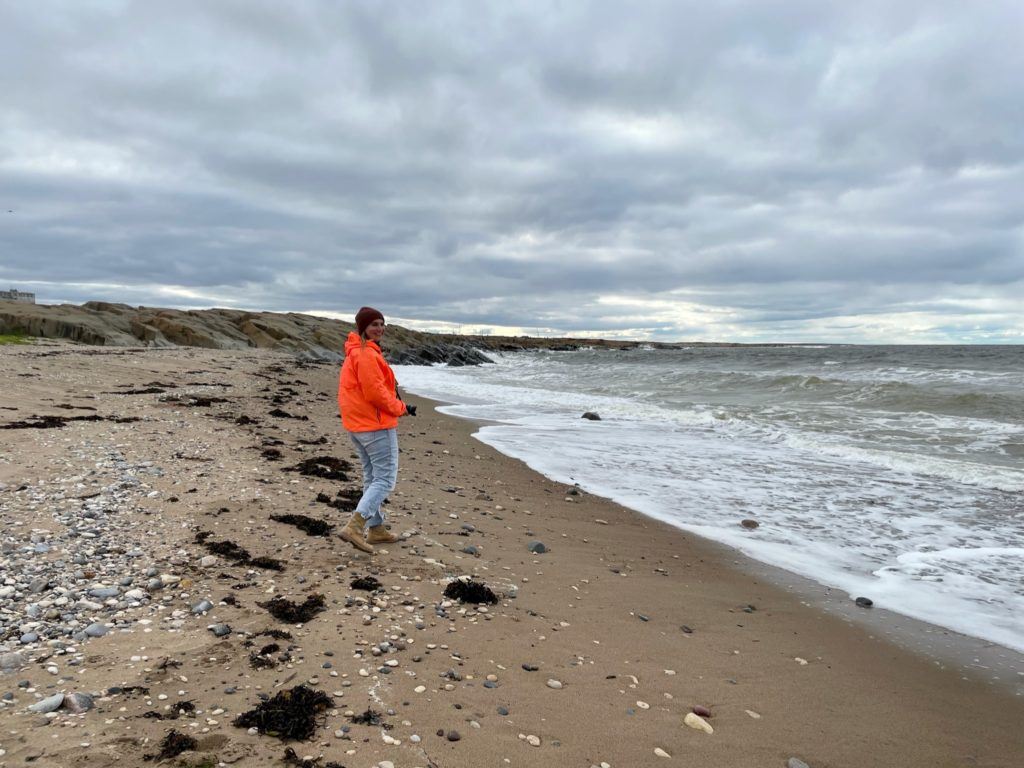 There are two ways to get to Churchill: by train and by plane. There is no road that leads to Churchill, so driving is impossible. The train takes two days from Winnipeg, although you're also able to drive to Thompson and take the train from there.
I personally recommend flying to Churchill with Calm Air. The flight is only two hours, and is extremely easy. Not only that, you get to fly over Manitoba! Think lakes, forests, rivers, and prairies galore, not to mention those gorgeous skies that Manitoba is famous for.
Where to stay in Churchill
I highly recommend staying at the Lazy Bear Lodge in Churchill. The rooms are cozy and comfortable, the Lazy Bear Café has excellent dishes all day long, and the staff is incredibly helpful. If you book with Lazy Bear Expeditions, it makes the entire journey totally seamless; you can book packages directly through them, meaning you don't have to worry about a thing while you're in Churchill. They'll take care of accommodation, transportation, and all of your beluga whale and/or polar bear tours.
There aren't many options when it comes to eating in Churchill, but trust me, the Lazy Bear Café is the place to be for food in town!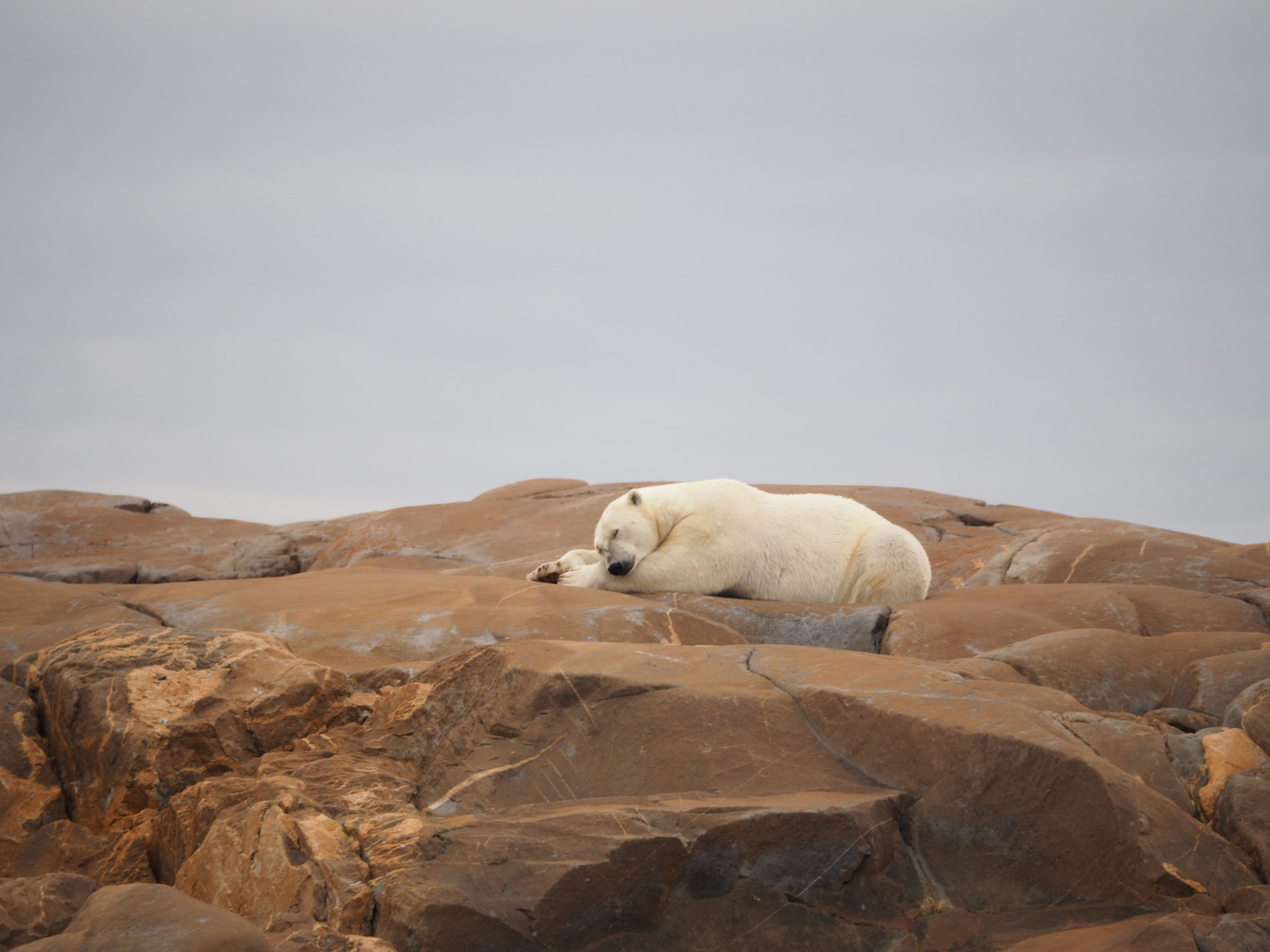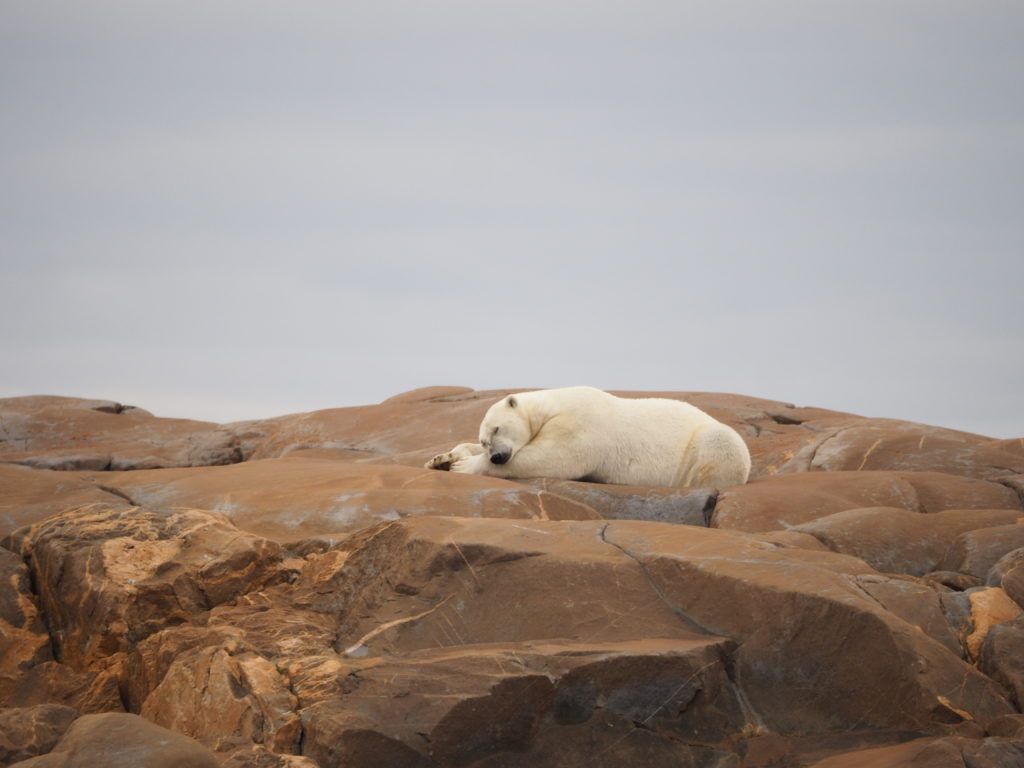 Staying safe in Churchill
You can't write about travelling in 2021 and not write about safety precautions. I personally haven't left Manitoba since January 2020, and flying to Churchill was my first time on an airplane since then. I only wanted to travel when it felt safe to do so, not only for me but for the community I was visiting. It was important to me that I travel only when pandemic numbers in Manitoba were extremely low.
Thankfully, all travellers to Churchill, Manitoba, must be fully immunized. That means you have to have had both of your vaccinations and waited at least two weeks after your last vaccination before travelling to Churchill. There is also currently an indoor mask mandate in Manitoba, and this includes vehicles.
Churchill is a very small community with not a lot of medical resources. It is extremely important for all travellers to be as responsible as possible, including social distancing, mask-wearing, and staying home if sick.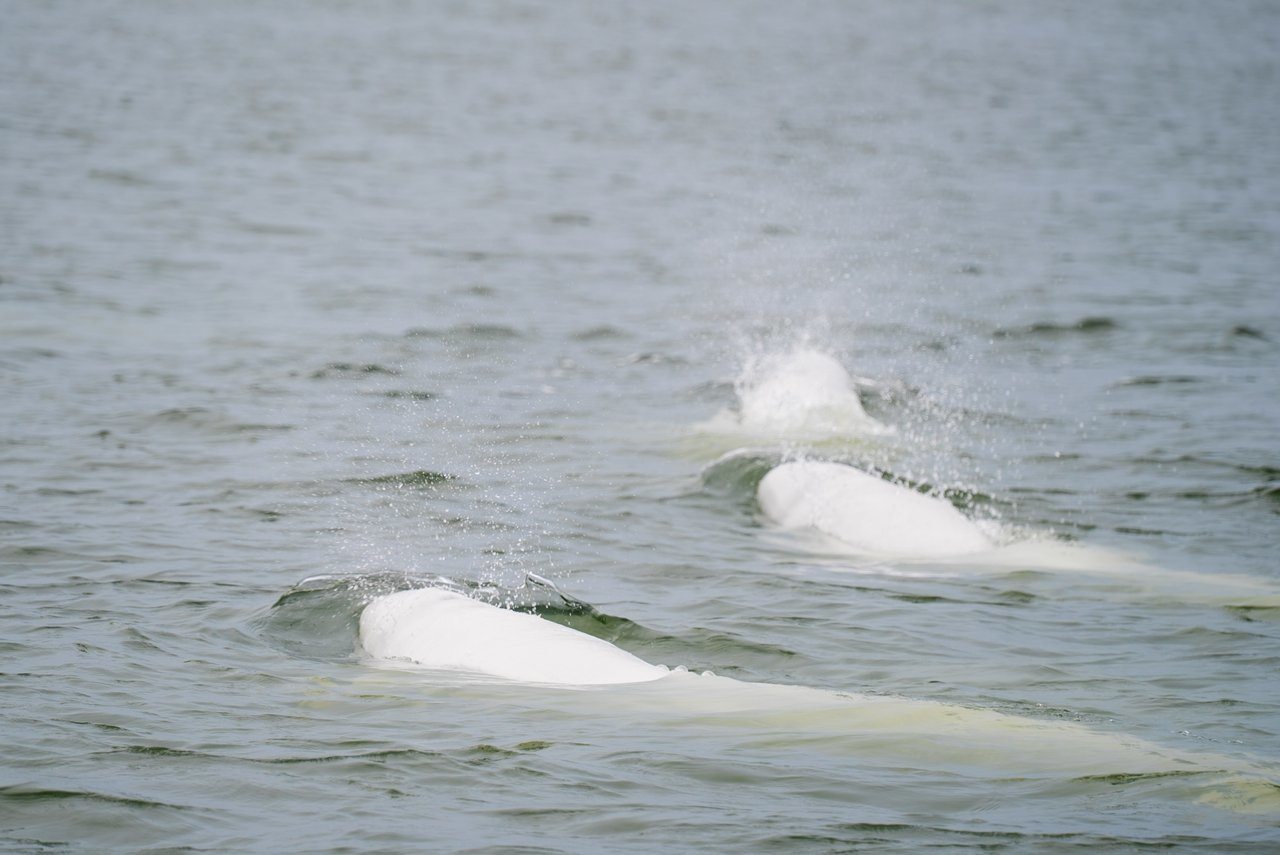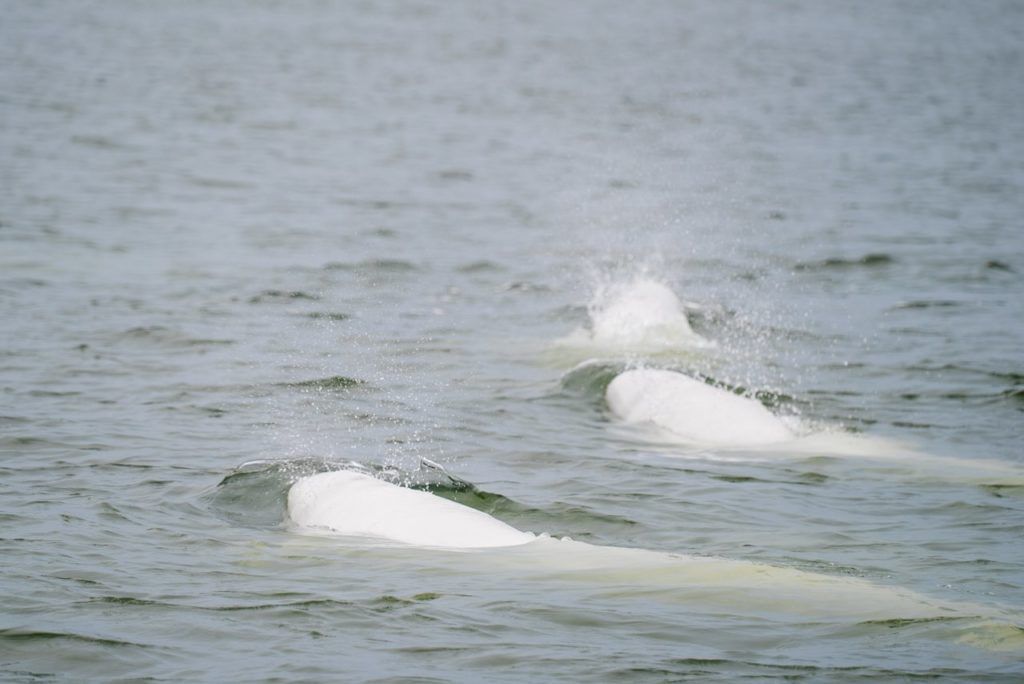 About Beluga Whales in Churchill, Manitoba
There are a staggering 60,000 beluga whales in Hudson Bay every summer, with approximately 3,000 of them coming into the mouth of the Churchill River every year. From June to September, beluga whales breed in the cool waters of Hudson Bay, and then return the following year to give birth along the coast (they have a gestational period of 14 months). While adult whales are white in colour, calves are born grey-brown, and younger belugas are a grey-blue, eventually fading into white.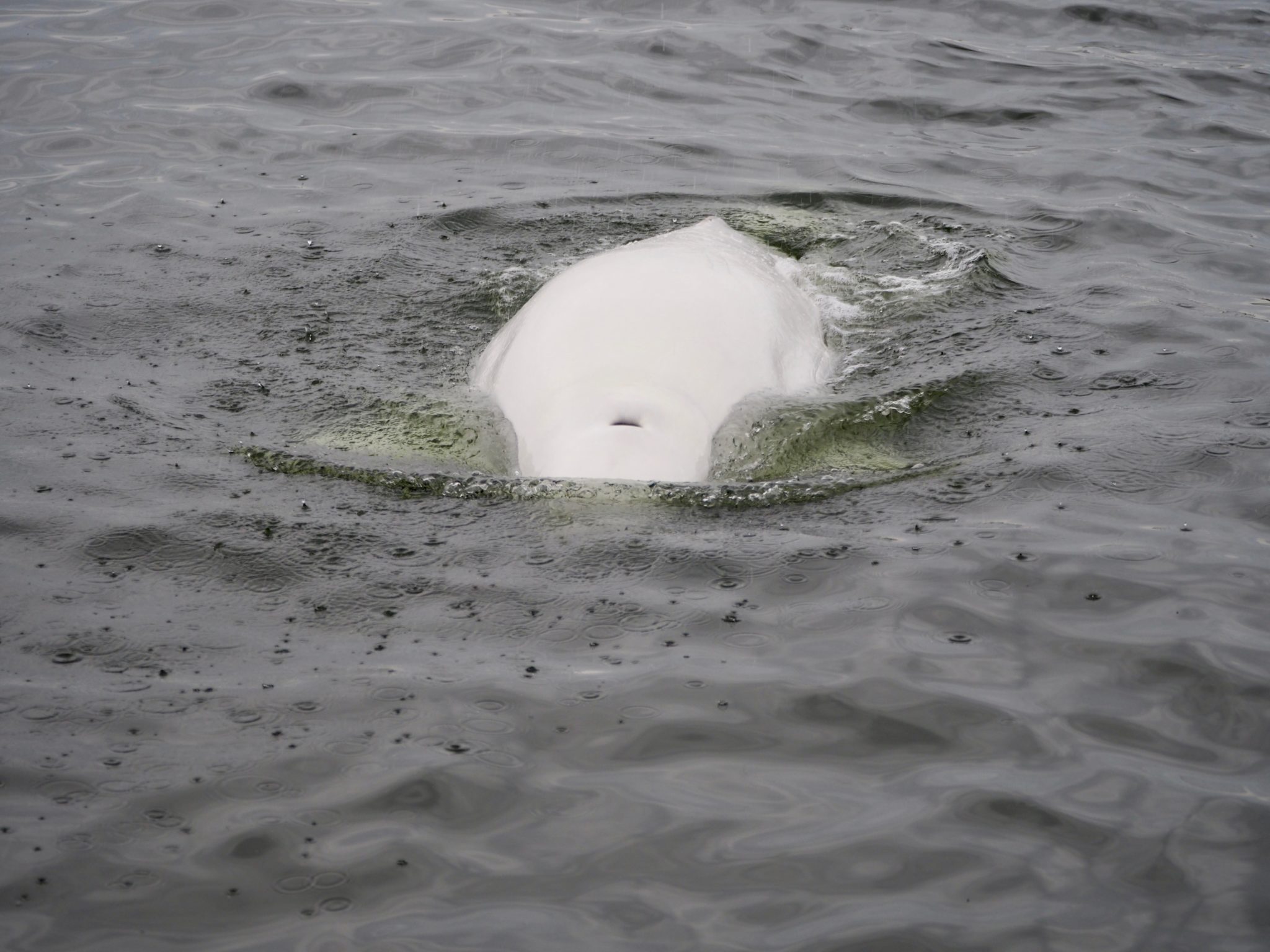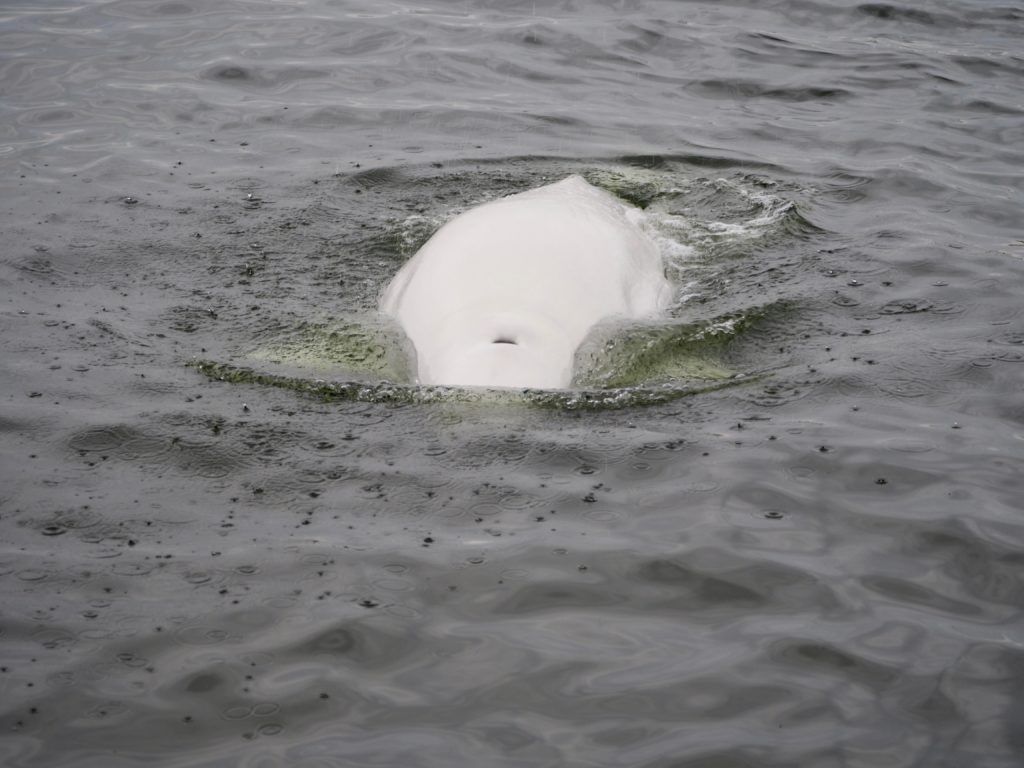 Belugas tend to travel in pods of 10 whales, but can sometimes join much larger pods of hundreds and hundreds of whales! They are incredibly adapted to the Arctic, and can dive many hundreds of feet below the icy water. While they're slow swimmers compared to other whales, they can swim backwards, something not many marine creatures are capable of.
Probably the most important information to know about belugas when travelling to Churchill is that they are incredibly playful and curious animals. They are known to actively seek out human interaction, often coming up to boats and kayaks. They're also very vocal, and can be heard singing, clicking, and chirping as they swim and interact with one another and with the boats.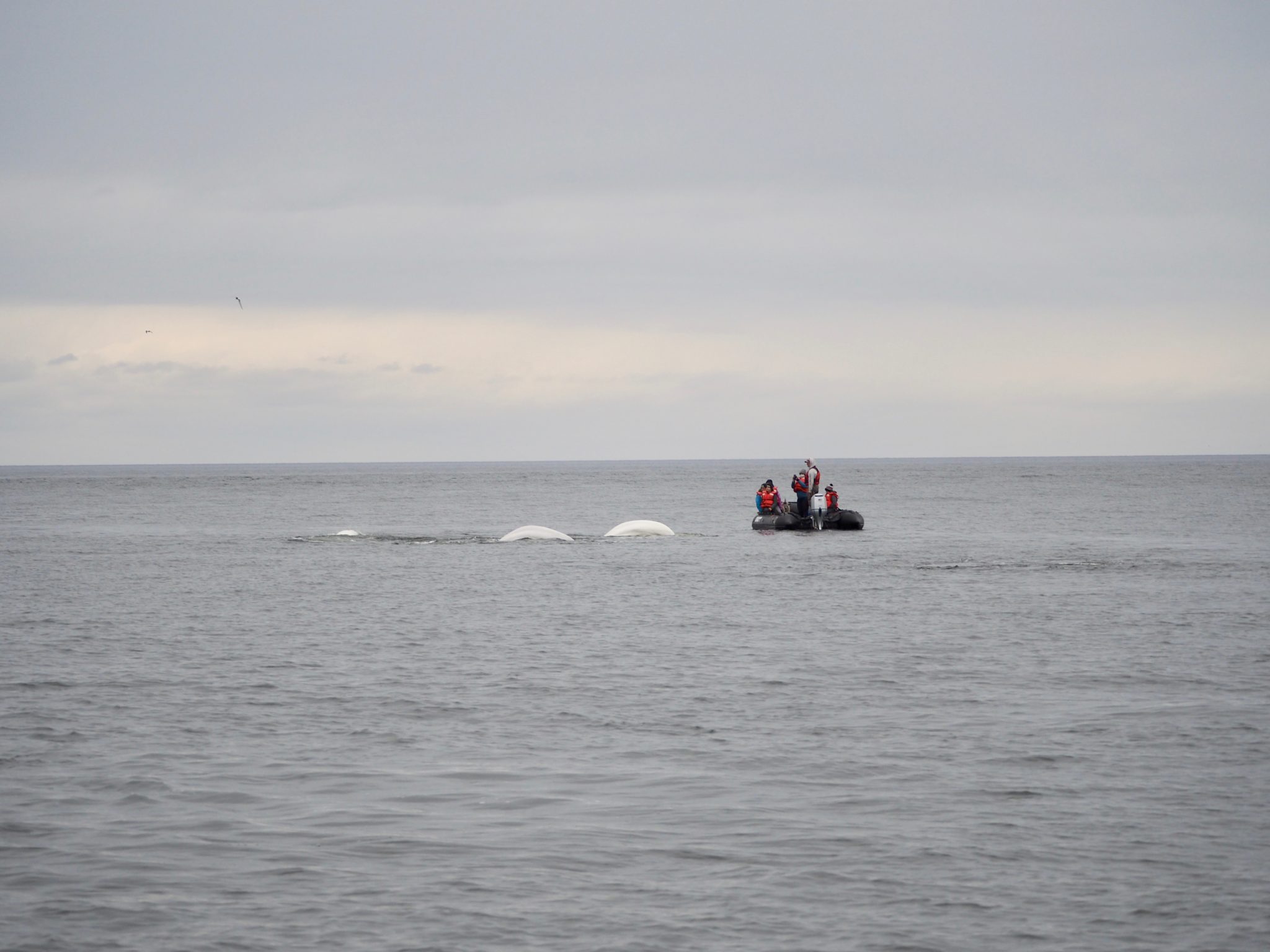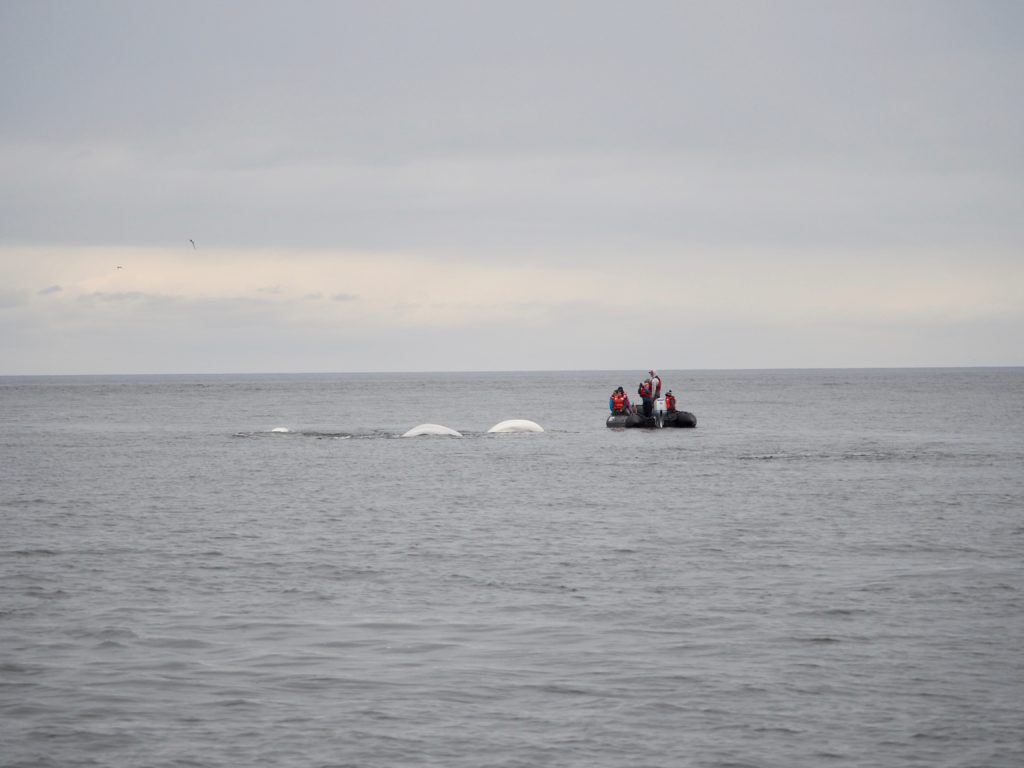 When to See Beluga Whales in Churchill
As mentioned above, beluga whales migrate to Hudson Bay every summer, usually from June to September. However, the best time to see beluga whales in Churchill is from mid-June to mid-August. Although it's a short time frame, this is the time you're most likely to see hundreds (if not thousands) of whales in the mouth of the Churchill River and the Hudson Bay. Those probably aren't white caps you're seeing in the ocean… they're beluga whales!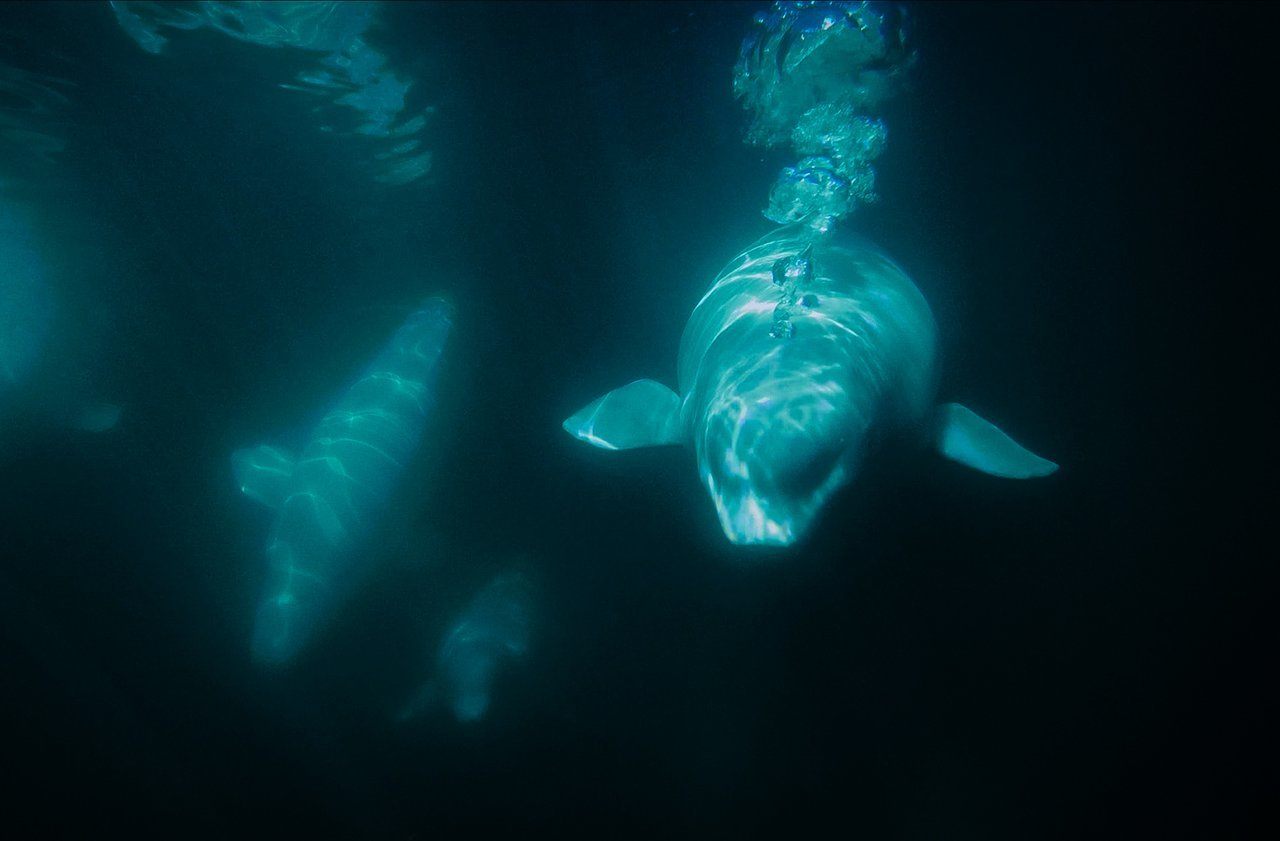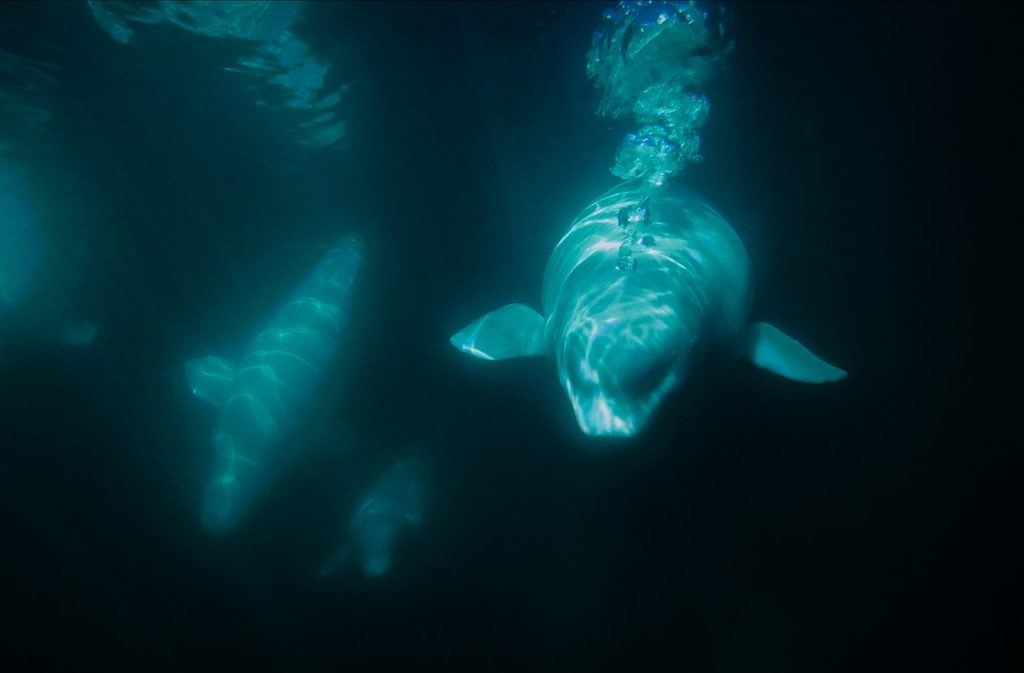 While this is technically summer in Churchill, you're still very far up north, so expect chilly temperatures, especially at night. Averages are around 17°C (63°F) in the day and 7°C (45°F) at night, and you may experience wind or rain in summer. Pack lots of layers, sunscreen, and bug spray!
For reference, I went to Churchill the first week of August, and I saw hundreds if not thousands of beluga whales. I brought lots of layers and was completely warm and comfortable the entire time.
Activities for Seeing Beluga Whales in Churchill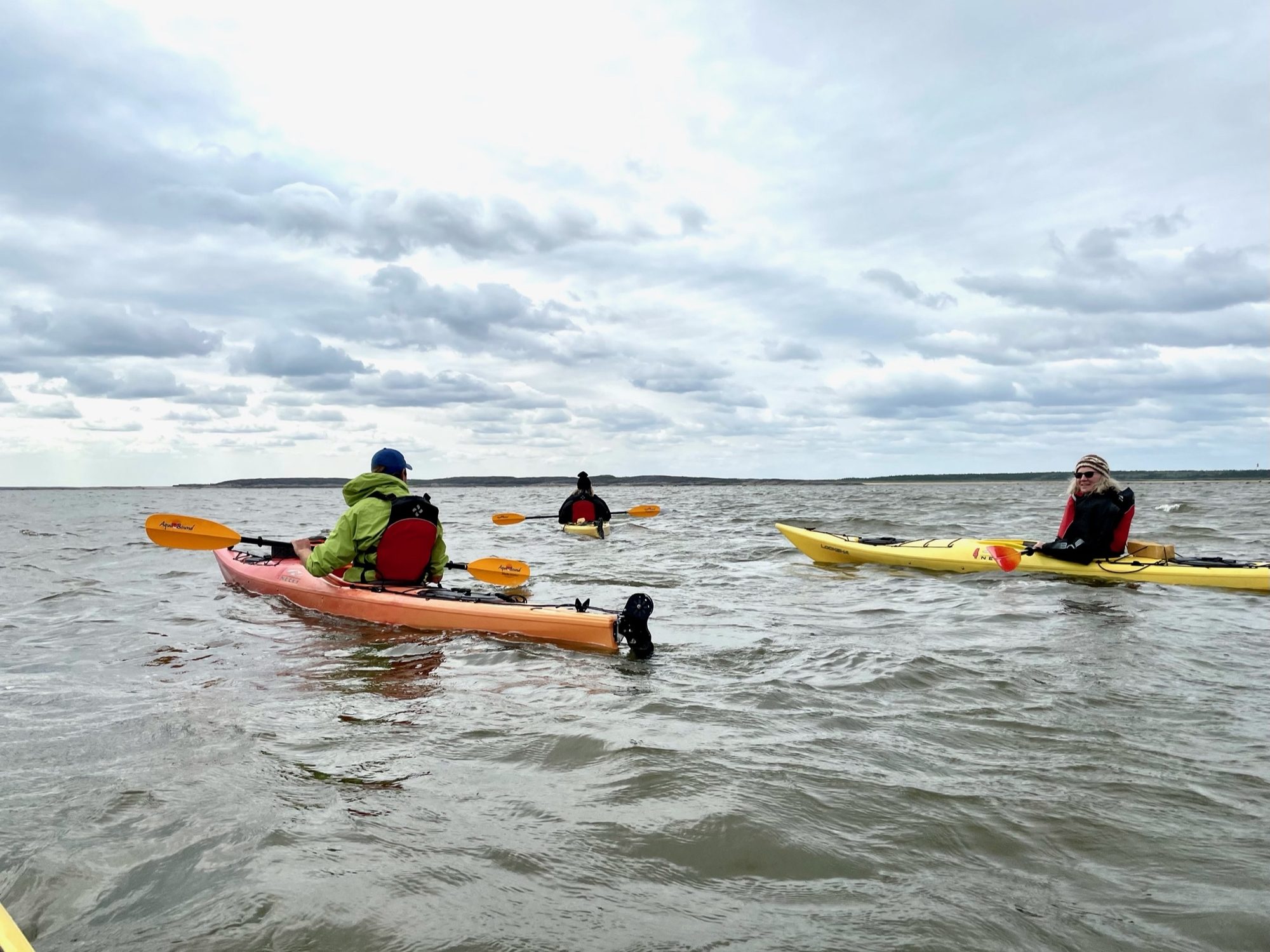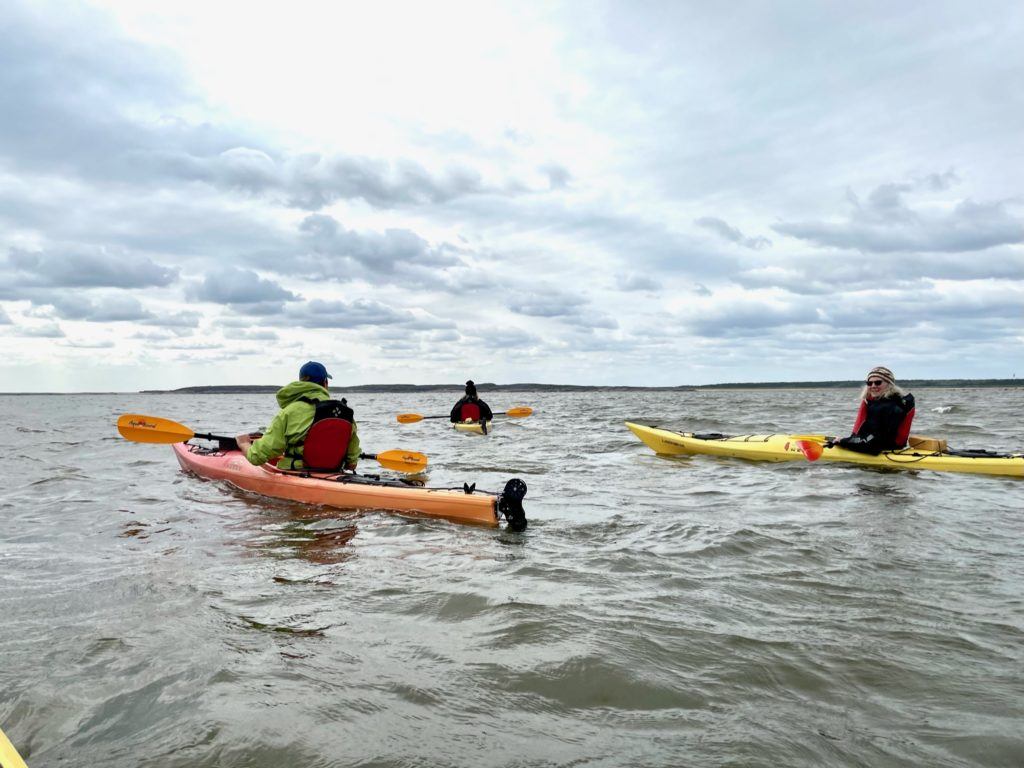 Thankfully, there are tons of ways you can see beluga whales in Churchill. I travelled with Lazy Bear Expeditions and all of the following activities were through them; I highly recommend their tours. You're able to book your entire package with them, including accommodation and transportation, so they're the people I would turn to for any trips to Churchill. For example, they have a two-day Beluga Whale Dream Tour for travellers on more of a budget, or their six-night Ultimate Bears and Belugas Summer Adventure (which is the trip of a lifetime, in my opinion). They also plan polar bear trips every autumn!
Of course, you can see beluga whales from land, but the best way to see them is definitely from the water. Here are a few of my favourite activities in Churchill to get up close and personal with beluga whales, all of which are available through Lazy Bear Expeditions.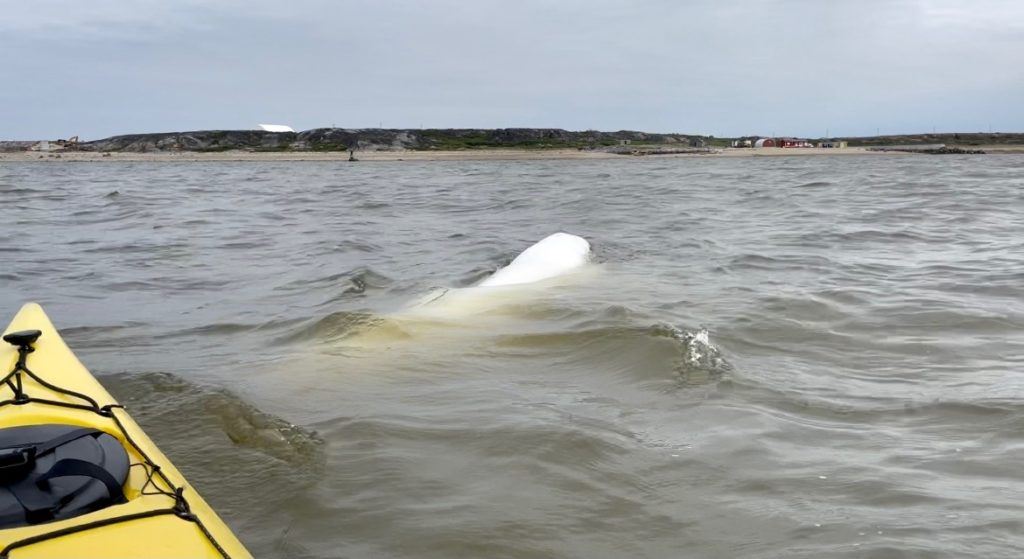 Kayaking
Without a doubt, kayaking with beluga whales was the highlight of my trip to Churchill. I've done a lot of cool things when I've travelled, things I am very grateful for, and I would put kayaking with belugas in the top five activities I've ever done, anywhere in the world. And who would have thought I'd have that experience right here in my own home province!
Although it's possible to kayak in a double kayak, I'd recommend kayaking solo. Don't worry if you've never kayaked before – I have quite a bit of experience canoeing, but had never been in a kayak – as the activity is aimed for beginners. You'll wear a dry suit as well as a life jacket, and you have a guide with you on the water as well as a Zodiac boat near you at all times. You will also only go kayaking if the water is calm enough and the weather is permitting.
Setting out on the Churchill River, you'll only kayak a short while (100-200 metres) before you're in the middle of belugas. Your guide will make sure you stay within a close range of the coast, and will also help you find pods of beluga whales.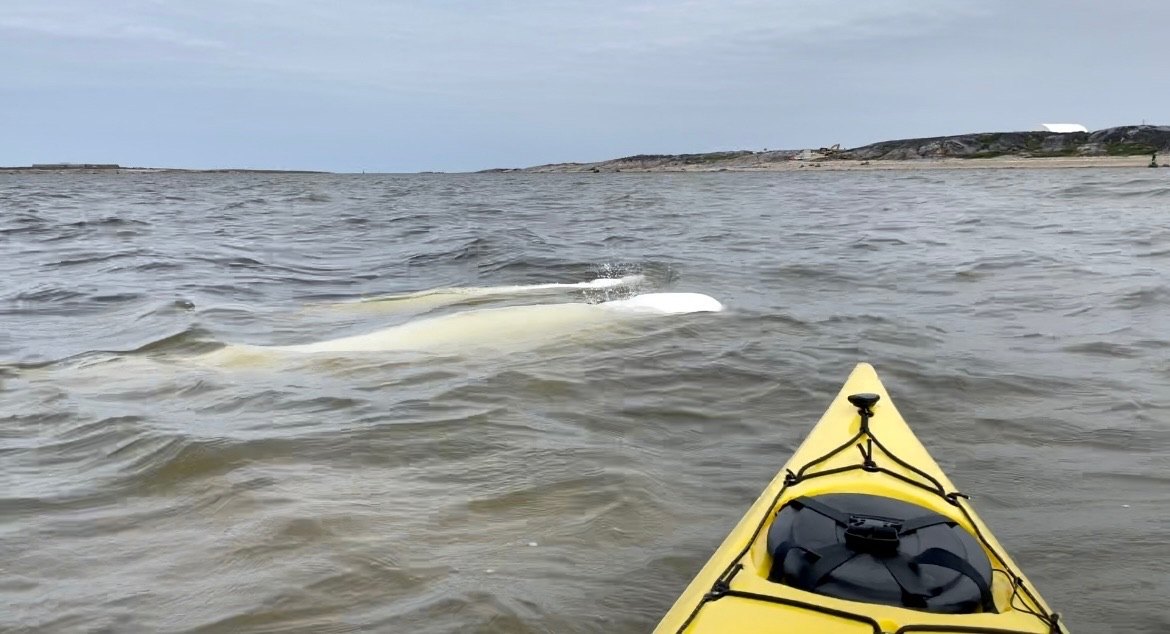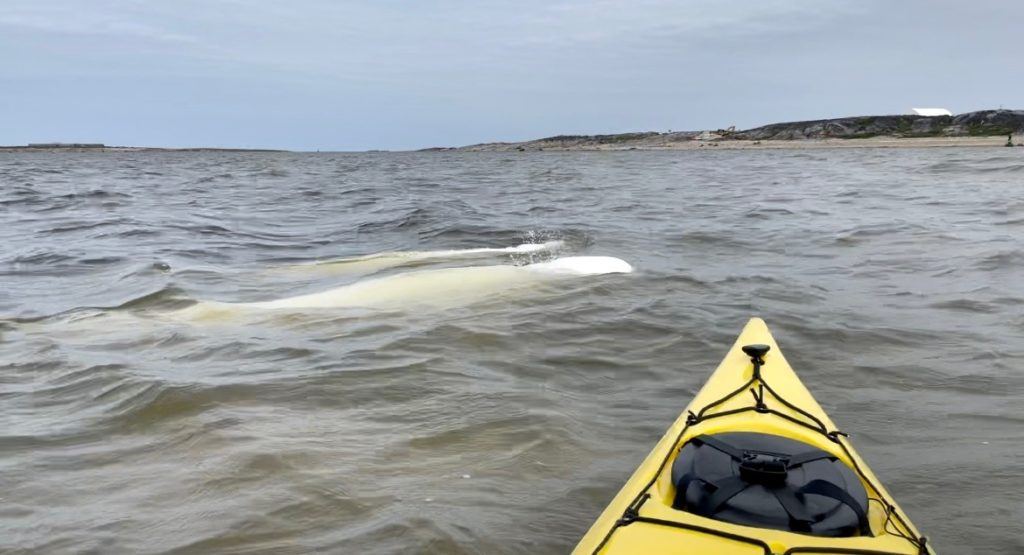 But don't worry… because it's likely that the beluga whales will find you first! After only being on the water for about ten minutes, I was surrounded by a pod of about ten beluga whales ranging in age. I thought I'd be scared – they do indeed come right up to your kayak – but they are so playful and gentle that the experience was more exhilarating and exciting than anything else. Be prepared for the whales to surface near you, gently nudge your boat (they love the kayak's rudders), and even lightly push you along!
I ended up spending at least two hours kayaking because it was that much fun. When it was all over, I burst into tears; I was just so overwhelmed with emotion at having been so close to these beautiful creatures. I'd consider kayaking with beluga whales an absolute must when in Churchill in the summer.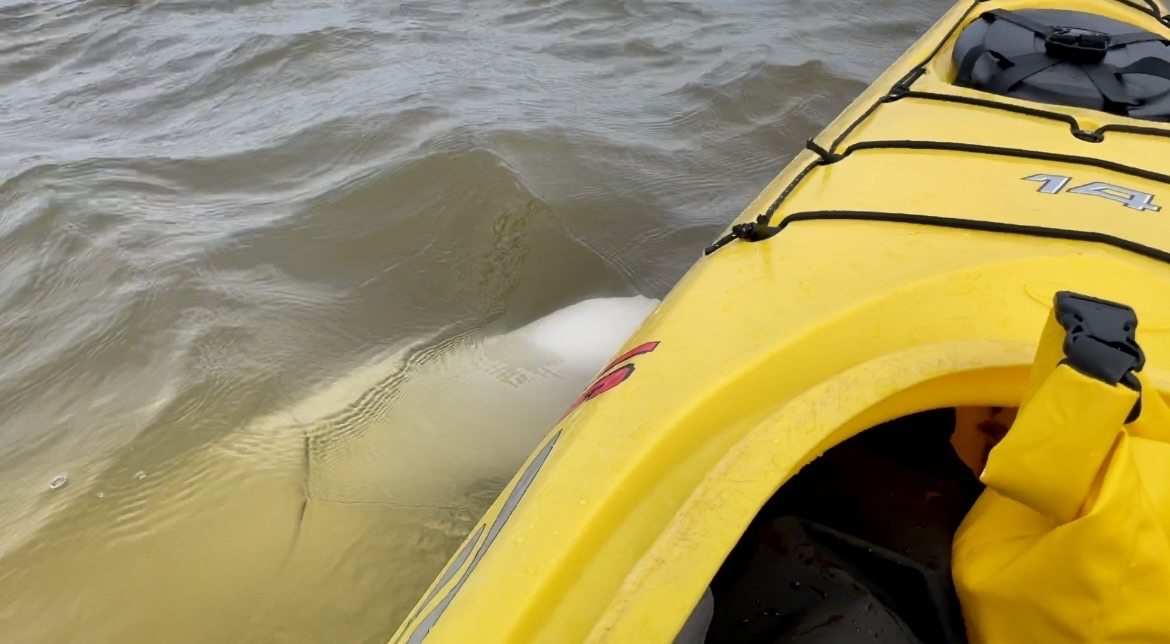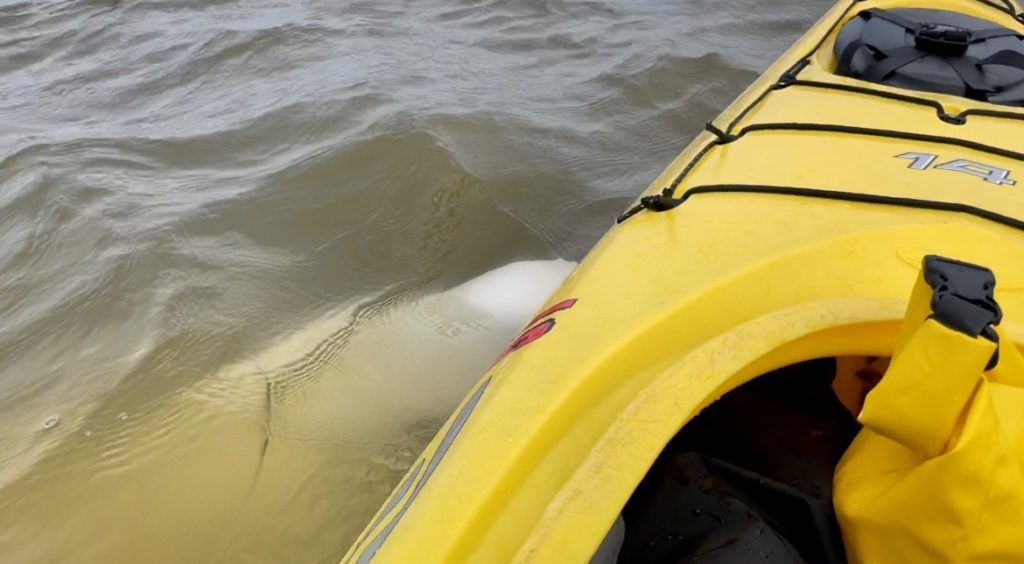 One last tip: it is very difficult to manage photography when you are kayaking, as you want to keep your balance. You will indeed get a bit wet what with the paddle and the occasional beluga spraying you (seriously!) so make sure that whatever camera you take is waterproof or water-resistant. I personally took my water-resistant iPhone 12 with me but had it in a case with a lanyard, so I could rest easy knowing my phone was safe around my neck.
A Zodiac boat tour
Another amazing way to see beluga whales in Churchill is by a Zodiac boat tour in the Churchill River and the mouth of Hudson Bay. We combined this with a tour of the Prince of Wales Fort across the river, and it made for such a fantastic morning activity.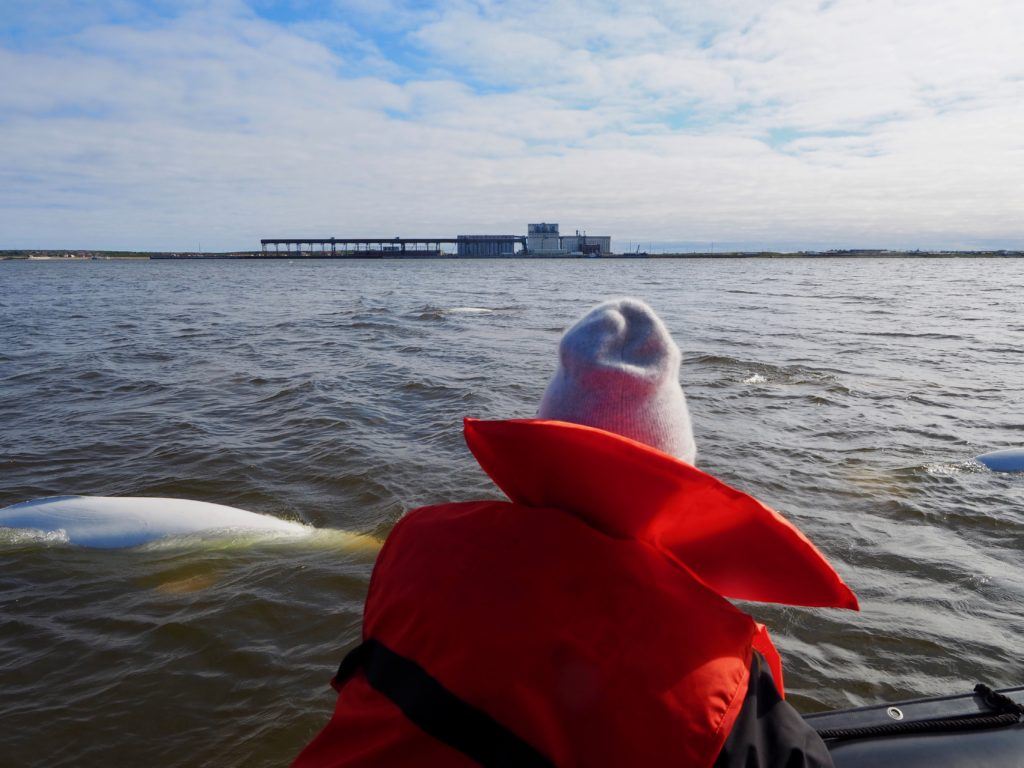 Again, beluga whales are extremely curious about boats, and they especially love the bubbles that the engine of the Zodiac creates. We very slowly puttered around the Churchill River and beluga whales surrounded us, following us and playing in the bubbles and the wake. Although you don't feel as close to the whales as you do while kayaking, we were still blown away by how curious the beluga whales were and how they loved coming right up to the boat. And if you're not comfortable kayaking, this is a very close second for being right next to the beluga whales on the water.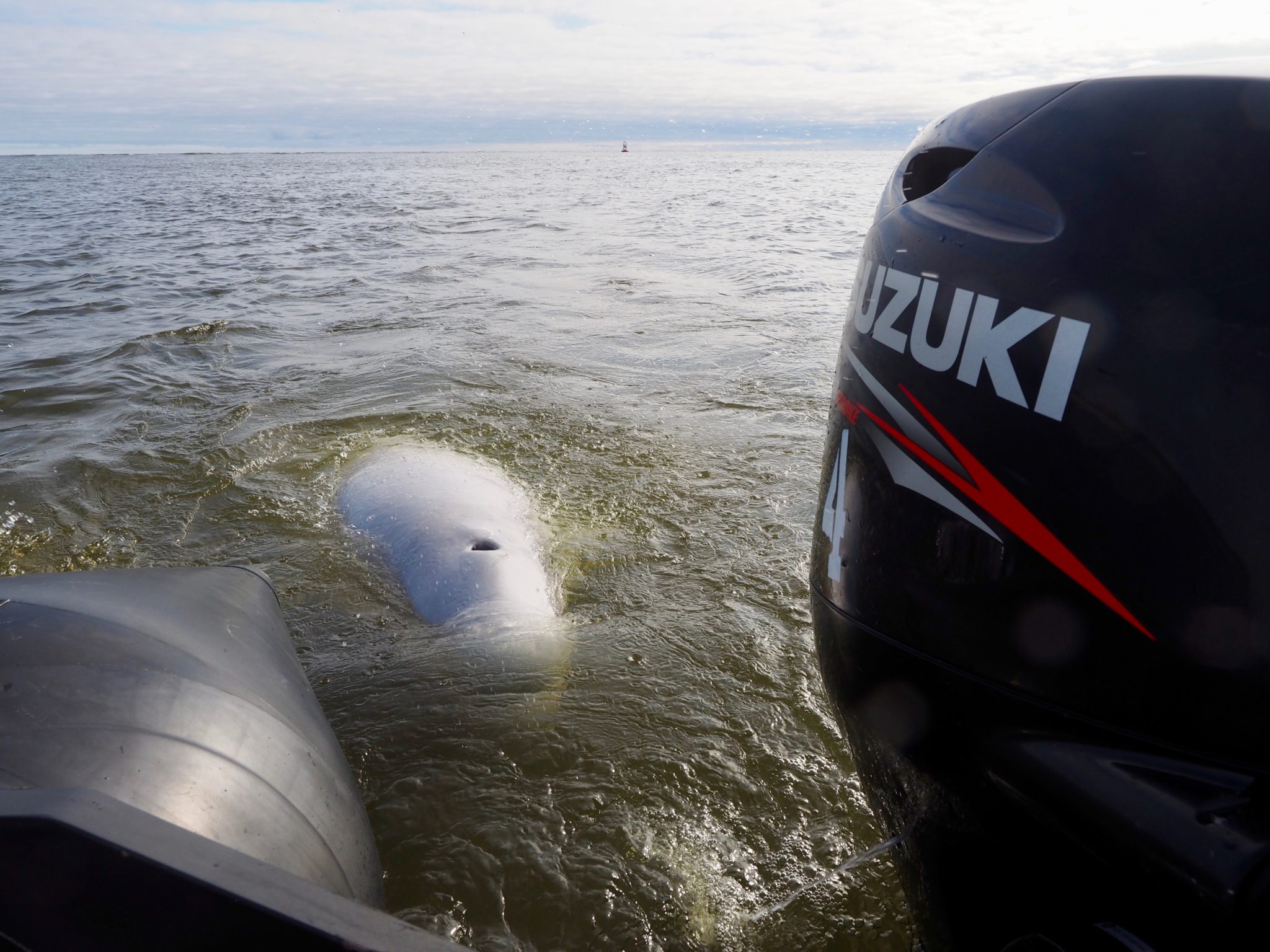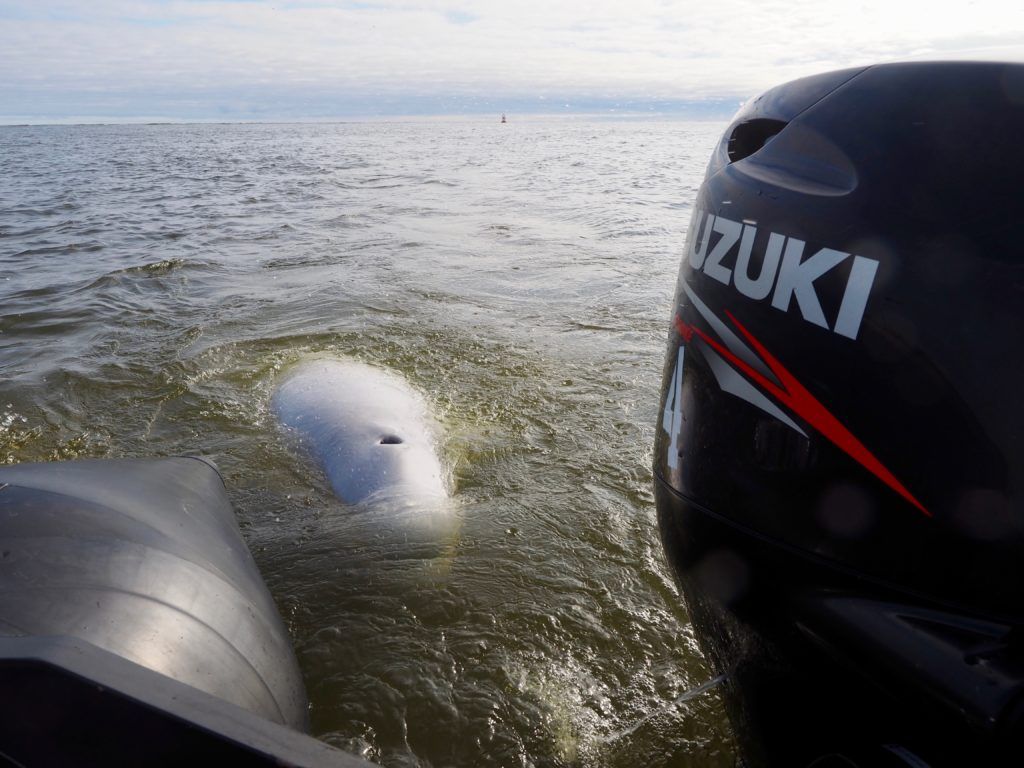 A coastal tour of Hudson Bay
I highly recommend taking a coastal tour of Hudson Bay with Lazy Bear Expeditions. We set off for a few hours to look for polar bears and beluga whales, and within half an hour, we had found both! Polar bears spend a lot of time near the coast in the summer months, and we were able to spot three.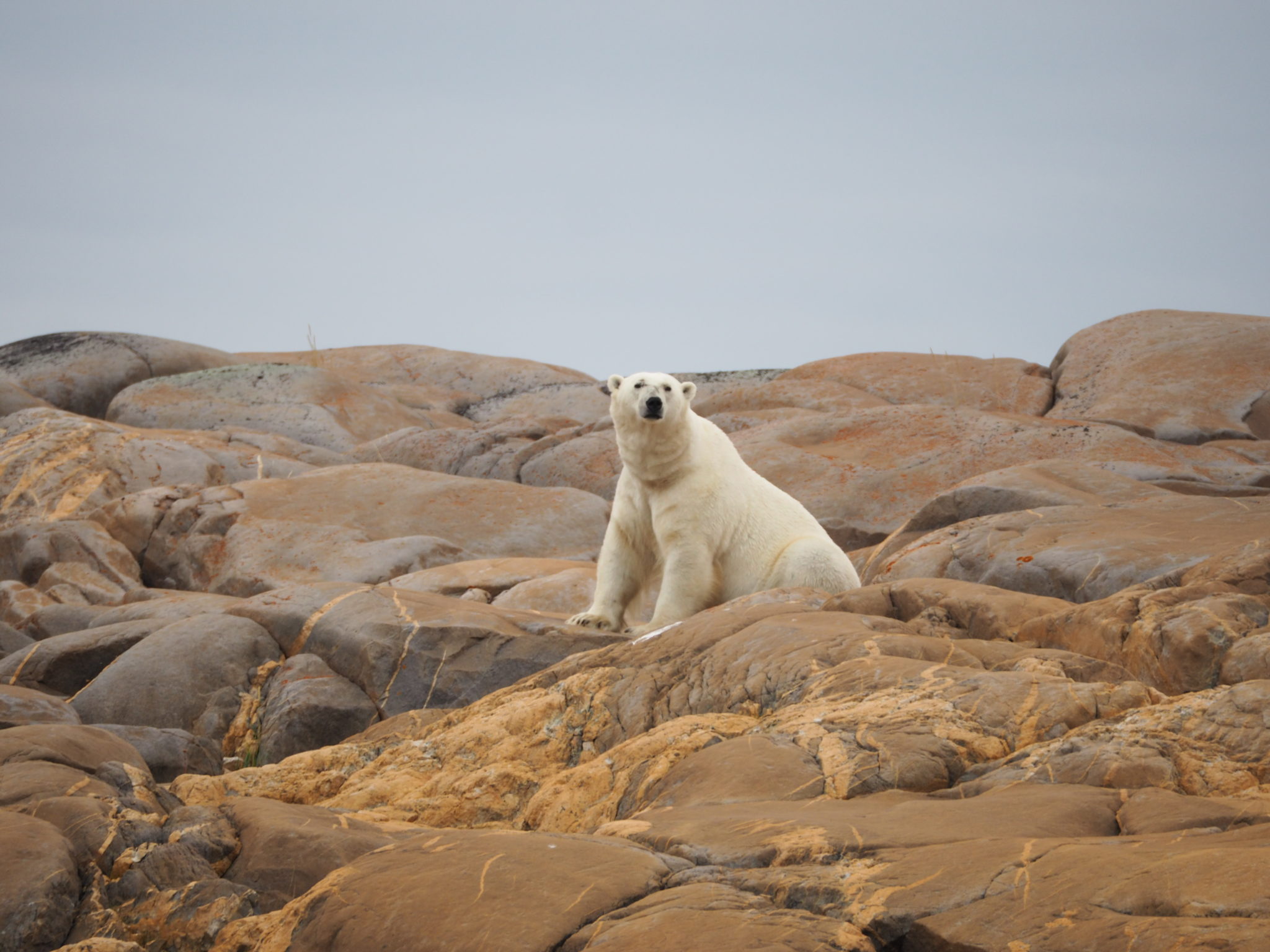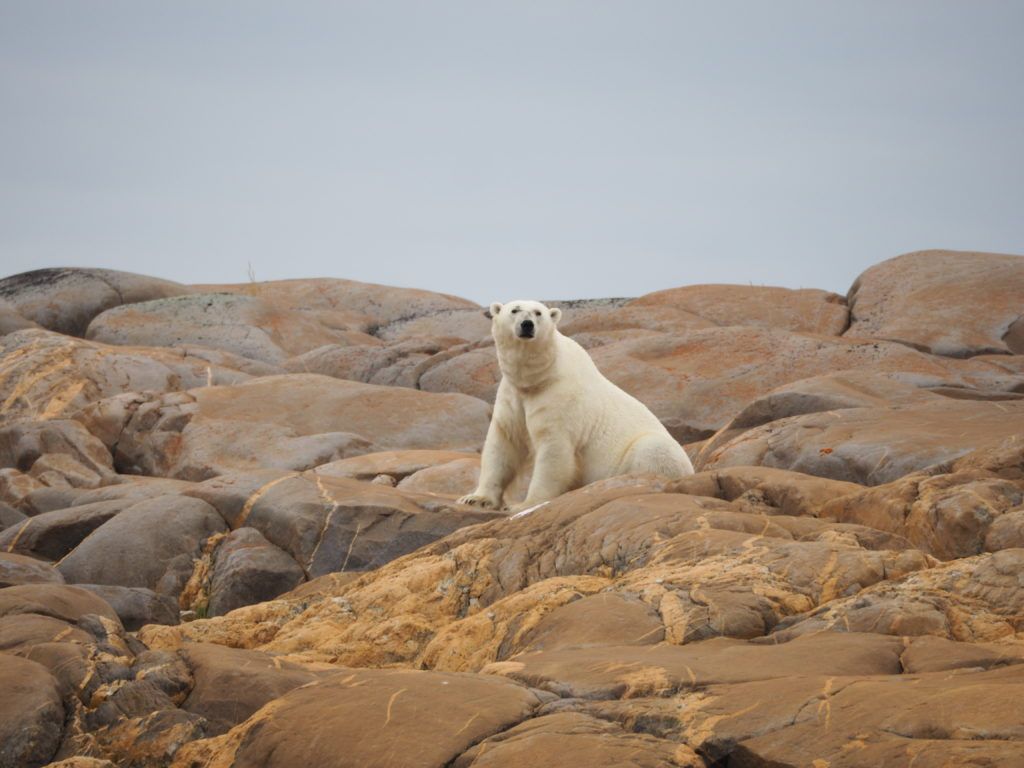 While the summer months are indeed known as beluga whale season in Churchill, the added bonus of going in summer is that you'll most likely be able to spot polar bears, too. It's win-win! was so overwhelmed with emotion, and felt so grateful to experience seeing both animals on the same tour.
On the way back to Churchill, we spent a lot of time in the mouth of the Hudson Bay, where many beluga whales congregate. Again, all we had to do was float there for a few minutes… and they began swimming right toward us. They put on quite a show: splashing, swimming under the boat, and even jumping and spy-hopping (where whales will stick their heads out of the water to look around).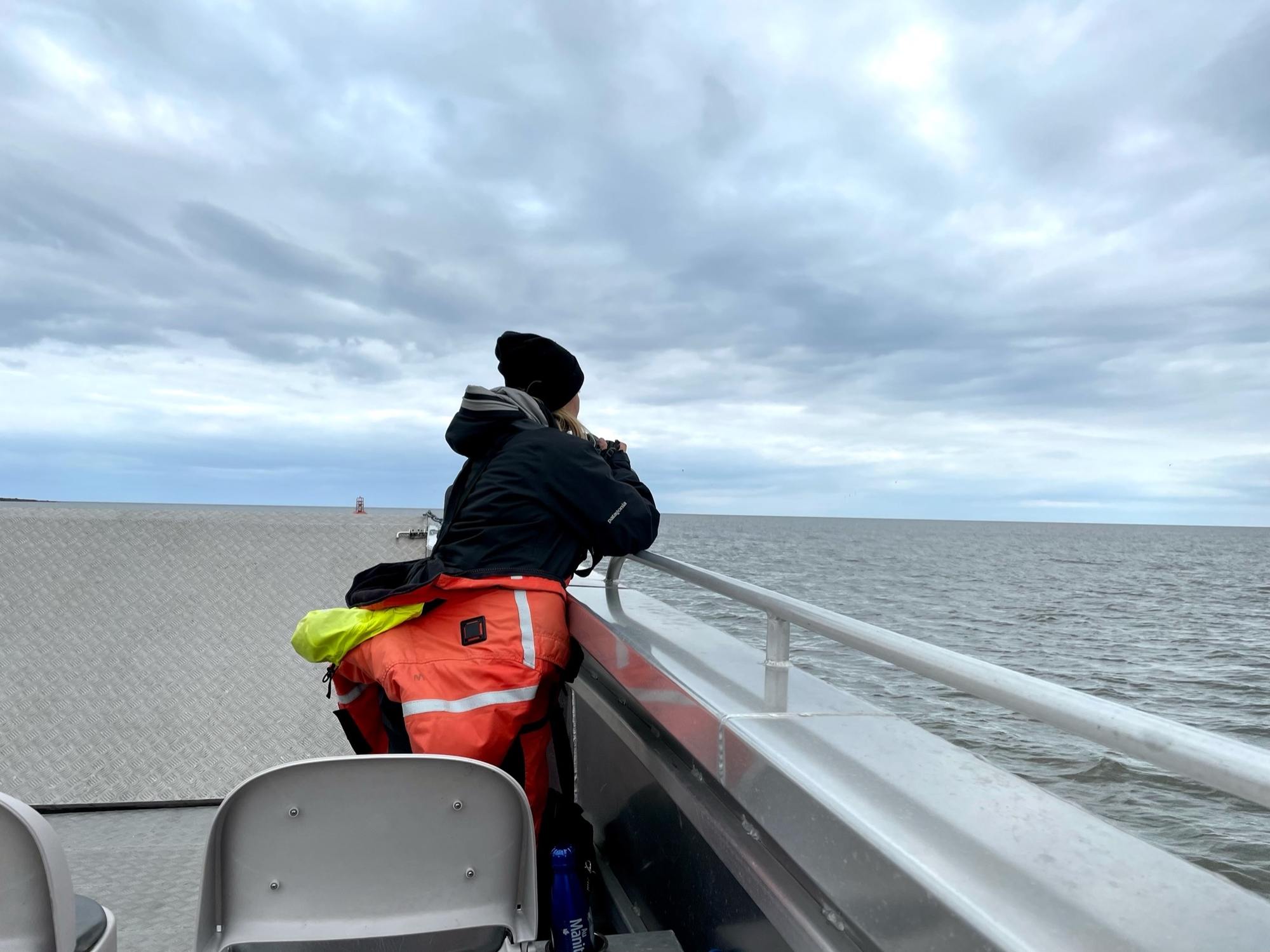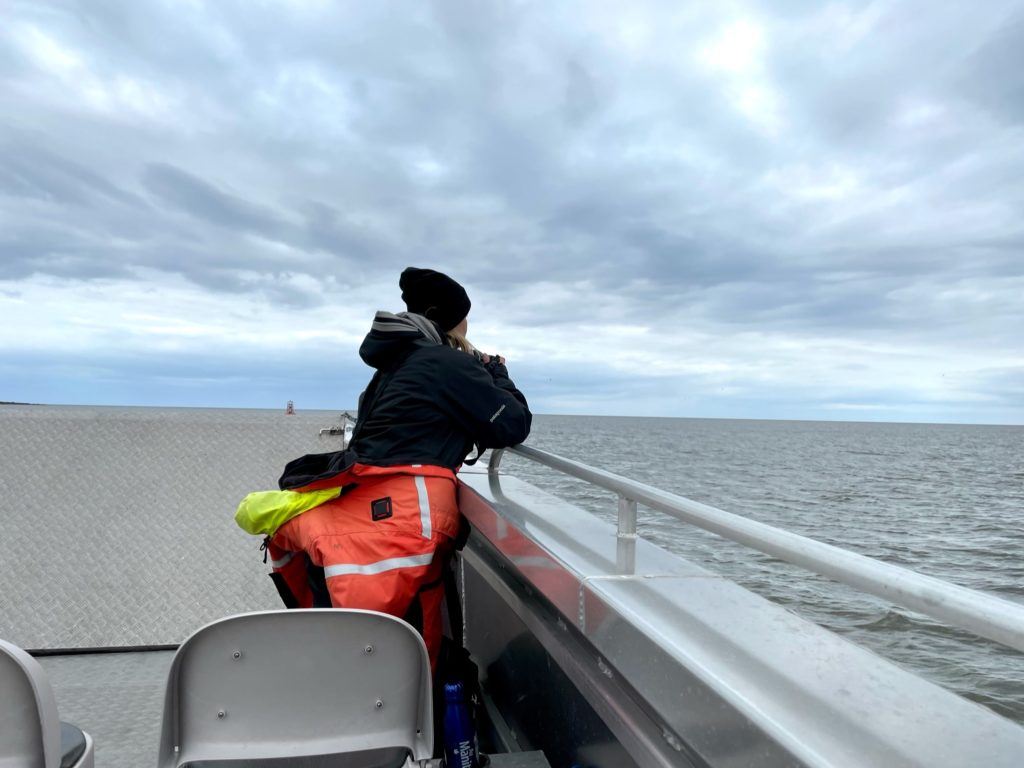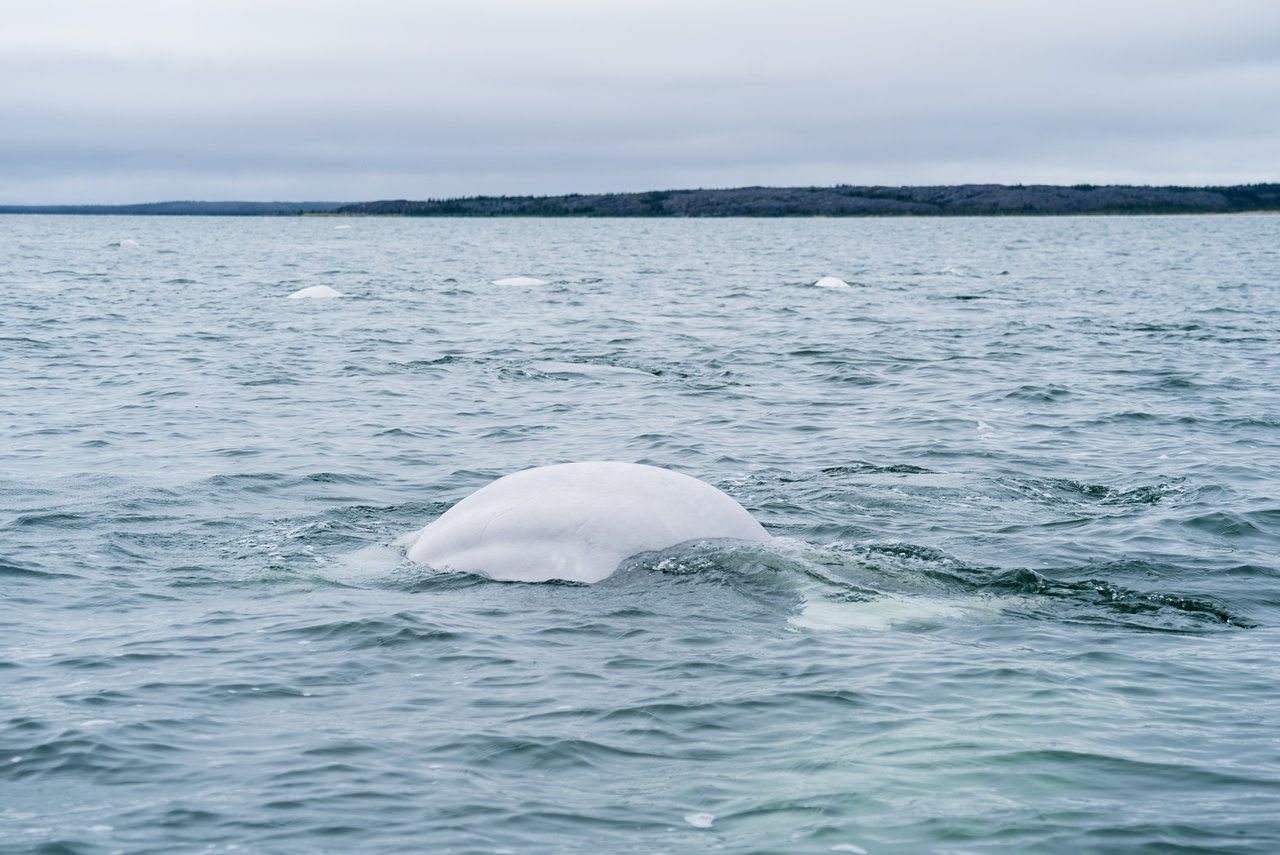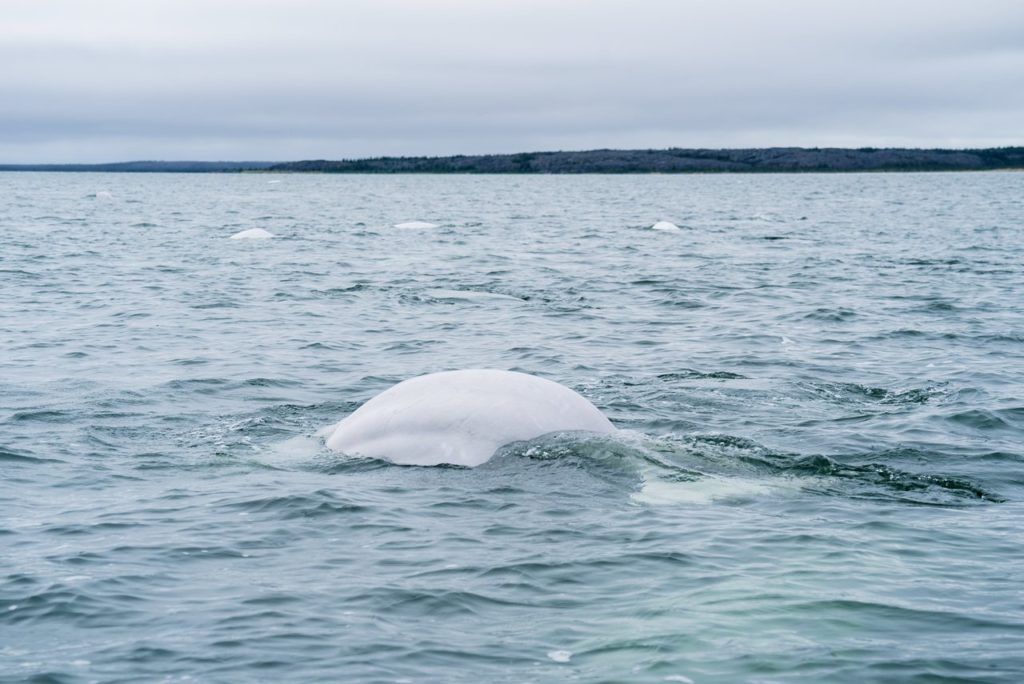 One of the best parts of this boat tour was that we had an underwater microphone to be able to listen to all the sounds of the beluga whales. It was such an added bonus to be able to both see and hear what they were up to, and I happily spent the afternoon watching them play all around the boat.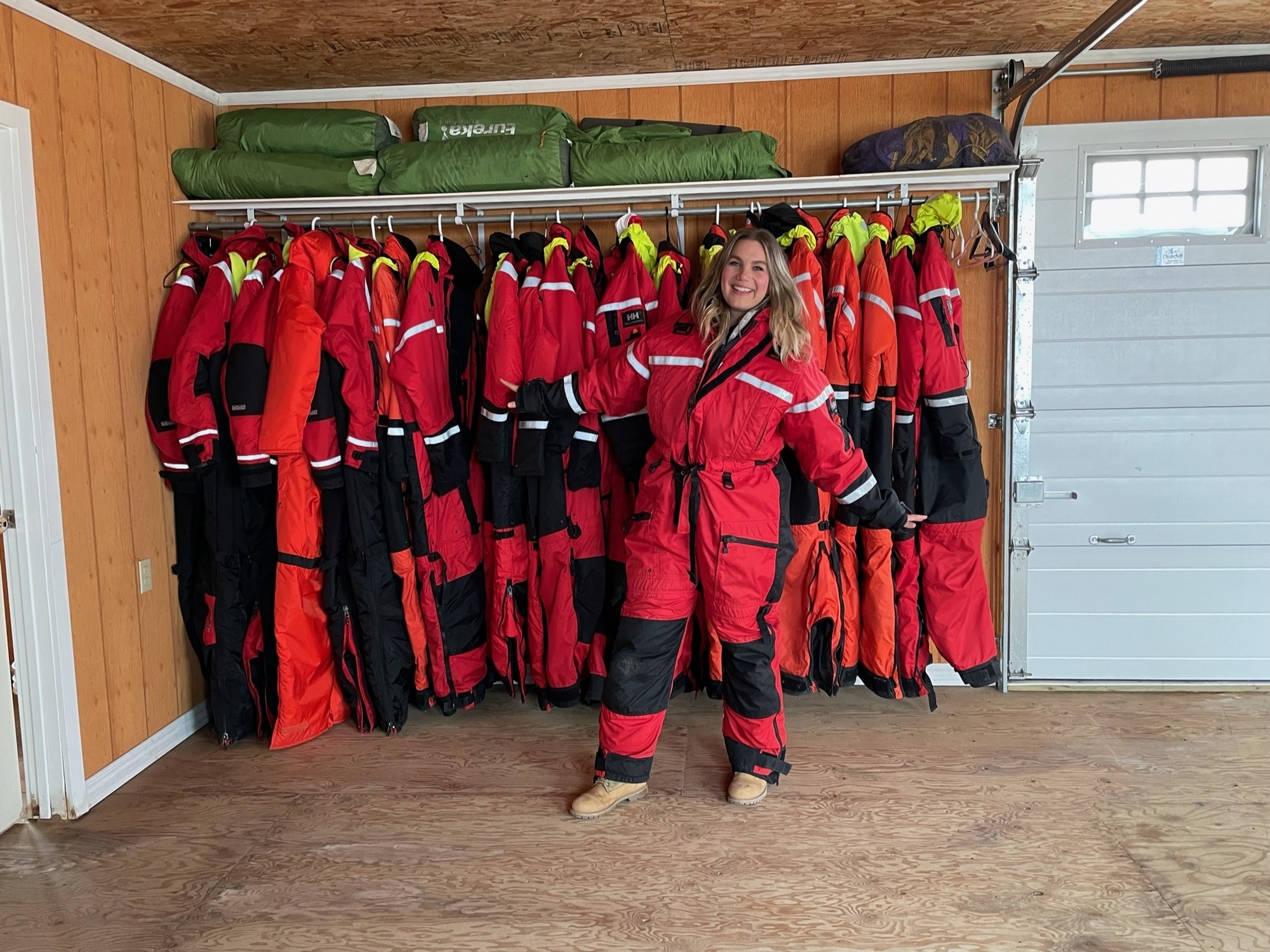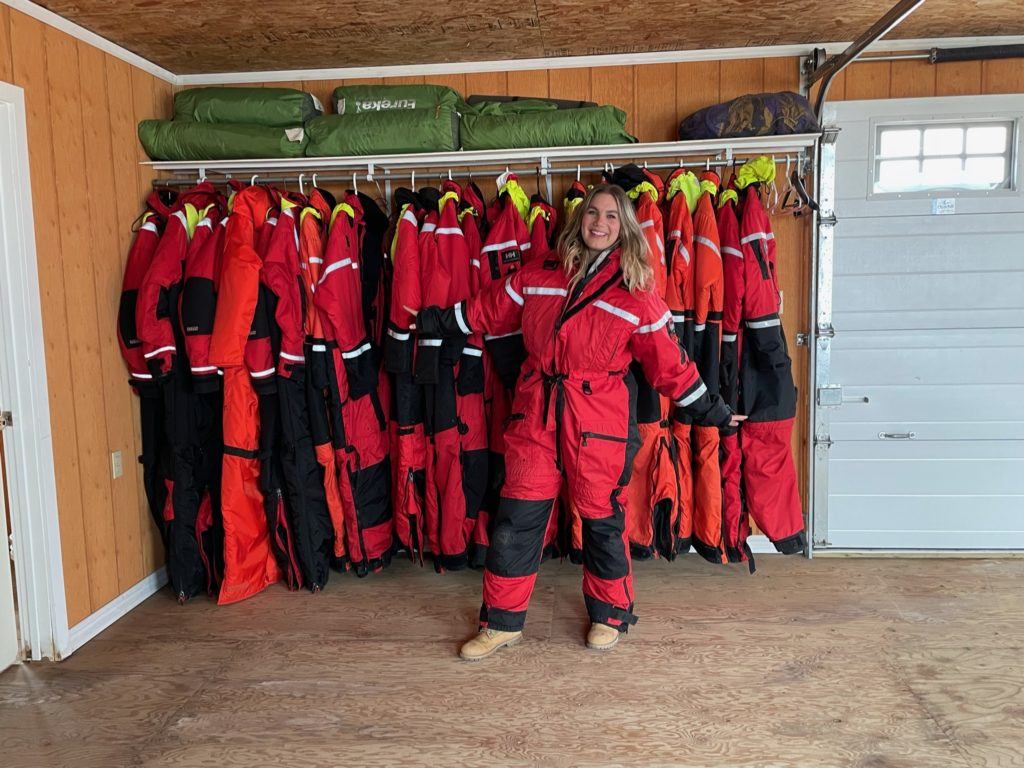 Note that, even though it's summer, it will be quite chilly on a boat tour like this. Thankfully, Lazy Bear Expeditions provides survival suits to keep you warm, but it's still important to dress in warm layers underneath the suit, and gloves/mittens and a warm hat are a must. If you're prone to seasickness, make sure you have some anti-nausea medication with you; I personally found the ride quite calm, but I don't get motion sickness.
AquaGliding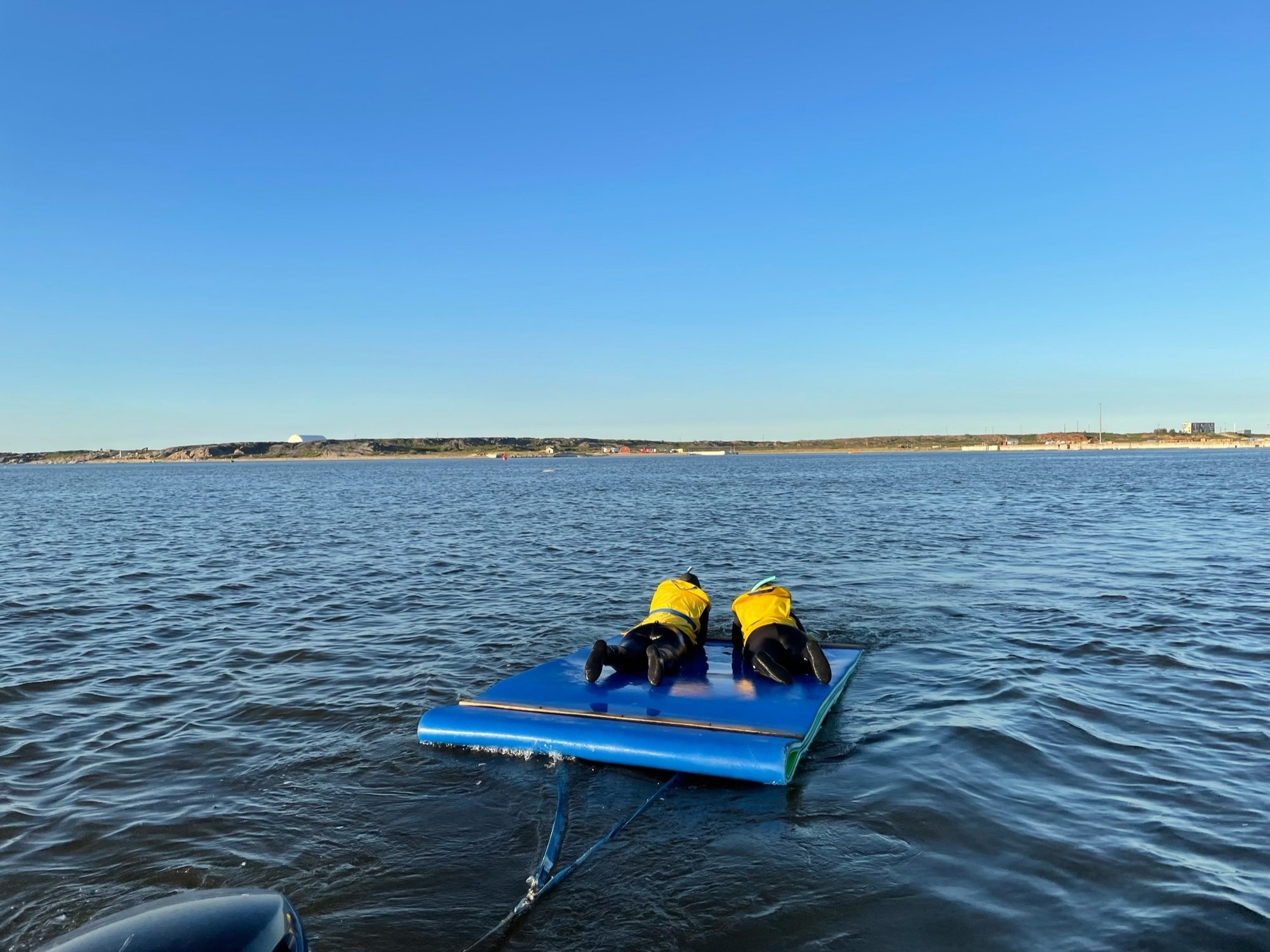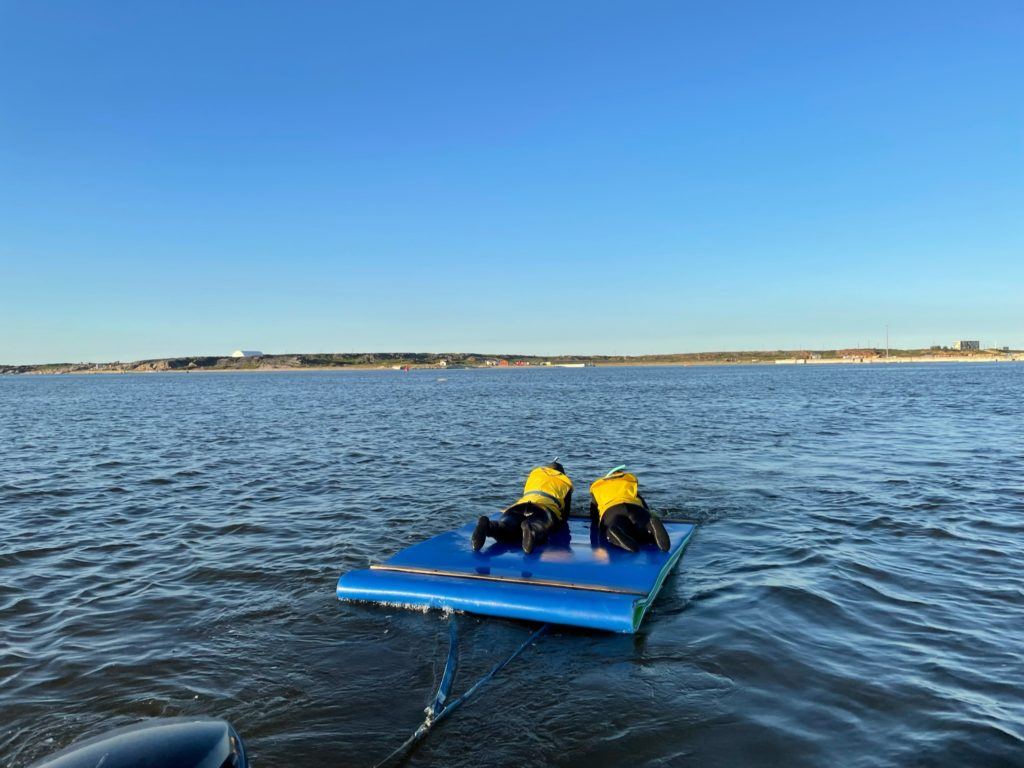 If you read that you're able to snorkel with beluga whales in Churchill, you're reading an outdated article; snorkelling with belugas is no longer allowed in Manitoba. What you can try, however, is "AquaGliding", a one-of-a-kind activity offered exclusively through Lazy Bear Expeditions that allows you to get up close and personal with beluga whales. And when I say up close, I mean up close.
You'll head out into the mouth of the Churchill River on a zodiac, where you'll soon climb aboard a floating mat attached to the back of the boat. There, wearing a wet suit and snorkel mask, you'll be able to lie down on the mat with your face in the water and… get ready, because beluga whales are on their way to say hello!
Again, because beluga whales are so curious, they love coming right up to people to see what's going on. They love the bubbles of the boat, the slight wake of the mat being dragged, and they especially love if you sing and speak to them.
I had a beautiful evening AquaGliding with Lazy Bear Expeditions, and although the visibility wasn't great on the day I tried it – that's always the gamble with any outdoor activity, as nothing is every guaranteed – we were still able to see belugas splashing all around us. It was also amazing to be on the water as the sun slowly set. All in all, while it would have been so cool to have a beluga whale swim right up to my face, I had a fantastic experience. The other boat on the water that night did have beluga whales swim right up to them, so it is a matter of weather conditions, patience, and a little luck!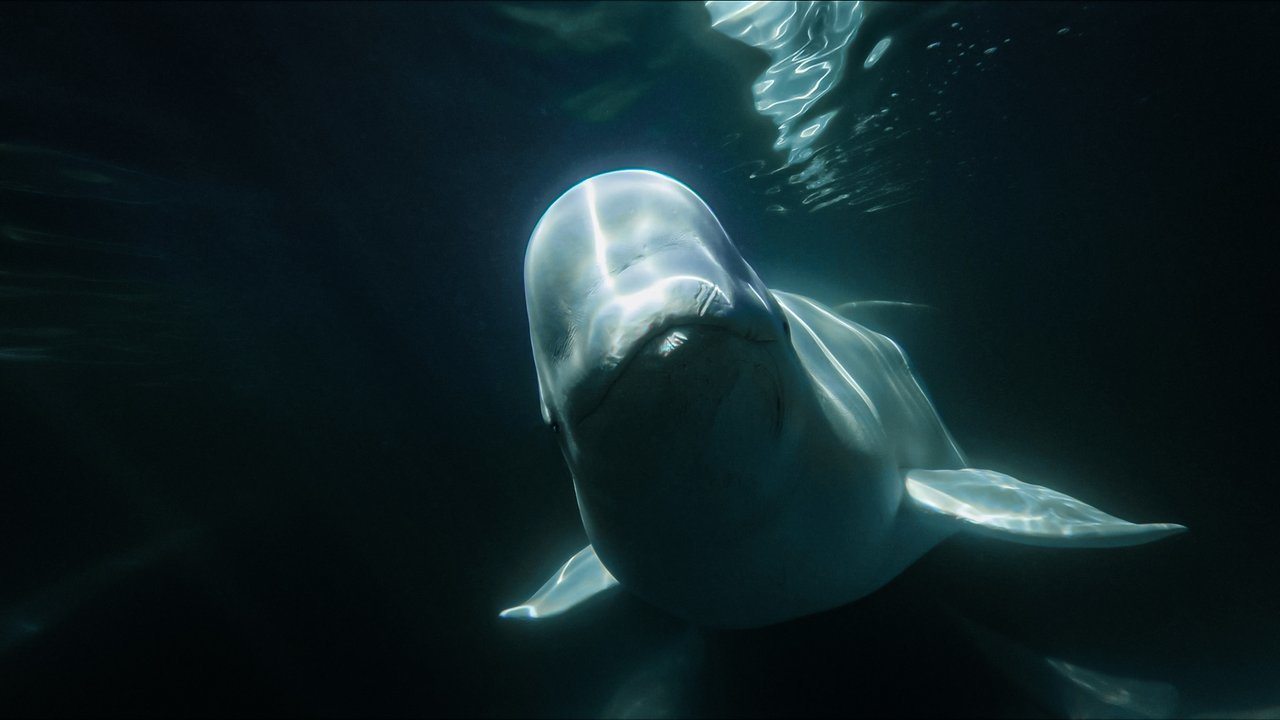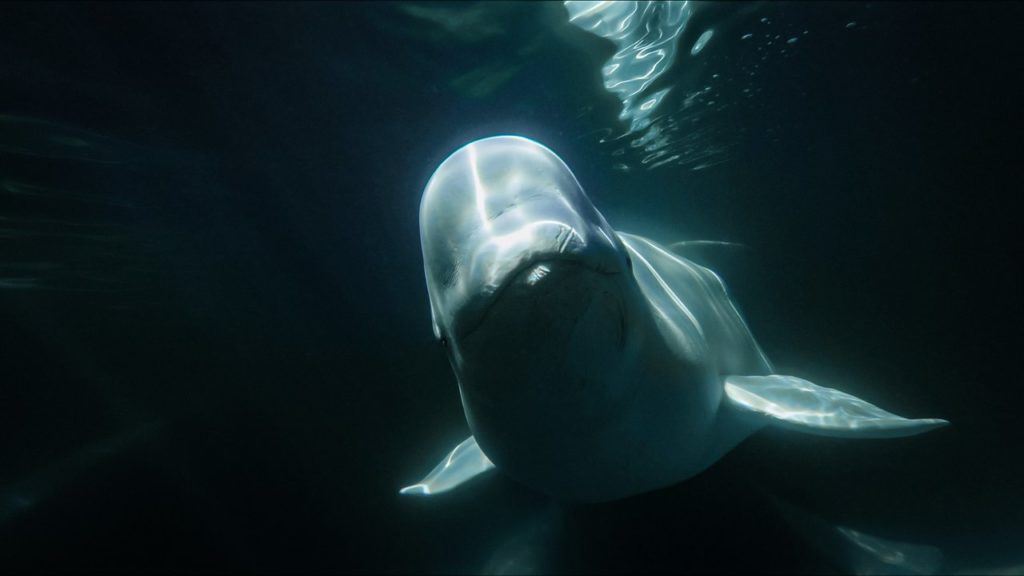 Stand up paddle boarding
I don't have much to say about stand up paddle boarding with beluga whales as I didn't do it while I was in Churchill, but it is indeed an available option. I saw some people trying it on the Churchill River and it looked like tons of fun! If you're already experienced in or interested in stand up paddle boarding, this might be the place to do it.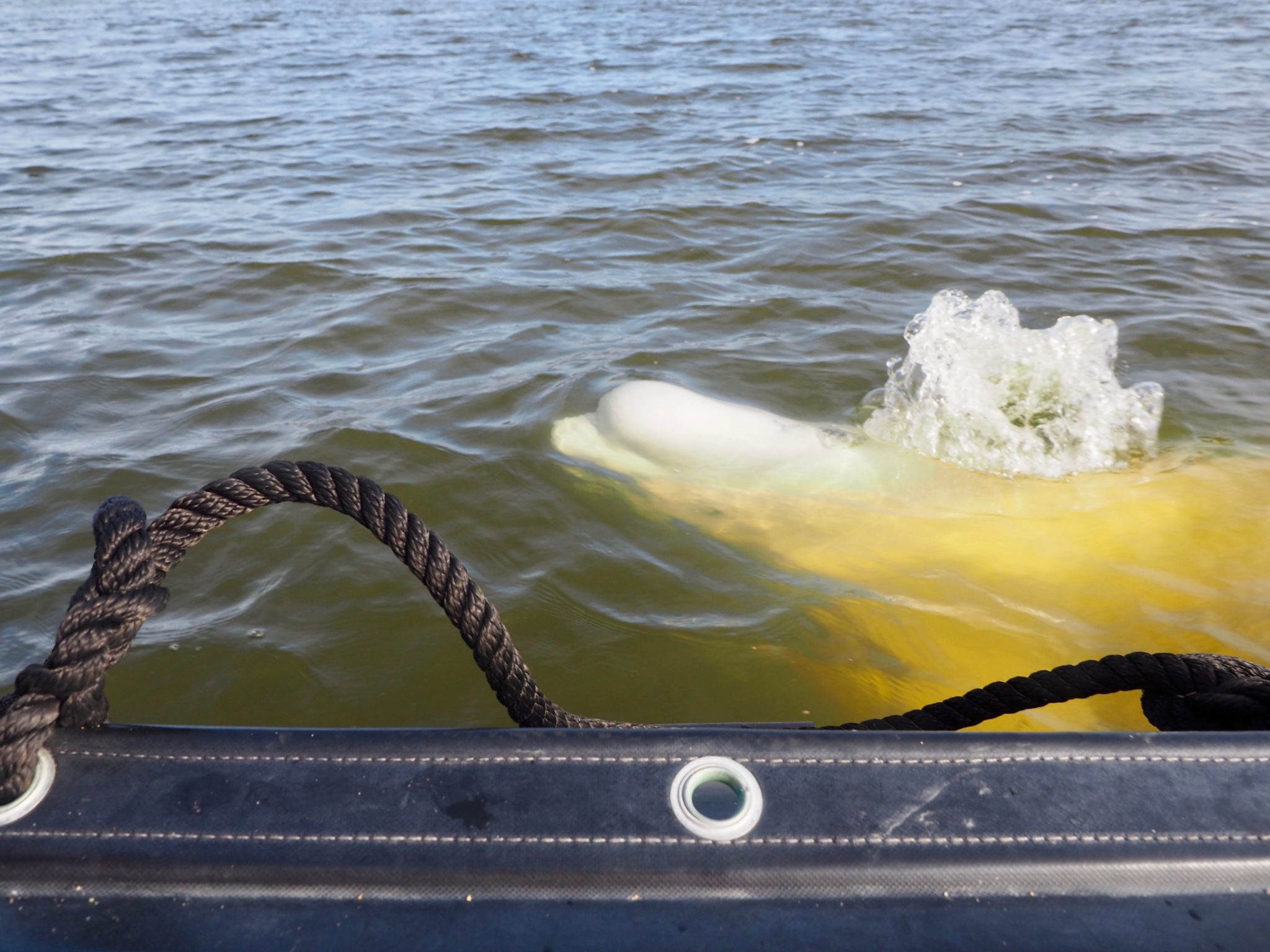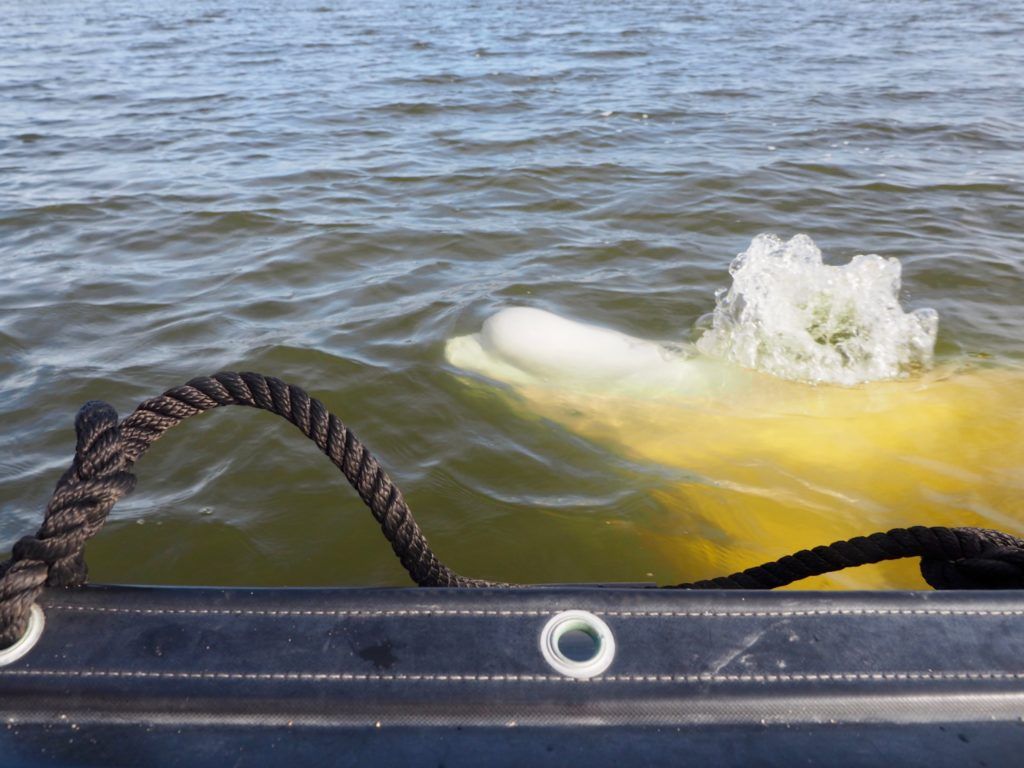 As you can see, there are lots of options when it comes to see beluga whales in Churchill. I still feel so thankful that I was able to spend so much time near these amazing animals, and I hope that you're able to see them soon, too.
Have you ever been to Churchill, or would you like to go? And aren't beluga whales the cutest?!
My many thanks to Lazy Bear Expeditions and Travel Manitoba for sponsoring this dream trip to Churchill.