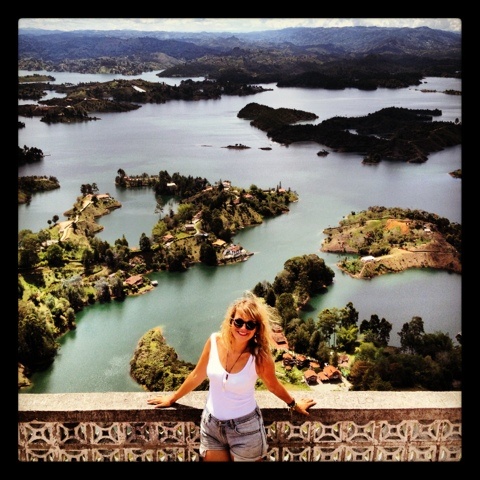 Guatape, Colombia
When we travel, we meet all sorts of people with all sorts of plans; it's a huge part of the fun of being on the road. We meet people who have been travelling for weeks, for years, for life, but we also meet people who have only been travelling for a few days. We meet people who have everything mapped out, every single hotel booked, and we meet people who have absolutely no idea what they'll be doing tomorrow, let alone next week. We meet people who spend months volunteering in Nepal and people who spend a few weeks partying in Cancun.
And you know what? In my mind, we're all travellers.
I have never liked the tourist vs traveller separation, as I believe that we are all both at different times in our travels. Sometimes I'm part of the throngs of people swarming around an attraction, be it the Pyramids at Giza or Tikal in Guatemala. Sometimes I'm alone in Mongolia, sleeping in a ger and stoking my own fire to be warm. I'm a traveller, I'm a tourist, I'm both.
One thing that travel has truly taught me is to never judge anybody by where they're from, where they're going, or what they're doing. There's no reason for me, or for any of us, to judge someone – everyone has different priorities and different expectations when they travel. If someone chooses to not talk to any local people or try any local cuisine, so be it. It's not my trip, it's not my place to comment on his or her choices. I have had many people admire the way I travel, but I've also had people criticise the way I travel, insinuating that I am not a "real" or "true" traveller because I didn't go to X or I didn't stay for Y amount of days. On this trip, for example, I met someone who accused me of travelling too quickly, accused me of not actually soaking up any of the local culture – was it her place to accuse me of this? Absolutely not. I have a certain budget and a certain time limit and I will do what I can with it. I chose to spend only 10 days in Costa Rica and 10 days in Panama, but I also chose to spend a month in Guatemala and Colombia, and three weeks in Honduras and Nicaragua. To each their own, I say. To each their own.
And so, I come to my thesis, my view of life on the road: all travel is travel. Whether it is a week of mayhem in Ibiza or a year of life-changing experiences in India, at the end of the day, it is travel. It is a person buying a ticket to somewhere different, a person choosing to leave the comfort of home, a person longing for something new. It can be fun and relaxing, it can be challenging and educational, it can be all of these things or none of these things, but it is the choice of the traveller. As long as the traveller is respectful toward the local culture and is as conscientious as possible (morally, environmentally, and politically), I don't see why anyone should judge another on how they choose to travel.
Whenever I meet a judgemental traveller, I find myself shutting down, I find myself slowly backing away from the conversation. When it comes down to it, we're all on the road together; let's support each other and learn from each other, no matter where we've been or what we choose to do. All travel is travel.
What do you think? Do you agree or disagree?
*Follow me on Facebook and Twitter!*