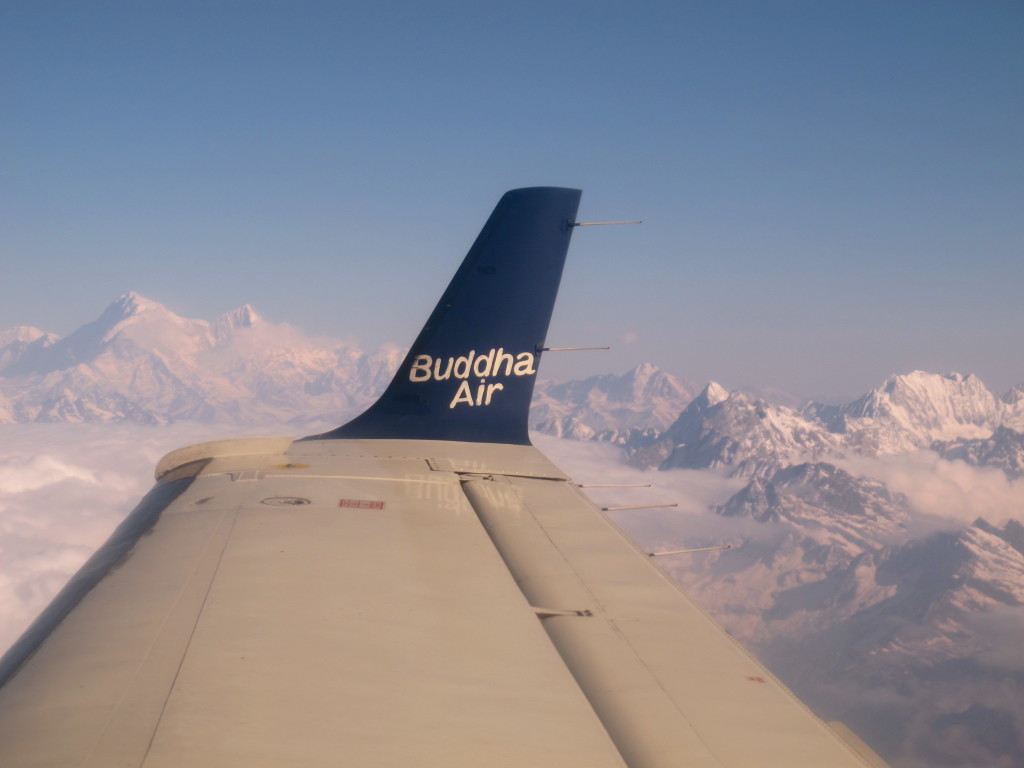 "There she is." The pilot's finger, held up against the window of the cockpit, nearly obliterated the very thing I had come all this way and paid all this money to see.
"That one?" I put my own finger to the cold glass, aware that the propellers on the small airplane were swallowing my voice. Each mountain seemed roughly the same, barely varying in shape or height. I looked to the pilot for confirmation. He smiled with big, white, snowcapped teeth.
"Yes," he mouthed over the whir of the propeller's blades. "That's Everest."
***
I had arrived in Kathmandu, Nepal only two days earlier on a short flight from New Delhi. My month backpacking through India had already accustomed me to the smells of the subcontinent, the permeation of masala chai and the faintly sweet wafts of cow dung. Here, too, the air was spicy. I was convinced I could stick out my tongue and taste cardamom.
In crowded expat bars in Udaipur and Amritsar I told people I was headed to Nepal.
"Base camp or the loop?" their voices rolled in cadence with the sitars and tinkling bells in the background. We were clumped together in a huddle of indistinguishable nationalities, united in our love for this part of the world.
"Neither," I replied. I had no intention of tackling either Everest Base Camp or the Annapurna Circuit through the Himalayas. I had huffed and puffed my way through hikes before, but was not equipped physically or mentally for these week-long climbs. I was quite content to do what I always did, dump myself in a new country with very little expectation, wide-eyed and lost.
I hailed a cab outside the Kathmandu airport. A man whose face was all moustache and eyebrows took my backpack and made a great show of straining to get it in the trunk.
"Canada!" he opened his mouth and bellowed, showing betel-stained teeth. Before I was even in the car, he peppered me with questions. His first had been if I was married, eyeing my bare ring finger. When I mentioned Canada he swelled with recognition. "I have relatives in Canada. In To-ron-to." He added this last phrase with pride, staccatoing every syllable. He opened the door for me with a meaty hand. His eyes stayed on me for the remainder of the journey, locked in the rearview mirror, barely glancing at the road.
I hadn't been online in 48 hours. When I first started backpacking five years before, I would find an internet café every few days or so and feed coins into a whirring machine next to the computer to give me 15 minutes more. Now, even establishments in scrappy towns and remote hideaways boasted fast wifi. I was rarely offline for more than a day. After dropping my bag in my room, I settled back into the lumpy couch of the hotel lounge. A few dusty plants completed the look, prayer flags of every colour criss-crossing the ceiling. A peeling calendar with a close-up of Everest was already a year late, frozen in 2010. I cracked open my laptop and connected.
"Hi Bren," read the email from my mum. I had saved this one for the end; emails from family were gifts to be unwrapped slowly. "I hope you're doing well." The words were chosen carefully, ambiguously. "I just wanted to talk to you. Can you call me whenever you get this?"
A refrigerator hummed from the corner. It was the last moment of peace; I knew what was to come. By the time my mother picked up the phone I was already in tears.
My grandmother had died a few days before. She was almost 90, and she had been ill for some time. She passed away at a birthday party, surrounded by balloons and plastic cups of sparkling grape juice – a small comfort for my family.
"I want to come home," I told my mum, her face blurred by the fuzzy Skype connection. Her eyes and mouth were black, hollow in their grief and their pixilation. We agreed it didn't make sense for me to return; there would be no funeral, only a cremation, and plans were already being made for a memorial in the summer by my relatives. I'd be home then.
There's a special kind of homesickness that comes with a death in the family. It's a twisting knife. First it attacks the throat, and then the stomach, and then the heart.
That night I went out for momo dumplings and lukewarm beer. There was a group of European backpackers behind me who whooped and hollered their whole way through dinner before sloshing out into the street. It was only then that I felt comfortable putting my head on the table.
My hotel room had splintered green walls and smelled of mildew. I couldn't tell which was worse: the howling of the stray dogs in the alleyway or the zap of the bugs as they flew into the light that buzzed angrily overhead. Both sounds seemed pointless. I went back to the lounge.
"Can I help you?" It was the same man who had checked me in, a short Nepali who wore bright, collared shirts. He had a soft face. I couldn't look at him. I focused on the outdated calendar instead.
"How can I see Everest?" I cleared the lump in my throat, a result of barely uttering a word all evening. Or was it that knife again, slicing away? "I mean, without actually climbing it?"
***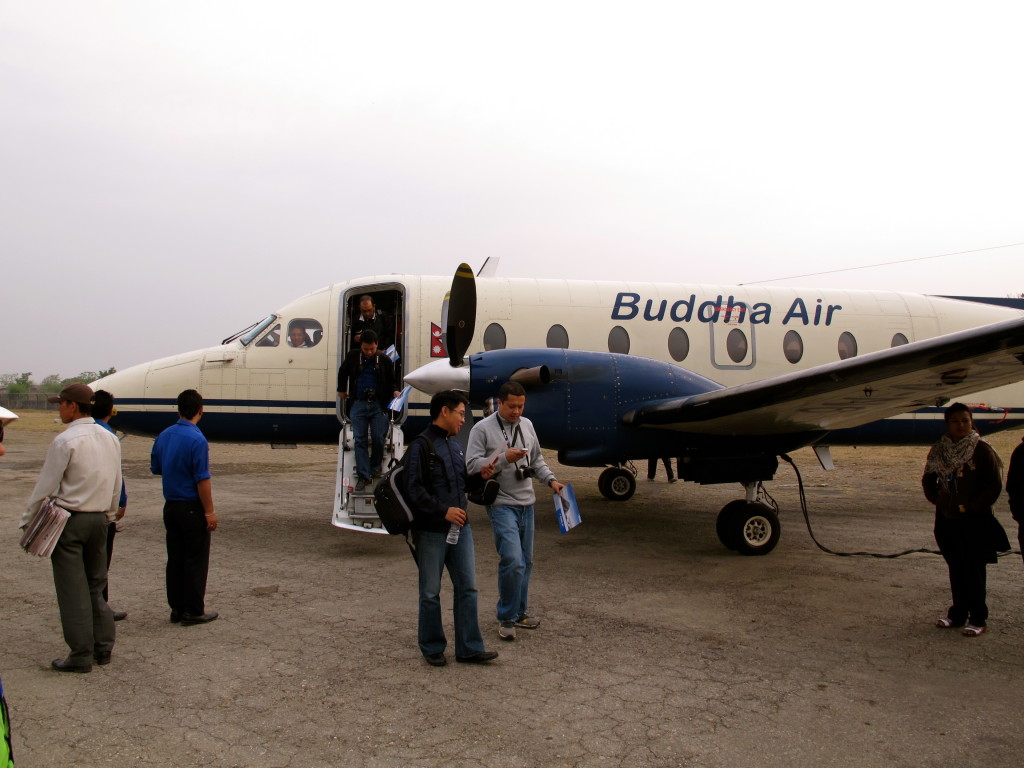 The airplane seated no more than 20 passengers and two pilots. It was designed so that everyone got a window seat, a thin tin cylinder that carried tourists up and over the Himalayas just after sunrise, before the clouds settled in. For $150 we'd get as close to Everest as we could without setting foot on it, or near it, or anywhere on the ground at all. My breath fogged up the window as I watched the young uniformed men do a final check on the plane. One had a cigarette pack rolled up in his sleeve. I couldn't hear them but I could see them joking around – jovial even in the early morning mist.
The plane was not built for agility. Everything about it seemed old and rundown. It rumbled and shook down the tarmac, groaned as it lifted off. Kathmandu grew smaller and smaller, a faint brown smudge on a blue and green canvas. Mountains appeared almost instantly, black and creased and topped with snow. They were endless, magnificent. We flew for the better part of an hour.
"For those of you on the left, you will see Everest soon," came the pilot's announcement overhead. "Please refer to your guide so that you can identify the tallest mountain in the world." I looked down at the paper in my hands. I had been gripping it for the entire flight, crumpling the mountains on the page. Smoothing it out, I held it up to the window, compared the peaks and valleys until I spotted it.
I had expected it to be so obvious, Everest. I had thought it would loom large and mighty, the big laughing bully over all the other crests. Instead I could barely pick it out of the lineup. It was both overwhelming and anticlimactic. It made me sad to look at it.
"We'd like to invite you one by one to come to the cockpit," the pilot's voice crackled over the loudspeaker again. While waiting our turn, the rest of us stared out the dingy windows, spiderwebs of frost creeping up from the bottom and threatening to destroy our view. Still we all snapped photos, hoping for the perfect shot.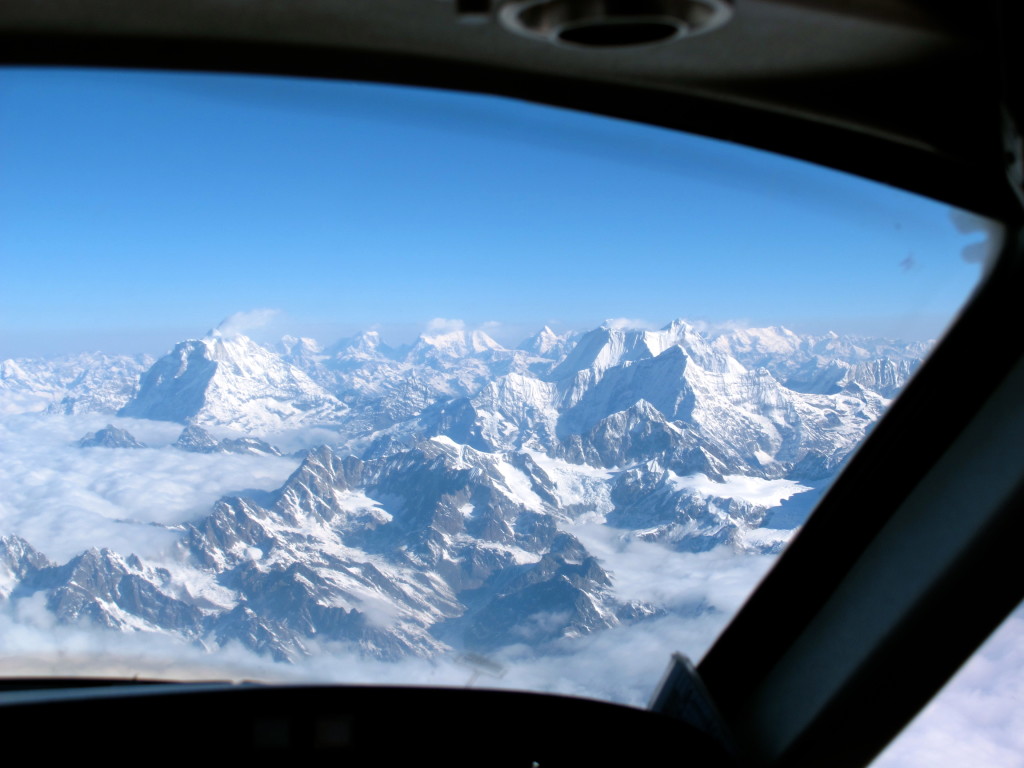 "There she is," the pilot pointed when it was my turn, and I took a few pictures. The view was so much clearer from these windows, Everest somehow broader and more regal than when viewed through my individual porthole.
"You're lucky," the pilot shouted at me.
"Oh yeah?" I steadied myself against the back of his seat, my whole body shaking from the plane's vibrations. "Why is that?"
"We haven't been able to fly for the past week," I had to watch his lips move to fully understand what he was saying. "Cloud cover was too bad."
I pressed my finger to the glass again, blotting out Everest just because I could.
***
My grandma used to say, "Don't make mountains out of molehills." She was a firecracker, even in her old age. She'd let my siblings and me sit in the garden and rip out all her rhubarb, even give us a bowl of sugar to dip it in. She believed in ghosts, and taught me how to play gin rummy, and let me wear her jewellery all at once, my fingers and neck dripping with fake gems.
I returned to my seat. Mount Everest was there, tangible and real, its summit skimming the heavens. She would have liked to have seen it. The plane turned round, headed toward solid ground. I scattered my goodbyes over the Himalayas as we disappeared into the clouds, leaving that great beast behind.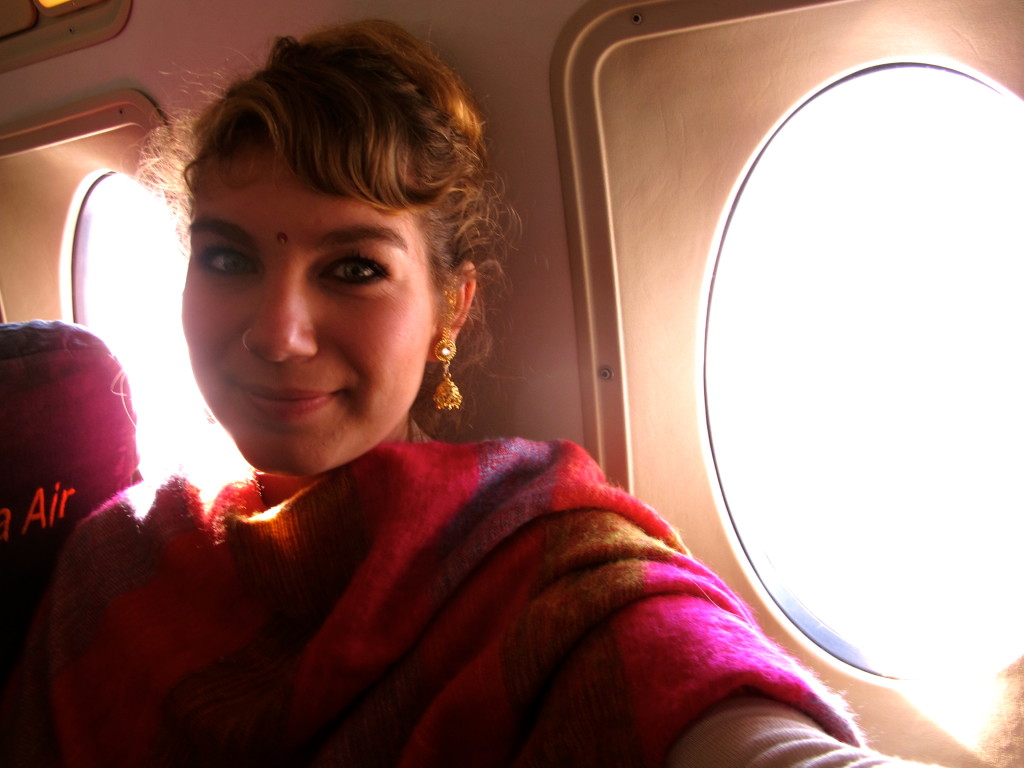 Have you ever lost someone while you were travelling? If so, do you feel a special connection to the place you were in at the time?
Note: this story continues here, even though I wrote that story a year ago.