Please note that I attended Winnipeg Folk Festival on behalf of Travel Manitoba as part of a paid campaign with Travel Manitoba. 
I was lying in the grass with my eyes closed, the sun hot and heavy overhead. There were a few trees to my right, offering spots of dappled shade, and the blue sky swelled with clouds. Once in a while one of the clouds would pass over the sun, creating a brief moment of shadow.
On the stage in front of me, one of Winnipeg Folk Festival's Saturday workshops was in progress. These workshops were a chance for some of the featured bands playing at the festival to collaborate on stage, playing individually or together. It was a different vibe than the main stages that played at night; these workshops were much more intimate, and it was fun to see how the bands interacted and played together.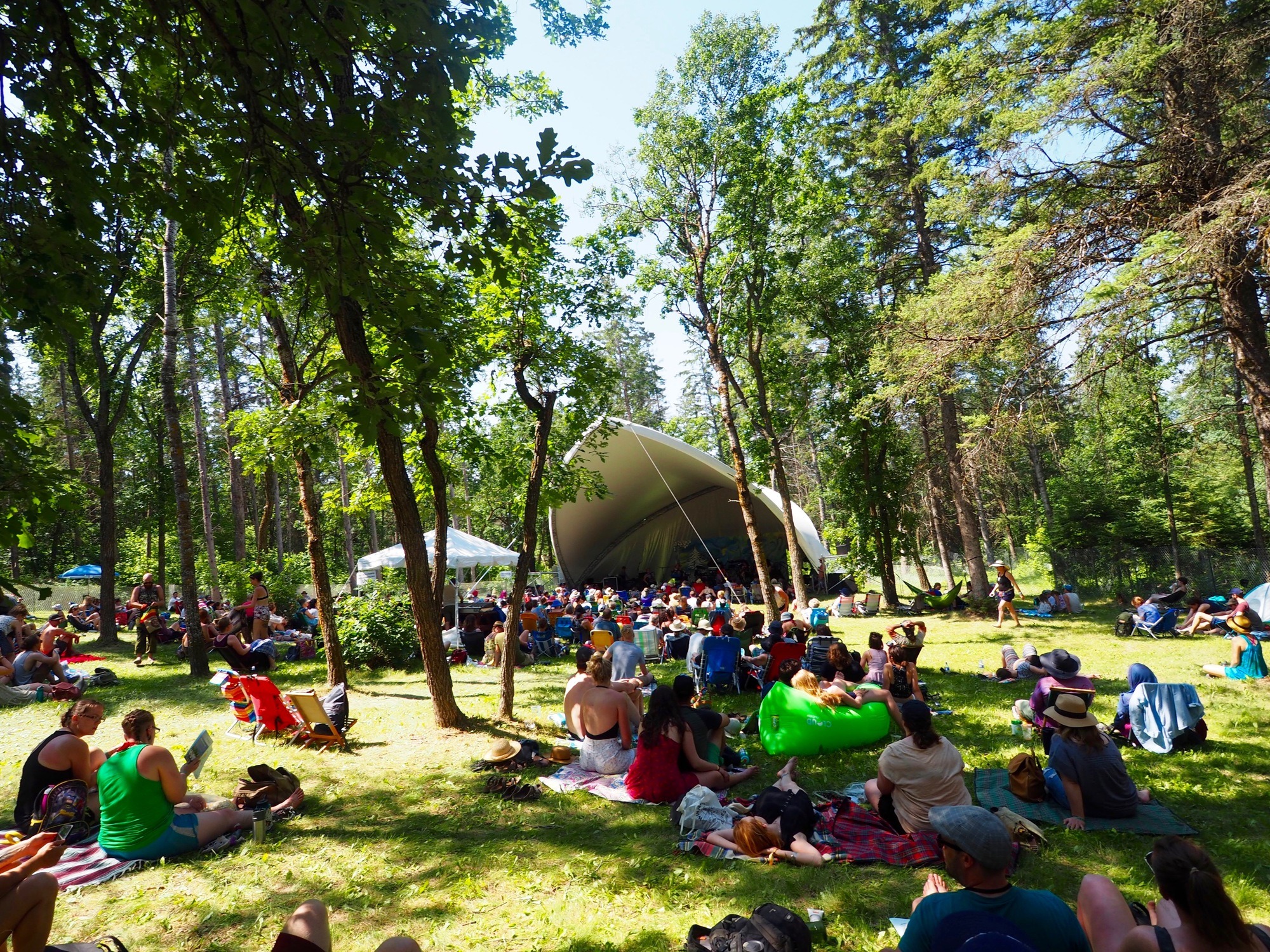 As I lay in the grass on a blanket, surrounded by hundreds of others doing the same, I was listening to the Free Fallin' workshop, a performance by Ashwin Batish (a sitar player), Rising Appalachia (folk/soul/spoken word sister duo), Genticorum (a folk trio from Quebec), and Huun-Huur-Tu (Tuvan throat singers). As Huun-Huur-Tu played, I felt a peace I hadn't felt in a very long time, almost as if time stood still for one perfect moment. Perhaps it was the summer heat, or the slight breeze, or the feel of the grass beneath me, or the hundreds of other people around me quietly enjoying the same song; whatever it was, it brought tears to my eyes, this magical, beautifully overwhelming moment. Music can do that to us from time to time, and I basked in the feeling. As the band finished their song, the last notes ringing out into the field, I didn't want the moment to end.
And as I packed up my blanket, still flying high from the previous hour and a half, I realized something: I hadn't taken any photos of the performers. In fact, I thought, I hadn't taken many photos at all over the past three days at Folk Festival. I had brought all of my camera equipment, made sure every battery was charged, every lens cleaned, and yet… I had barely thought to take my camera out of its bag.
***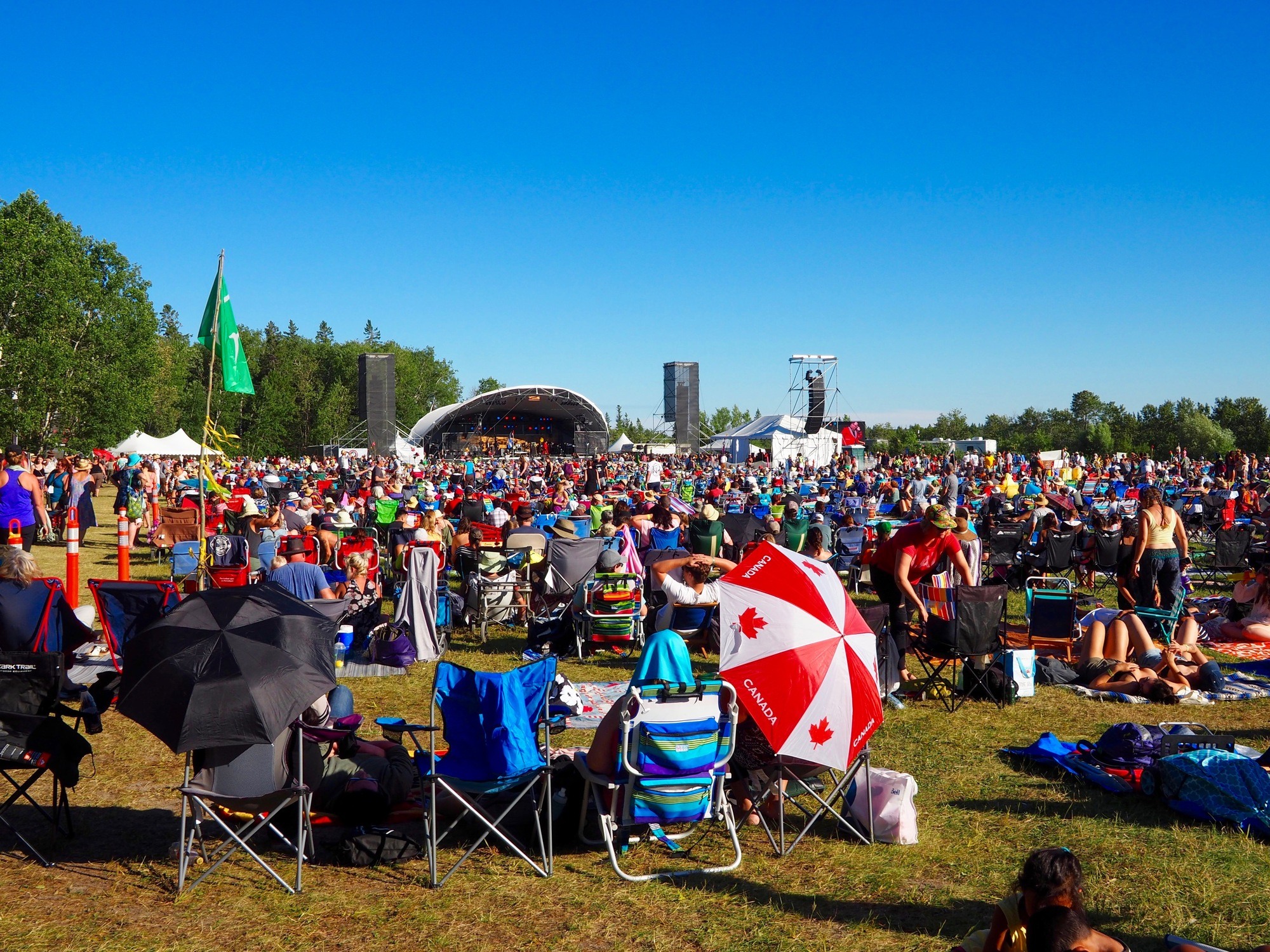 Say the words "Folk Festival" to just about any Winnipegger and you'll get a reaction. "I love Folk Festival," they'll say, or, "I go every year." Known the world over as being one of the best folk festivals – or perhaps one of the world's best outdoor music festivals, period – it has been an institution in my hometown of Winnipeg, Manitoba, for 45 years. Despite that, this year marked the first time I attended, even though it had long been on my "must do" list. As I haven't spent a summer in Winnipeg since I was 18, attending Folk Festival for the first time in the first official summer I moved home seemed fitting.
Winnipeg Folk Festival is known for its incredible music, of course, but it not only covers folk; it also showcases musicians with backgrounds in rock, R&B, soul, jazz, gospel, hip hop, country, electronic, world music, and just about every genre you can imagine. It attracts some of the world's very best musicians, with this year seeing Sheryl Crow, Bahamas, Elle King, Passenger, John Butler Trio, and A Tribe Called Red take to the stage. In the past, artists such as Joan Armatrading, Billy Bragg, Feist, The Shins, and legendary folk singers Joan Baez and Buffy Sainte-Marie have all performed at Folk Festival.
On top of that, the festival strives to be both as inclusive as possible and as green as possible. Gender parity is the goal, as is representing artists from a wide range of backgrounds. The festival promotes safety, accessibility, and sustainability. I'll be writing an article about Winnipeg Folk Festival for first-timers soon, and everything you should expect, but for now: I was extremely impressed with the organization of Folk Festival. With over 2,700 volunteers, the festival felt extremely safe, clean, friendly, and, most importantly, totally inclusive of everyone, no matter what age or background.
Though camping is an option, I decided not to camp, as the drive from the centre of Winnipeg to Bird's Hill Park is easy and parking is a breeze (though there is also a free shuttle from the city to the park). I went for all four days of the festival, getting there especially early on Friday, Saturday, and Sunday in order to catch as many of the workshops and day performances as possible, then staying as late as I could in order to take in all of the action on the two night stages.
I was absolutely entranced by the heart and soul of The War and Treaty. I was moved to dance by Las Cafeteras and Elle King. I bowed down to the talent of Courtney Barnett, Jadea Kelly, Amythyst Kiah, Taylor Janzen, and Mo Kenney. I immediately looked up recordings of St. Paul and the Broken Bones, Lanikai, Mama Kin Spender, nêhiyawak, and Gaelynn Lea. I could go on and on about the artists that played this year, but I would sound like a broken record; I was completely and utterly blown away by the sheer talent across the board. No matter the time of day, no matter the stage (of which there are nine), you are going to find an amazing concert.
But all of that doesn't quite explain why I didn't take any photos at Folk Festival, even though I knew I'd be blogging about it. I've long established that I'm not the greatest blogger, not by a long shot; I hate most social media, I am far too lazy to attempt video, and I still don't quite know what I'm doing right whenever a post of mine is shared or found on Google. I also find it difficult to get motivated to take out my camera or phone when I can just live in a moment. When I'm in it, I want to be in it.
More and more I've found myself wanting to be as present as possible. And at Folk Festival, you want to be present all the time; there's so much to see and do, so many people to talk to, and so many good vibes and great music to keep you entertained, to keep you happy. When I was dancing and talking and laughing and listening, the last thought on my mind was to interrupt that moment by taking out my camera. I didn't take photos of many of the performers. I didn't take photos of the sunsets, or the beer tents, or any of the friends I made or ran into. I didn't even take photos of my delicious food, damn it… and I'm a blogger! While I did take the occasional photo from time to time – mostly when I was walking from stage to stage, in between sets – I spent those four days soaking it all up, soaking it all in, and I can't say I regret it in the slightest.
***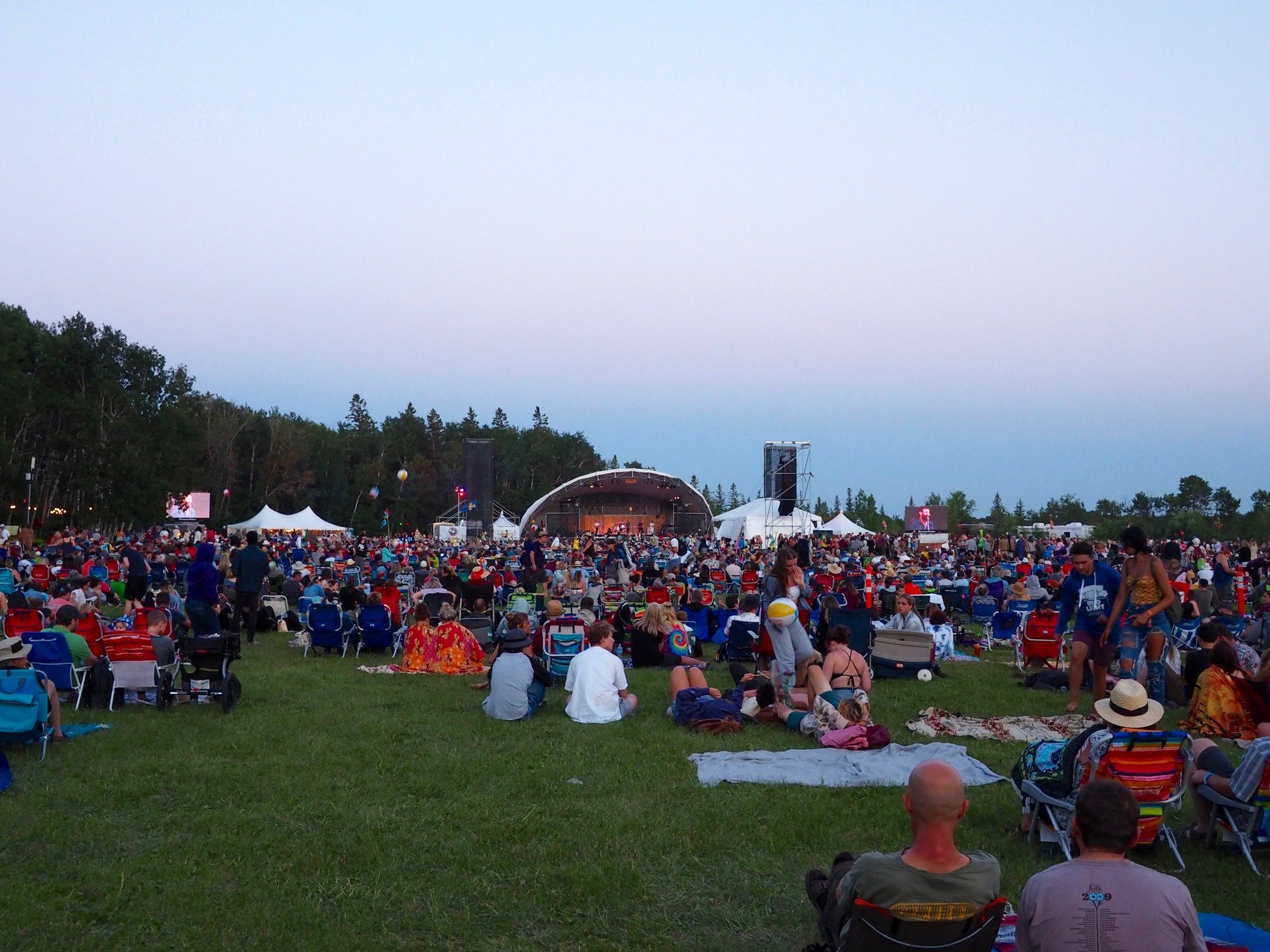 You might say that Winnipeg Folk Festival, though it highlights artists from all over the globe, perfectly exemplifies what Winnipeg is all about. There was a feeling I had there that's difficult to explain, just as it's difficult to explain why Winnipeg itself is so unique, so appealing. It's the feeling that I could say hello to anyone at Folk Festival and they'd say hello back, just as everyone says hello on the sidewalk as you walk past. It's the feeling that all of these people came together in these green fields and lush forests to listen to music, to dance, to make friends, to experience just a little bit of magic in those prairie sunsets. Just as I can't exactly explain why moving home to Winnipeg feels so right, Winnipeg Folk Festival gave me the same feeling; as I laid there in the grass, listening, at peace, I felt it just as strongly as ever.
Home. I'm home.
That's what Winnipeg Folk Festival offers: that indescribable feeling you get when you find a place that just fits, that just feels right. That's why I forgot to take photos; I was too wrapped up in how good it all was, how happy I felt. And while I barely took any photos, that's why this Folk Festival first-timer just became a lifer.
Winnipeg Folk Festival will take place again from July 6-9, 2023. I hope you'll come along and say hello, because I'll definitely be there. It's a great opportunity to explore the beautiful province of Manitoba in summer (we have amazing summers) as well as listen to some of the best live music around. 
My many thanks to Winnipeg Folk Festival and Travel Manitoba for inviting me to the festival. Although this is part of a paid campaign, all opinions and thoughts are my own. 
Have you been to Winnipeg Folk Festival, or would you like to go?