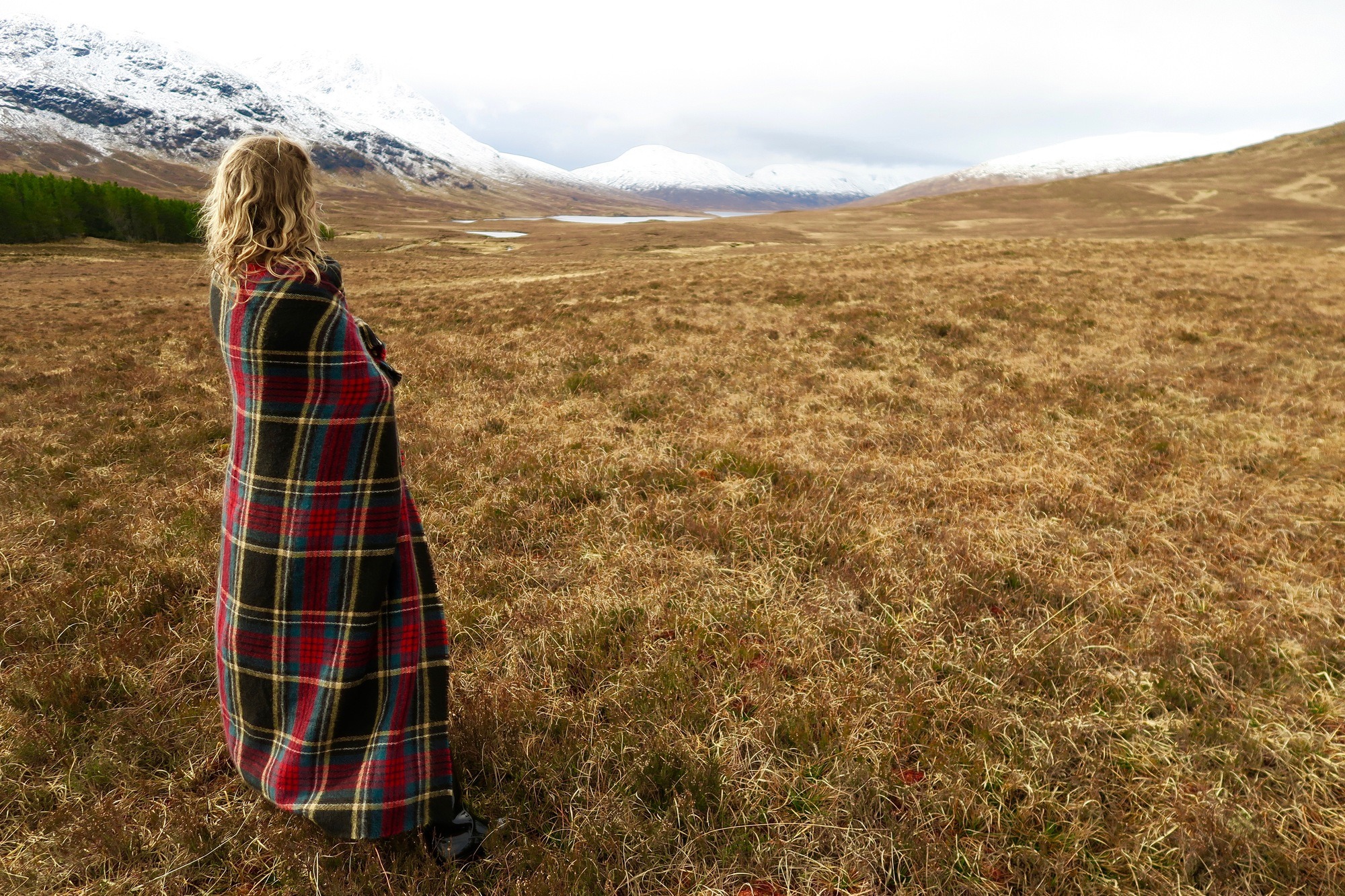 The North Coast 500, Scotland
Things have been quiet on this blog and its social media lately. I've been busily packing up my entire life, meticulously wrapping all of my belongings in bubble wrap, placing them in boxes and suitcases. They're in storage somewhere in Bristol by now, awaiting my instruction. Despite having three international trips this month already – Antigua, Italy, and Spain – I'm once again packing up a suitcase. In fact, that suitcase and the things inside it are the only things left in front of me, the only things I'll be relying on for the next indeterminate amount of time.
This past month as been one of the most stressful of my life, or so it has seemed: packing up everything I own, selling my furniture, ticking off the endless tasks and errands I have before travelling through East Africa for six weeks, travelling to three different countries on three separate trips, and still trying to manage a full-time work schedule and an email inbox that just won't stop overflowing.
And no, none of those things are serious, or actually that stressful, and some of them are just downright part and parcel of life itself, and some of them are very wonderful problems to have, but in combination with one another I have incurred many sleepless nights, an eye twitch that won't go away, and a penchant for bursting into tears (OK, OK, that only happened once. Maybe twice).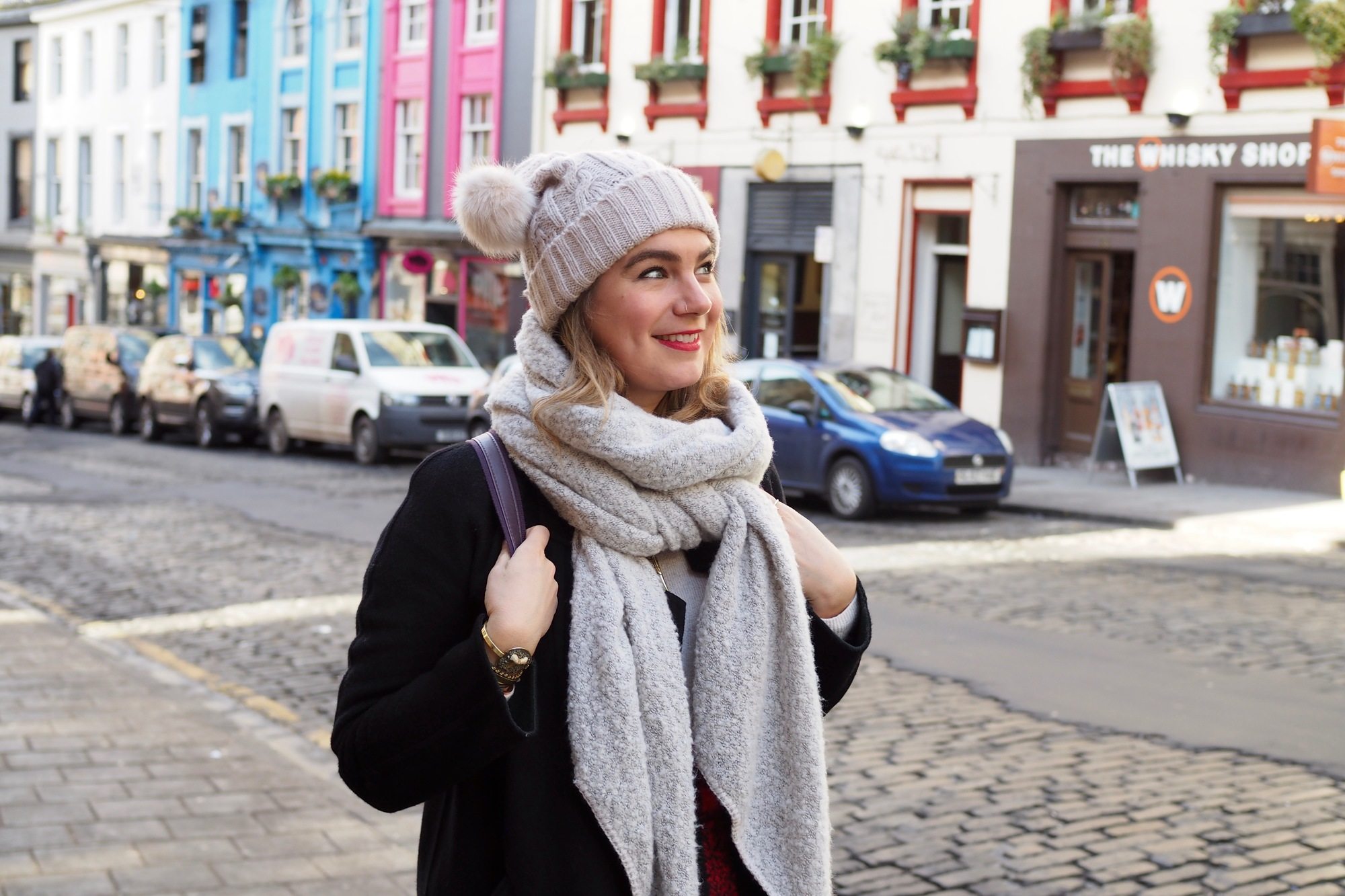 Edinburgh, Scotland
But this isn't the first time I've gone through this process. I went through it at 18, when I moved to Wolfville, Nova Scotia. I did it at 19, when I decided to transfer universities, and moved to Halifax. And then backpacking around Europe at 22, followed by a move to Toronto. And then moving to Edinburgh at 23. And then moving to Japan at 24. And then moving everything from Japan back to Canada, and then being nomadic for a year through Asia and North America at 26. And then buying a house in Winnipeg. And then leaving that behind again to travel for nearly a year through Central and South America at 27. And then packing up once again to move to London at 28. And now again, packing up, whittling down, making sure I have all the right vaccinations, somehow having to buy another pair of hiking boots or can of bug spray or lightweight cotton button-up (I honestly don't know how I've accrued so many and yet I can never find them in my closet when I really need them).
I keep doing it again, and again, and again, in different countries on different continents, though different backpacks and suitcases. And every single time I stress and I worry, I think I might not get all of it done in time, I say to myself, in the midst of those tears, "Am I doing the right thing?"
And time and time again, for the past 15 years, I know that I am.
Because, you see, I choose travel.
***
Ever since I was a little girl, I've been doodling the same thing: choppy waves and a little sailboat atop them. In every single journal I've ever owned, I've drawn that same thing, always accompanied by the same quotation:
With stirrings of wanderlust, she watched ocean liners from her bedroom window.
I don't know who wrote that quotation. When Googling it, the closest thing I can find shows up in this article, although I don't know how I would have read that article in 1996 and remembered that line. Perhaps it's all just a wonderful coincidence, I don't know. But that thought stuck with me, again and again, as a kid growing up in the Canadian prairies.
"That's me," I always thought, even though the oceans around me were made of wheat, not water.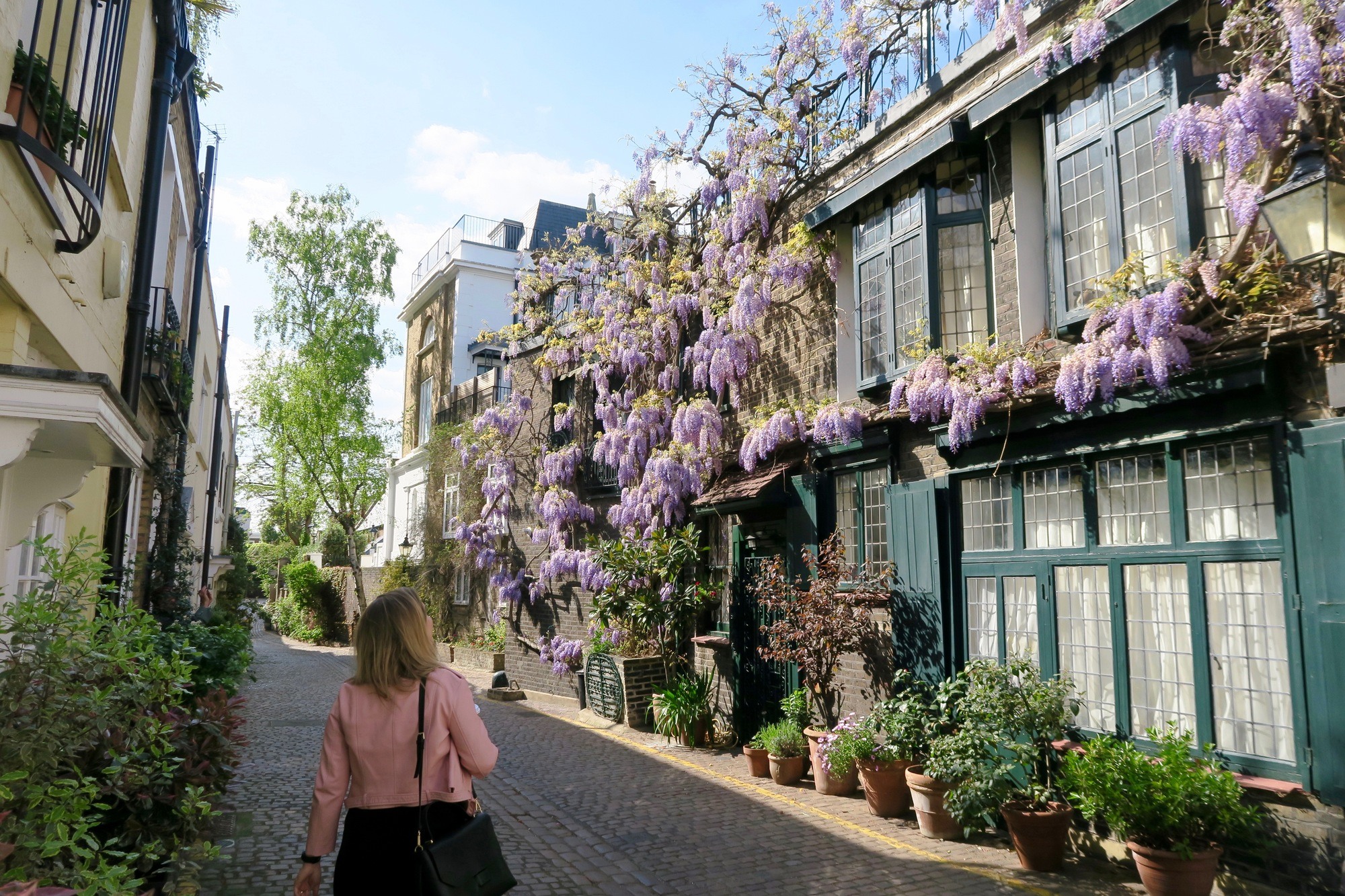 London, England
Those stirrings of wanderlust made me choose a university in a province far away from mine, a city where I'd wake up to the calls of seagulls and the smell of salt. I'd stare at the Atlantic Ocean and think to myself, "I want to go further." Because even though I had great friends and a fun job and a pretty, cosy flat, I chose travel.
And then, after I fulfilled my wildest dream at the time, which was to backpack Europe on my own, I had settled in a basement flat in Toronto's Annex area. My landlord, trying to spruce up the place, put a painted border up around the perimeter of the ceilings; I fell asleep surrounded by cartoonish blue sailboats, ones you might find in a child's room. And even though I was happy, and had lovely friends, and my little basement flat felt like home, I decided to move to Edinburgh. I chose travel.
And even after living in Scotland for nine months with a man I wondered if I loved, right on the doorstep of the rest of Europe, I decided to try something completely different, take a leap of faith, and move to Asia. Again, I chose travel.
But even then, after over two years of living in Osaka, earning good money, loving my bright and airy flat, and dating a man I was sure I was in love with, it still wasn't enough: I chose travel. And travel I did, for nearly two years continuously, through dozens of countries on six continents.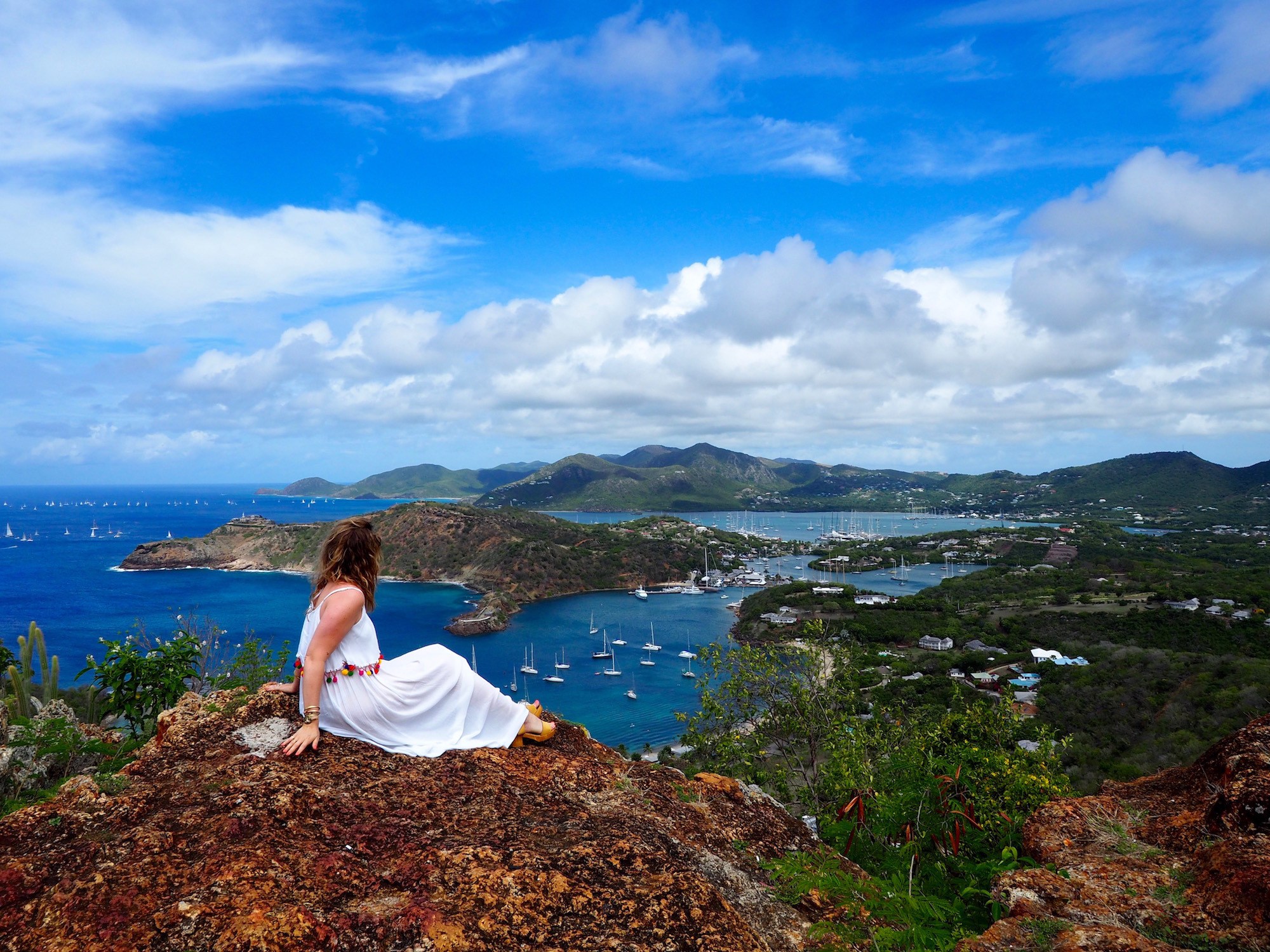 Antigua and Barbuda
This time, leaving my London flat – the longest I've ever lived somewhere in my adult life – the decision came slowly, yet the past month has gone by in a blur. This is the very last post I will write from this beloved flat, and I am devastated to leave it. A number of factors influenced this choice (the lack of a rolling contract on the lease, the very real possibility that my UK visa is expiring soon, the financial weight of keeping an expensive flat in one of the trendiest neighbourhoods in London while I travelled for months at a time) but in the end, I made the decision to take that leap again. To see what will come of not knowing. To see what will come of not being sure of the future, not being sure if my career will continue to grow, not being sure if I'll regret it. Once again, I've chosen travel. All my life, I've chosen travel over being settled, over jobs, over relationships, over a sense of security. I've chosen travel over everything.
Sometimes I wonder if I'll ever tire of travelling. Those stirrings of wanderlust can be exhausting sometimes, a curse just as much as a blessing. And don't get me wrong – I am forever grateful for the fortune and the privilege and the crazy course of life that has led me to be able to experience this way of living. To chase your dream and actually be within reach of it, and then to actually accomplish it, is the greatest privilege of all, and I do not take that lightly.
But sometimes I wonder why I'm never totally satisfied with one place to live, with one city. I've had to embrace that perhaps I'll never fully lose these itchy feet, that I'll always be researching new places to travel, or wondering what it would be like to live in a new country. This is my life, this is who I am. If I haven't changed my mindset in these 33 years yet, I don't know if I ever will. It's why I choose a career that I could take with me on the road, working from a laptop. It's why I choose to remain single. It's why I choose not to have children. I love the freedom that these choices have afforded me; I am completely on my own in many regards, and all because I've chosen to make my passion my number one priority in all aspects of my life. It can be a lonely road sometimes, but I feel incredibly grateful that I've been given the opportunity to take that road in the first place.
Menorca, Spain
So what's next? Well, there's UAE, Kenya, Rwanda, Uganda, Tanzania, Qatar, UK, Canada, Italy, and San Marino in the next four months (you can follow along on Instagram, where I try to post daily videos via Instagram stories). I'll be back in the UK for a while, at least until my visa expires, although I don't know where I'll live. Ultimately, my dream is to live in Canada for half the year, close to my family, and then spend the other half of the year on the road. It's the best of both worlds, if you ask me; a place to hang my proverbial hat, but the ability to keep doing what I love. To keep doing what drives me, day after day, month after month, year after year. To keep going after what I always dreamed of doing, ever since I was little girl, writing down all the places I'd visit, spurred on by that hastily-drawn sailboat, a symbol of where my life would take me.
***
Two months ago, in a tattoo parlour just round the corner from this London flat, I got those choppy waves and that little sailboat permanently inked on my ribs. A reminder, perhaps, that this wanderlust will always be in my blood.
That – for ever and always, for better and for worse – I choose travel.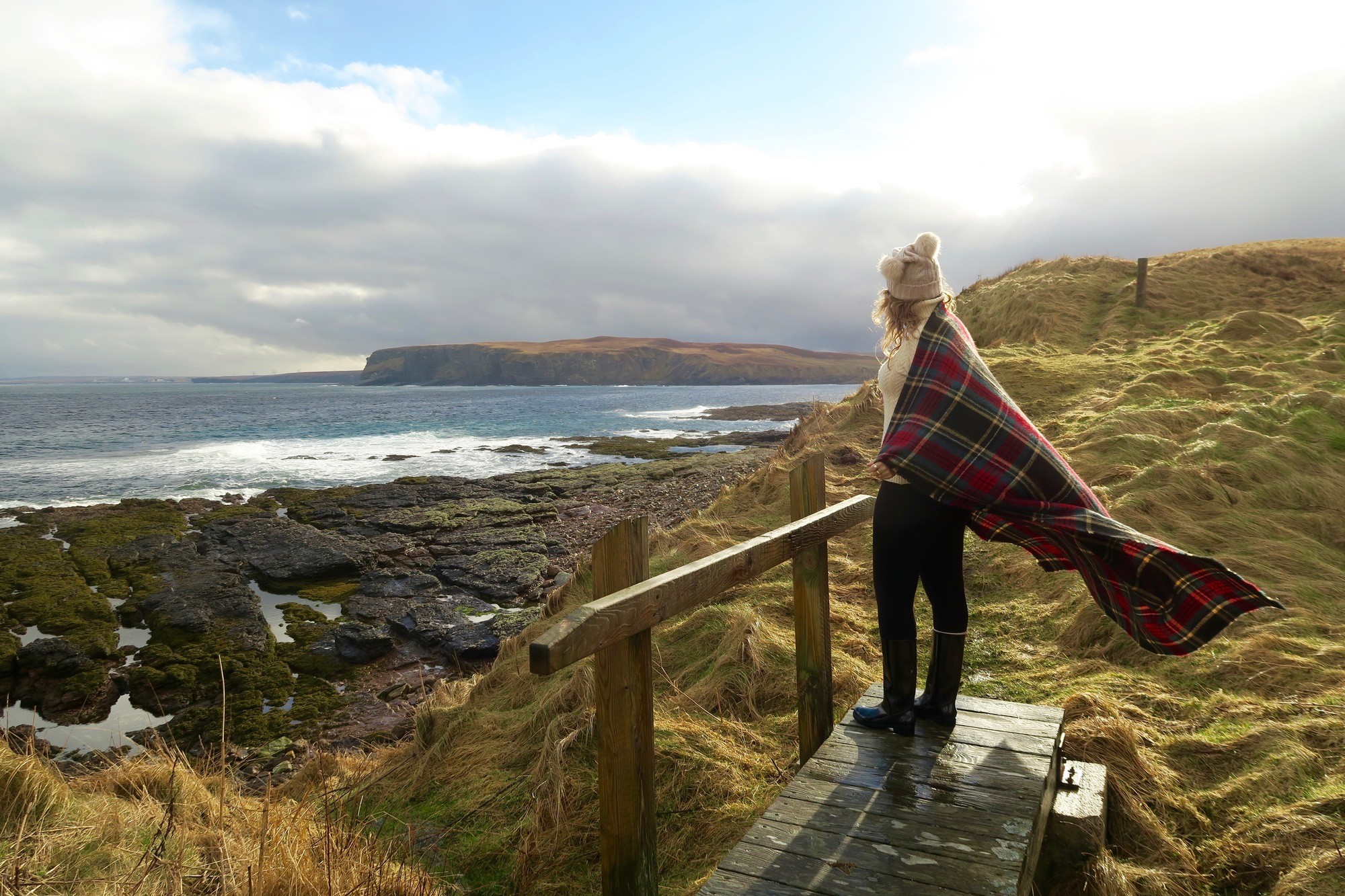 North Coast 500, Scotland
So whatever your sailboat is – travelling, or writing, or dancing, or nursing, or kickboxing, or running your own business – I urge you to see what happens if you go after it. I urge you to see what happens if, with it beating in your heart so loud and so clear, you decide to choose it.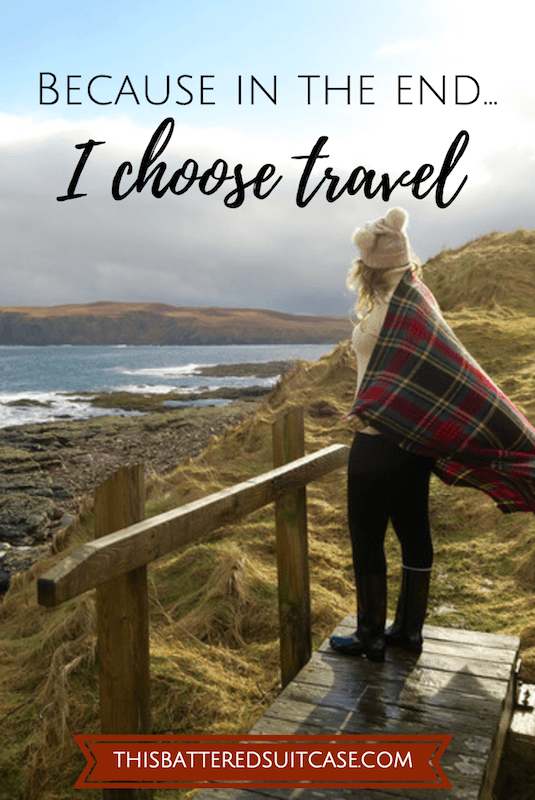 What will you choose?