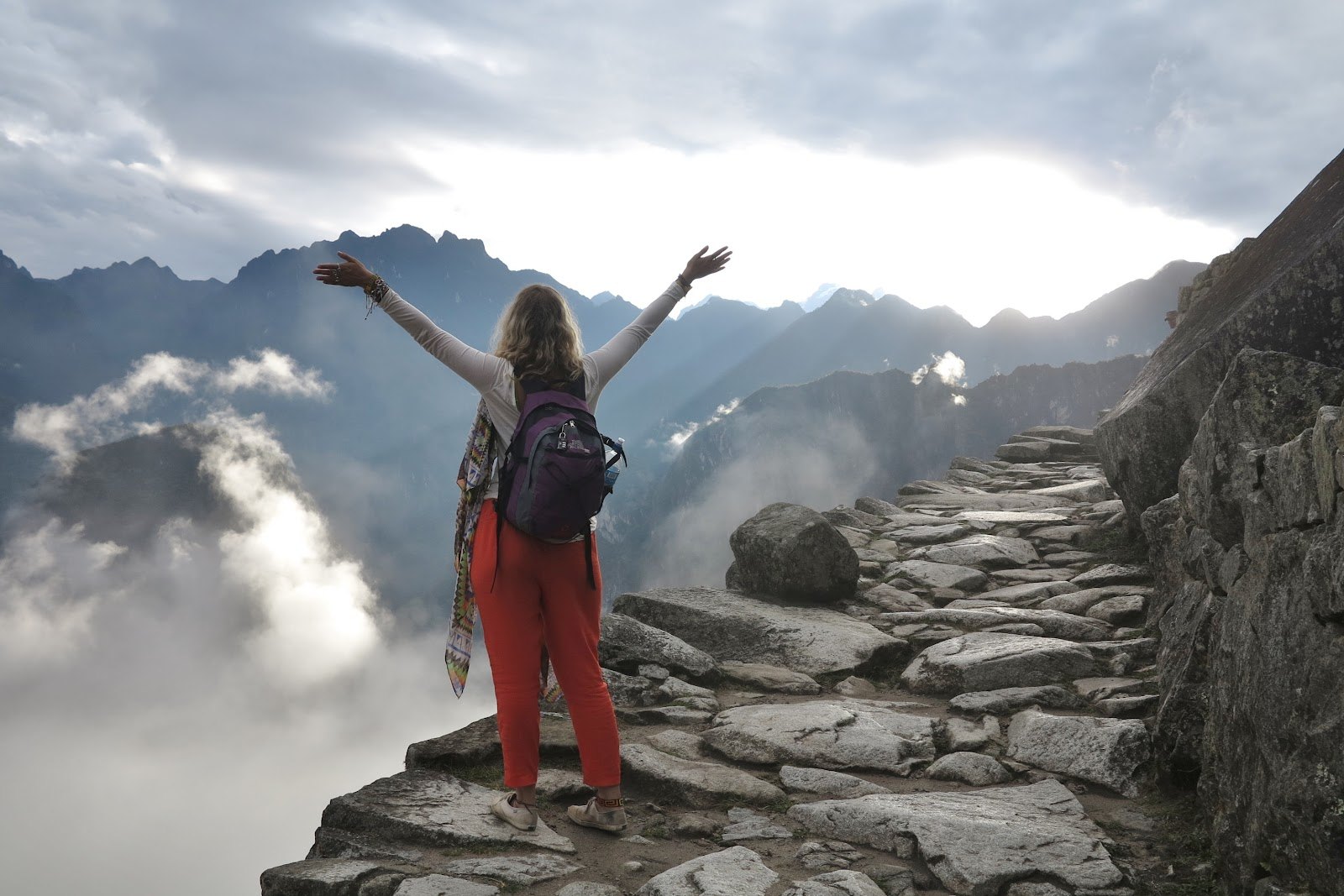 It's one of the most frequently asked questions I get via email, comments, and messages across social media: how do I do what you do?
And by what I do, I assume people mean the fact that a) I travel a lot and b) I make a living from it. And I get it. That lifestyle really does sound like a dream, and I can assure you that I do not take it for granted. There's a lot that goes on behind the scenes that you don't see, of course, as I'm not always travelling (nor would I want to… I like a mix of travelling and staying in one place), and there's a lot that went on in the past that led me to where I am today.
In this post I'd like to break down the steps I took in the past that led me to this lifestyle and this career. To be honest, I think it would be impossible to retrace what I did to get where I am, because this kind of career is never straightforward and often the result of a multitude of factors (one of which for me was luck/coincidence, or being in the right place at the right time). I've thought about a lot of different ways to present this post and I've decided to break it down into a few sections: background, education, career and job experience, blogging experience, travelling experience, and personal relationships. I hope that covers everything but more importantly, I hope it shows that there is no one right way to get into this career; many, many people I know have naturally fallen into it after years of doing other things.
Please don't think of this as an exact guide – it is merely how my life played out and brought me where I am today. I am not making suggestions nor will I use examples of other people I know; this is honestly just a play-by-play of my life. I hope it shows that this career takes time, determination, and yes, a little bit of luck, but that it is usually a culmination of many different things that all align in the end. I'm learning every single day and this career seems to change every single day, so this all is really a work in progress. This feels like a horrifically egotistical post to write but, because so many people have emailed me about it, I thought it might help clarify a few things.
Bottom line to remember as you read this – no matter your age, it's never too late or too early to use what experience you have in order to get into travel writing and blogging. And as I hope you'll be able to tell throughout this blog post… it is so incredibly worth it.
So grab a glass of wine (or a cup of tea) and let's do this.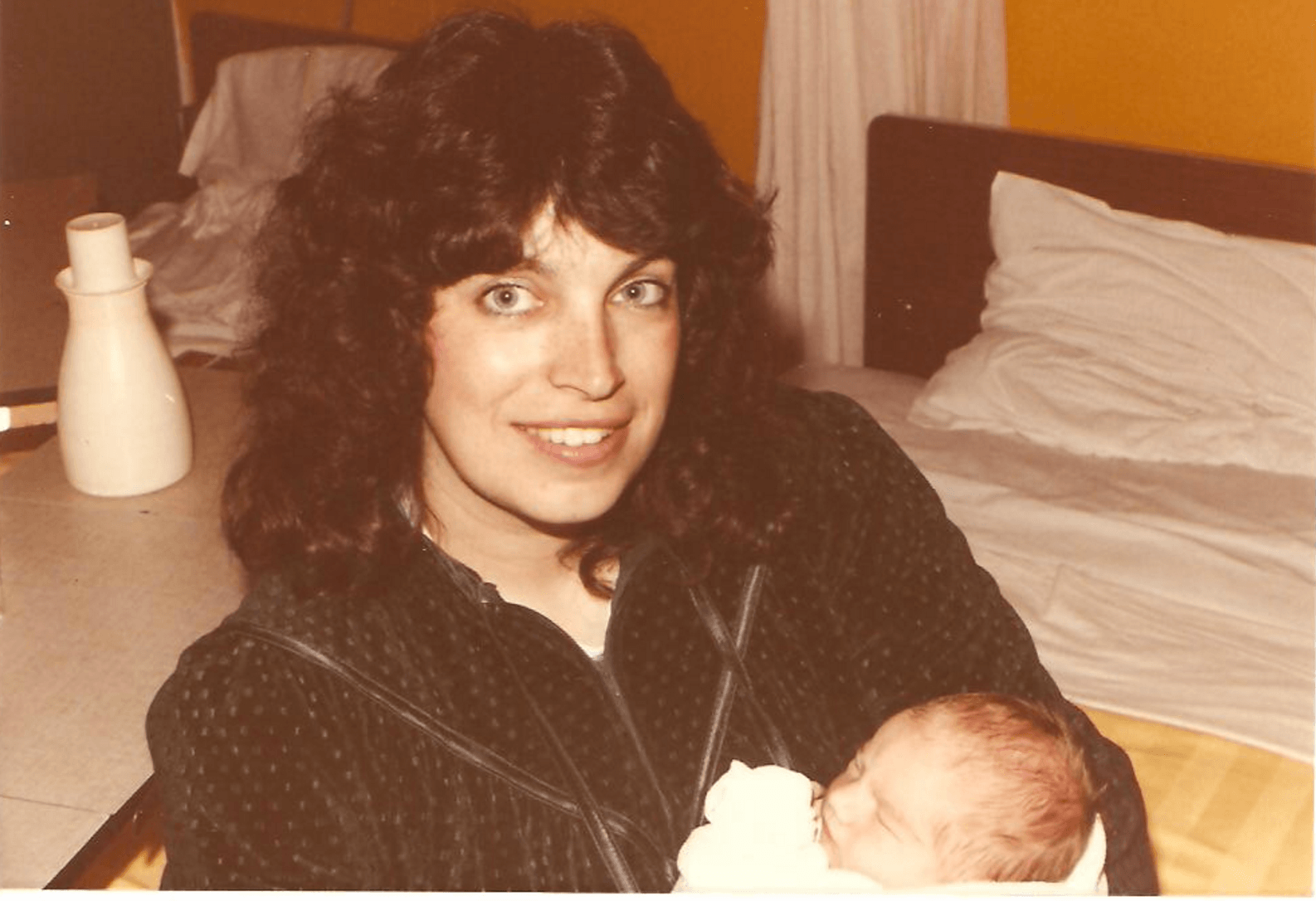 My beautiful mother on the day I was born, May 5th, 1984
Background
I think, before saying anything else, it is highly important to recognise that I have gone through life with a ridiculous amount of privilege. I do not want to say that you have to come from a privileged background in order to travel frequently and find a career in travel, but in my particular case, growing up in Canada in a household that provided me with everything I could possibly need (and a lot of things I wanted, too) obviously gave me a leg up to begin with.
Too frequently I see blog posts saying things like, "Anyone can travel!" and "Anyone can make a career out of travelling!" but the reality is almost everything I'm about to discuss in this post was made possible because I didn't have to worry about things like food on the table or a roof over my head. No matter what, even today, I know that I could call up my parents and ask to crash with them for a while if I was desperate. That is a privilege I cannot ignore. I am also a white, cis-gendered, heterosexual, able-bodied woman – all things I need to acknowledge.
So… with all of that said, I grew up in the suburbs of Winnipeg, Manitoba, in a family that placed a lot of value on travelling. There was never any question whether or not I was going to travel, there was only the question of when I was going to do it, which is why I always say I've been so lucky: I was able to imagine that my dreams really would come true. My parents spent the majority of the 70s travelling on an extreme budget (they spent two years living in a van in Europe… yes, they are my idols), my sister took off on a round-the-world adventure at 19, and together as a family we took yearly road trips and beach holidays. My parents always supported my decisions, especially when it came to pursuing the arts and saving up to travel.
I mention all of this because again, I'm aware of what an extreme head-start that gave me when it comes to my current lifestyle.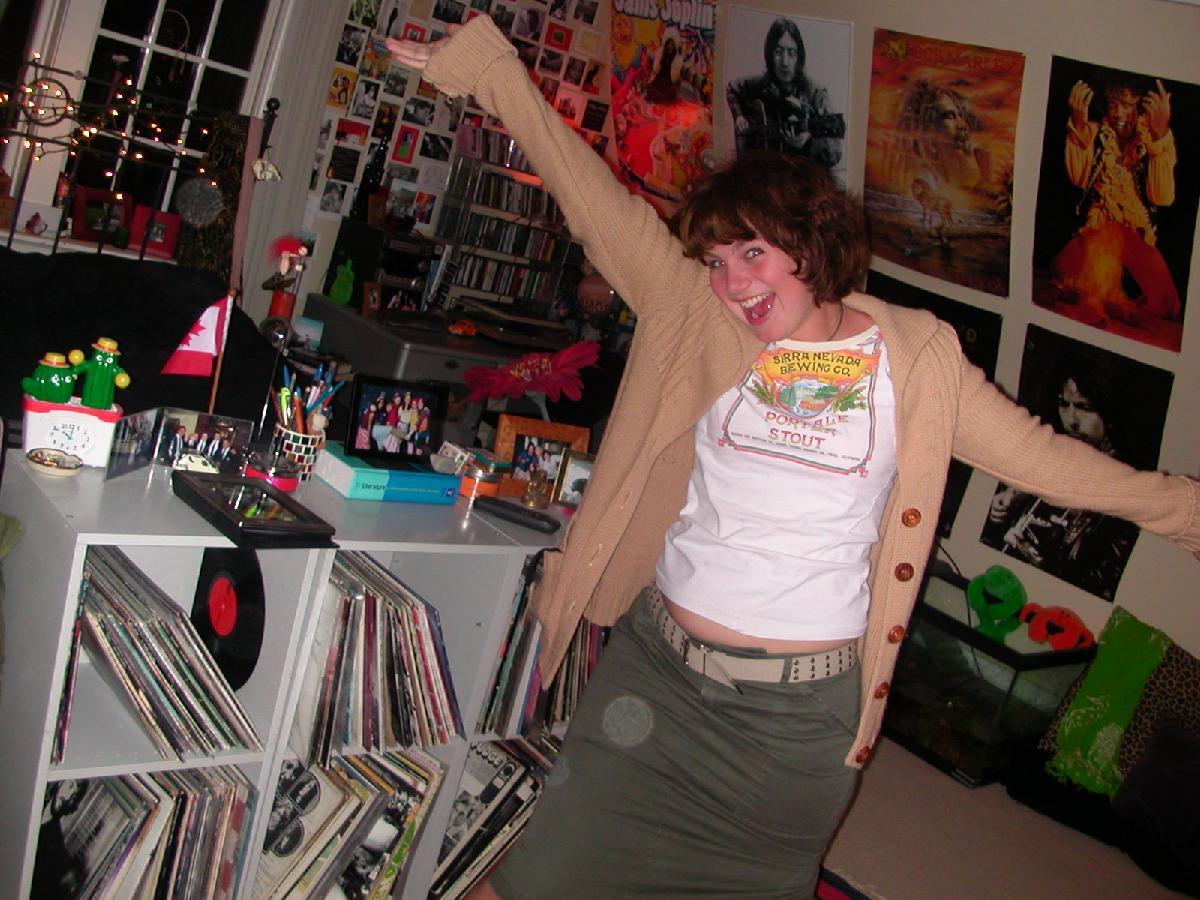 Me around age… 17? That was my room in high school. I still have that bed, that shirt, and those records.
Education
I was always pretty academic (*cough* nerdy *cough*). I starting reading and writing at age 4 and haven't really stopped, so all of my educational choices have always been geared toward those fields. I attended a very academic high school in Winnipeg and then went on to do a bachelor's degree with honours in English Literature from Dalhousie University in Halifax, Nova Scotia (though I did my first year at Acadia, in Wolfville, Nova Scotia).
I graduated in 2006, which is when I really started travelling (more on that in a moment). It is important to note that I did not pay for my university degree; most of it was covered by scholarships while the remainder was paid by my parents. This is another point that is highly important; my tuition was $6,000 CAD per year, so $24,000 over four years, and I obviously did not have to deal with any debt because of those scholarships and the generosity of my parents.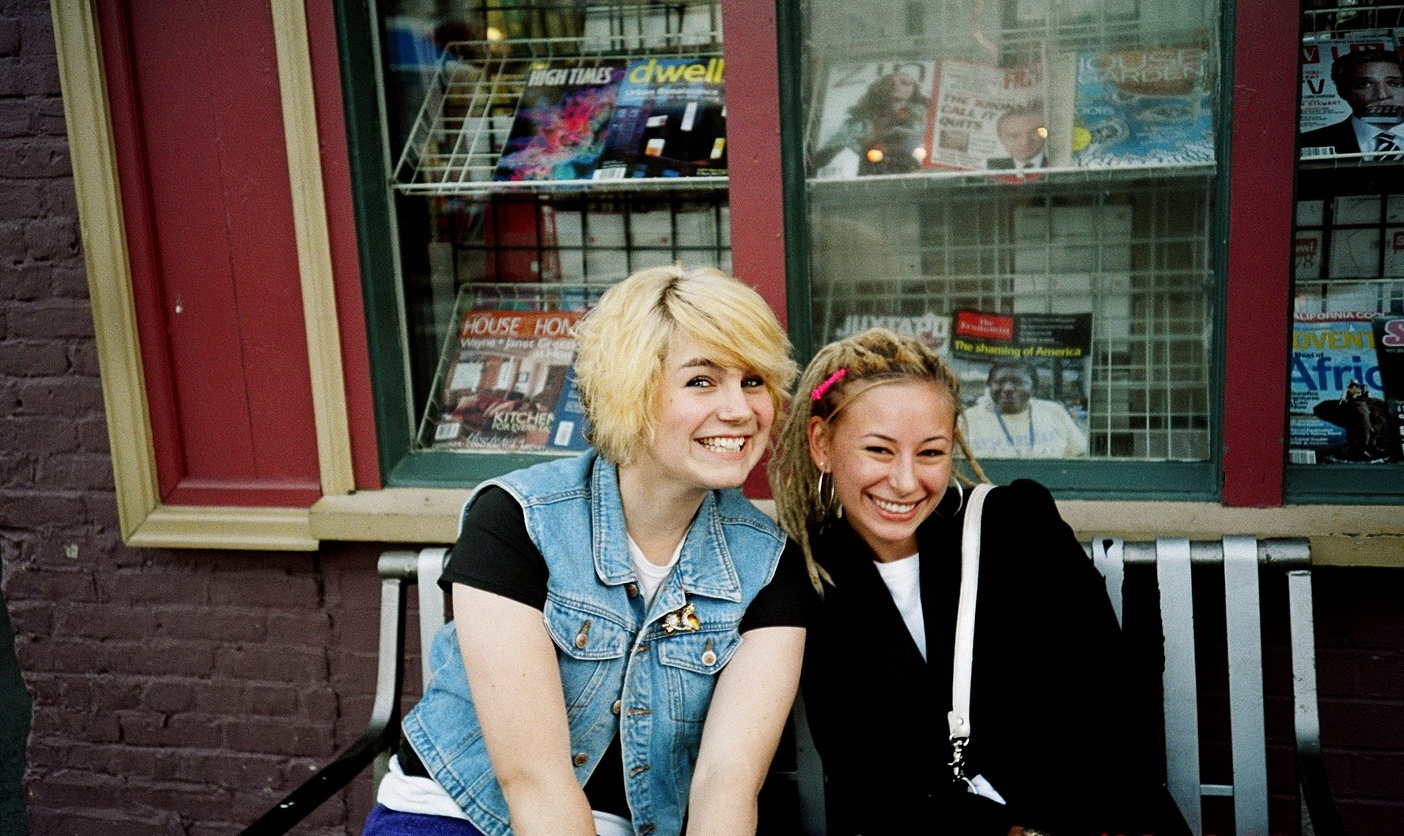 During my undergrad degree with my best friend Shawna, who was the one who prompted me to start a blog in the first place
Seven years later I began a master's degree at City, University of London in London, UK, graduating in 2015 with an MA in Creative Non-Fiction Writing. I am planning on doing a blog post soon about whether or not studying writing is useful for this kind of career (hint: I argue that it definitely can be, and that it certainly helped me).
In between my university degrees I also got a Certificate in Publishing from Toronto's Ryerson University as well as a TESOL 100 hours certificate from Oxford Seminars in Toronto. And just because this is very much starting to feel like a resume I may as well add that I have my PADI Rescue Diver certification as well as Royal Conservatory of Music Grade 7 Piano, Grade 6 Flute, Grade 6 Voice, and Grade 6 Music Theory. This is not to mention all of the online courses I have taken over the years in writing and blogging. Throw in the fact that I was always taking extra courses and Advanced Placement courses, that means I graduated high school as well as my first university degree with a bunch of extra credit. Yeah. I told you I was a nerd.
Moral of this section? I fucking love studying stuff. I truly believe that the desire to study and learn is extremely important in this ever-changing industry. I wouldn't have been able to get where I am today if I hadn't been constantly reading and learning (either through the courses mentioned above or things I studied for free online).

Graduating with my master's degree with my dear friend Claire
Career and Job Experience
When I was growing up, travel writer was as exotic-sounding as astronaut or movie star. I never, ever thought that this would become my reality, but in the back of my mind I always hoped I could make a career out of the two things I loved most in this world (three if you count wine).
That being said, what I did know I had to do was work and work hard. I knew I needed to make as much money as possible in order to save what I could for travelling. Keep in mind this was all in the 90s and the early 2000s – yep, I'm kinda old – so there weren't any blogs or Instagram feeds telling me how to do any of this or even telling me that it was possible. In my mind, I just knew that money = travelling. I had no idea that travelling could also equal a career.
My first job ever, like most suburban teens, was babysitting. I babysat for a few families around the neighbourhood, and I hated it. Seriously, maybe this is when I realised that having kids maybe wasn't for me, because I was annoyed by pretty much every single child I had to look after (with the exception of my own little brother). Still, I spent approximately three nights a week babysitting from age 13 to 15, and managed to save up a nice little nest egg.
My next job was at Claire's Accessories in St. Vital Mall. Yep, I hated that job, too (you're going to see a running theme here). For for less than five USD an hour, I pierced ears (honestly, they let a 15 year old kid pierce ears back then), vacuumed up approximately 4367 earring backs, and fulfilled general retail duties. Fluorescent lighting combined with ornery coworkers meant I couldn't WAIT to get out of there every evening (this was right when Britney Spears was blowing up, and being the punk-ass wannabe rebel I was, I proclaimed to hate her. This meant that my coworkers called me "Britney", not "Brenna", because… we were both blonde teenagers? They enjoyed pissing me off? I don't know. Let's just say I didn't keep in touch with any of them). I worked there until I was able to save up enough to pay for half of a trip to France once summer (my parents paid for the other half). I often credit this trip with really igniting my wanderlust.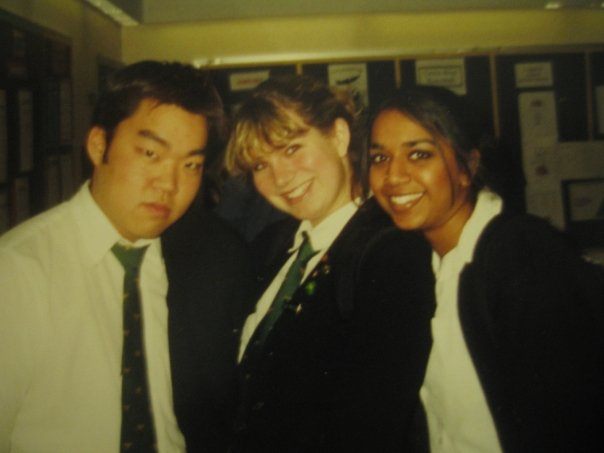 In high school… definitely had a shift at Claire's Accessories after this hang
After another retail job or two, I wanted to get into the film industry. Through many, many coincidences, I landed a job in the art department of a Miramax film called Shall We Dance with Jennifer Lopez, Richard Gere, and Susan Sarandon (it filmed in Winnipeg, which is where I was spending the summer). The job had hideously long hours and I was sent to get lunch all the time, but it paid me a ton of money. Like, more money than any 19-year-old knew what to do with. Thankfully I invested almost all of it – a move that helped me be able to travel so much in my early 20s.
See what I mean? So much of this is down to circumstance. Fun fact: the real reason I landed that job is because the movie was filmed in my freaking house. Yep, that's right – the house used for Richard Gere and Susan Sarandon's house was actually my childhood home in Winnipeg. My bedroom was converted into Richard's changing room. Another fun fact: my name isn't in the credits of the movie because I left production two weeks before it was finished to go to Mexico for a month. No regrets.
That red couch Susan's sitting on? Many a bowl of popcorn eaten on it with my fam
After working on that movie, I realised I really didn't want to work on any movie ever again, despite the good money situation. Hollywood was definitively not for me. That job did give me some good contacts, however, and over the years I often was a temporary assistant for people in that industry when they needed help at film festivals (if you ever meet me, ask me about the time I had to interview Brad Pitt. Actually I'll probably just tell you about it without prompting because, a decade later, it's still a highlight of my life).
Throughout my undergrad degree, I always had a part-time or full-time or even two part-time jobs, and always in retail (I worked in a sock story and a confectionary, no joke). An average day for me from ages 18 to 22 included classes in the morning, a few hours at one job in the early afternoon, and then five or six hours at my other job into the night. Then I'd get home by about 11pm to study and write essays and watch Law and Order while eating a falafel. Honestly, when I think about that now, it sounds fucking exhausting, but at the time, I had the energy and the motivation to do it – I knew I wanted to travel, and I knew I needed to save a boatload of money to do so.
This timeline is about to get all whack because I went travelling a lot in and out of my twenties, and for the majority of it all I was only back in Canada for probably a combined 18 months, tops. During that time, however, I would often work as an assistant in various financial firms (in Toronto and in Winnipeg) and man oh man, I am not cut out for that world. I am just going to leave it at that. Again: good money, but not worth my entire fucking soul.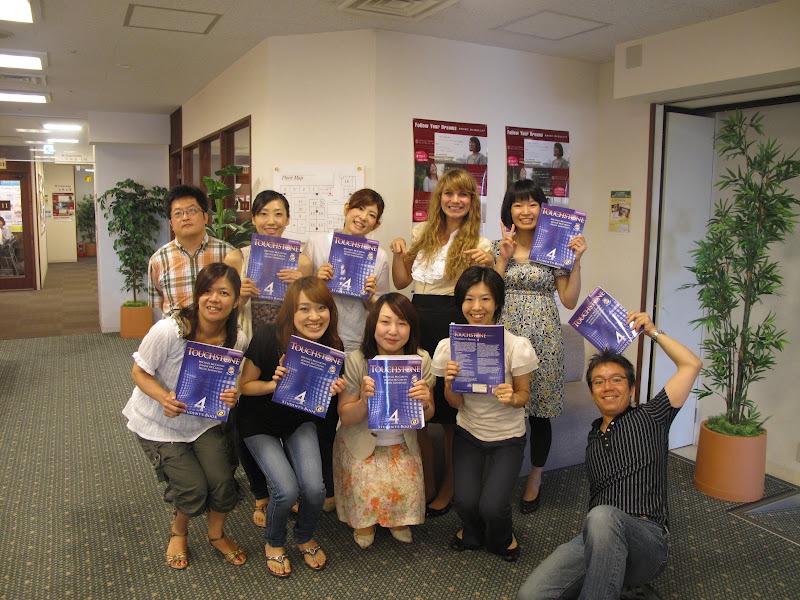 With students in Osaka, Japan
Another big step in my early career was moving to Japan to be an English teacher from ages 24 to 26. I worked for a company called ECC and taught in their Senka program, which was similar to a university program. I was very fortunate to have amazing, motivated students in small classrooms where we could really get to know each other and work on some fun projects (they were very high level students, so I did fun stuff like analyse Harry Potter and put on mock political debates). I also wrote textbooks, did some freelance writing, and did a lot of private tutoring. After over two years of working in Japan, I had managed to save over $20,000 USD.
After travelling around Asia, Oceania, and North America for a year, I worked in a bar in Winnipeg for about five months to save up a bit more money to go travelling again. I barely went out in those months except to work, and I was able to save up another $10,000.
After nearly a year in South America, I moved to London in 2013. Almost immediately I became aware of the power of this here blog – more on that in the next section – and I was hired by a travel company to help them with blogger outreach, editing, content management, community management, and so on. I still work for this company to this day, and I love it. It's also interesting to note that I didn't apply for this job in the traditional sense – I met my former boss at a networking event for bloggers. He took a look at my blog, saw that I was passionate and dedicated, and asked for an interview. The rest is history. So while you may not be able to replicate a lot of the steps I've taken, I can definitely recommend going to networking events whenever you can – once in a while they lead to gold.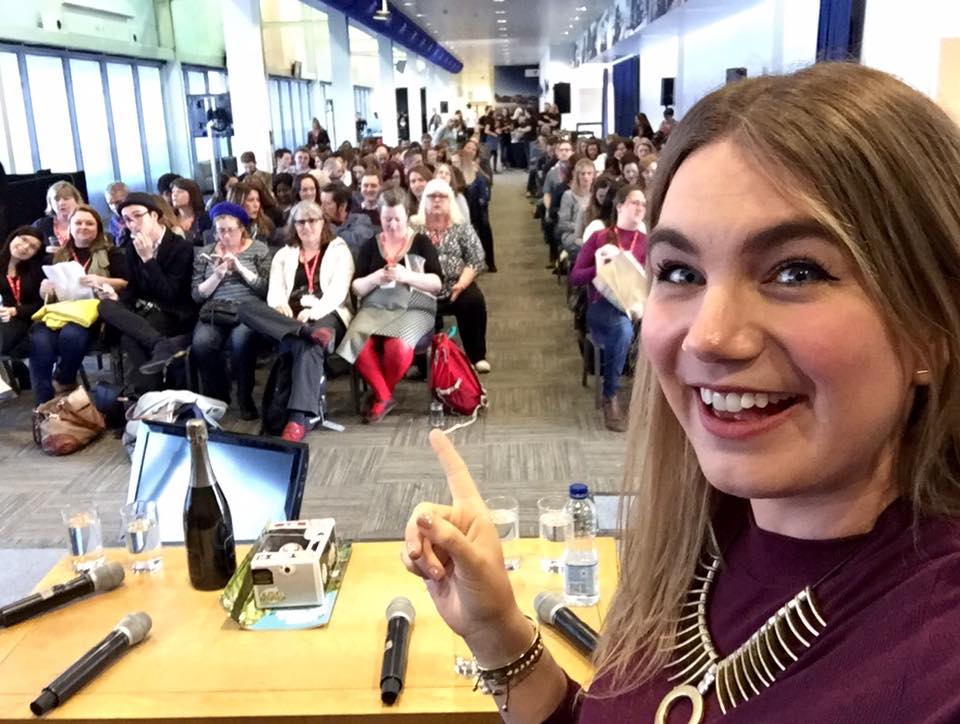 Speaking on a panel at Traverse Events
Today, on top of that work, I:
-do public speaking (tonight I am speaking at a university about the importance of an online community)
-do freelance writing (more on this topic in a separate blog post coming soon)
-do freelance copywriting
-take on the occasional brand campaign
-work with tourist boards in order to promote their destinations
-do private consulting for companies and tourist boards who want to learn more about working with bloggers
-have a bit of affiliate marketing on my site
-and am considering placing ads on my blog so that I can get rid of some of the stuff above and focus solely on writing more here and like, write books and stuff
So yeah. This section is long as hell. But I write all of it to show just how hodge-podge it all has been for me over the years, and why it's impossible to give credit to one particular event or moment in time. Was it the movie gig, where I was able to save money? Or maybe the long hours I worked during my undergrad degree? Was it the teaching job in Japan? There's no way to say, only that it was a combination of all of those things and all of those skills I acquired. I mean, I've learned how to make a martini, how to teach the pronunciation of "breweries" (seriously, say it out loud), how to sell socks and sweets and everything in between, how to speak to one of the hottest men in the world (please note: I'm counting mumbling and drooling as speaking), how to pretend to know what Dow Jones means, and now, how to run my own fairly successful business. But as you can see, all of that took time.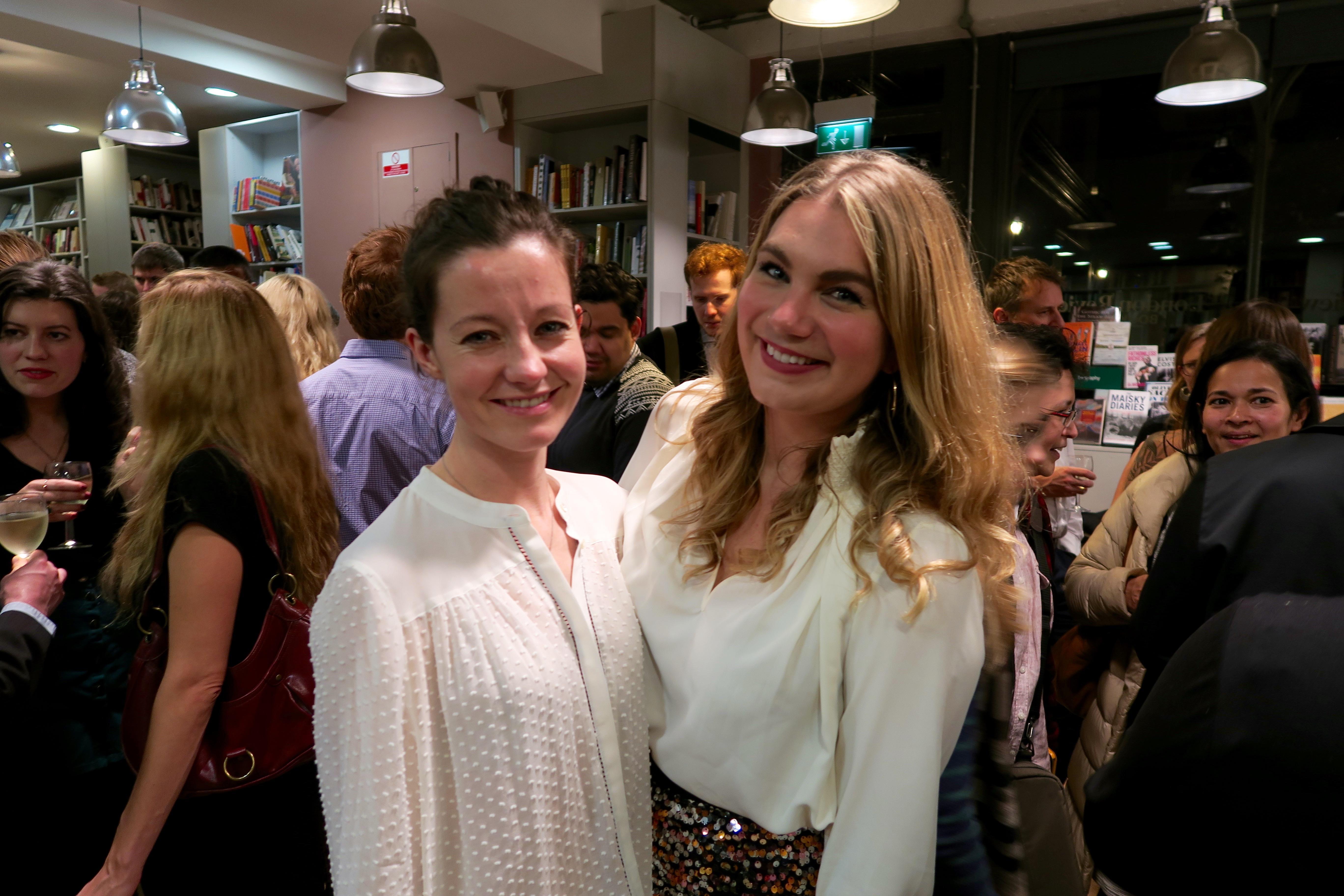 With Claire at the launch of our university book anthology
Blogging Experience
If you've read this blog before, you know the story. I started blogging for a laugh with friends way back in my second year of university, and, as I started travelling more and more, naturally started blogging more and more about travelling. Check out my first travel blog here.
I am telling the truth when I say I had no freaking idea that other people were making a living from their blogs until I moved to London in 2013. That information hit me like a ton of bricks… like, I've been doing this for ten years and I could have been getting paid for it?!
I don't want to say too much about my blogging experience here because I write so extensively about it in other posts, namely Every Single Thing I Know About Travel Blogging and also – heh – When Did Travel Blogging Get So Boring? Not only that, blogging has changed so much over the past five years, even over the past year – things are moving so quickly in this industry that I still struggle to keep up, and I am constantly reading about the changing trends only to realise I'll never, ever be able to implement them (because of time, money, or because I may or may not have chosen to bingewatch Mindhunter on Netflix instead of finishing this blog post over the weekend).
What I will say is this: every single opportunity I've ever received through my blog has been because of you, the people reading these words right now. I don't take that for granted. Sure, I've worked really damn hard on this for the past fourteen years – countless hours every week for over a decade – and there's a lot that goes on behind the scenes, but I believe that blogging is built on a give and… give relationship. I try to provide the best content I can, and in return you give me your time, your time to read and share and like and comment. I am so grateful for that relationship, so grateful that I can do this for a living and that you are there with your support.
I have always tried to be as honest, as transparent, and as authentic as I possibly can, which is why I so often shy away from sponsored or branded content most of the time; most of it just doesn't align with what I'm about, or what I think you might be about. That's not to say that there's never any on here or on my social media – a girl's gotta eat – but my advice to those wanting to get into the blogging industry is to be choosy. Say no far more often than you say yes. Listen to your audience. Think outside the box and don't be afraid to try something new. Don't cut corners and buy followers (yes, follow/unfollows count in this scenario). Develop a five or ten-year plan, not a plan that's just going to score you some free shit on Instagram. Do the work, put in the time, and earn that community, one that will trust you and believe in you. Because at the end of the day, a blog is nothing without the support of its community. You will not make it in blogging if you don't have a real, genuine community behind you.
OK. Cheesy enough? Let's move on!
Travelling Experience
As mentioned previously, my family always encouraged me to travel a great deal, and we set out on many trips when I was a kid, mainly around North America. After that trip to France I mentioned above, I knew, without a shadow of a doubt, that I wanted to travel forever. That I would probably always choose travel above everything else.
I outline how I saved money to go travelling in this post, but as you can see, it was a lot of work in a lot of different careers that has led me to be able to travel so much. Over the past decade, I've been to nearly 100 countries on six continents, most of those solo. It all really began in 2006, when I went backpacking through Europe at a breakneck speed, covering a lot of ground. I spent the next couple of years bouncing around Europe (always helps to date people who live in Europe, hah) until moving to Osaka, Japan, where I often took holidays to nearby locations including the Philippines and Vietnam. My other big trips included a year in Asia, Oceania, and North America in 2011 and nearly a year in Central and South America in 2012. All of that solo travelling really shaped who I am and the career that I have… read this post for what solo travel has taught me.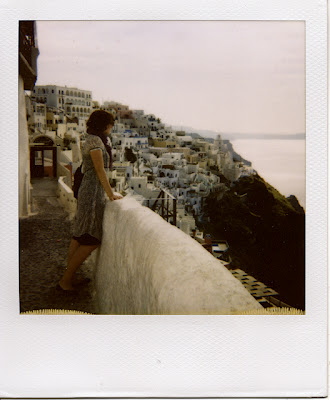 The only photo taken of me in Santorini in 2006. Can you imagine that? One photo and one photo only, and it's a POLAROID PHOTO. Am I old?!
After that, I moved to London in 2013, and let me tell you: living in London as someone who wants to travel frequently is a dream. The proximity to the rest of Europe combined with super cheap flights has allowed me to travel extensively across the continent, often going away once or twice a month. I tend to let price dictate where I go, so, for example, even though I've always wanted to go to Montenegro, it's much more cost effective for me to fly to Italy for £24 round trip instead.
Over the past few years I started squirrelling away as much money as I could – no small feat while living in a one-bedroom flat on my own in the heart of London, hence the multitude of jobs – in order to take the trip of my dreams: six weeks in East Africa. While I don't have any upcoming major trips set in stone yet, I do have some exciting travel ideas that I will hopefully be able to confirm within a few months.
For now, though, in all honesty, I'm a bit tired after some serious months of travel and a ton of catching up on work. I'm still constantly searching for cheap flights, but I'm really looking forward to spending a couple of months in Canada coming up, where I'll chill with my family and give some much-needed attention to this blog (as I've been saying for ninety billion years, a new blog design is the top priority).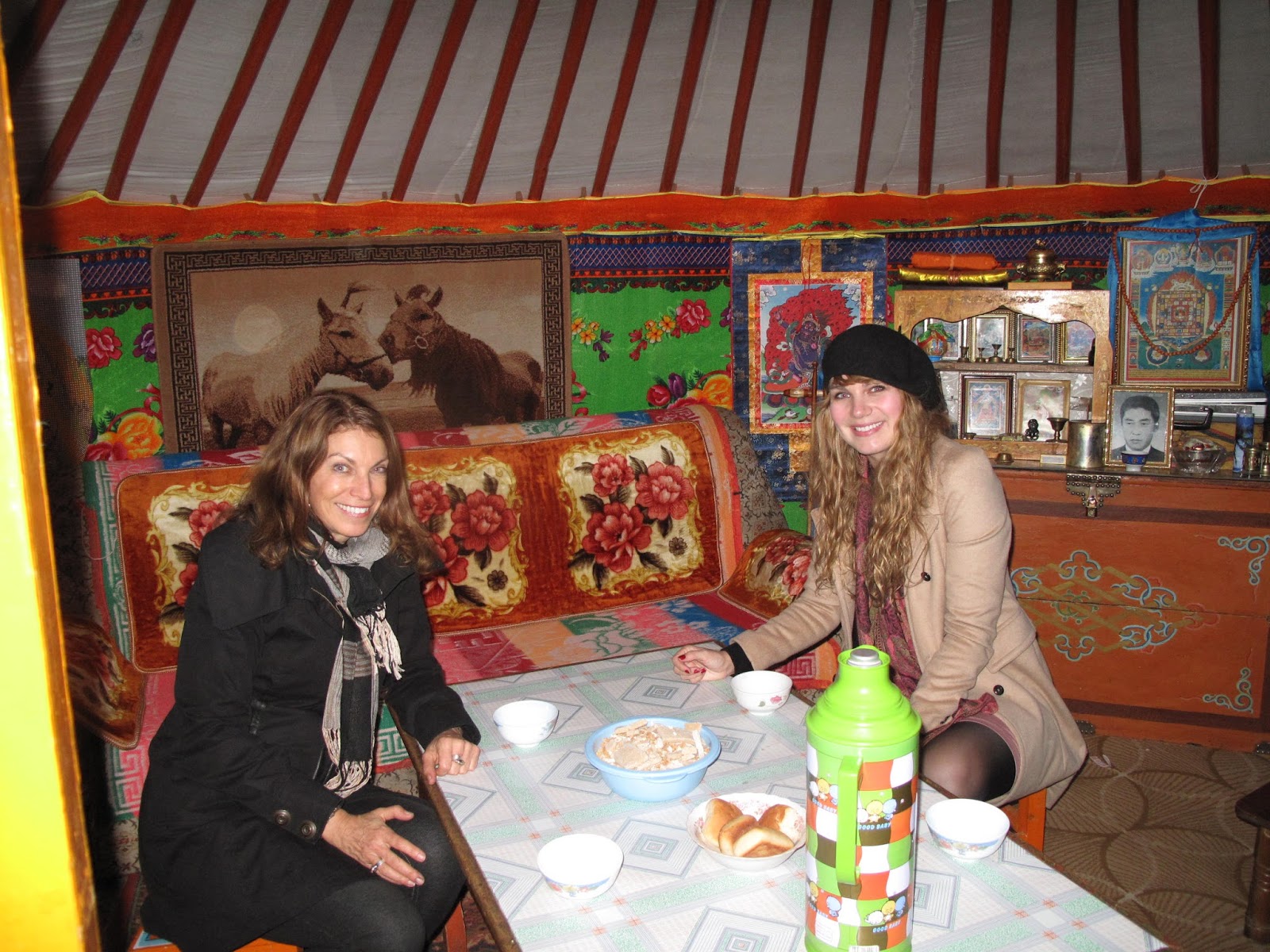 With my mama in a ger in Mongolia
Personal Relationships
Are you still reading? You deserve a gold star! Scratch that… you deserve another drink!
I'll keep this short: there are some very, very important reasons why my personal life has contributed a great deal to my ability to travel so much and to do this for a living. In no particular order, they are:
-I have the undying support of my family and friends (AKA I'm the luckiest gal alive) and they very often want to travel with me
-I'm single as fuck, so not tied to anyone
-everyone I do date tends to also be a traveller, AKA I meet him while travelling, so it's kind of a give-in that he's cool with it
-I don't have kids and I don't particularly want them, which means I'm responsible for me and me only
-a bunch of my closest friends are travel bloggers and travel personalities, too, so I am constantly talking to awesome, successful, encouraging women who give me tons of advice and support (thank you Oneika and Kristin and Kasha and Helen and Victoria and all of the other amazing women I know)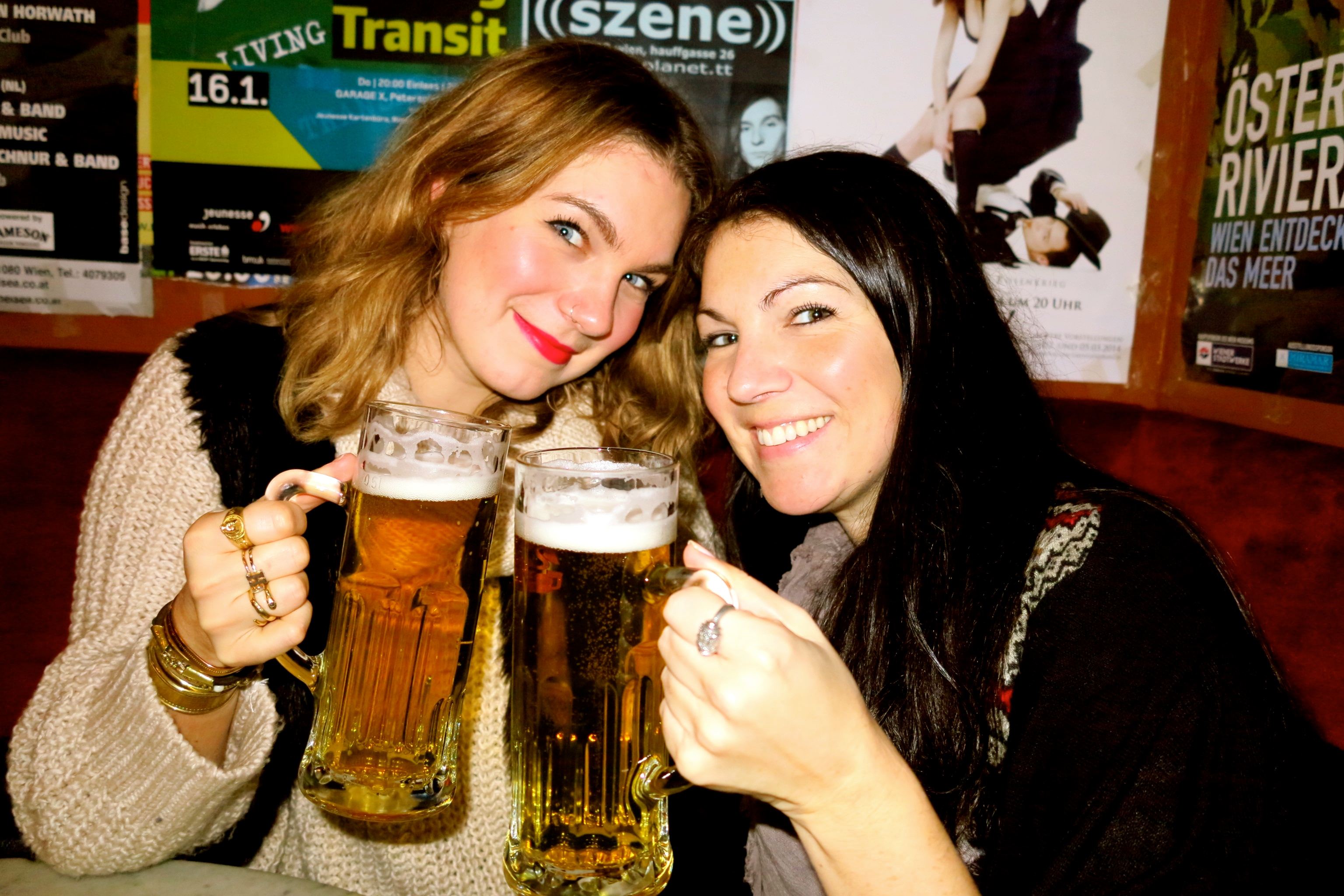 With my sister Zalie in Vienna
Again, all of these points just go to show that we never, ever know what life is going to deal us, or which factors are going to contribute to our lives, or in what order those things will align so that A happens and B doesn't happen. I feel incredibly lucky to have such an incredible network of people in my life, and my life would be nothing without them.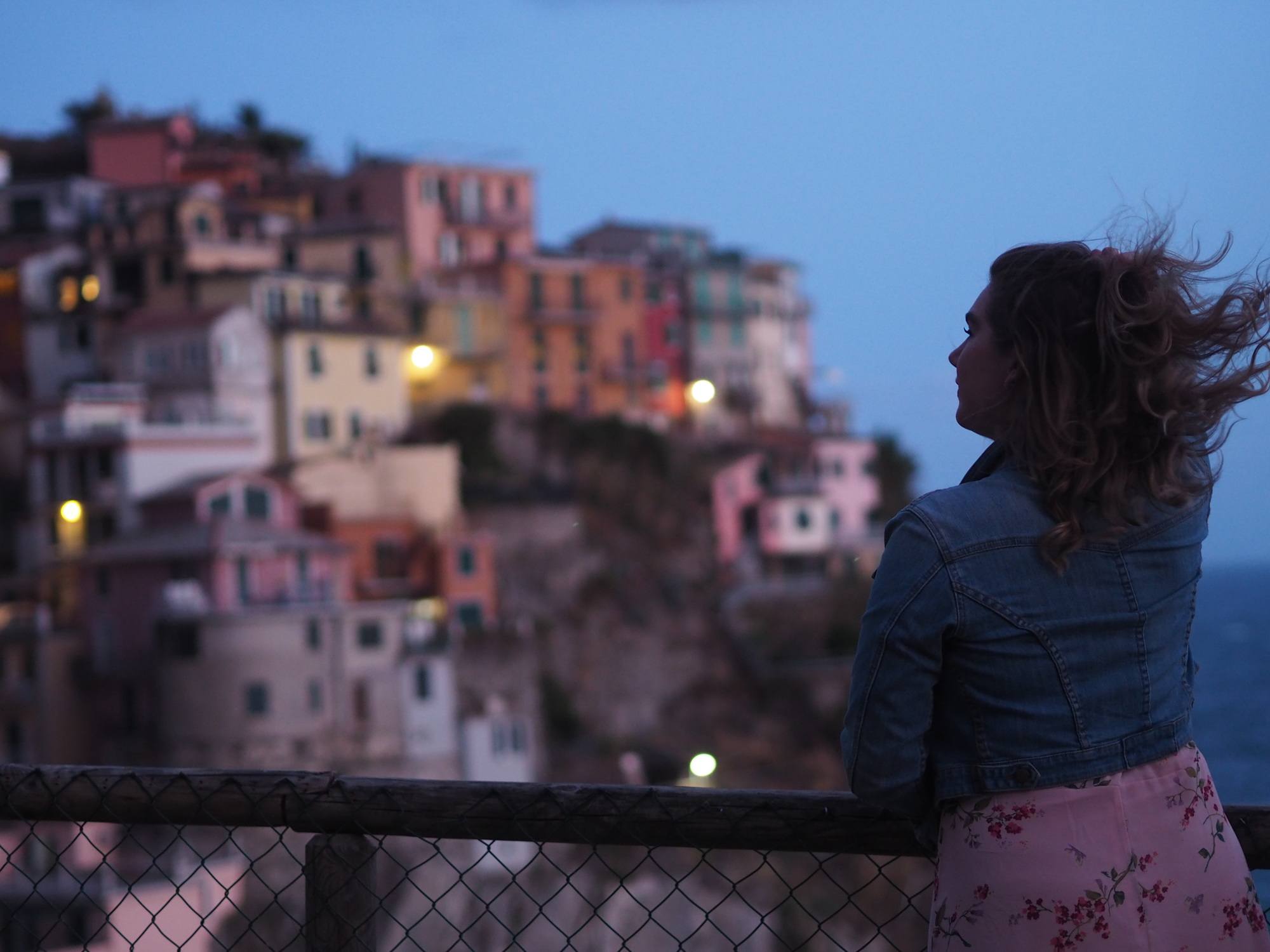 Last month in Italy
So there you have it – my life in a nutshell… a very long, wordy, drawn-out nutshell. I don't even know if ANY of this was helpful for anyone, but again, I wanted to highlight just how random my past has been, and that there is no one path to this career or this lifestyle. It would be, quite frankly, impossible to replicate most of the steps I've taken in order to get to the point I am today, but why would you want to anyway? Succeeding in this industry is all about being creative, being unique, and being wholeheartedly, unabashedly YOU. People will want to work with you and want to follow your content if you use your unique background and your unique blend of skills and talents.
I'm never going to be any good at video or at design, and I can't be bothered with all of the algorithms on social media to try to be an Instagrammer, but I do know that I love to write, and I love to travel. All of the steps I've taken since I was a kid have been motivated by those two things. Twenty-odd years later, I'm finally able to say I've made a career out of it, but it's taken a lot of failed attempts, a lot of hard work, and a lot (a lot!) of time.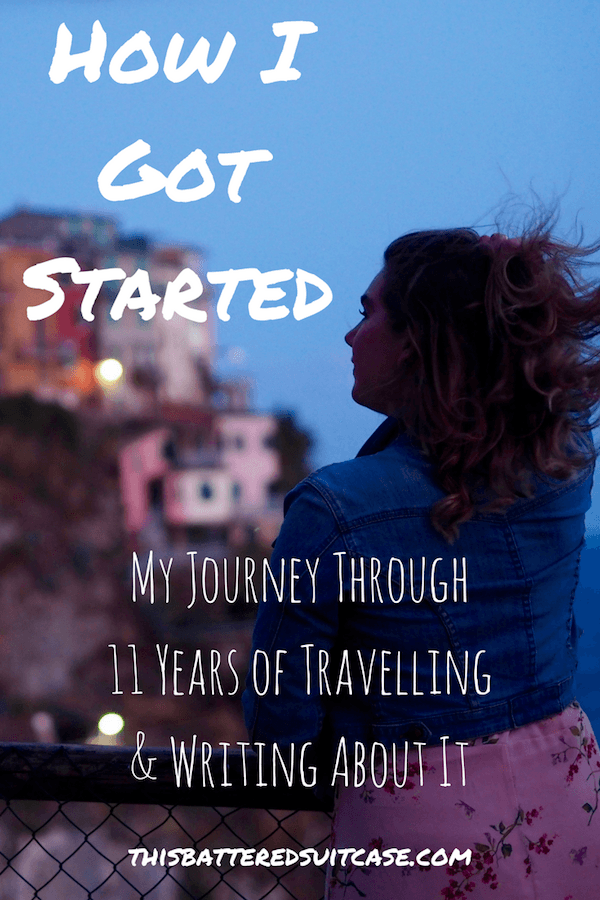 You can absolutely succeed in this industry, but the path I took isn't going to be the path you take.
Now get out there and create your own.