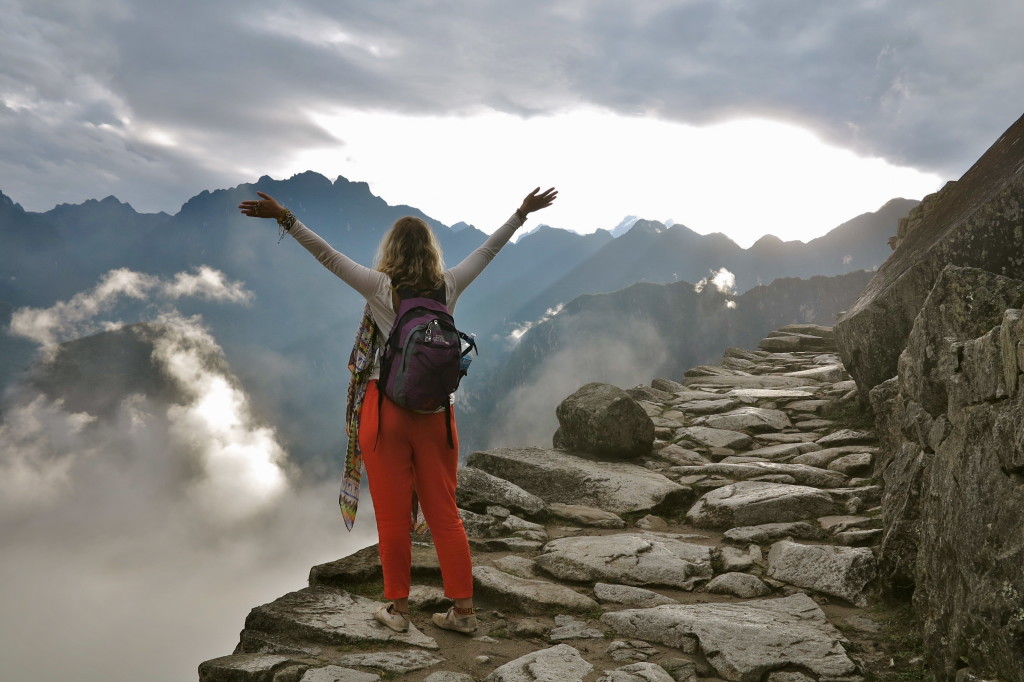 Machu Picchu, Peru
A friend once told me that there are three types of traveller: the misogynist, the missionary, and the misfit.
Misfit: a person whose behaviour or attitude sets them apart from others in an uncomfortably conspicuous way. Synonyms: fish out of water, square peg in a round hole
 I grew up an introvert, sensitive and anxious, a bookworm. I was the kind of kid who'd never allow her mother to enroll her in summer camp. My mother tried, once, and within two hours the camp called, saying it was an emergency. I had feigned the flu and made myself throw up in the bathroom of the gymnasium. My mother never sent me away again.
I willingly spent all of my childhood chained closely to home, despite my affinity for stories of faraway lands. As a little girl I'd take a photo album off of the shelves, its leather spine giving a distinctive crack each time I'd open one, turn through the pages and watch my family's life unfurl. My favourite was the one marked 1972-3. In it I'd find photos of my parents, smiling and long-haired, as they made their way across Europe in a rusty gray van with a red flower on the side. Later I learned that the van had belonged to a pharmaceutical company in Holland; my dad painted over the name as to prevent too many questions, or too many break-ins. Being the hippies they were, they kept the logo's flower.
But there's a time in most adolescent lives when everything starts to change, when the things you did last week now seemed juvenile. We all become misfits for some brief, difficult years, lured by the different and the dangerous. We become obsessed with something with the zeal that only teenagers possess, purposefully ostracize ourselves from the adults in our lives. Some kids turn to music. Some kids turn to drugs and alcohol. My obsession became the world itself.
There's a word in Korean that means the inability to get over one's addiction to travel, a perpetual case of wanderlust. Once the travel bug has bitten, it indicates, there is no cure.
Wanderlust: From the early 20th century German, a word meaning an overwhelming desire to travel
 The fixation with travelling crept up slowly, but by the time I was 16 it was all-consuming. I started memorising the capitals of countries. For Christmas I asked for a subscription to National Geographic magazine. In the evenings I'd write long lists of life goals, list the countries I'd visit, the places I'd go. I'd roll their foreignness over my tongue: Zanzibar. Tbilisi. Timbuktu.
I got my first real job working in the mall at Claire's Accessories. On weekends and the occasional weeknight I'd spend hours straightening plastic tiaras and piercing screaming babies' ears and vacuuming up gum wrappers. My manager called me Britney; I never figured out if she did so because she genuinely didn't know my name, or because calling anyone young and blonde 'Britney' was de rigueur in 2001. My other coworker would come in reeking of cigarettes and force me to do all the dirty work while she talked on the store phone to her boyfriend. But the job paid six dollars an hour, and by the time I was 17 I had saved over a thousand dollars.
Their hippie roots showing themselves, my parents understood my need to travel. They encouraged it, perhaps reminded of failed summer camp excursions and a daughter who panicked at anything new. When an opportunity came up to go to France with my school that summer, they agreed to foot half the bill. I signed, with great flourish, a cheque for $1000 to pay for the other half.
My journal tells an abbreviated, romantic vision of Paris and the other cities that filled our two weeks that June: Nimes, Dijon, Nice, Cannes, Antibes. They are the words of one enchanted.
"I am now sitting in a café with a glass of red wine; it was cheaper than a bottle of water," I wrote in my teenage scrawl, printed alongside ticket stubs and dried flowers. "Had a French cigarette, bought an oil painting, fell in love with a city." And, "I feel great here, even though I look like a scrub and can't speak the language. I love it here. I LOVE IT HERE," my words shouted to nobody in particular.
At Père-Lachaise I scooped up dirt from Jim Morrison's grave in a plastic canister meant to hold a roll of film. Days later the canister would spill in my backpack, scattering the soil over my clothes. It may not have been a shaman in the desert, but I took this as a sign that I was meant to follow an unusual path.
We flew back to Canada on the 4th of July, first landing in Minneapolis after a long flight from Europe; limp balloons and streamers hung in the airport to remind us of the American holiday. There was only a 45 minute flight to Winnipeg remaining.
It was a tiny plane, big enough for only four seats across, with two on either side of the aisle. I sat in one of the first rows of economy class; our group was dispersed throughout the cabin. Beside me was a young man, perhaps in his early 20s, unshaven and unkempt. Misfit. He was thumbing through his passport, its pages beaten up and full. Even at 17 I knew that he was showing off, inviting me to ask questions, to inevitably ooh and aah over his status of world wanderer. Still, I fell for the bait. Other than my parents, I'd never spoken to someone who had done so much travelling.
"Wow, you've travelled a lot." He took a long swallow of his ginger ale before answering me, fizz popping up to wet his lips. His fingernails were dirty, and he wore a ring on his index finger. Looking back I imagine him as the quintessential backpacker, a composite caricature of all the people I've met since. If I squint hard enough into my memory, I see more: a tattoo in Hindi on his arm, a beaded dreadlock hanging behind one ear, a battered copy of On the Road peeking out of his dirty canvas bag.
"Trying to, trying to." Years later I'd remember him saying this; I use the same answer to the same question. "There's always more to see, of course."
He told me about his time fishing in Montana, and of running with the bulls in Spain. How he worked his way through Thailand in hostels, how he thought a vendor at the spice market in Istanbul was going to kill him for taste-testing a fig. He laughed when he told me all of this, a laugh that crinkled his eyes and endeared him to me, made him accessible and real. I had never met anybody like him. I had never met anyone who was doing what I wanted to do. I was spellbound.
He lunged across my body to point out the window, jolting me out of the reverie of his words.
"Look at that!" I turned to look out at the blackness. And there, thousands of feet below, little pockets of fireworks were exploding over the Dakotas. Our conversation stopped. From our perspective, we could see dozens of different fireworks, tiny bursts of red and blue and white fracturing the expanse of darkness. On the ground they must have been miles apart, but to us, they were so close we could trace our fingers between them, connect the dots before they turned to smoke.
As we left America and flew over Canadian soil, the fireworks receded, and we reclined in our chairs in tandem. He took the last swig of his drink, the remaining chunks of ice clinking against his teeth.
"I've never seen that before," he murmured to himself, or maybe it was me who said those words aloud. My mind was buzzing, its synapses bursting with energy, adventure. Of what else could be seen from airplane windows. Of what else was beyond the horizon. All the things he had just told me, all the happiness I'd felt in France, all the pent-up desires to experience the world – I stared straight ahead at the in-flight magazine of the seat pocket, a picture of Machu Picchu on its cover. This was more than just a teenage obsession.
"So what about you? Do you want to travel?" The fingers of one hand were still absentmindedly running over the thick pages of his passport.
I was ready to join this crazy world of misfits. I had never wanted anything more. I had discovered wanderlust, or, maybe, it had discovered me, oozed its way into my veins. As the Korean word stipulates, there would be no cure.
"Yes," I answered without hesitation. "Yes."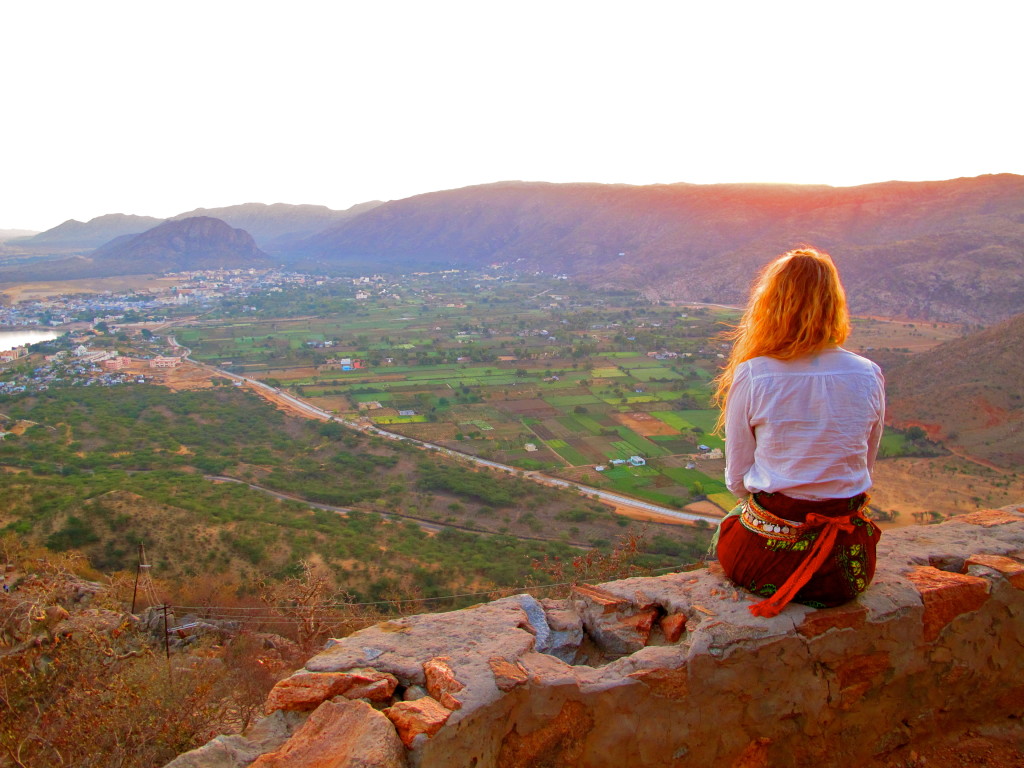 Pushkar, India
Please note: a version of this story was first published on my blog here. If it seems familiar, you're not crazy.
When did you discover wanderlust?