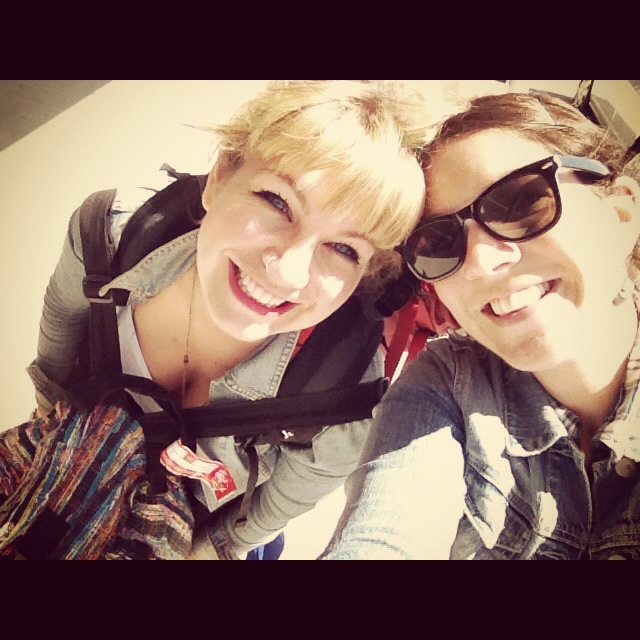 About to head off into the unknown 
There's an incredible mix of emotions we get right before we set forth on a new adventure: excitement, anxiety, anticipation. The beauty in travel is that we never really know what's going to happen once we arrive in an unfamiliar place.
Except for these things. These ten things will definitely happen.
1. You will spend too much money. 
No matter how well you budget or plan, inevitably you will end up spending more money than you thought you would. This generally happens when something unforeseen happens, such as a cracking (but pricey) night out, an accident, or a necessary splurge on a nice hotel. I wish that I was better at budgeting, but I've never regretted any of the money I spent while travelling – it was all worth it.
When did it happen to me? Um, every time. I have gone over budget for every trip I've ever taken, though never more than I knew that I could eventually pay back. For example, in Dublin two weeks ago, 100 euros magically disappeared from my wallet. And by magically disappeared, I mean I magically spent it all. I looked at my credit card statement today and whimpered. I enjoyed every one of those spent euros, however.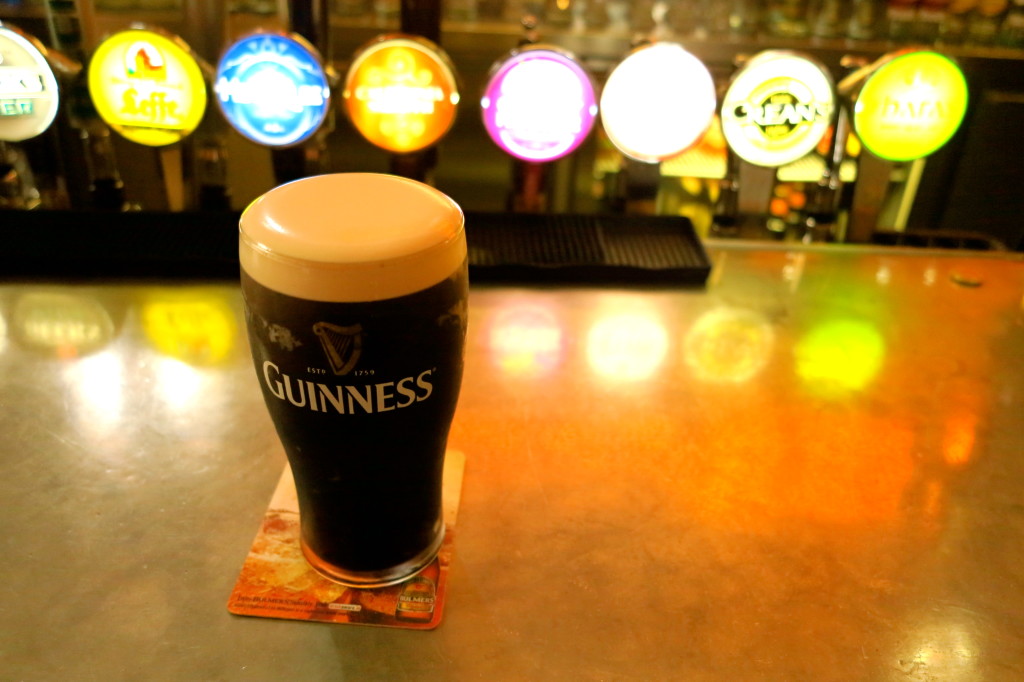 You're welcome, Guinness
2. You will get sick.
I'm kind of a jerk and say things like, "I never got sick in India!" when people tell endless tales of Delhi Belly. Do not be mistaken, however – I have gotten sick countless other times around the world. You probably will, too. It only makes sense; you're sleeping in unfamiliar places, eating unfamiliar foods, drinking water from unfamiliar sources, and generally putting a lot of stress on your body. Even if I take extreme cautions against getting sick, I still often catch that cold that is going around the hostel, or that stomach flu from the orange juice stall in Morocco. OK – I really didn't take extreme caution against that one.
When did it happen to me? Uh yeah, you're going to see a trend here. Every time. Not every single trip I've ever taken, but on any extended holiday, I've fallen ill a few times. Most recently, I came down with the cold that everyone at TBEX seemed to have gotten in Ireland. You'd think drinking all that delicious Irish whiskey would kill all germs, but apparently bloggers and industry folks are no match for the indomitable TBEX strain of cold.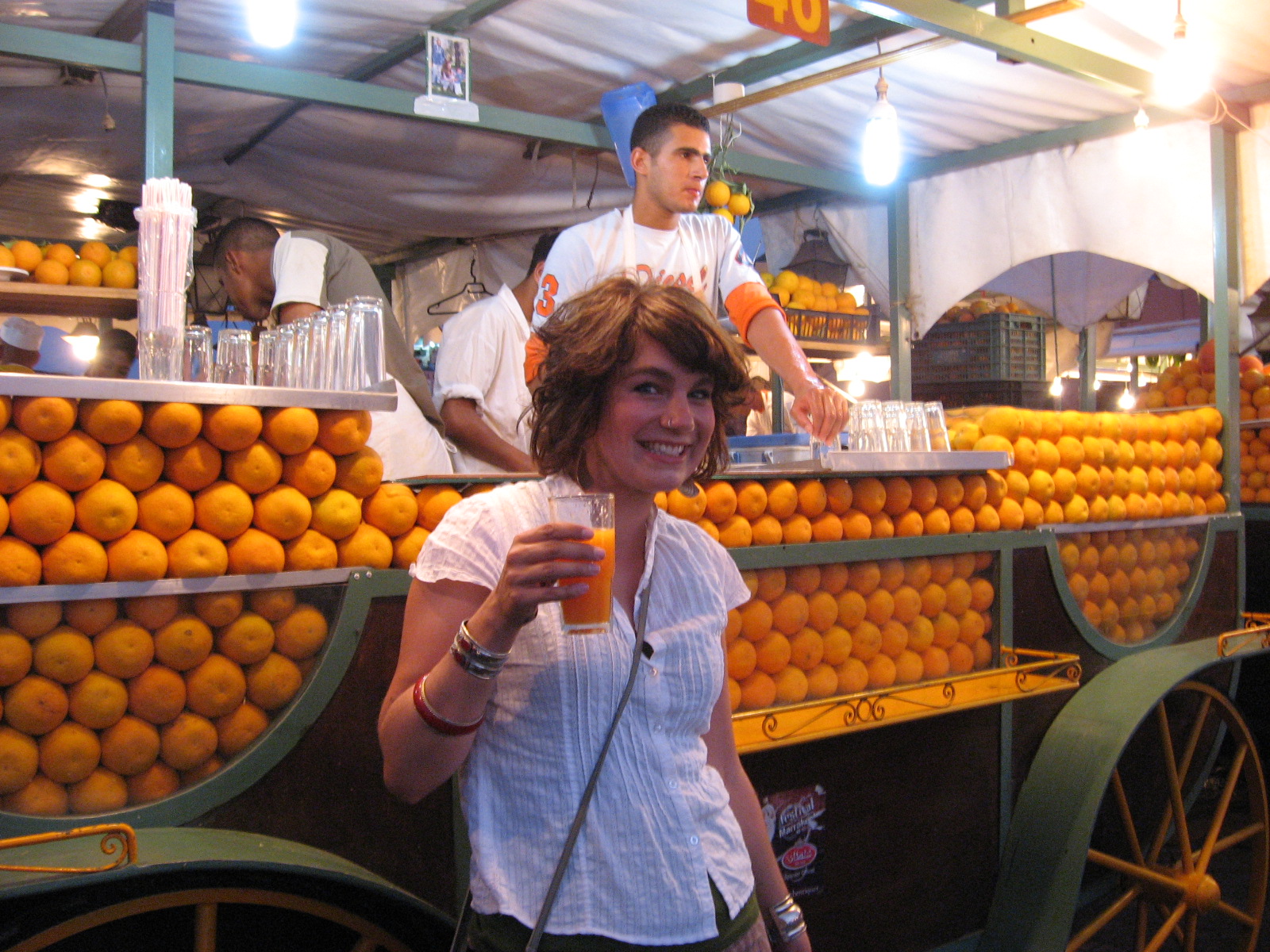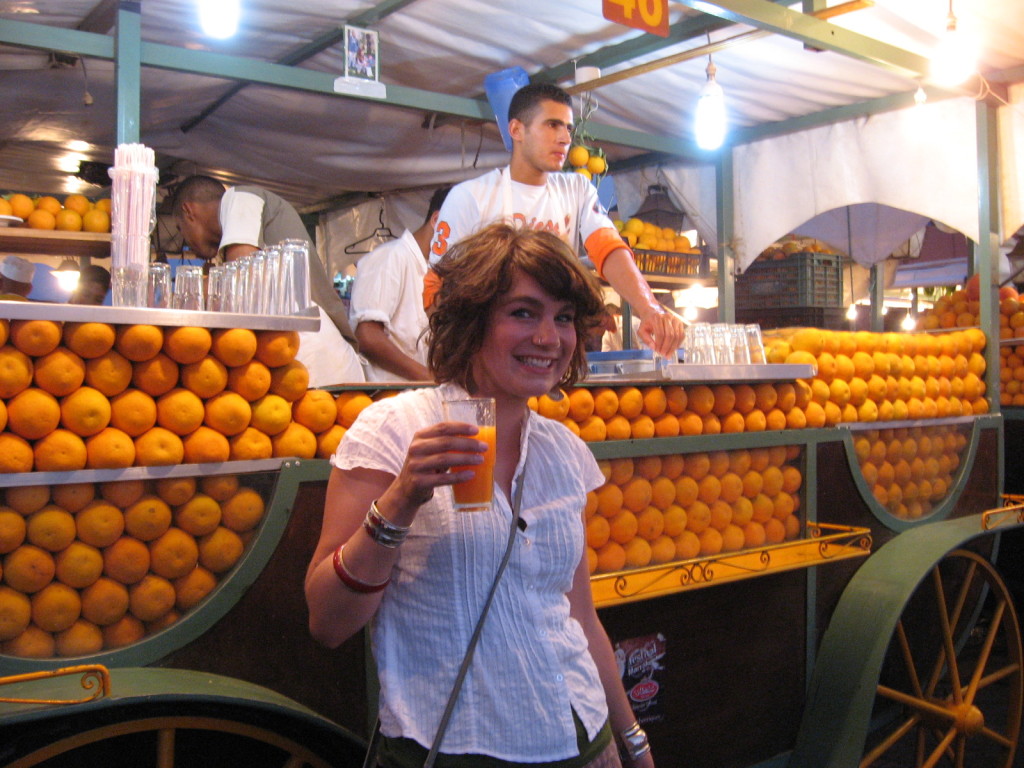 I both love and hate the fact that I have a photo of the actual glass of orange juice that gave me a stomach virus
3. Your feet will be nasty.
They will. You'll get blisters and bites and stub your toes and all of the nail polish will chip off. Travelling around a place like Southeast Asia means you're constantly wearing flip flops, which means you're exposing your feet to, well, everything. Thankfully there are a lot of cheap pedicure places around, but don't expect your feet to stay clean and soft for long.
When did it happen to me? I distinctly remember walking through a river of human/cow/who knows excrement and raw sewage in Jaisalmer, India. It was the only way to get back to the hotel, and a pipe had burst or something. Yes, I was wearing flip flops. No, it was not pleasant. Yes, I fought with my travel partner over first shower.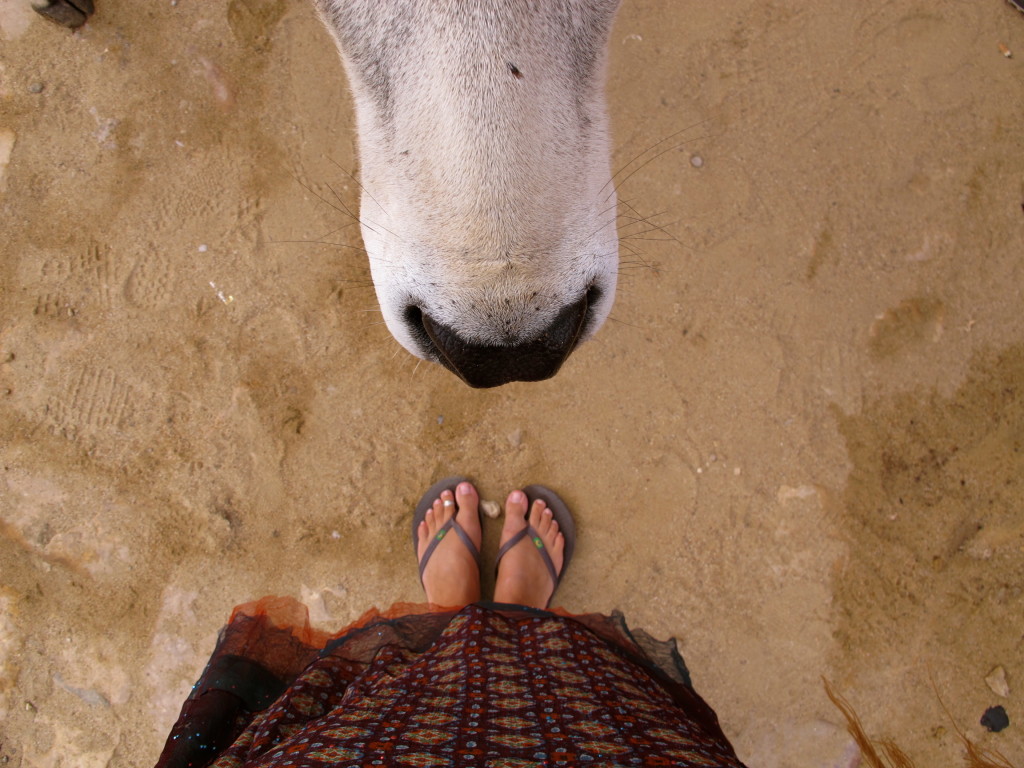 This was the day I walked through human poop
4. You will lose something.
It can be something tiny or something huge, something worthless or something incredibly valuable, but be warned: you will lose something. Even if it's just your dignity.
When did it happen to me? Fairly certain I lost my dignity in a bubble machine on a beach in Koh Phangan, and horrible flashbacks of a few nights in Colombia come to mind. Other than that, I lost my best travel lock in Bolivia (still don't know how it disappeared) and my favourite lipstick (on one of those nights in Colombia). Tiny things, but annoying to lose regardless. I'm quite responsible when I travel and have been lucky enough to not lose anything major… yet.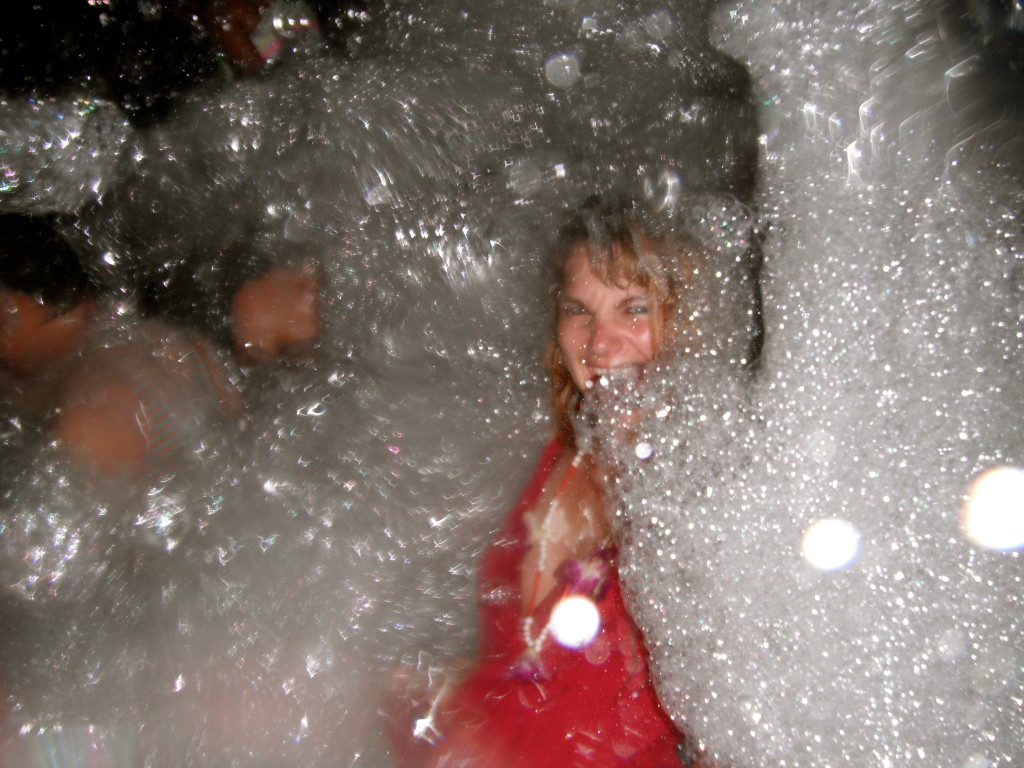 Dignity = gone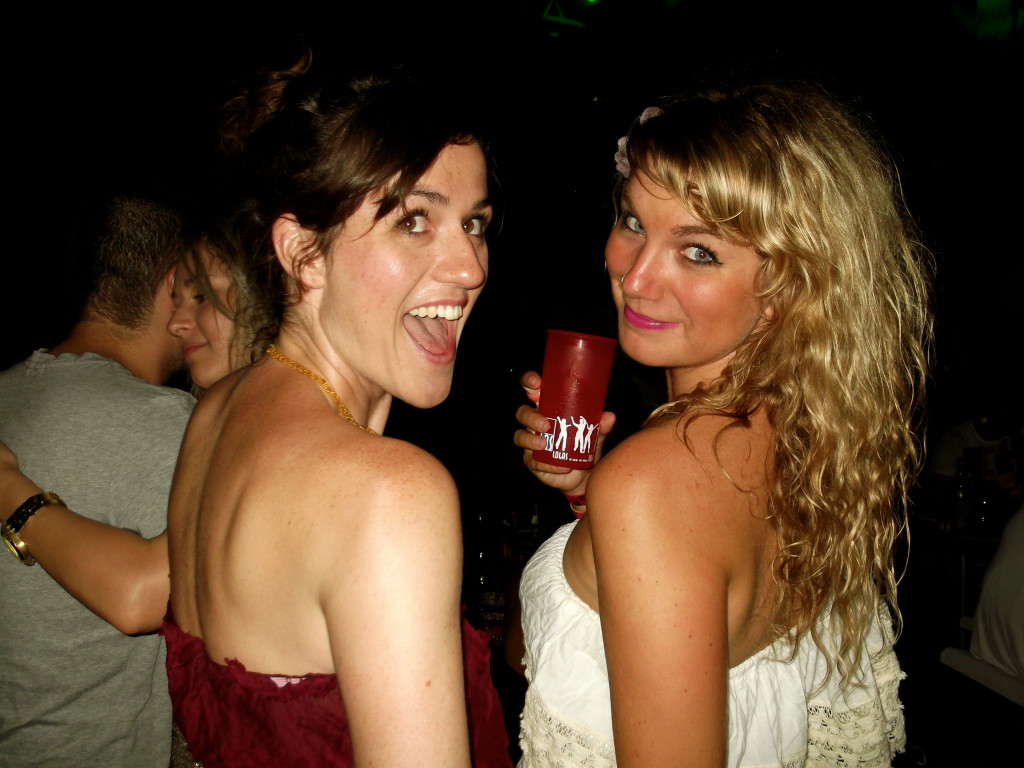 The last photo taken with my favourite lipstick, before it was flung onto the dance floor and never to be seen again. A terrible tragedy, especially because they don't sell Cover Girl in Colombia
5. You will break something.
Hopefully it won't be a bone, or a jaw. More than likely it will be a smartphone, or maybe your heart. Inevitably, something will smash in your bag or your locker, or your camera will conveniently stop working right before you get to Angkor Wat. Try to remind yourself that it is only a material thing, and that accidents happen.
When did it happen to me? That bit about Angkor Wat wasn't pulled out of thin air – my camera really did have a complete malfunction/break-down while I was in 4000 Islands in Laos and about to cross over to Cambodia. I did what any normal person does in that situation: I reminded myself that it is only a material thing, and that accidents happen. Just kidding! I punched it. I punched my camera.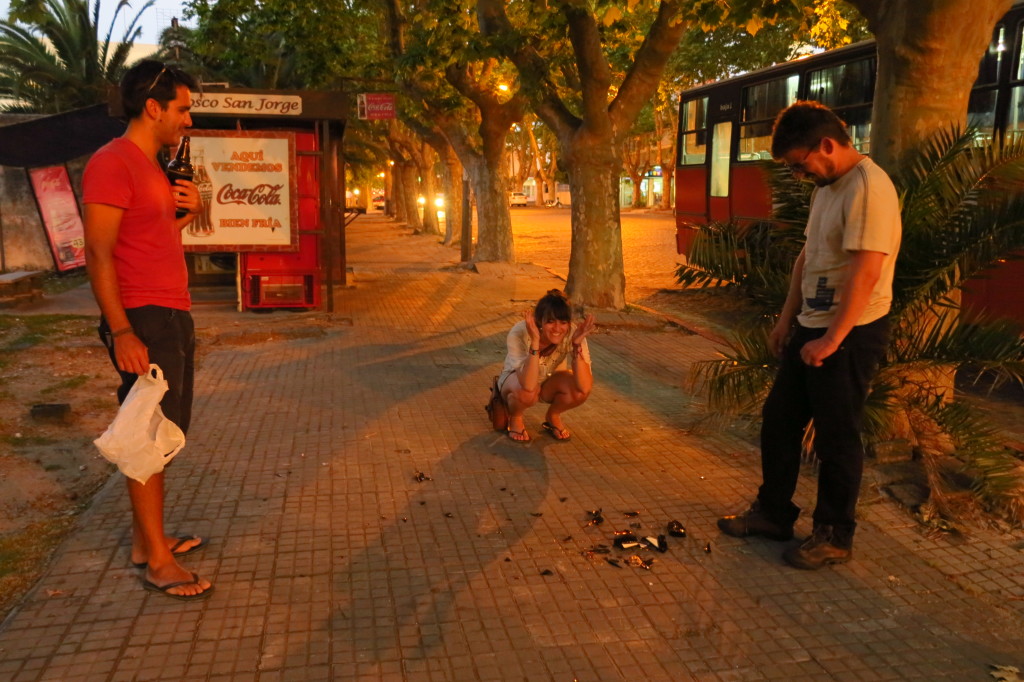 Sometimes even a bottle breaking can be devastating. This one in Uruguay was worth one dollar upon its return! The horror! 
6. You will be scammed.
Despite any research you may do about a place before arriving, there will probably be yet another scam developed by people hellbent upon ripping tourists off. Thieves are always evolving, and people will think of the most clever ways to get your money or your belongings. The best thing to do is just trust your instinct, and always take marked cabs. If something feels wrong, it probably is. We all lose a few bucks along the way, but a few bucks is better than a lot of bucks.
When did it happen to me? I've been fairly lucky in my travels, but I am 100% positive that I have overpaid at almost every market I've been to. Another scam I fell into was in Lisbon, Portugal; I had just arrived from Paris, and jumped in a taxi as I was exhausted and it was the middle of the night. My hostel said it should cost no more than 8 euros from the airport, and I watched as the meter went up to about 7,50. When I handed the driver the money he took it, but then said, "More." My initial reaction was to think, "What? No!" until I realized that he wasn't going to give me my backpack out of the trunk until I paid him an extra 10 euros. Hours later someone tried to steal my bag with a hook. What's up, Lisbon? (still one of my favourite cities in Europe)
7. You will get lost.
Google Maps is great… if you have wifi and are walking around a city where it's totally safe to whip your smartphone out in public. For the most part, though, I still rely on paper maps and guidebooks to get me around. The crappy part about that? Cities change, and maps don't always reflect that (hi, London). Also, brains are weird, and we make mistakes sometimes. Even if you have the best sense of direction, you'll still get utterly and completely lost at some point.
When did it happen to me? I got lost in Venice, but everyone gets lost in Venice, even the pigeons. I also once walked for an hour up and down the same streets in Zurich looking for a cemetery (I wanted to see James Joyce's grave, and also I'm kind of creepy and like cemeteries). Finally I stopped and asked someone, "Do you know where the cemetery is?" The man replied, "No, I don't, but you're standing beside a sign that says cemetery in German." Doh. I just couldn't see over the walls. My advice? Always ask for directions, even if you think you're going the right way.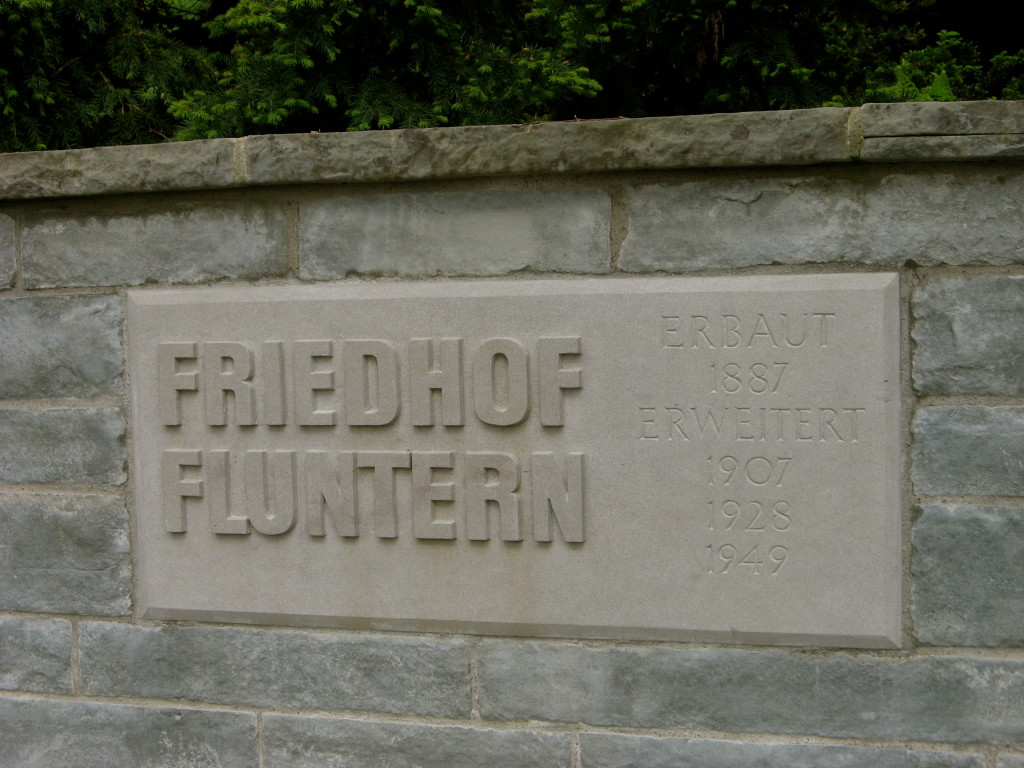 The essential words to learn before heading to Zurich: hello, thank you, and cemetery 
8. You will do something foul.
You know, like walking through human excrement in flip flops. Or using something that isn't toilet paper as toilet paper. Or throwing up in a plastic bag and leaving it in a train rubbish bin. These are just random examples, guys. At some point, your limits will be tested and you will have to do something you would never, ever do in your hometown. We all do it.
When did it happen to me? That requires a whole other blog post. This one is really foul, though, and I swear on my life that it was NOT me, but that I was simply present: I was out for dinner with a girl I was travelling with through Thailand and we decided to keep the night going. We were on Koh Phi Phi, and found ourselves on the opposite side and end of the island to where we were staying, but that's where the best nightlife was. As we approached the bars, though, she suddenly felt quite ill (diarrhoea. I'm talking about diarrhoea). We searched; no suitable bathrooms anywhere. So, she did what was necessary: she relieved herself behind a palm tree on the beach. Thankfully I had tissues for her to use. Do you know what we called the island for the remainder of our time there?… Do I really need to spell it out?…….. OK, fine. Koh Poo Poo. We called it Koh Poo Poo.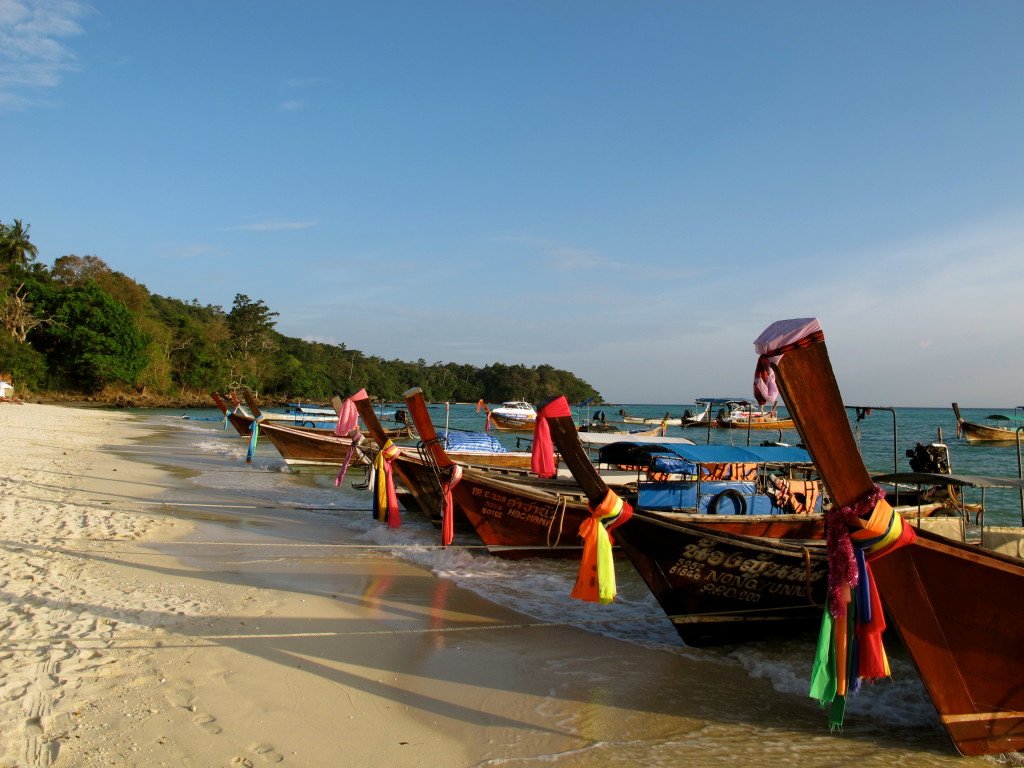 So picturesque, that Koh Poo Poo 
9. You will have a weird bug on you.
At some point in your travels, you will look at a creature so strange that your brain won't even register that it is real. At another point in your travels, that creature will probably be crawling up your leg. I don't mean to scare anyone, but you are guaranteed to have at least one insect on your body. You will also be riddled with bites. Sand flies, mosquitoes, spiders: they love tourist blood.
When did it happen to me? Well, there was that time I punched a cockroach off my arm while I was in bed. Seriously, by that point, so many cockroaches had crawled on me that I just didn't care anymore. Never, ever stay in one of the hotels directly on the Haad Rin party beach in Koh Phangan, unless you want your nights to be filled with endless Rihanna songs and cockroaches crawling on your skin. Hey, I won't judge if you do.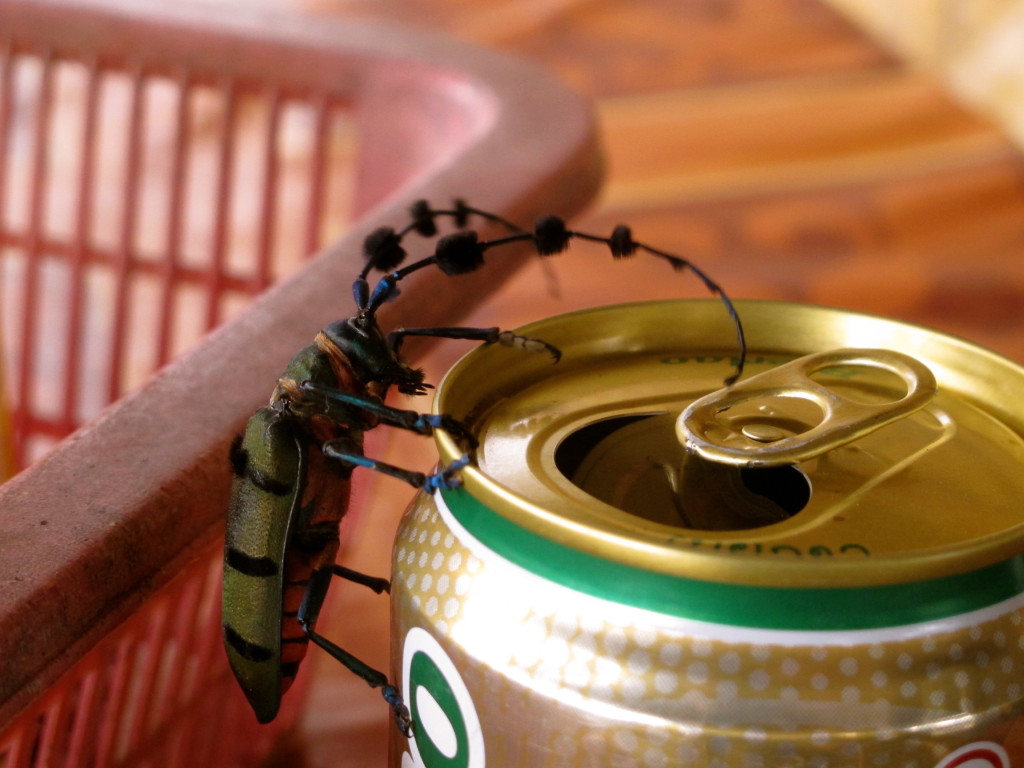 LOOK AT THIS BUG THAT WAS ON MY BEER CAN IN LAOS! (I touched it)
10. You will have the time of your life.
Did I just paint you a nice picture? You're standing there, confused to which street you're on. You may or may not have had your wallet stolen, but your iPad is definitely broken. Your stomach is still heaving from the Bali Belly you contracted. Your feet are covered in mosquito bites that seem to be worsening by the minute.
You know what? I bet you don't care. I bet you're having an incredible time regardless. These trips I keep ragging on? They were absolutely brilliant, and I loved every minute of them (seriously, I had a fantastic time in Koh Phangan, despite the lung infection and the cockroach infestation). I hope you read this with a sense of humour; I certainly wrote it with one. Because for all of these bad things that happen when you travel, there are a million amazing things that happen when you travel. There's laughter and learning and love. There's friendship. There's food. There's mountains and oceans, forests and deserts. There's the best days of your life, there's the best nights of your life. There's new cultures and new music, new ways of looking at the world. Don't let a few bad things spoil your trip; they really do happen to all of us. It's about brushing it off, putting that backpack back on, and getting out to see what crazy adventure the world gives you next.
When did it happen to me? This time. The next time. Every time.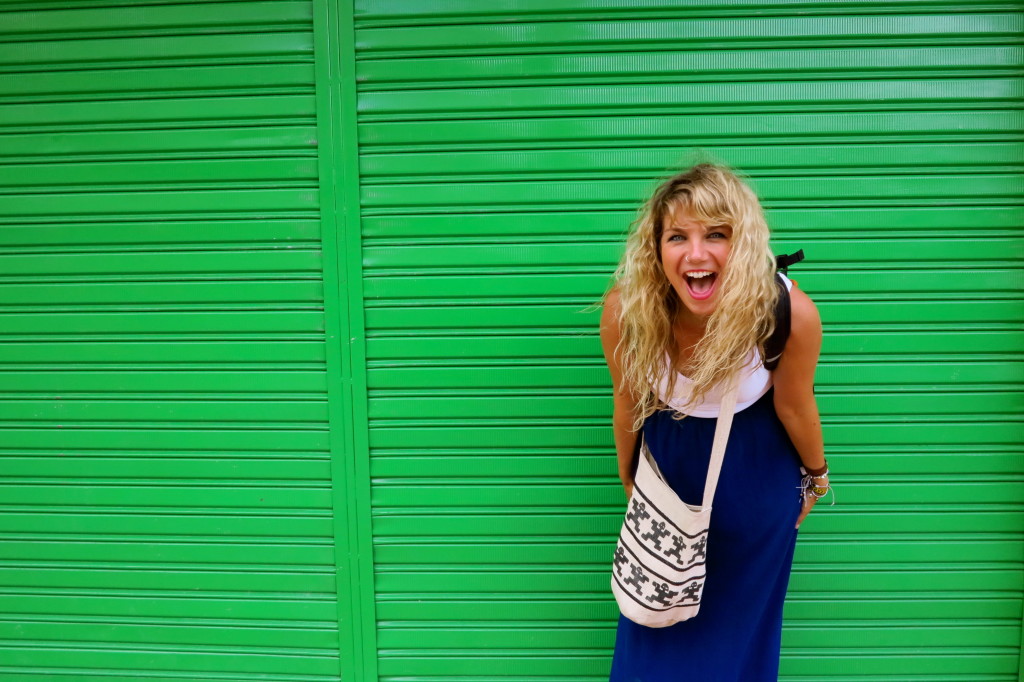 Having the best time in Guatape, Colombia
What do you think of this list? Do you agree? Would you add anything?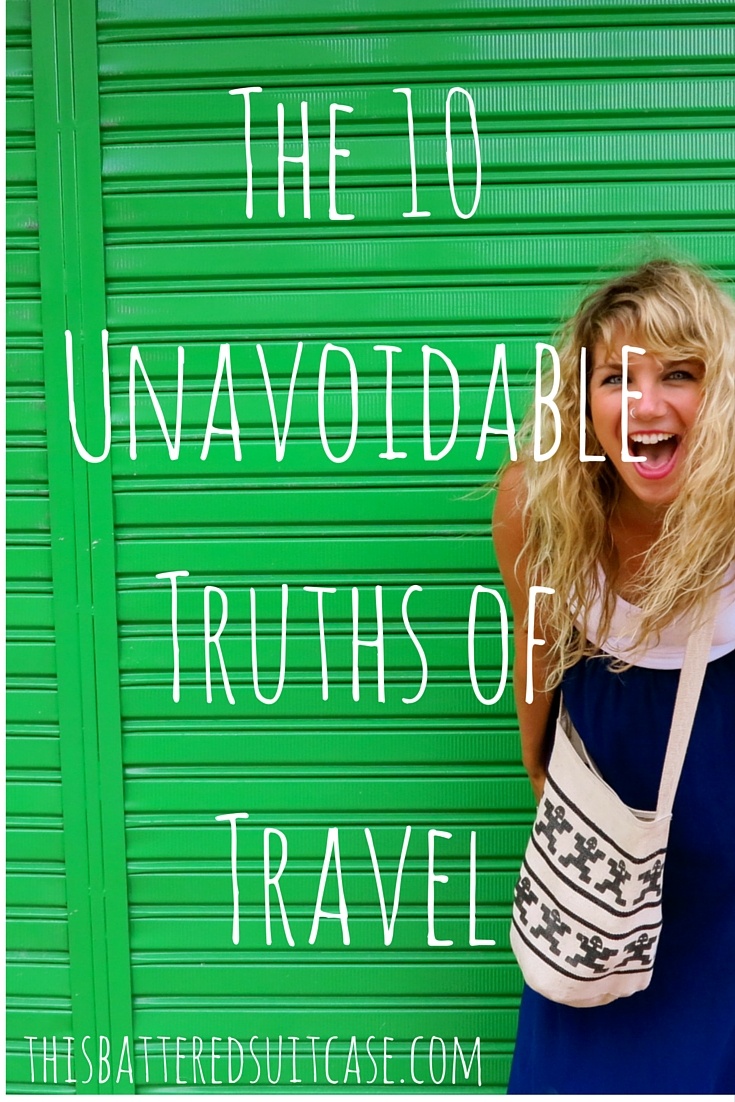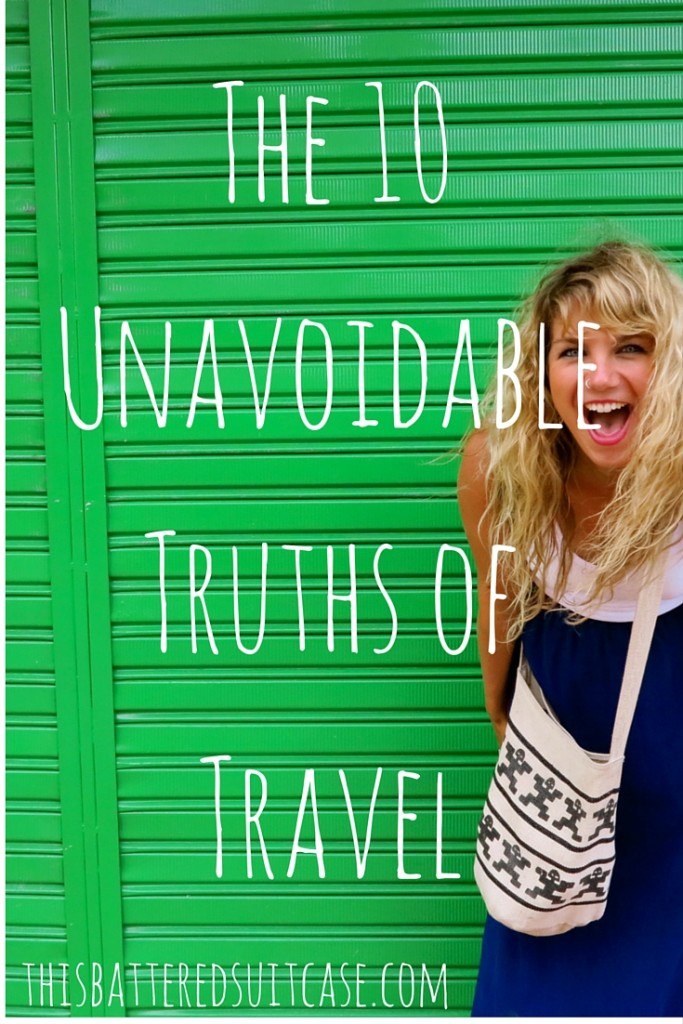 Check out some more unavoidable truths of travel: You Will Discover Wanderlust, You Will Question Your Role as Traveller