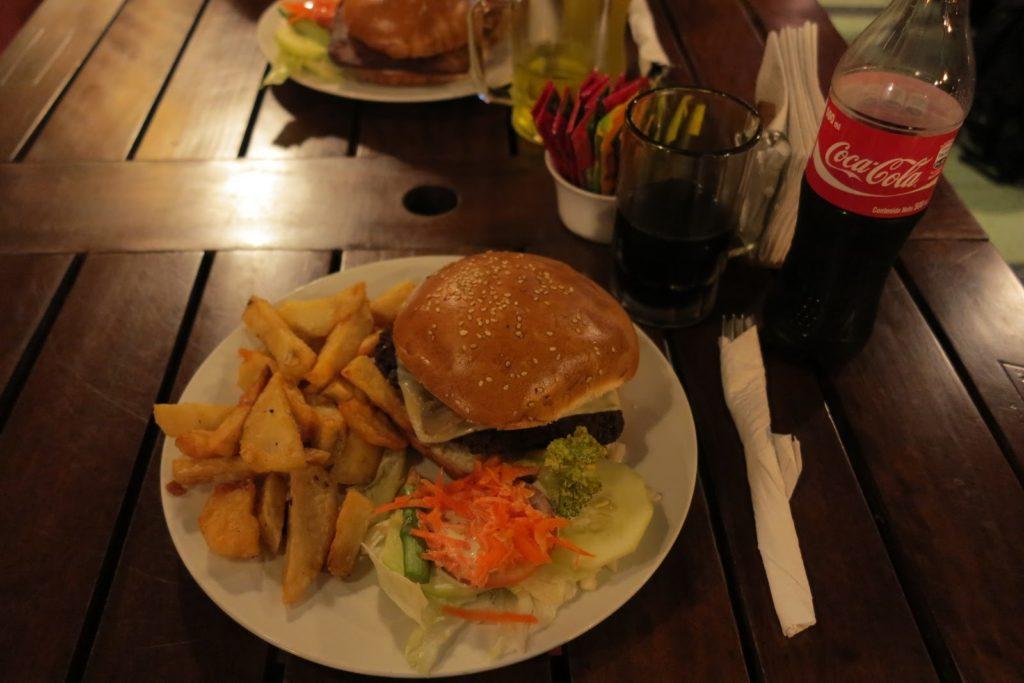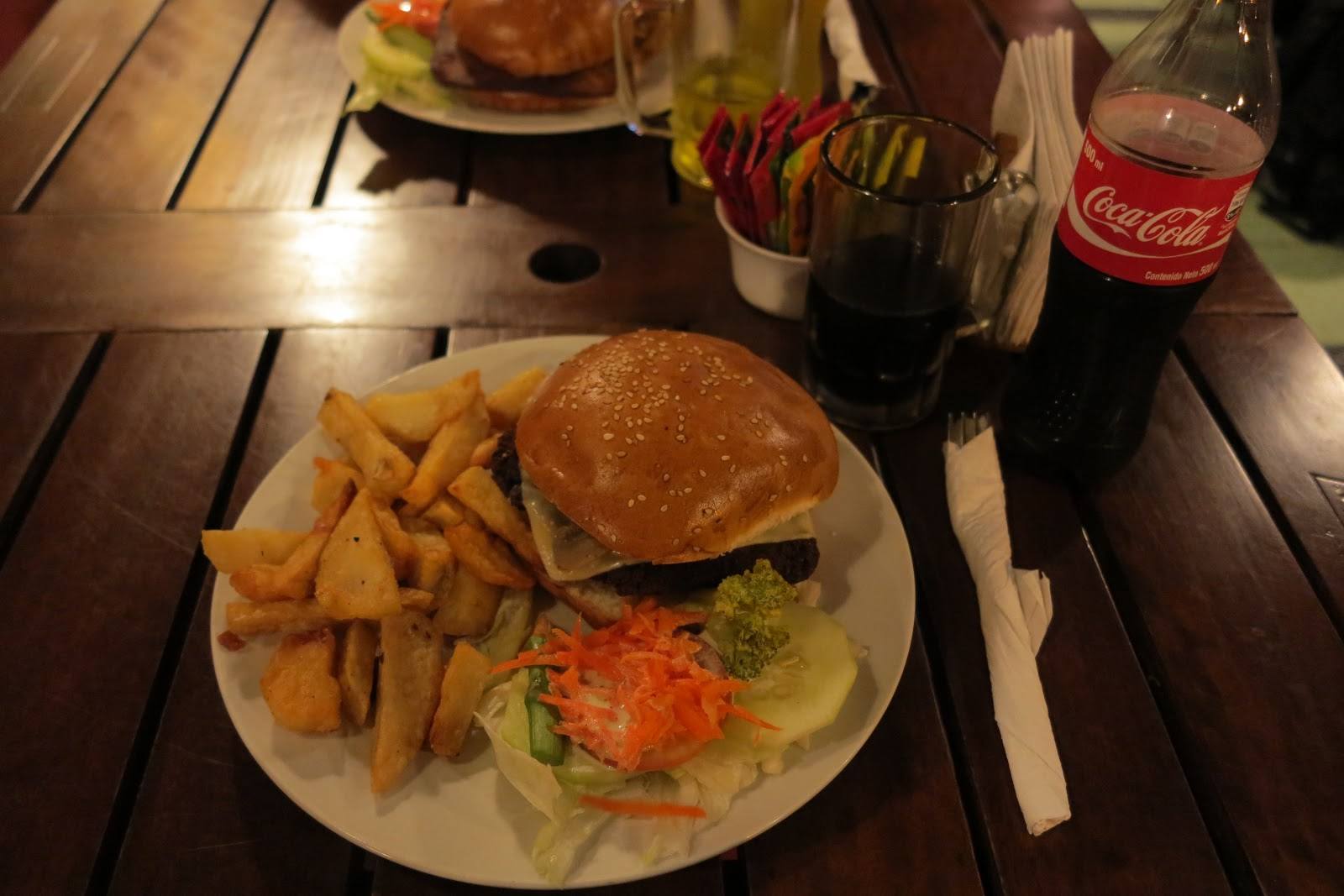 "Wow, what a yummy hamburger!" Or so I thought. 
It's that time again, folks. It's been nearly a year since I last wrote a post about all the hideous, horrible ailments and accidents I've suffered from during my travels. I've written two such posts before, one that detailed lung infections and a possible case of gangrene and another that had all the charm of chafed thighs and vomit-eating cats. Do I really have to warn you? This is going to get graphic.
And so, I give you: The Worst Travel Ailments I've Ever Experienced…Part Three.
12. Falling Down a Volcano, The Galapagos, Ecuador
OK, so this isn't really that bad. There are far worse things that could have happened to me in the Galapagos – shark bites, sea lion attacks, or being spat on by a marine iguana (actually, that would make for a good story) – but it still hurt like hell. I was wearing my trusty Keds, the same shoes I've worn through dozens of countries and during dozens of hikes and long walks. People have commented how ridiculous it is that I don't have proper hiking shoes, but the fact is that I don't hike enough when I travel to warrant carrying around a heavy pair of boots. I can wear the Keds pretty much all the time and still feel comfortable and fairly cute (I say cute to mean "travel cute", which we all know means frizzy hair and a choice of five outfits). So there I was, Keds on my feet, happy to be hiking to the shield volcano known as Sierra Negra on Isabela island.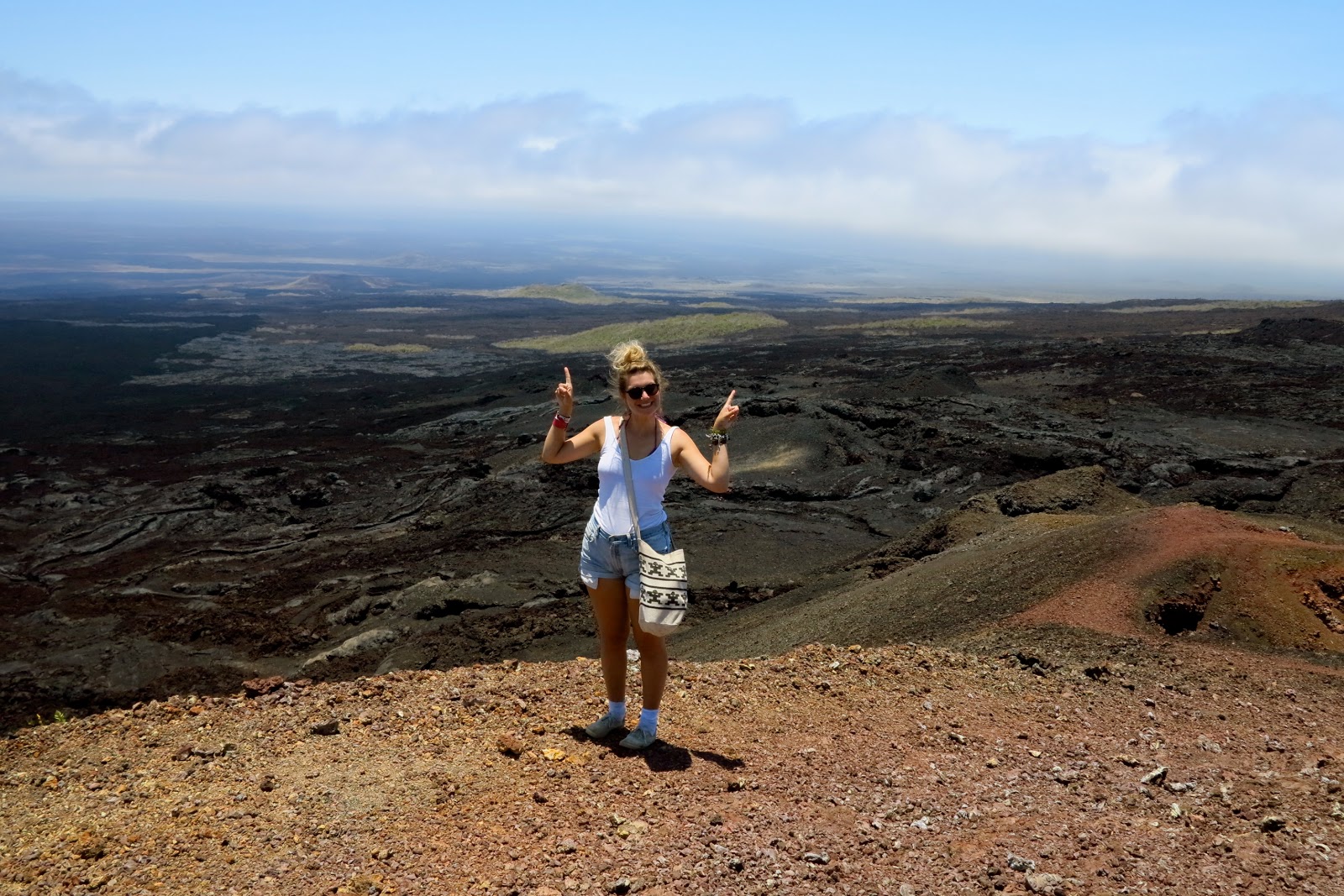 Moments before the tumble (Keds on feet)
I want to make it clear that I do not blame my shoes for this accident – I blame my own two feet. I have never fallen while wearing these shoes otherwise, and I will continue to take them with me when I travel. I was retracing my steps at this point, climbing up and down over boulders and paths made of lava rock, all of them ripe for scrapes and bruises. I thought, "It would suck to fall." And wouldn't you know it, I fell. Fell right on my bum and slid down approximately five or six metres of steep, rocky hillside. I jumped up immediately, not wanting to make a bigger fool of myself than I already had, but it was too late: the kind German couple behind me rushed up to check on me. "I'm fine, I'm fine!" I postulated, but the back of my legs burned something fierce. Soon, blood was dripping down onto my white socks and shoes. The back of my legs were completely torn up, scraped and cut from calf to thigh. I still bear a few of the scars, invisible to most I'm sure, but a part of me nonetheless. I'm a big fan of scars, though (case in point: when someone asks, "What do you look for in a man?" I immediately answer, "A facial scar"), so I'm OK with having the faint reminders of that day in the Galapagos.
13. Bedbug Attack (Yes, Another One), Rio de Janeiro, Brazil
I hate bedbugs. Everyone does. If you have never experienced them in a hostel, you are lucky. I've experienced them thrice: in Edmonton, in Singapore, and in Brazil. You know what is really, really infuriating, though? I got the bedbugs in Brazil on my very last day in South America. I was flying home to Canada when I woke up and discovered my body was covered in the telltale lines of bites, up and down my legs, arms, torso, and back. I counted over 70 bites on my right leg alone. This meant that, immediately upon arriving in Canada, instead of relaxing and chatting with my mum, I had to throw everything in my backpack into the washing machine. Thankfully, I didn't carry the bugs home with me, but the flights from Rio to Bogota and then Bogota to Toronto were anything but comfortable. I was in itchy, unbearable pain the entire time. And in case you were wondering, I stayed at the Mango Tree hostel in Rio de Janiero. If there is any hostel I would emphatically NOT recommend, it is the Mango Tree. Rude staff, no wifi, terrible policies, not enough bathrooms, oh yeah, and BEDBUGS.
14. Stomach Virus, Marrakech, Morocco
If this topic seems vaguely familiar, it is probably because I did indeed already write about a stomach virus in Morocco in Part One. But guess what? I've had TWO stomach viruses in Morocco! The first, the one I wrote about, occurred in 2006. This particular ailment took place in 2008. Oh, and if you're wondering, if you think that by tempting fate and declaring, "I won't get a stomach bug in Morocco! That already happened! I'm tough now!" while eating mounds of street food and being horribly lax at watching your contaminated water consumption, well, think again. You will get sick, and it will be even worse than before.
I had just gotten back from a few days in the Sahara, and had just under a week to spend in Marrakech with my mum and my then-boyfriend. I can't pinpoint any one meal or drink that was the cause of my misfortune, but I do remember the moment I realized something was terribly wrong. I was lying in bed with my boyfriend when I thought, "Hmm. My stomach feels weird." Seeing as that isn't something I wanted to tell my boyfriend (for obvious reasons), I kept quiet. I was aware of my skin becoming clammy, and feeling dizzy, and all of a sudden, I knew I would be violently ill. And, I kid you not, I basically spent the next two days hugging the toilet. Curled up on the bathroom floor at 2 in the morning, I distinctly remember weeping and calling out for my mother (so yeah, all chances for a romantic getaway were quickly eschewed). My poor boyfriend was only in town for a few days, and I was literally on the brink of vomiting the entire time. There is a photo of us in the back of a rickshaw and I swear my skin is tinged green.
Third time's a charm? What do you say, Morocco, dare I eat your tagines again?
15. Heat Rash, Utila, Honduras
Yeah, OK, this is gross. Seriously, does anyone older than an infant actually get heat rash? Heat rash occurs when, duh, you get really hot. Hot and sweaty. Hot and sweaty and are covered by clothing. So basically, if you're stuck in a heat wave with crazy humidity in a Central American country and you want to go to the shop or something and so you put on, you know, CLOTHES, you are at risk for getting heat rash. I was afflicted by it for a very uncomfortable few days while in Honduras, especially on my chest and stomach. I quickly learned that the best thing to do was to wear as little clothing as possible, so I turned into that girl who walked down the street in her bikini top (to be fair, I was in good company and this was a Caribbean culture). It went away quite quickly, but I definitely did not feel very good about myself, especially when I was talking to cute guys and all I could think about was scratching my boobs. Not a good look.
16. Yet Another Stomach Bug, The Perhentian Islands, Malaysia
I've always thought that I was a person who didn't vomit that much, but in retrospect maybe I'm a person who vomits all the time. This particular incident occurred while in the presence of another boyfriend (side note: if you travel with a romantic partner, at some point you will see/hear that person vomit or have explosive diarrhoea. Unfortunate but unavoidable). We were spending a few weeks on the islands of the Perhentian Islands in northern Malaysia, and it was truly paradise. We stayed long hours in bed, napped on the beach, ate delicious food, and danced through the night with our feet in the sand and our hands in the air. It was heavenly. Well, that is, until I became sick.
Once again, I felt the distinctive rumbles of an upset stomach. We had been drinking a lot in those weeks, and eating really heavy meals – barbecued chicken, hamburgers, rice and fish in cream sauce. That night, I thought I had better rethink my diet and ordered soup instead. Hot, spicy, Malaysian soup. I ate most of it, believing that old adage that soup = feeling better. Nope. Wrong.
Within a few minutes of finishing my meal, I knew something very, very bad was going to happen. We were sitting at the restaurant nearest our beach bungalow, the one located up a series of steps and at least a five minute walk away. I literally jumped up from the table and bolted up the stairs, calling behind me to my boyfriend, "Don't follow me! Don't follow me!" because, obviously, THAT is infinitely sexier than simply saying, "I feel really sick, you stay here." He, of course, did follow me, but thankfully I had already thrown up and was now in the incredibly attractive position of lying face down on the bathroom floor, moaning. Oh, and remember that "hot, spicy" soup? Yeah, that was awesome coming back up. If you've never had flecks of chilli peppers coming out your nose as you threw up in a barely-functioning toilet in a room that only received power for three hours of the day, you haven't lived. Puking: the extreme version.
17. The Big Accident, Death Road, Bolivia
I'm not going to write about this now – I'll write an entire post about that day (update: I wrote it). But let's just say that I ended up with a hairline fracture of the jaw, a sprained wrist and elbow, a smashed open face, and a torn MCL. This stuff is kind of a bummer to write about, though. Instead, wouldn't you rather read about…
18. Vomiting AGAIN, Huacachina, Peru
Huacachina is famous for sand-boarding. I wish I could say that I actually got to experience sand-boarding, but yes, you guessed it, I was too busy clutching my stomach in intense pain.
I arrived in the little town after a bus ride from Lima; I was stopping here only to stay the night before heading on to Nazca to see the famous Nazca lines. I found a hostel, put my bag in my room, and then headed to the crowded hostel restaurant for a quick and easy meal. A hamburger! How adventurous of me. It wasn't the best meal I had in Peru, not by a long shot. Peruvian food ended up being my favourite food in South America (Argentinian steak excepted). This burger was pretty tasteless, and the mushrooms on it were soggy and chewy (if you're worried that I'm going to discuss the fact that I then threw up these same mushrooms, and they were once again soggy and chewy, don't worry, I won't talk about it. Oh wait…).
I went online, wrote this post (ironically about a sandwich), and then headed to bed. I had barely fallen asleep when I was awoken by a very sore stomach. I hadn't been sick at all in Central or South America so I was shocked that a burger would be the ultimate culprit. That's what I've learned, though – very often the local food will be the best food to eat, the food least likely to make you sick. If you notice, I have never written about being sick in India, and I firmly believe it's because I only ate Indian food for the month I was there. Long story short, local food good, burgers bad. I spent the next day barely moving, watching old movies on my hard drive and cursing all the people coming back from their amazingly fun tours of the sand dunes. There's always next time, though, right? And next time, I'll skip the mushrooms.
***
So there you have it, seven more ailments/illnesses I've experienced while travelling. I like to write these post to highlight the fact that travel isn't always glamourous, and it's not always fun. I swear, though, I really don't get sick that much when I travel. Please keep in mind that these experiences are culled over seven years of nearly continuous travel. Shit's gonna happen over seven years. Literally.
What are some of your worst travel ailments? Do you get sick a lot when you travel?
*Follow me on Facebook and Twitter!*