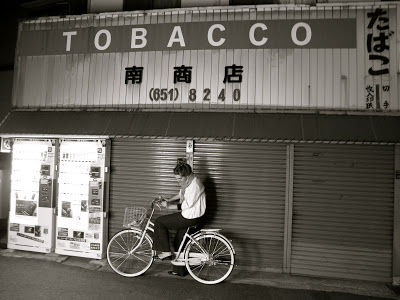 Osaka, Japan
I grew up in a small city in the Canadian prairies, a place known for wheat and hockey. I spent my youth memorizing maps; I was excited when the USSR broke into pieces, if only because it meant I had 15 more countries and capitals to learn. I never felt suffocated or held any ill will against my hometown – I knew that it was simply the place for my childhood. My future lay in the countries I studied in atlases, in the cities I'd practice saying in bed at night, rolling their foreignness over my tongue. Tbilisi. Buenos Aires. Zanzibar.
I was a teenager when I started to venture further out into the world, first with my family and then with school trips. There were awkward photos in front of famous monuments, cheap imitations of Big Ben and the Eiffel Tower to bring home as souvenirs.  I worked full-time through university to travel around Europe on my own, and I eventually lived there, savoring the otherness my childhood self had so long dreamed of.
But, like any addiction, travelling had me in its grasp, my wanderlust an uncontrolled entity. Soon I was looking up international jobs, researching visas, investigating how much I'd need for the plane ticket. Finally, I did what every other twenty-something English-speaker with a university degree but no idea how to use it does: I moved to Japan.
I arrived in Osaka on a humid afternoon in August, my suitcases bulging with light grey office-wear and books by my favourite authors. I stood dutifully on the yellow footprints at immigration as I was fingerprinted and photographed, my first encounter with the country's order and diligence. I took an airport bus to meet Bruce, a man sent by my company. He showed up two hours late, with bleached hair and a sweat-stained polo shirt. "Sumimasen," he bowed to me, a word I'd later learn means I'm sorry and thank you and excuse me and just about everything one would need to appear polite in Osakan dialect.
I was taken to my new home deep in the city centre – I looked at my tatami mats, my bare walls. It was my first time in Asia, and I wondered if I was finally in over my head. At the heart of a metropolis that includes Kobe and Kyoto, Osaka is a city of millions, swelling by another million every day with those commuting there for work, sometimes from three or more hours away. In time, I would become a commuter, too, travelling from ten minutes to two hours to get to work, depending on the location of a school or conference. I read in those hours, or listened to music, or watched the life around me. There was always peace on those trains, even in the most hectic and crowded of times. People stood quietly, read managa, or, in most cases, slept, waking just in time for their stop.
I settled in fairly quickly to my new neighbourhood, a place called Nishi-nari-ku. When I told my Japanese coworkers where I lived, they all looked at me incredulously. "Ehhhhh! Nishi-nari-ku is so scary!" I found out later that this part of Osaka was known as the most dangerous neighbourhood in all of Japan, something to do with pachinko parlours and prostitution and homelessness. I didn't understand this reputation; the neighbourhood I saw was perhaps a bit dilapidated, but felt no more dangerous than the boroughs I had lived in in Toronto or Edinburgh. Homelessness was a hidden epidemic, one that saw its victims building homes of cardboard down back alleyways or in deserted lots. I never saw people sleeping on the streets, or begging for handouts. Like many social problems in Japan, it was all swept under the carpet, never to be confronted or discussed.
I often took my bicycle out for late-night tours of the neighbourhood. I was already in love with the streets of Osaka, most of which grew quiet by dark save the neon signs for ramen shops and the dull hum of vending machines selling cheap alcoholic drinks and cigarettes. I'd buy a beer and cruise for hours, sometimes a portable radio in my bike basket. I had spent many hours like this, minus the beer, in my youth. This familiarity, this nostalgia, blended with the unfamiliarity of my surroundings, of the new culture; it created something perfect and unique. I had some of my best nights in the city just riding my bicycle, just letting mind wander through the winding streets.
One night, I rode further than usual. Beckoned by streetlamps, I turned down a road I had never been down before. It took a few minutes for what I was seeing to set in: dozens upon dozens of brightly-lit windows, all filled with candy and oversized toys. In the centre of each window sat a young girl, dressed in a schoolgirl uniform or a maid's costume or in frilly pajamas. Outside each "shop" sat an older woman, fanning herself in the heat and yelling out or motioning to the people passing by. It was then that I noticed that the only other people in the street were men in suits, men carrying briefcases, their faces either swiveling from window to window or solidly fixed to the ground. And there I was, unknowingly caught in the middle of Osaka's red-light district, only a few kilometres from my home. But nobody chased me away, or caused me any harm – I was simply there to look, and they let me. I let them look back. I was disturbed by what I saw that night, disturbed by the girls and their doll-like appearances, disturbed even more so by the empty windows. I never went back. It was a side of Japan I didn't want to see again.
Despite my previous travels, it was the first time that I had ever been a foreigner. In other countries I had been to, I was someone who could either blend in with the crowd or be so obviously a tourist, one so different and so wide-eyed that I was immediately sussed out as temporary. Here, though, I toed the line of belonging and of being indescribably separate. I would never be Japanese. I would forever stand out on the subway, no matter how many years I lived there or how well I spoke the language. I would forever be blonde and blue-eyed. I would forever be an other.
Despite this, I clicked with Japan. I learned new words, new alphabets. I made friends. I grew used to the bombardment of questions as to where I was from, what I did, if I liked Osaka, what my favourite Japanese food was, if I had a boyfriend, if that was my real hair. The people of Osaka were curious. In the West we're trained to keep our mouths shut, to not ask questions, but surely the greatest compliment is to be found interesting. I didn't mind the impromptu interviews, and memorized my answers: Canada, yes, taught conversation classes and wrote English textbooks, okonomiyaki, no, yes. It was akin to being a minor celebrity.
I fell into a routine at work, learning which convenience store had the best sushi near my office building and how to manage minor earthquakes while stuck on the 8th floor. I made mistakes, of course; my first week, grocery shopping, I bought what I thought to be peanut butter only to discover it was miso. I forgot to take my shoes off in a classroom, I poured my own tea at a dinner with coworkers, I handed money over with one hand – all minor cultural mistakes, ones for which I was quickly forgiven. Though I was cast in the role of foreigner I didn't suffer for it; I became a curiosity, not an oddity.
One rainy spring day I exited the supermarket and walked toward my bicycle. Arranging my bags in the front basket, I noticed an elderly woman waving at me from under the awning. She was saying something to me I did not understand – my Japanese was poor, and I knew only the most basic of phrases. She pointed to the  handkerchief in her hand, and then to my bicycle, over and over again. I smiled, still not understanding, saying the only word I could think of: "Sumimasen." Unrelenting in her mission, she left her dry spot and walked toward me in the drizzle. With one quick swoop she wiped my bicycle seat off and motioned for me to sit down. The incident was not isolated; I was often granted random acts of kindness by strangers. For all that I was expecting when I moved to Japan, I wasn't expecting that level of respect – I had grown up thinking Canada was the most polite country in the world, but here I was, surrounded by admiration and esteem.
I spent over two years in Japan, kept there by a rewarding job, a comfortable domestic life, a great social group. I loved the energy of Osaka. All around me was action. There was an organized chaos to the hustle and bustle of life, an order to the expansive shopping centers, the crowded subways, the throngs of people on every sidewalk. I grew to love the noise, the vivacity, the endless pulse of the city. I grew to feel a sense of belonging, more so than I ever did in the nearly two decades I spent in my hometown. I even learned to sleep on trains. I was still an other, I was still a foreigner, but I was wanted and celebrated for that otherness, for that foreignness. I wasn't made to feel displaced or despised. I was made to feel the opposite.
When I was a girl, I never once pictured myself living in my hometown. I never imagined wedding dresses or white picket fences. I dreamt only of adventure, of braving big cities and immersing myself in the new, the unknown. And somewhere in the madness of Osaka, somewhere amongst all that was so unfamiliar, I came into my own. I found a home.