Death Road, Bolivia
"I can stitch up your chin if you want," the young woman told me as she pressed yet another alcohol-soaked cloth onto my bleeding face. A monkey peered at me from the window. I could hear the cries of exotic birds. My clothes were still covered in mud, and everything hurt.
"Have you…" I struggled to find the right words; I didn't want to offend her or seem impolite. "Have you ever stitched a human face before?"
 ***
 The day started at a cafe in La Paz, where I met my guide and my fellow cyclists. There were six of us in all: me, an older Australian man and his wife (who would not be cycling), a lovely Irish couple I had also gone to Machu Picchu with, and a horribly obnoxious American I had met at Lake Titicaca. Our guide was a young Canadian, and he had been doing the tours of Death Road for a month.
 Death Road (formal name: the North Yungas Road) is almost a rite of passage for backpackers in South America; thousands of tourists cycle the dangerous road every year. Built in the 1930s, it connects La Paz with the Amazon rainforest in the north. The section nicknamed Death Road is a 69-kilometre (43-mile) mostly-downhill stretch of harrowing turns and 600-metre (1830-foot) drops. There are no guardrails, and the road is often the width of one lane. And yet, here I was, being fitted for my kneepads and helmet.
 I love adventure; I'll scuba dive and bungee jump and like to think that I'll try anything once. Death Road was just another thing to try; I actually didn't give it much thought. 19 people have died cycling on that road, but for the thousands of people who successfully manage every year, I thought that number was quite low. Besides, my guide claimed, "Every accident is the fault of the cyclist." People died when they tried to take photos while cycling, or by acting irresponsibly. I was taking this seriously.
 Right away I felt uneasy when we were given our helmets; we had driven for about an hour outside of La Paz, and had a long stretch of relatively safe cycling to start. I say relatively because this part was at least paved, although huge trucks were still whizzing by us, and there were plenty of times where injury and accident could occur. I had assumed that we would be given a full-face helmet as the pamphlet showed, but my guide told us that we would definitely regret that choice, as it was difficult to breathe in these helmets, and we would get very hot (though he did have a few in the van). As it was raining, he said that visibility would be low. Trusting him, and yet not listening to my gut, I took a regular bike helmet. He also informed us that we would not have wrist guards or uniforms, just an orange vest. I looked around at the other groups preparing to cycle; I had paid more, and yet there they were, full-face helmets, full-body uniforms, and given both knee-pads and wrist-guards. I didn't like it. What was I to do, though? I had already paid in full, I was at the start of the road, and I considered myself a fairly experienced mountain biker. We set off.
 The first part was fun, despite the trucks. We stopped for a quick sandwich and got back in the van to drive to the real road, the start of the unpaved bit. By now it was raining heavily, and the fog made it so that we could only see about five metres into the distance. But one often feels invincible when faced with adventure. Out of the 100-odd people who cycle Death Road every day, one has an accident resulting in injury. With those odds, it couldn't possibly be me, right?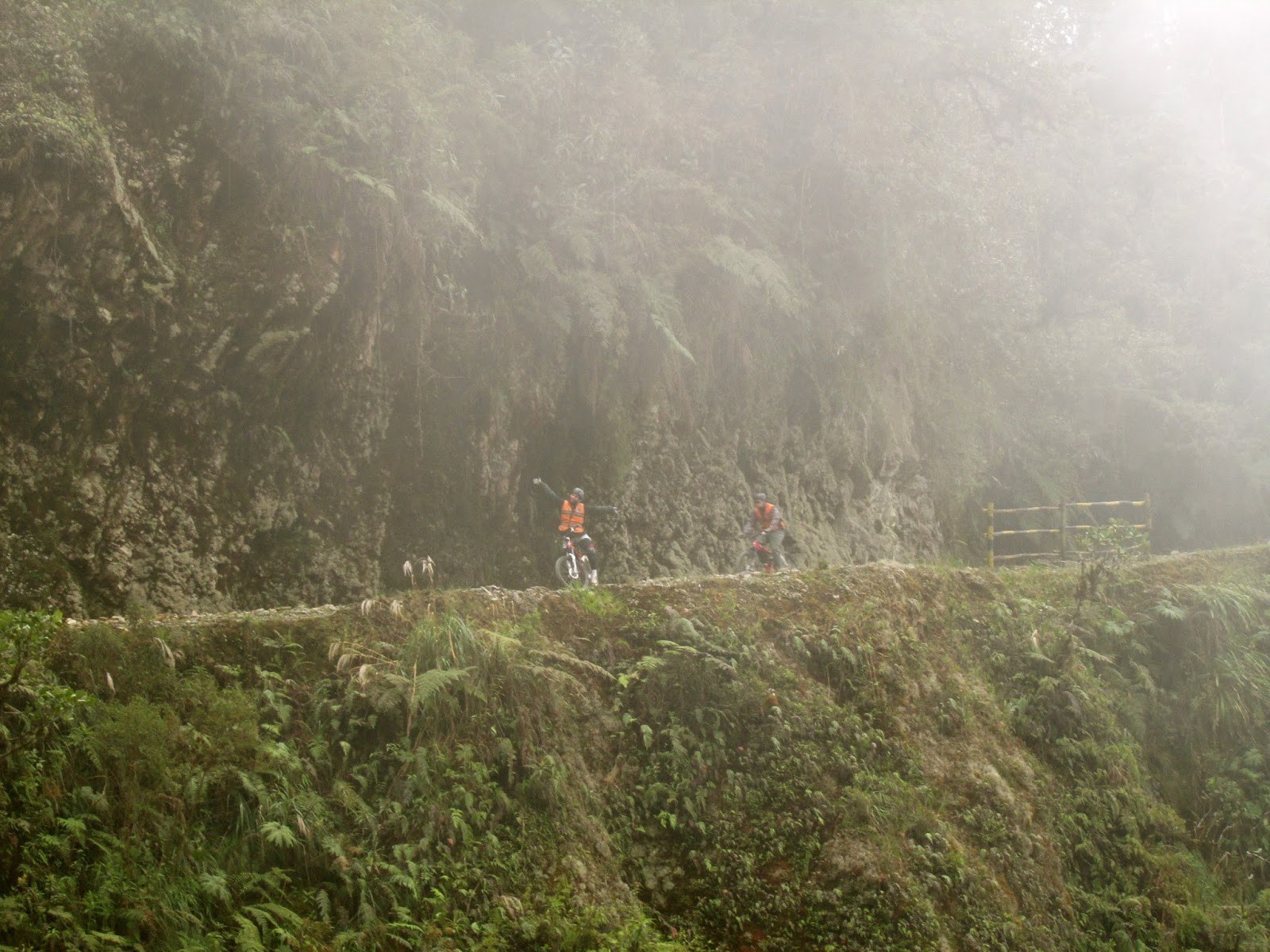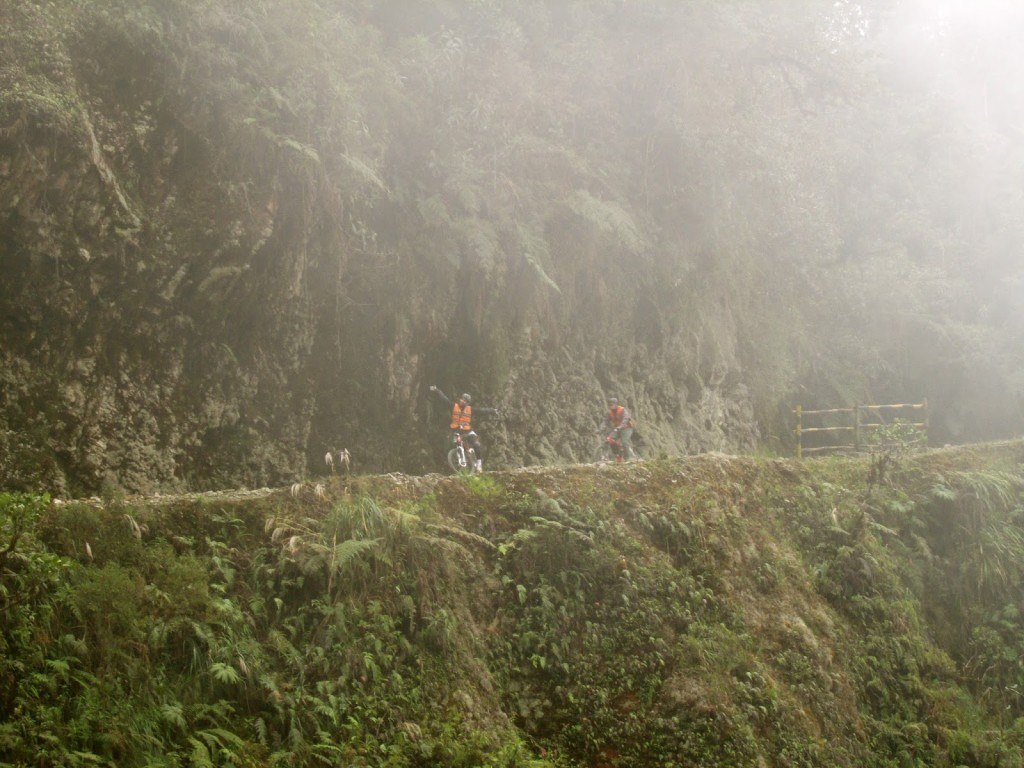 When the fog lifted, it was indeed fun – we were going quite fast, but I trusted my bike and I trusted my instincts. I didn't brake heavily or worry too much about the huge cliffs to my left; I just let the natural groove take over. There were puddles everywhere, and huge stones, but I felt I was doing well and navigating easily. We stopped often, and there were absolutely incredible views of the countryside. For something named Death Road, it was lush and full of life, with sweeping landscapes of green mountains.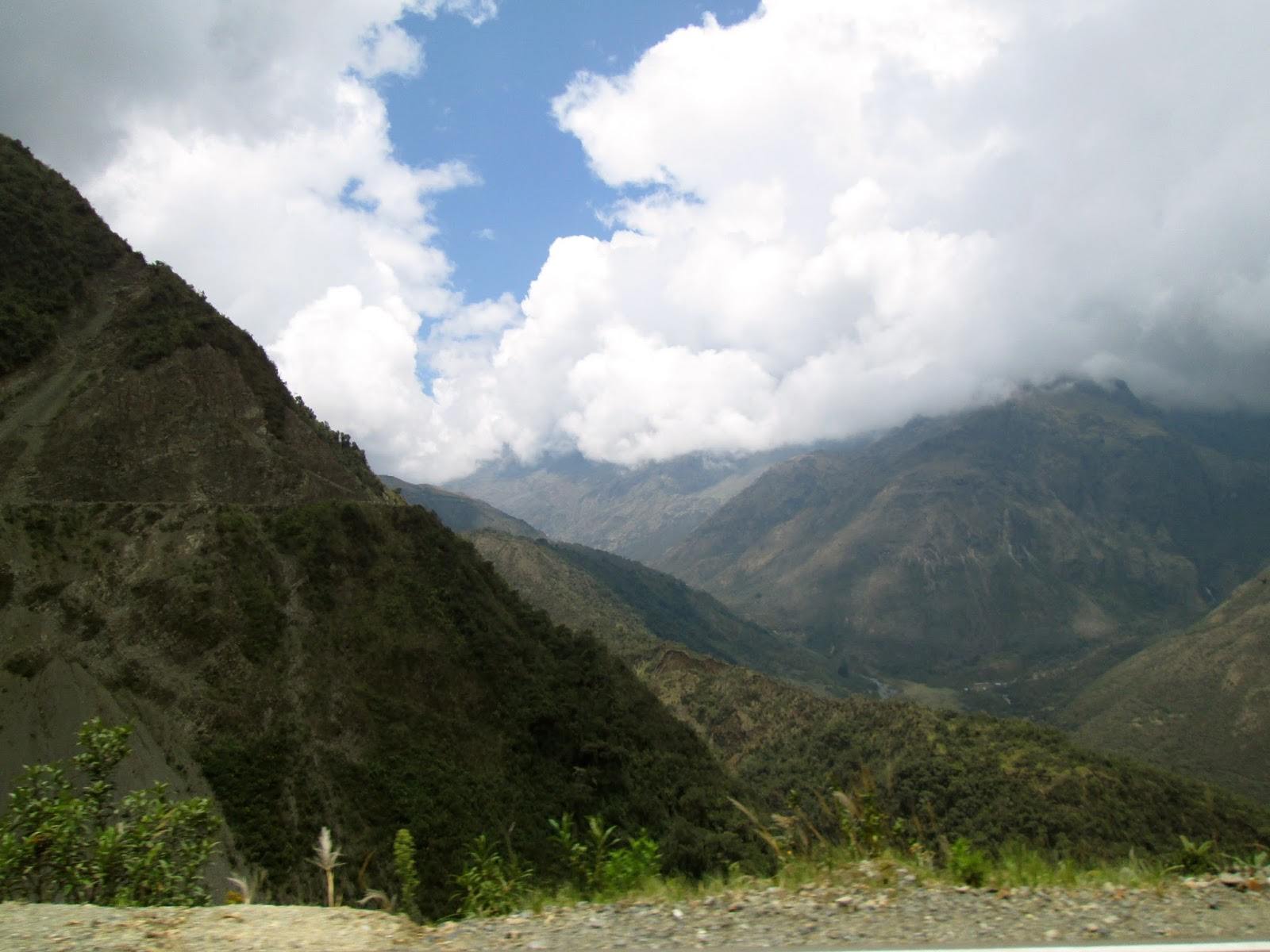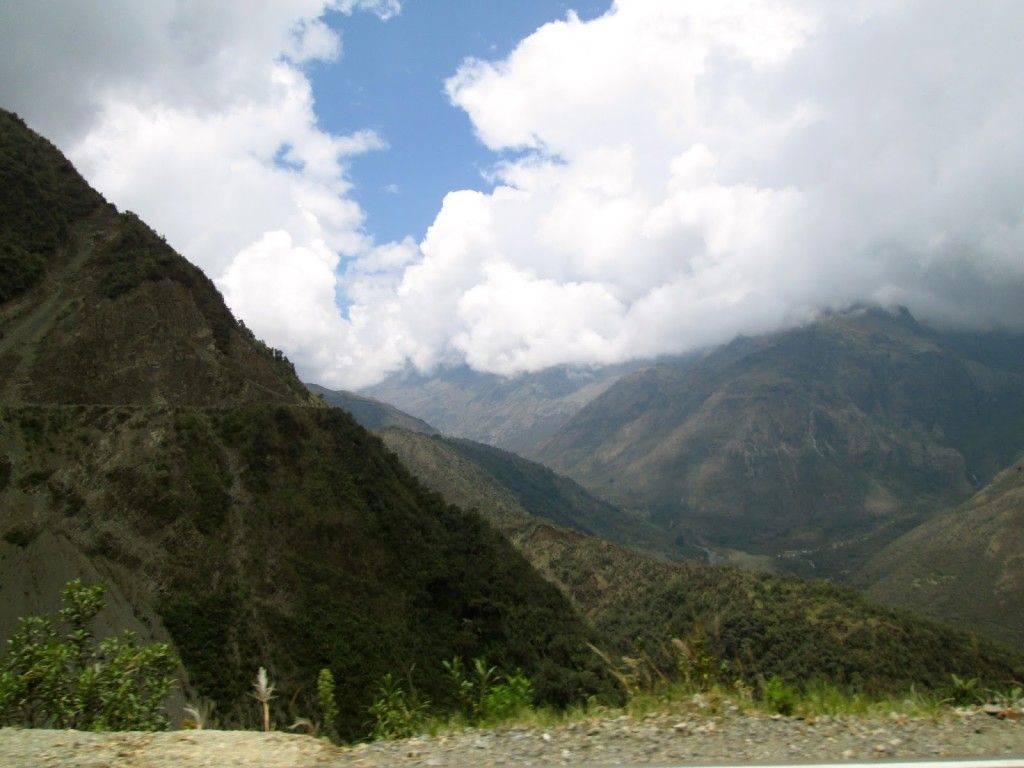 Just past the halfway mark, it happened. I have replayed the incident over and over again in my head, but it never gets any clearer. It was raining, and the road was wet; the big rocks were now slick with water. All I can assume is that I went over one of these rocks the wrong way, and my tire twisted to the right. I simply lost control of the bike. Because of my biking experience, I knew not to brake (which would fling me over the handlebars) but I still ended up crashing to the ground at a speed of about 30 kilometres an hour. That doesn't seem that fast, of course, but I crashed face-first onto a road comprised solely of gravel, pebbles, and stones. I get little snippets of the impact, freeze-framed shots of being in the air, of hitting my face, and then of sitting up, stunned, as the cyclists behind raced up to see if I was OK. I am so thankful that my wheel went right and not left, which would have sent me toward the cliff's edge. I don't even want to think about that scenario.
 The first thing I remember saying is, "My teeth." I have recurring nightmares of losing and/or smashing all of my teeth out, and I've long thought that breaking a tooth while travelling would be such a terrible ordeal (well, terrible anywhere, but especially terrible in a country not known for dental care). I then remember not being able to see. This was because blood was pouring from my right eyebrow into my eye – I had sliced it open exactly along the brow. My chin was also aching, but I was mostly in shock.
Everyone immediately sprung into action, and when the van pulled up (it was following us the whole way) they sat me in it and assessed my injuries. I could still move everything, but I knew that something was definitely wrong with my right wrist, elbow, and knee, and that my face was cut open. Most embarrassing to me was that I couldn't stop crying – even when I was trying to calmly talk about what hurt or what I wanted, I couldn't stop the tears. I have never really been in an accident like that, so I suppose that was my way of dealing with the shock. I was trembling like a leaf.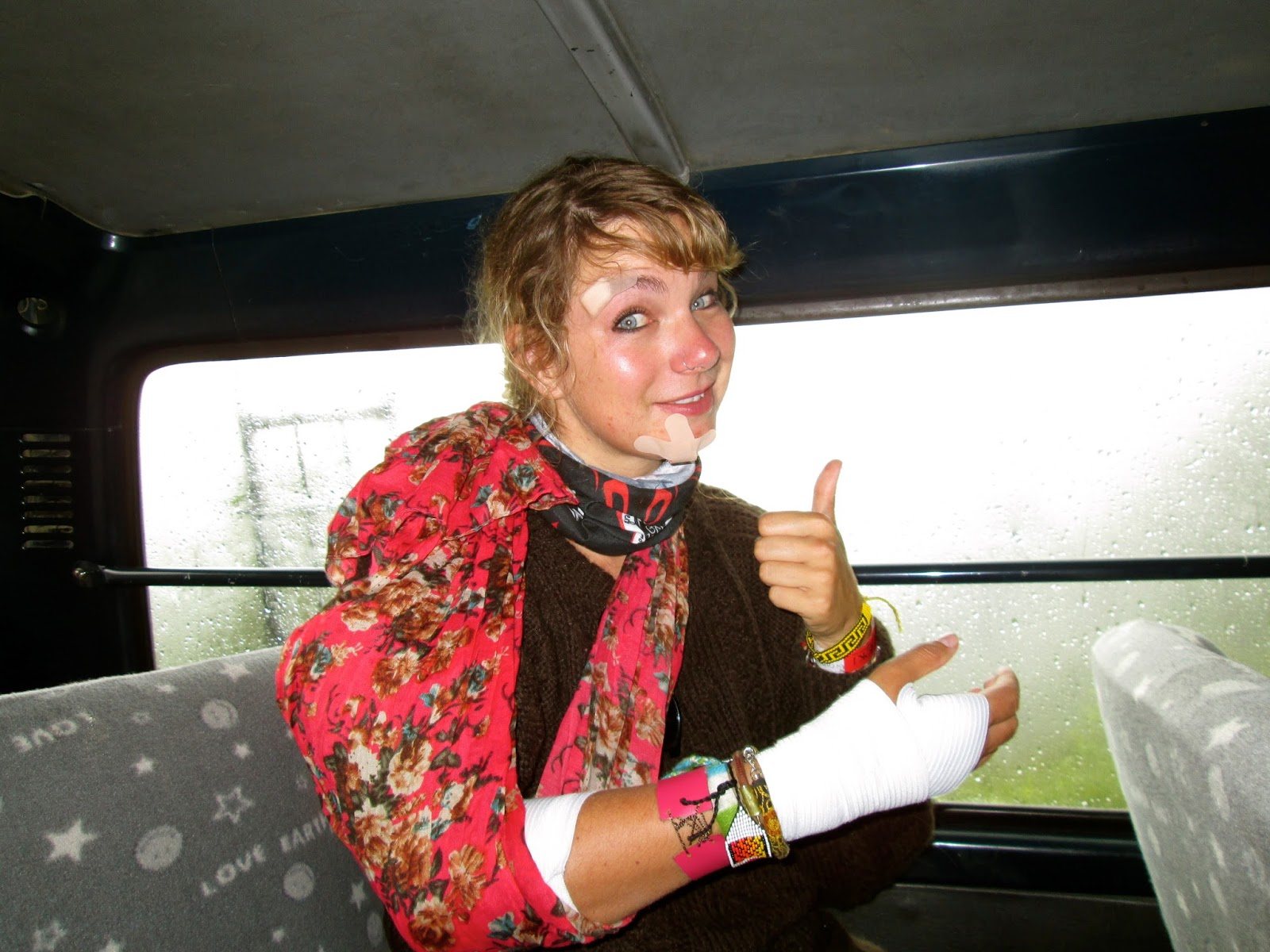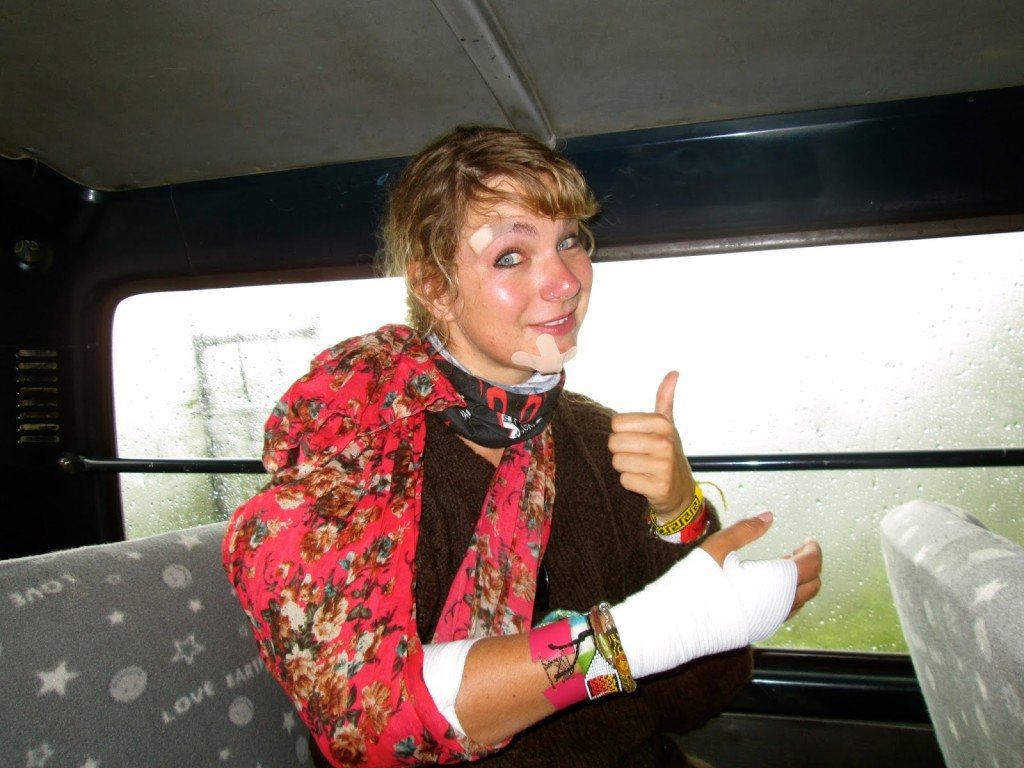 Thankfully, Irish Kellie, who is a nurse, knew exactly what to do, and bandaged me up. The bandages on my face didn't last long, and had to be replaced every few minutes: eventually we removed them, and I had to sit in the van applying pressure while everyone else continued on the tour.
Sitting in the van, I began to worry. I couldn't close my hand into a fist, and my face was still bleeding profusely. We were hours and hours away from La Paz and the nearest hospital. I knew that I would be fine, but I have never felt so far from home and the people that I love. I tried to stay in good humour, though, and joked around a lot. I even asked to cycle the last few kilometres, but my guide wouldn't let me. We eventually made our way to an animal sanctuary, where everyone else would eat and I would be looked at by the animal doctor. From there, we would head back to La Paz, though that was nearly a three hour journey.
 The veterinarian cleaned me up as best she could, and gave me some painkillers. As my face was still bleeding, she offered to stitch me, but I decided to wait until La Paz, opting for butterfly stitches instead (when the skin is pulled together on either side of the wound and taped).
 The ride back to La Paz was horrible; I was put on a van with a different group, as they were leaving earlier than mine. It took what seemed like ages to get back to La Paz, and the van first had to drop everyone off at their respective hostels before taking me to the hospital. As everyone had started drinking at the start of the return home, the van was soon filled with very loud and very drunk backpackers – not an ideal situation for a sad and bleeding person moping in the back. Had I not been injured, I'm sure I would have joined in the revelry, but at that moment, I just felt miserable. The only solace was that their guide, an Australian who had been doing the tours for two years, was really helpful, even coming to the hospital with me and making sure I was in good hands.
 The hospital in La Paz was very clean, and the nurses and doctors extremely kind and gentle. After many assessments, the verdict came in: sprained wrist, sprained elbow, and a hairline fracture of the jaw. At that point, seven hours after the accident, I was barely bleeding, so they taped up my wounds on my face instead of stitching me, though I probably should have received stitches. They also wanted to put my arm in a cast for one month, but I chose a sling and elastic bandages instead; as I was travelling on my own at that point, there was no way I could be in a cast and expect to lift my backpack.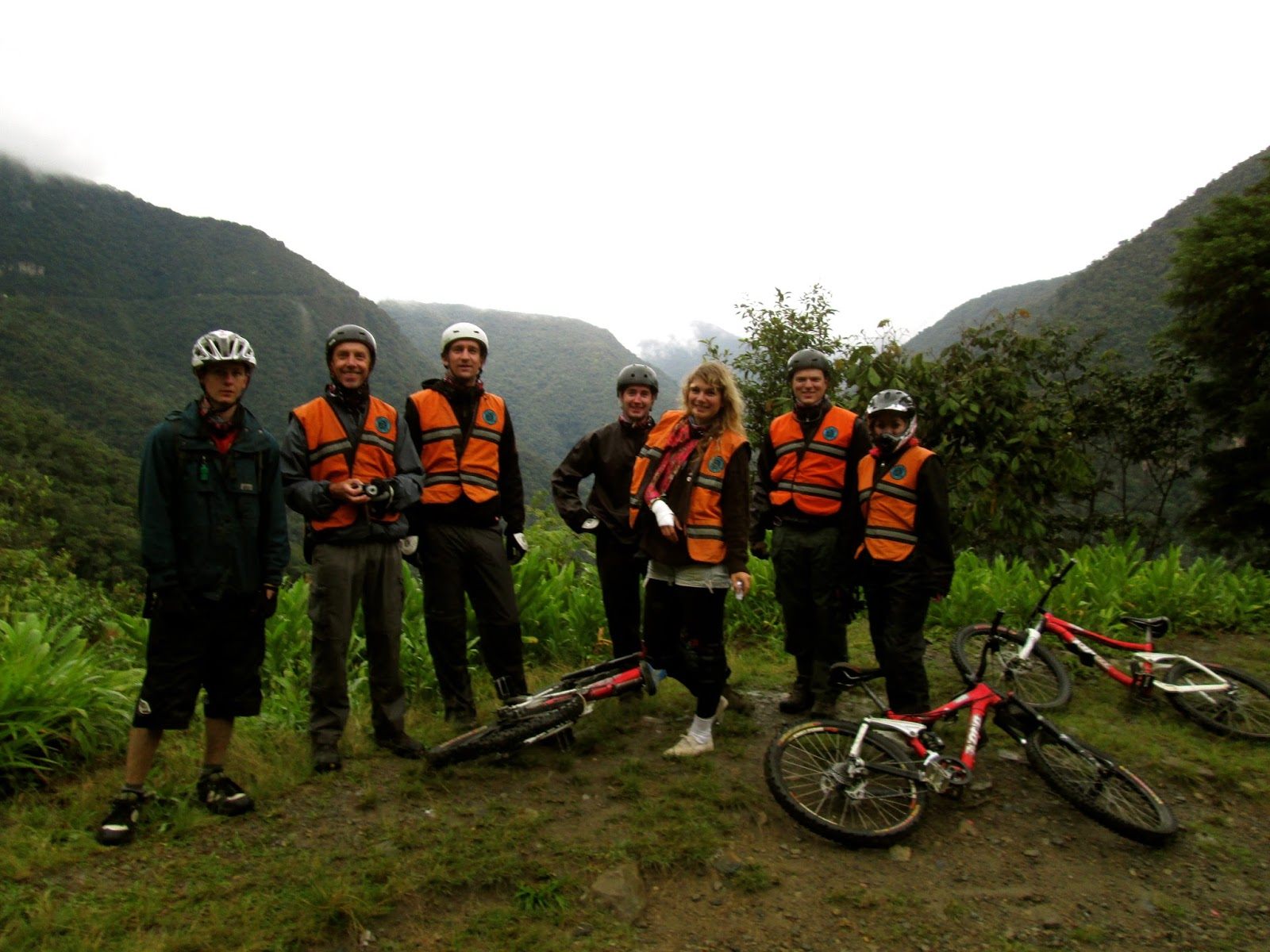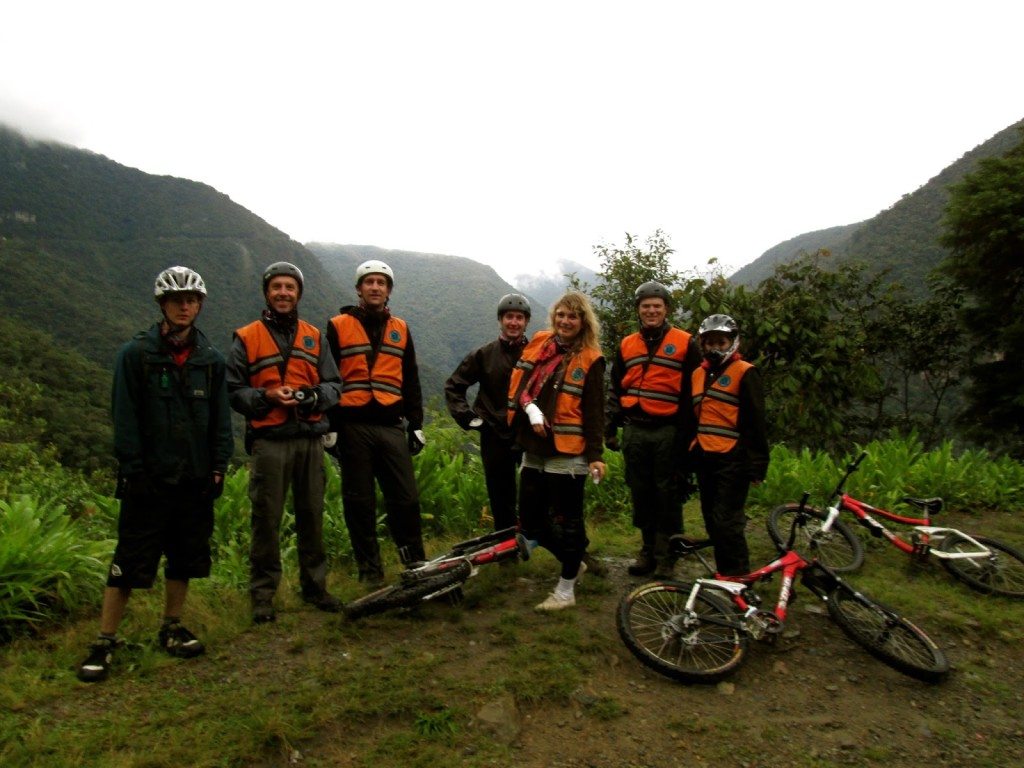 After the accident (Kellie switched to a full-face helmet after my blunder)
All in all, the first week was the worst. My chin was oozing all sorts of weird liquids, and I was worried about scarring. My arm hurt, and my leg was throbbing; I couldn't sit still for long, or sit on buses without extreme discomfort. There was a weird bonus to being injured, though: I became something of a legend in the La Paz hostel circuit at the time, and people came up to me saying things like, "Are you that girl who fell on Death Road?" I have never been hit on more in my life, I'll tell you. Men were constantly asking me if I needed anything, or if they could protect me in the bar. Even though I had to drink the beers they bought me with a straw, I took all of the pity and pampering I could get.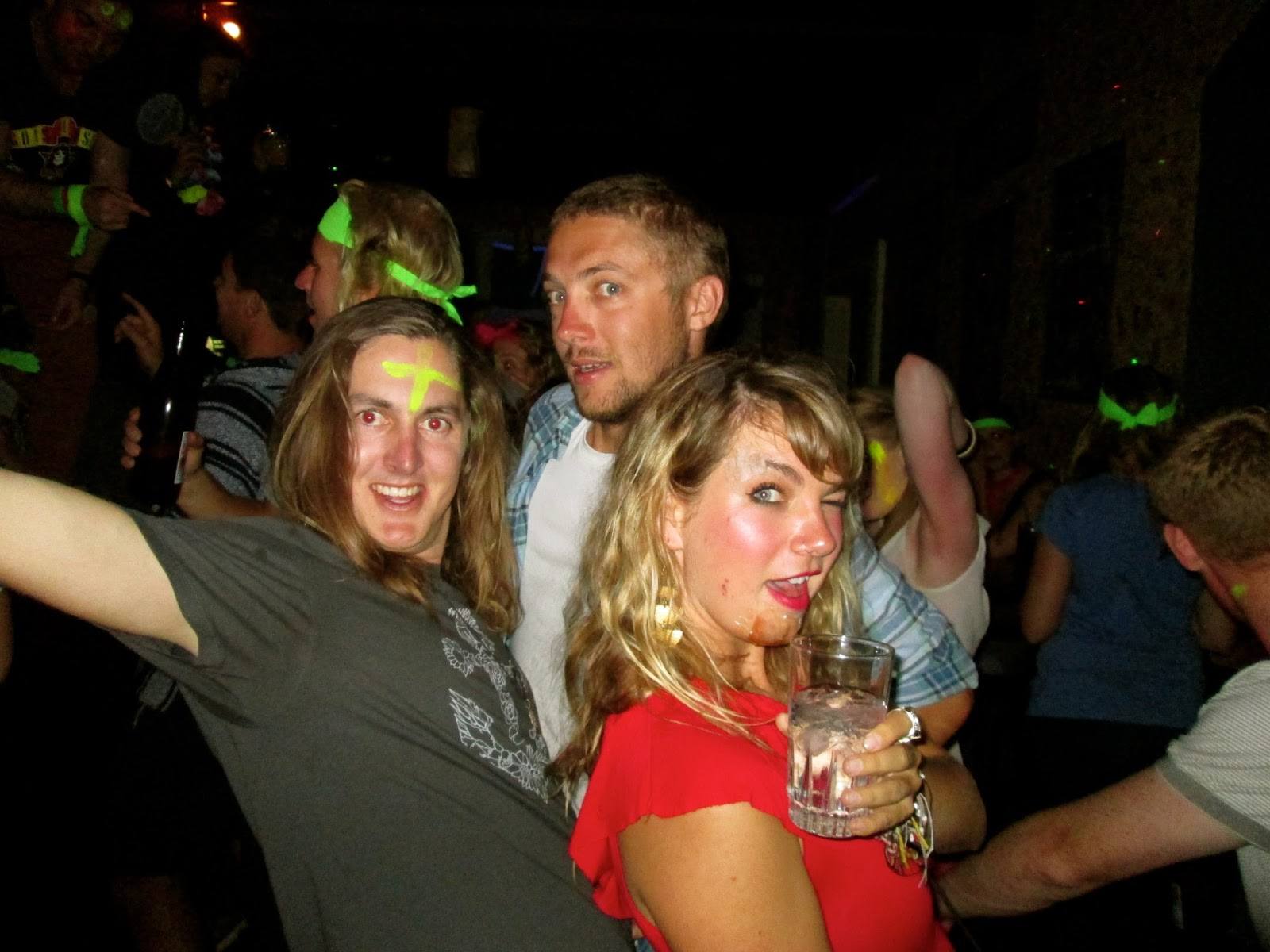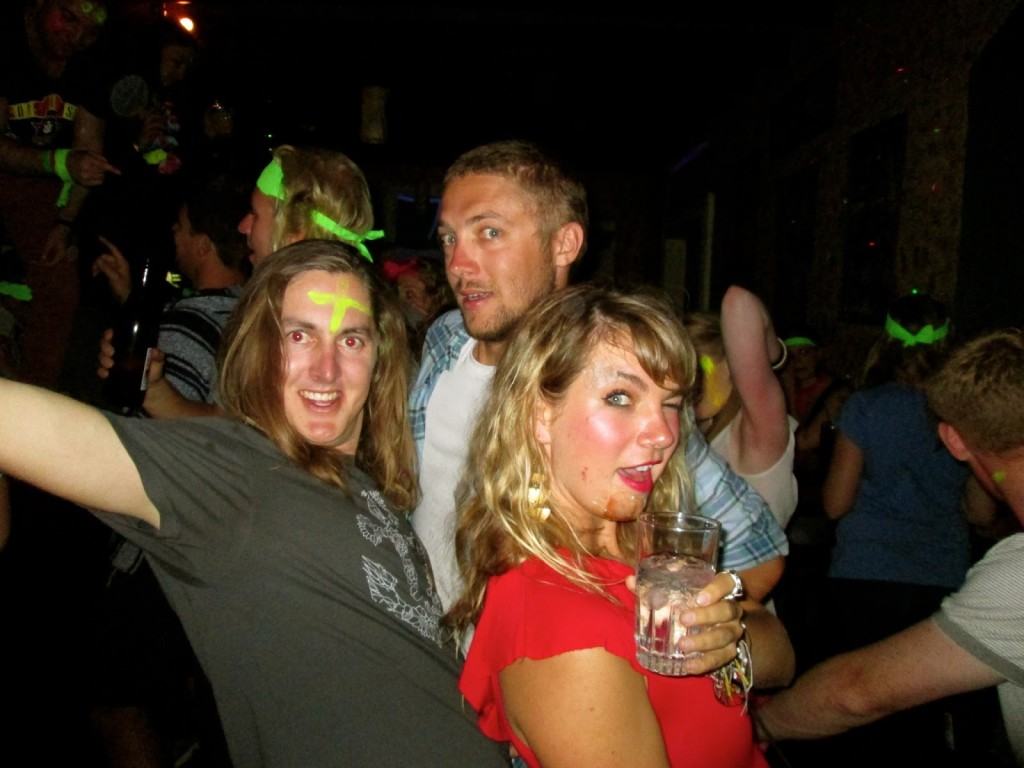 My injuries eventually healed, and the scarring wasn't as bad as it could have been. I bought Vitamin E oil and rubbed it on my chin every day, so today I am left with a fairly minor reminder of the accident on Death Road (a scar weirdly shaped like a cross, though I refuse to take that as any sort of sign from a higher power. Still waiting to see Jesus appear on my toast to make it official). Since I have been graced with Peter Gallagher-esque eyebrows, the scar is hidden there, too. Fittingly, I have always said that the number one trait I look for in a romantic partner is a facial scar, so I guess karma caught up with me.
The only lasting effect I have from the accident is the pain in my knee. What I didn't realize at the time was that I actually tore my MCL in the accident; I didn't discover this until returning to Canada and visiting a physiotherapist. It finally made sense why I was in so much pain, and why even walking for longer than half an hour made my knee ache. With exercise and stretches, I'm slowly strengthening that muscle again.
At the end of the day, I didn't die (sorry for the misleading title, but "Minor Injuries That Never Actually Threatened My Life But Definitely Bruised My Ego On Bolivia's Death Road" just didn't have the same ring to it). I'm left with a traumatic story, but I can tell it with humour and humility. Would I still recommend Death Road? Sure, if you like adventure. I wouldn't change much about that day, although I would have insisted on better protection. I went with a company called Gravity Assisted Biking, but after hearing reviews of Altitude, Barracuda, and others, I wish I had gone with another company.
My guide had said at the beginning of the day, "Every accident is the fault of the cyclist." Do I believe I did something wrong that day last October? No, I don't. It was raining, I was going fast, there were rocks everywhere, and I was riding downhill on something nicknamed DEATH ROAD. Sometimes, shit happens. Sometimes, though, that shit makes for the best stories.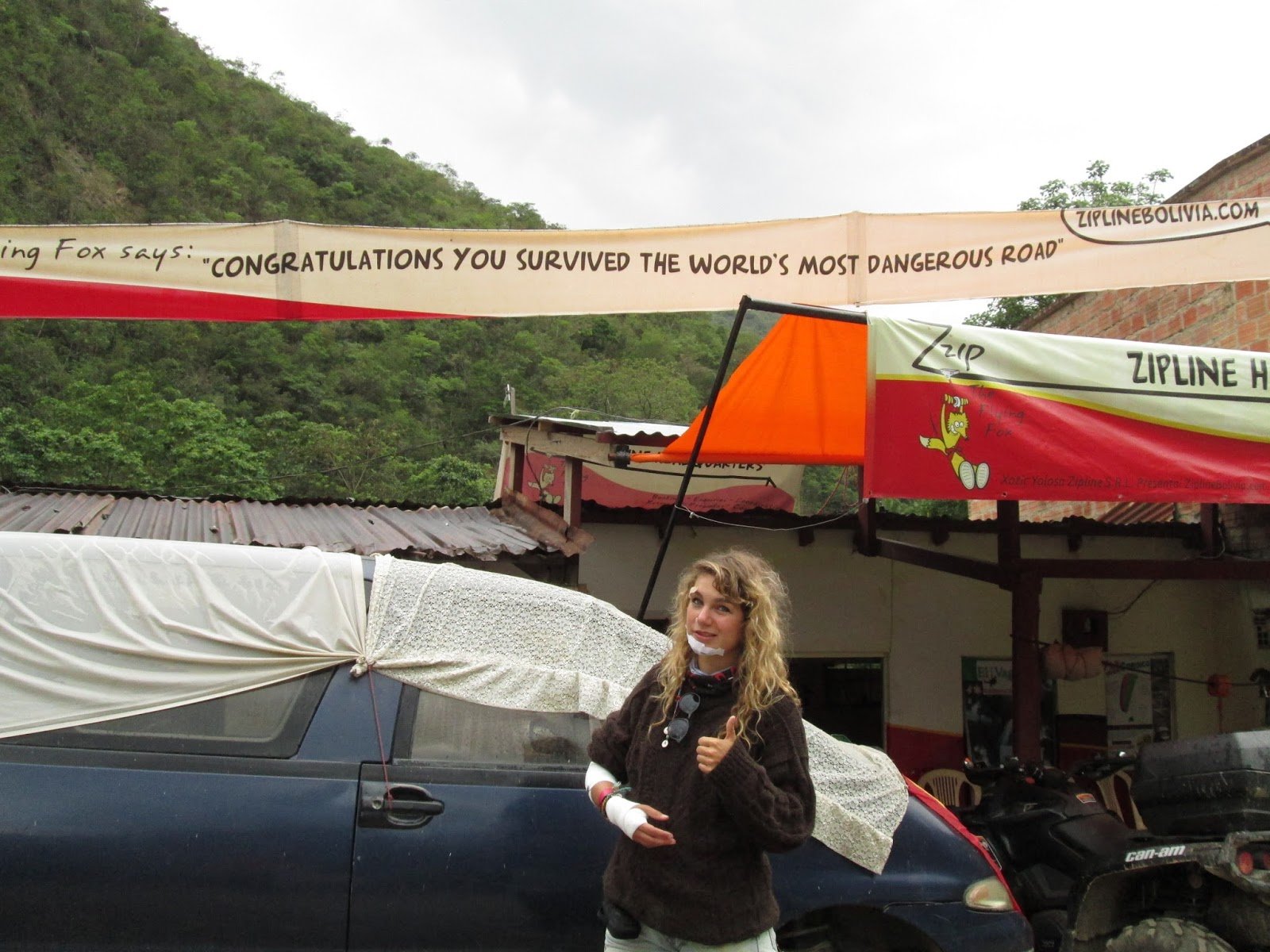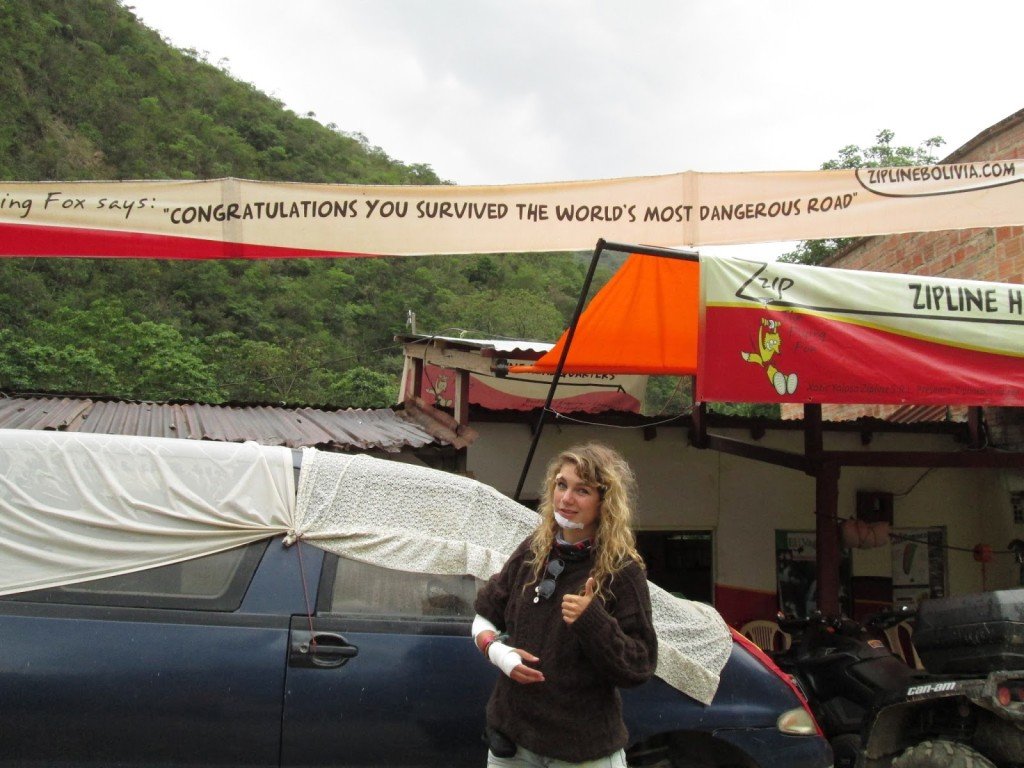 Congratulations, you survived the world's most dangerous road. Kind of. 
Have you ever been in an accident while travelling? Have you ever cycled Death Road? If you haven't, would you?