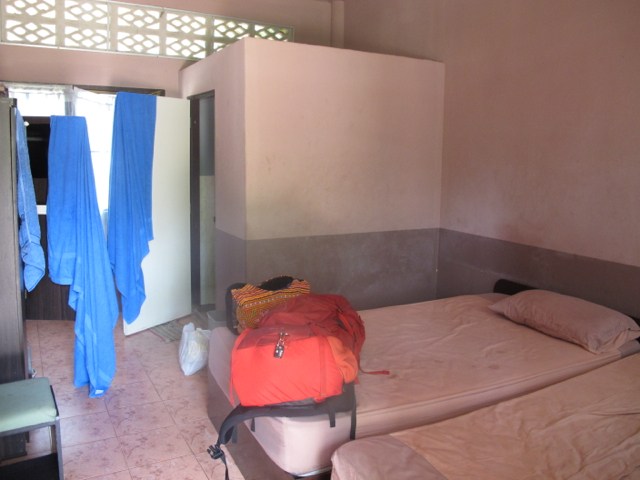 I May Have Hacked Up A Lung On That Bed, Koh Tao, Thailand
In no particular order, here are the worst/most painful/grossest travel ailments/injuries/sicknesses I've ever had.
***
1. Stomach Virus, Marrakech, Morocco: I was abuzz with energy as I walked through Djemaa el Fna, Marrakech's most famous square. I had been there a few times before, and had eaten at many food stalls and restaurants in the square with no disastrous results. On this particular night, however, I blame the orange juice. Tempted by the glistening citrus globes, I stopped for a glass of what I thought must be the freshest, best-tasting glass of orange juice in Africa. I even snapped a few photos of me enjoying the beverage. Giving my glass back to the seller, I couldn't help but notice that he simply wiped the glass with a dirty rag and then refilled it with orange juice to hand to another customer. "Uh oh," I remember thinking. Uh oh was right. Within 24 hours, I was sicker than a dog, unable to keep any food down (or in, if I may be so graphic). Luckily I was headed back to Canada shortly thereafter, but my illness lasted for weeks afterward. I'll never know if it really was that glass of orange juice; I do know that I got sick the next time I went to Morocco, so perhaps there's just something in the water (i.e. there really is something in the water).
2. Attack of the Leech, Luang Prabang, Laos: I've written about this before, so I won't say much here, only that it was pretty gross, and there was a lot of blood.
3. Bladder Infection, Copenhagen, Denmark: I'm sure you have gathered by now that I'm not holding anything back, so here goes. When I was in my teenage years/early twenties, I suffered from a few bladder infections. They are fairly harmless as long as you catch them quickly and are able to visit a doctor right away, but they can, as anyone who has had one can tell you, be extremely painful. I woke up one morning in Copenhagen feeling a bit under the weather, and by that night, I knew I had a full-blown UTI. Trying to be a trooper (here's a travel tip: NEVER try to be a trooper if you are seriously in pain), I waited it out until morning, thinking that if I drank enough cranberry juice and water it would just go away. By 7am, I knew I couldn't take it anymore. I asked my travel companion to take me to the nearest hospital by taxi, but, again, trying to be a trooper (seriously, never try to be a trooper), I agreed to the much cheaper yet much slower subway system instead. By the time I got the hospital, I remember nearly blacking out from the pain. A few hours later, after seeing the nicest doctor I have ever encountered, I was back at the flat where I was staying with some medicine. The medicine takes time to kick in, however, and I still had the overwhelming urge to use the toilet every five minutes. Lo and behold, the flat's bathroom was being renovated, so I had to wait it out. I shudder when I think about those days in Copenhagen.
4. Infected Cut, Hoi An, Vietnam: I was living in Japan but on vacation in Vietnam for a few weeks. The days were beautiful and long, filled with sunshine and strong coffee and, whoopsie, some broken glass on the beach. But how bad can a cut on the bottom of your foot really get, right? I didn't think much of it despite the fact that the cut wasn't healing (another travel tip: always listen to your body, and pay attention to the signs that something is seriously wrong). Fast forward two weeks, when I'm back in Japan, and I'm sobbing on a subway trying to get to a doctor to see about my horribly deformed and painful foot (why I never splurge on a cab in these instances is beyond me). I remember putting my foot up on the table, the doctor taking one look at it, and him saying, "Wow, good thing you came to me now, otherwise in a few weeks your foot would look like an elephant's and I would have to cut it off, ha ha ha!" Oh, that Japanese humour. He was joking, right?!
5. Sunburn, Oaxaca, Mexico: Well, this was just stupid. I had already spent a few weeks in Oaxaca visiting my sister, and thought myself immune to the sun. We woke up early to catch the sunrise over the beach in Mazunte, slathered on some sun cream, then spent the day walking up and down the beach, floating in the water, and lounging on a towel…without reapplying sun cream. By nightfall, my back was as red as the fires of hell, and just as hot. I remember lying face down on the hotel bed, sobbing in pain, and getting my sister to spray cold water on my back. The next day we had a long bus ride, and I could barely wear a shirt, let alone let my back touch the seat of the bus. That was a fun journey. Here's yet another travel tip: always wear sun cream, and reapply it often.
6. Bedbug Attack, Alberta, Canada: Seriously, Edmonton? Of all the places I've stayed, I've only had bedbugs twice. Once was in Singapore, and the other was in Edmonton. I just find that very strange. Anyway, my travel partner and I were trying to save a few bucks as we were winding down a trip across Canada that had been much more expensive than we had originally planned. We debated staying in a nice Holiday Inn-type place on the outskirts of Edmonton (cable tv! pool! king-sized beds!) but opted instead to save twenty dollars and stayed at a nearby motel (here's another travel tip: always spend the extra twenty dollars). We walked into a room with stains on the walls, two very mangy twin beds, and a stench in the air that could have only been stale cigarettes, empty beer bottles, and broken dreams. We tried to make the best of it, however, watching stupid reality TV and taking hilarious photos. The next morning, as we were driving to Red Deer to meet my aunt, I felt a little itchy bump on my face. No big deal, right? Within hours, my entire body was covered in red bumps, those tell-tale lines of bites that bedbugs leave. I had to buy anti-itch cream by the gallon and slather it all over my body. I distinctly remember going to pay for an herbal tea in a shop and having the cashier recoil from my money-bearing hands as if I were a leper. Here's ANOTHER travel tip: always check the bed for bedbugs.
7. Bronchitis/ Lung Infection, Thailand: I've saved the worst for last. I arrived in Hong Kong in early January, 2011, and immediately my throat began to feel a little bit gummy. Within a few days, I had a minor sore throat, but I sucked on a few lozenges and chalked it up to a new environment. By the time I got to Koh Lanta, Thailand, I was still feeling a bit ill, but again, didn't think much of it. By the following week, however, I knew something wasn't right; I was now running a fever, had a severely sore throat, was coughing a lot, and my ears and nose were totally plugged. Luckily, or unluckily, I was staying with my best friend just off of Khao San Road in Bangkok. For those who have been there or who know of the street, you know that it is a haven for young backpackers looking to party and spend money and see very little of Thai culture. It is loud and overwhelming and dirty and very much NOT the place you want to be overcome with a terrible illness. It does, however, have a lot of good pharmacies with a lot of cheap drugs. I stocked up on every available medicine out there and attempted to drug myself into oblivion until the illness passed. Lying in my darkened room, the fan spinning overhead, sweat running down my face, I definitely thought I was going crazy. I somehow managed to still do a bit of sightseeing, however, and felt well enough to fly to Burma. I went through waves of feeling incredibly sick in Rangoon, but thought I was better by the time I flew back to Thailand.
We headed to Koh Tao and I did my Open Water Scuba Certification, despite it very clearly saying in the course that you should not dive if you have any ear, nose, or throat ailments (and I had all three). YET ANOTHER travel tip: ALWAYS follow the rules when it comes to diving. Of course, within days, my sore throat and other various symptoms had come back tenfold, and by the time I got to Koh Phangan, I was so sick that I needed to use an inhaler, sleep sitting up, and take an average of seven different medicines a day just to function. I couldn't hear, my nose ran 24/7, I had constant coughing fits that doubled me over, and a fever of 103. I ended up with bronchitis and a lung infection (probably exacerbated by the heavy partying I did, because despite all of those ailments I still drank buckets of cheap whiskey and made out with random travellers. Do I even need to write the very obvious travel tip there?).
In the end, I spent $400 on hospital and pharmacy bills, pulled all the muscles in my ribs from coughing so badly, ruptured an eardrum, and probably gave a lot of boys sore throats. I didn't feel 100% better for another two months. Sitting up in my disgustingly dirty hotel room in Koh Phangan, attempting to sleep, crying from pain and frustration, having coughing fits, trying to avoid the cockroaches that were literally crawling over my body in bed, and sweating in the ridiculously hot temperatures: it's the only time in all my years of travel that I thought, "I want to go home."
***
Well, there you have it, just a few of the ailments I've had over the years. I'm sure I've had many more (there are quite a few upset stomachs I didn't write about), but overall, I think I've been really, really lucky. I've never had stitches, broken a bone, or done any serious damage to my body while on the road. I didn't even get sick in India, for goodness' sake!
Do you have any tales of illness/injuries on the road?
*Update: I wrote Part Two and Part Three!*