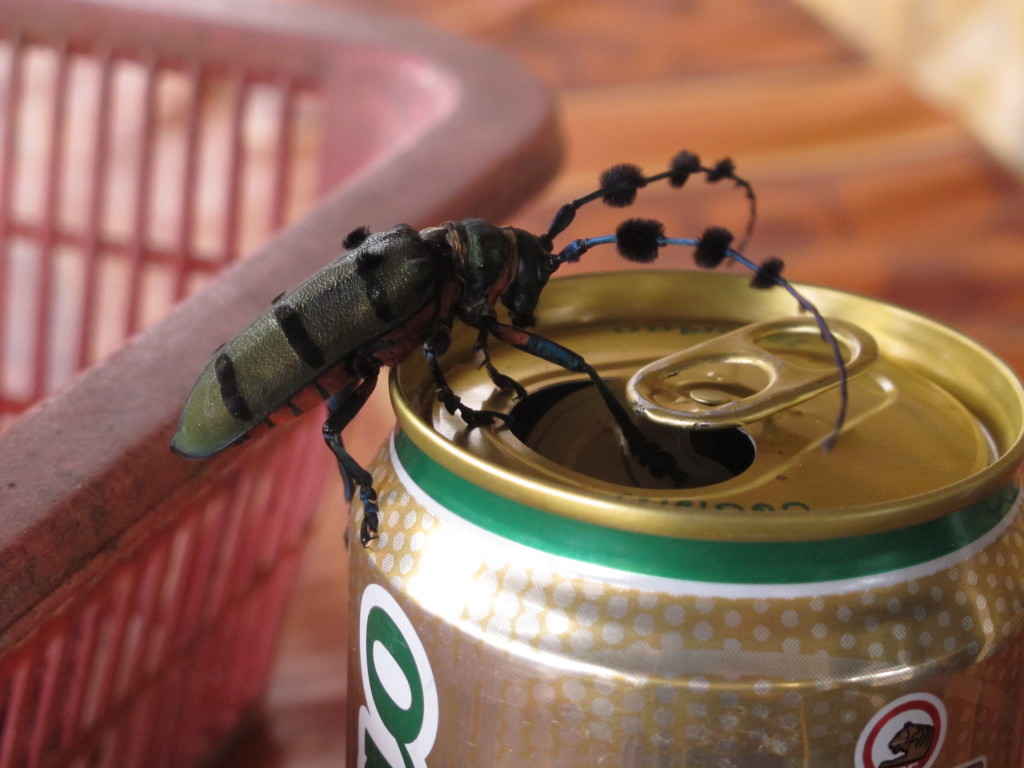 Oddly cute bug on the road from Luang Prabang to Vang Vieng, Laos
There are probably a lot of you who are not going to click this link, and that's okay. I understand that not everybody else shares my sick fascination with all of the weird and wonderful bugs we encounter along our travels. And while the following stories come from faraway lands, I have just as many stories from home. Hell, I just found a giant spider in my room in London last night. As I said in The 10 Unavoidable Truths of Travel, sometimes you'll have a weird bug on you. It's just part of the adventure.
Other creepy crawlies (I feel like my kindergarten teacher saying that) like snakes, rats, mice, leeches, frogs, and so on, will be saved for later stories (and yes, I do have stories about all of them, sadly). If you are offended by the killing of bugs, I suggest you stop reading now.
Here are, in no particular order and not necessarily with accompanying photographs, some of the grossest, weirdest, cutest (they exist), scariest, most annoying bugs I have ever encountered… Part One.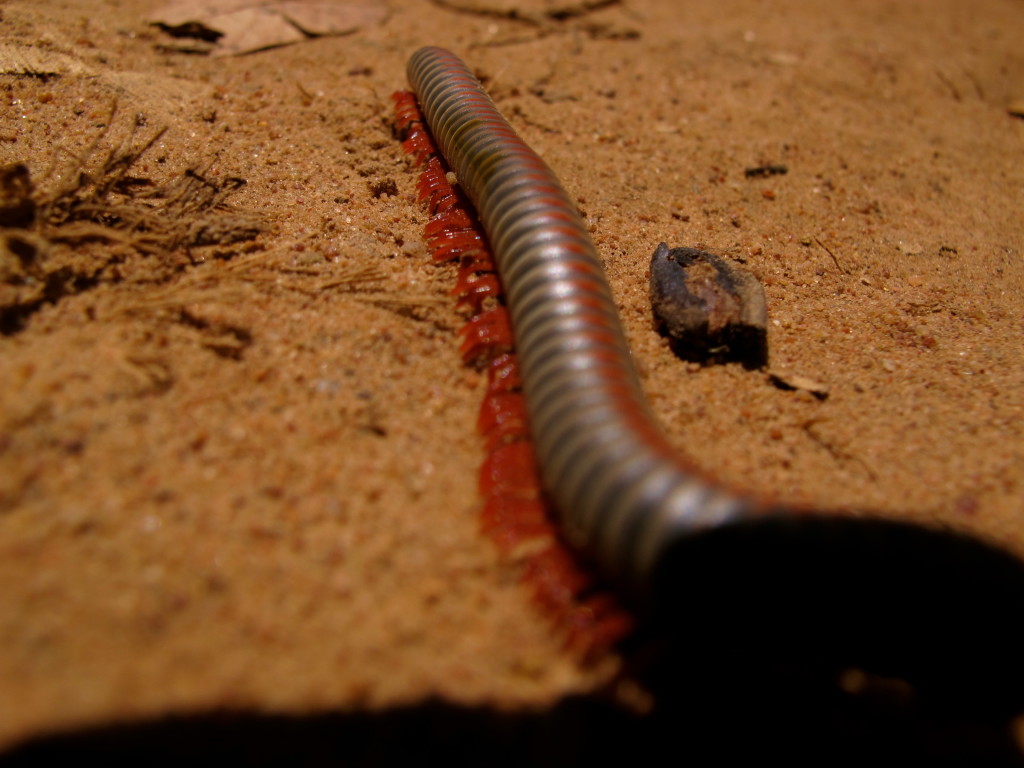 Slithering so quickly I couldn't get a decent photo in Angkor Wat, Cambodia
1. The Mexican Back Scratcher
The first time I went to Mexico was with my family in 2001. We had rented out a nice condo near the beach in Cabo San Lucas, and spent most of our days at the pool or on the sand. This is also where one of my worst blisters happened, but that story has already been told. My brother and I were sitting on the couch reading, both in our bathing suits, when he asked me to scratch his back.
"Bren," he motioned. "Can you scratch my back for a second? It's so itchy right here." He turned to show me the spot on his bare back. And there, to my horror, was one of the biggest cockroaches I have ever seen. Being a wonderful and helpful big sister, I very calmly removed the bug from his back.
Just kidding! I'm awful. I ran around the condo screaming, "CUCARACHA! CUCARACHA!" This was long before I had experienced cockroaches on my own, or in my own apartment (that story will be told another day). My brother, naturally, freaked out, trying to get the thing off his back. I grabbed his book, swiped the cockroach off of his back, threw the book down on top of it, and stomped. By this time my entire family was crowded around wondering what had just happened, and my brother was in near hysterics. The first thing I remember him saying was, "My Simpsons book!"
The book was, indeed, covered in cockroach sludge. This was before I learned you should never kill a cockroach by squishing it (it might release eggs). And this was nowhere near the cockroach horror that would come later in life…
2. The Thai Knockout
My travel partner Kerri often recalls this story as her favourite – the time I went absolutely apeshit in Koh Phangan, Thailand. We were staying in a terrible hotel room right on Haad Rin Beach (mistake) in order to attend a Full Moon Party. At this point, I was the sickest I had ever been in my life, complete with monstrous cold, lung infection, ear infection, you name it. I had spent hundreds of dollars on medicine and I wasn't experiencing Thailand as well as I wanted to. It goes without saying that my patience was wearing thin.
We noticed cockroaches in our room right away, but it was dirty, damp, and we were in Southeast Asia. It wasn't really a surprise, especially since there was an open drain in the bathroom where they were surely finding their way in. In a cloud of cold medicine, deliriously trying to sleep in the unrelenting heat (and only able to do so sitting up), I remember looking down and seeing cockroaches crawling on my naked body. This wasn't some sort of The Craft hallucination, there really were cockroaches on my naked body. So fed up and so sick, I didn't care. Watching one cockroach scuttle up my arm, I just punched it off and tried to go back to sleep. Yeah, that's right. I punched a cockroach.
The following night, we had to get ready for the Full Moon Party. Knowing we'd be covered in paint and sand and alcohol and God knows what else, we wanted a quick shower first. Kerri went into the bathroom and declared that it was full of cockroaches. At the same moment, the power went out. And what happens when the lights go out? All the bugs come out to play. The bathroom was infested.
"I AM SO SICK OF THIS SHIT!" I screamed. I then did what any rational, mildly-drugged person on her wit's end would do: I donned my head torch, put shoes on both of my hands, and went in for battle. And yes, I was naked (I was about to take a shower, and she's my friend. Trust me, she's seen worse). I can only imagine how ridiculous I looked.
Kerri says she can just remember hearing a stream of profanity coming from behind the closed door, followed by large bangs. All told, I have no idea how many cockroaches I killed, but by the time the lights came back on we were at least able to shower.
Ah, Thailand, still one of my favourite places in the world…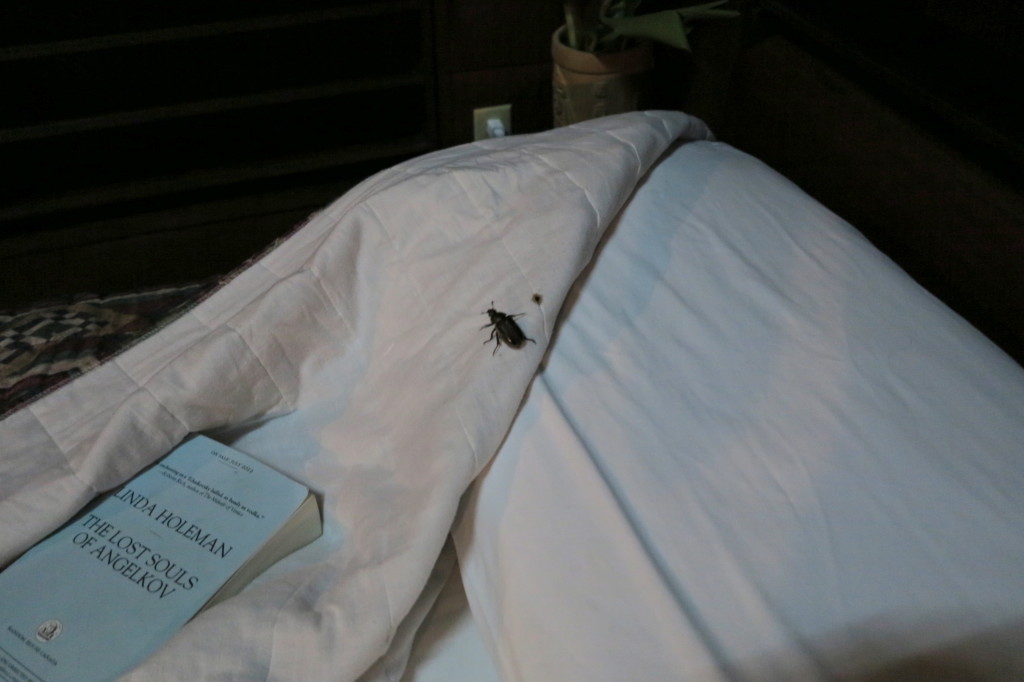 This thing proceeded to fall off of the ceiling in Lamanai, Belize and then crap all over my bed. The nerve!
3. The Night of Terror
I was staying on my own in a little hut on the water in 4000 Islands, Laos. I loved it there; it was so peaceful and serene, and I spent many hours in my hammock reading and writing. On what I thought would be my last night, there was a torrential downpour, more rain than I can remember ever seeing or seeing since. Thunder crashed, lightning flashed, and for the first little while, safe in a bar with a group of other backpackers, it was all sort of fun. Then it came time to go home.
None of the other backpackers were staying in my same set of huts, so I found my way back in the dark, armed only with a flashlight. The thunder and lightning were still going strong, and the rain was slamming onto the roof so hard I thought it might break. I've travelled solo a lot, and there have been only a few times I've been truly scared; this was one of them.
To make matters worse, some creatures (were they rats? I still don't know) started fighting in my bathroom. They must have snuck in because of the rain (again, there was an open drain) and then started fighting. Screeching and hollering, I was terrified to go in. And as this was a hut made of wood slats, a whole lot of other things started to come in, creeping, slithering, squeezing in.
My bed had a mosquito net around it, so I checked for bugs and got in. Without the flashlight, it was pitch black, save the occasional flash of lightning. With the flashlight on, all of the flying bugs started bashing against the mosquito netting, trying to get under. This, combined with the insanely loud thunder, the thudding rain, and the screaming rats, was not a fun situation to be in. I turned off the flashlight again, willing myself to sleep.
"You're an adult. Get a hold of yourself. It's just some rain and some bugs."
But then, I felt it. Something crawled across my chest and face. Something big. I, for lack of better words, royally freaked out. The flashlight went back on.
Another goddamn cockroach. This one was huge, at least the length of my palm. I pulled back the net, grabbed a shoe, and stalked it until smashing it to smithereens. This is harder than it seems, of course – they are quick, and they can climb anywhere. I got back into bed, my heart pounding.
And, of course, in my haste to kill one (and in doing so, pulling back the mosquito netting), many other bugs had now entered the safe zone of the bed. I spent the next twenty minutes massacring as many as I could, trying to keep the net tucked down so that more couldn't enter. Finally, exhausted, I was back in bed, my shoes beside me in case I needed to kill anything else.
The rats were still screaming, the thunder still crashing. I was still petrified, but now also pissed off. One last scan of the bed, then I would force myself to go to sleep; I had a boat at 7am, after all, that was going to lead to a bus to Cambodia.
I checked every corner. No bugs. Good. Ah! I forgot to check under the pillows. I lifted the right one. Nothing. I lifted the left, where my head had just been less than a minute ago. And…
The biggest fucking spider I have ever seen in my life. I wish I was making this up, I really do. At this point I don't know who was screaming louder, me or the rats. I slammed down with my right hand (which had a shoe on it) and managed to chop off two of its legs. It now squirmed around my bed as I smashed down haphazardly, so scared I couldn't really aim properly. This was all done in the dark, with only a flashlight's glow pathetically lighting my way.
Finally, the spider was dead. I would like to say here and now that I do not enjoy killing bugs or animals of any kind; if I had it my way, I would never kill any of them. Sometimes, however, we are left with few options, or, as in the case of the spider, we just react: fight or flight.
At that point, I broke one of my travelling rules: I took a sleeping pill. I took two, actually. I still had them from when I was horribly ill, and though I never, ever take them otherwise (especially not on buses), I couldn't bear the thought of lying in that bed and seeing what was coming next. I fell asleep within minutes, panting and afraid.
I woke up at 11 the next morning, therefore missing my boat, but I didn't care – the sun was shining, the rain was gone, and, at least for that moment, there wasn't a bug in sight.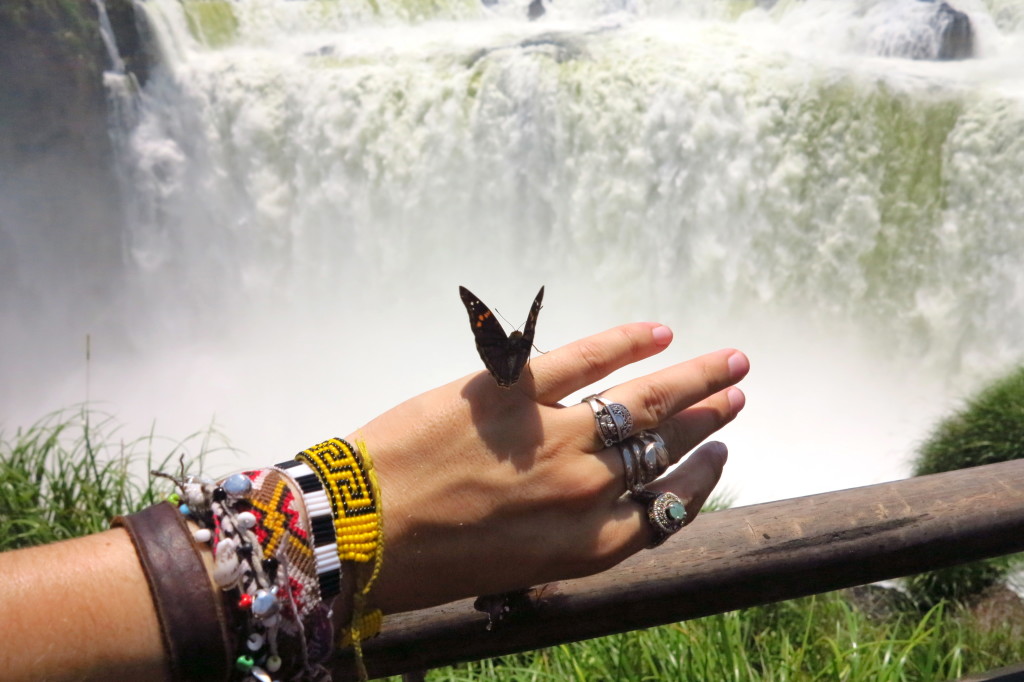 Look, see? I don't kill all bugs. Some of them are quite pretty and harmless. Butterfly at Iguazu Falls, Argentina
This aren't the last bug stories in my arsenal; there are more coming soon. But for now…
Tell me your bug stories!