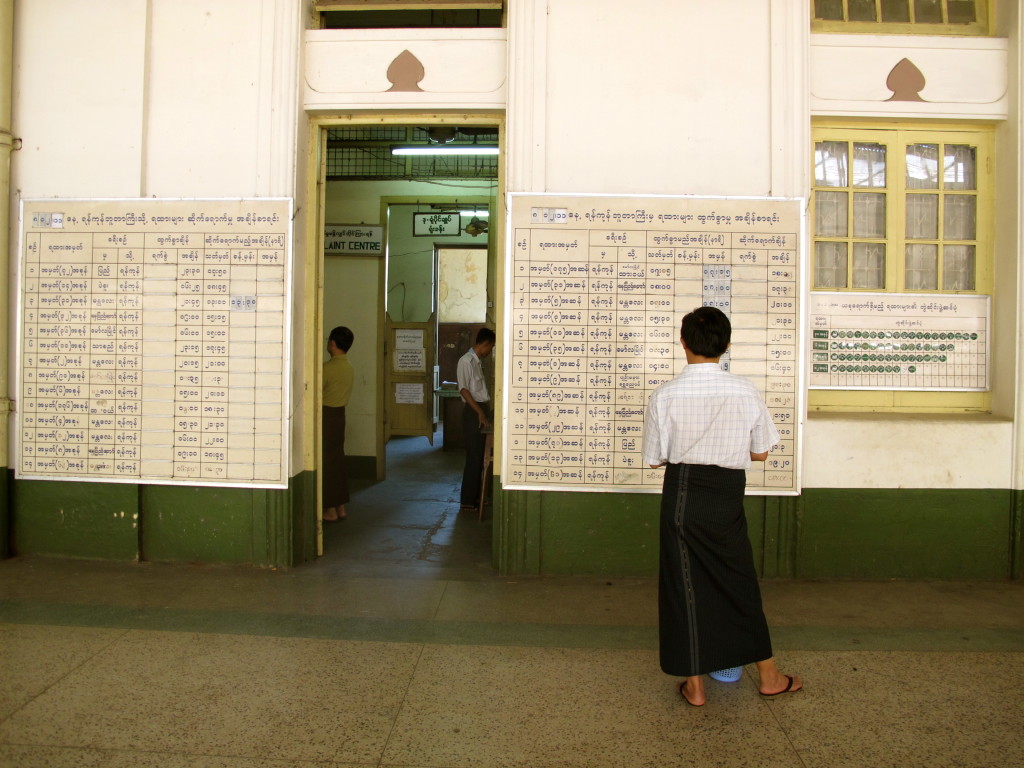 Yangon, Myanmar
Last year, my friend Michael of Time Travel Turtle wrote a brilliant piece about the Circle Line Train in Yangon, complete with stunning photographs. I read it again when it came up on the shortlist for Hostelworld's Travel Story Awards and was reminded of my similar journey, nearly three years ago.
I arrived in Yangon extremely ill – a terrible cold that would later turn into bronchitis and a lung infection that followed me for two months through Southeast Asia. Still, I was so excited to be in this place, this secret, sacred place. Things are changing constantly in Myanmar, and it is becoming increasingly easier to travel there; but only a few years ago, it wasn't an easy country to travel to, with strict visa regulations and very limited ways of changing money once there. Looming over all of that, of course, was years upon years of political strife, oppression, war, and sadness.
And yet when I arrived in Yangon I did not find a sad place, or sad people; I found quite the opposite, a place filled with those eager to smile and share a story, with those who would invite us into their homes, with those who would give us gifts of food and friendship, with those who would laugh with us, talk with us. There is that condescending travel writing cliche, that one of "friendly locals", but I have never met people friendlier than the people of Myanmar. Never have I been so welcomed.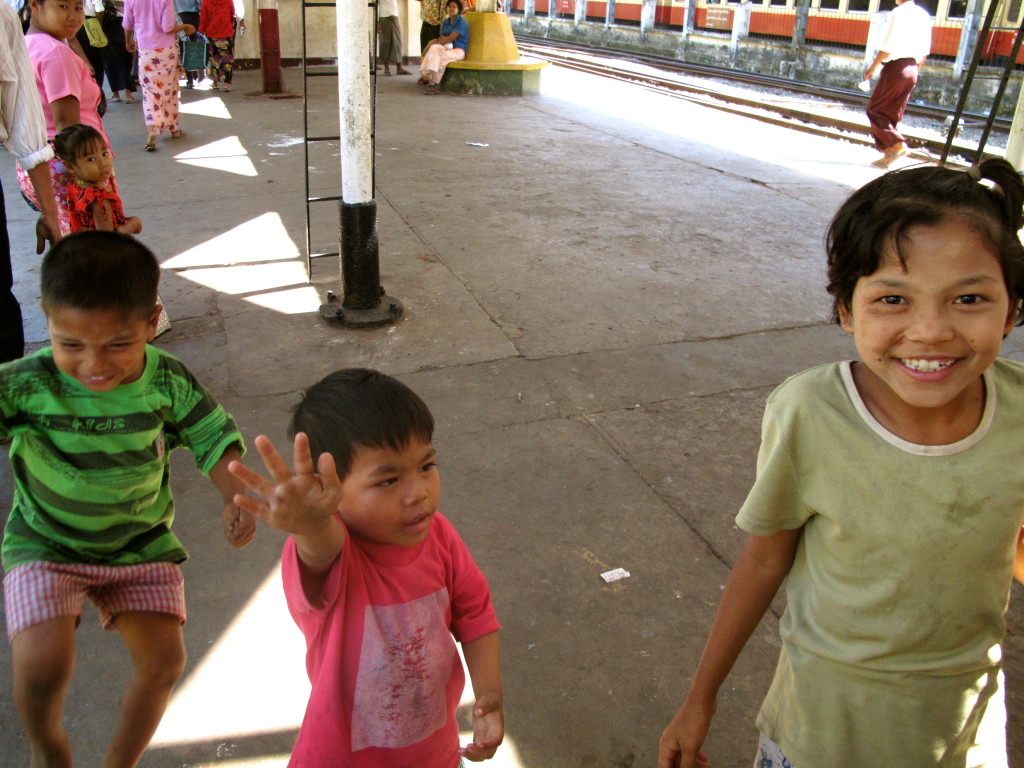 On our third day in Yangon, my lifetime travel partner Kerri and I decided to join our new friends Uros and Jerome for a ride on the Circle Train. We had all heard that it was a great way to spend a few hours, a great way to see some of the sights of the city in a unique way. I couldn't wait – to see a country through the window of a train is one of my favourite ways to sightsee. The train in Yangon is so named because it literally circles the city; the whole journey takes approximately three hours, and a train comes every hour.
We sat waiting for the mid-day train, children daring each other to come closer and closer, laughing as we snapped photos. It was a sunny, hot day in February, the air filled with that familiar train station odour of rotting vegetables and diesel oil. A few women had set up stands selling water, fruit, juice in bags, beedi cigarettes.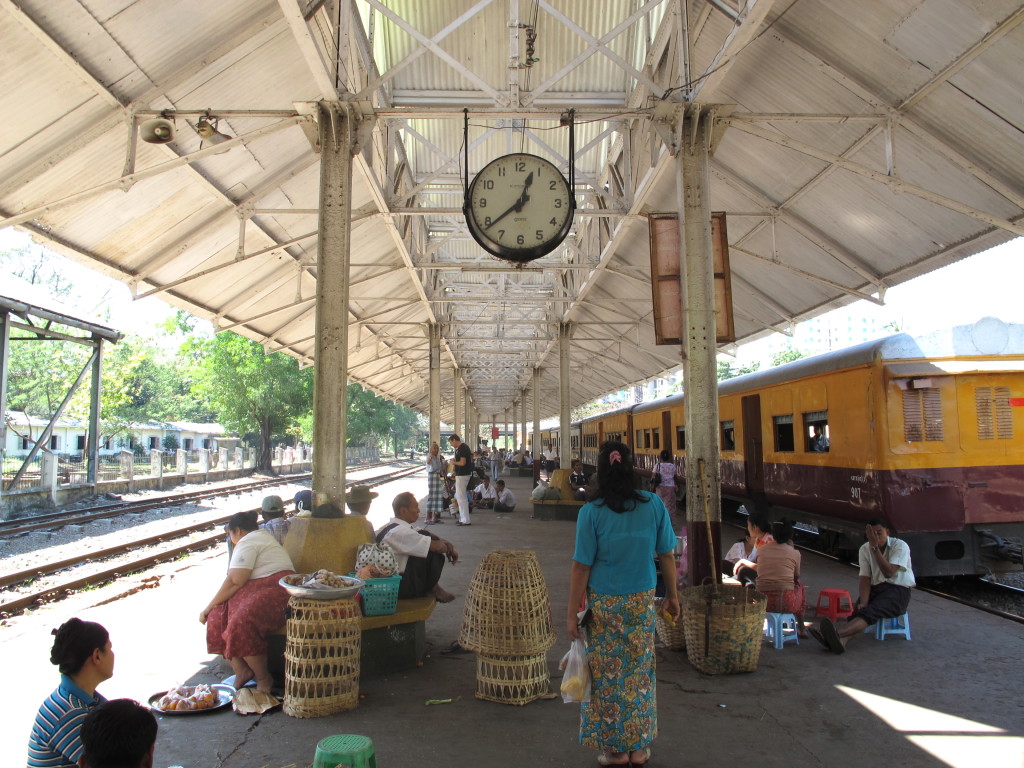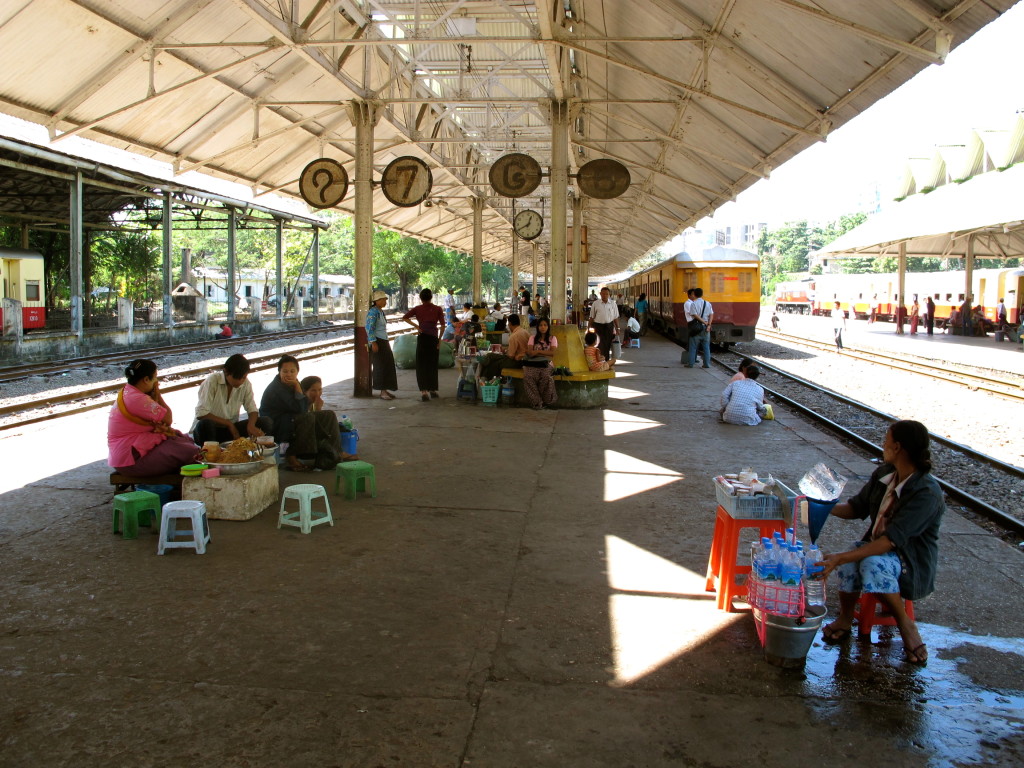 When the rickety yellow train finally rolled into the station, we jumped on it, finding seats on one of the wood benches. Slats in the bench were missing, and we'd shift in our seats often, trying to find the most comfortable position.
We were excited. Though a regular commute for most, to us it was an adventure, a chance to see something new. We drew stares, but never intimidating or negative ones; they were stares like our own. Curious.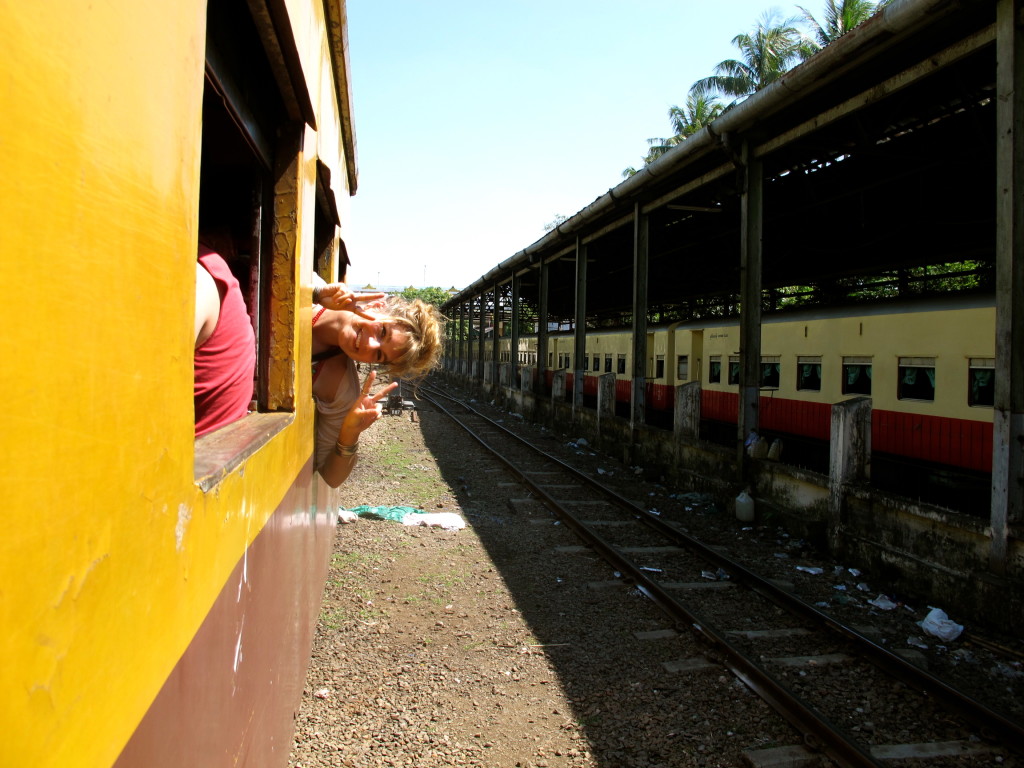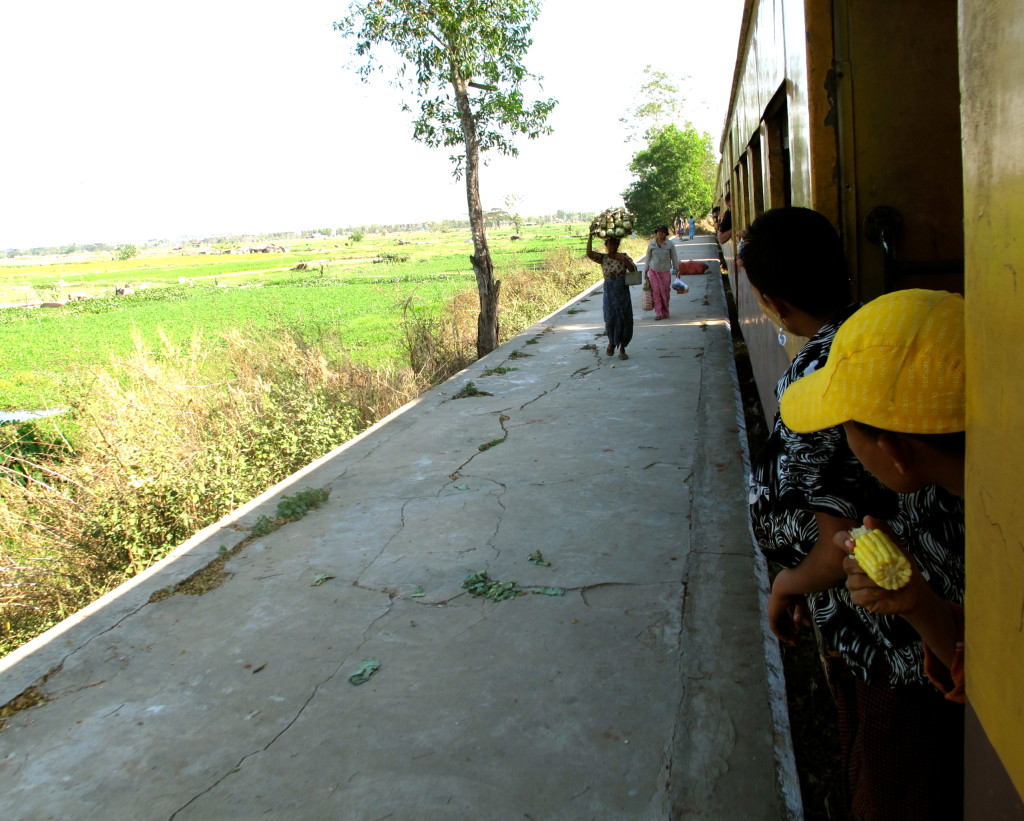 We whipped past the city, occasionally recognising places we had previously walked or cycled. Soon we were out beyond the hustle and bustle, passing fields and crops. There were settlements of houses and shops, and occasionally we'd pull up to a platform that was a market, filled with people selling their wares. Throughout the journey men and women would load and unload supplies from stop to stop, or come onboard to sell snacks and trinkets: oranges, quail eggs, bracelets, flowers.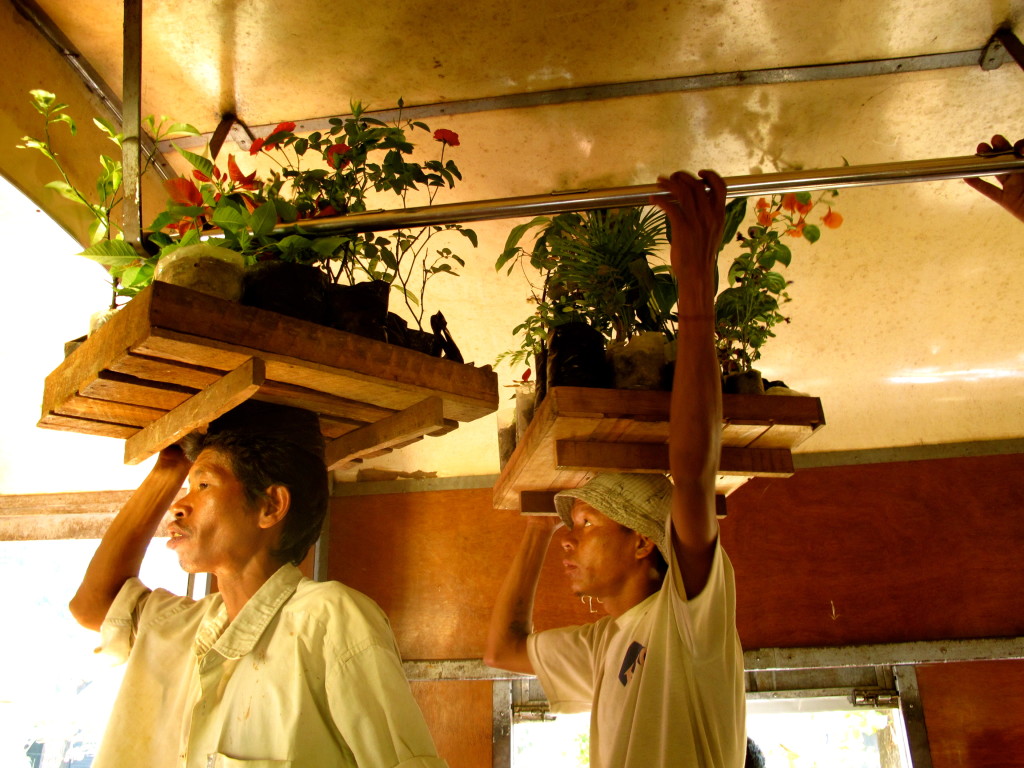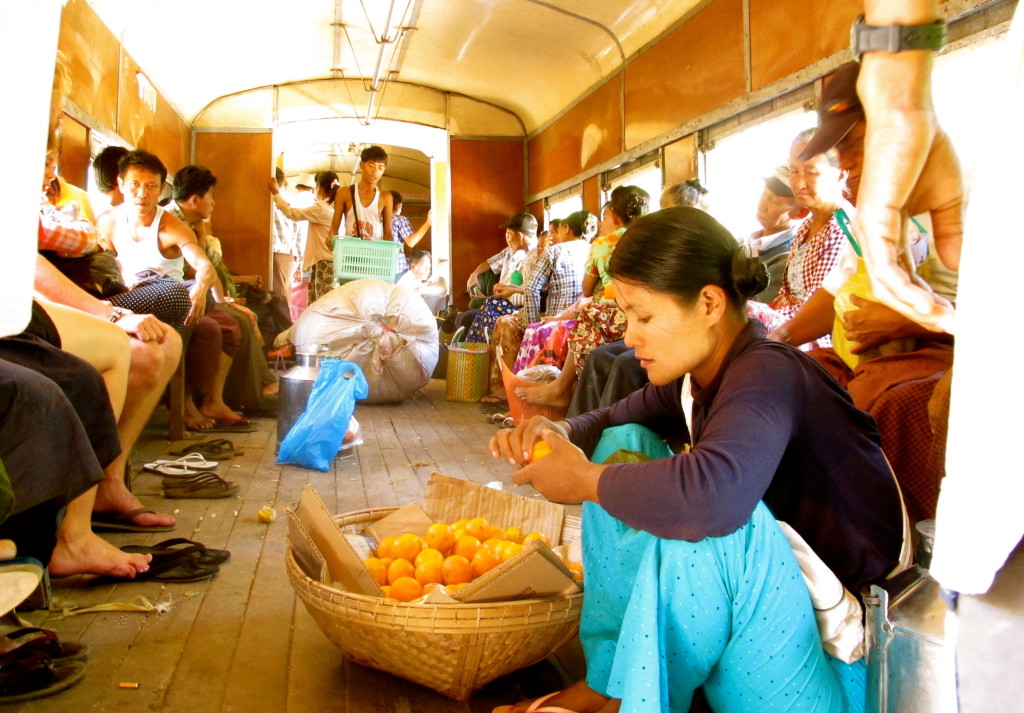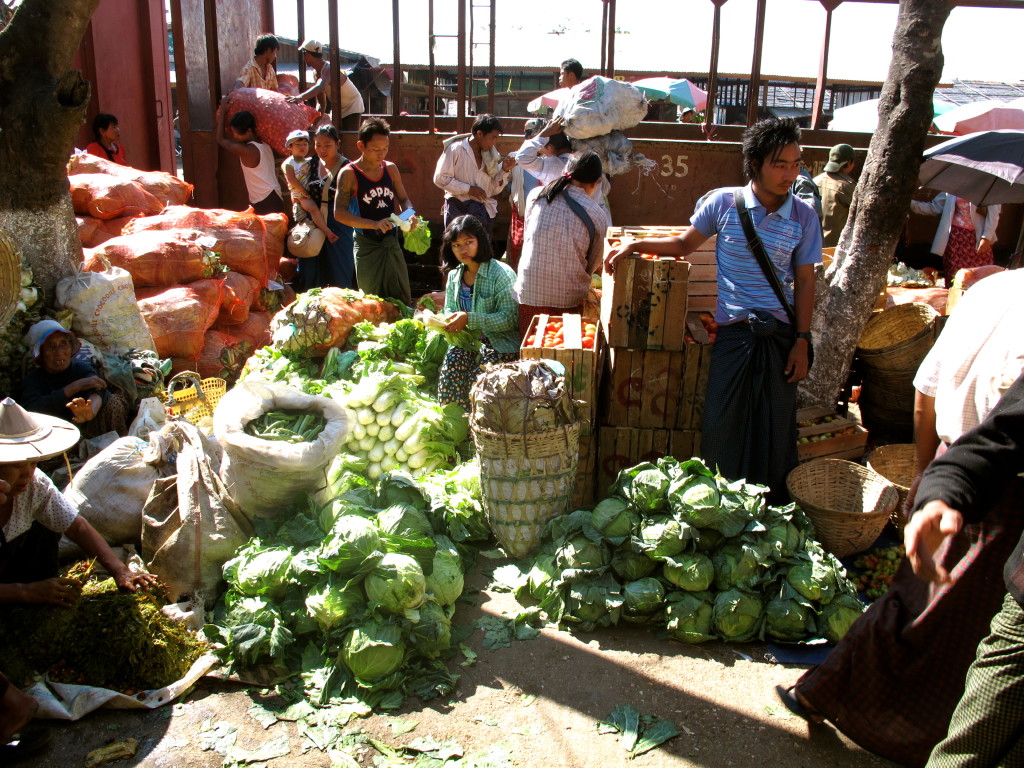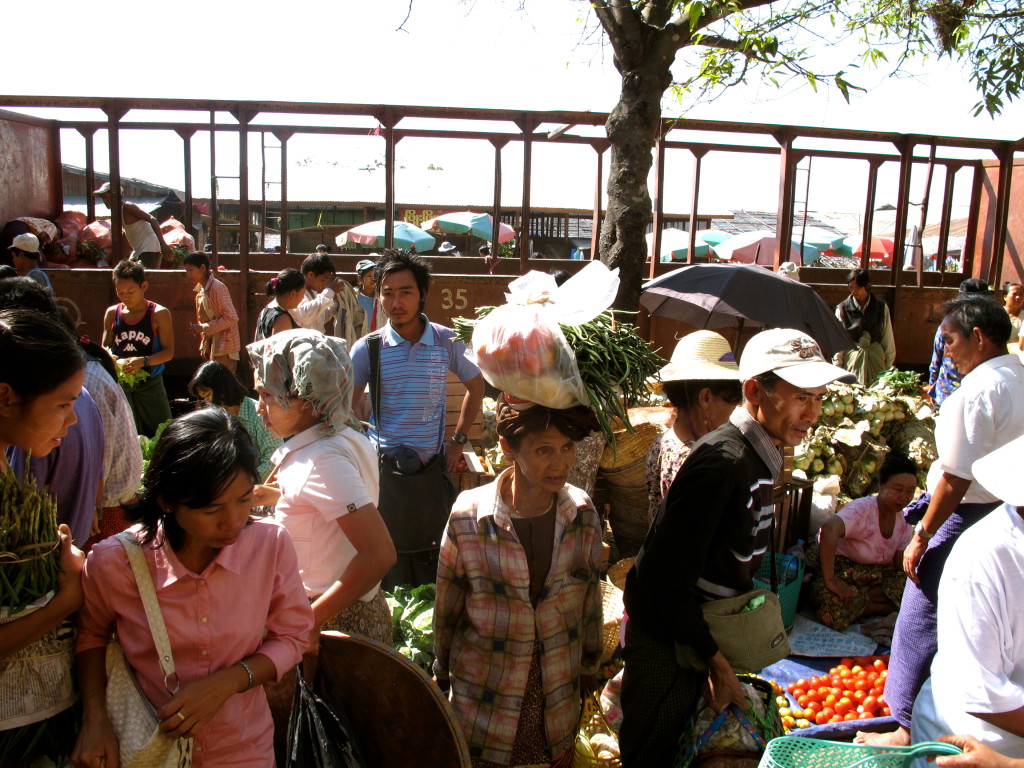 The defining moment of the journey happened near the beginning, when Kerri and I had left our bench seats and migrated to the door of the train carriage. There, we sat on the steps in between stops, our legs feeling the breeze, our view unobstructed by other people, cargo, or windows.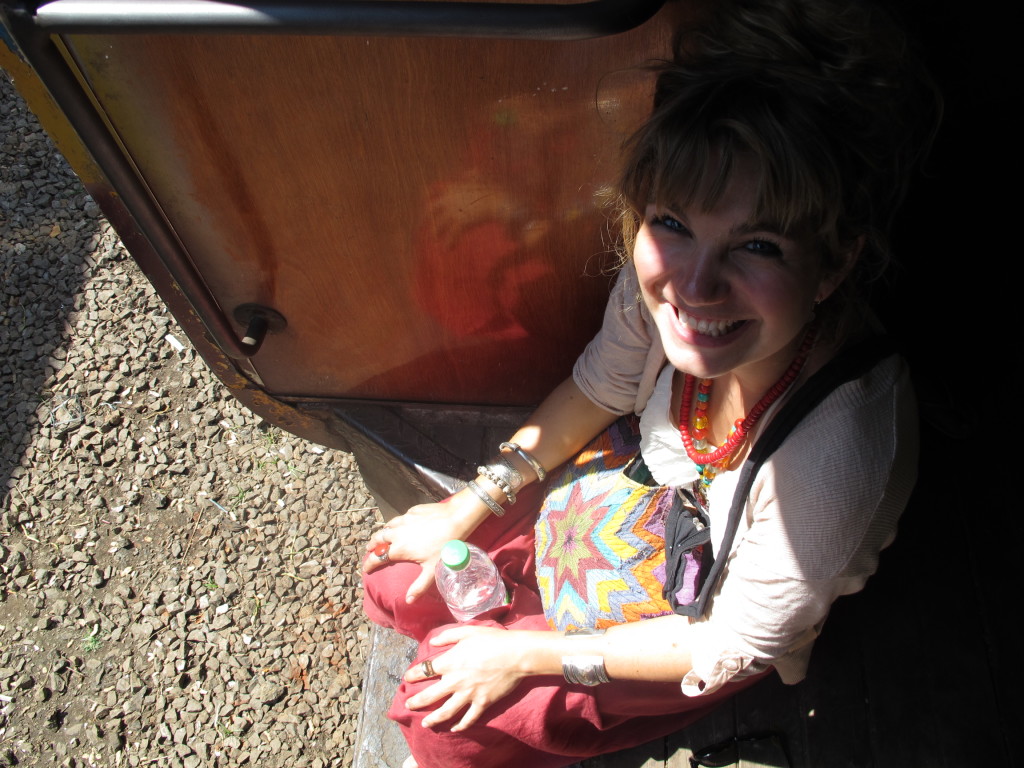 Each time we pulled into a station, we'd stand up to let other people pass. The train never really stopped moving in these stations, just slowed down significantly to allow people to jump on and off. At one stop, we thought everyone was on the train; as it started to roll out, however, a man attempted to step on where we were sitting. Scrambling to let him pass, Kerri stood up quickly; and, straight out of a traveller's nightmare, her purse tumbled out of her hands and onto the tracks below.
She had only a moment's time to reflect, and she did what all of us would have done: she jumped off, too, retrieving her purse in the process. It held her camera, wallet, and passport, there was really no other option. Because we were the last carriage, however, by the time she got her bearings we were already on our way, picking up speed.
Onboard, I started panicking. I can only imagine she was doing the same, watching the train with her best friend and travel partner (one who held the train tickets) became smaller and smaller on the horizon as she was left at an unknown station where few people spoke English. I briefly contemplated jumping off the train myself, but we were going too quickly and the people around me, who had now caught wind of what was happening, advised against it.
Instead, the most miraculous thing happened. People started shouting, calling up the carriage to each other. Men and women started waving anything they could out the train window: scarves, shirts, plastic bags. It created a wave, a ripple that started in our last carriage and made it all the way to the front of the train.
I know this, of course, because we started to slow. And then, somewhere on the outskirts of Yangon, in between two stations, the train shuddered to a stop.
It has been nearly three years since this incident and still I cannot believe it. This train, the one responsible for carrying thousands of people around the city, stopped for Kerri. Uros, Jerome, and I waited outside the train, not quite sure what we were even waiting for. I turned and snapped one photo, of everyone watching us.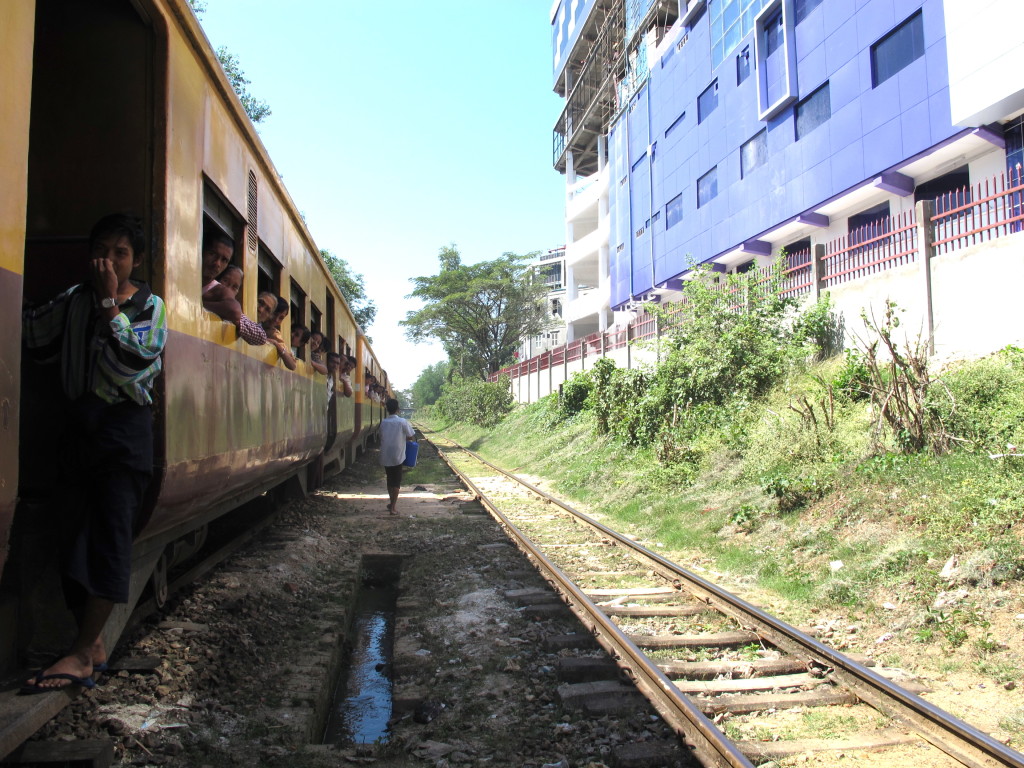 And then, she appeared; later I found out she had been instructed to run after the train, along the tracks. The series of events – the falling of the purse, the chaos on the train, the stopping of the train, seeing Kerri turn that corner sweating but smiling – can play out like a movie in my head. We hugged, a giddy, incredulous hug, and boarded the train to cheers. Nobody seemed angry or upset that we had stopped for a few (arguably irresponsible) tourists. Everyone was simply happy to see us reunited, and then returned to their business.
A video we took a few hours later in Yangon (warning: we sound a bit daft. I blame both that delicious food and the fact that we were still reeling from the day's events. I still maintain your purse or bag should have a long strap, though) 
The rest of the journey was much quieter in comparison, but it remains one of the best journeys of my life. On it I not only got to experience a little bit of the local life in Myanmar, to see the way the people live, work, and commute, to see what they eat, what they wear, and where they live, but I also got to talk to them, to wave, to share oranges, to smile when we had no words in common. More than that, I saw the kindness and generosity in a country that has often seen little of either. I saw a country that would stop a train of thousands to not leave one behind.