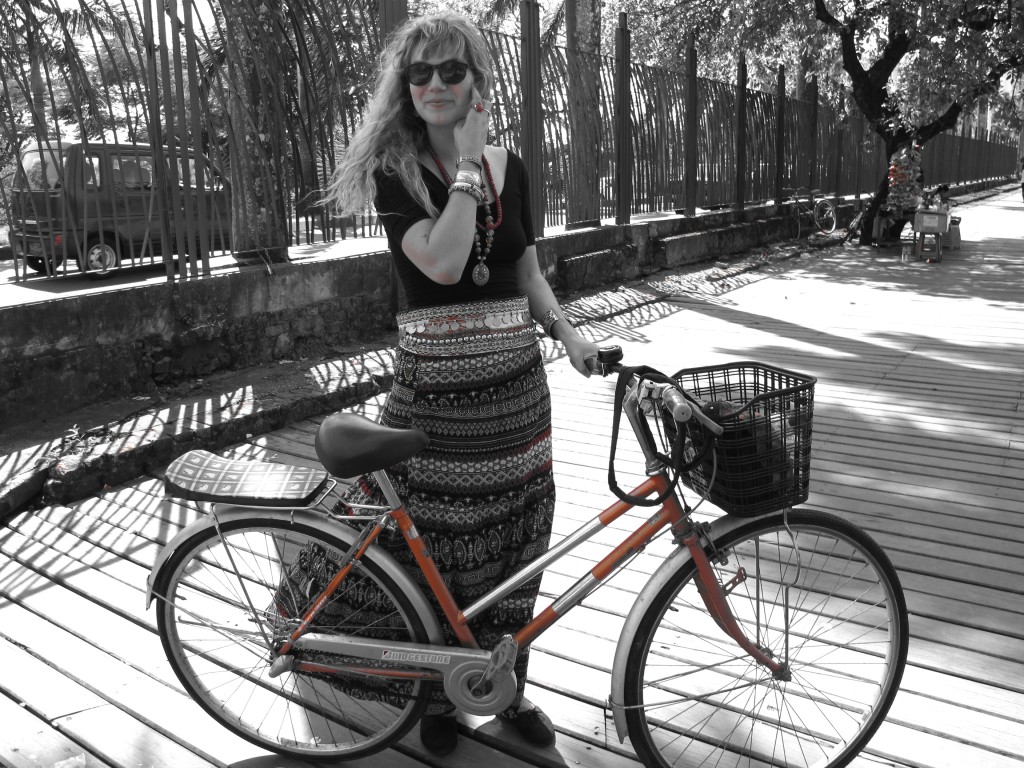 Yangon, Myanmar
I lifted my leg up and over the bar of the bicycle, getting comfortable on the seat. I looked back to see if Kerri was on her bike as well; she was, and gave me the thumbs up. I put my left foot on the pedal and kicked off with my right, the wheels churning up a bit of dust as I picked up speed. We were off to explore Yangon.
The Burmese Bicycle Gang was comprised of four of us: two Canadians, one Serb, and one Frenchman. We had met in a little guesthouse near the train tracks in Yangon; over a breakfast of scrambled eggs and instant coffee we realised we were all interested in hiring bicycles for the day. Uros, from Serbia, figured out that we could hire four bikes from a little shop just around the corner. At only two dollars a day each, there was no excuse not to.
We rode all over the city on those bikes over the next few days: around the golden Schwedagon Paya, its fist-sized diamonds winking in the sun; to a mud-coloured lake and back, where we made friends with local kids and sang songs with an acoustic guitar; to Aung San Suu Kyi's house, where we stopped in the dirt road outside and tried to look over the high bushes that surrounded it; and to the market, again and again, to take in its flurry of shopkeepers, their stalls peddling live fish, velvet slippers, and fruits I could not name. We learned so much about the city while on our bicycles, and quickly grew to know its side streets. We cycled for hours each day, sometimes stopping to buy fresh cane juice or to say hello to the schoolchildren who waved and called out to us, smiling and laughing.
On our last day in Yangon, we went in search of food near the market. Tired and overwhelmed from wandering in and out of the maze of stalls, we wanted to find a place where we could sit down. As it was the middle of the afternoon, however, many places seemed to be shut. We rode our bikes into a parking lot, and noticed an unmarked restaurant to one side, so pulled up to see. There were no walls; it was just a cement slab with a wood roof over it, but there were a few wooden tables and red plastic stools, and a small kitchen to one side. There were no other patrons there.
"Do you want something to eat?" A middle-aged man with a moustache and kind eyes approached us, speaking in perfect English.
"Is it okay?" Kerri glanced around, aware that it was a strange time to eat, and their kitchen might be closed.
"Of course, of course, come in my friends!" The man led us to a table at the back, pulled out the benches for Kerri and me. "Now, what would you like?"
Our gang had already eaten three times at a different restaurant, for three consecutive nights. Also a family-run place, we had asked the owner to just bring us his favourite dishes to share. We had learned to not question the food but just pile it on high, trusting that the traditional meals would usurp anything we attempted to order. We had crouched on overturned buckets around low tables and ate until we could eat no more, all of it washed down with cans of Myanmar Lager.
We decided to trust this man, too.
"Whatever you think is best. We love the traditional food here," I added, as it was true. Because Myanmar borders China, Thailand, Laos, Bangladesh, and India, its food is a beautiful medley of flavours and textures, combinations of the cultures that cradle it.
One by one various dishes were brought to our table, delicious mixtures of vegetables, noodles, and fried dumplings. The man's wife was responsible for the cooking, and she kept coming over to us to make sure we were enjoying every dish.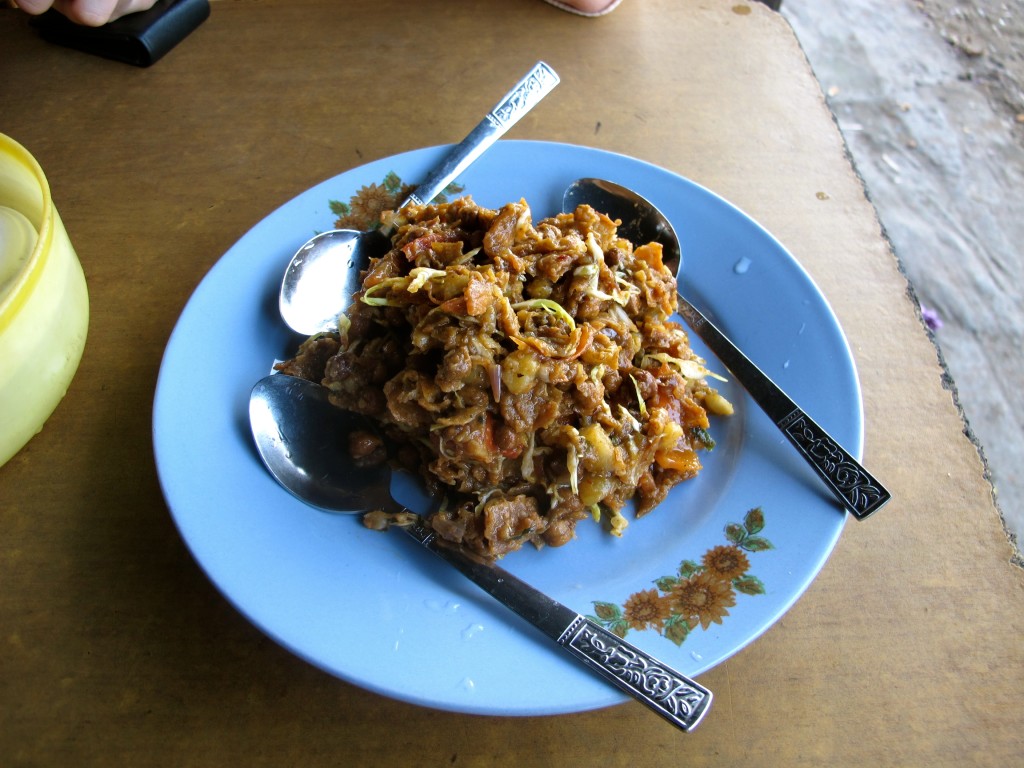 Soon they sat with us, sharing tea.
"I grew up with English," the man explained. "At that time, in Burma, everyone was taught how to speak perfectly. Now, barely any of the children know how to speak it." Right on cue, a gaggle of kids showed up. The couple's children, accompanied by some school friends, soon surrounded us, grinning and giggling. A few of the older ones knew some key phrases in English, and we practiced the minimal words in Burmese that we had picked up while there.
The couple's youngest, a girl of only about two years old, had been hiding by the kitchen for most of our visit so far. Emboldened by her siblings' arrival, she now approached as well. And, for whatever reason small children get, she soon latched on to me.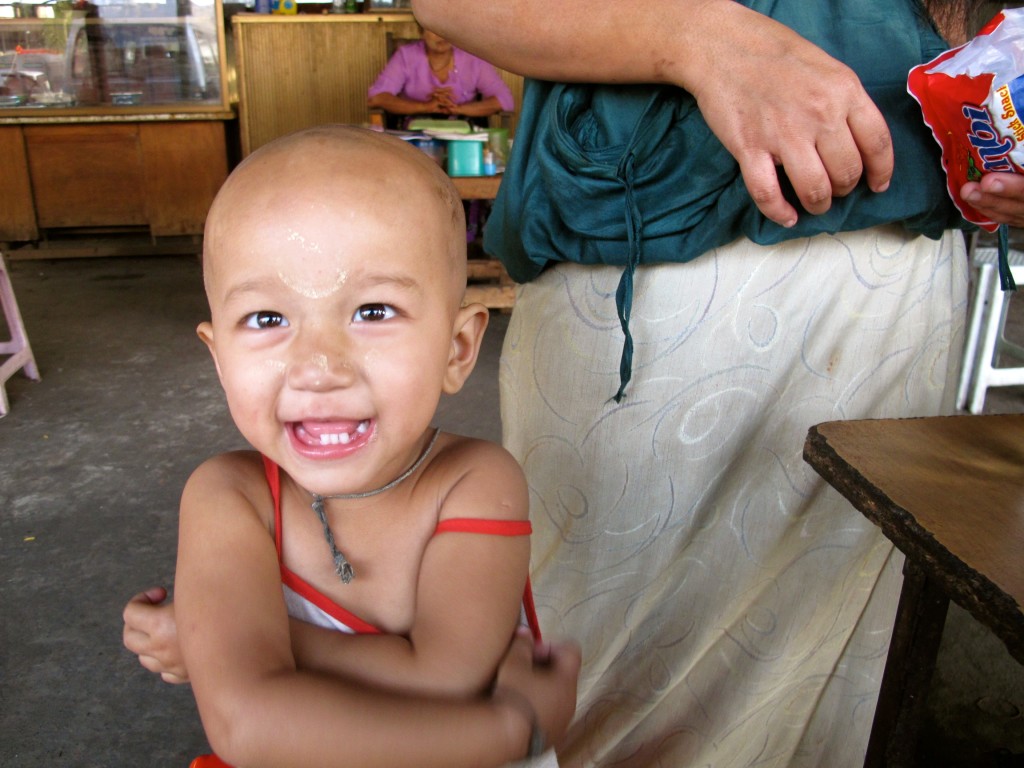 There is no other way to describe this little girl than to say she was adorable. Her eyes refulgent, she immediately shed her shyness, battling her brother for more attention from me. She liked playing with my bracelets, and I tried them on her tiny wrists for fun. Swirls of yellow decorated her cheeks and forehead, like almost all Burmese people – this was thanaka, a sunscreen made from tree bark.
Her mother soon came over and I saw her talking to her husband in hushed tones, the two of them laughing and nodding. She picked up the little girl, stealing her away. I turned back to my food and conversation with the other kids, who were now looking at photos on Kerri's camera. A few minutes later, I felt a tap on my shoulder.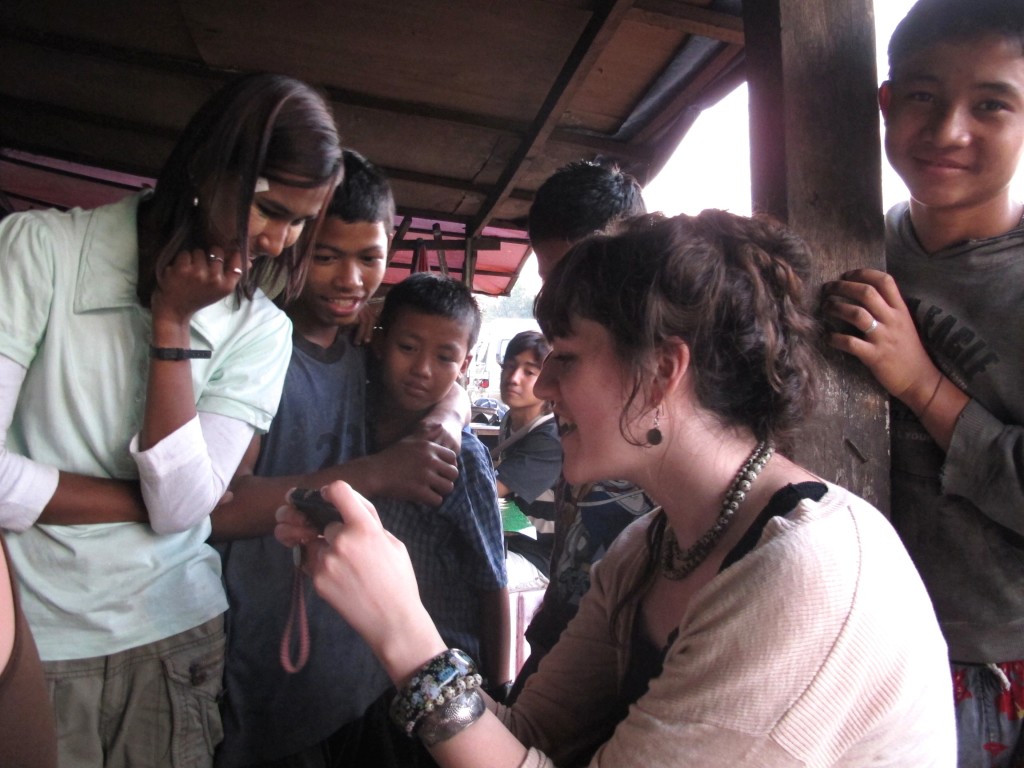 It was the little girl, although this time she was all dressed up – with a blonde wig, makeup, a dress, and a parasol, she ran around us and shrieked with laughter. Why her parents decided to dress her up in this way, I still don't know, but we all clapped and cheered as she performed for us, dancing and smiling. Once in a while she'd get incredibly shy again, and hide behind her mum, but she'd always emerge, posing for the camera just long enough to capture a blurry smile. Soon we were all up with her, dancing around the table, our feet slapping on the cement floor.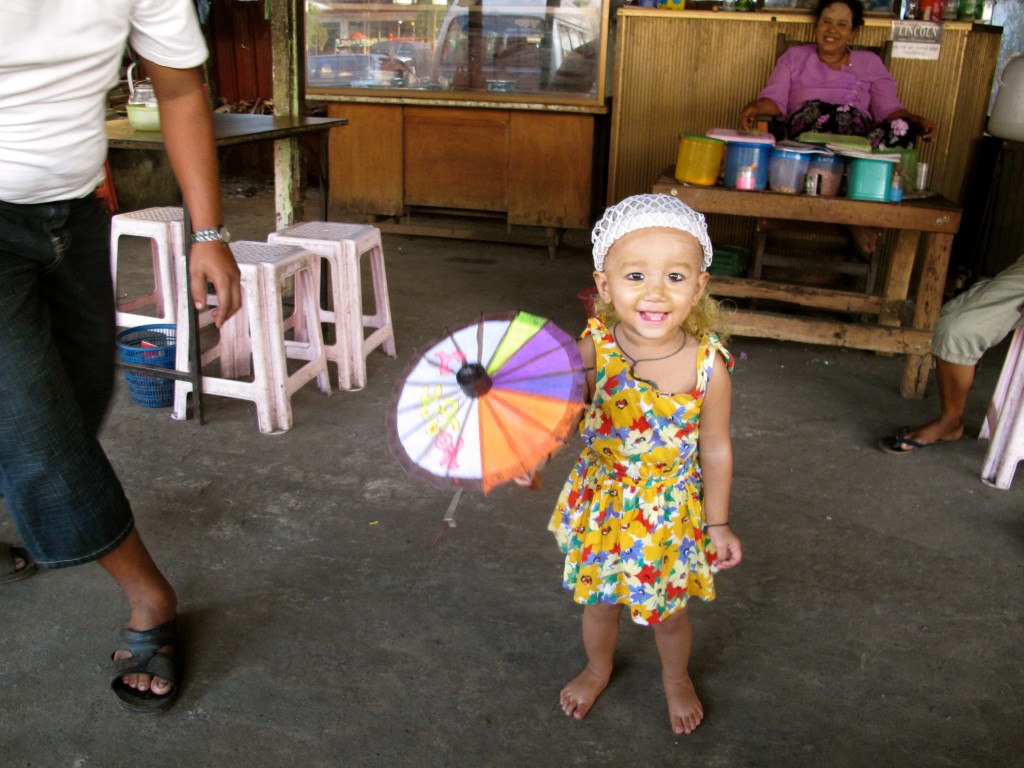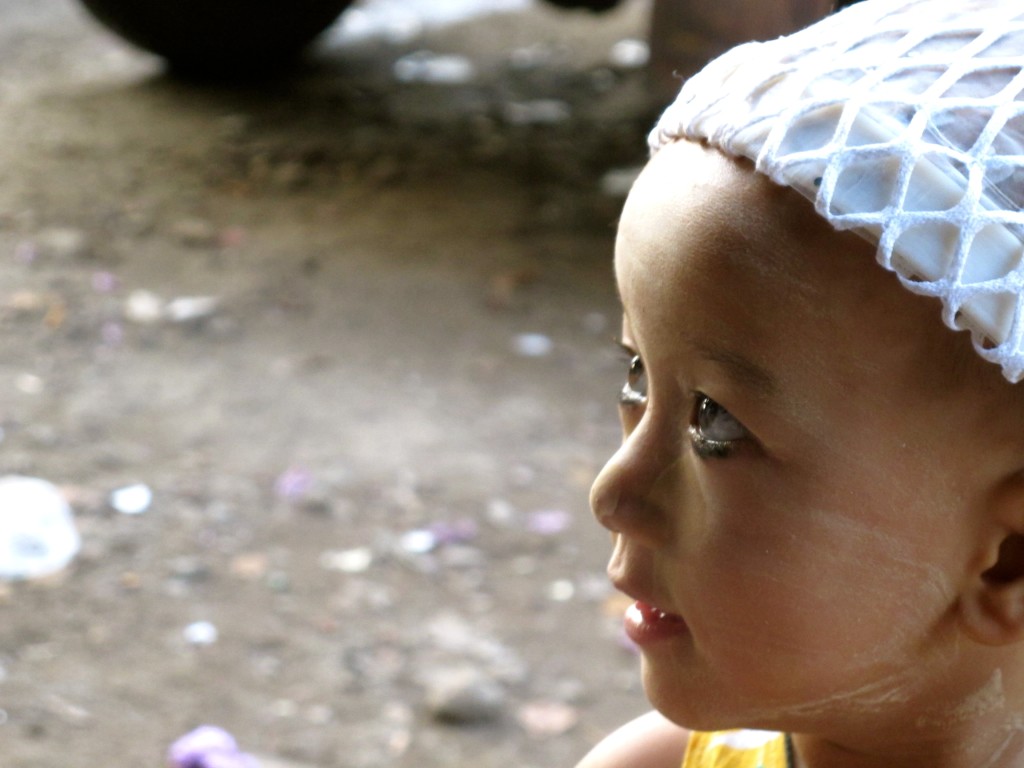 We stayed until the sun set, sharing our day with this lovely family, with their endless laughter and full teacups and gifts of kindness and generosity. We rode our bikes home in the dark, full and happy. It was our last day in Yangon, and a fitting one – for when I think of Myanmar, I think of those experiences, of the quiet afternoons and quiet moments we shared with its people, of the little moments where we twirled and danced.
A video of our time in Myanmar, with part of the encounter with the little girl at 1:20
For another story of the kindness of the people in Myanmar, click here.
For more on Myanmar, click here, and for practical information about visiting, click here.