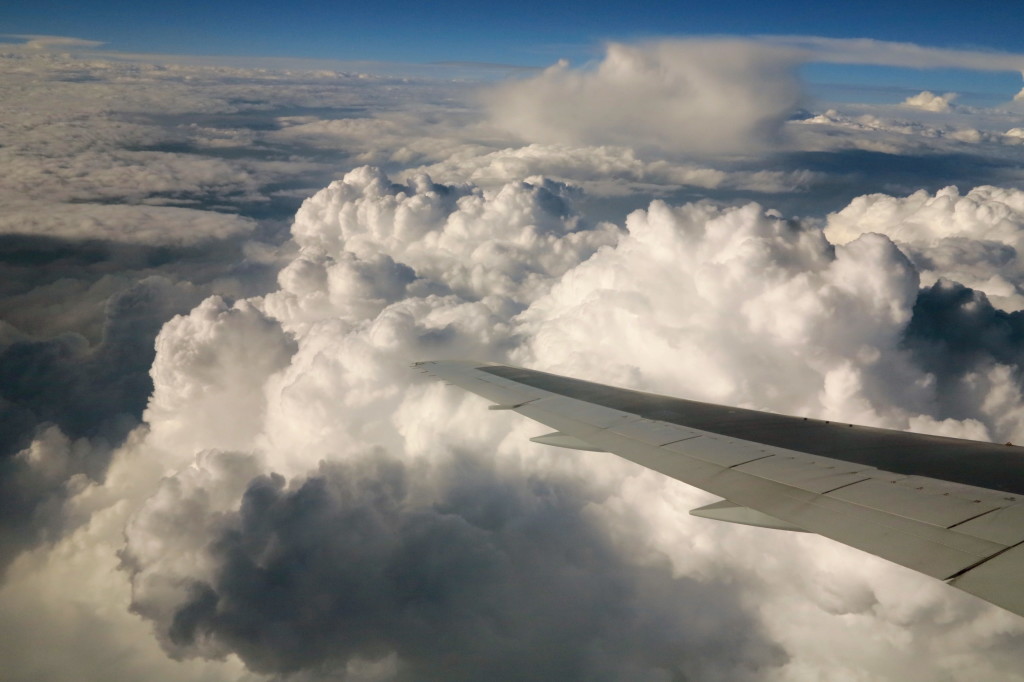 Flying Over Brazil
A couple of months ago, I re-watched the classic comedy Airplane!. I hadn't seen it in years, but found myself laughing out loud at all of the silly jokes, the ridiculous puns, the over-the-top acting. For those who haven't seen it (if not, I suggest you do), it depicts the plane ride from hell, one on which nearly everyone, including the pilots, becomes horribly ill. Comedy, and near disaster, ensues.

It got me thinking of all the times I've experienced something awful on an airplane. Put people in a confined space for hours on end and something weird is bound to happen. Add to that travel stress, uncomfortable seats, terrible food*, and, for some, a fear of flying, and you have a recipe for trouble.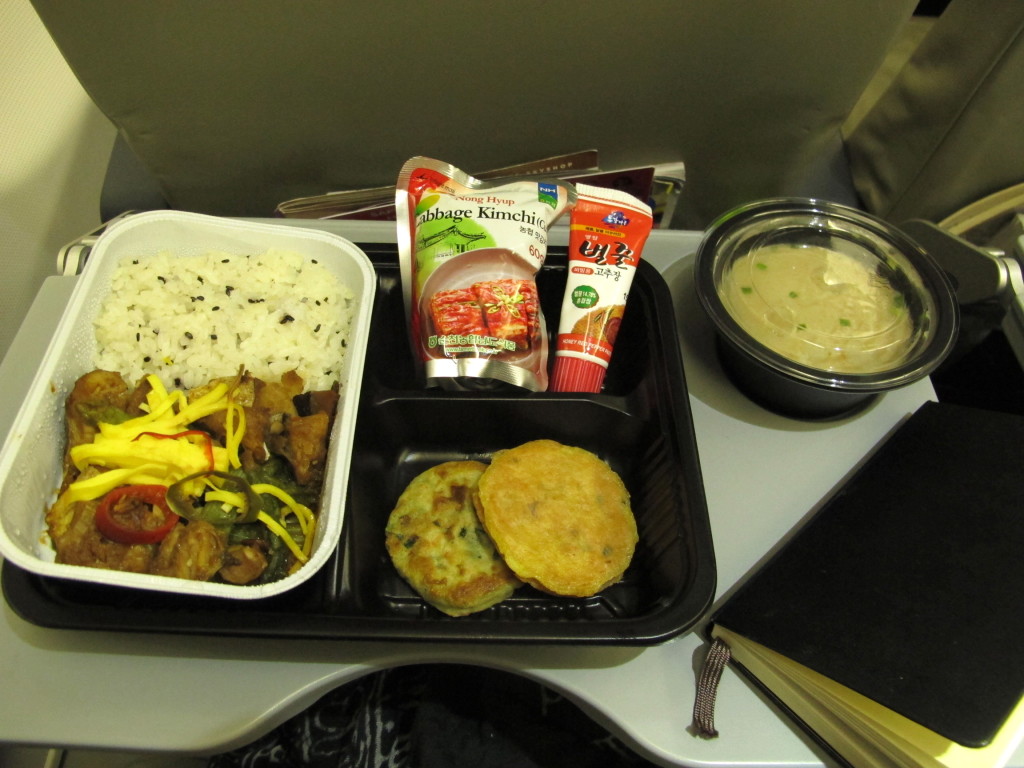 Airplane food when flying from Korea
Once, a man from the Philippines serenaded me the entire way from Chicago to Winnipeg – singing directly into my ear and telling me it was a shame I wasn't married. Another time, my friend vomited into a bag for three hours straight and strangely refused to get up to go to the bathroom. I once saw a flight attendant open an overhead locker only to have a metal bar fall out, hitting a woman on the face and cutting her open, blood everywhere. And of course I've had flights cancelled and delayed, had bags lost, dealt with incredibly rude staff, and never, not once, comfortably fallen asleep for longer than half an hour on any plane ride (with the exception of that time I took what may have been a horse tranquilliser on my way from Malaysia to Japan).
One of my earliest airplane horror stories happened in 2006. I was flying from Toronto to London, where I'd catch another flight to Amsterdam to begin a backpacking stint through Europe. Other than short flights around North America, it was the first time I had flown alone, and the first time I'd flown overseas alone. Not only that, I was starting a huge adventure by myself – I was young, naive, and an inexperienced traveller. In short, I was a bit nervous.
I found my seat – an aisle seat near the back – and was next to an older lady. The first thing I noticed about her was the colour orange; she seemed to be draped in the colour from head to toe, and her hair, lipstick, and long fingernails shared the hue. She was like something out of a Roald Dahl book, comical and overdone. As the plane took off, we chatted from time to time, though I could barely understand a word she said and tried to avoid all conversation. She was from the Netherlands, or had family there – I couldn't quite ascertain what was happening, though I noticed she ordered glass after glass of white wine, and soon became almost incomprehensible. When she turned to the side I noticed multiple airsickness patches on her neck. I sat politely, trying to read or write in my journal, but every so often she'd tap me on the shoulder with one of her talons and cackle on in an unintelligible tongue.
Near the end of the flight, she stood up to use the bathroom, and I let her by. As soon as she stepped into the aisle, she fainted, hitting the padded floor with a thud. As it was an overnight flight, the lights were down, and most people were sleeping – I immediately starting hitting the flight attendant button, and people started stirring.
"What happened?" the flight attendant asked.
"I have no idea, she just fainted."
"What's her name? Are you related?"
"I don't know – I just met her on the flight." I was starting to panic now – why was I being dragged into this?
The lights on the plane went up; people started fussing and trying to get a look at what was going on. The woman was still on the floor, her head rolling from side to side, muttering in a language I didn't recognise.
And then – those words that have almost become a joke in pop culture – a voice boomed over the loudspeaker: "Is there a doctor onboard? Please identify yourself immediately."
The next moments were a blur – people crowding around my seat, asking questions, trying to offer help to the ill woman. The only thing I can surmise is that she mixed alcohol with the airsickness patches. She was eventually led to the back, but, after the plane landed, we had to wait for emergency personnel to board the plane and take her away on a stretcher. This, in turn, led to me running through Heathrow airport, attempting to find my way to my next flight, almost missing it. Not a great start to my adventure, but, as we always say… it definitely makes for a story.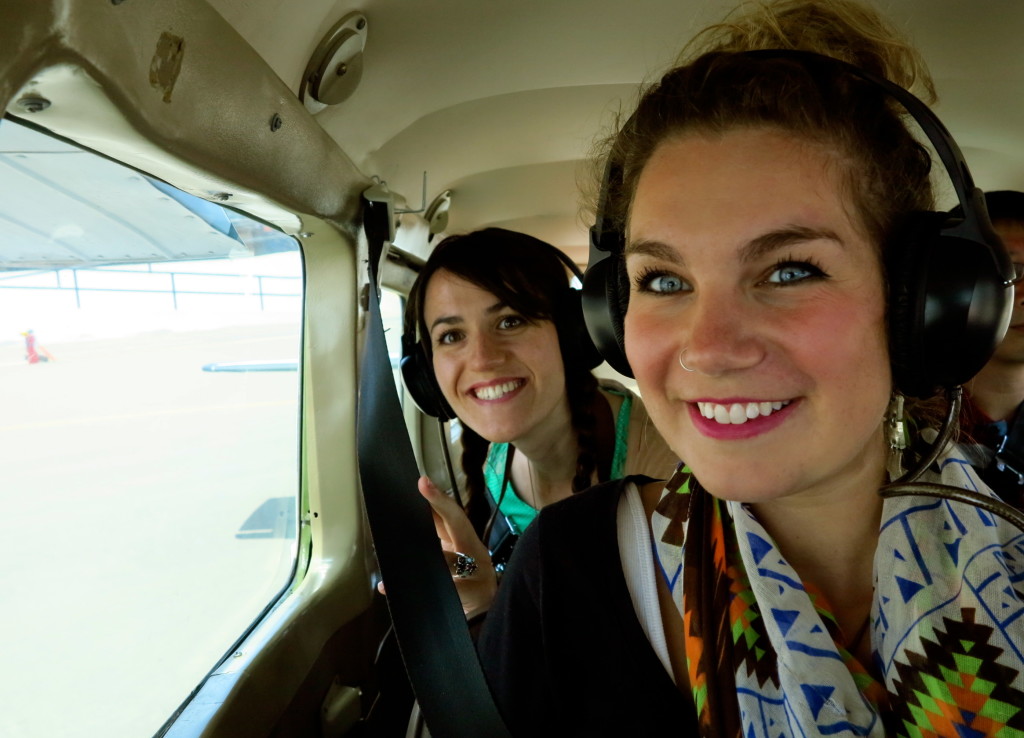 Kerri and I on a tiny plane in Nazca, Peru
And we've all been there, haven't we? The seat-kickers, the over-talkers, the terrible turbulence. The people who have no patience at all. And I'm sure, at some point, we've all had the incredible misfortune of being horrifically ill during a flight.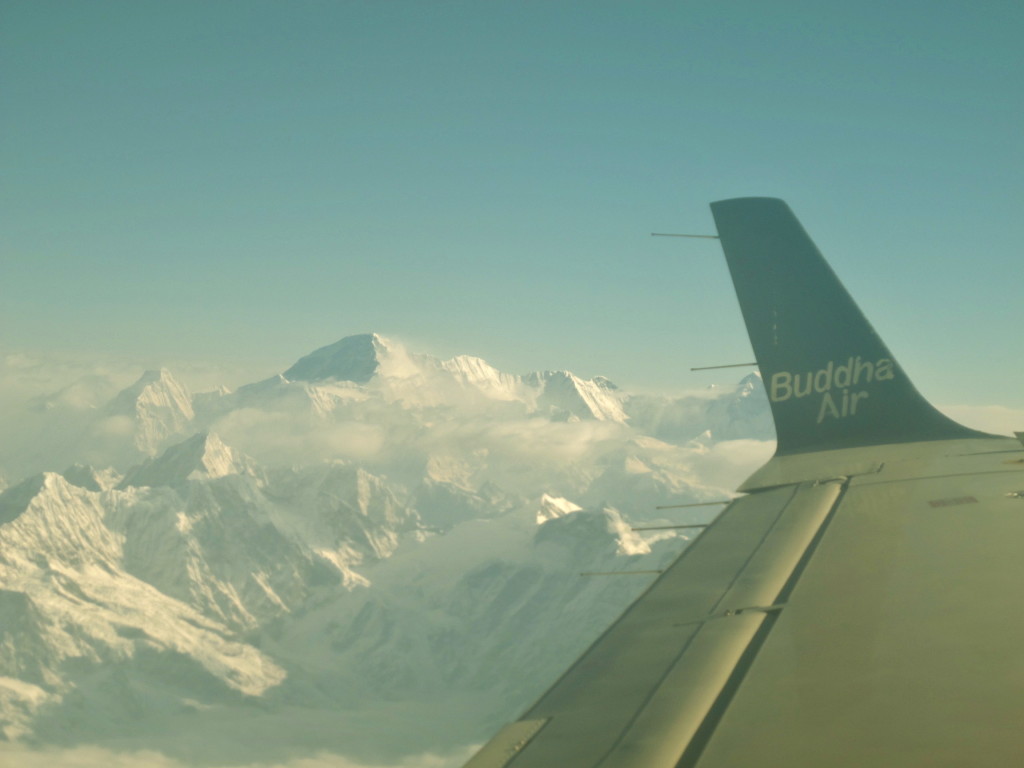 Flying over Mount Everest, Nepal
What are your airplane horror stories? Have you ever had something truly awful/annoying/unbelievable happen to you while you were on a flight? 
*I actually kind of like airplane food