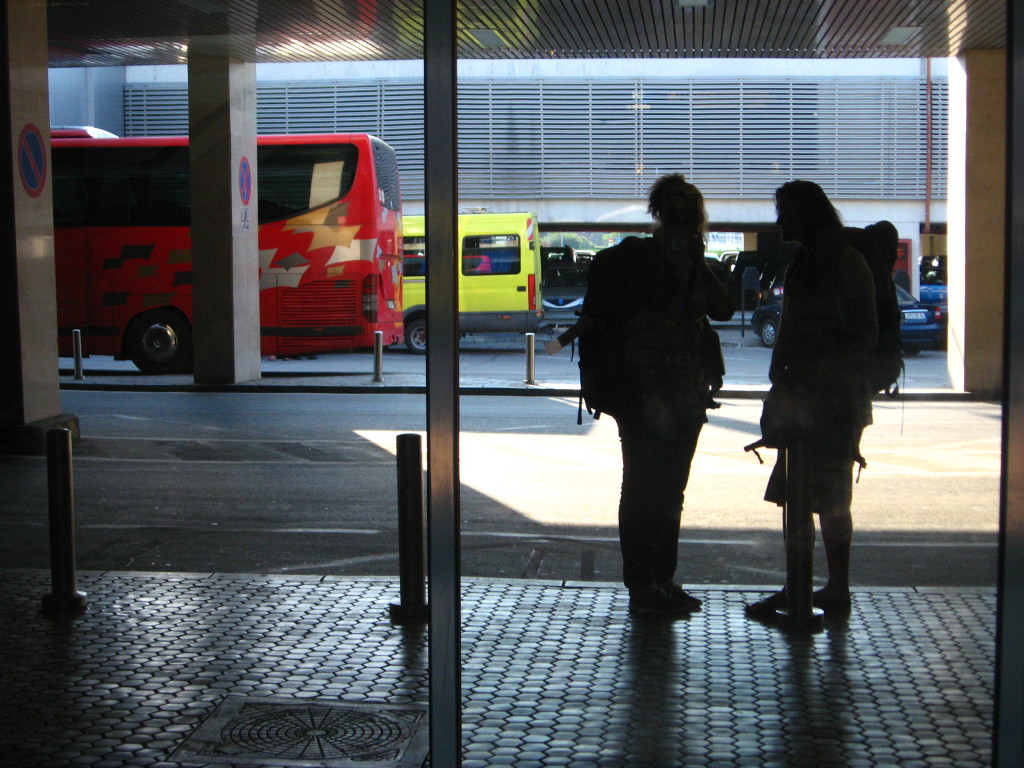 Reflections of Backpackers, Bucharest, Romania
Two weeks ago, I was in Berlin. I had met a group of backpackers at the hostel and we went out for burgers at Burgermeister in Kreuzberg (if you get the chance, you should go). We got our food and sat at one of the tables near the street. One of the girls had put her purse on the table, right next to the road. Picture a high table, with a barricade blocking the street, but no sidewalk; that meant, if someone on, for example, a bike or a motorcycle wanted to reach over the barricade and grab something off of our table, he or she very well could.
"You should take your bag off the table," I cautioned. We were in a safe neighbourhood in one of the safest cities in Europe, but still I couldn't help but think that her purse looked awfully vulnerable sitting there.
"I know, I know, I always forget to do these things!" She laughed. "Maybe this is why I'm always getting things stolen from me."
That sums it up nicely, don't you think? I am not one of those travellers who wears a money belt 24/7, or who instantly distrusts every stranger. I can confidently say, however, that in over 7 years of travel through 75+ countries, I have never had anything stolen from me. Not a camera, a wallet, a bag, nothing. OK, there was that one time a ladyboy stole my bikini in Thailand, but that was a very isolated incident (and a story for another day). And for the most part, the world is a safe and trustworthy place. I do not want to put anyone off travelling or imply that travelling = you're gonna get robbed. Muggings and theft really do not happen as often as the media and naysayers would like you to believe, but it's important to be safe, no matter where you go.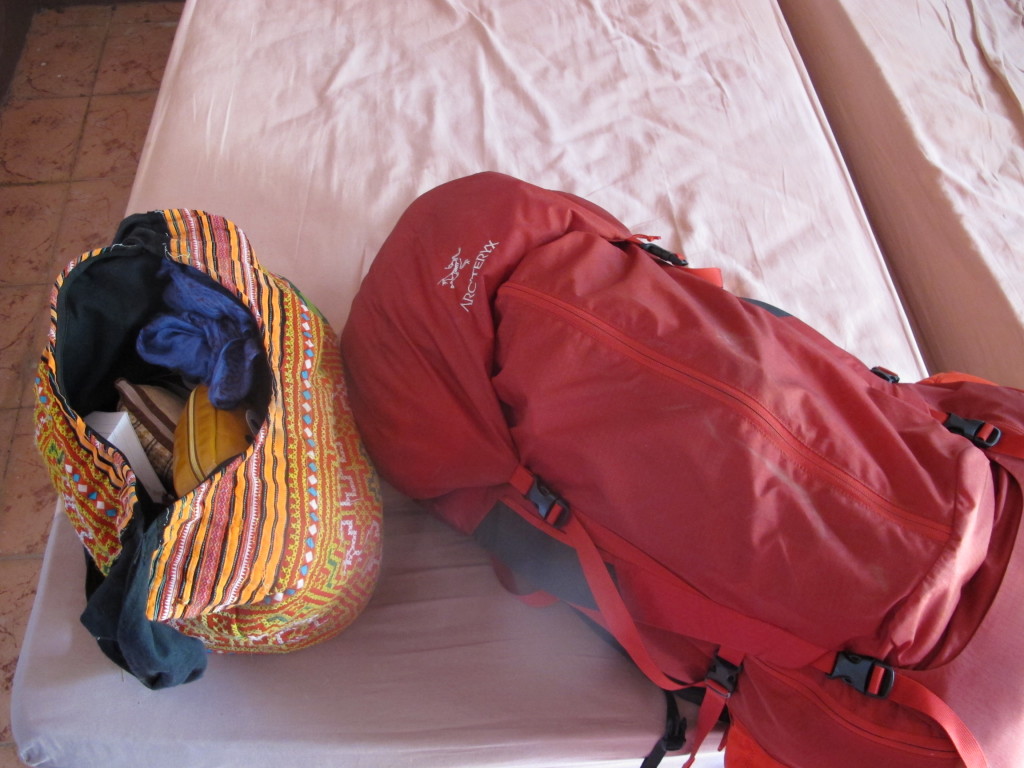 Everything I Owned For All of 2011, Koh Tao, Thailand
I do not in any way blame people who have been pick-pocketed or had something stolen from them – it is an atrocious thing to happen to anyone and I'm fully aware that I could walk out the door and be mugged in my neighbourhood in London. I am not here to focus on situations where the victim could not have prevented the theft in any way, nor am I tsk-tsking the victims who perhaps didn't take proper precaution. I just wanted to create a guide of what I do to prevent theft, and to outline some of the robberies I have heard about in my travels in order to hopefully prevent them from happening to you.
My motto is this: think like a thief. It may sound kind of strange to say so, but I am constantly thinking of how someone could steal something from me. Because of this, I am hyper-aware in situations like crowds, train stations, and night buses. I never want to become paranoid, or completely distrusting, but, when everything I own is contained in one bag, I'm going to do everything I can to protect that bag. Often, that means thinking preemptively.
1. Lock up your stuff. It's sad to say, but a lot of the thefts I've heard about happen in hostels. It's a terrible thing to do to another traveller and I hope that karma comes back to haunt the thief in a BIG way (I'm thinking Delhi Belly + lost bag + stolen passport all on the same day, you?). Unfortunately, not every single backpacker or hostel staff member is going to be someone of high moral character. Almost all hostels now have lockers, so utilize them; always carry a few padlocks in your bag. I even travel with a small chain so that, if I'm feeling particularly paranoid, I can chain my bag to something in the room. Someone could easily cut the straps, but if he sees a locked back or a bag just lying there, which one will he take? Similarly, I never leave anything out in the hostel room. Seriously, not even my toiletries. The closest I will get is leaving my pyjamas under the pillow, but everything else I either lock up or keep locked in my backpack. And don't even get me started on people who leave their phones charging while they sightsee for the day.
This could have helped: the girl I met in Manila who had had half of her clothing and all of her toiletries stolen from her. Some girls in the room thought they'd help themselves when she had left her things spread out on her bed. Not the worst things to be taken, but very, very annoying. Another young man I met in Costa Rica had had his passport stolen out of his bag by a local man; he had it in his day pack, which was lying on the floor next to his head while he was sleeping. You may or may not wake up if someone goes through your stuff, so better to be on the safe side and lock it all away. Another girl I met in Colombia had had her iPad stolen from her from under her pillow while she slept.
2. Similarly, lock up your bag. This one is kind of a no-brainer, but it still needs to be said. Every time you leave your bag alone (especially if you are putting it in a luggage hold on a bus or train), make sure it is locked. I have heard stories of buses where someone goes into the luggage hold and rifles through all the bags, zipping them up again so people don't know that anything is gone until it's too late. The smartest thing to do, of course, is to not have anything valuable in a bag that you can't keep an eye on at all times, but sometimes that's not possible. Make sure you get a good, sturdy lock; combination locks are great as you don't have to worry about keys and they tend to be harder to pick. Remember that chain I told you about? You can use that to lock your bag to a luggage rack in a train (a must in India), or to lock bags together.
This could have helped: The backpackers I met who had had their bags ransacked while they were on an overnight bus in Thailand, or the guy I met on a train in Rajasthan who woke up to see a man crawling along the train rack, opening bags and suitcases.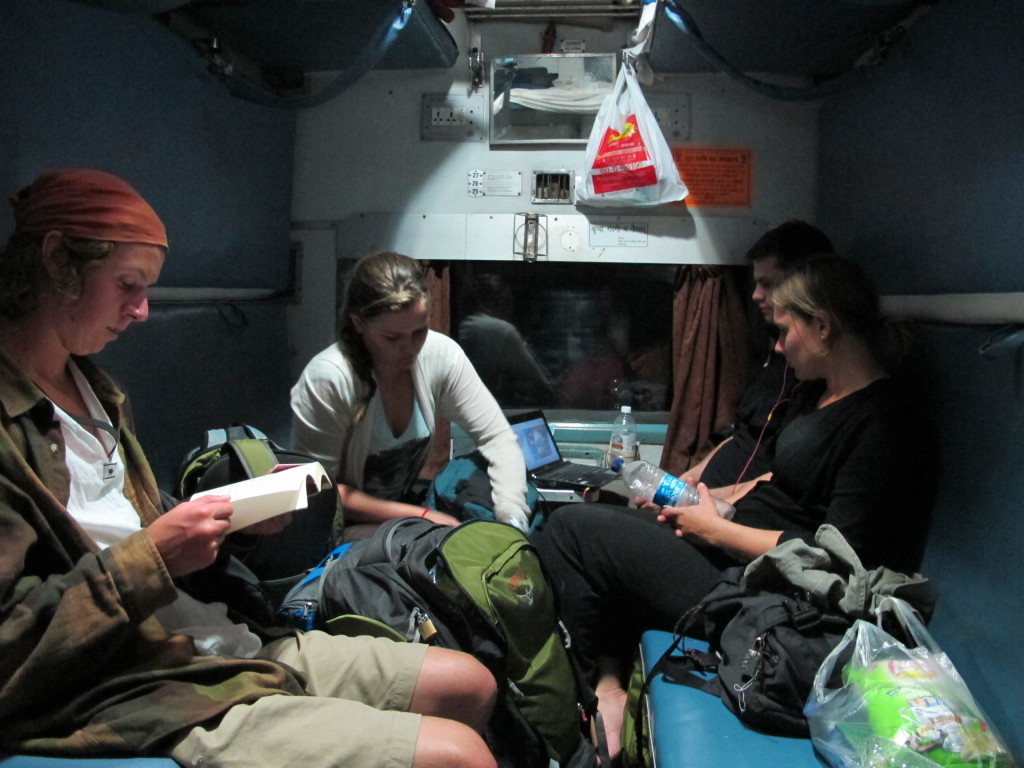 Night Train in India
3. Watch your daypack at all times, especially when you are using any form of transportation. Every time I've heard that someone has had their daypack stolen or pick-pocketed, he or she says, "It happened so quickly." If you wear a backpack, wear it on the front if you're on a crowded bus or train (I was standing directly beside a girl in Lisbon on a tram when she had her wallet stolen out of her backpack, and I didn't see a thing). In general, don't put anything valuable in the front pockets of a backpack, or in the back pocket of your trousers. Never, for any reason, put your daypack on the luggage rack above you, and if you put it at your feet, make sure it is looped around your legs and protected from the person in front or behind you. Personally, I travel with a larger daypack that has my laptop, guidebook, makeup, etc inside, but a smaller purse inside that that holds my passport, camera, hard drive, and money. If I sleep on a bus, for example, I loop my purse around my body and cover that with a scarf like a blanket. I then wind the straps of my backpack around my legs. No, I don't sleep well, but I've also never had anything stolen from me.
This could have helped: My friends who put their daypack on the luggage rack above them on a bus in Bolivia, only to have it gone in the morning. And yes, they even hung one of the straps down so that they could keep an eye on it. The thieves actually swapped their bag with a decoy bag. They're that good.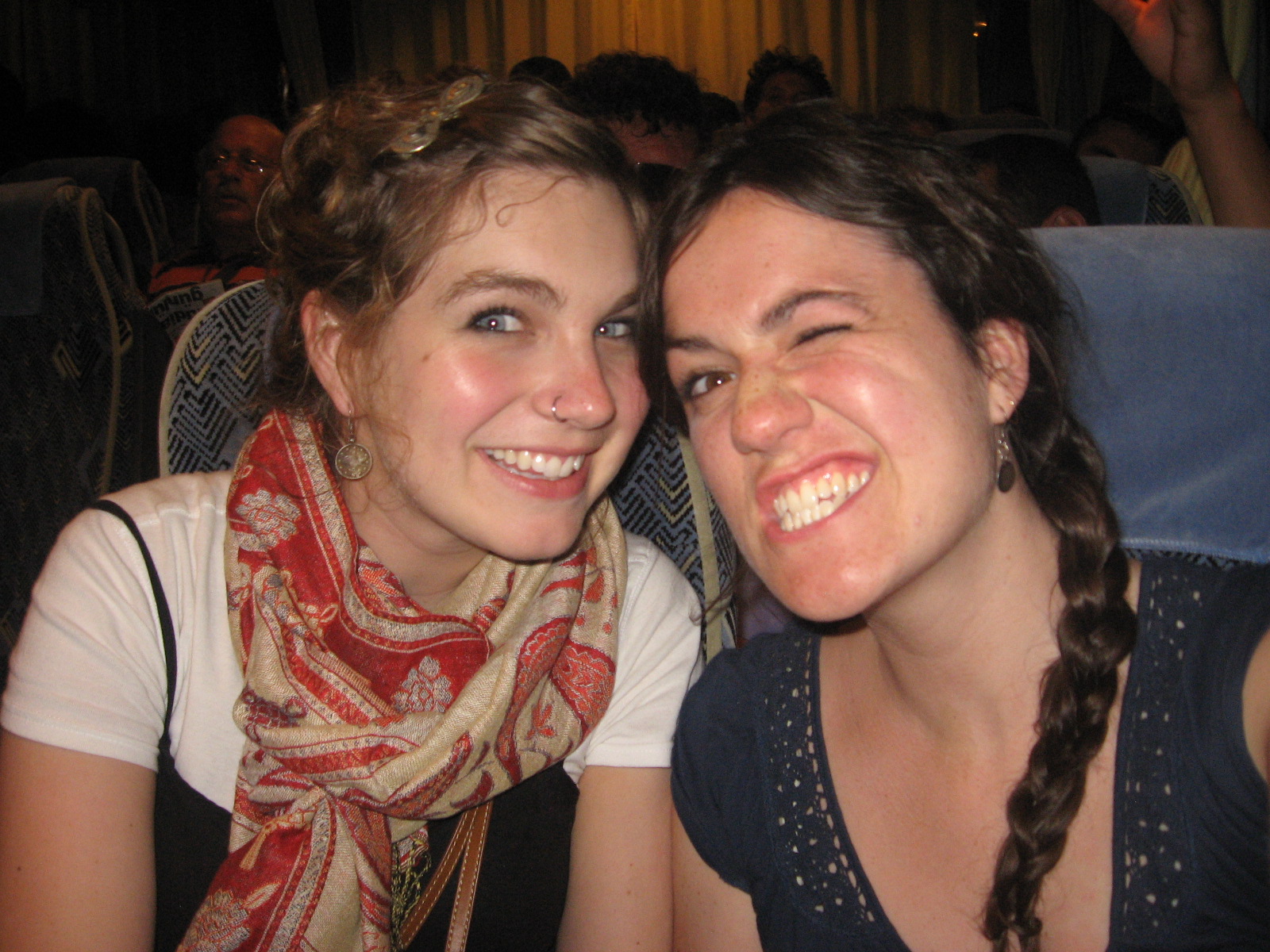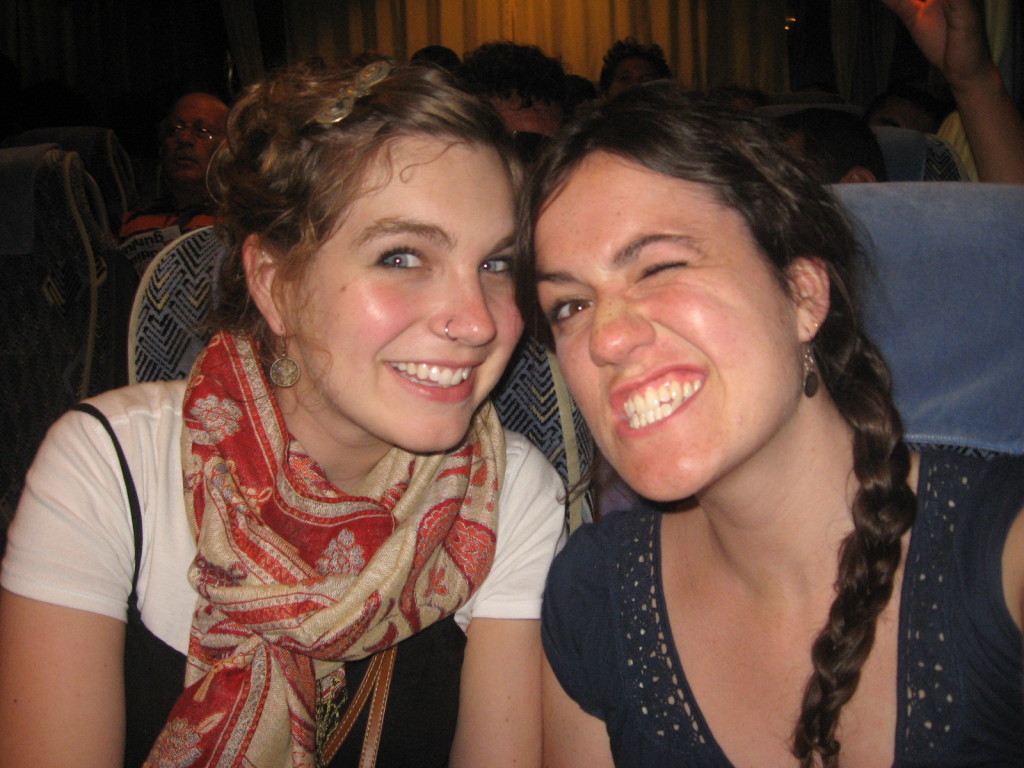 Night Bus in Turkey
4. Be responsible for your own stuff. If you leave your bag with anyone for any reason, know that that person may not be as mindful of it as you would be. I've so often seen one lone backpacker sitting with four or five bags at a train station. If someone ran by and grabbed one, what would he do? Run after the thief, therefore leaving the other bags? Too easy. This is where that chain comes in handy again – if you simply must leave your belongings with someone else, chain your bags together so that they would be near impossible to run off with.
This could have helped: The girl I met in Thailand who left her backpack with a guy she had just met, only to return to find no bag and a guy who hadn't even noticed her bag was gone because he was so absorbed in his book.
 5. Be mindful of distractions. One of the ways a magician fools his audience is misdirection. The same applies to thieves. The classic story is the woman who throws her "baby" at you; while you're busy, you know, catching what you think is a baby, she grabs your bag (though I am pretty sure this story is an urban backpacker legend). A pack of kids runs up to you laughing and singing? Join along, sure, but keep a hand on your pocket. A bird poops on you/a drink is spilled on you? Be wary of the person who runs up to you to help (this is especially common in South America, where someone squirts something on you when you're not looking. You take off your bag to clean up, and while the friendly stranger is helping you, her accomplice makes off with your stuff). If something feels strange, it probably is.
This could have helped: The poor girl who had every single thing of value stolen from her in Uyuni, Bolivia. While she was at an internet cafe, a man dropped a bunch of coins beside her. She stooped down to help. While she was turned toward him, his accomplice grabbed her daypack, which was at her feet, making off with her passport, credit cards, camera, iPad, iPhone, $500 USD, and her hard drive with 9 months of photos. Yes, this is my absolute nightmare. Once again, no matter where you are or how safe you feel, wrap your bag's straps around your legs. I even do this in London and Toronto.
Everything I Owned For All of 2012, Bocas del Toro, Panama
6. Don't take anything out at night. If you're in a city known for pickpocketing or muggings, take as little as possible out with you at night, when muggings are more likely to happen. Through Southeast Asia and South America, for example, I only carried a bit of cash and my cheap party camera out with me. That's it. No phone, or credit card, or passport (bring a copy and another form of government ID, but leave the passport at home unless in a country that requires you have it on you at all times). I also do this because if I have a few drinks, frankly, I'm not as responsible with my stuff.
This could have helped: The guys who got mugged outside my hostel in Medellin at 3am. They were robbed of their iPhones and wallets.
7. Trust your intuition. I've said this a lot on this blog, but I really do believe in trusting your gut instinct. There have been times when I have gotten that familiar pang in my stomach that tells me something isn't right, and I try my hardest to listen to it. I want to be a trusting person, but when I travel, my whole life is in my bag, and I treat it accordingly.
This could have helped: The girls who, although they thought the man seemed sketchy, still left their backpacks with a taxi driver while they went into a museum. They emerged, and surprise! No taxi, no driver, and certainly no backpacks.
I have always been really careful with my stuff, and I will continue to be. Inevitably, though, things happen that are out of our control. I've heard terrible stories of muggings in broad daylight, machete-waving thieves, and even a frightening tale of a hostel that was taken hostage by gunpoint while all the locks on the lockers were cut. We cannot prevent these things, but we can do our best to keep everything safe.
Five years ago, when I was in Lisbon, I was sitting at an outdoor cafe in the main square. I was sitting with my back to the wall, and tables of other cafe-goers were in front of me and to my left. To my right, dozens of chairs were stacked. There was no way that anybody could approach me without me seeing him or her. I had just arrived, and, unable to check into my hostel yet, had my bags with me; my daypack contained my passport, wallet, phone, camera, and hard drive containing all of my photos from a week in Paris. I was happily enjoying the sunshine and my coffee when I felt the slightest movement at my feet. I looked down, and, horrified, saw a hook dragging my bag from between my legs. A man had crawled on his stomach underneath the stacked chairs to my right and was manoeuvring the hook just so. I gasped, grabbed my bag, and, for what felt like an eternity, stared at the man in the face. I vowed to never again be so negligent. I heard later that a Norwegian girl had had her camera bag stolen in the exact same fashion.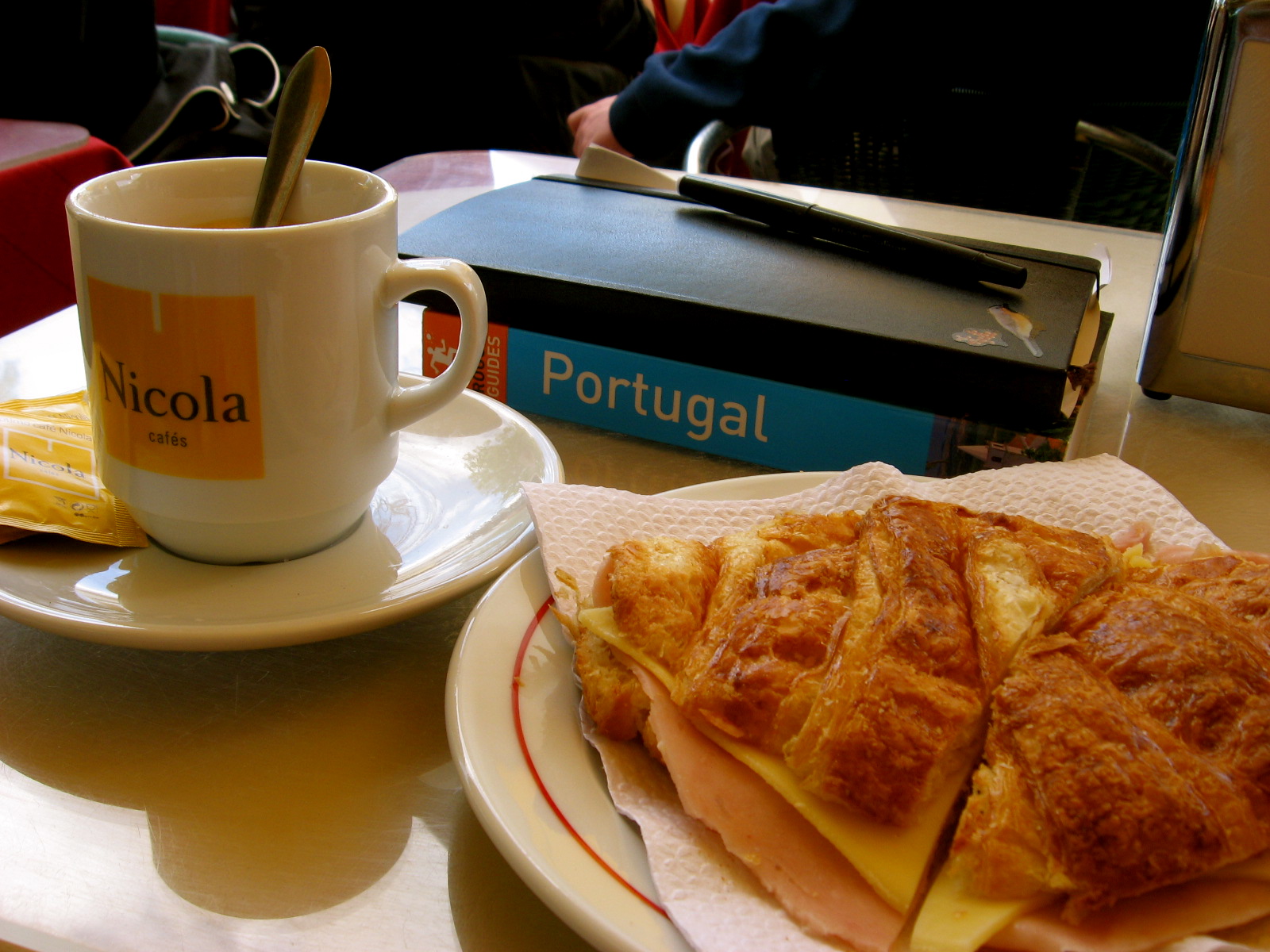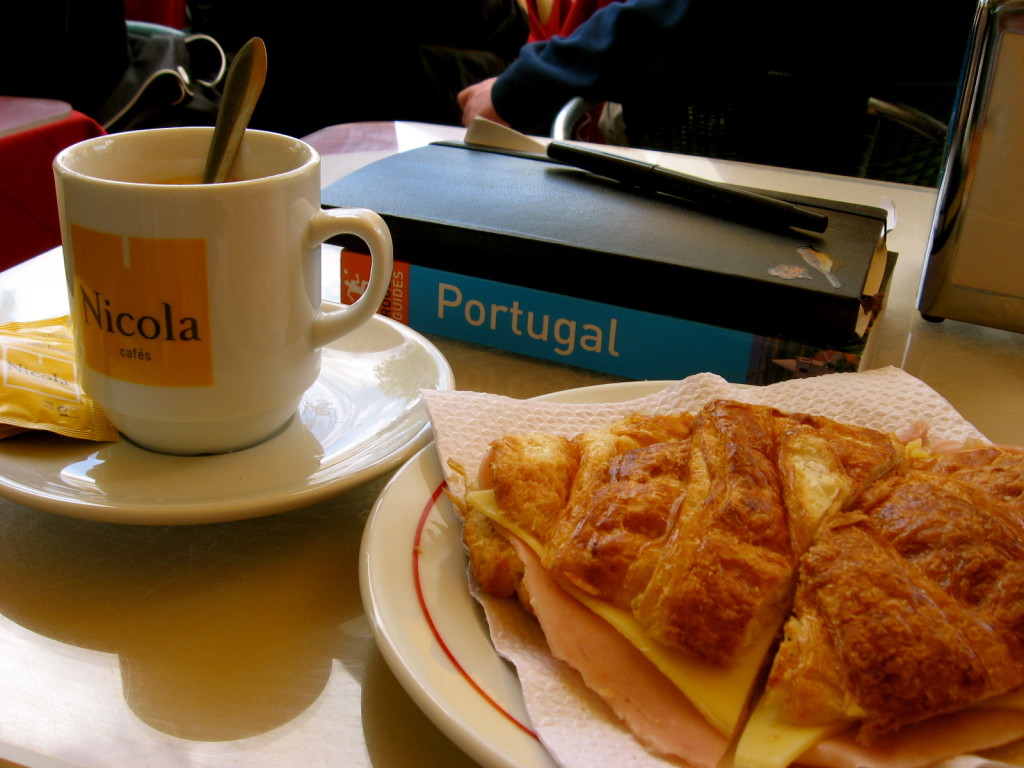 The Last Photo I Would Have Taken With My Camera, Lisbon, Portugal
Bottom line: be cautious, be responsible, and, always, think like a thief.