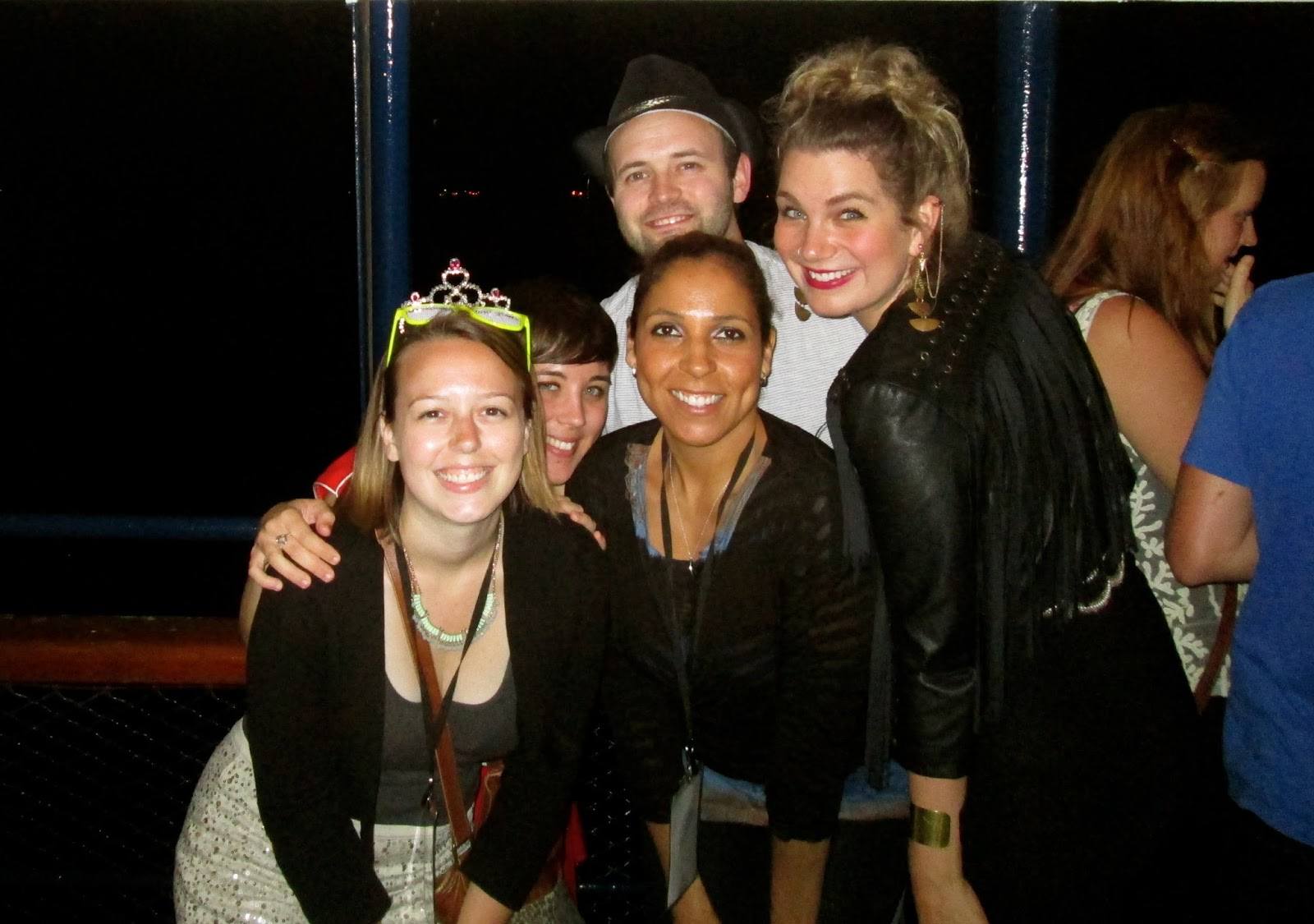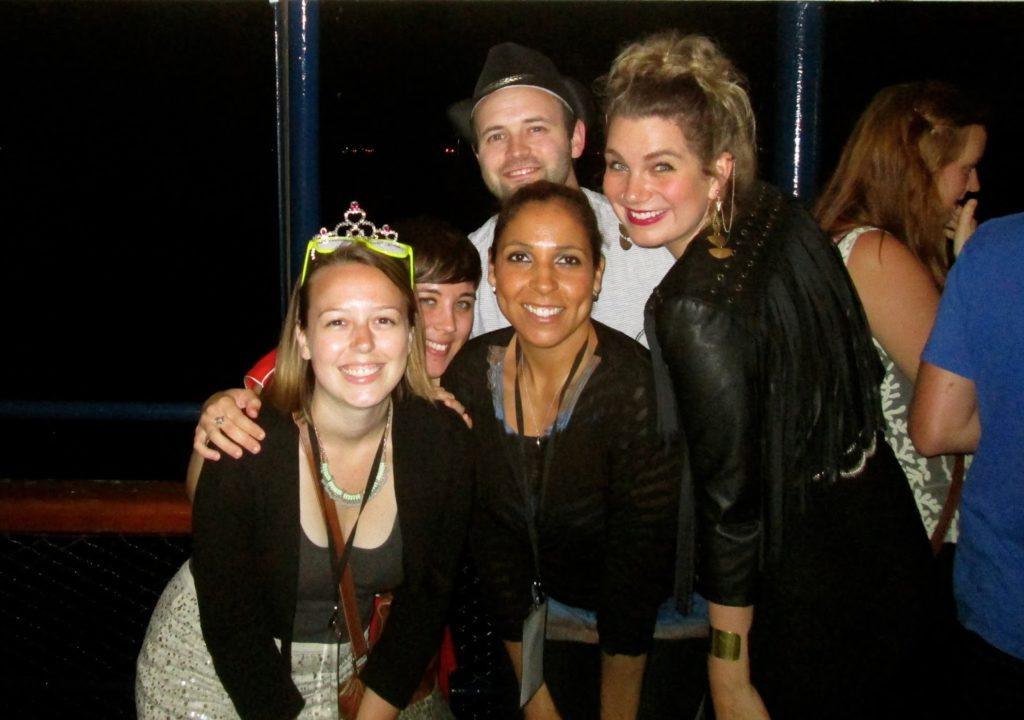 With bloggers (including Caroline) at my first travel blogging conference in 2013
I was 19 when I started my first blog, way back in 2003. Back then we weren't talking about things like "self-hosted Wordpress sites", "search engine optimisation", or "Google analytics"… I mean, social media was only in its infancy (no, I never had Myspace, to every early 2000s hipster's horror) and I would only get Facebook, Twitter, and Instagram years and years later.
If you've read my blog for long enough, you might know the story: my Livejournal morphed into Blogspot around 2008, and Blogspot morphed into Wordpress into 2013 (for those who are like, what the hell are you talking about and what is this morphing of which you speak? Those are all hosting platforms for blogs. I'm still experiencing the effects of a botched migration from Blogspot – none of my previous photos made it through. Nightmare).
It was around 2012 that I realized, holy crap, travel blogging is a thing? Like, people have social media and make money and work with tourism boards?
And in 2013, I went to my very first travel blogging conference, a TBEX conference in Toronto. There, I learned what SEO is (that search engine optimisation I mentioned), that my numbers weren't good enough for anyone to work with me (I had under 1,000 followers on each of my social media platforms, and I was getting about 3,000 to 5,000 hits on my blog per month), and that there was a weird hierarchy amongst some bloggers, as in some bloggers were actually kind of famous.
I remember going up to some random guy (oh how I WISH I remembered his name) to introduce myself, but before I could, he picked up my name tag/lanyard, looked me dead in the eyes, and said, "I've never heard of you," before he walked away.
So yeah, I was pretty disheartened after that conference. I even wrote about how I felt a couple of weeks later (and funnily enough, much of what I say in that post rings true for me today).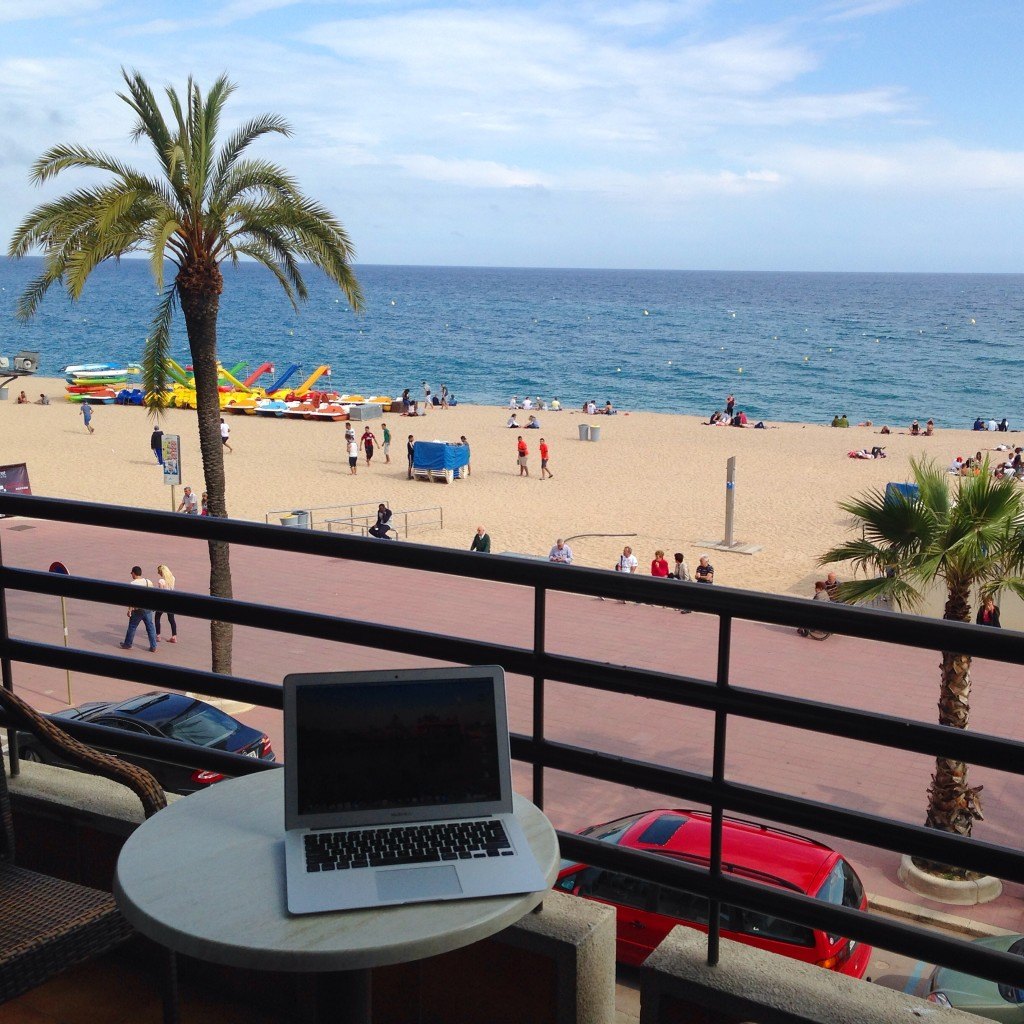 View from my hotel balcony at another travel blogging conference
Despite that, I kept blogging. I still didn't really understand it as an industry, so I wrote whatever I felt like writing. Being one of the early bloggers plus the fact that I travelled for two years over 2011 and 2012, I sometimes wonder if I missed out on a lot of opportunities to have grown my blog then (though I don't regret the path this blog took, not at all).
My blog was – and still is, to be honest – pretty devoid of articles with tips, advice, or anything really "googleable" (how is that not a word yet, seriously). But I wrote. And I wrote. And over six, nearly seven, years, I accumulated nearly 800 posts on this blog. I also went to a lot more blogging conferences, ones in Ireland, Greece, Sweden, and Spain.
At every one, I was told how to make my blog bigger, better, more successful. I signed up and paid for blogging groups and courses that, truth be told, I never actually opened or used, let alone promoted. I thought about following the path I kept being told to take with my blog, even though I knew the stuff I liked to write wasn't really following those "rules".
Over the years, I naturally learned a lot about the industry. You can read about every single thing I know about travel blogging here (but be warned, I actually mention tumbleweeds rolling by), and every single thing I know about social media here (pretty sure there are crickets in that one).
And somewhere along the way, as time went on, those numbers started to grow into the tens of thousands. I don't take that lightly; that was a direct result of blogging consistently for seven years (often posting no less than three blog posts a month), not to mention all of the hours per week I spent on social media. Things I did out of love for blogging, and love for interacting with people in the travel community.
And all of a sudden I started getting lots of offers. Offers for free trips. Offers for free suitcases, backpacks, cameras, and other travel products. Offers for sponsored posts, paid guest posts, and advertising, usually ten or twenty emails a day.
I took a few of them, at least the press trips; you can see the coverage scattered throughout this blog over the past three years. I've worked with amazing people, and done some incredible things because of this blog, and I am ridiculously grateful for all of them.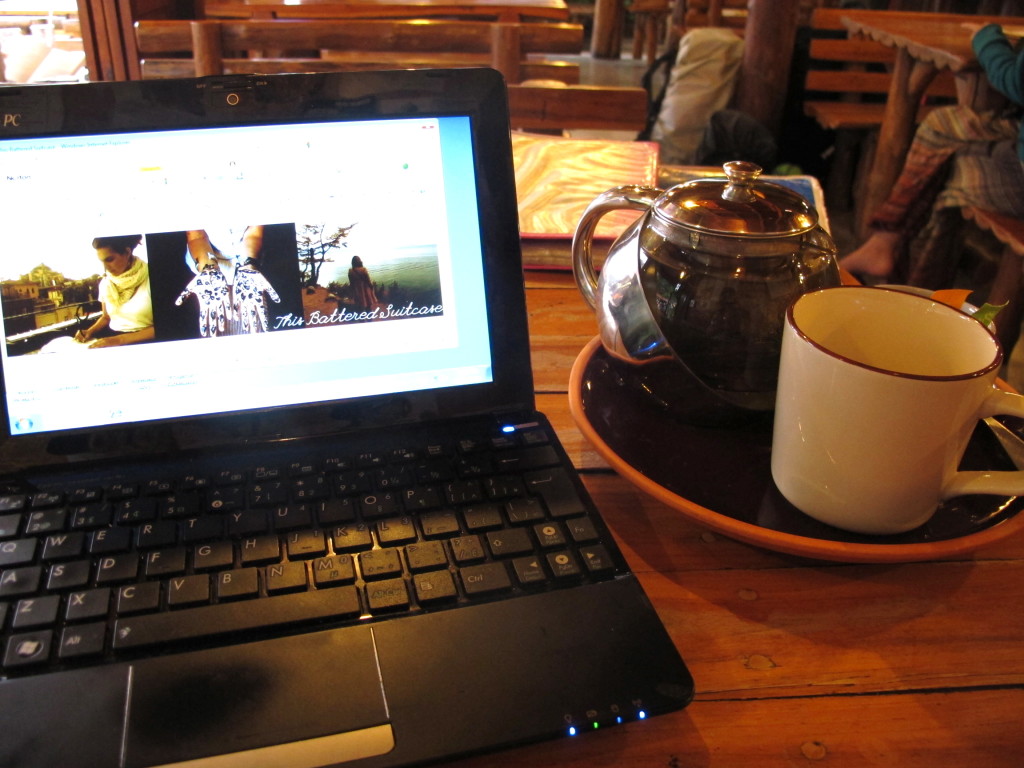 Blogging from a Thai island (plus my old design!)
But recently, I pulled back a bit to take a look at this blog, and where I'd like to take it. As I recently went down to part-time to focus on this as a possible business, it was necessary for me to outline what I wanted for the future of This Battered Suitcase, and for my career. I started going through my archives. I started looking at the posts that I loved writing the most. I started looking at the posts that readers loved reading the most.
And it hit me: if I keep accepting all of these trips, and if I keep chasing SEO stats, my blog might grow, yes. But isn't my blog also going to get really freaking boring?
I'm in the fortunate position of being sort of an outsider in the travel blogging world, because I did indeed start a long time ago, but I never really hit it big or went full-time professional. That meant I could watch from the sidelines a bit, but get to know some really fantastic, successful bloggers along the way. It also meant I could watch how the industry changed and grew over the past decade, and, if you ask me, it hasn't always been for the better.
The number of travel blogs has risen exponentially over the years, to the point where some argue the market is totally saturated. And some of these new bloggers are here to PLAY. We're talking fully optimised blog posts, slick web designs, professional photography (does everyone under age 28 own a drone?!), and perfectly done hair, even when standing in the middle of a rice paddy in Bali (does everyone under age 28 go to Bali?!).
For my part-time job, I often research travel blogs for a large travel company, trying to find the right fit for their campaigns, and let me tell you, I am sometimes totally overwhelmed. To be honest, I can also rarely differentiate some of these blogs. It's the same style of photography. It's the same sponsored posts. It's the same listicles, advice articles, and tips. It's the same "I can teach you how to be a travel blogger, too!" ebooks and courses.
So many people, including me at times, are following the recipe we've been told will be successful.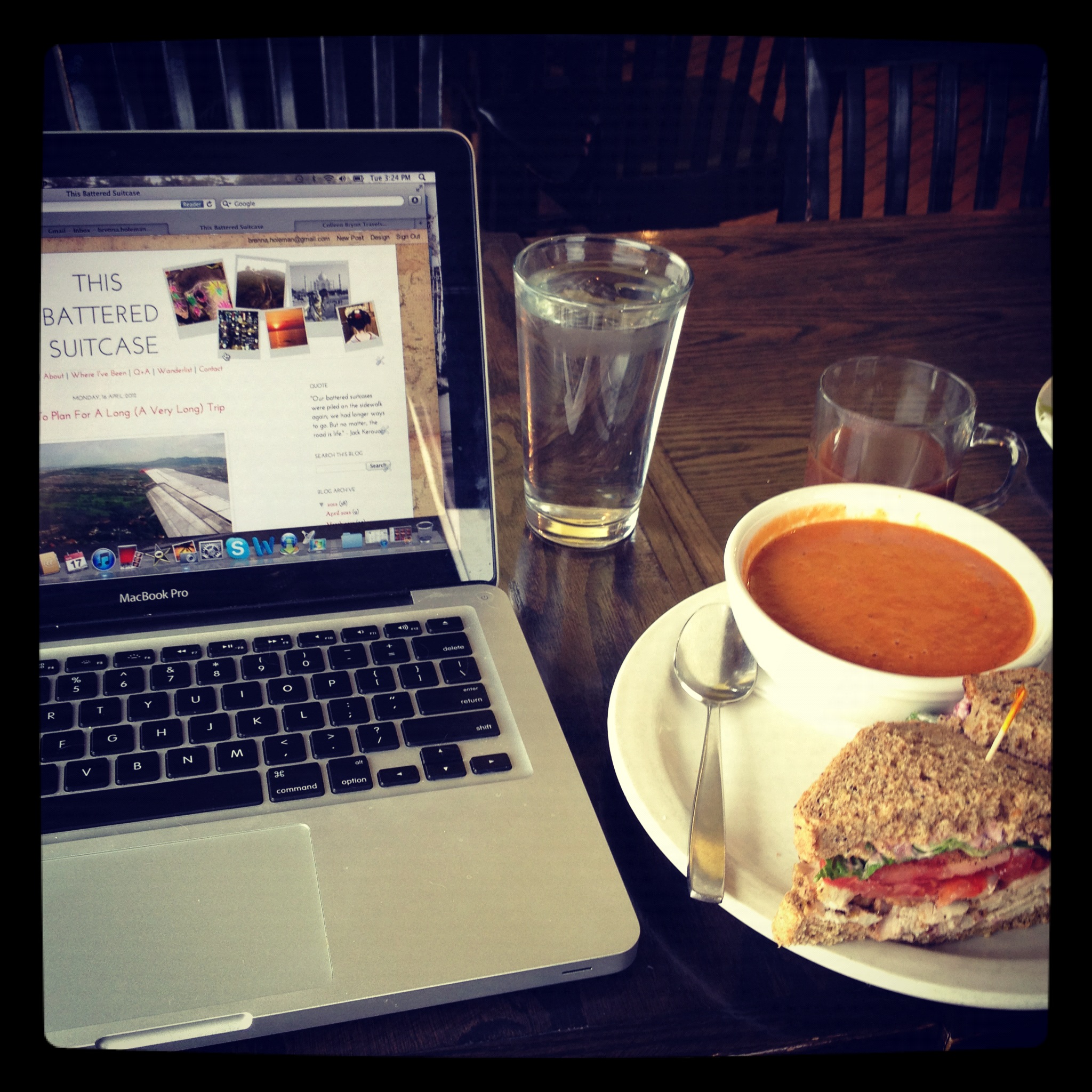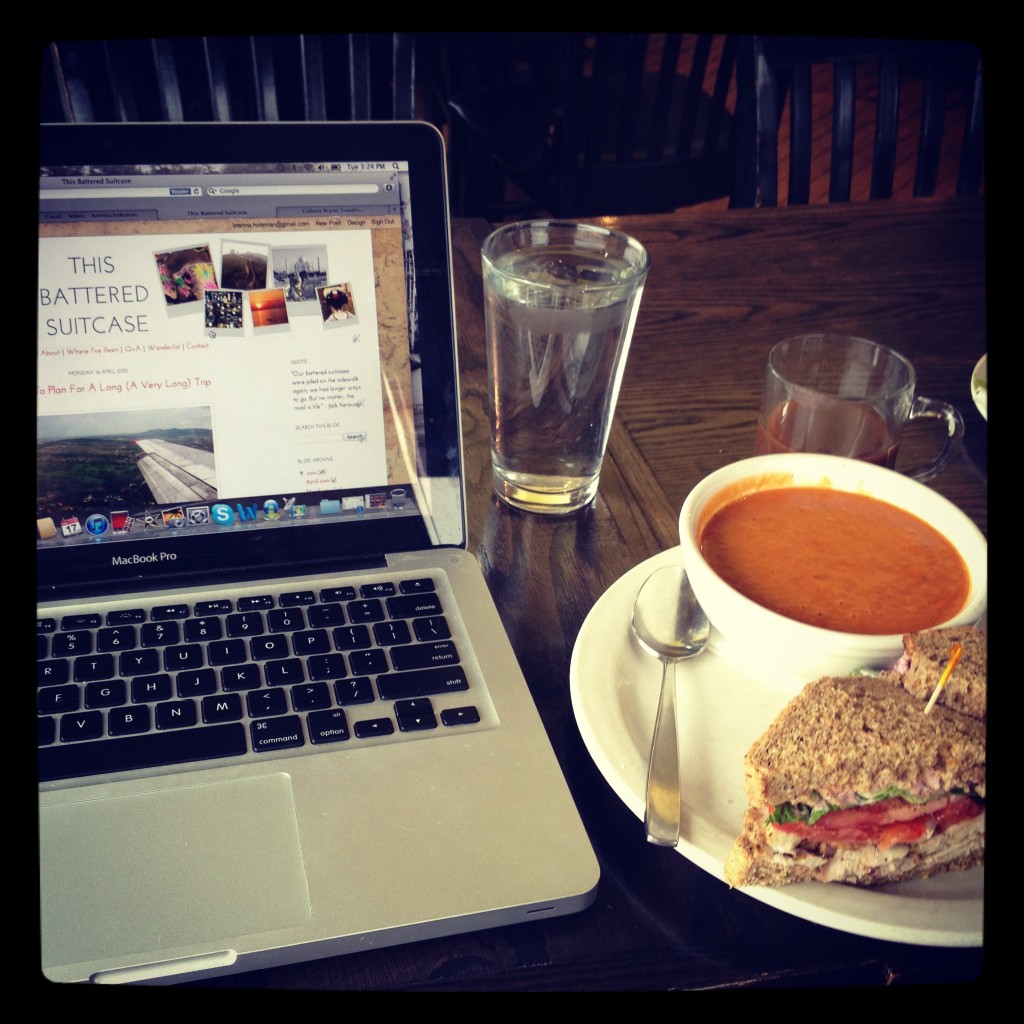 Working on my blog in 2012 (at a café that has since closed in Winnipeg, sadly)
And yes, I am sounding like the old, bitter, granny right now. "Who are these darn kids with their expert knowledge of Pinterest and their ability to hike a mountain in a freaking ballgown?!" you're probably picturing me screaming toward the sky right now, shaking my fist.
And I do not, in any way, want to discourage anyone from starting a blog, because it is single-handedly the best thing I've ever done in my life, and I encourage everyone to be creative and passionate about something. It's also HELLA DOPE (am I using those words correctly, children? Wait, does anyone say "hella" or "dope" anymore?! Send help) that there are so many entrepreneurial, ambitious people out there who are forging their own paths, discovering ways to make money out of what they love to do, and finding their own careers by being resourceful and creative.
I also don't want to discourage anyone from exploring that creativity and doing what feels best to them – if this includes styling your hair and putting on a ballgown, that's awesome. I also like to look good in my photos, and there's nothing wrong with that. I mean, c'mon, those ballgown-on-a-mountaintop photos look magnificent.
I do wonder about this industry, though, and how it will sustain itself in the long run. It is now such a competitive field (though one that is too often dominated by young, white, heterosexual, able-bodied people) that I see more and more individuals faking stats, buying followers, and experiencing burnout from travelling too fast and working too much. Not to mention the distortion of reality that happens with so many blog posts and photographs.
On a press trip a couple of years ago, I helped an Instagrammer by taking some photos of her (her boyfriend/photographer wasn't feeling well). It took an hour and over 500 shots of her on the beach to guarantee she got a good photo. Later, when I saw that photo go up, she had edited the colour of the sky, the colour of the sand, and the colour of the water. She had also removed everyone else in the background, and added birds in the sky. She also didn't give me credit for the photo, hah.
And I get it – a lot of us, myself included, sometimes crave a bit of escapism. That's why we read about different locations and look at photos from faraway lands. It's good to dream, and yeah, I'll admit it, that photo looked amazing (sadly, I don't think it was because of my photography skills). But aren't we all getting a little bit tired of travel blogs and their accompanying social media as they stand today? Do I really need to read another listicle on the top spots to eat in X, Y, or Z? Aren't a lot of blogs and their social media all starting to blur into one?
Don't get me wrong – those articles are very, very important. I definitely believe that travel blogs are a great way to share knowledge and information with other travellers, and that it is wonderful to have an arsenal of those kinds of helpful posts on your blog. If you want to be a professional travel blogger, you need them – they're how you're going to get organic searches that lead to your blog. I search for them myself when I am planning a trip. All I'm saying is… what else can we offer?
Take it from me: your blog won't die if you write some personal posts once in a while. Your blog won't spontaneously combust if you publish a post without any keywords. Your blog won't suddenly be thrown out of consideration for press trips if you write from the heart. Be creative. Take risks. Try something new. 
My argument is that all of these things will make your blog stronger, and will create a much more loyal audience. If I wanted the simple facts about a destination, I'd read a guidebook. I read your blog because I like you and I want to hear your opinions.
So, absolutely, write helpful posts with tips or advice. But write funny stories, too. Write about that time you missed your plane. Write about how it felt to step into a new country for the first time. Write about your favourite moments, and your least favourite moments. Write about what inspires you to travel. Write honestly and authentically.
Write whatever the heck you want, without constantly worrying if the post will ever rank well in Google or if it will get a lot of likes on social media.
When I did this recently, my blog's traffic grew by over 30% in one month… because people actually wanted to read those posts. And even though those posts will never, ever rank in Google, many of you wrote to me to say that you connected with those posts in some way, or that you liked the posts, and that means so much more to me than the extra numbers in my Google Analytics each month. I'd much rather have a smaller audience who actually wants to read my blog than huge numbers of people who click once to get some information and then forget about the blog all together.
And it's not just me. Go to just about any travel blog out there and take a look at the posts that get the most comments. I guarantee you it's not the average listicle or advice article. It'll be the posts that are the most sincere, the most honest, and the most personal. There's a way to balance both and still gain a lot of traction in this industry.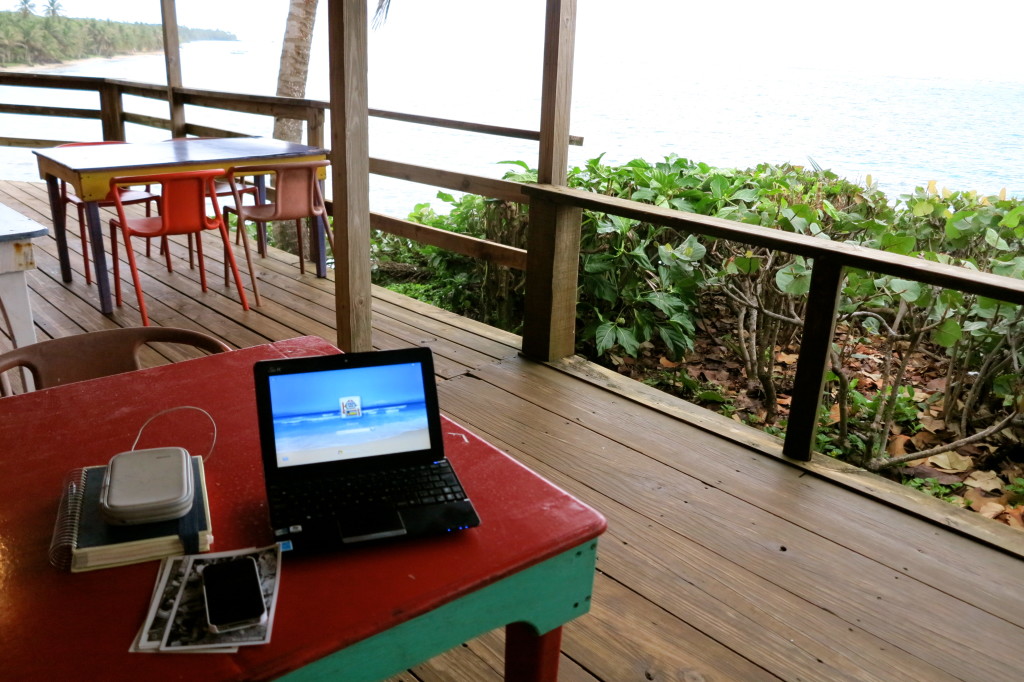 The tiny laptop I took with me around Southeast Asia, Central America, and South America for two years to blog
There are quite a few travel blogs that sit somewhere in the mid-range level of influence, in that they get some occasional press trips and have a pretty solid following. But if you look at the top bloggers, the ones who have been able to go full-time, you see what they have in common: they have all shown their personalities, and you feel like you know them through their blogs. They have written posts from the heart, not just because someone sponsored them to write it. They have shared their ups and downs on the road, their trials and their tribulations. You know their tone of voice, their likes and their dislikes.
As I wrote in that post about travel blogging: "At the end of the day, you're going to be the one writing and editing and posting and promoting and responding and if you're not happy with [your blog], or trying to mimic or conform to what you believe you should be doing, you're not going to want to do any of it. Don't get caught up in what you think you should be doing. There are so many amazing blogs out there that I admire and appreciate but I try not to compare myself or get jealous, because everyone should do their own thing.
Just be you, because the reason I'm reading your blog is because you are writing it. If you're you, you'll be unique, memorable, and relatable, three things I personally love seeing in other blogs."
Similarly, in that same post, I wrote about how crucial it is to have fun while blogging, because: "If you're not having fun blogging, your readers aren't going to be having fun either. When I went to TBEX Toronto, the first thing one of the speakers said was, "Let's be honest, we all got into blogging to make money." I'm sure some people would agree, and some are not only fantastic bloggers but fantastic businesspeople. I think the best of these blogs, however, still have fun with their jobs and truly enjoy what they're doing.
All I truly want [with this blog] is to have fun with it, and for you to have fun, too. I think that sometimes people get caught up in trying to make their blogs as professional as possible but, really, unless you're just a website that specialises in well-ranking (and most likely generic) destination guides, the main reason people read a blog is because they like the blogger behind it. Your blog is your voice, and if people are reading it, it's because they want to hear you."
And when it comes down to it, who is more likely to actually click one of your affiliate links or purchase something from you? A random person who visits your blog once, or someone who reads your blog a few times a month and trusts what you have to say?
I'm often asked about the future of travel blogging, and while I've heard a lot of opinions thrown around – Video! Instagram!! Travel blogging is dying, watch out!!! – I believe that people still want to read blogs. I believe that people will continue to turn to travel blogs not only for advice, but for stories and opinions. I rarely post anything under 2,000 words on this site (this post is 3,000 words, for example) and my numbers are only going up, so don't believe the people who say nobody will read long-form writing anymore.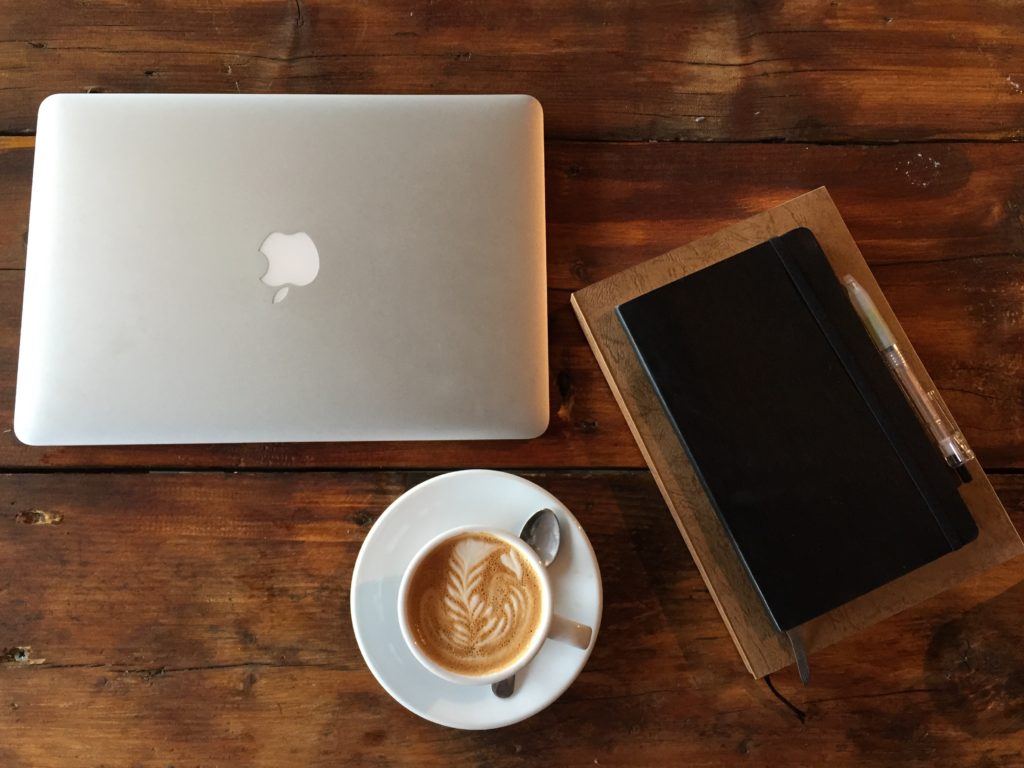 Blogging/planning/writing in London
My goal this year is to really remember why I started blogging fourteen years ago, to share more stories, and to have more fun. Sure, I'm going to write some advice articles, and maybe even accept a few more press trips, but my ultimate goal, as ever, is to write from the heart as much as possible.
I'm tired of reading the same advice about how to grow my blog, and tired of feeling the pressure of keeping up with the latest trends, algorithms, and social media platforms; if we all do the same thing, it's going to get real boring real fast. Instead, I'm going to keep doing whatever I want, I'm going to keep experimenting, I'm going to keep trying to be honest and personal (OK, and I really need a new blog design, I'll admit it).
Way back when, in 2003, that's what blogs were known for; hardly anyone was making any money from blogging, so we all just did it for a creative outlet, and, ultimately, for a laugh.
At the end of the day, I blog for me, and because I truly love it. The fact that some of you want to stick around is the most beautiful bonus I could ever ask for.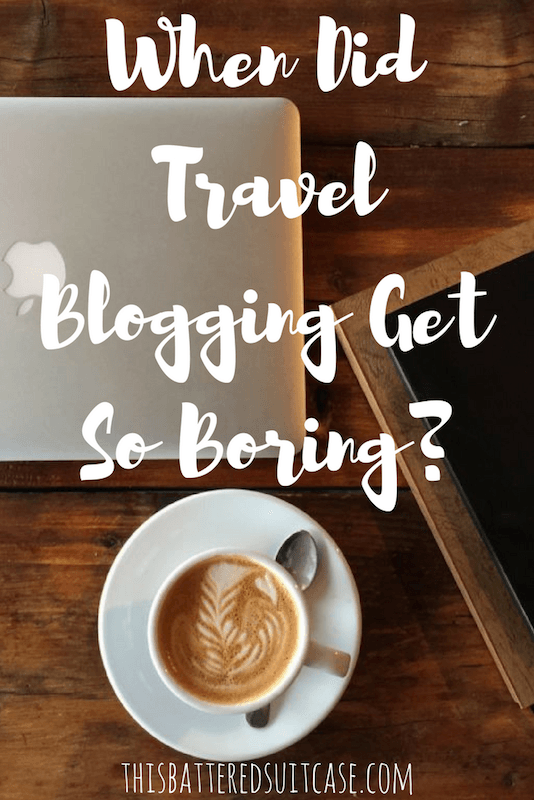 Do you have a travel blog, or do you read a lot of travel blogs? Have you noticed the change over the past few years? Any favourite travel blogs?