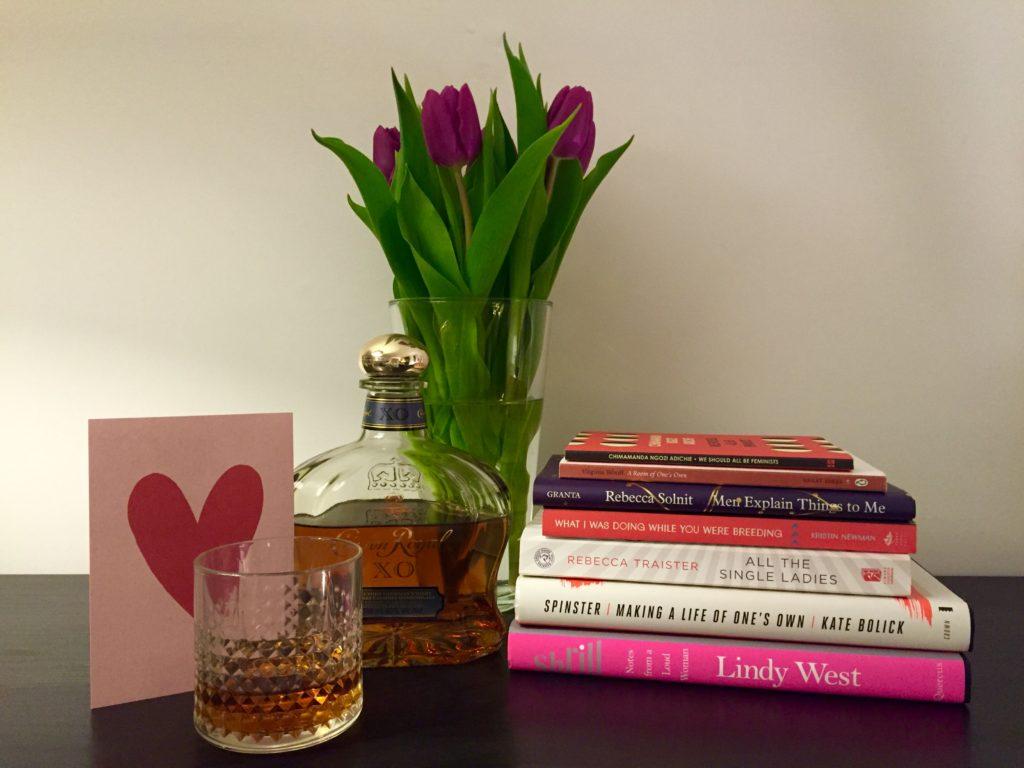 Perfect Valentine's Day for one (I buy myself flowers every week). Please note that this post contains affiliate links!
Last weekend, after walking around Broadway Market, I sat with a friend of mine in my local pub. Over a couple of pints of Guinness, we talked about a huge range of topics: journalistic integrity, the future of travel blogging, football, and where 2017 would ultimately take us. I started to talk about my current visa situation in the UK, and how, within the next year, there's a chance that I'll no longer be able to live in the country.
"I'm starting to feel OK about that, though," I mused. "I mean, I've had four amazing years in London, but I know that there's so much out there."
"What do you plan on doing if you have to leave?" he asked.
"Well, to be honest, I think it's time for me to spend some time at home. It's been 11 years since I left Canada and 15 since I left Winnipeg. I miss my family and I miss Canada, and I'm kind of in love with Trudeau." We both laughed.
"So that's it? You'd just move back to Canada?" This friend and I only go back about three years, so he's only known me as someone who travels a lot.
"No, I'm planning to spend half the year in Canada, and the other half of the year abroad. So maybe the autumn in Europe, and winter in Asia or South America. Who knows? As long as I work online, I can kind of do whatever I want. It's the life I've always wanted, a balance of being settled and travelling often. I mean, I'm single and I don't want kids, so I can go anywhere and do anything my heart desires," I laughed again, but he just looked at me, blankly.
"You don't want kids?" he asked, a surprised look on his face. "How can you be so sure?" I was a bit annoyed that THAT was the point he picked up on – not the fact that his friend had just declared she was on track to build her dream life and travel the world.
"Well, I've given it a lot of thought, and at this point in my life I do not see children in my future," I took another sip of my beer, hoping he'd just accept my answer… you know, the answer ABOUT MY OWN LIFE. I have had this conversation so many times, and it's getting old.
"Yeah, right," he chuckled. "You say that, but I guarantee you'll end up having kids. You just need to meet the right guy."
***
When I was a little girl, I was obsessed with the idea of being a teacher. I asked for a little blackboard for Christmas one year and I used to set my teddy bears up in front of it, teaching them. One of my earliest memories is asking to borrow some pens and paper from my mum so that I could "write", even though I didn't know how to read or write, so I just scribbled lines on the paper over and over again.
By four, I had taught myself how to read (trust me, I peaked in elementary school) and by six I was tutoring some of the other kids in class (they thought it might be a good way for shy kids to feel more comfortable learning to read, and you'll be happy to know that I never did blossom into the full-on fervour of Reese Witherspoon in Election, though I was a bit of a teacher's pet for my entire school career).
Until I was about eight, that's all I wanted to be. I used to lie in bed and imagine my life as a teacher. And because I only had my small world to build my imagination from, I also imagined I'd get married and have kids. I never really thought of those things – never imagined myself walking down the aisle or holding a baby – but I just assumed that's what all women did, because my teachers all did it and my mum did it and all the other women I knew did it.
But by the time I got to junior high, things had started to shift. I was reading more advanced material, so my world had opened up a lot. I started to learn a lot more about geography. I started talking to my mum about all of her travels before she had kids. Suddenly, my dreams shifted, so I now dreamed of travelling the world.
At that point I had no idea that I could actually combine my love of writing with travelling and make a living, but by high school I knew my two passions, travelling and literature, would most likely shape what I did with my life. By the time I was 16, I was reading tons of feminist literature, and proudly called myself a feminist.
And even though I still assumed I'd get married and have kids, I still couldn't actually picture it in my mind. I could picture being in Europe, for example, but I couldn't picture having a house full of children.
Throughout my twenties, I had a few serious relationships. In only one of them did we ever seriously discuss getting married and having children, but when I found out he was buying a ring, I panicked. I remember him saying that we could move to a small town in New Zealand, get married, raise babies, and I could find a job as a teacher (to be fair, I was teaching English at that point).
So here I was – mid-twenties, on the brink of being engaged, with only a few of my travel dreams realised – and I knew I had to get out. I broke up with him for many reasons (the relationship was horribly rocky at that point anyway) but one of the biggest reasons was I just couldn't see myself doing it: the marriage, the house, the kids.
And by my thirties, I knew my life was probably on a different course all together, one that didn't include marriage or children. In the last 15 years of adulthood, I've been single for about ten of them (some of those years by choice, some not).
Recently, however, when I started to think about my future – where I'm going to live, how my career is going to evolve, what I truly want out of life – I had finally, finally, acknowledged that, if I don't get married or have children, I'm going to be OK. It felt like a huge weight had been lifted off my chest. In fact, the more I thought about it over the years, the more I realised I don't think I want to have children at all, and I could go either way when it comes to marriage.
I do want the love of my family. I do want a house filled with books. I do want to continue to build a successful career. I do want to travel the world some more. I do want to surround myself with wonderful friends. I do want a dog (oh my god, I want a dog so badly). I am incredibly excited for the life I'm creating for myself. I am incredibly happy with my decisions.
But you know who isn't happy with my decisions? Other people. I can't tell you how many times someone – almost always men, funnily enough – tell me that I will change my mind just as soon as I meet the right guy. My friend at the pub said this,
"When you fall in love with someone, you'll want to build a better life together."
Better?! Too often in society, there's an assumption that the nuclear family is the ultimate goal. Not only is that terribly one-sided and close-minded, it's also discriminatory against single people, one-parent families, people struggling with infertility, and more. Just because you want that, doesn't mean everyone else wants it, too.
And it's not just kids that people get up in arms about.
"Yeah yeah, you'll keep travelling around until you meet the right guy. Then you'll settle down." Um, what in the actual fuck?! Who are you to tell me that I'm going to so gleefully give up the life I've been working toward since I was a teenager because I meet a partner? This ain't the 1950s where I drop out of secretary school when Bob asks to marry me. Does life as you know it halt as soon as you get hitched? I feel like these are the same kind of people who refer to their wives as "the old ball and chain".
"But what if he says he won't be with you unless you have kids?" they ask. Well then, he's not the man for me.
"But what if he says he won't be with you unless you stop travelling so much?" they spout. Well then, he's definitely not the man for me.
And if I dare say I'm happy being single?
"Yeah, right," I've had people tell me. "You're just saying that to make yourself feel better." What is it about being single that means I have to constantly defend myself, or that I'm constantly told that I'm wrong about my own feelings?
For too long – as in, for all of history as we know it – women have been conditioned to believe that marriage and children are the ultimate goals. I mean, look at that golden age of romantic comedies in the 90s that we all love (Pretty Woman, Sleepless in Seattle, Notting Hill, You've Got Mail… OK, anything with Meg Ryan or Julia Roberts in it). The story stops when they get together at the end (by the way, for a fantastic read about the state of romantic comedies today, check out this Vulture article). Even Shakespeare does this – his comedies always end with a marriage (and as soon as they're married, the women virtually become mute).
As Rebecca Traister writes, "I always hated it when my heroines got married," referencing Laura Ingalls, Jo March, Anne of Green Gables, and Jane Eyre. As soon as any of these women got married, their stories were over. As she says about Jane:
"Oh smart, resourceful, sad Jane. Her prize, readers, after a youth of fighting for some smidgen of autonomy? Marrying him: the bad-tempered guy who kept his first wife in an attic, wooed Jane through a series of elaborate head games, and was, by the time she landed him, blind and missing a hand."
For more of Traister's brilliance, by the way, her book All the Single Ladies: Unmarried Women and the Rise of an Independent Nation is already one of my favourite books ever, and I haven't even finished it. It's an amazing history of single women throughout America's history and how much they have changed and shaped society as we know it today (fun fact: in colonial times, I would be too old to be a spinster. I would officially be called a thornback).
It's also a really tough read, however, because every single page leaves your mouth hanging open in horror at how women – modern women included – are treated differently if they are single, and how often a woman's worth is only measured by the man she marries. Despite that, it also emboldens you, because it tells the stories of some pretty badass single ladies (happily single ladies).
And forget Hollywood movies and classic literature, even most of the travel memoirs I've read lately have concluded in romance – we all know how Eat, Pray, Love ends, don't we? I mean, it's written in the goddamned title.
And before you paint me as some cackling, man-hating, Hansel-and-Gretal-esque child-eating crone (correction: thornback), I'll say this here and now: I love children. I think marriage is a beautiful thing. I am so freaking happy whenever someone I love gets married or has a baby. I am WAY too excited about becoming an auntie one day. I do not look down upon anyone who wants to get married or have kids. I just don't think it's for me.
Why is that so difficult for some people to accept? Who am I hurting by not making those individual choices? (These are the same questions I ask myself when I think about same-sex marriage. Why on Earth does it matter if two men want to get married? Who is that hurting? Oh, it hurts the sanctity of marriage? Right, OK, because all heterosexual marriages are totally happy and nobody ever divorces. Mm-hmm.)
As Kate Bolick writes in her amazing book Spinster: Making a Life of One's Own (my other favourite recent read, it's so damn good), "Whom to marry, and when will it happen – these two questions define every woman's existence, regardless of where she was raised or what religion she does or doesn't practice. She may grow up to love women instead of men, or to decide she simply doesn't believe in marriage. No matter. These dual contingencies govern her until they're answered, even if the answers are nobody and never."
And while there are certainly many men who feel pressure to get married, especially if they practice religions that encourage marriage, I agree with Bolick that this is universally part of the female experience. A few days ago, out with friends, the partner of a friend of mine whom I hadn't met before started asking me about my visa situation in the UK (seriously, everyone is so concerned about this, which is both endearing and strange).
"Oh, you're 32?" he stated. "Time to get married anyway then. Just find a nice British man."
First of all, I have been on Tinder and trust me, that is easier said than done. Secondly, I didn't realise there was a ticking time bomb above my head. What happens when I turn 40? Do I just retire to the attic to sit at my loom, wistfully staring out the window, eating a can of cold beans for dinner?
Is it ever OK to tell someone they "just need to meet the right man/woman/person"? I guess so, if that person is talking about being lonely, or is sad because they're not dating someone, or they recently broke up with someone and feel awful, or they're lamenting the state of modern dating today (I'm not joking, if you're ever having an exceptionally great day just go on Tinder to take yourself down a notch. The last person who messaged me on there opened by telling me about the lovely Tinder date he had just had that evening). Sure, if any of these things are happening, then it's OK to put your arm around your friend and say, "Don't worry, you're going to meet a great person one day" to cheer them up.
But if that person is sitting in front of you, confidently and happily talking about their future as a singleton, do not, I repeat, do not be so condescending as to interrupt them and tell them that they'll only be truly happy if they "just meet the right partner". Or that they'll change their future plans – you know, the ones they've been thinking about for a decade or three – as soon as they fall in love.
Everyone has their own idea of true happiness. To enforce your version of it on them is not only rude, it's close-minded. It's also incredibly antiquated (see: 1950s, secretary school, Bob). Today, for the first time in history, there are more single women in America than married women, and only around 20% of Americans under 30 are married (stats from Traister's book; I'd assume Canada and the UK are similar). As Traister writes (I really do love this book):
"To be clear, the vast increase in the number of single women is to be celebrated not because singleness is in and of itself a better or more desirable state than coupledom. The revolution is in the expansion of options, the lifting of the imperative that for centuries hustled nearly all (non-enslaved) women, regardless of their individual desires, ambitions, circumstances, or the quality of available matches, down a single highway toward early heterosexual marriage and motherhood. There are now an infinite number of alternative routes open; they wind around combinations of love, sex, partnership, parenthood, work, and friendship, at different speeds. Single female life is not a prescription, but its opposite: liberation."
In my twenties, I used to desperately want to date someone, because my vision of happiness was linked to being in love. And I know it sounds so fucking cheesy, but over the past few years of being single, I finally learned to be in love with myself.
And now? I love my life – and I love it so much more than I ever did when I was with a partner. I love who I am, and who I've grown to be (most days. Some days I am THE WORST). I love the path I'm creating for myself, and the path that has taken me this far in life. I don't need a partner or children to "complete" me, implicating that I was never whole to begin with. I'm me, on my own, carving my own happiness.
You know what I'm doing this year? I'm driving around Scotland with one of my best friends. I'm speaking at a conference about a topic I'm passionate about (writing). I'm going to Antigua and Barbuda on behalf of this blog that I've worked so hard on. I'm going to Italy alone for my 33rd birthday. I'm going to Kenya, Rwanda, Uganda, and Tanzania with my mum for six weeks. I'm going to spend some time in Canada with my family. I'm going to rewrite the book that's been sitting on my desk for a year. I'm going to grow my business. Those things make me happy and leave me feeling fulfilled.
Too often, as women, we're told we have to "have it all": the career, the house, the partner, the kids, the body, the clothes, the hobbies, the cooking skills, you name it. The thing is, each of us has individual and unique definitions of what exactly "having it all" really means and includes; my "all" is different from yours, just as yours is different from your neighbour's, and so on. There are infinite definitions of what it means to be a woman. As I've often said, falling in love would, to me, be a very lovely addition to an already wonderful life, but I refuse to let that be the only thing that defines me.
And who knows? Maybe one day I'll decide that I want a different life for myself, and that's cool, too. But for now, please stop telling me that I "just need to meet the right guy." I'm not worried about it, so why should you be?
Trust me, this old thornback is going to be just fine.
Obviously had to end with the Queen
Are you single, and if so, can you relate? Regardless of your marital status, have you ever felt pressured to get married or have children?
By the way, it's become a bit of a tradition for me to write a blog post relating to love, dating, or relationships on or around Valentine's Day. In 2013, I wrote all about how to manage your sex life while travelling (the post that has forever doomed my blog to screened comments). In 2014, I wrote a story about an Austrian I met while travelling in Thailand. In 2015, I wrote about choosing between travelling and a relationship (one of my most popular posts, and the one that prompts a few emails a week asking for dating advice). Last year, I wrote about being dumped, and why, ultimately, I was glad I got dumped. And if you'd like to read about my, ahem, dry January, read my series "My Month Without Alcohol… and Men".