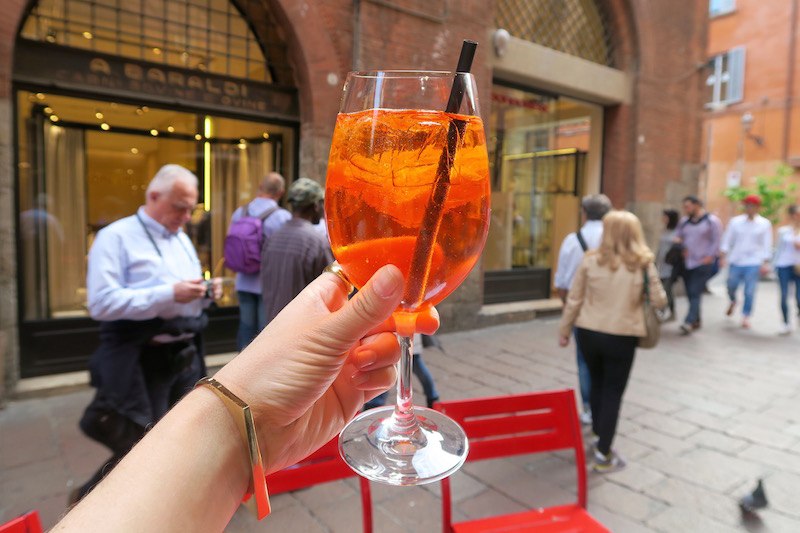 Bologna, Italy
It's been a terrible summer in London, weather-wise. I know, I know, you're probably thinking – it always rains in London, right? But no. I've had beautiful, sunny days here, warm, lazy evenings that make the sky blush pink and gold. Recently, days in London are all white skies and the promise of drizzle, a feeling that summer is always a few degrees out of reach.
But I've been lucky this summer, too, because it's been a summer of near constant travel, more-so than usual for me. If we count May, I've visited Italy twice (Bologna and Cinque Terre), Spain (to Mallorca, where I stayed in a villa with my mum for a week), Sweden (for a travel blogging conference), and Prague (for a weekend holiday with a friend). I also have a weekend in Brighton coming up, as well as a few days in Paris at the end of the month. It's been a spectacular string of travels, and I've loved every minute.
And, oh yeah, I also fell in love with a drink.
Venice, Italy
I don't remember the first time I had an Aperol Spritz, but suddenly, out of nowhere, it has become my favourite summer drink. It coincides with my equally sudden and slightly obsessive love of Italy, which, of course, goes hand in hand – Aperol is an Italian aperitif (meaning it is a drink usually served before a meal, and is often served with small snacks like olives or nuts). First introduced in 1919, it didn't become popular until after World War II, but now it's one of the most common aperitifs in Italy. Aperol is known for its bright orange colour and its unique taste, a mixture of bitter oranges, sweet oranges, rhubarb, and a bunch of herbs I've never heard of before. Not very strong in alcohol content on its own, it is mixed with Prosecco and soda to make an Aperol Spritz.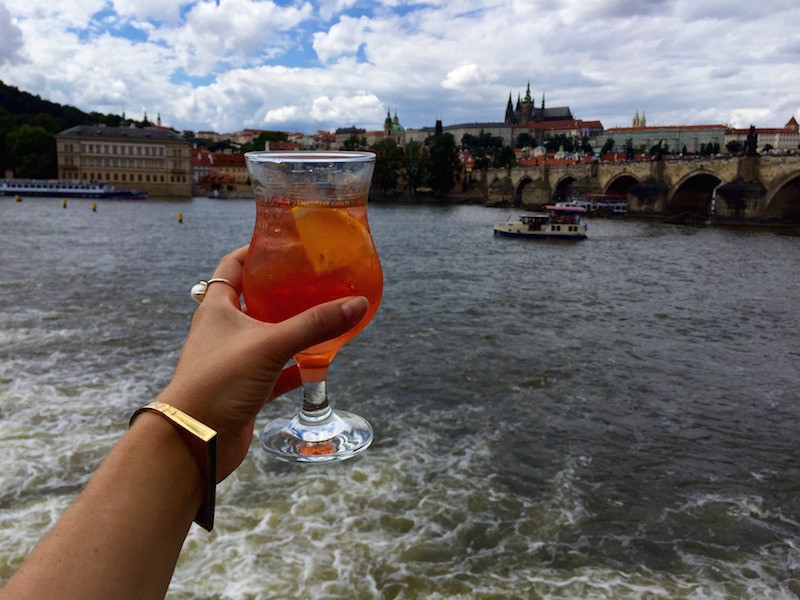 Prague, Czech Republic
I openly discuss my love of whisky, wine, and various other libations on this blog, and I find pubs and bars to be some of the greatest places to meet local people while travelling (or to do some serious people-watching). On my first trip to Italy this year, in April, I sat on an outdoor patio in Portovenere with an Aperol Spritz in hand, just watching the world go by. And then, in Venice, when I was feeling lonely and letdown (by an Italian, not by Italy… big difference), I had an Aperol Spritz in St. Mark's Square, the sunshine and the cocktail working their magic to make me feel better. In Bologna, with new friends, we clinked our glasses to celebrate a good day of sightseeing. In Mallorca, by the pool, my mum and I sipped on spritzes while reading and doing crosswords. In Prague, as fireworks filled the air for no determinable reason other than sometimes life is great, my friend Jen and I shared not one but three Aperol Spritzes, our stories and laughter taking us well into the night. I've even found a few good ones in London.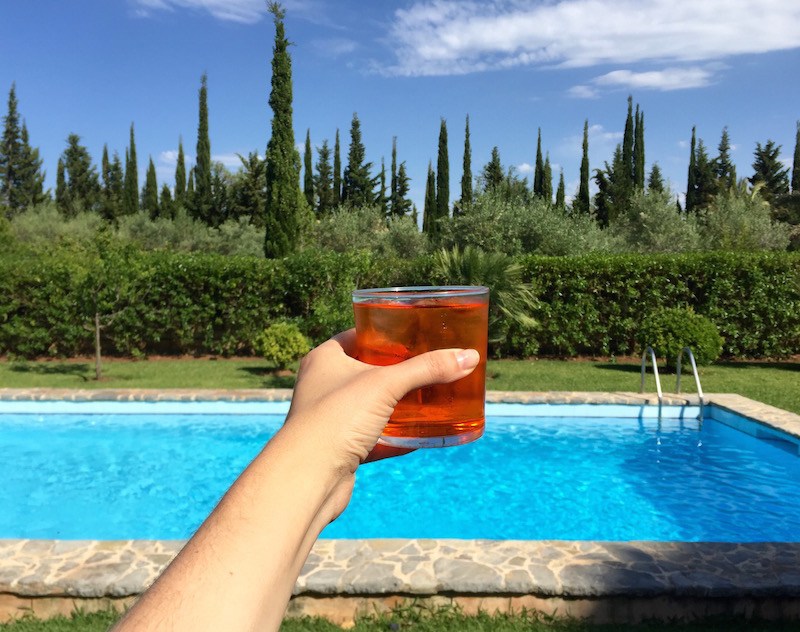 Mallorca, Spain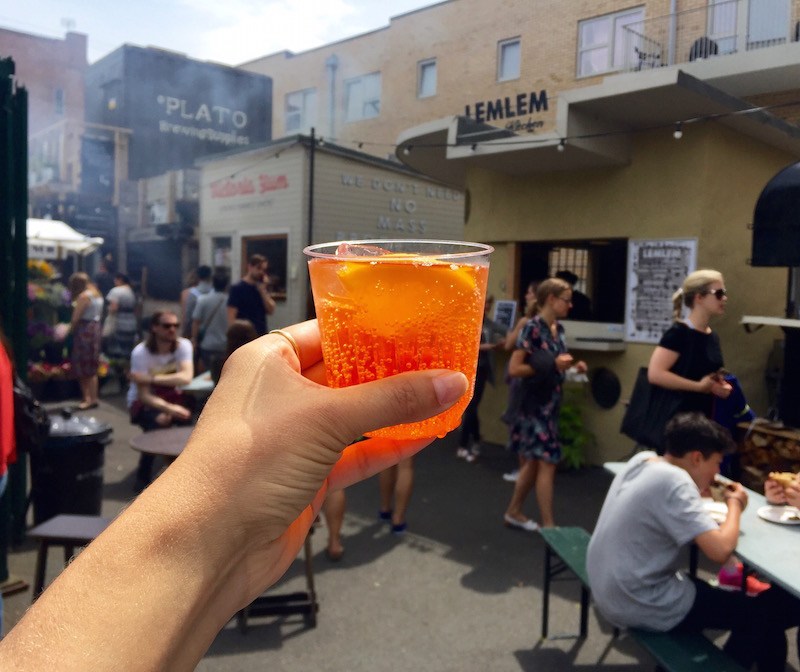 London, England
Sometimes, there's a song or a dress or a drink that instantly take you back to a place and a time in your life. I think I'll forever remember the summer of 2016 as the summer of the Aperol Spritz.
How to make the perfect Aperol Spritz:
-get a large tumbler or white wine glass (they're often served in "balloon" wine glasses) and fill it about halfway with ice
-add three parts (approximately 75ml) of Prosecco
-add two parts (approximately 50ml) of Aperol
-add a splash of soda (approximately 25ml)
-stir
-garnish with a slice of orange, and if you're feeling particularly Italian, with a green olive
-enjoy!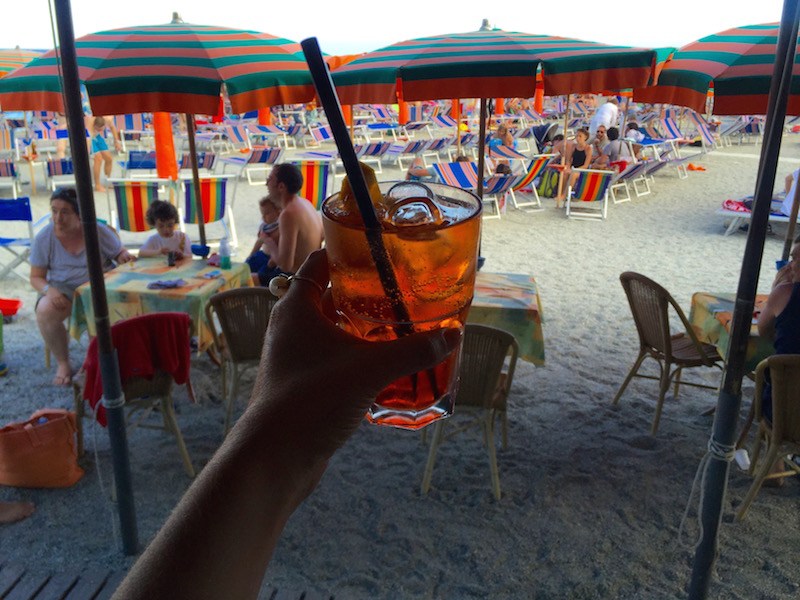 Monterosso, Italy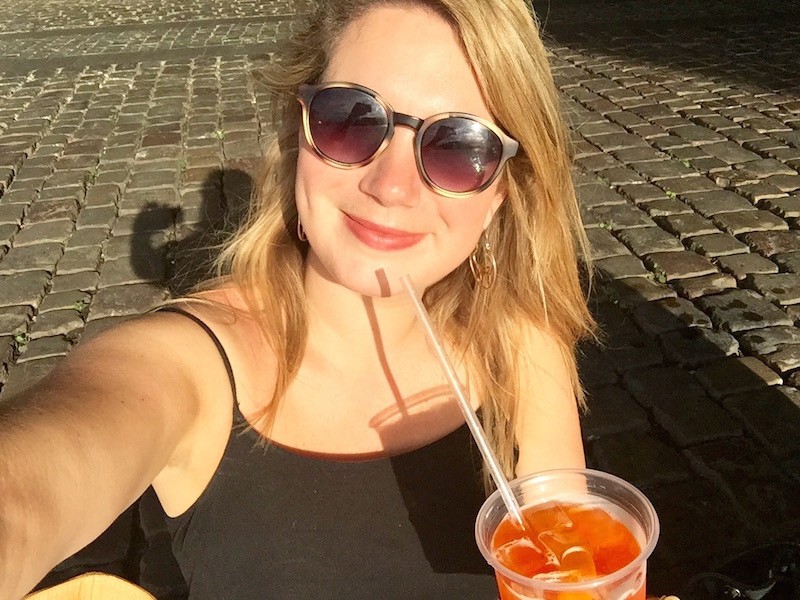 Prague, Czech Republic
Have you ever had an Aperol Spritz? Do you like them?
You might also like An Ode to a Sandwich, Around the World: Beer (because it's not just Aperol I love), and Around the World: Schweppes Limon (because it's not just alcohol that I love).
Please note: this post is not sponsored by Aperol in any way – I just really do love the drink. But hey, Aperol, if you're reading this, I'll happily take a bottle or two.