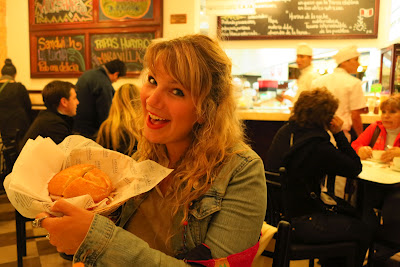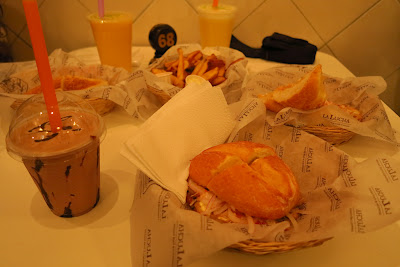 Lima, Peru
Before arriving in Lima, we heard time and time again that it was a city for foodies, a city to find a multitude of great restaurants. Only having two days to explore, we decided that we should find the very best (while still sticking to a backpacker budget). And so, in two days, our highlights included some incredible ceviche as well as our first foray into tacu tacu, a rice and bean mix that we had served with a seafood curry. All in all, we were very satisfied.
And then, last night, we decided to keep it casual and visit one of the popular sandwich places in Miraflores, an area with lots of hostels and great nightlife. We were directed to La Lucha, a place where the servers wear all white and the line stretches around the block. "What's so special about a sandwich?" I mused.
I love food
. I eat just about anything and love just about everything. And my smoked pork sandwich from La Lucha – it did not disappoint. In fact, with every bite I couldn't help but let out an "Mmmmm", couldn't help but chew slowly, savouring every single moment. I never thought I would write an entire blog post praising a pork sandwich, but, well, there is a first for everything. Simply put, it was delicious. Simply put, I would actually consider delaying my bus to Ica tomorrow so that I could have another one (amazing chips and chocolate shake included, please). Follow it with some pisco sours and some excellent company, and I understand a bit more why people praise Lima's cuisine.
With Ica, Nazca, Arequipa, Cuzco, and Lake Titicaca still to go, I can only imagine what other culinary delights Peru will have to offer.
What's one of your favourite meals you've had on the road?