If you've been following my Facebook or my Instagram accounts, you'd know that I'm not hiding the fact that I fell absolutely, head over heels in love with Cinque Terre, Italy. Yeah, yeah, yeah, I know – I can be quite promiscuous with my travel love. But how can you NOT fall in love with a place that looks like this, especially when the sun is shining and you have a glass of wine in your hand?
I'm still going through all of the hundreds of photos I took from my four days there last month, so I'll be posting a photo essay soon, but I wanted to write a post about some of the logistics of getting around Cinque Terre, especially for those who are on a bit of a budget (like I was… er… always am). I had quite a few people write to me to say that they plan on visiting the region this summer, and so hopefully this guide can help, or perhaps it can help inspire you to plan your own trip there. It is one of the most beautiful places in Italy, if not the world, and I truly believe that Cinque Terre can be visited on a budget.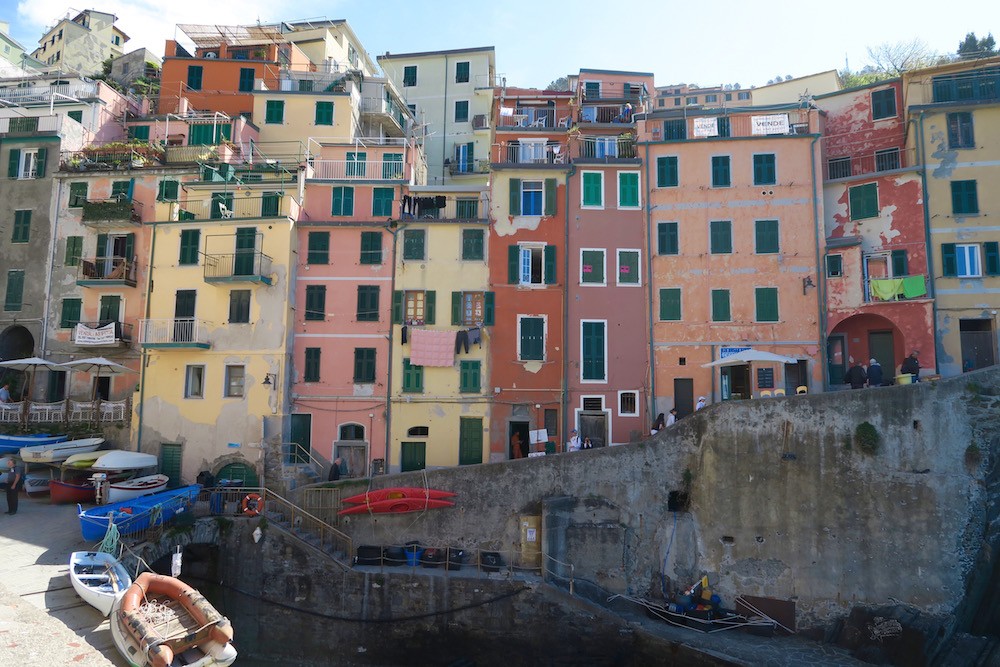 Can you even visit Cinque Terre?
There were some articles floating around online that warned visitors that Cinque Terre would close its proverbial doors once it hit 1.5 million tourists this year. After something like 2.5 million tourists visited last year, it's understandable that the region would want to limit the amount of people who visit; it is a national park, after all, and that amount of tourism can be overwhelming and potentially damaging. And make no mistake – Cinque Terre can become VERY crowded, especially in the summer months.
First of all, even though those articles had click-worthy headlines, there is currently no limitation on who can visit Cinque Terre, nor is there a "tourist pass" required to visit. When I spoke to some Italians about it, they said that much had been made of this idea in the English and American media, but they didn't think it would happen any time soon. I will try my best to keep this post updated if that changes.
Secondly, this highlights just how busy the region can get, especially during those peak months (June, July, August, and September are considered high season). This also means that everything will be more expensive. My suggestion is to visit Cinque Terre in April/early May, or in late September/October. The weather will still be lovely, but the villages will be significantly less crowded and prices will be lower. I visited in mid-April and I wasn't overwhelmed by crowds by any means, but I still had some very sunny and warm days. If you decide to visit in winter, be aware that some places (hostels, hotels, restaurants, etc) will be closed.
If you plan on visiting Cinque Terre in the peak summer months (July and August), take care: it will be VERY hot, with an average of 27 degrees celsius.
Also, one more note: because Cinque Terre is such a touristy region, almost everyone in the hospitality industry (including all of the train station attendants I encountered) speaks English. I still believe that it's important to learn as many basic phrases/words as you can, however, just as I would recommend with any country. It not only opens more doors for you, it shows that you respect the country's culture and appreciate being there.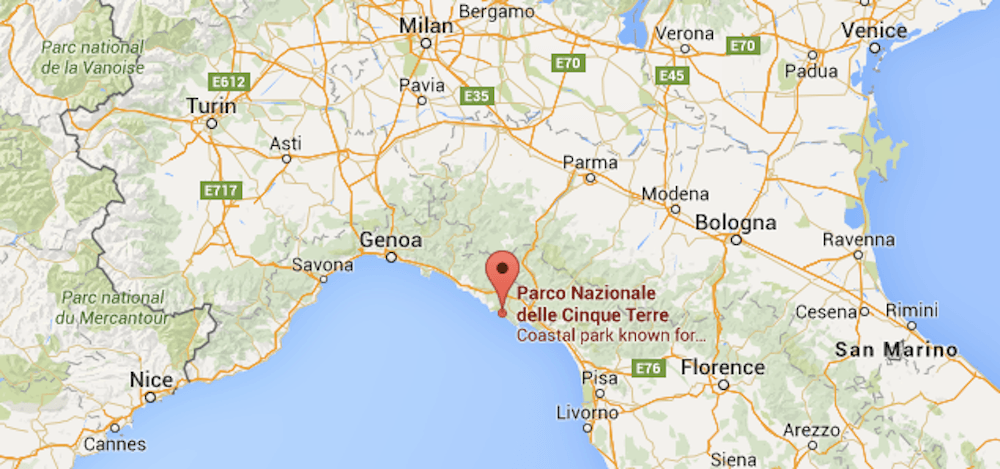 Getting To Cinque Terre
In terms of geography, Cinque Terre (meaning five lands) is located on the Italian Riveria in the north west region of Liguria (not Tuscany as some people seem to think). While the park – Cinque Terre National Park, that is – is actually part of a UNESCO World Heritage site, most people know it best for the five fishing villages built along the cliffside. From north to south, these villages are Monterosso al Mare, Vernazza, Corniglia, Manarola, and Riomaggiore (more on each of the villages later on).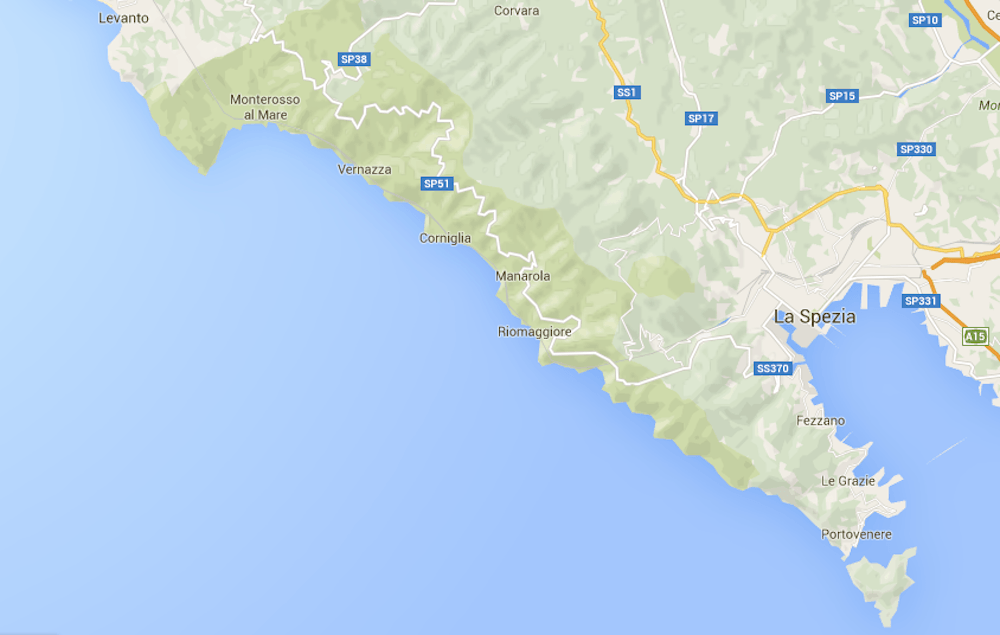 You can get to Cinque Terre in a number of ways. A lot of people simply go to Cinque Terre on a day trip, usually from Florence (two hours away by train) or as part of a cruise. Personally, I think that Cinque Terre deserves SO much more than a day trip, especially if you are interested in hiking any of the coastal routes (more on that in a moment, too). My recommendation would be to visit for at least two days, more if you want to add places like Portovenere, which is located further south and also worth a visit.
If you are flying in, there are airports in both Pisa and Genoa, both of which are only around an hour train ride from the region. Getting around Italy by train is relatively cheap, and if you're looking to do Cinque Terre for a long weekend from another part of Europe – London, for example – it's totally possible. My return flights from London to Pisa were around £100 return, but I booked them only a few days before flying. I check flight prices often and see ridiculously cheap flights to the region all the time; I just found a ticket from London to Genoa for only £16. That's cheaper than taking the train from London to Kent for the day, and they're only 40 miles from each other!
When I went to Cinque Terre last month, I flew into Pisa and stayed there a night, then took the train to the region the next morning. In order to do this, you have to first go from Pisa to La Spezia, a small city to the east of Cinque Terre, and then change trains to the train that goes between the villages (ending in Levanto). I bought this entire journey – from Pisa to Monterosso al Mare – on one train ticket which cost around eight euros. Unless you're travelling at the very peak of the summer season, I don't think you have to worry about buying your ticket in advance. I certainly didn't have a problem buying a ticket in the station and jumping on the first available train.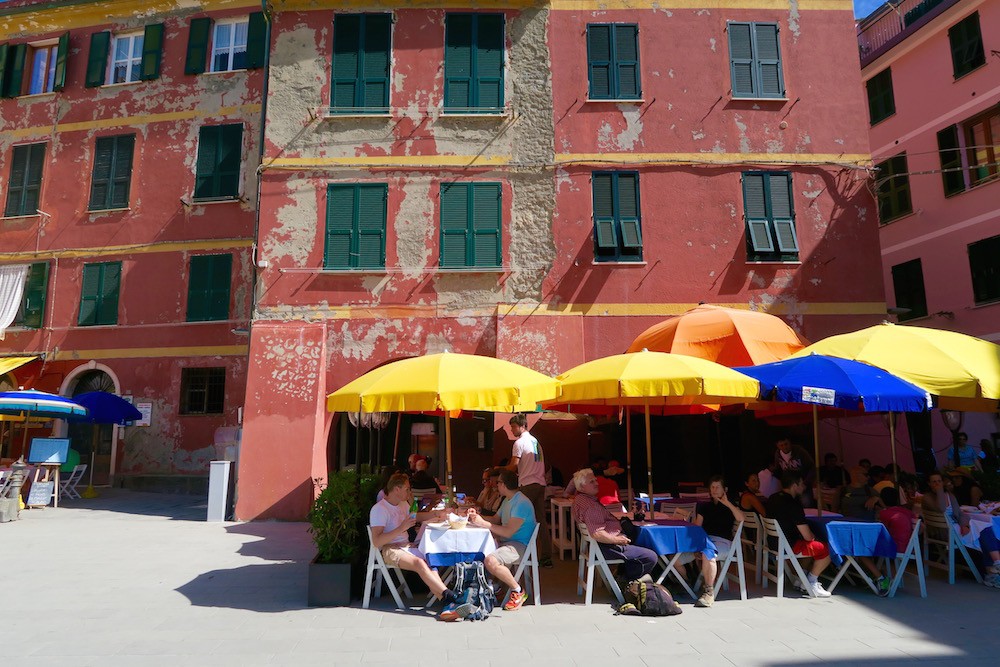 Getting Around Cinque Terre
Once you're in the region, my suggestion is to buy a multi-service train pass for the day, which costs €12. This ticket allows you to travel between any of the villages at any time on the day you validate the ticket (which you must do before you get on the train; you simply put the ticket into a little machine that stamps the date on it. They're everywhere in the stations). The train runs every half an hour, no matter which direction you're headed. Be warned that they do get very crowded in high season, so watch your belongings! Not only that, this multi-pass card will grant you access to all of the walking trails as well. If you do NOT buy the multi-pass, but still want to hike, you will have to purchase the trekking card, which is €7,50. You would still be able to buy train tickets between the towns you want to visit for around €2 each.
So, for example, if you know that you are only going to take one train for the day (perhaps you decided to hike through three villages and then take the train home), it would be cheaper for you to buy the trekking card and then one train ticket (versus the €12 multi-service card). Honestly though, I still think it's easier just to buy the multi-service card – you never know when you might want to hop on a train. Here is some more information on the types of passes you will need in Cinque Terre, including prices for families, multiple days, etc. Please note that people DO check these cards regularly (especially on the hiking trails) and you can face fines if you do not have the proper pass. You can buy either pass at any train station in the region.
It is VERY easy to get between the villages by train, and each journey only take a few minutes, but as noted above… the trains will be very crowded, as will the train platforms, so definitely take care.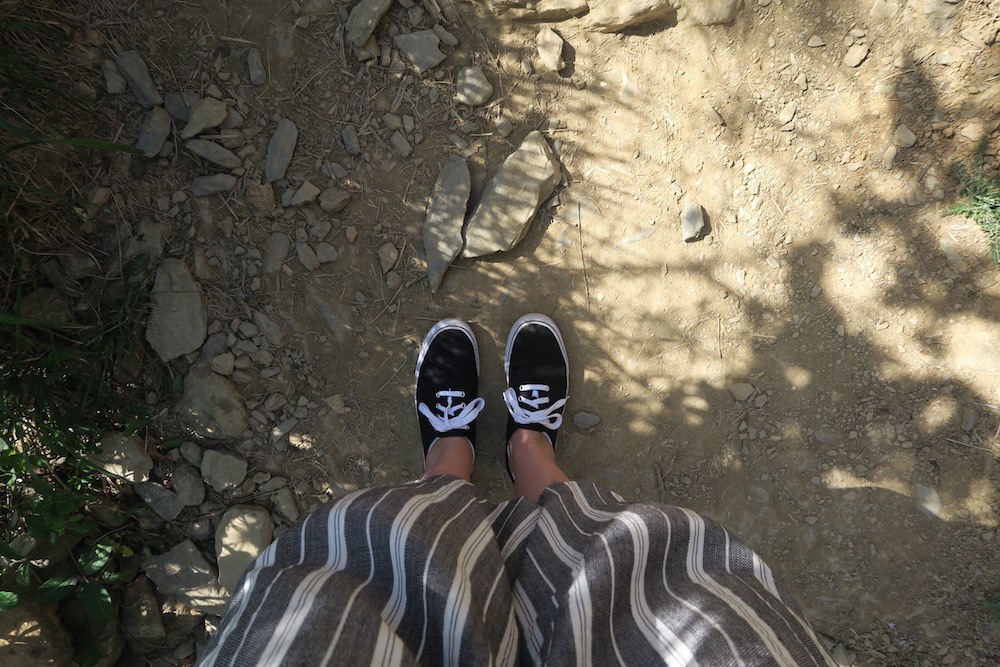 Hiking Tips for Cinque Terre
A recurring theme on this blog is that I am definitively NOT a hiker. It's just not my bag. I do, however, regularly go hiking when I travel, simply because I want to see beautiful views, and if that means suffering through a few hours of uphill climbing, well then, so be it. Cinque Terre is definitely a gorgeous place to hike, and there are a variety of trails you can take between the villages.
If, like me, you are not as keen on hiking, I'd recommend sticking to the "blue" trails between the villages – those are the trails closest to the ocean and the ones at a lower elevation. They're not difficult hikes, but they're still around 90 minutes to two hours each, with a lot of up (and down). Bring good hiking shoes or trainers, as there are parts that are a bit rocky. Be aware that people will be hiking both ways along the paths, which means you'll often have to stop and let others pass you; make sure to say "grazie" to those who stop for you. This is another reason to visit Cinque Terre in low season… I can't imagine how packed these trails get in the peak summer months, nor can I imagine how hot it gets.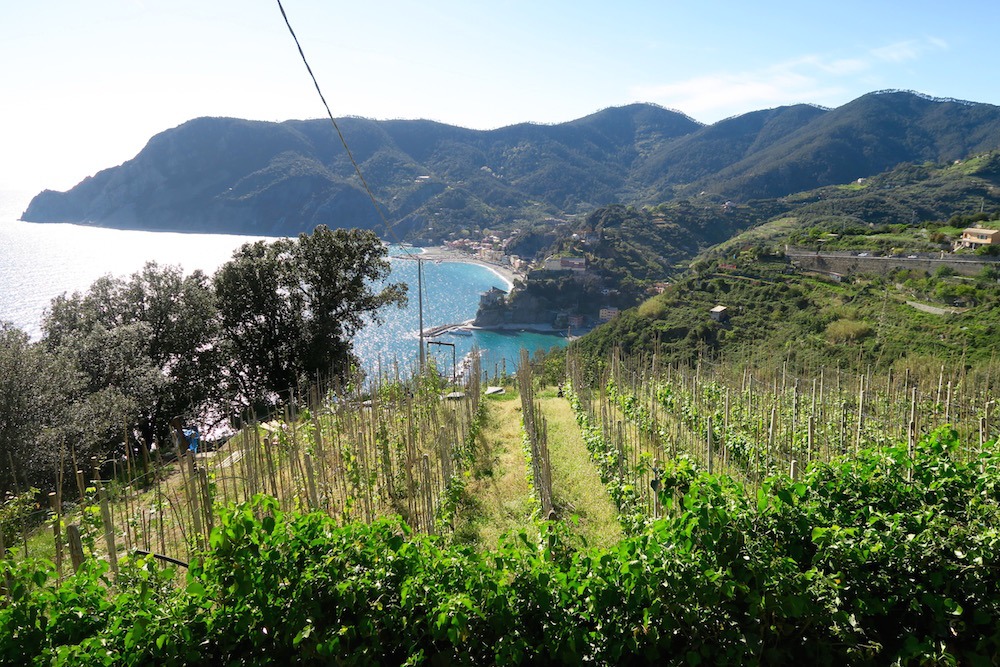 Looking toward Monterosso from the blue trail to Vernazza
If you are a keen hiker and like a challenge, check out the "red" trails in Cinque Terre. These are the more difficult trails that are located at a higher elevation than the blue trails. I can't speak about them, because, well, there was no way in hell I was going to do that hiking. If you're really penny-pinching, I believe these trails are free (though don't quote me on that). One girl at my hostel hiked four of the red trails in one day, so it's definitely possible, but quite difficult.
One thing to note is that some of the trails may be closed when you're there, so always ask at your hotel or in the train station when you buy your day pass. When I was there in April, all of the blue trails from Riomaggiore to Corniglia were closed.
If you only have one hike to do, I'd recommend the blue trail between Monterosso and Vernazza. Taking around two hours, you are rewarded with the most beautiful view of Vernazza from above.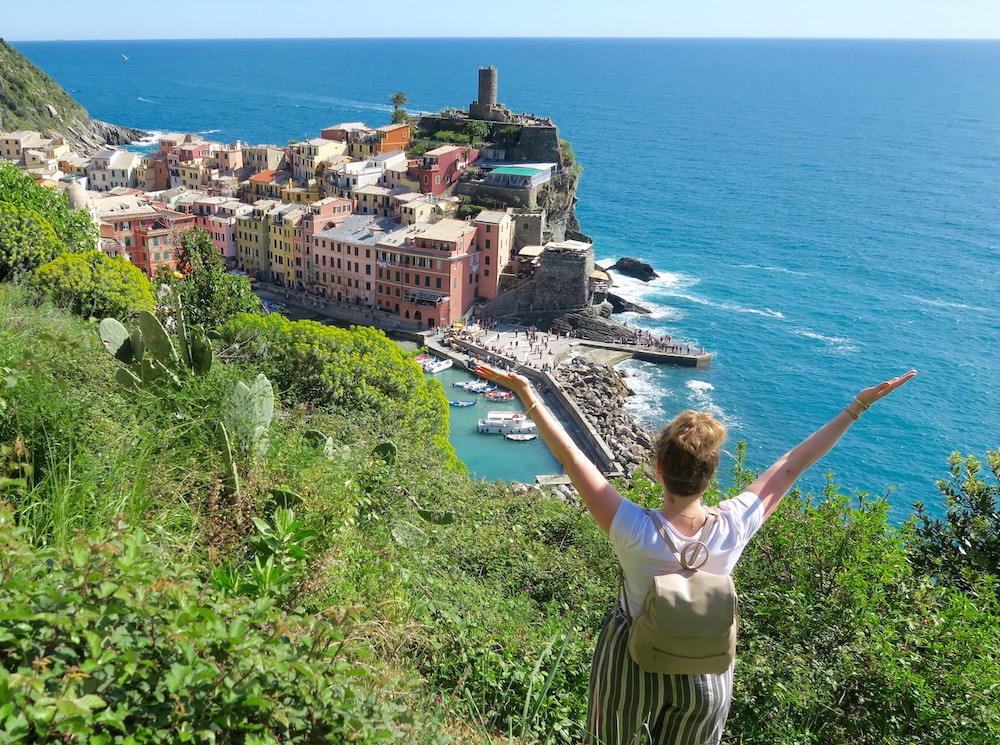 View on the blue trail between Monterosso and Vernazza
Where to Stay in Cinque Terre
Your biggest expenditure in Cinque Terre will probably be your accommodation; even though most hotels are only two or three star establishments, they can charge a lot due to the location. My recommendation is to either check out hostels or camping sites (if you have camping equipment, that is). As the trains run frequently, if you're on a budget I'd check out places in La Spezia or Levanto, as it's so easy to get to the five villages from either location. There are plenty of AirBnBs around!
Another option is to stay in Genova (or Genoa in English). From there, Cinque Terre is only one hour on the train, and local trains in Italy are very affordable. Genova is a terrific base to explore the rest of the beautiful Ligurian Coast/Italian Riviera, including the gorgeous villages of Camogli, Genova Nervi, Santa Margharita, and Portofino. I stayed in a fantastic hostel called Victoria House; it was very clean, comfortable, and had a great atmosphere. Make sure to say hi from Brenna!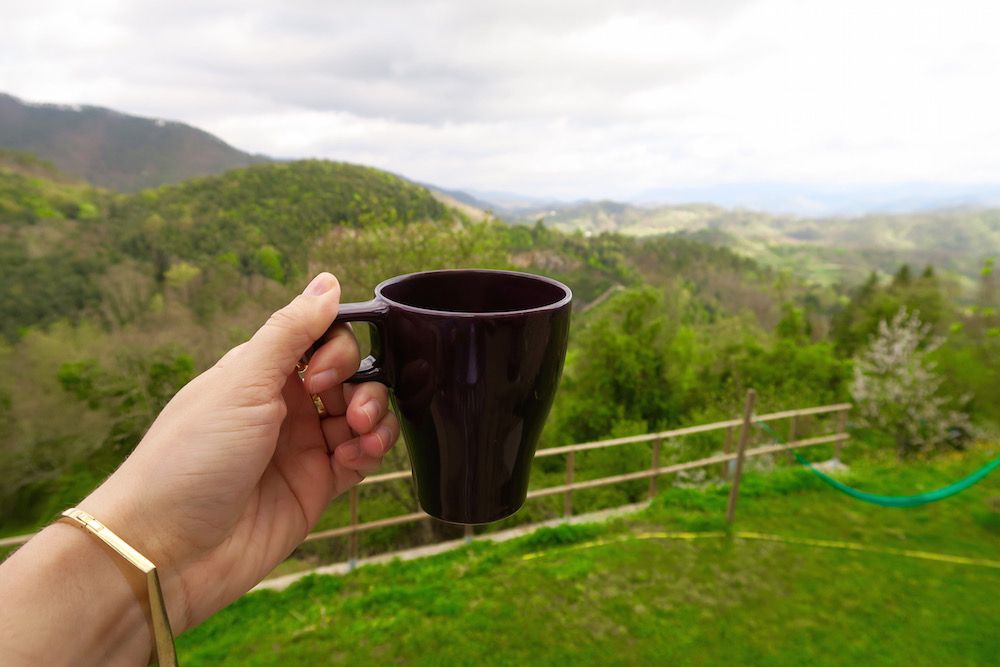 Morning view
Packing Tips for Cinque Terre
As I was taking part in a packing challenge when I visited Cinque Terre, I didn't have much with me. If I were to visit again (and I hope to visit again soon!), I would definitely make sure to have clothes that were better suited for the weather. While it gets very hot in the day, the temperatures can drop in the evening. If you're visiting in any season other than summer, I'd definitely recommend bringing warm clothing.
Good hiking/walking shoes are also a necessity (I personally like these ones, and they won't break the bank. Alternatively I always recommend Keds, as they are classic, stylish, and comfortable. Great if you're not hiking that much but want to walk around). Make sure to have sunglasses, sun cream, and a hat if you'll be spending time in the sun.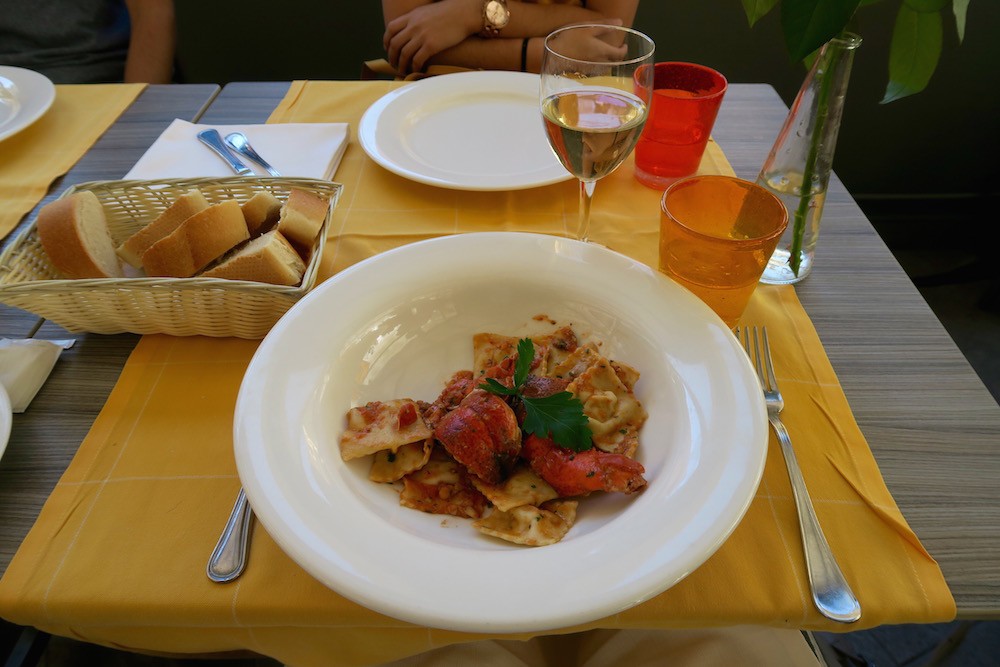 The restaurant Aristide in Manarola
Where to Eat in Cinque Terre
If you're on a budget, I'd definitely recommend staying away from the "sit-down" restaurants and sticking to the grocery stores and takeaway places instead. I mean, you're in Italy, so it's pretty difficult to find a bad meal, and even if you're sticking to pizza or focaccia/paninis, you'll still eat well.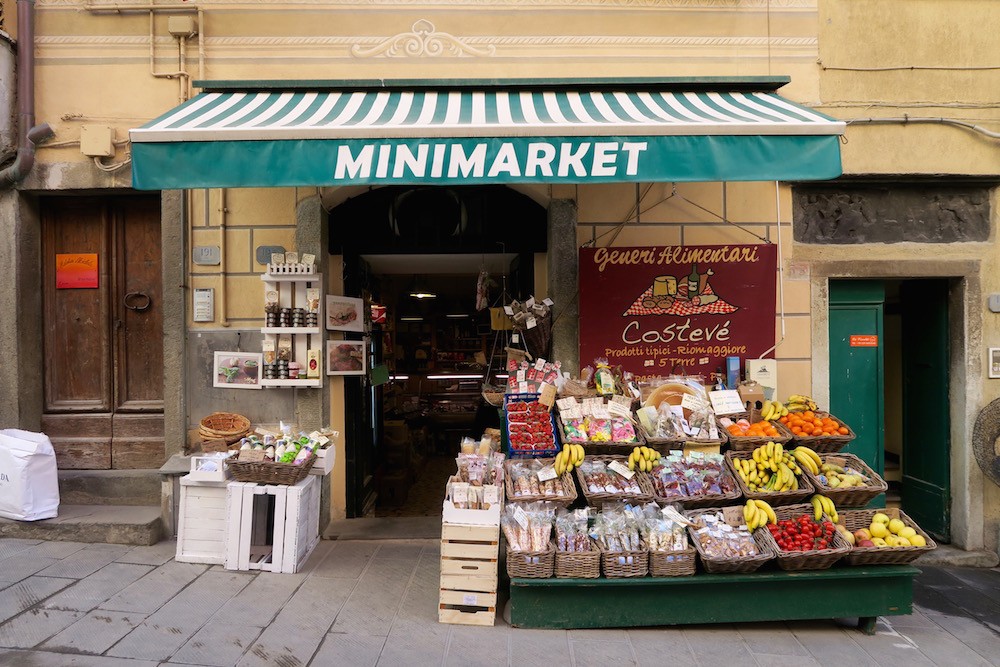 That being said, I do recommend trying at least one seafood meal in a good restaurant. I had lunch at Aristide in Manarola one day, and, for a starter of mussels, a main of lobster and seafood ravioli, a bottle of water, and a glass of white wine, I paid around €35. It's not cheap per se, but that's what I would pay in Canada or the UK for the same meal, so I thought it was worth it (plus the seafood was terrific).
In Corniglia, I opted for a pesto pasta lunch (pesto is famous in the region) and a glass of white wine in the main square, which together cost €10.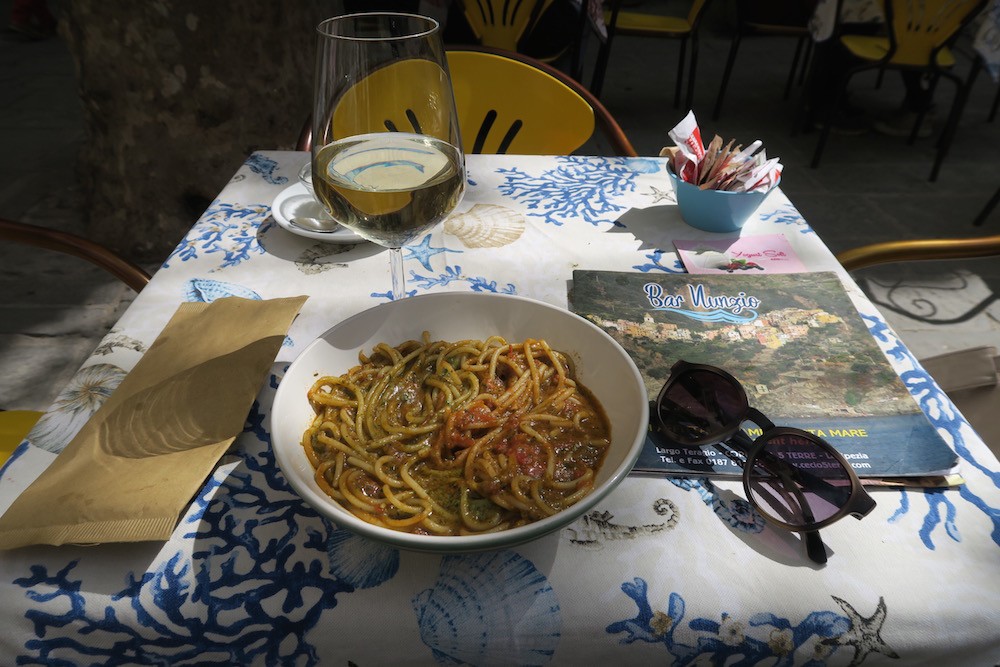 Lunch in Corniglia
In Monterosso, I regularly had glasses of wine along the seaside for around €2, or got a cup of gelato for around €3 (gotta love any country whose wine is cheaper than its gelato/ice cream). Espresso is also quite cheap, usually around €1,50, but ask if you'll be charged a fee if you sit down; sometimes it's best to just do as Italians do and take your coffee at the bar. Also try the local grappa and limoncello – they have wildly different flavours, but you'll never know what you like until you try.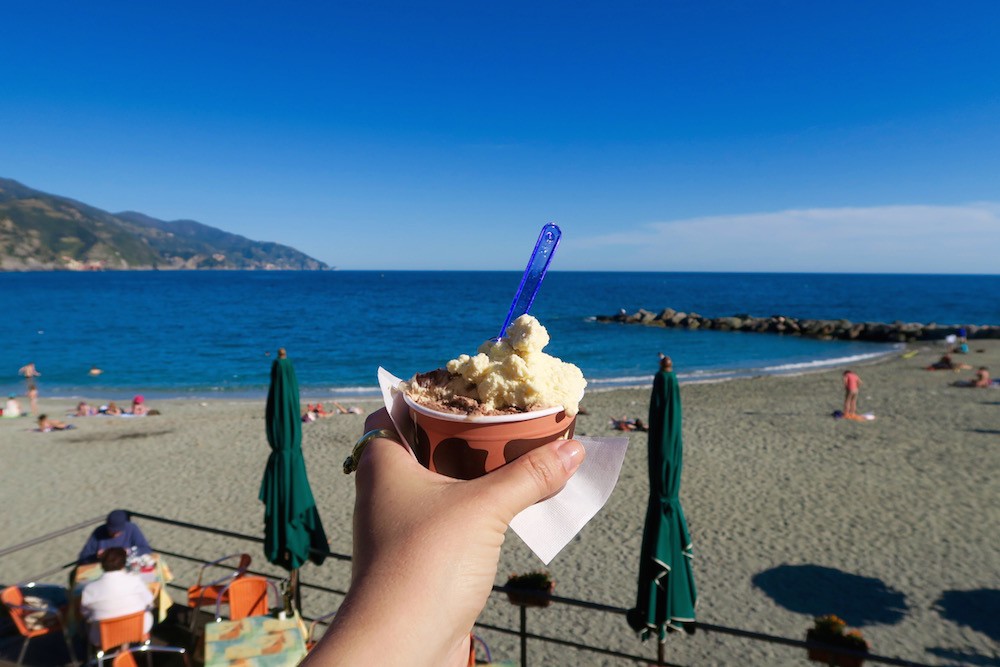 Gelato in Monterosso
All tap water is drinkable in Cinque Terre, and there are multiple fountains around the villages, so just buy one bottle and then continue to fill it up to save a few euros a day. Drink lots of water, especially in the summer… it gets ridiculously hot, especially in July and August!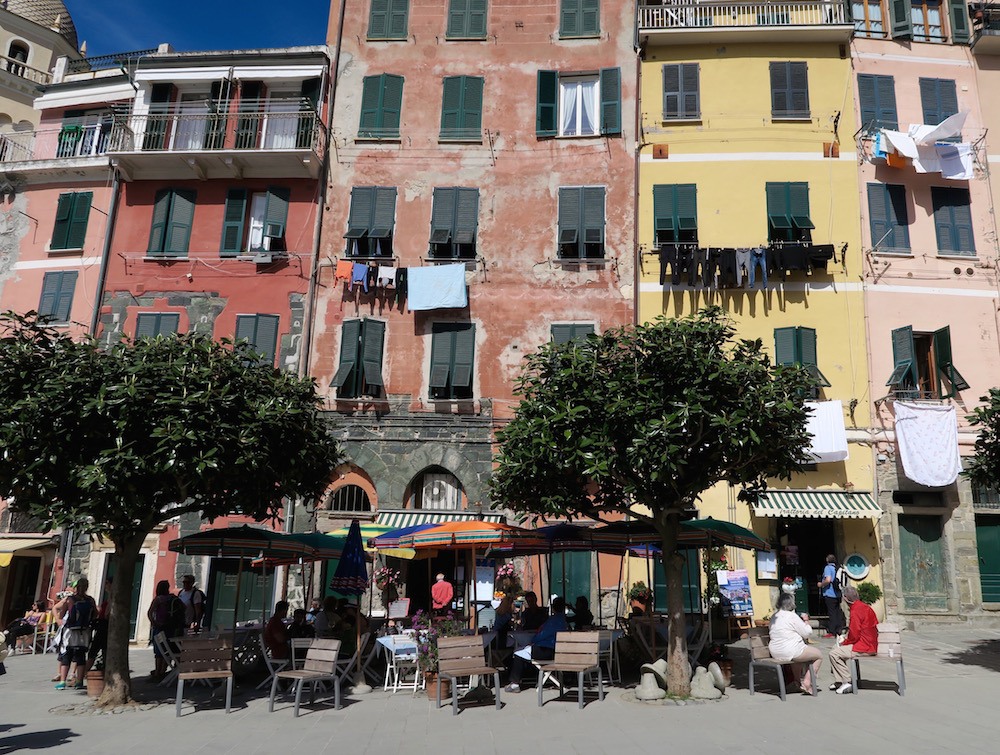 What to Do in Cinque Terre
Now here's where the guide is really going to falter, because I'm going to recommend doing what I normally recommend doing, especially in Italy: just enjoy being there. Walk around. Drink wine. Relax on the beach. Take photos. Sure, go hiking and swimming and paddle boarding, but part of the beauty of being in Italy is just soaking up all of the gorgeous architecture, enjoying great food, and, in Cinque Terre's case, relishing in the beautiful landscape. In all my travels, I don't think I've seen another place like it, the colourful houses built on the dramatic cliffs that lead to the sapphire sea.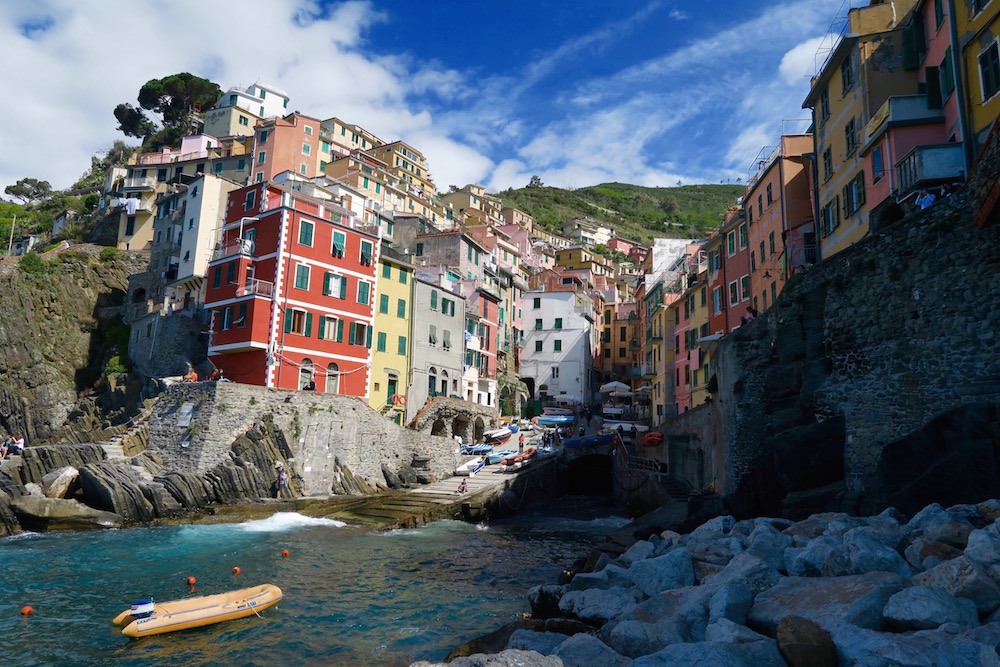 Riomaggiore
Riomaggiore was one of my favourite villages; it has a lovely church and the view from the harbour looking back is unbelievable. For some reason, Riomaggiore is often overlooked as most people flock to Manarola and Vernazza, but it's every bit as beautiful in my eyes.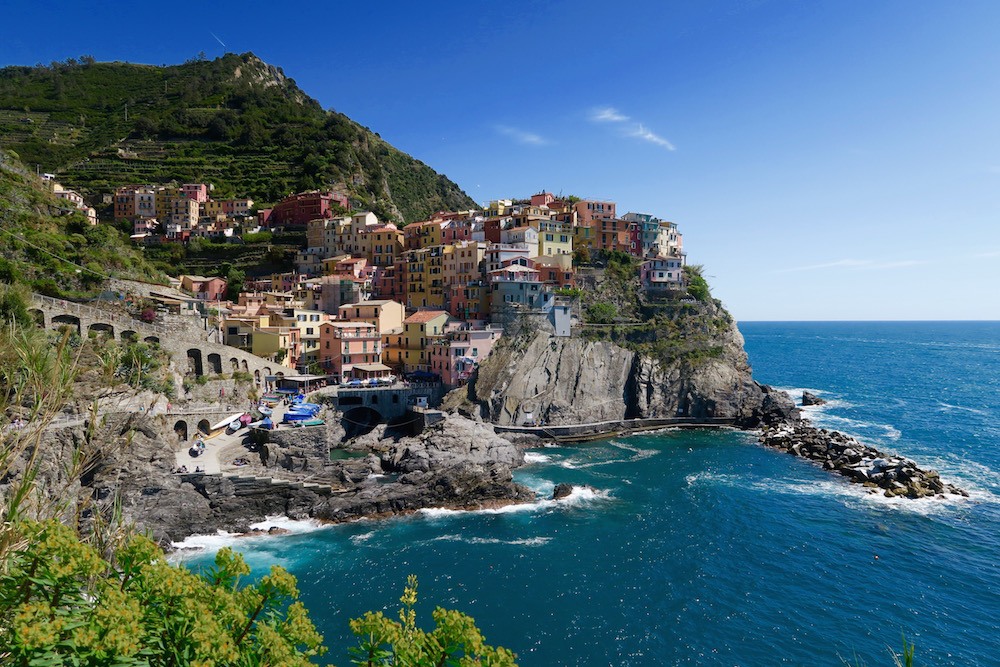 Manarola
Manarola is also stunning (you're going to see a pattern here); make sure to walk along the entire harbour to get views of every angle. It's one of the most touristy of the villages.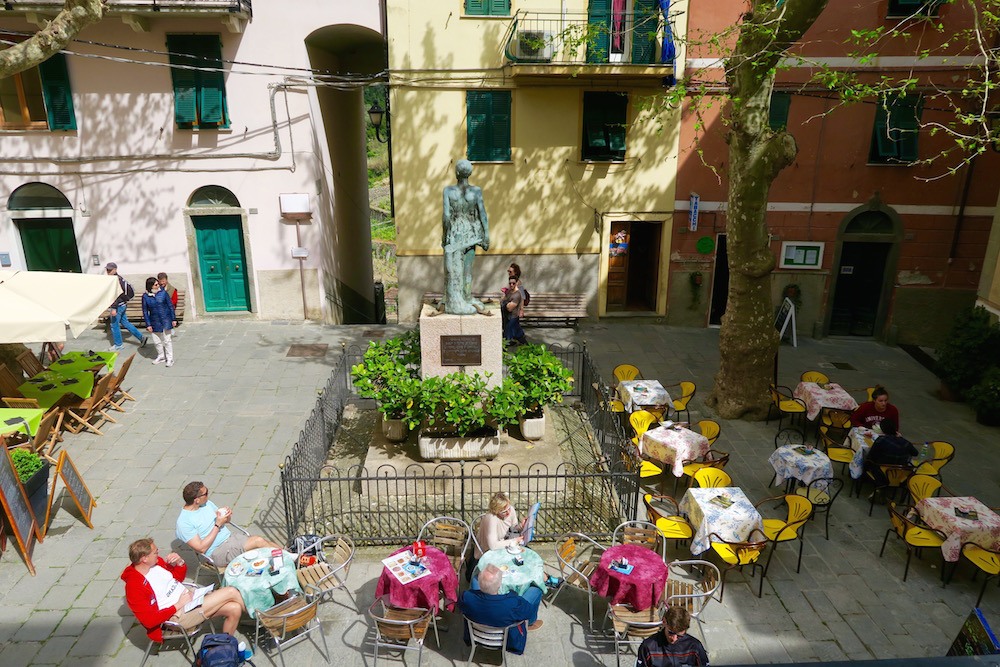 Corniglia
Corniglia is the smallest of the villages, but still very beautiful. In order to reach it you have to either climb 382 steps (even for a non-hiker, it wasn't that difficult) or take a shuttle bus for a small fee.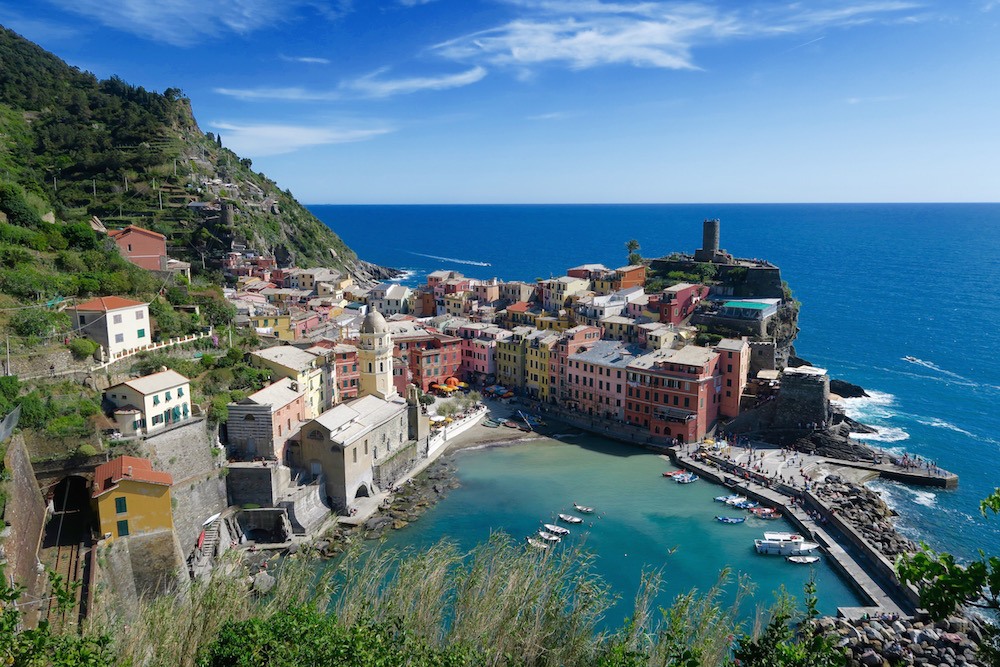 Vernazza
Vernazza was another favourite, simply because that view from the hiking trail is like no other. You can also climb the Belforte Tower for a 360 degree view of the region. Along with Manarola, it's the most popular with tourists.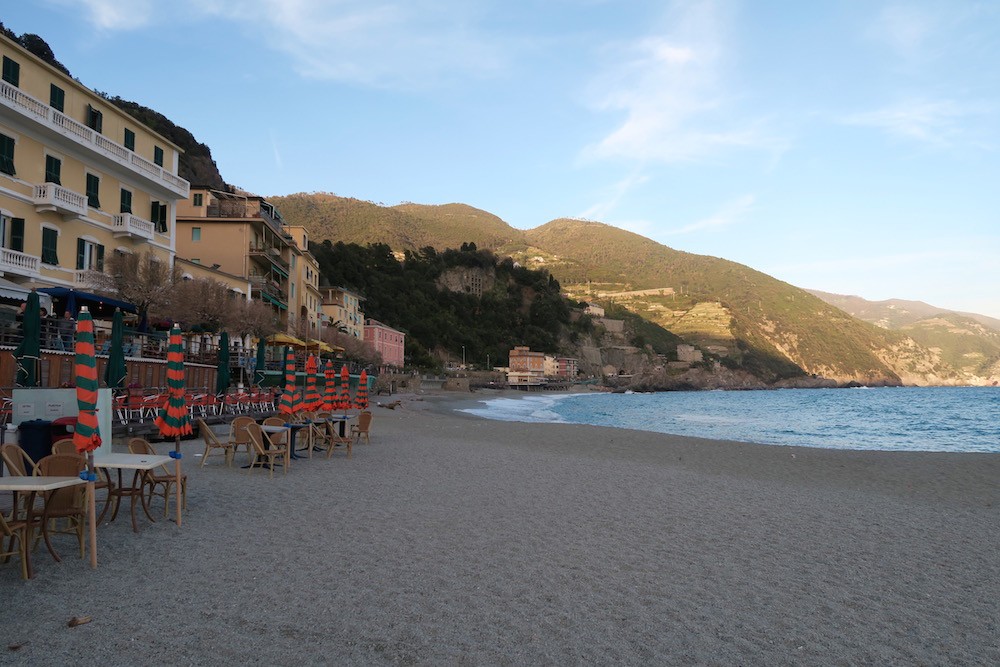 Monterosso in the evening… it will look vastly different in high season
Monterosso is known predominantly for its beach, but both the old and new parts of the town are also worth a wander. In high season, when the water is warm enough to swim, you'll have to pay to rent the beach umbrellas. It looks quite different from the other villages as it's the only one with such a long stretch of sand, but that's what makes it so special.
In each town, there are multiple churches, beaches, castles, bell towers, etc. to visit, so if you really must plan your days down to the minute, find a blog that is more detailed (i.e. better…) than mine, or, like me, just leave it to fate and see what you discover on your walks (I really am the worst blogger sometimes, sorry). Each village is quite small, so you can still see a lot of each one in only a couple of hours.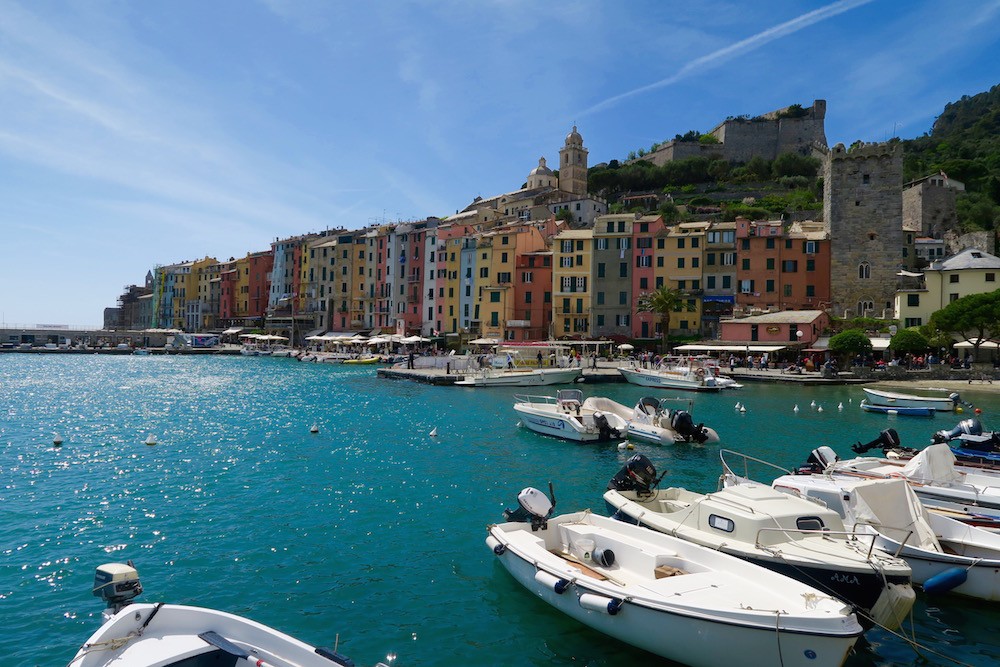 Portovenere
If you have a bit more time, I'd also recommend visiting Portovenere, another beautiful town on the water. In order to get there, I recommend taking a public bus from La Spezia (it's cheapest to buy your ticket from one of the small tobacco shops in the train station, or from the tourist information centre. Note that the bus does not stop directly in front of the train station, but a few blocks away, so ask for a map). Once in Portovenere, you can catch a ferry back to Cinque Terre so that you get dramatic views of the region from the water; I believe I paid €15 for that, and it took over an hour. Please note that the ferries won't run in bad weather.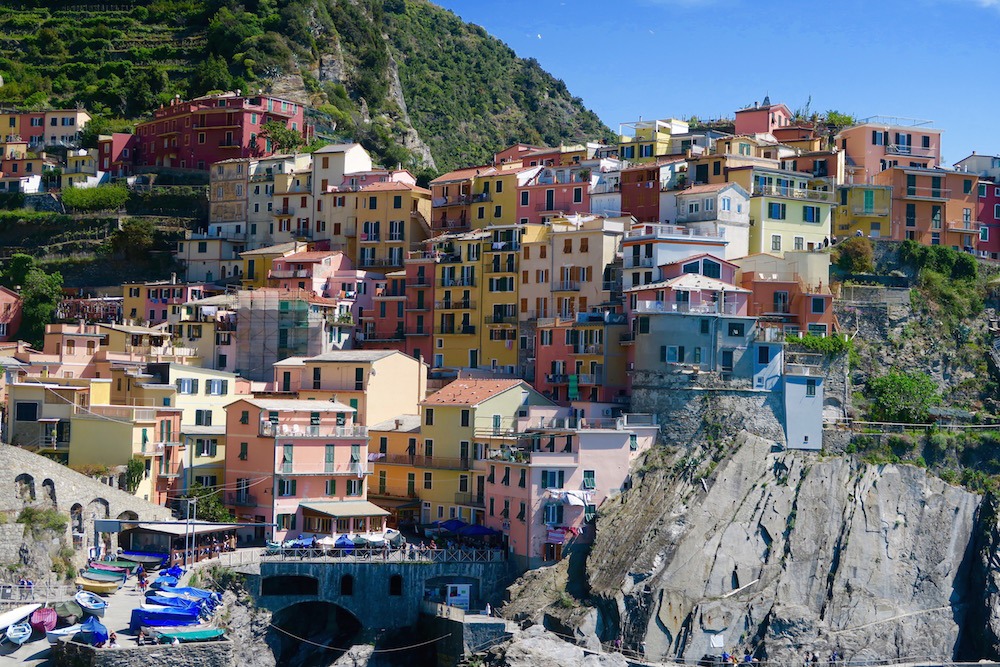 Best Itinerary for Cinque Terre
If you truly only have one day, I would recommend starting as early as possible in order to see as many of the villages as you can. I couldn't possibly pick a favourite, but – and I hate saying this – if you had to skip one, I'd probably skip Corniglia, just because it's a bit of a hike to get to. Ideally, you'd start early in Riomaggiore and spend a couple of hours in each village before ending on Monterosso's beach for late afternoon/evening. If you want to hike, and only have a day, I'd start in Monterosso on the beach, and then hike to Vernazza.
As I mentioned above, however, a day really isn't enough time to see the area and to experience it fully. Why not stay for even one night in order to maximise your time there? Then you can have time to see each village and even get some hiking in.
I'd highly recommend buying a guidebook – sometimes they just can't beat blogs, I'll admit it! I own the Rough Guide to Italy and there's also Rick Steves' guide to Cinque Terre.
So is it possible to visit Cinque Terre on a budget?
Yes, I believe it is, in terms of average travel in Western Europe. With a hostel, food, and the multi-service pass, you're looking at around €60 per day. It's not dirt cheap, but thinking about the cost of visiting cities like Paris and Rome, I'd say you definitely get your money's worth. Do not miss out on this gorgeous destination because you're worried about the cost – it's totally doable.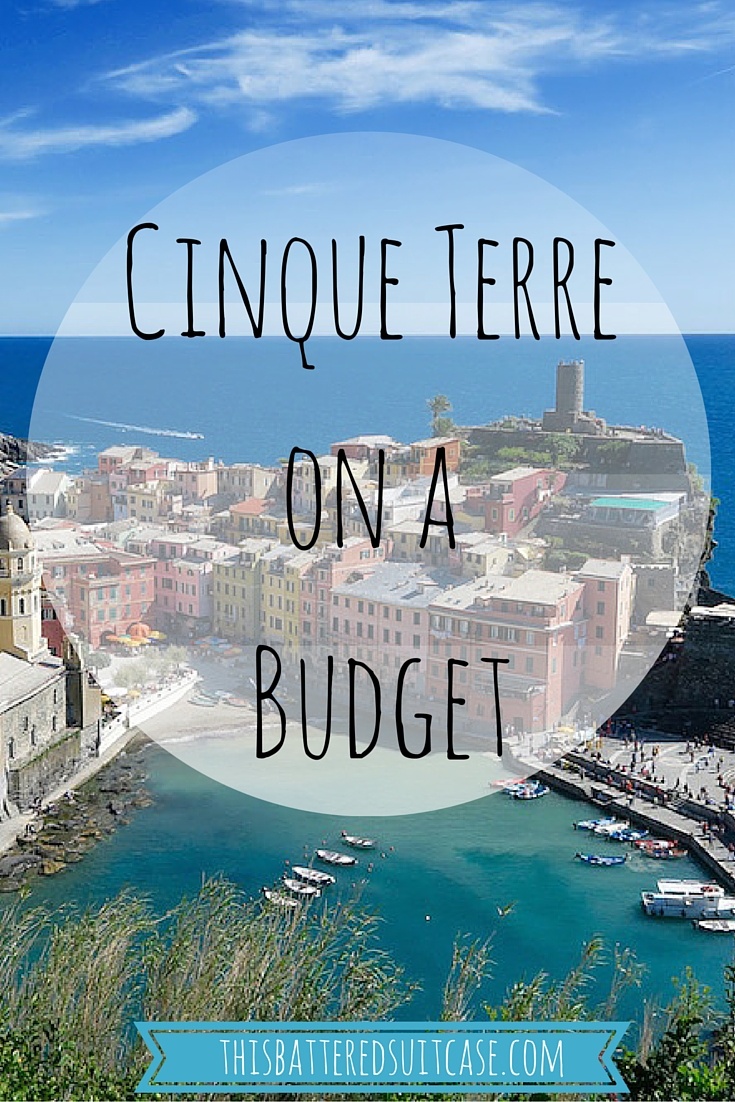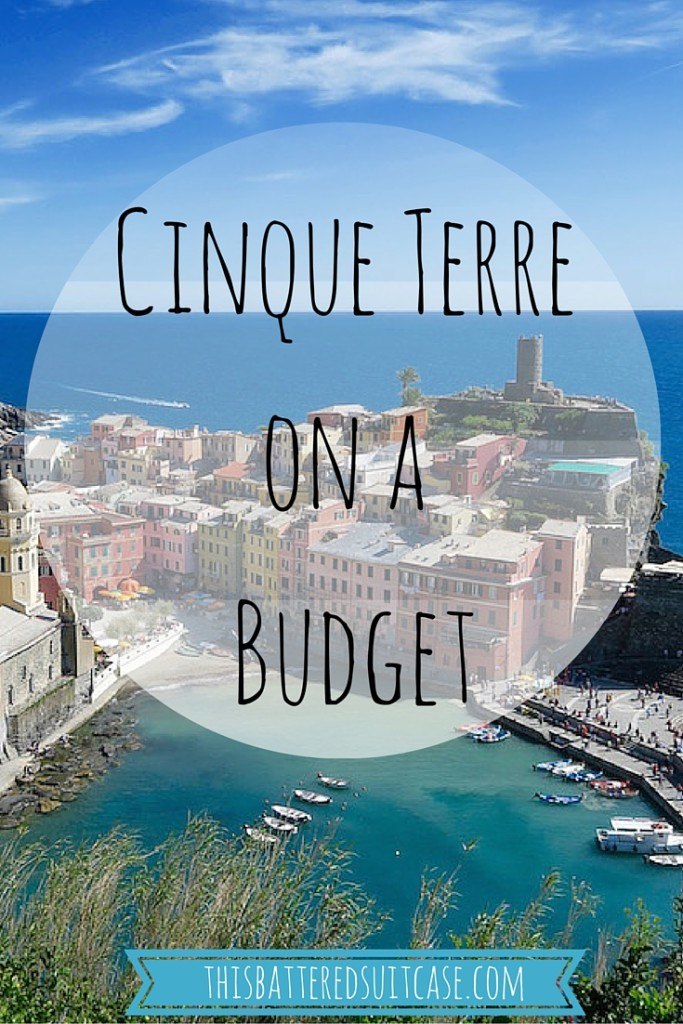 *please note – this post contains some affiliates!*
Have you been to Cinque Terre, or would you like to go?