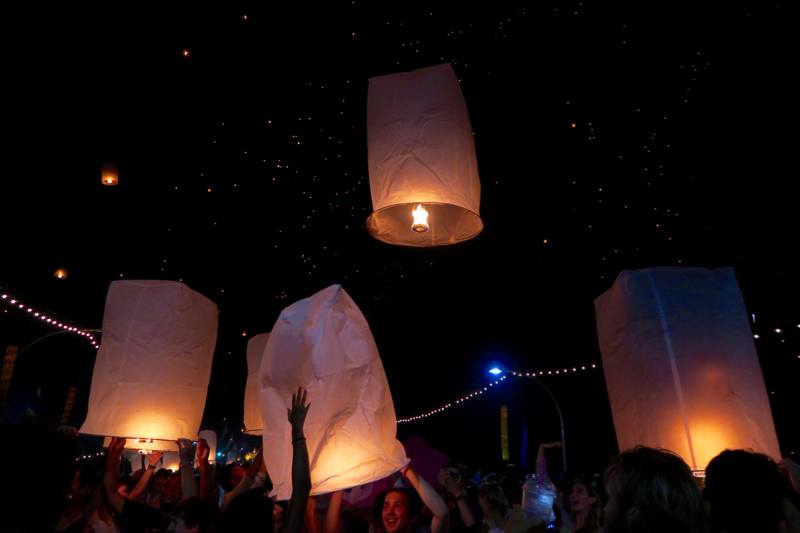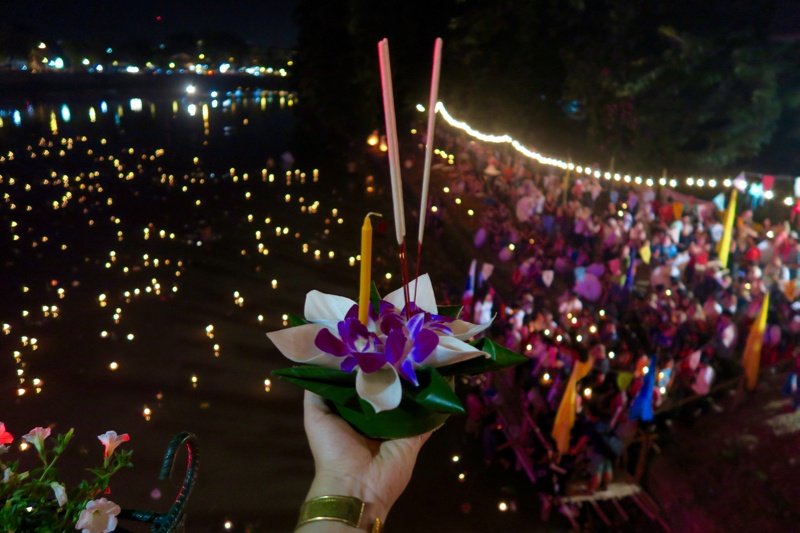 You know that saying, "I haven't been everywhere, but it's on my list"? That's how I feel most of the time. It seems like almost every day I read about a place or an event I'd like to visit. There are a few things that have remained steadfast on my travel wish list for years, though: a safari in Tanzania, scuba diving in the Maldives, a road trip though the southern states of America, a cultural trip through Bhutan, and, on the list for the past few years, seeing Loi Krathong in Chiang Mai, Thailand.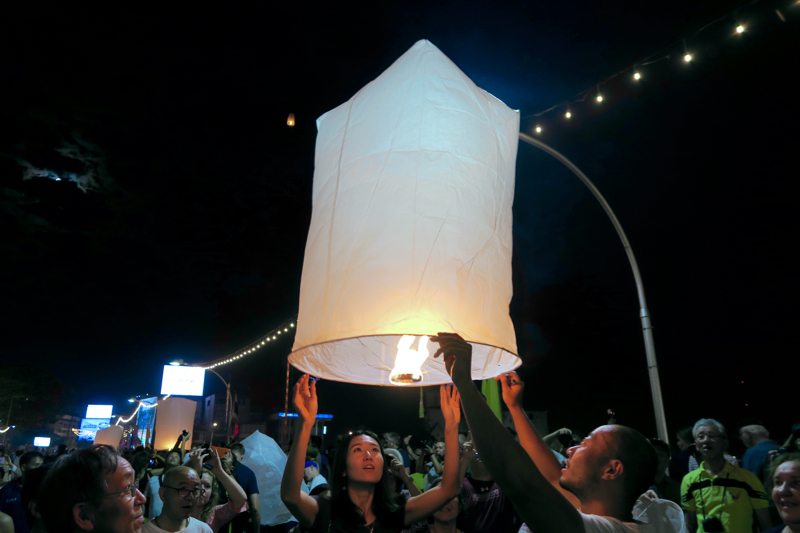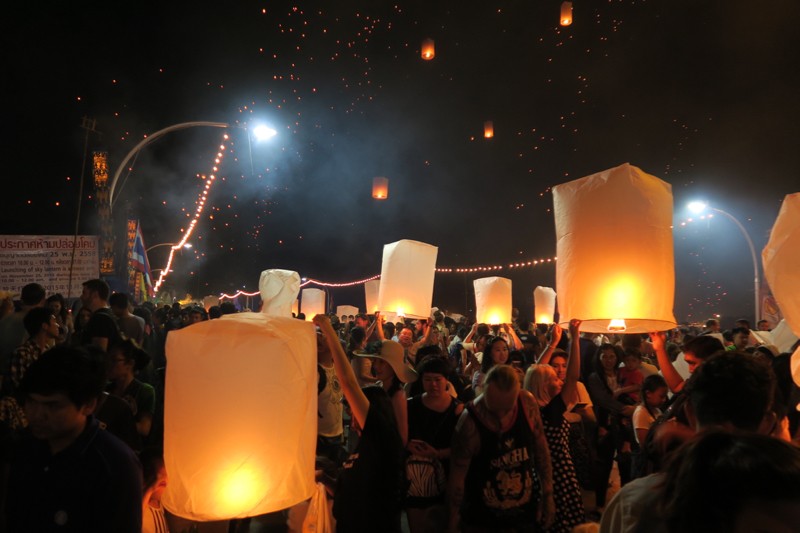 I don't remember when I first starting seeing photos of Loi Krathong or Yi Peng, otherwise known as the lantern festival, but once I started taking notice it seems like I saw photos of it everywhere. Thousands of flowers floating on water, thousands of paper lanterns filling the sky – it just looked so beautiful and so… spiritual, or peaceful, I'm not quite sure of the word. Though I've technically been to Thailand three times before, and even witnessed Songkran, or the new year's water festival, in Chiang Mai, I knew that eventually I'd head back to see Loi Krathong.
Last year was finally the year. With my master's degree finished, I had the time to do it, and I started to discuss finalising the plans over the summer. As my mum was visiting Cambodia as a part of her charity work with Plan Canada around the same time, it worked out that we could meet each other in Chiang Mai two days before the main festivities. As Loi Krathong takes places on the full moon of the twelfth month of the traditional Thai lunar calendar, last year's festival took place on November 25th (2016's Loi Krathong will take place on November 14th, though festivities in Chiang Mai start one day before and end one day after. It's always best to check online well in advance for exact dates). This coincided perfectly with my other plans, which included hanging out with Kate in Koh Lanta and going to Bhutan at the beginning of December (meaning this trip to Asia was really fulfilling a lot of my travel dreams).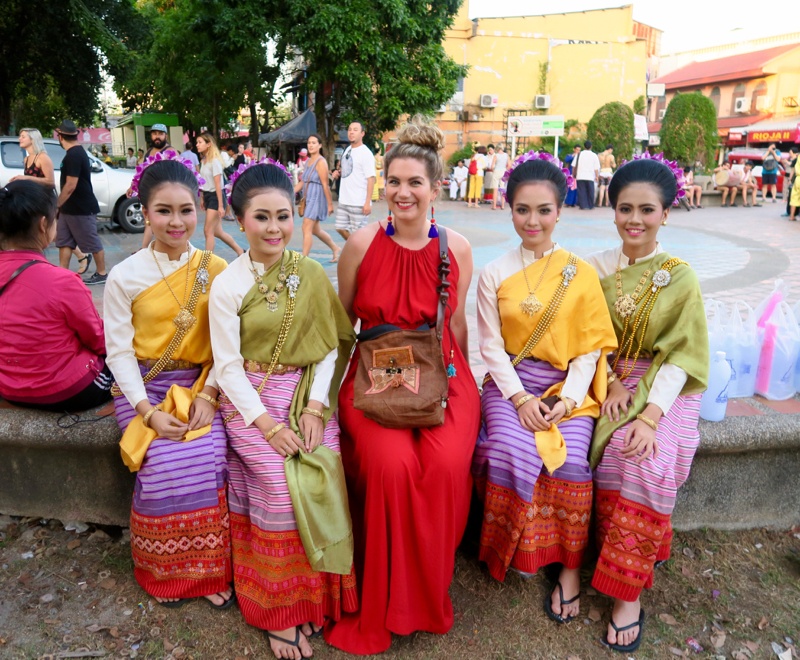 Before I really looked into Loi Krathong, I didn't really know what it was, why people celebrated it, or what the difference was between Loi Krathong and Yi Peng. After some research, however, I found out that loi means to float, and a krathong is the basket which floats on the water. Krathongs are traditionally made of lilies or banana tree trunks but can also be made of plastic, though many more people are making a point of creating and purchasing all-natural krathongs in order to minimise damage to the environment. On the night of the festival, people will release these krathongs (usually with lit incense) into the river while making a wish and, some say, paying their respects to the water spirits.
On the other hand, Yi Peng is what most Westerners think of as the festival – I for one always saw the images of all of the floating lanterns (khom loi in Thai) in the sky and assumed that was the main event, though I now know that it is tied to the releasing of the krathongs. Though khom loi are released throughout the year in Thailand, Yi Peng is the time when people gather in the thousands to release the lanterns at once. Doing so is said to send all of your bad luck or misfortune into the air, and many people make a prayer as they set them free. Some even tuck money into the lantern.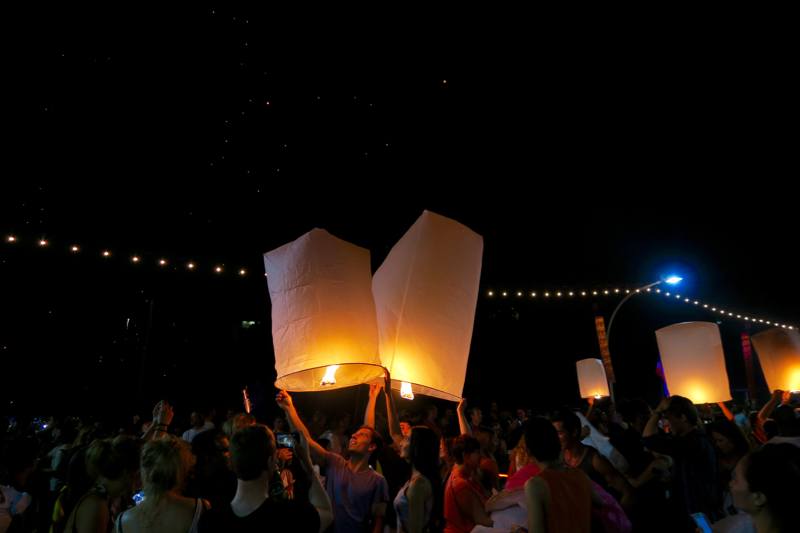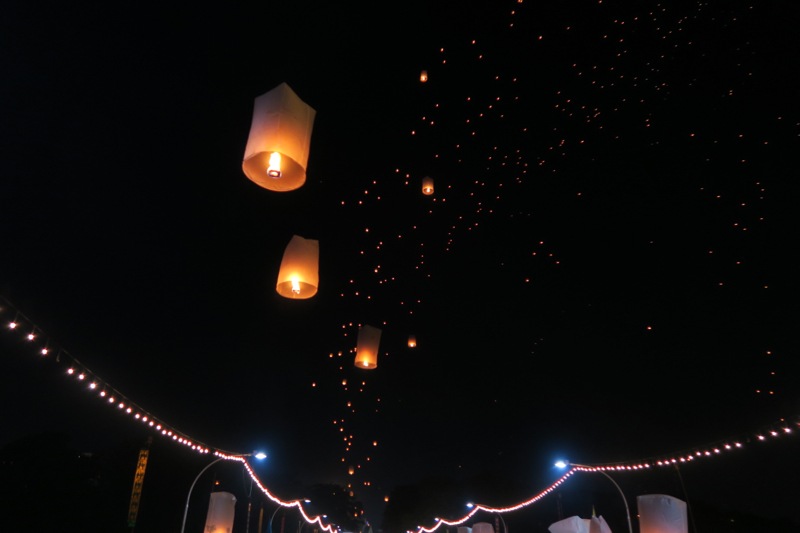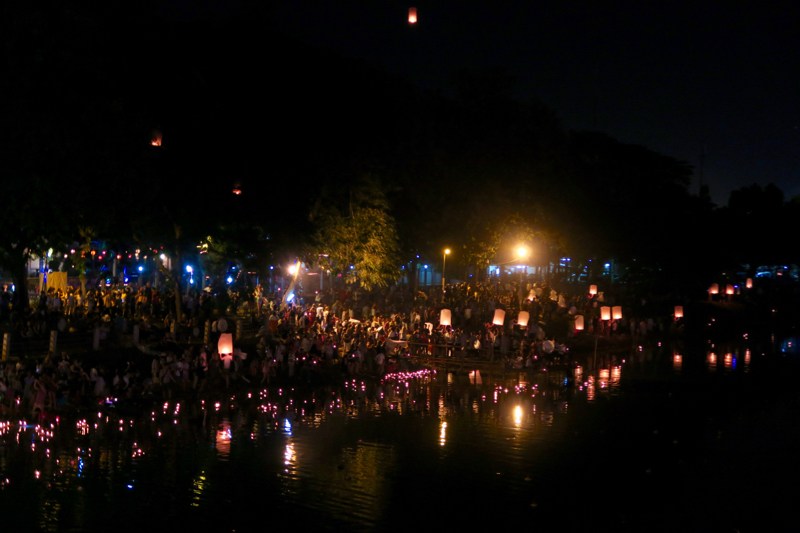 So, armed with this new information yet knowing that we wouldn't really understand it until we saw it with our own eyes, my mum and I made our way to Chiang Mai to participate in Loi Krathong/Yi Peng (for the sake of this article, I will just refer to it as Loi Krathong from now on, as the two names are often interchanged anyway). Though Loi Krathong is celebrated across Thailand (and other parts of Asia), Chiang Mai is known as the place to celebrate.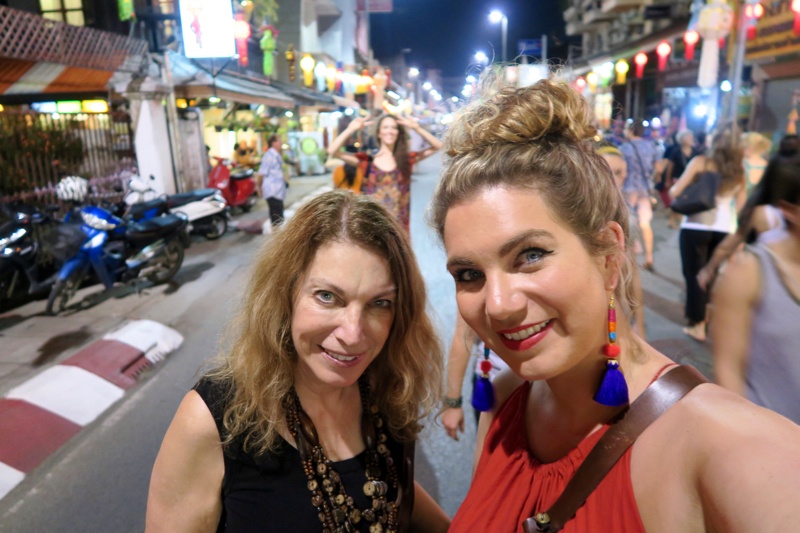 Celebrating with my favourite travel partner, my mum (and another friend in the background!)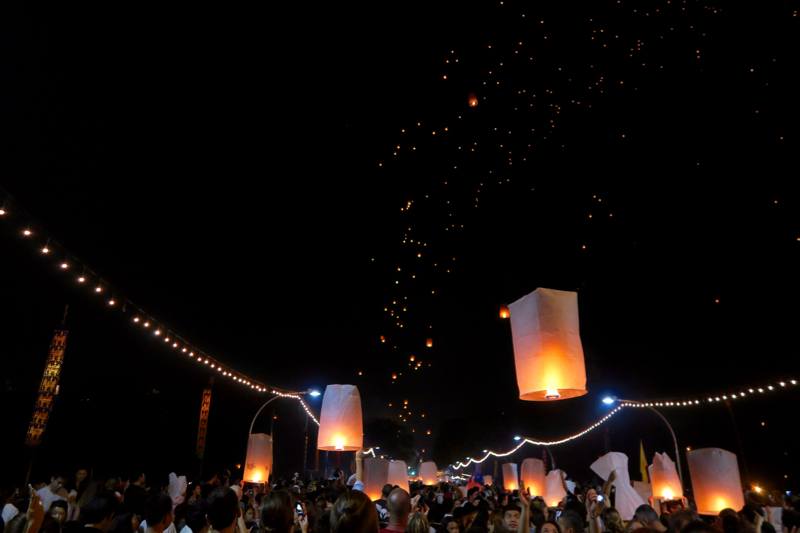 Before going, I had heard rumblings that you had to pay in order to get involved in the festival, which didn't quite make sense. By the time I arrived, I realised what that meant: if you wanted to see the simultaneous release of thousands of lanterns – the images of which are splattered all over the internet and the images I had come to associate with the festival – you would have to pay around $100 for a ticket to the event, where you'd be herded on buses to a field outside the city and told when and where to release your lantern with thousands of other tourists. So… my idea of hell. Sure, I would have gotten some incredible photos, but doing it this way seemed disingenuous somehow. I also didn't like how limited the event felt, as in, you have no choice when you go, and no choice about when you leave. Besides, I quickly found out that all tickets were sold out. (Please note: there used to be free mass lantern releases a few days before the actual Loi Krathong festival, but these have been cancelled as of late, and certainly didn't take place in 2015. I don't have the updated information about 2016's festival, but if I find out I will post it here.)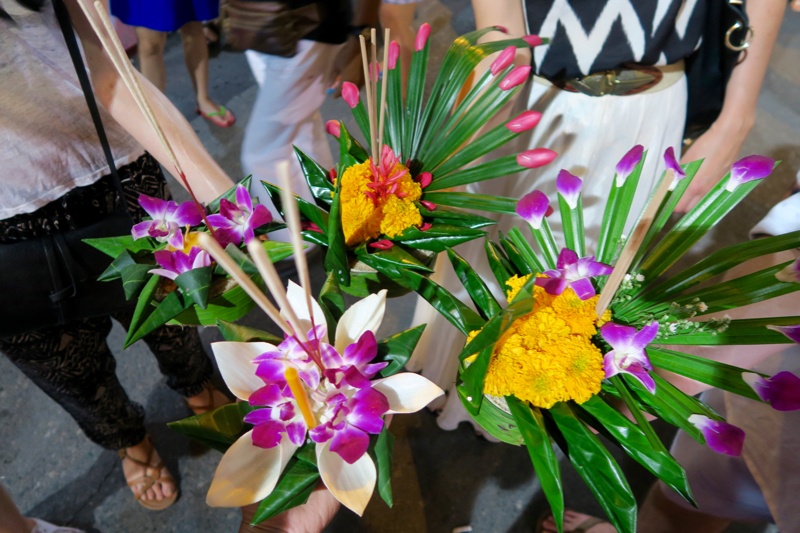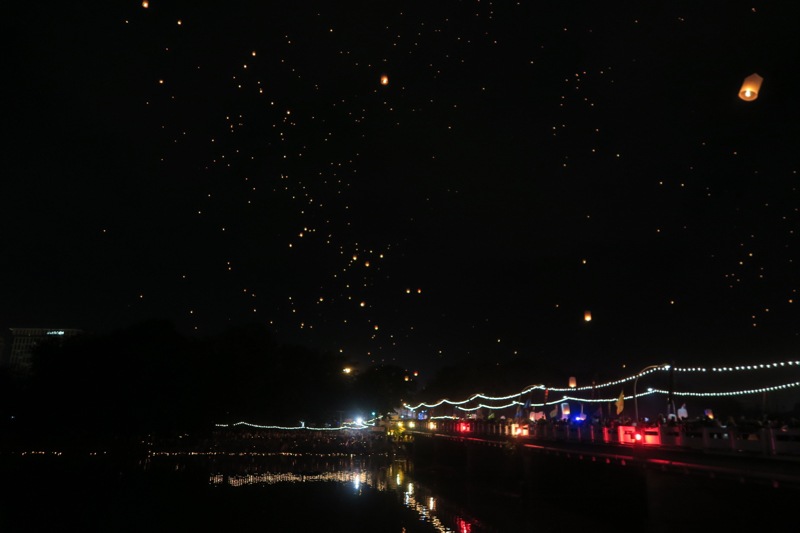 On the night of the 25th, I met up with Alana from Paper Planes, a good friend of mine and an amazing resource for all things Chiang Mai. We walked down Tha Phae Road toward the Ping River as the sun began to set; the road was buzzing with people buying their krathongs and khom loi, snacking on street food, and stopping in to temples to give offerings and prayers. In order to control the festival, lanterns are only allowed to be released between certain hours on the day, and before long the bridges and riverbanks were filled with people preparing to let their lanterns float into the sky. Though it was slow at first, by nightfall the sky became an endless sea of white lanterns.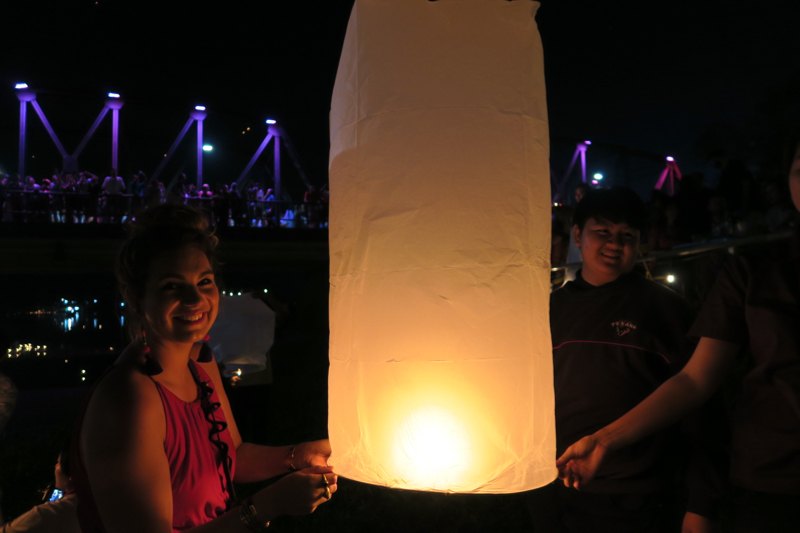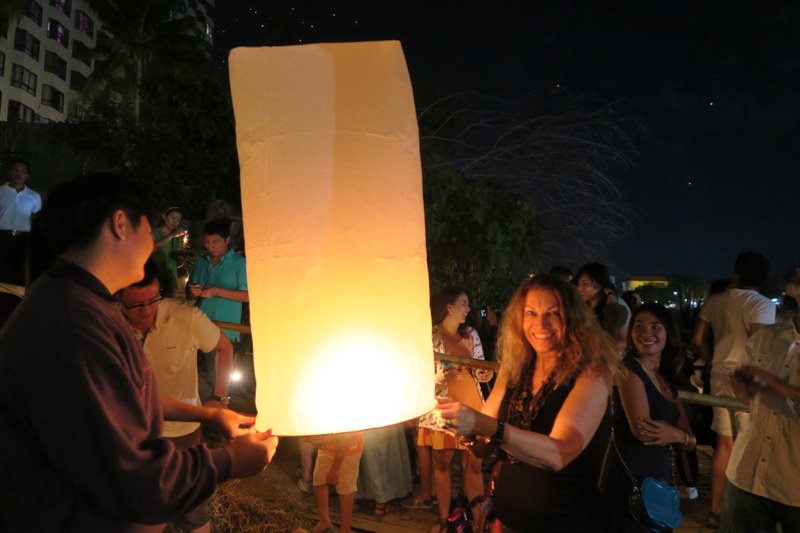 No, I didn't see what all those glossy magazine photos promised – the thousands of lanterns being released at once – but this was somehow better, a more natural, authentic way of experiencing it all. In my mind, if you are in Chiang Mai to celebrate a beautiful and spiritual Thai festival, why not celebrate it in the Thai way, with Thai people? I spent hours wandering up and down the river between Tha Phae and the Iron Bridge, and ended up meeting so many wonderful people. By the time I got back to the hotel around 11pm, people were still out celebrating, lighting lanterns, and setting off fireworks. All in all, it was an absolutely wonderful festival to attend, and I would definitely recommend planning a trip to Thailand in November to be able to experience it.
To reiterate – I would personally not suggest buying a ticket to the tourists' lantern release. I had an amazing (and much cheaper!) time just wandering around Chiang Mai during the festival, and I didn't have to abide by anyone else's schedule. Just my two cents, of course.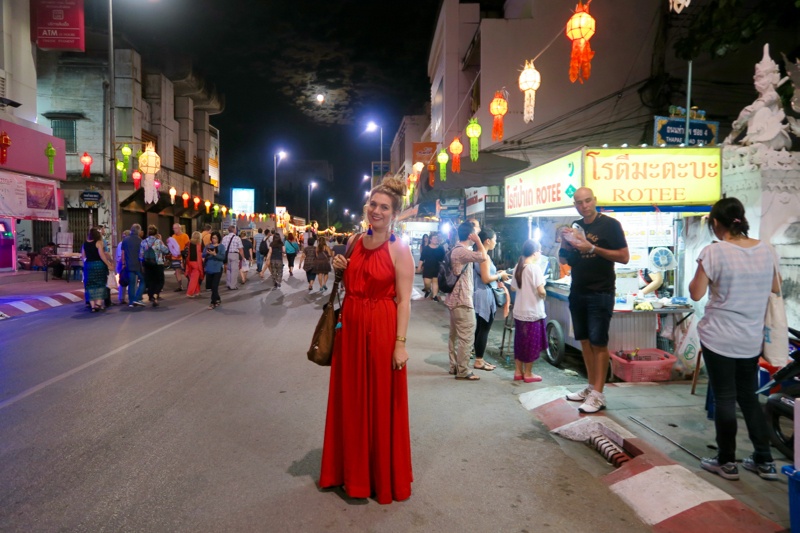 On Tha Phae Road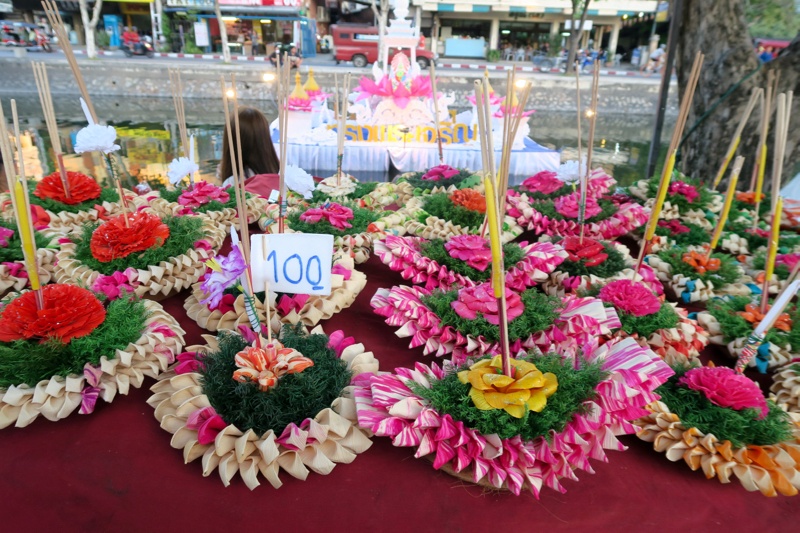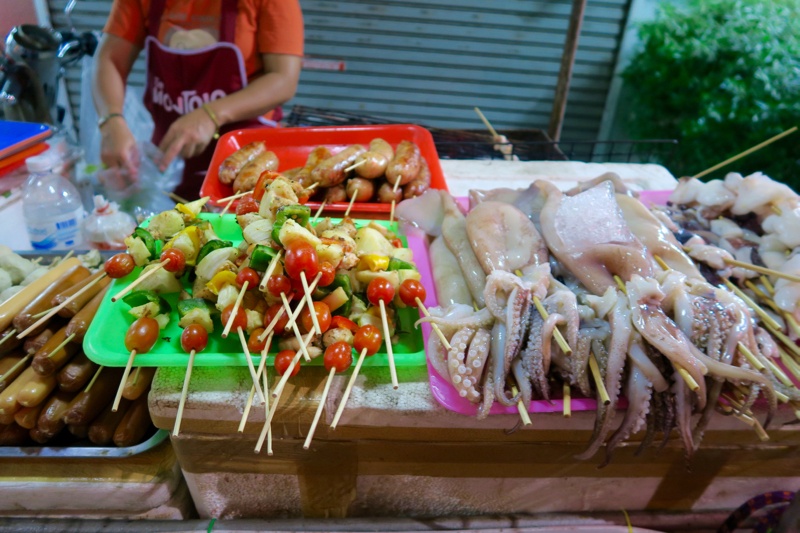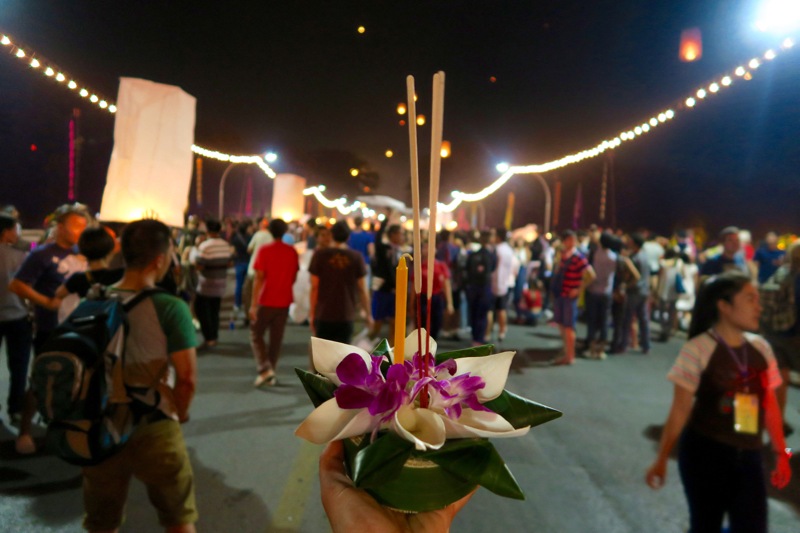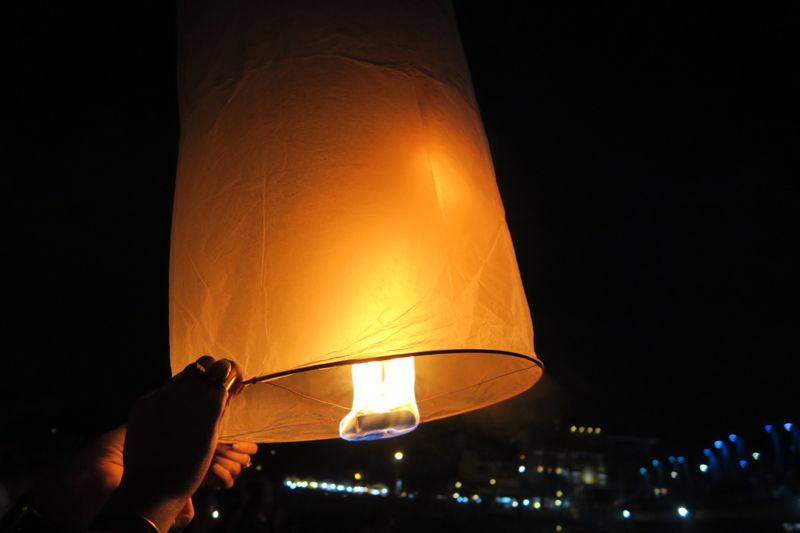 A few tips about visiting Chiang Mai during Loi Krathong:
-book your accommodation and transportation well in advance. Though I'm sure there will always be a room or a place to stay somewhere, if you want the best pick of the lot you should book early, as this is one of Chiang Mai's busiest periods. So too for transportation, though there seem to be multiple daily flights and buses to Chiang Mai from all other popular Thai locations. Please note that some flights are cancelled the night of Loi Krathong due to all of those floating sky lanterns!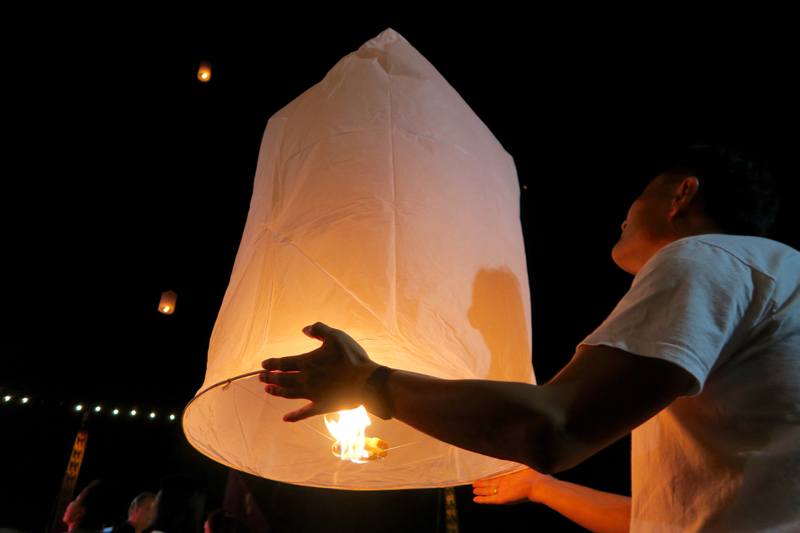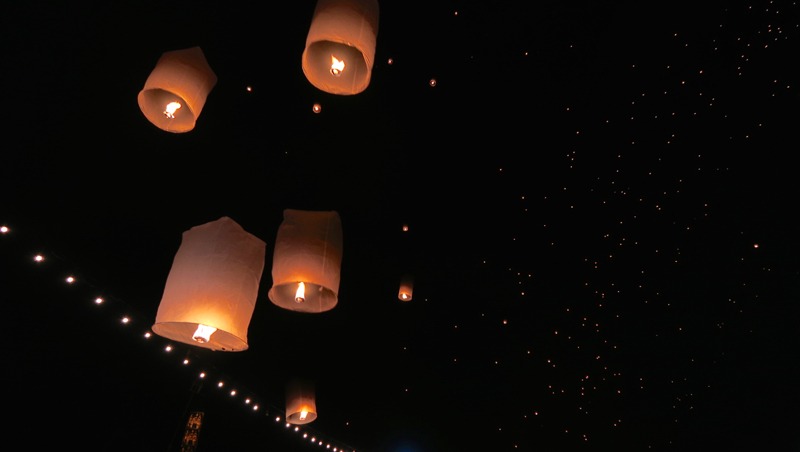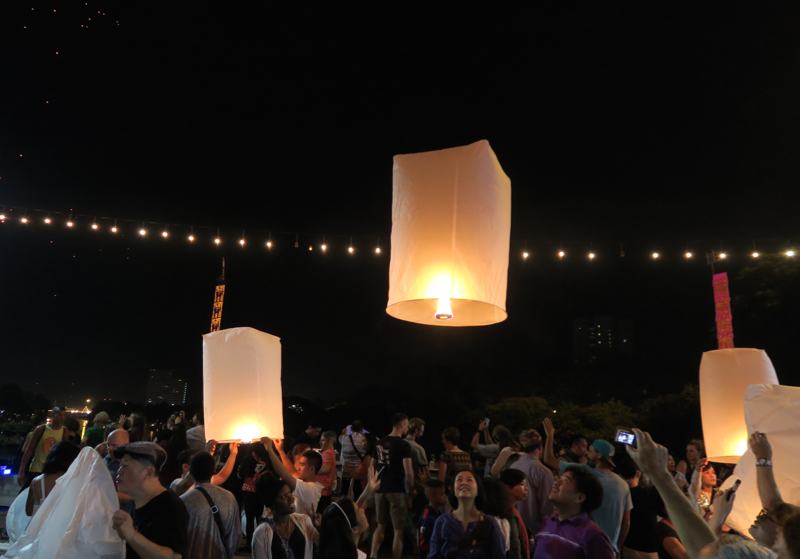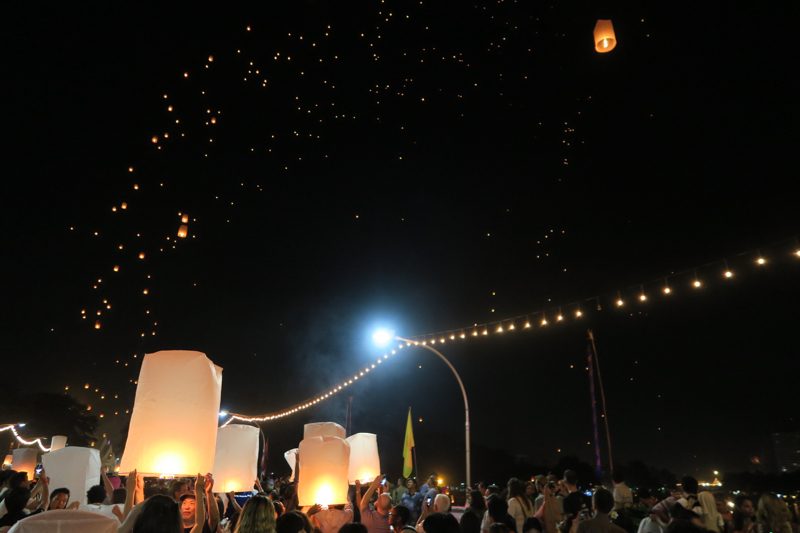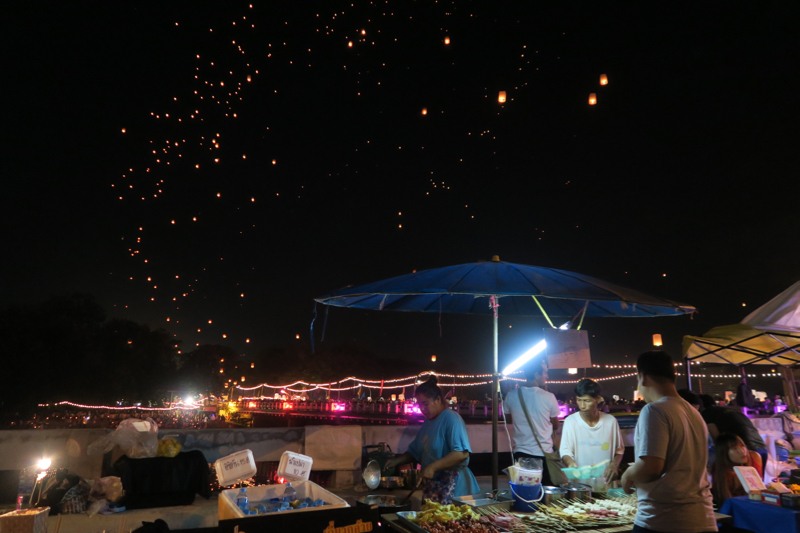 -there is no need to purchase your krathong or your khom loi until you actually get to the water. The streets are very congested leading up to the river, so you might want to have your hands free for taking photos, eating snacks, and so on. Both items can be purchased from vendors near the river, and are very, very cheap (I paid around 25 baht ($.70) for my khom loi and 80 baht ($2.20) for my krathong). 
-though it is a very friendly festival, it is still a very crowded one, so watch your belongings.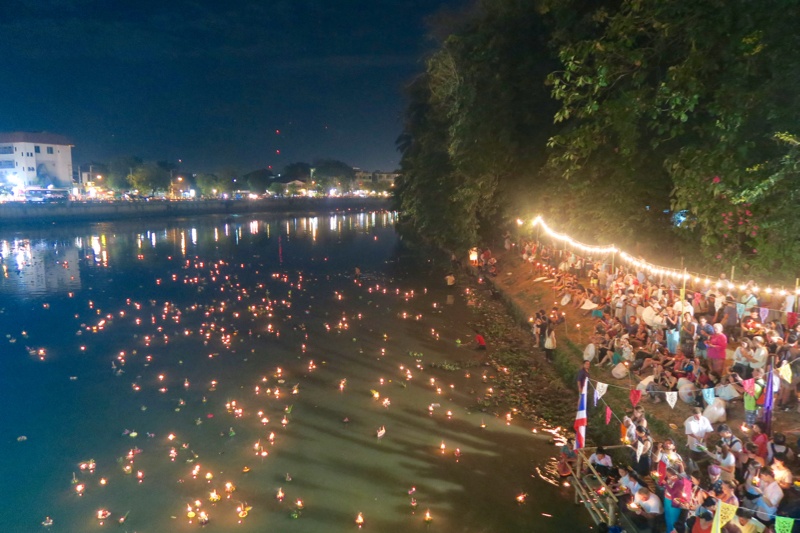 Releasing krathong on the Ping River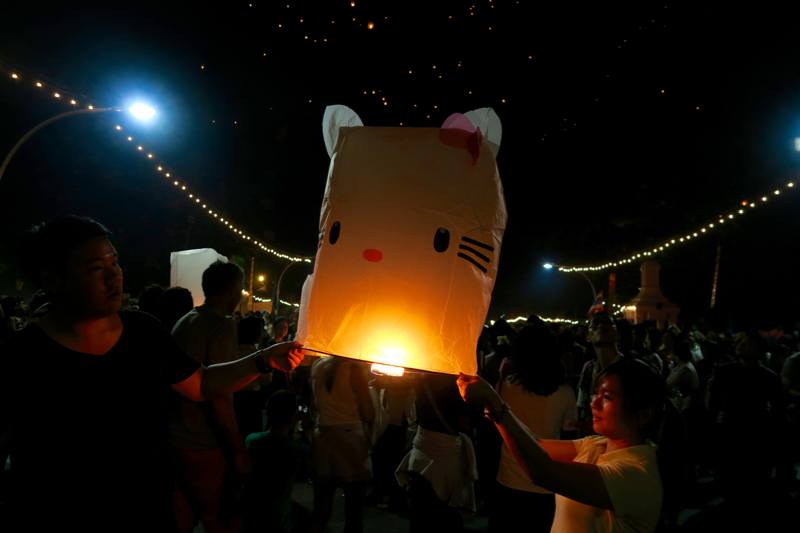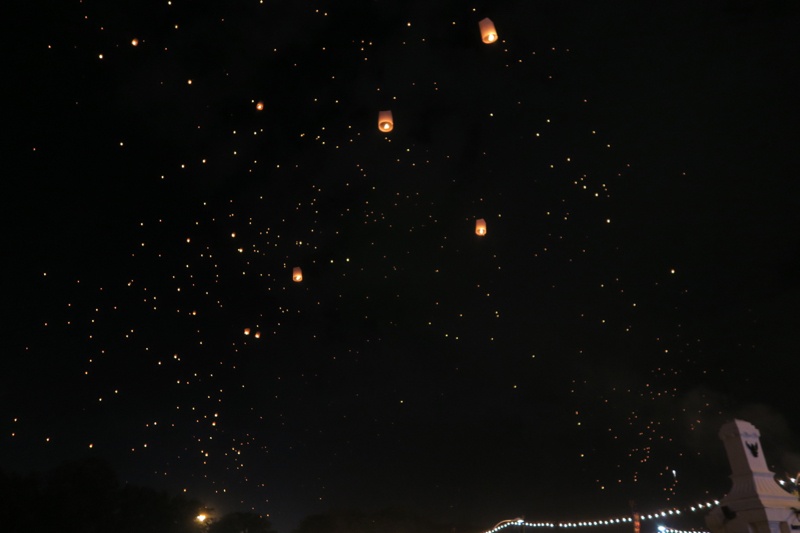 -make sure to set a meeting place with friends just in case one of you gets separated from the pack, as it's easy to lose people in the throngs (especially when distracted by all of the beautiful sights).
-buy a lighter to bring with you to the celebrations – although a lot of people have them, it's much easier to have your own! It's also a good way to make new friends as you can lend your lighter to others and/or help them light their khom loi.
-to ensure your khom loi flies high in the sky, have one person hold the lantern open while you use a lighter to burn at least four points on the ring mat found inside. Once most of the mat is on fire, each of you should hold the base of the lantern. Your goal is to fill the lantern with as much smoke as possible, so do this for as long as you can, and hold the lantern as close to the ground as you can. After a few minutes, when it feels very full of smoke and the base is getting hot, guide the lantern up into the sky. I saw many tourists lighting the ring mat and then instantly trying to release it, which led to some very disappointing launches (and some lanterns ending up straight in the river or in trees). Still unsure? Ask some Thai people to help, which is what my mum and I did. As I said, it's a really friendly festival, and everyone helps each other out. It's also a great way to chat with new people.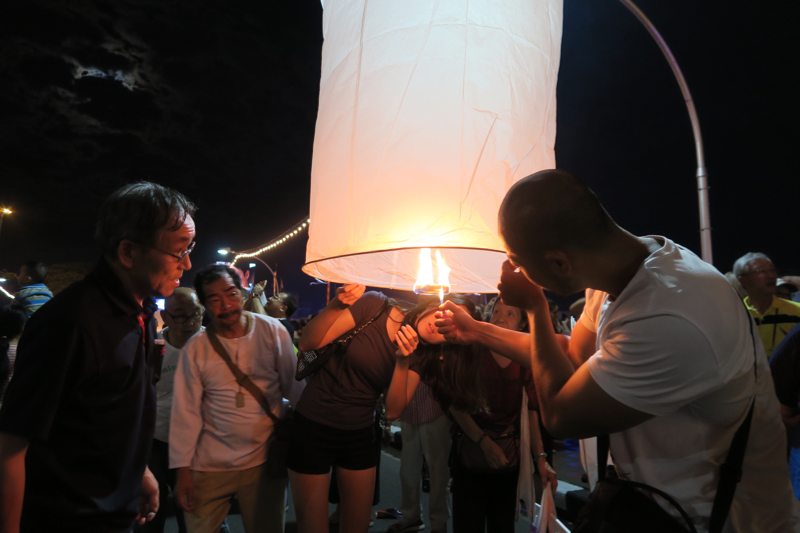 -areas where people release their krathongs into the river are also congested, but everyone is very friendly and makes room for one another. You may have to wait for a while before you actually get to the river, but it's worth it. Don't light your incense until you are just about to release your krathong; otherwise the incense or ash can fall and burn you (possibly recommending this from personal experience *cough*).
-as I keep saying, it's a very friendly festival, but it is not a party festival. While Songkran gets a bit of a reputation as a huge water party, Loi Krathong is, at least from my experience, a much calmer and more spiritual festival (one that has religious implications). There are lots of kids and families out, so don't act like a buffoon and do anything dangerous and/or stupid. While I'm never going to tell people how to live their lives, I will say that the only people I saw acting disrespectfully (i.e. being loud and obnoxious) were a few groups of backpackers who had clearly had too much to drink. In this case, it's best to do as the locals do, and be respectful.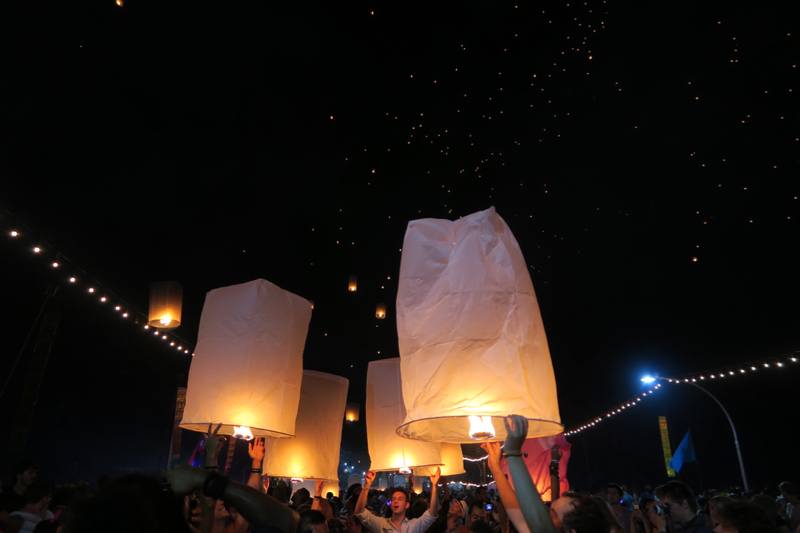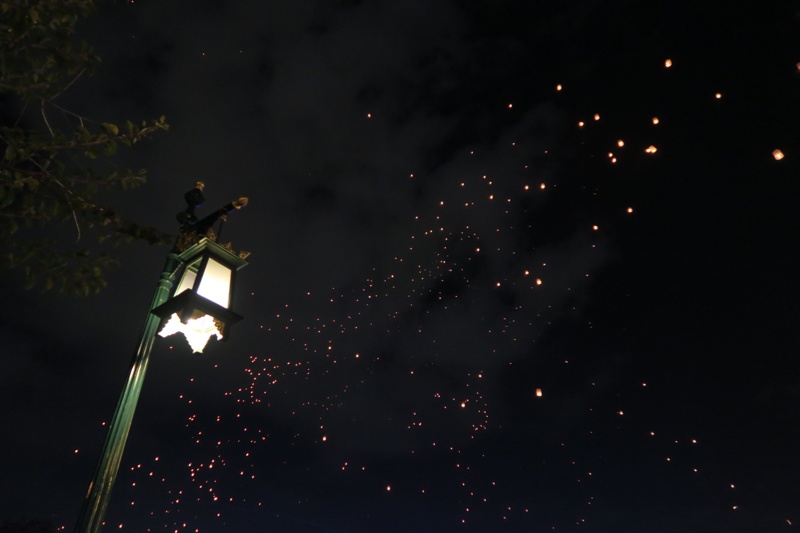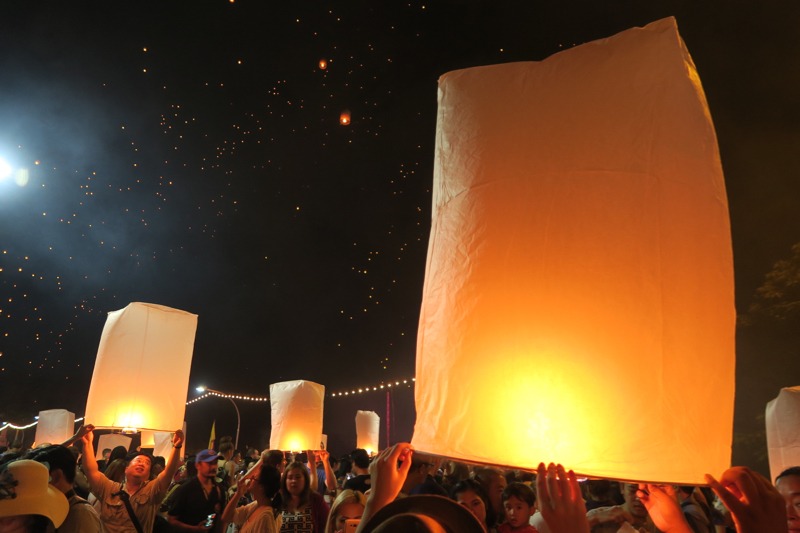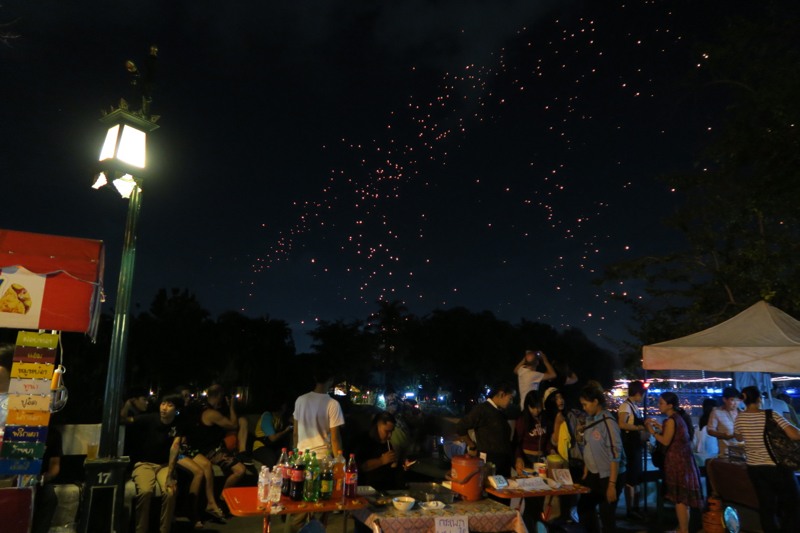 -there are definitely environmental repercussions from a festival as huge as this one. While Thailand spends a lot of money and hires a lot of people to help with the clean-up, do your part by buying all-natural krathongs and looking after your rubbish properly.
-this is one of those events where having a great camera comes in handy, but honestly? All of the photos start to look the same after a while, so take a bunch in the beginning and then just enjoy the festivities. I didn't have the world's best camera (I shot all of these on a simple Canon GX7) but I'm happy enough with them. More importantly, I have the memories to last a lifetime.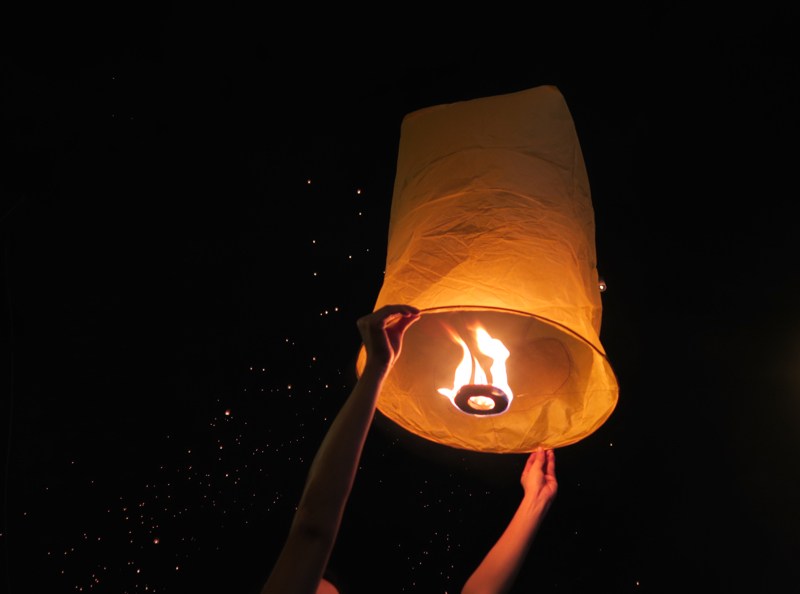 Have you ever been to Loi Krathong, or would you like to go?