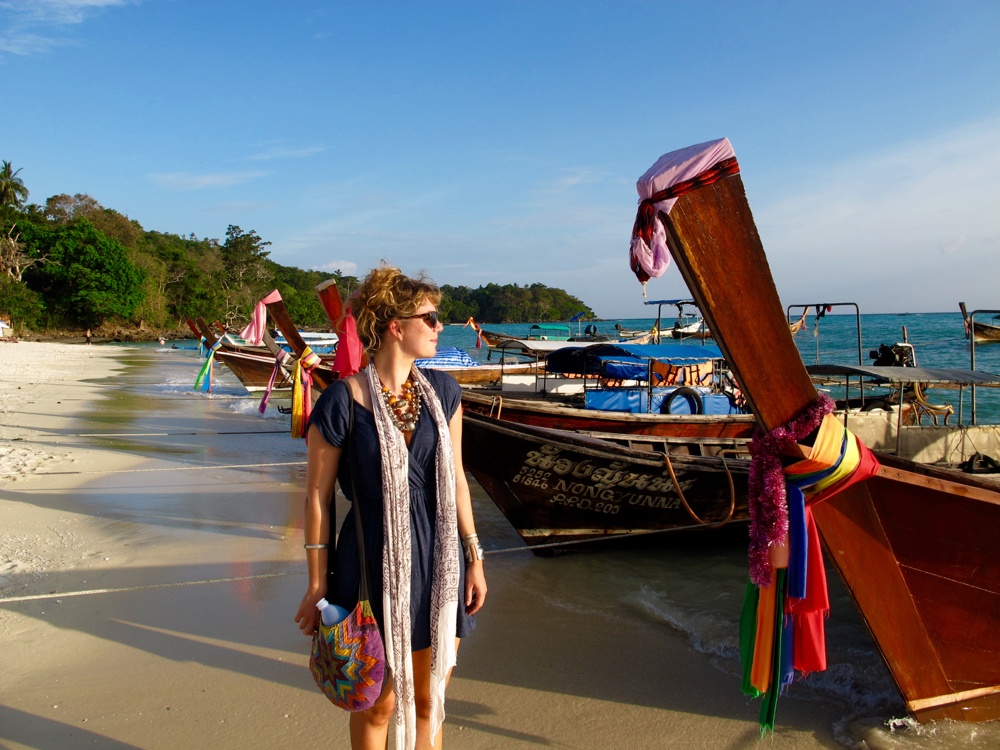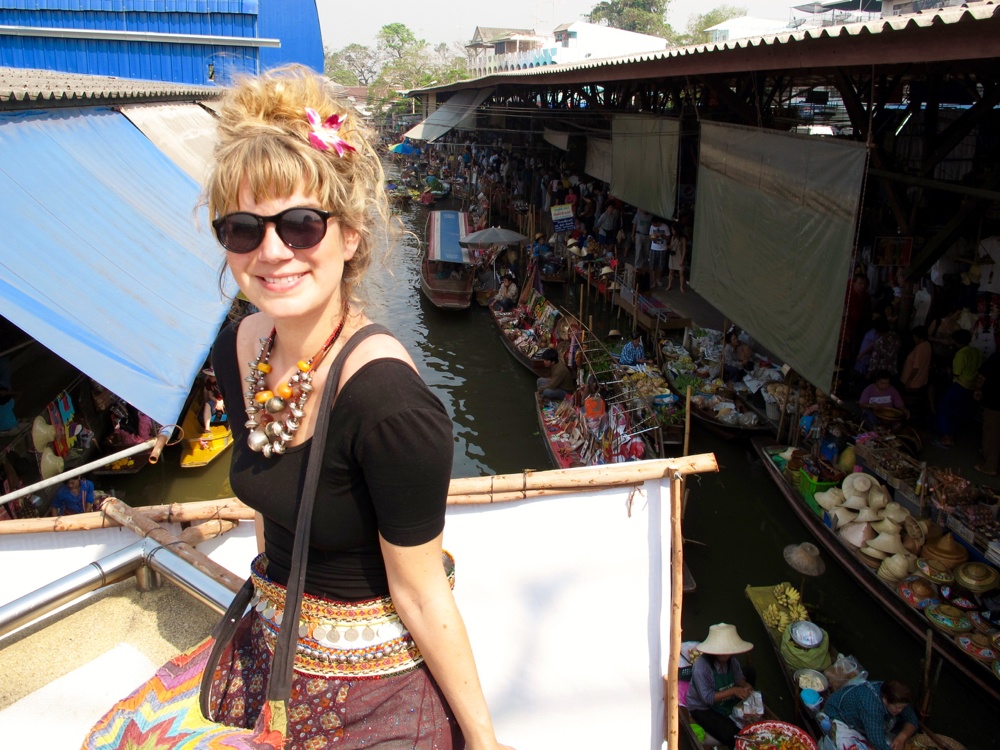 I've been to Thailand four times now, and, overall, have spent about three months in the country. It's one of my favourite places in the world – from the beaches to the mountains, the calm to the crazy, Thailand is one of those destinations that can appeal to many people for many different reasons. Whether it's scuba diving, sailing, meditating, teaching English, volunteering, hiking, festivals, doing yoga, healthy eating, shopping, and just about everything in between, I've had such diverse experiences while in Thailand.
And while the internet is saturated with these "what to wear" posts, I always enjoy putting them together, and I like having go-to resources for people who write to me about certain topics. I get a lot of emails about what to wear in countries I've been to, and I'm slowly but surely trying to get them all done. So far I've covered what to wear in Nepal, what to wear in India, what to wear in Bhutan, and what to wear in Russia… so that's four. OK then. I may as well keep going with what to wear in Thailand. As always, most of the clothing you'll see in this post was bought locally in Thailand. Please note that there are a couple of affiliate links in this post; rest assured, I only recommend products I use and love!
First of all, Thailand is hot. Really hot. Depending on where you go and when (check out this link for more information), you'll most likely experience very warm weather and possibly some intense humidity and rain. It's always important to dress comfortably while still being culturally appropriate. The key is, then, to wear clothing that doesn't show too much skin but still allows you to stay as cool as possible. As I've mentioned time and time again, I wish that women could just wear whatever the damn hell they wanted, wherever they are in the world, but it's always important to take note of cultural norms and act respectfully.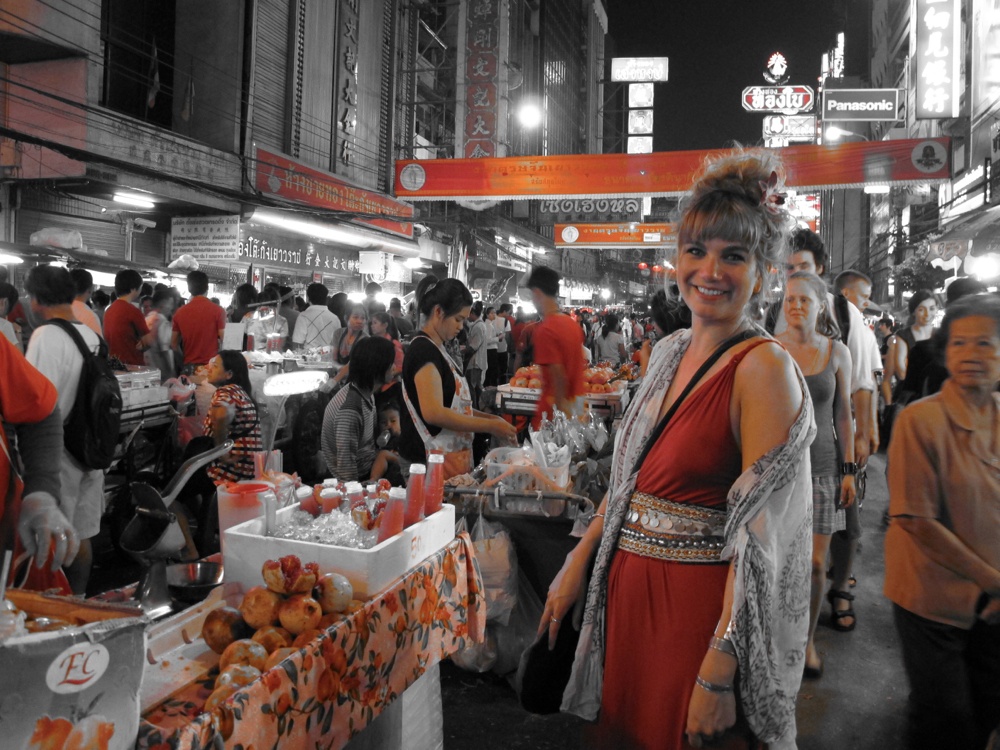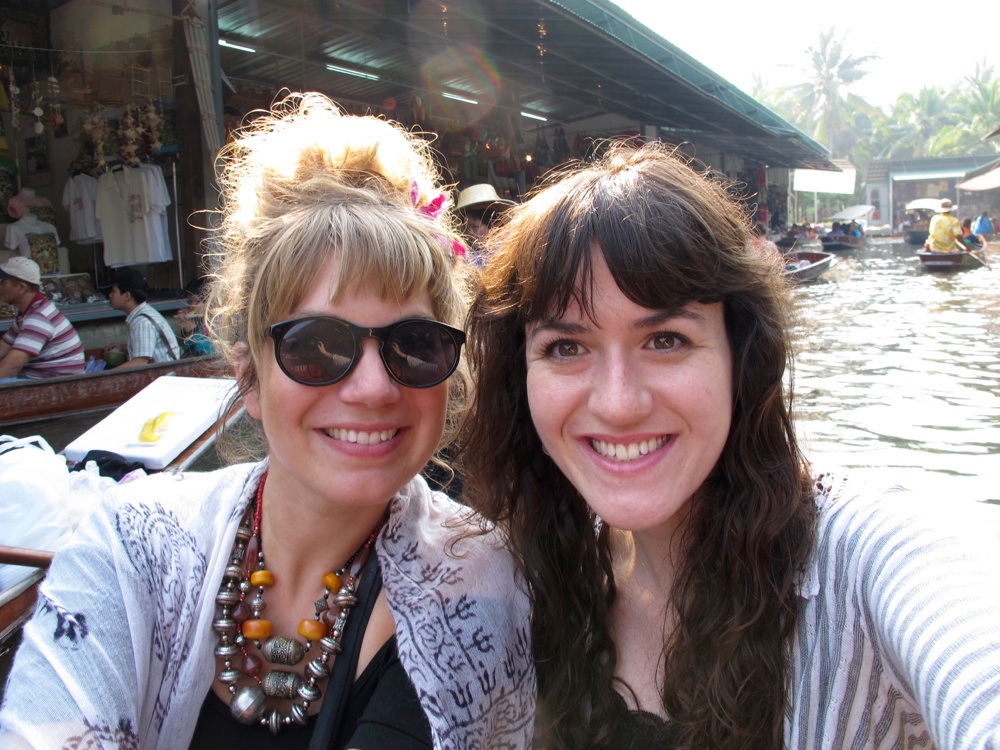 In keeping with that note, a scarf is the best investment you can make in your travel wardrobe. Seriously, I can't sing the praises of scarves enough on this blog. I bought this thin white one as soon as I landed in Bangkok and it was (and has been) a great benefit to my wardrobe. I carried it pretty much everywhere I went in Thailand, using it as a scarf (duh), as a wrap, as a belt, and as a headscarf. They're especially helpful if you want to enter a temple and need something to cover up with.
If you want to head to Thailand with one scarf already in your arsenal, I'd recommend something like this travel scarf. It has pockets for your valuables which helps if you want to keep your money and passport close to your body!
Similarly, a sarong is a terrific thing to have while in the country. Not only can you use it as a towel/beach accessory, but you can also turn it into a skirt or even a dress (as seen above). Just make sure to knot it well, and/or use safety pins to keep it in place!
There are plenty of places to buy sarongs in Thailand, but you can also get plenty of colourful ones (like this one) online!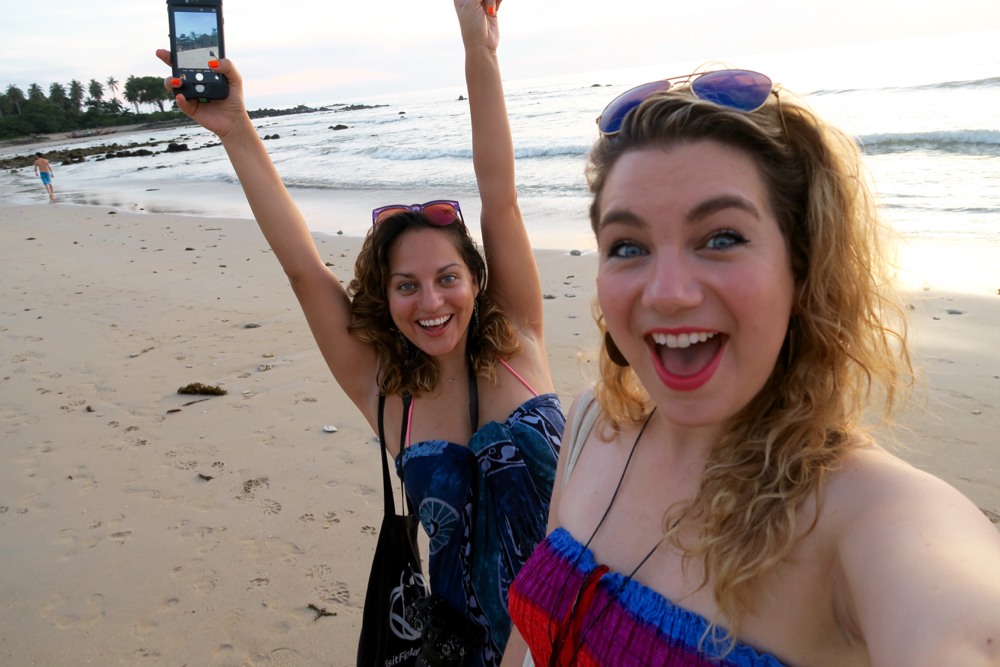 Adventurous Kate using her sarong as a wrap at the beach in Koh Lanta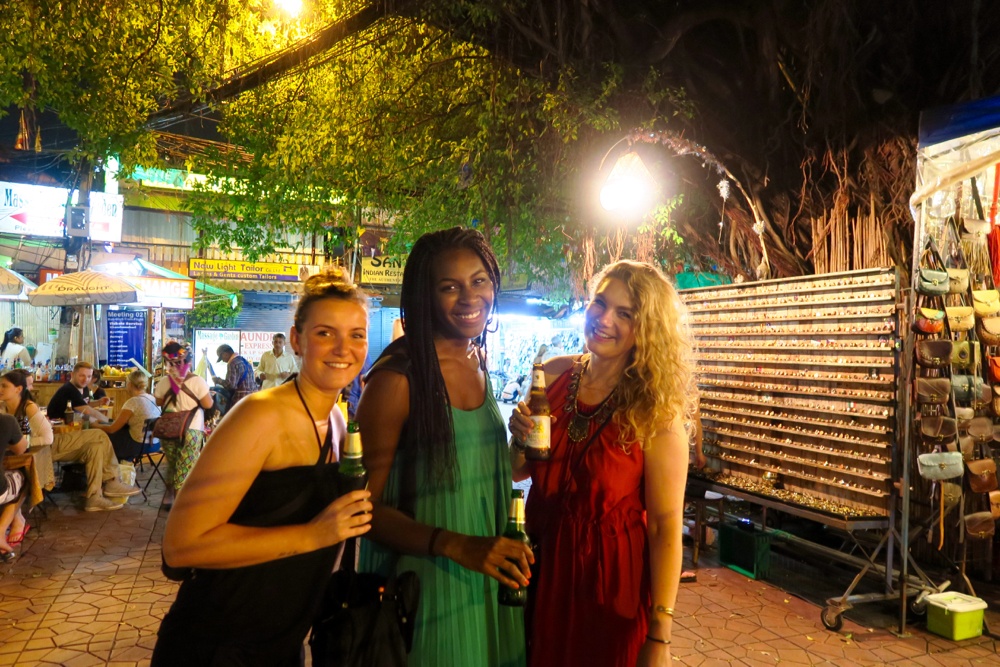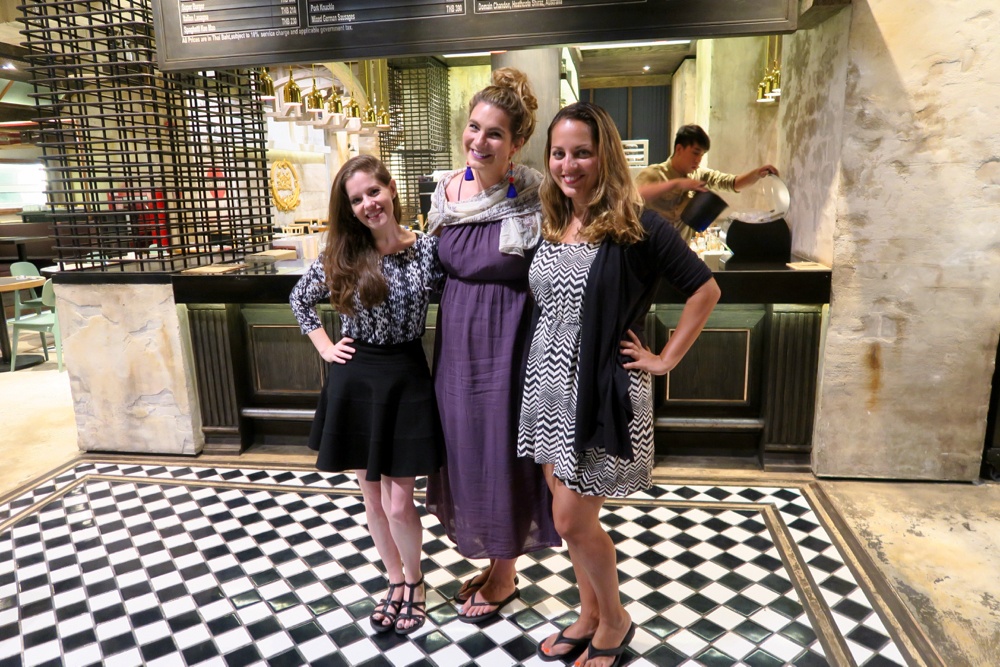 If you've read this blog for a while, you know that I usually favour dresses and skirts to trousers or shorts (but more on that in a minute). Dresses are especially useful in Thailand, as choosing loose, cotton ones will allow you to keep cool. There are tons of cheap dresses for sale in markets across Thailand, the best I've found being in Bangkok and Chiang Mai.
I'm pretty obsessed with this maxi dress as something that can be styled multiple ways; it would also be really comfortable while travelling on long buses. Like most, I'm also really into off-the-shoulder dresses right now, like this one. If not buying locally, I get tons of my beach dresses from ASOS, one of my favourite online resources for clothing.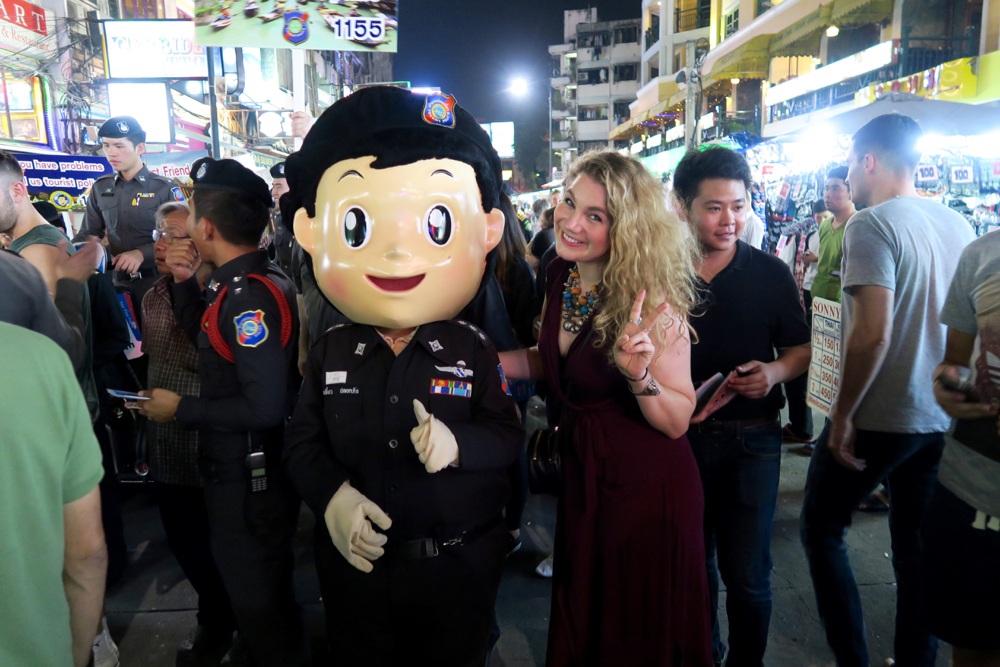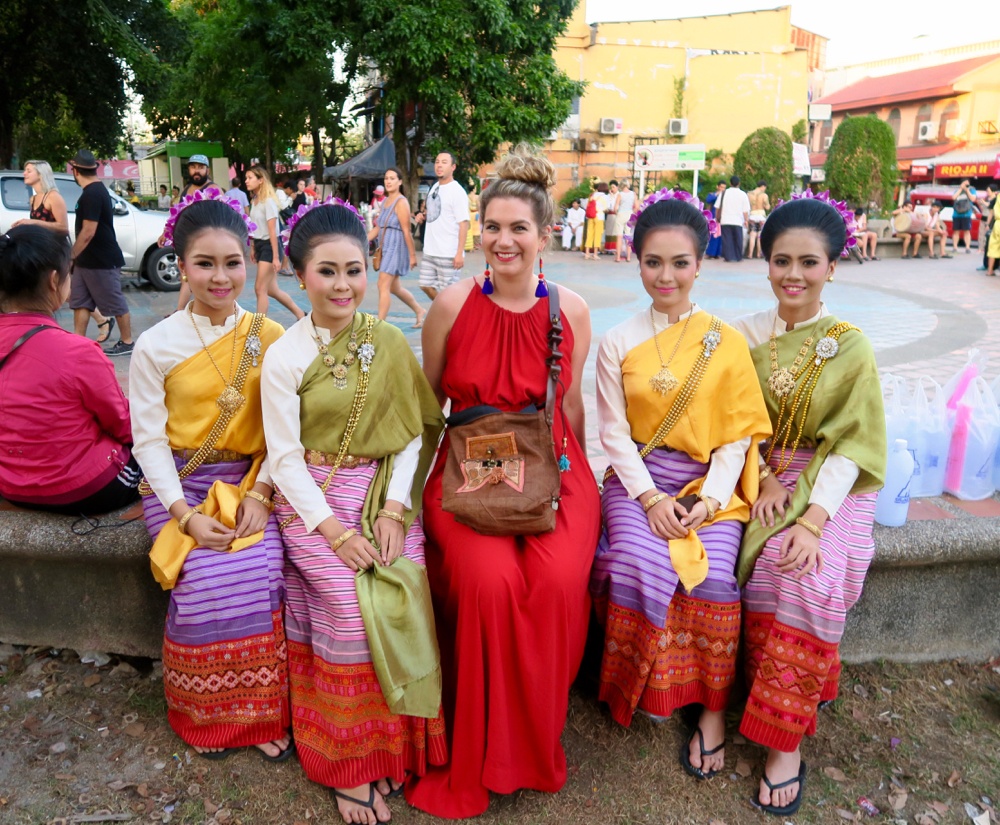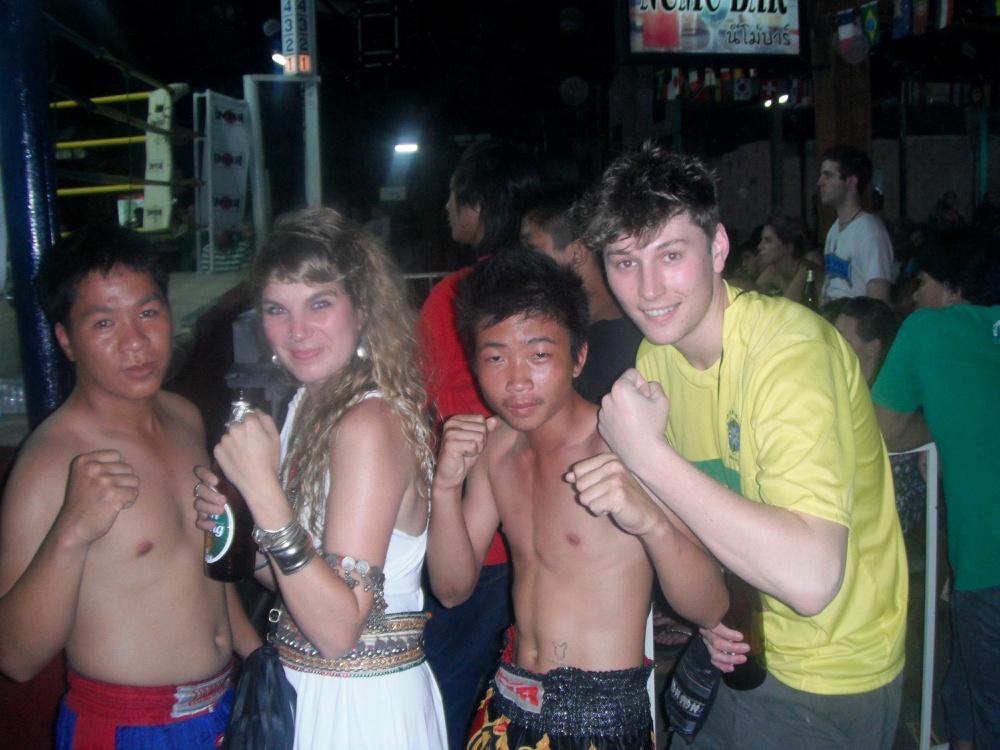 And as I just stated, I'm also a huge fan of skirts. When I travel in Thailand, I tend to bring a mix of long and short skirts, but always go for looser, lighter fabrics to keep cool.
If you're looking for a great maxi skirt, I'd go for something like this, which is super versatile and comfortable. If you want a bit more drama – c'mon now, we all like a bit of drama sometimes – I'd totally buy this skirt in a bold colour.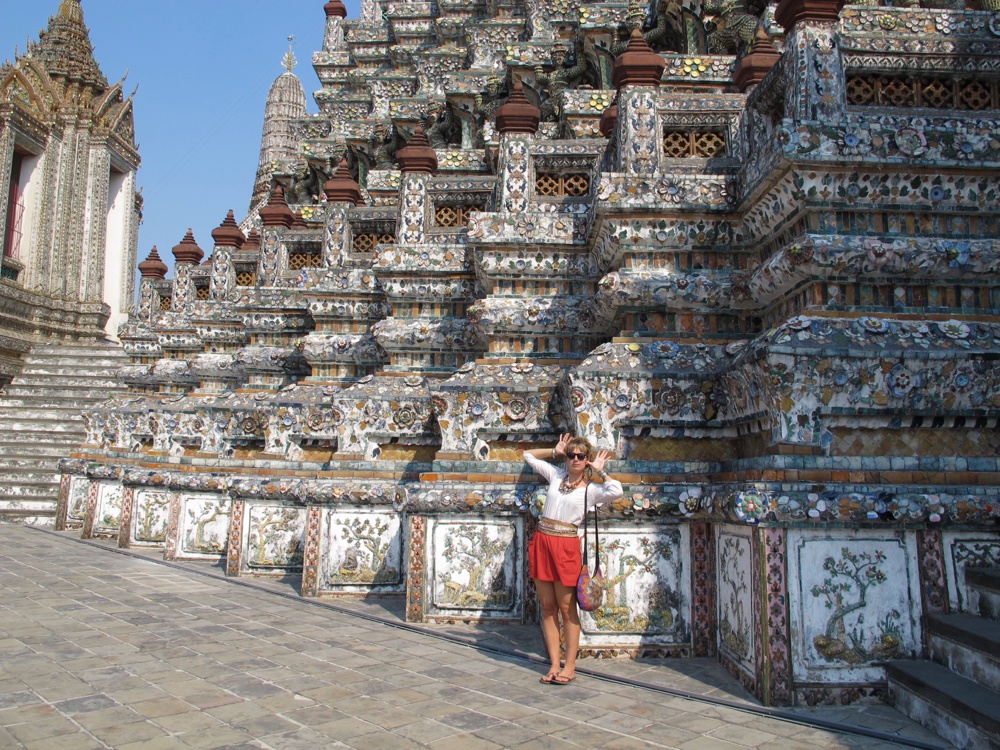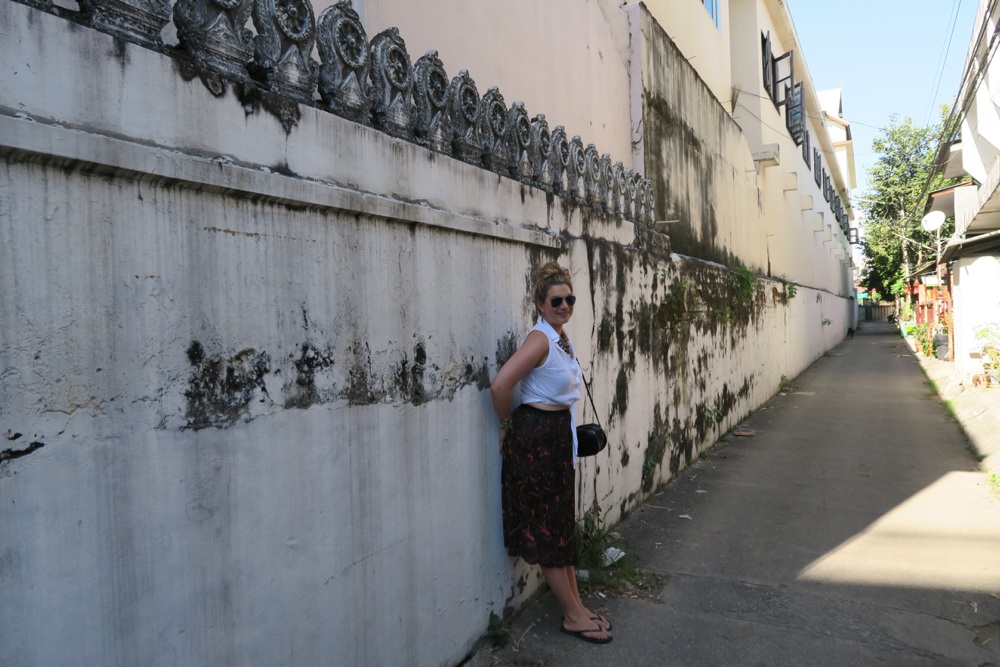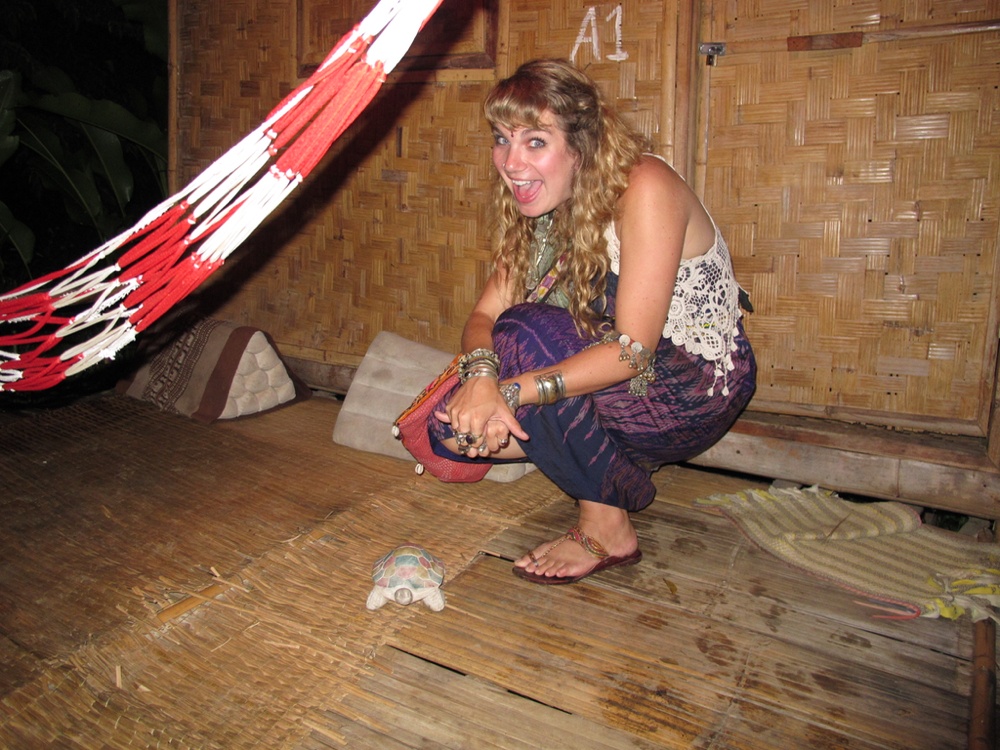 The only photo I have wearing a maxi skirt in Thailand and it's me imitating a turtle… wonderful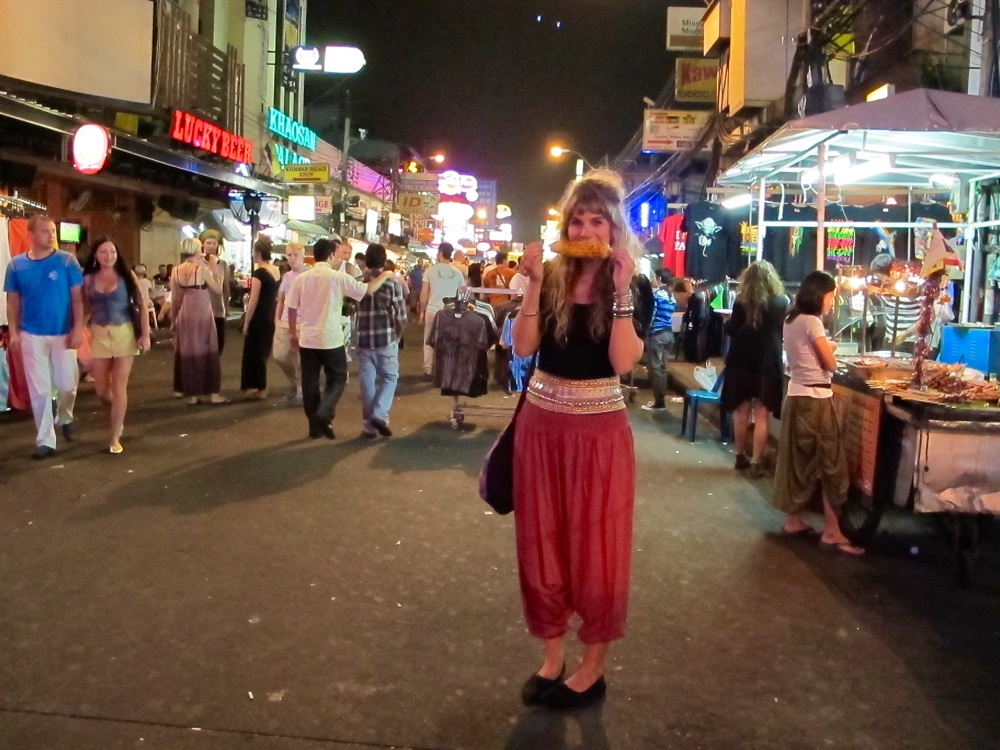 So remember what I said about not liking trousers that much? Full confession – I love harem pants, or genie pants. A lot of people knock them for being too "backpacker-y" (glad my MA in creative writing is paying off right now), but I think they can look really fashionable. They're also incredibly comfortable and great for staying cool, so what's not to love? I do recommend having at least one pair of trousers or something to cover your legs (I usually travel with a pair of leggings on longer trips to layer under skirts if necessary). Jeans are not the best option in Thailand – not only are they not very breathable, they'll take a long time to dry in the humid weather.
You can easily find some online before you go – I'd recommend taking at least one pair with you in case you don't find some you like in Thailand right away – and this kind are really great for travelling, too. If you dig the harem trouser look as much as I do, you will hopefully appreciate this harem jumpsuit, which can easily be dressed up or down. I'm in love!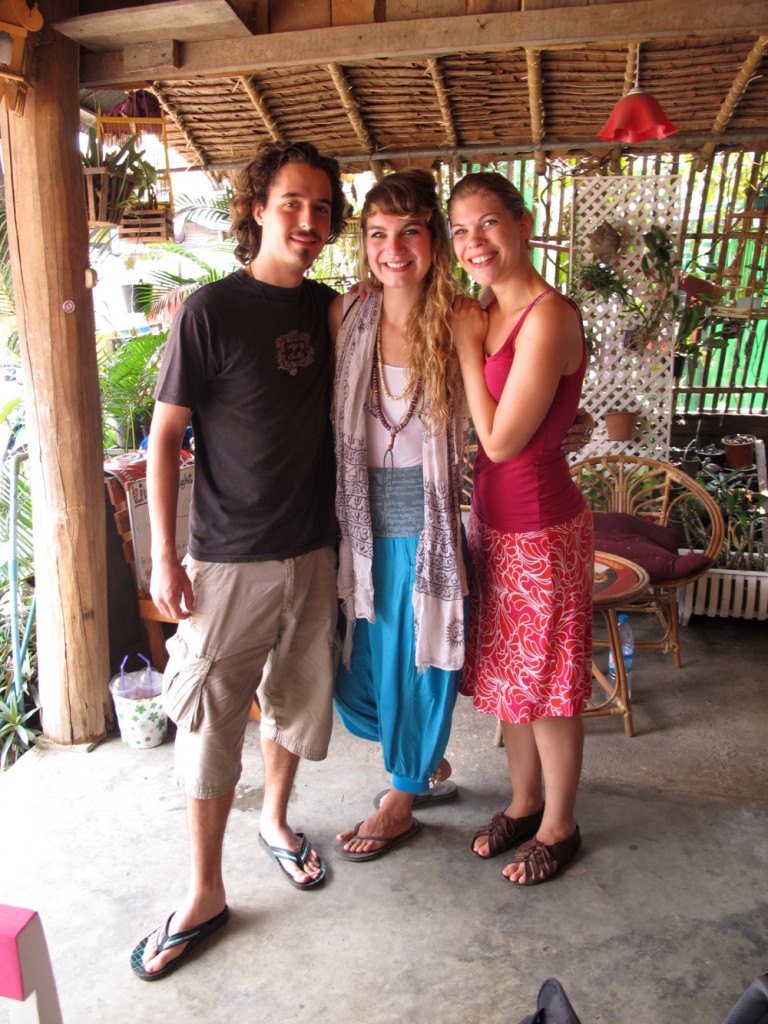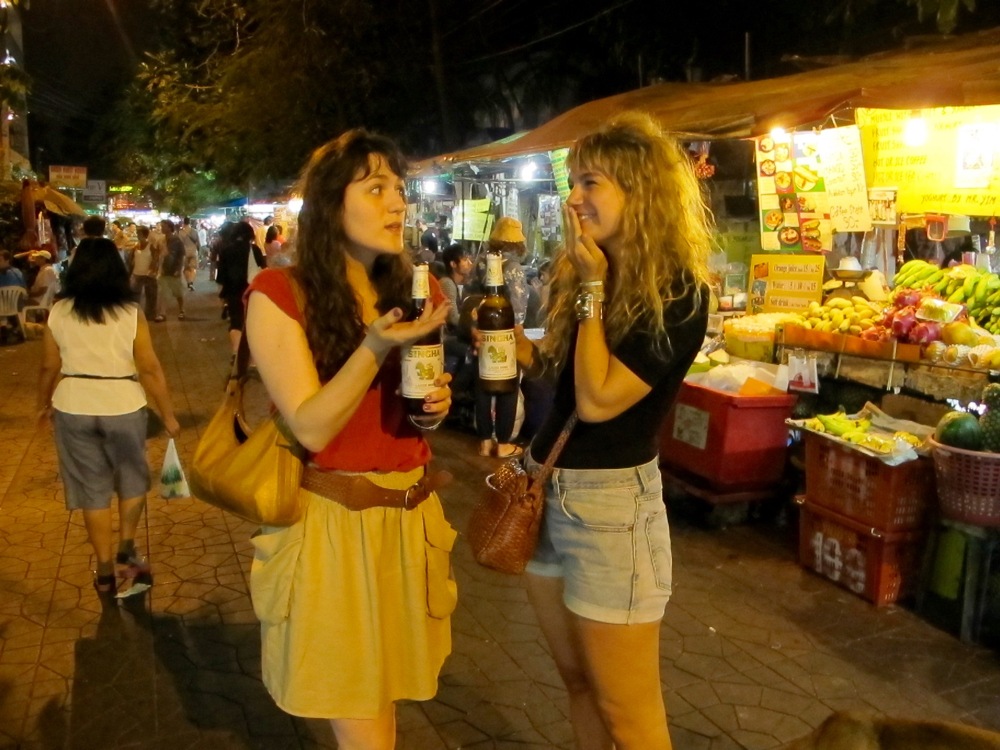 And as much as I bemoan shorts, I do admit that a good pair of denim shorts is a great investment to have in your travel wardrobe (though keep in mind, as mentioned above, they'll take a while to dry in the humidity). If I could find a cotton pair that I liked, I may be tempted to come to the dark side. A good pair of shorts is obviously needed if you're going to be doing a lot of hiking in Thailand.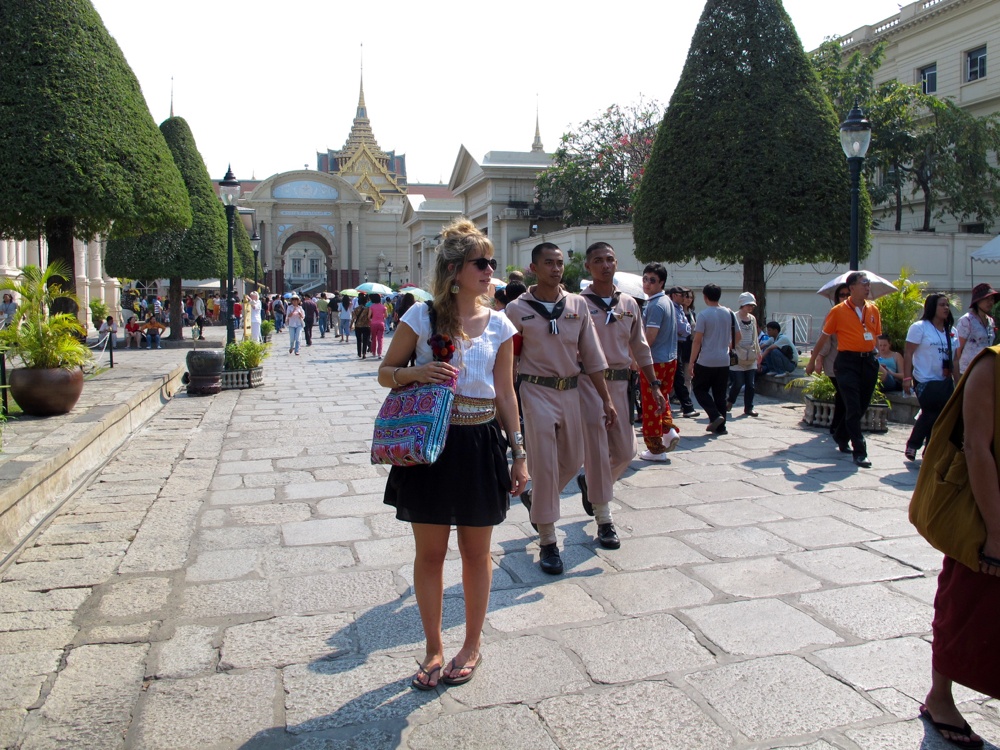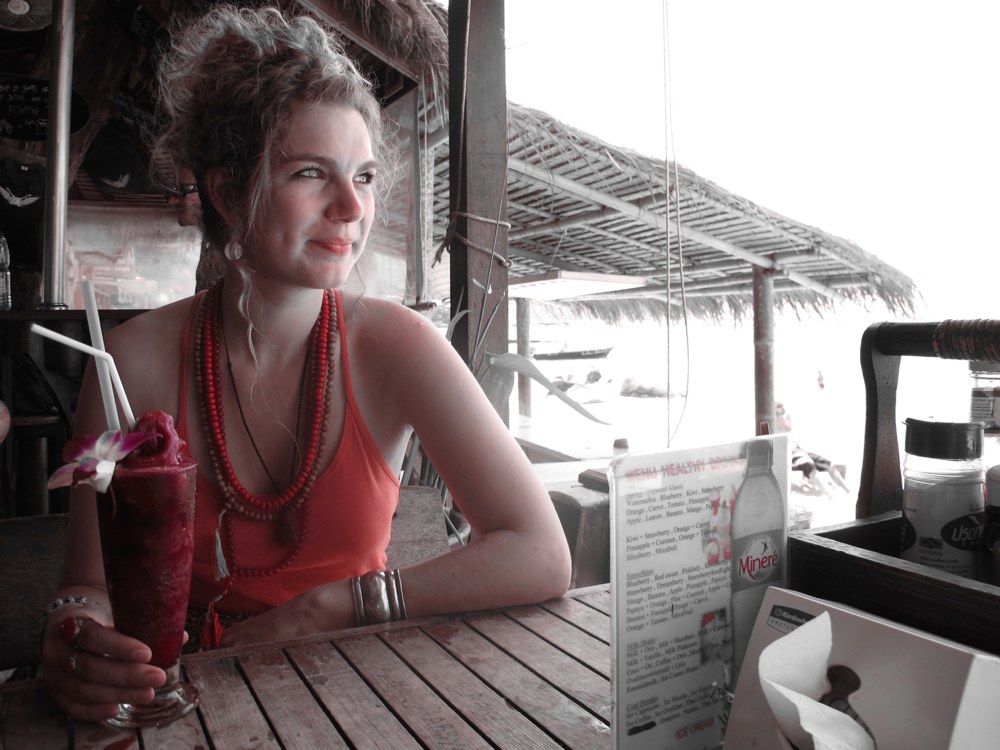 As it's most likely going to be roasting hot when you visit, t-shirts and tank tops are pretty vital items in your travel wardrobe for Thailand. Again, choose light, loose materials – I'm a huge fan of white cotton blouses, which you can easily purchase in Thai markets. If you don't want to leave it to shopping on the first day, I'd recommend a cotton blouse like this to get you started in Thailand. Super comfy and breathable, which is perfect for a travel shirt!
You'll quickly see the same shirts over and over again – think tank tops/singlets with beer logos, popular band imagery, or the infamous "same same but different" tagline – and hey, if you want to wear them, go right ahead. They'll definitely peg you as a backpacker, but in my eyes there's nothing wrong with that.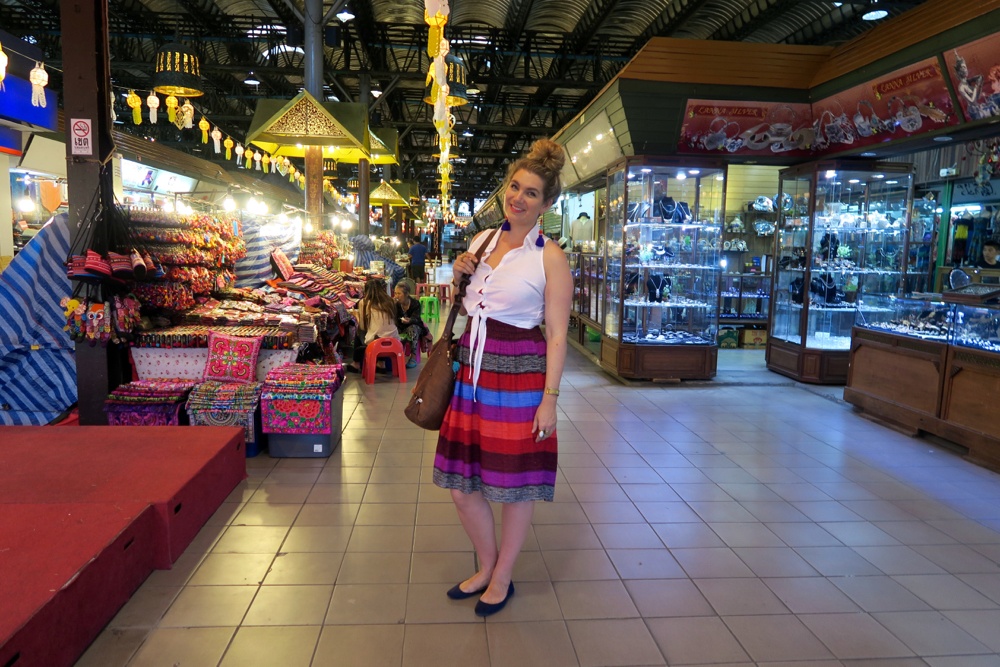 Blouse, dress, earrings, and bag all bought in Thailand. Sceptical face from Canada.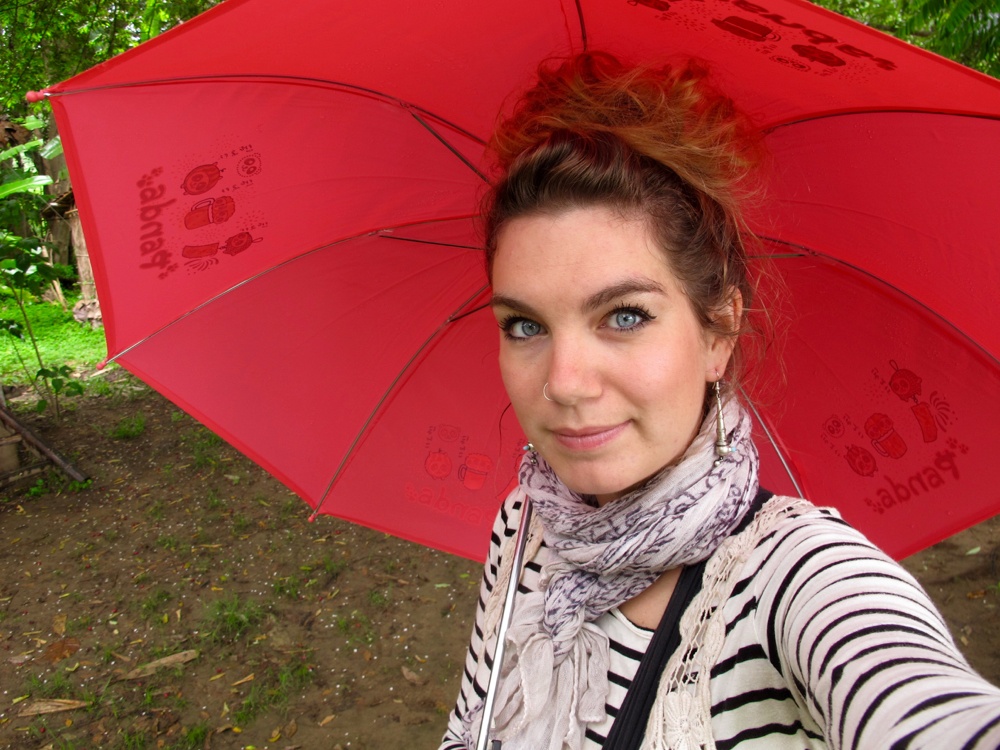 But even if temperatures will soar when you're there, there's still the chance of a rainy, cooler day (especially if you're up north or there for rainy season). I love long-sleeve tops and blouses for layering when it's not as warm. Striped t-shirts are a huge favourite of mine, as I find they always make me feel fashionable even if I'm living out of a backpack or suitcase.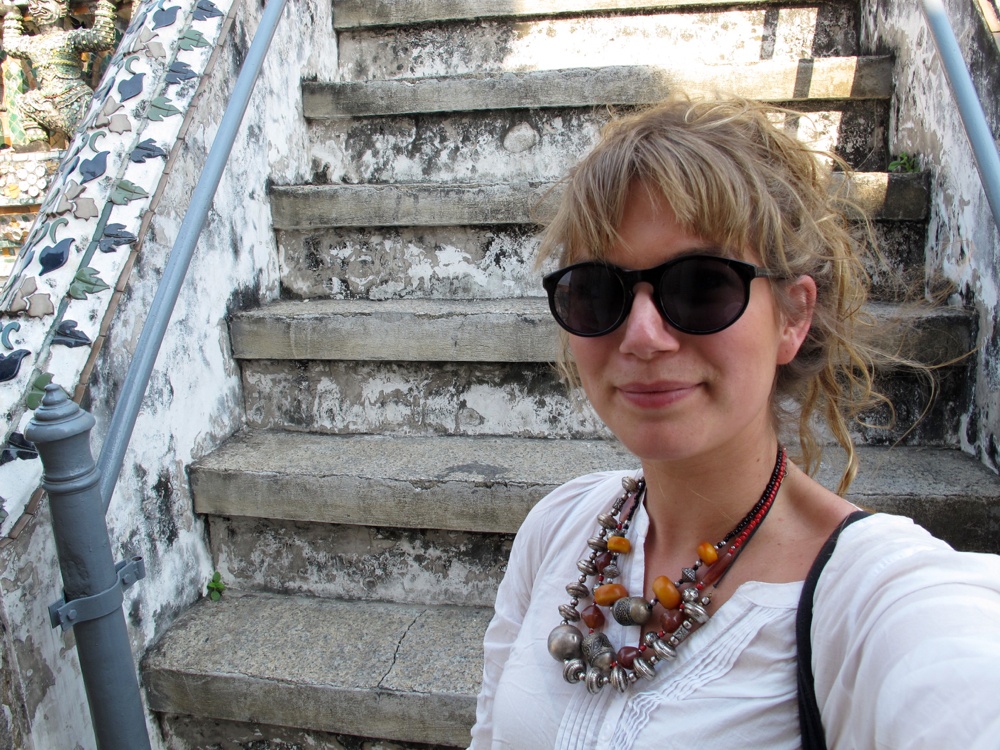 Long-sleeved cotton blouse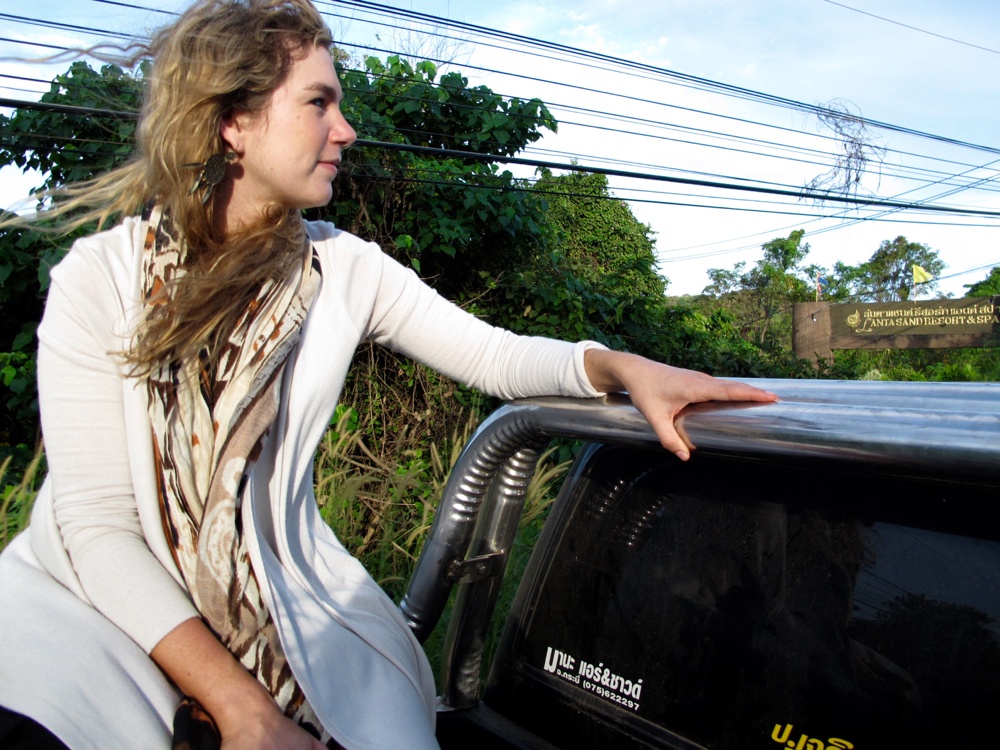 Similarly, I'd recommend bringing a long cardigan (early mornings, late nights, ferries, and buses can all be really chilly) for warmth. I also always travel with a denim jacket, no matter where I go. While the "boyfriend" look is currently in for denim jackets, I prefer a cropped, classic look over maxi dresses to give me some shape.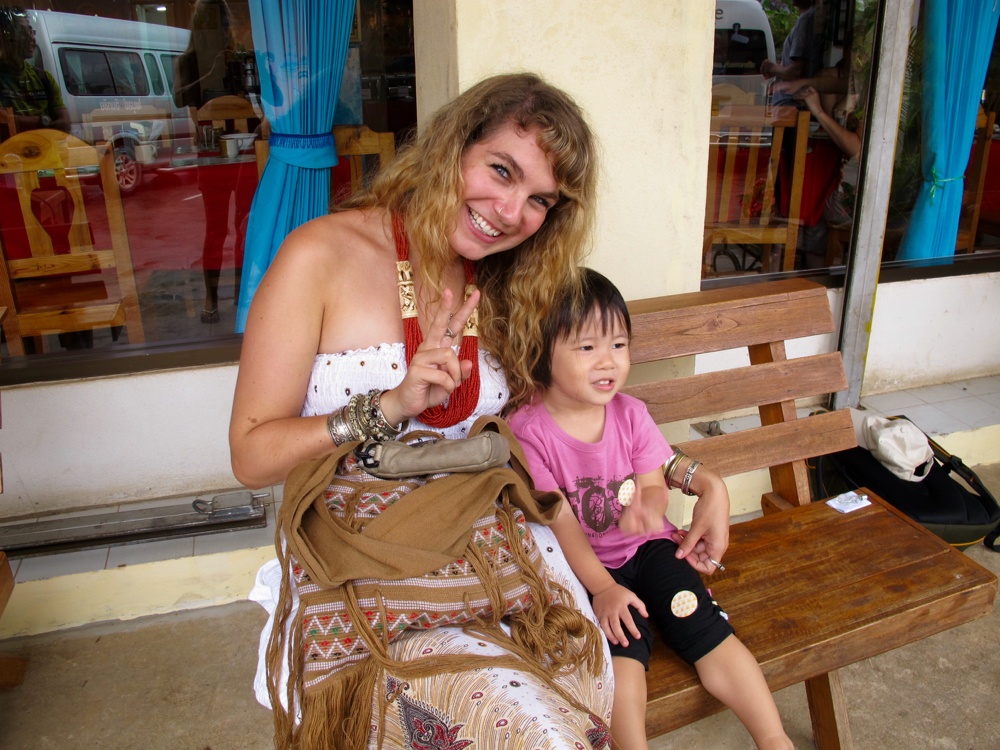 It's always important to have a comfortable handbag or daypack when you travel, one that's big enough to hold everything you'll need for the day. I personally go for locally-bought bags, but they have failed me in the past by ripping easily, so it may be better to bring something more reliable. I think the key thing is a long strap that can be looped over your body; unfortunately bag snatching and pickpocketing does occur in Thailand, so always be mindful of your belongings.
If you want something much more secure and durable, this Pacsafe anti-theft travel bag is ideal. I'm a big fan of Pacsafe stuff – totally worth the investment.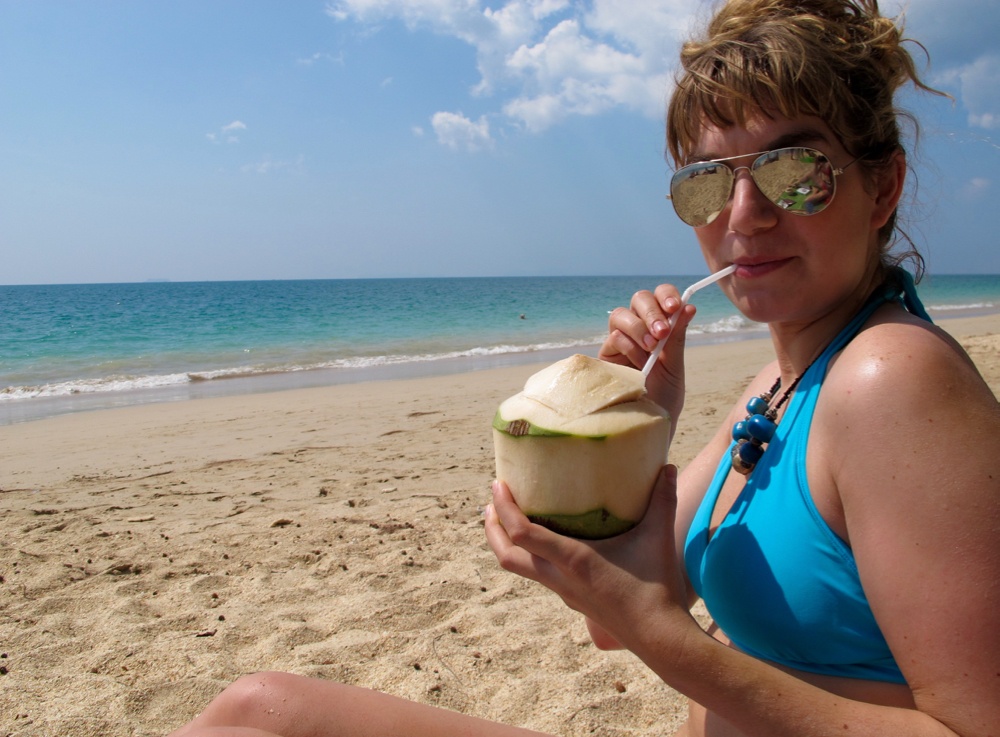 You'll need sunglasses, obviously. I say obviously but I always seem to forget to pack them myself. You can buy plenty of cheap knock-off pairs in Thailand, but be warned that you get what you pay for.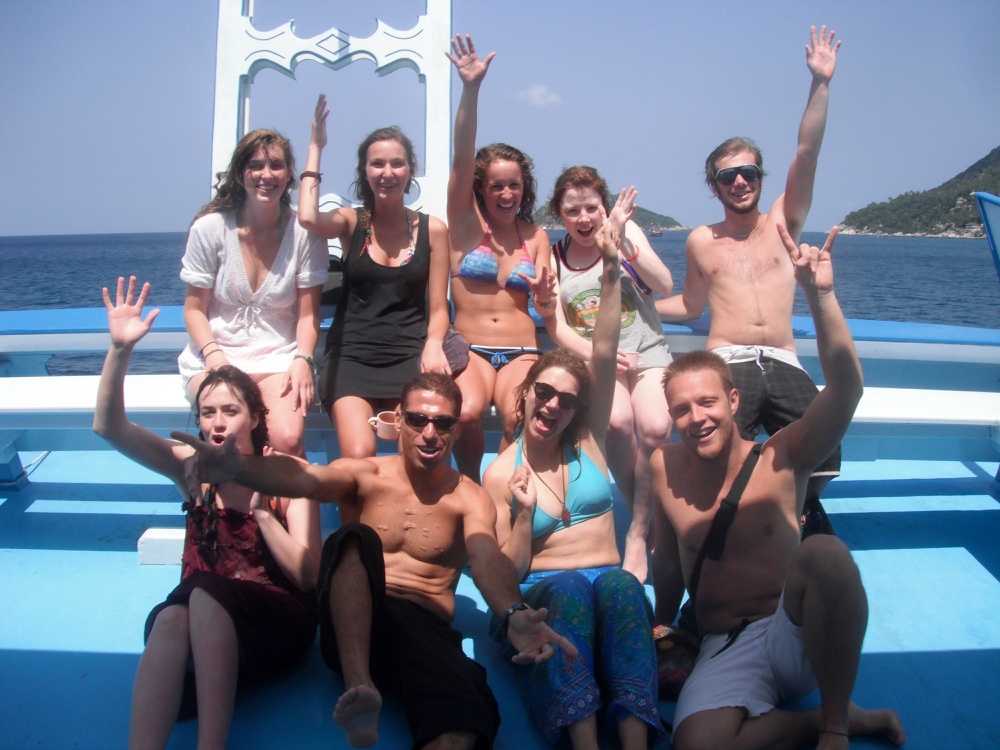 And, of course, if you're planning on going to the beach you'll need a bathing suit. I recommend bringing two pairs if you're spending a lot of time near the water, just in case something happens to one (case in point, I had that same bikini in purple until a ladyboy stole it from me… very long story), one is still wet from the day before, and so on. I'm about a size 8-10 in Canada (12-14 in the UK), and I found it difficult to buy a bathing suit that fit me in Thailand, so keep that in mind.
Also, one note about bathing suits… don't go topless in Thailand. Again… I'm all for women doing what they want to do – #freethenipple and all that – but it goes against cultural norms in Thailand, and is seen as disrespectful. Similarly, wearing a bikini top into town with nothing else covering you can also be seen as disrespectful.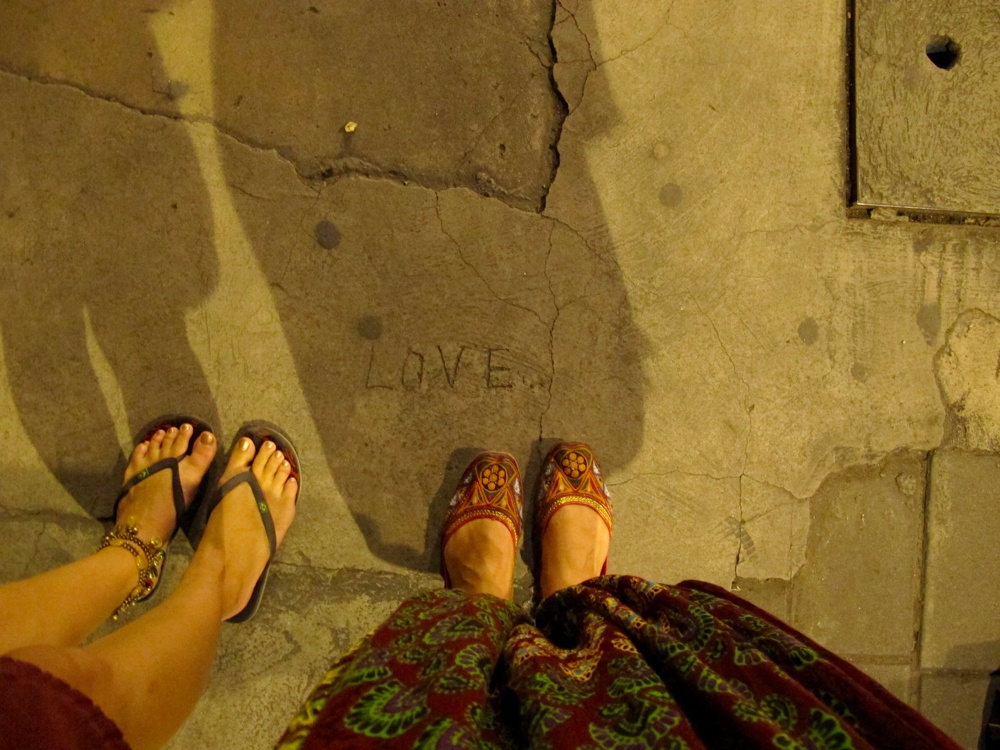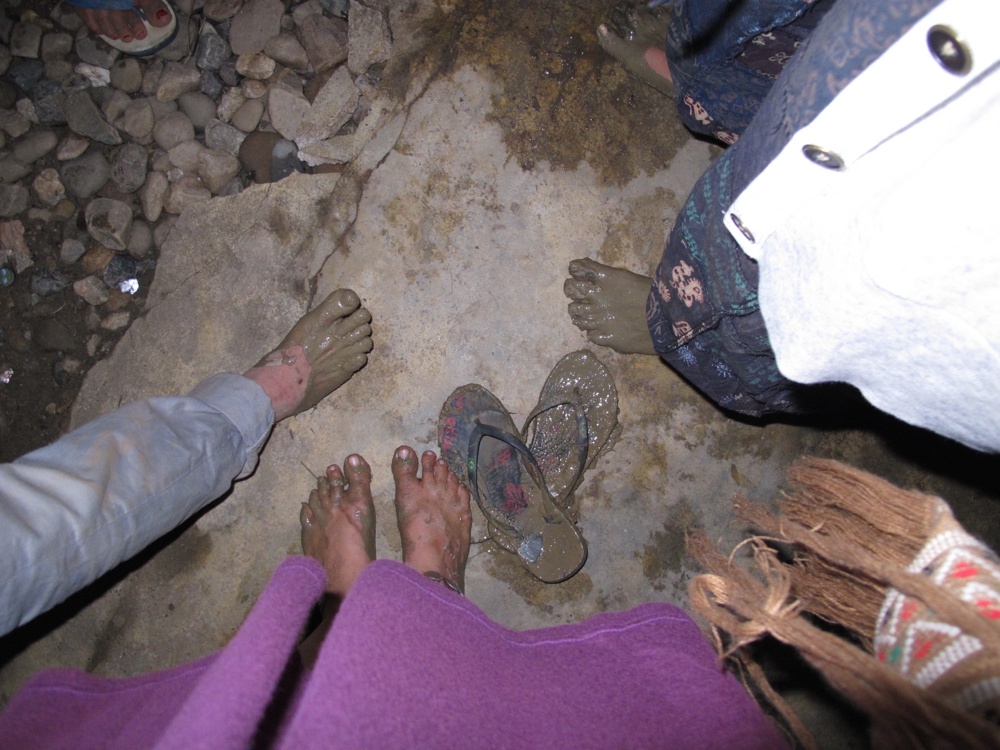 You're obviously going to need shoes in Thailand, and I recommend having a minimum of three pairs: a pair of trainers (I travelled with Keds in 2011 and Nikes in 2015), a pair of sandals that you can wear on a night out if need be, and a pair of flip flops (see above for why… if you're on a beach or travelling in rainy season they're a necessity). I'd also recommend bringing a pair of flats if you're so inclined, and good hiking boots if you plan on spending a lot of time trekking. You'll need to take your shoes off when you go inside most buildings, including temples, hostels, and even some restaurants, so don't bring anything too complicated to take on and off.
Now I swear by Naot sandals when I travel; they're pretty cute, and they're super comfortable, so you can wear them as both a walking shoe and when you go out at night. I really wish I'd had these sandals when I was in Thailand previously.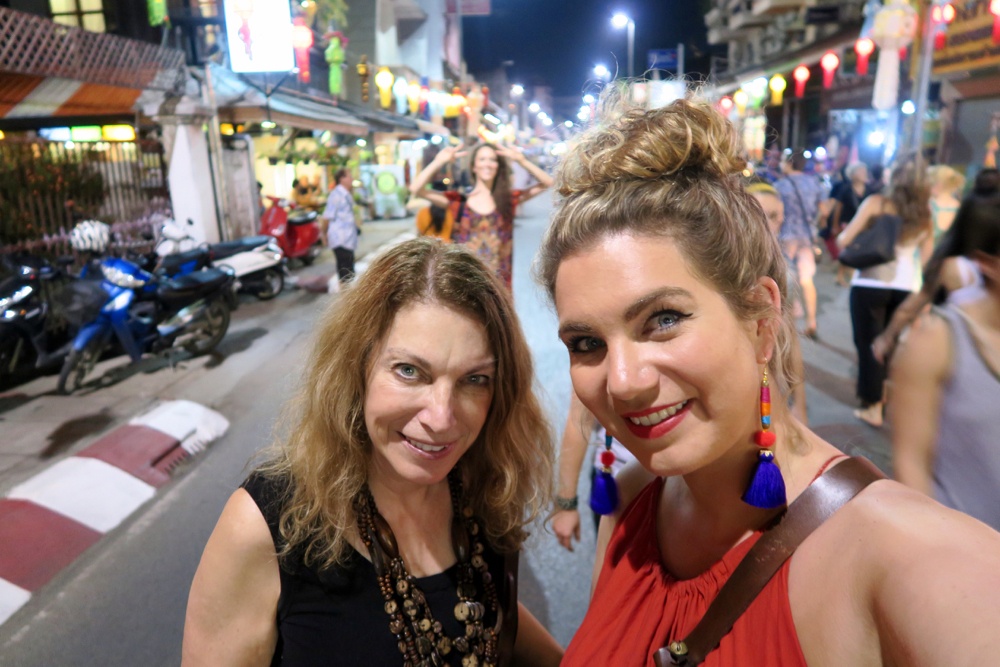 Earrings bought in Chiang Mai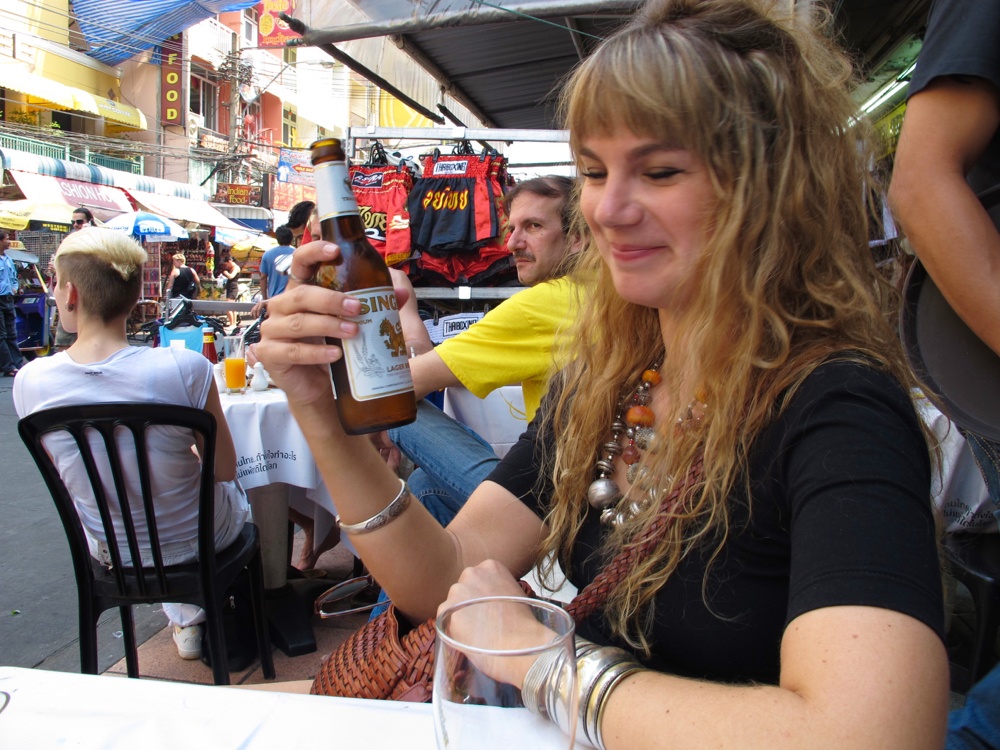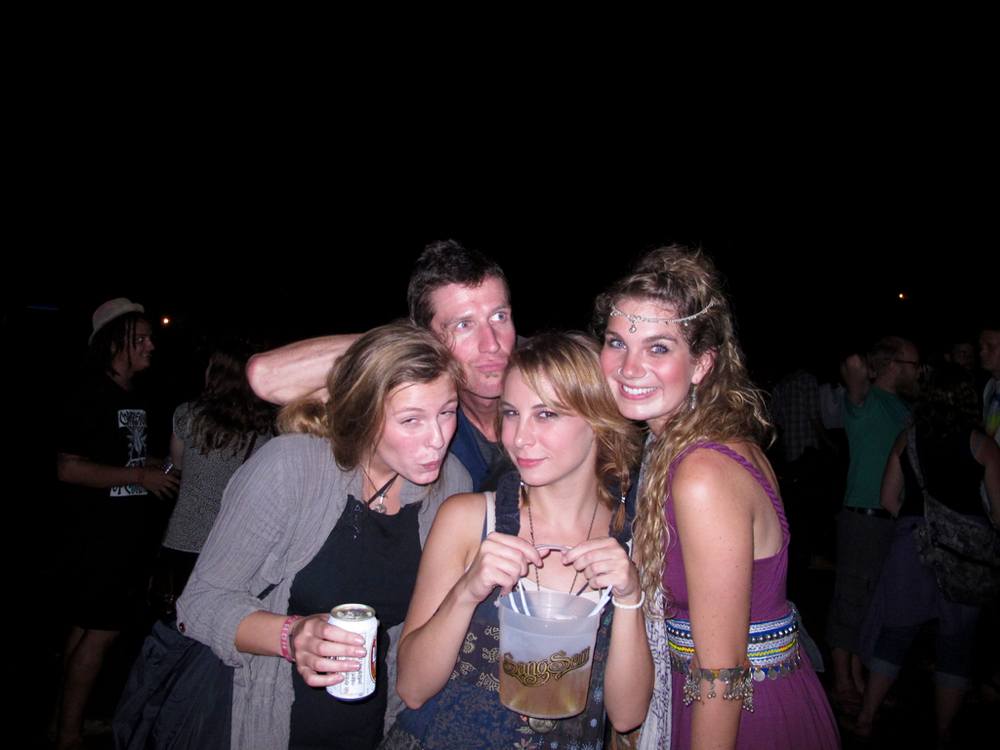 Yeah, that guy's totally staring at the necklace I was wearing on my head. Keep in mind this was in 2011, before it became normal to dress like you're always on your way to Coachella. Hey, at least I tried. 
You didn't think I'd write a post without mentioning accessories, did you? If you know me you know I'm like some super-hybrid of a magpie, Mr. T, and a fortune teller from the turn of the century. I LOVE accessories, from earrings to necklaces to bracelets to rings, and I swear half my carry-on's weight is due to my jewellery. If you're like me, Thailand is a dream come true… there are TONS of market stalls that sell cheap jewellery, whether you're after beads, silver, brass, and so on.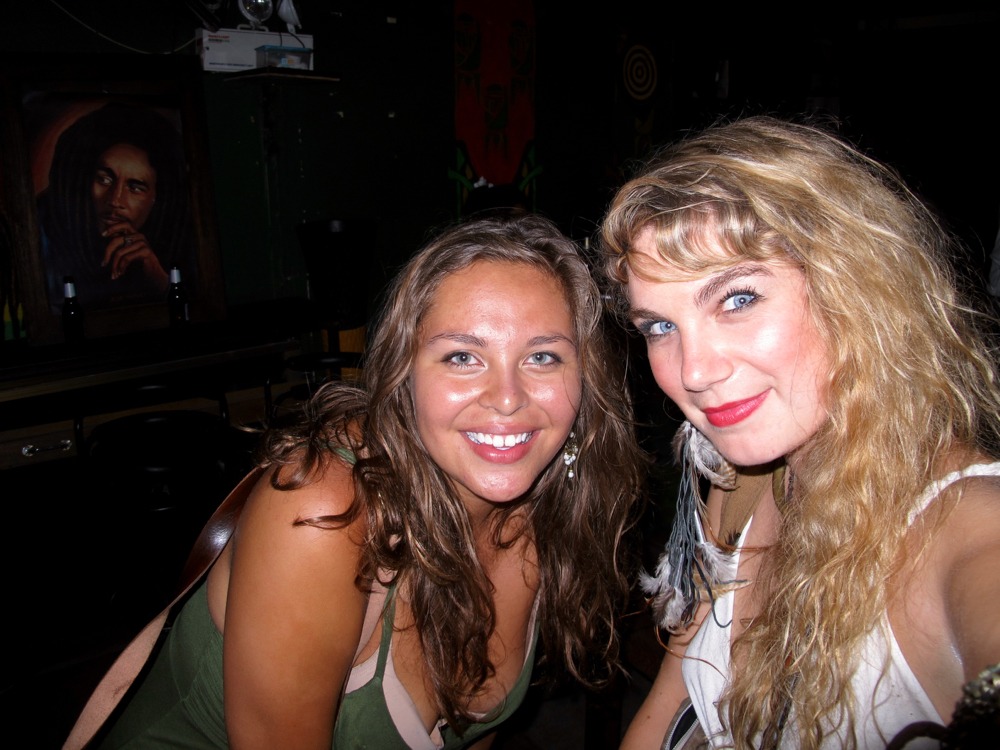 Another thing that I'm asked about from time to time is makeup. I personally bring a full make-up bag when I travel, including lots of shades of bright lipstick. While you probably don't want to wear anything too heavy on your face while in a hot climate (I would sweat that off in a heartbeat), I personally felt great in waterproof mascara and eyeliner, bronzer, and lipstick. It's amazing what a bright lipstick can do for your travel wardrobe, especially if you've been wearing the same clothes for weeks or months.
In other words, if you wear makeup at home, it's totally fine to wear makeup in Thailand, too.
My biggest makeup tip? Get a great eyeshadow primer so that your eye makeup lasts all day and doesn't sweat off. Seriously, finding this stuff was a game-changer. My favourite is Urban Decay's eyeshadow primer, and one tube tends to last a full year, so it's a worthwhile purchase.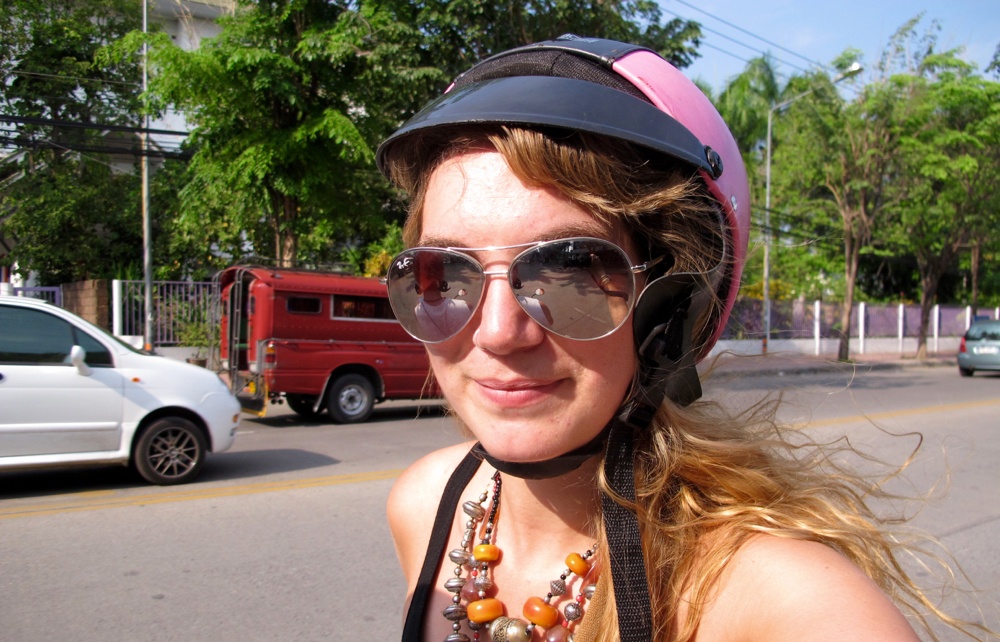 And of course, if you're riding a motorbike, make sure to wear a helmet! Far too many people get injured while riding motorbikes in Thailand (I actually cringe at the fact that I was wearing a tank top on this particular journey) and so it's important to be as safe as possible.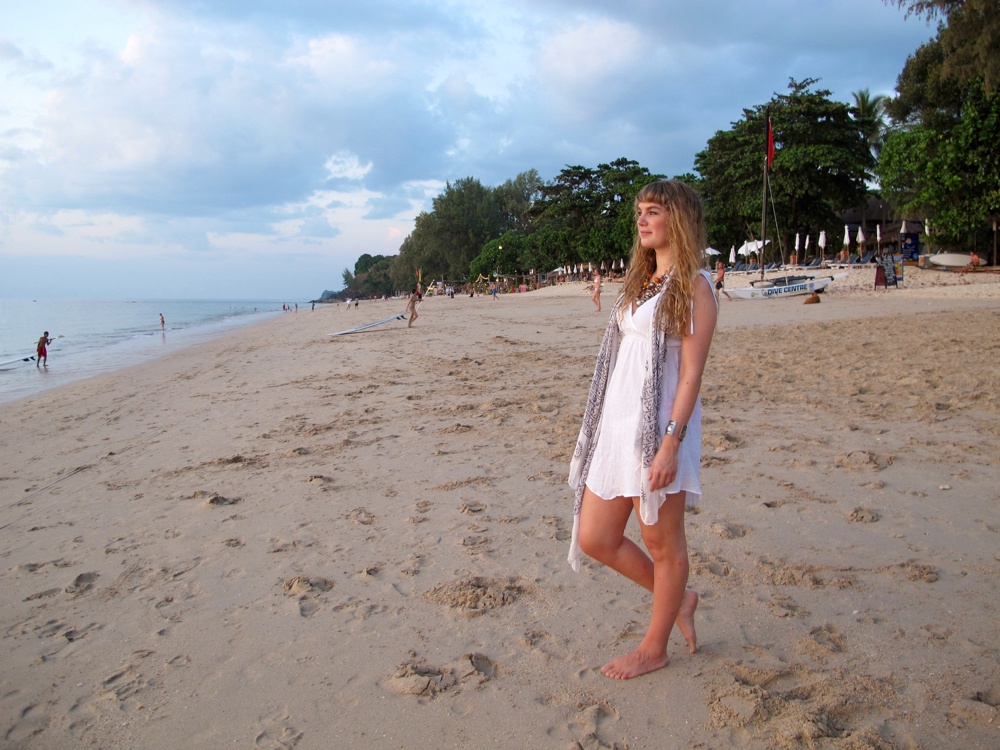 So there you have it – what to wear in Thailand. Although I was often on a backpacker budget, I like to think that I was still able to dress with a semblance of style (cue laughter from everyone reading). If you're going to be living and working in Thailand, I'd obviously recommend bringing more work-appropriate clothing, depending on what you'll be doing, but this is a rough guide for those who will be visiting as tourists. Also, if you're going to be attending Songkran (the new year water festival), I recommend bringing or buying cotton clothing that can dry quickly, and that you won't mind getting ruined. The same goes for attending a full-moon party – don't wear something you would hate getting destroyed. Beach + buckets of alcohol + day-glo paint is a recipe for a ruined dress (take it from me).
For more tips from someone who actually lives in Thailand, check out Alana's post on what to wear in Thailand.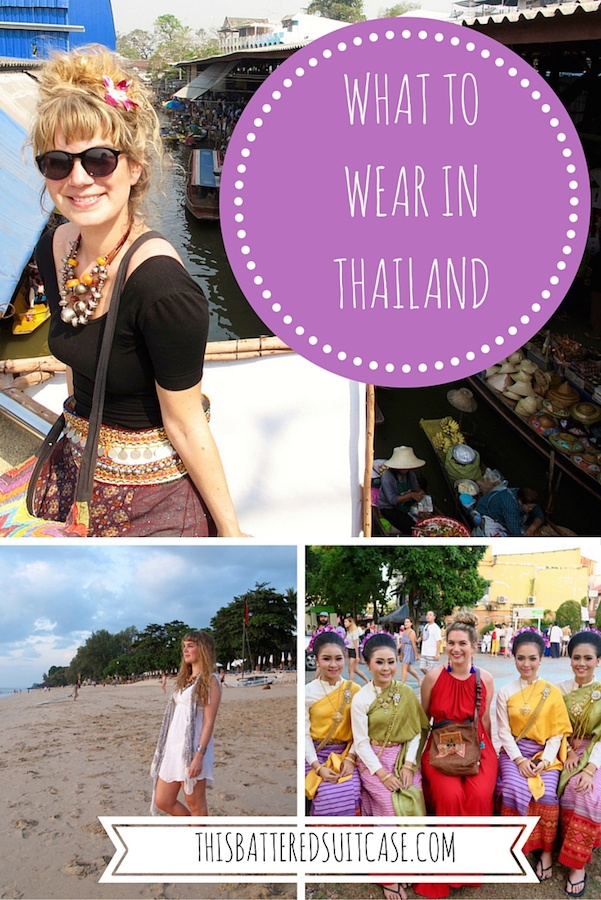 So, what do you think? Have you been to Thailand? What did you wear there?
For all of the what to wear posts, click here.