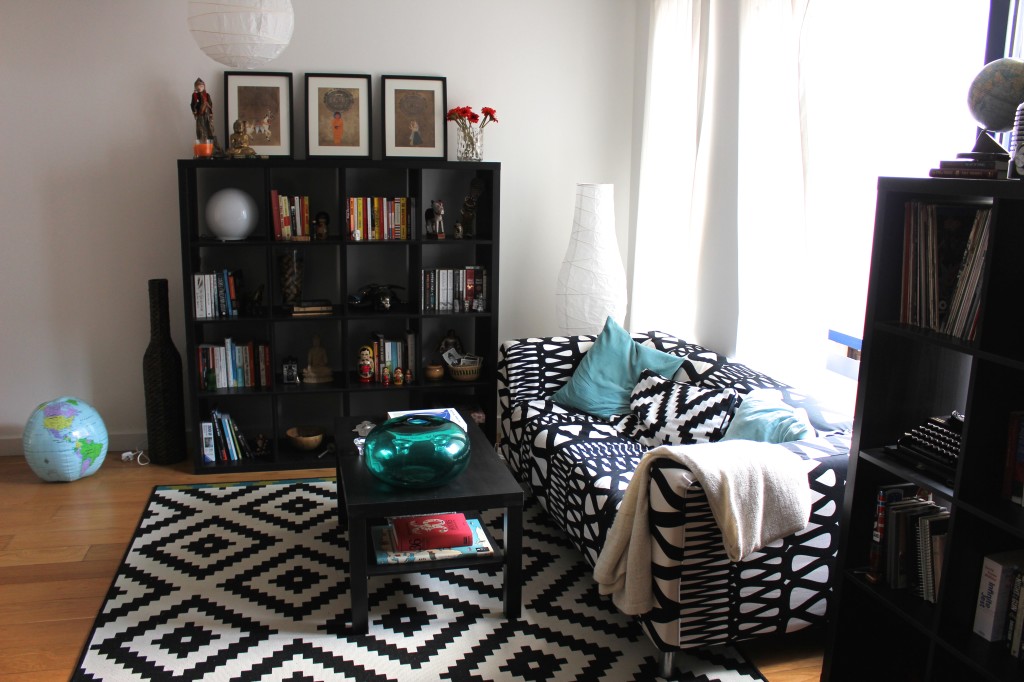 My flat in London, England
I am a total packrat, and I shop too much. This is a terrible combination, especially as someone who travels a lot. If you have been following this blog long enough, you may remember a few posts I did on the house I own in Canada (here, here, and here) – I have never been one to hide the fact that I love buying things while I'm abroad. I'm always the one with the backpack that's too heavy, but hey, I'm really good at haggling now. I've never met a market I didn't love.
The thing is, I don't really spend that much money on things I buy. I can only think of a handful of items that have ever cost me over $20 Canadian dollars (about £12). And while the little things can certainly add up, I always budget for souvenir shopping. I have also never lost a box or parcel (knock on wood) when I decide to ship a batch of souvenirs home if I'm on a longer trip (read here how easy and cheap it is to ship a box from La Paz, Bolivia). There are a few things that I consider to be really, really cheap souvenirs, though, and I find them incredibly easy to collect. Some of them cost nothing at all, in fact. And I absolutely love souvenirs – I really think they make a place feel like a home, and I love being surrounded by things that remind me of my travels. Some may call it materialistic, I call it sentimental. Without further adieu, here are my favourite cheap souvenirs to collect.
1. Wine corks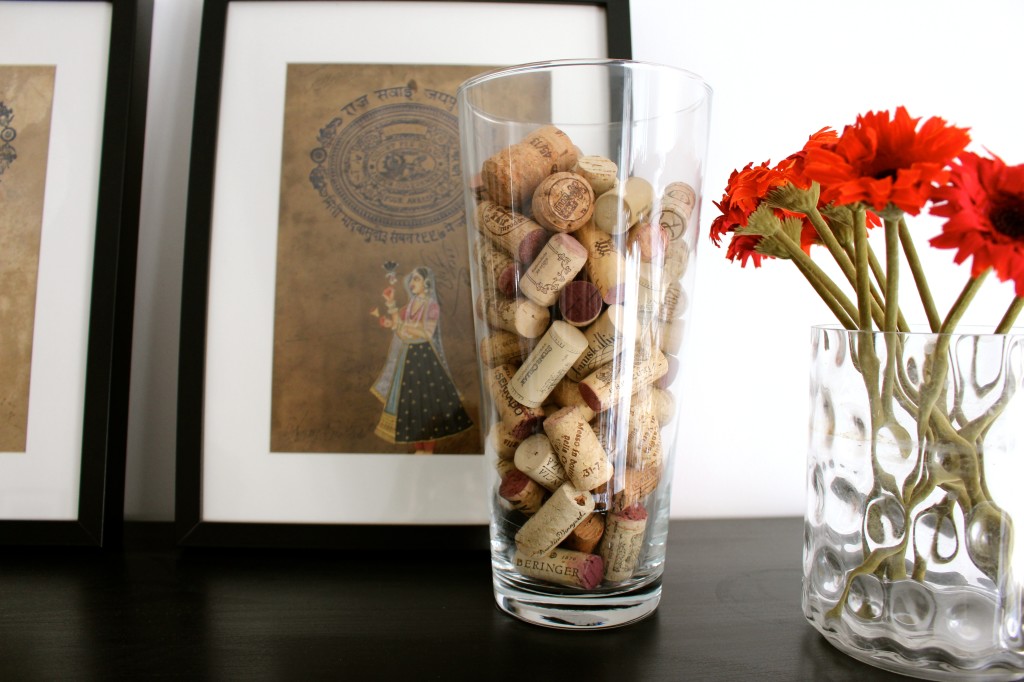 I love wine. And with more and more companies switching to screw top bottles, corks are becoming rarer. I put a bunch of corks I've collected over the years into this glass vase, and I really like how it looks. A great thing to do (I don't always remember to do it) is to write the date, the place, and the people you were with on the cork as a great memory. If you're going to pay for a bottle of wine, you may as well get a free souvenir out of it, right? Plus, I think it looks pretty cool.
2. Vintage Photographs
I've collected a ton of photographs from around the world, mainly Germany, Turkey, Russia, Peru, Lithuania, and Iceland. They are scarily easy to find (go to any antique market). I say scarily because part of me feels really sad that these photographs are for sale, that someone's entire life and memories are sold out of a shoebox for a few cents a piece. I try to look at this collection as reviving those memories; better that they are in my possession than thrown away. Plus, you often get amazing pieces of history in your hands: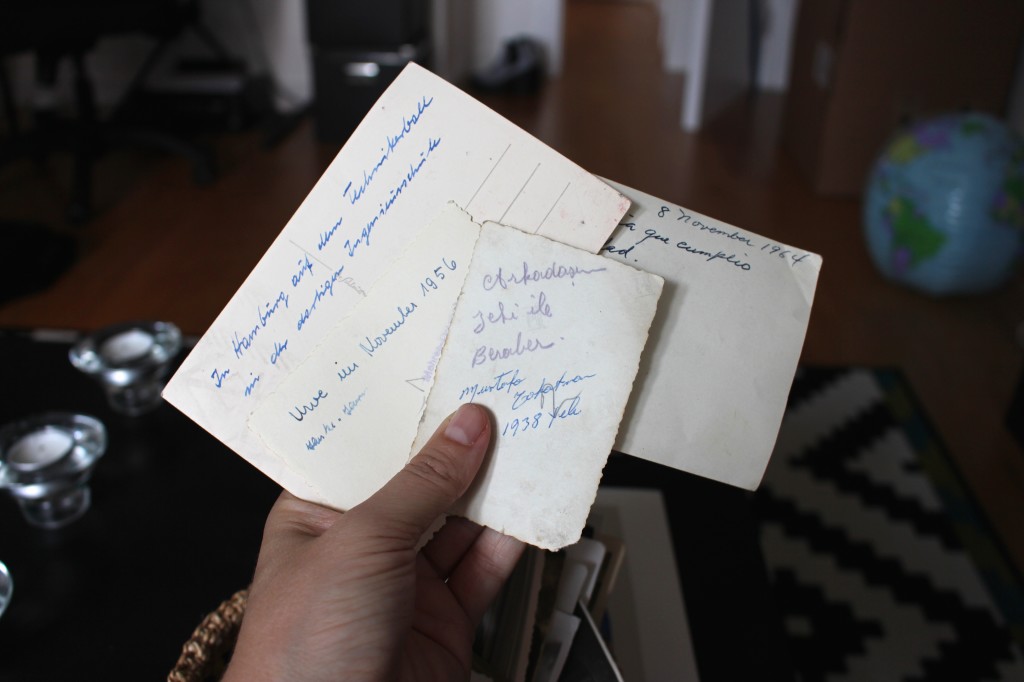 So often the photos have names, places, and dates written on the back. I would love to try to track some of the people down one day if I a) knew how to do that and b) didn't feel slightly creepy doing that. Click here and here to see a few other photographs I've collected over the years.
3. Coins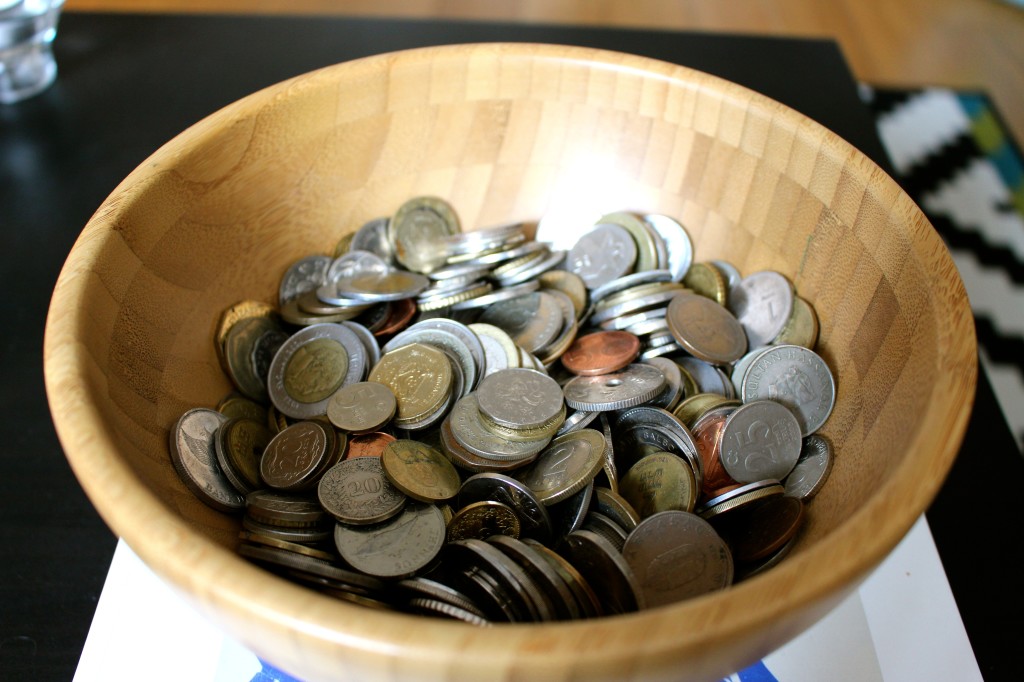 Again, this is souvenir that really doesn't cost that much. You can simply throw your remaining change into a bowl when you get home from your travels, or, if you're like me, immediately start saving one coin of each domination as soon as you arrive so that you can get the whole set. I have tons of coins (this is only about a third of the collection) and I am just crazy enough to also save paper currency. I didn't bring that with me to London because I still don't know what to do with it, and I also thought customs might think something weird was up if I arrived clutching a massive wad of foreign cash that really didn't amount to much. One day I plan to do something with this money, frame it or glue it to a table or something crafty, but for now I just like how it looks in a bowl. Bonus: coins change all the time (I have a lot of pre-Euro European stuff) so some of it may be worth something someday!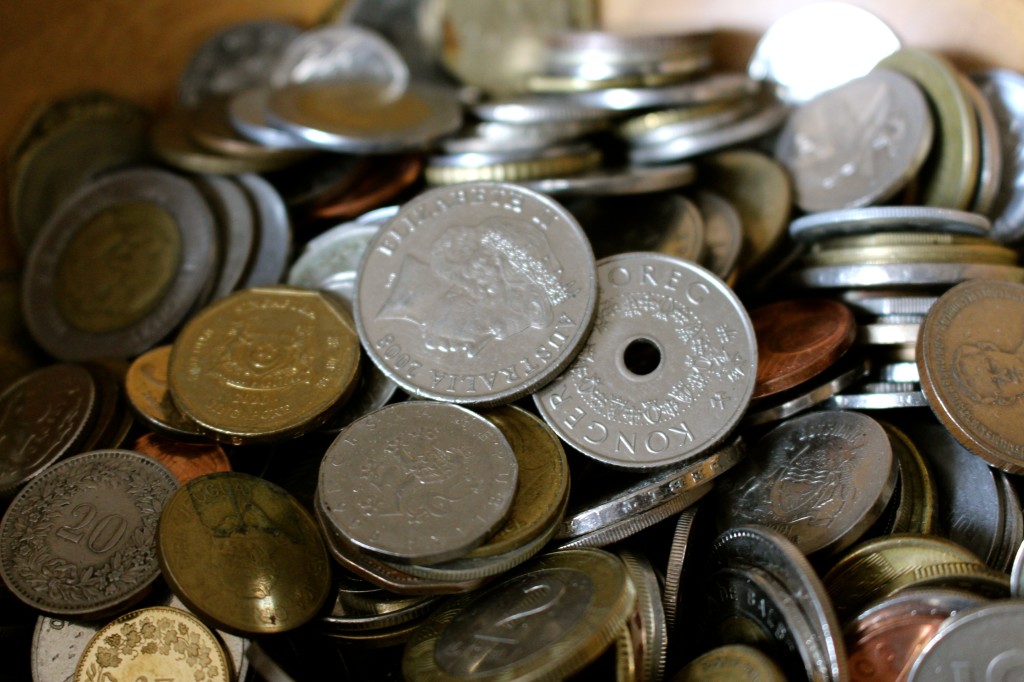 4. Jewellery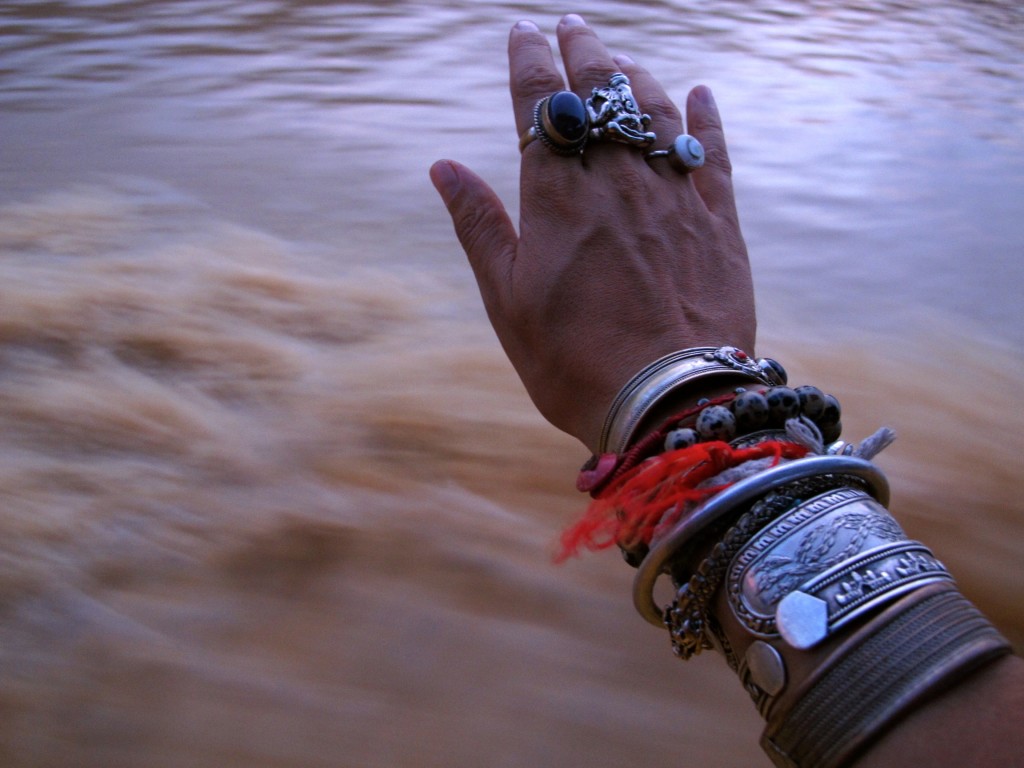 My arm in Siem Reap, Cambodia (yes I wore all of this every day)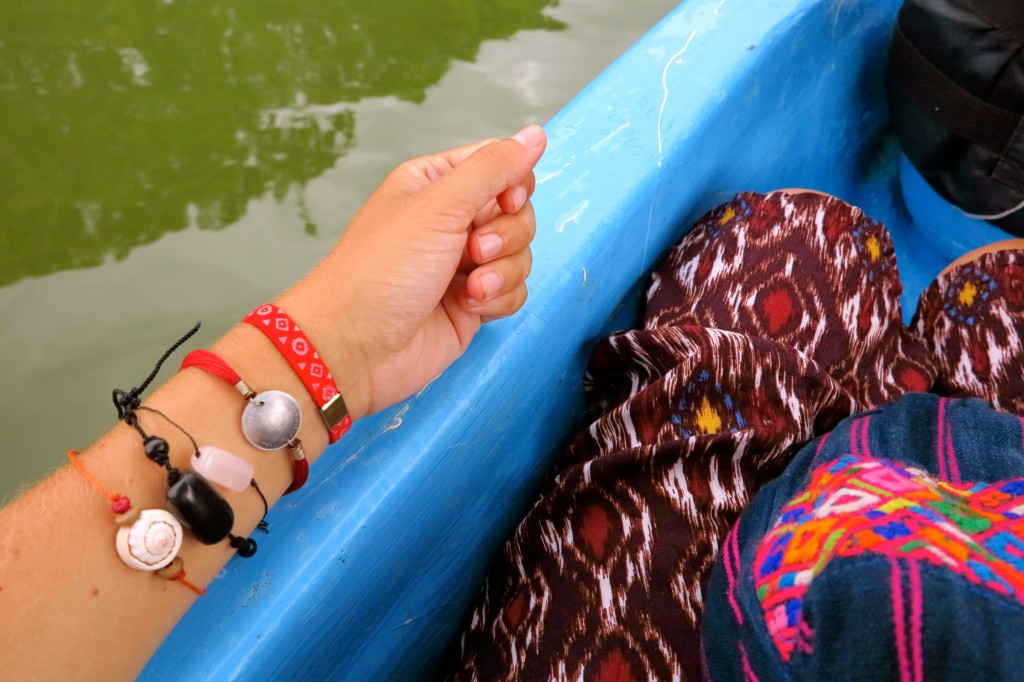 My arm in Granada, Nicaragua
I am obsessed with jewellery. I am almost never without some form of it on my body; at the moment I wear five brass bracelets on my right wrist that I never take off. Wherever I go, I usually buy something (or a lot of somethings) local. I find many benefits to these purchases. Firstly, they look nice… provided you're not a minimalist and, like me, strive to be some strange hybrid of Mr. T and a fortune-teller from the 19th century. You know that rule of "proper ladies": before you leave the house, remove one accessory? Well, I always add at least three more. Secondly, they make for great conversation starters with other travellers and with locals. And thirdly, they are so much fun to take home and wear! I often get dressed with one of the pieces I've bought abroad as a starting point. It makes me so happy to wear these little reminders of my travels. When you're not wearing them, you can also hang them on a wall or display them somehow. Another bonus: jewellery is so much cheaper when you buy it locally. I have bought silver rings and earrings for $5, and bought more beads in Morocco than I care to admit. Don't believe me that they're cheaper? Check out this photo I took at a boutique in Melbourne, Australia: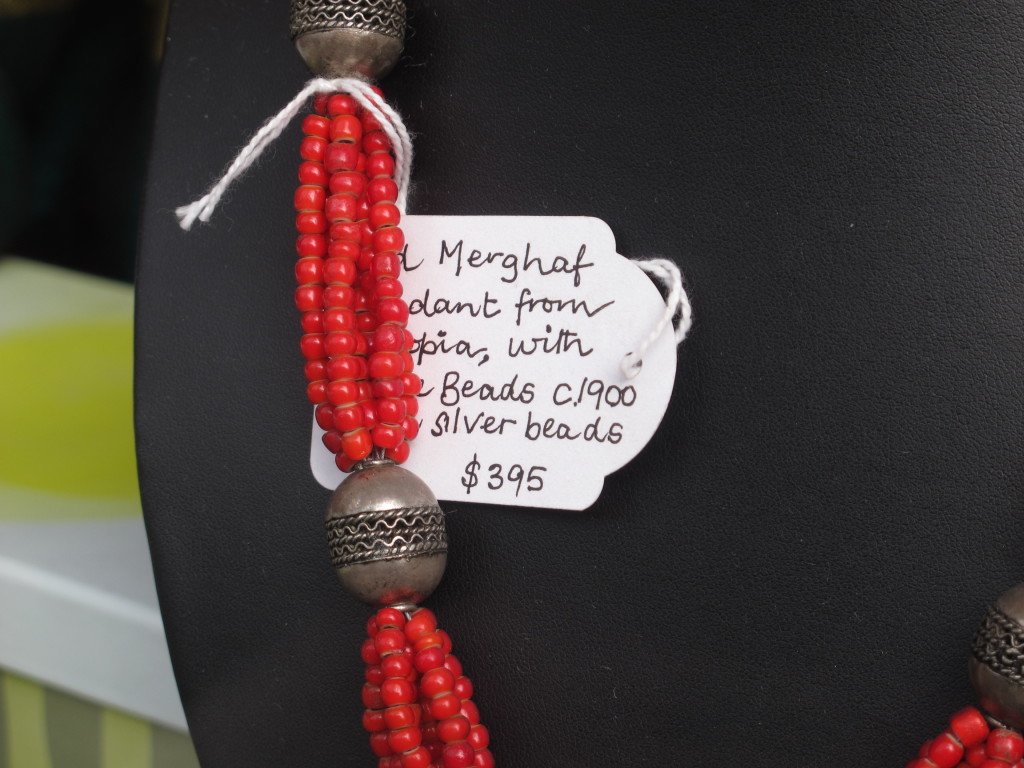 While I appreciate that the beads are apparently antique and/or rare, they look exactly like the stuff I got in Northern Africa for 40 times cheaper.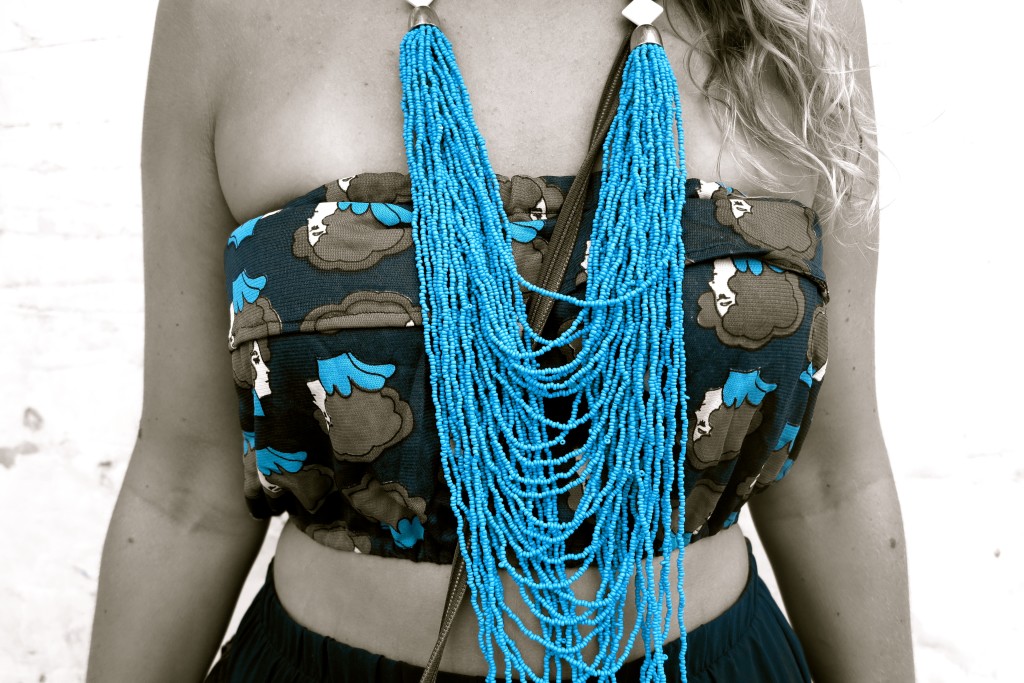 A necklace from Cartagena, Colombia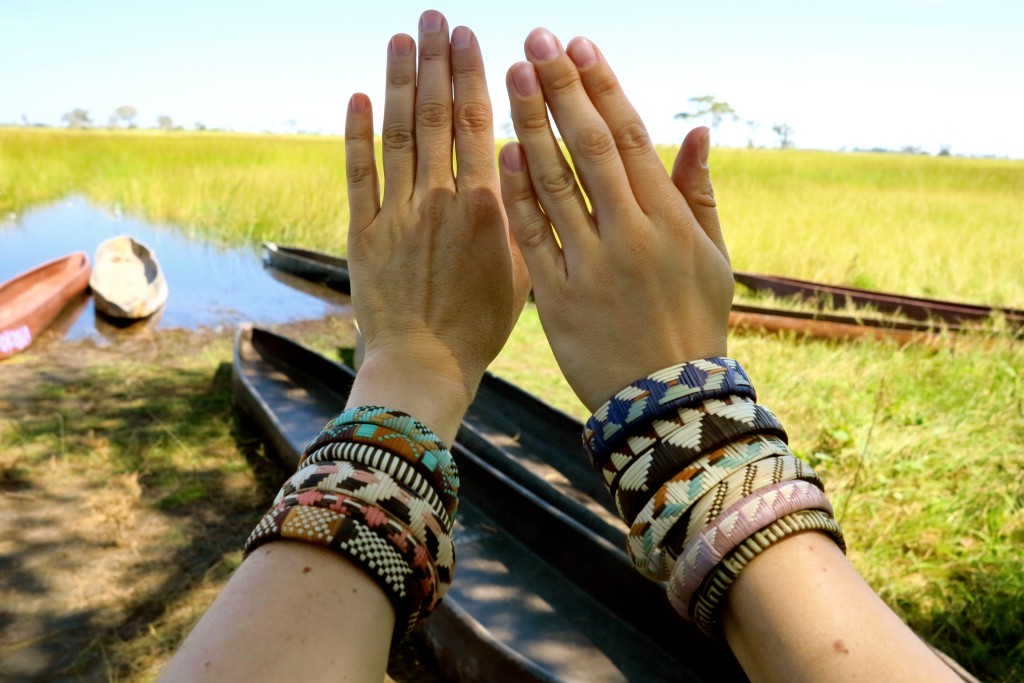 Bracelets in the Okavango Delta of Botswana (no I do not have two left hands)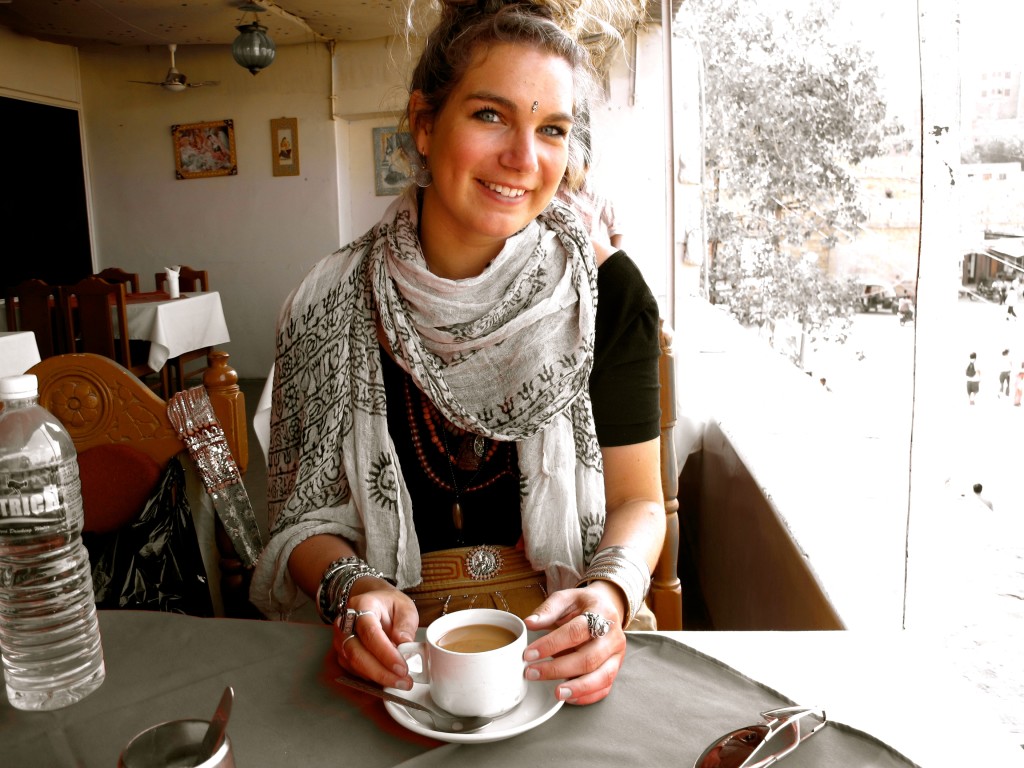 Actually quite a minimal effort for what I usually wore, in Jaisalmer, India
And don't forget about El Camino Bracelets! They're awesome to always have a reminder of your travels with you.
5. Clothing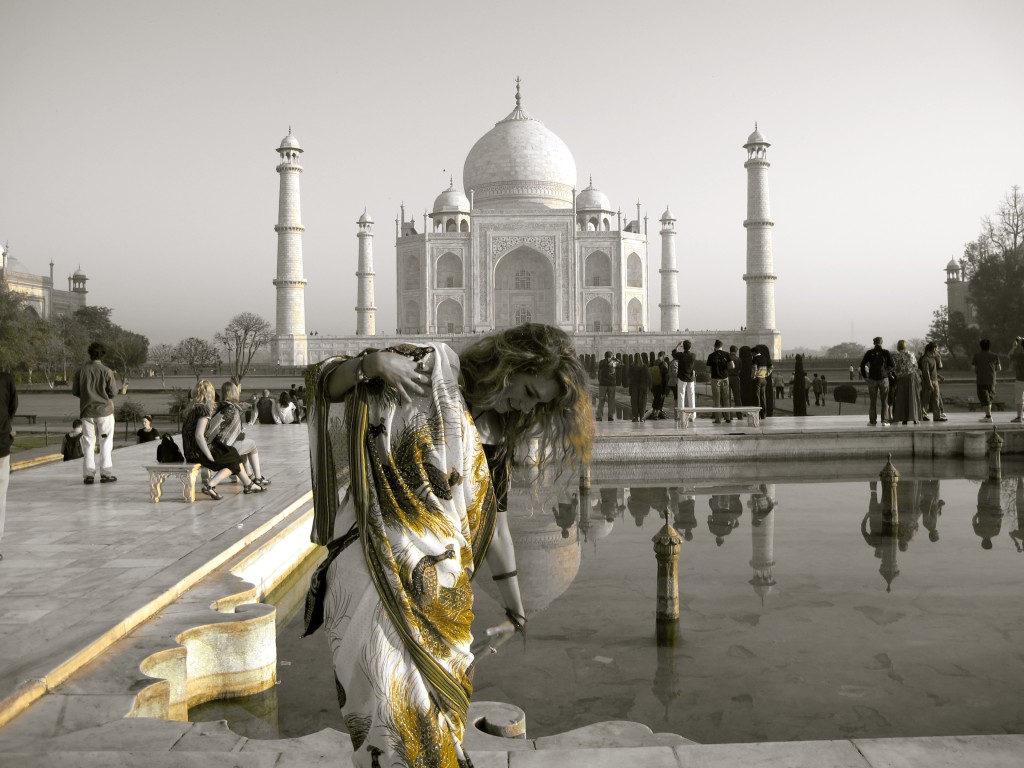 Wearing a sari at the Taj Mahal in Agra, India
Similarly, consider buying local clothing. It is often incredibly cheap (much, much cheaper than buying at hippie markets and boutiques in London, for example) and again, it is often a great conversation starter. Plus, you'll often be more comfortable, as there's a reason everyone is wearing a certain type of clothing in that particular place. One of my biggest regrets is going to Thailand with a full backpack – I spent so much money on clothing in Canada when I could have arrived in Bangkok with an empty bag and bought tons of cute, appropriate, and affordable clothing that has more sentimental value than some bland tank top from H&M. And while some of it is difficult to wear again (I've yet to wear any of my three saris again other than at Burning Man), if you buy cool pieces like scarves or saris, you can reuse the fabric or just fold them in a cool way for display. Shoes are also fun – here are a few I've worn around the world. I often recommend buying bags and scarves because those things are incredibly easy to incorporate into an existing wardrobe.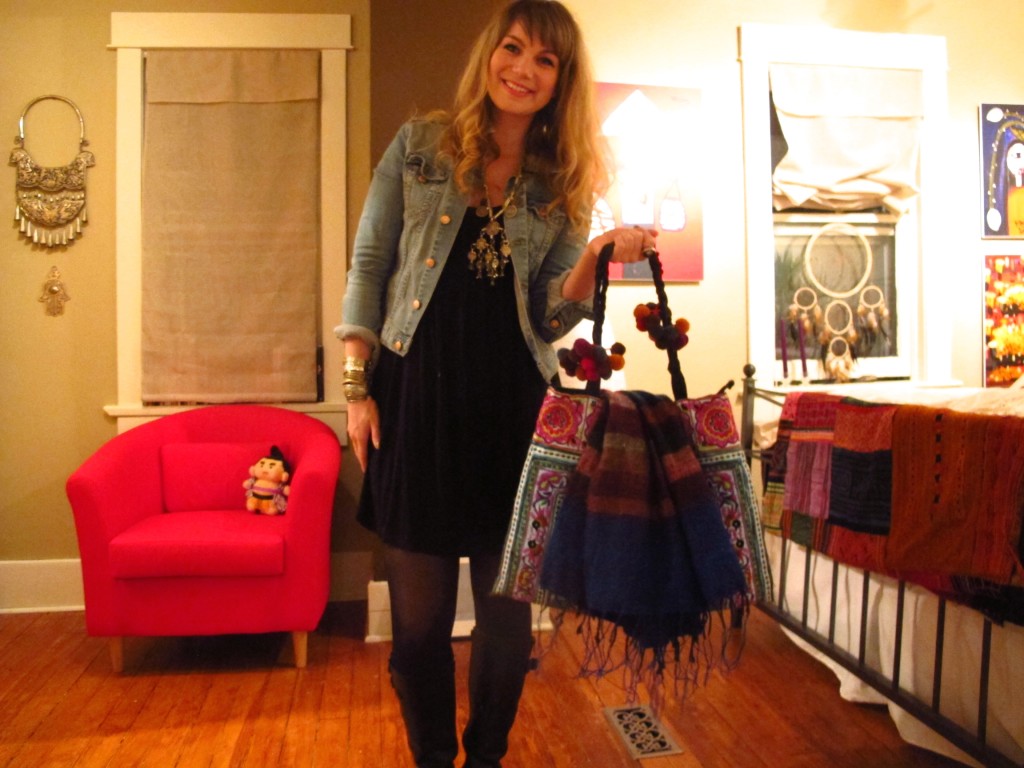 See? Look at me, incorporating a bag and a scarf into my existing wardrobe! The reason I have this photo is because I tried to write a post a couple of years ago about doing exactly that – incorporating travel clothes into your existing wardrobe – and after about 50 shots I had about three that didn't make me cringe. Needless to say, I gave up.
6. Little Stuff / Knick Knacks / Tchotchkes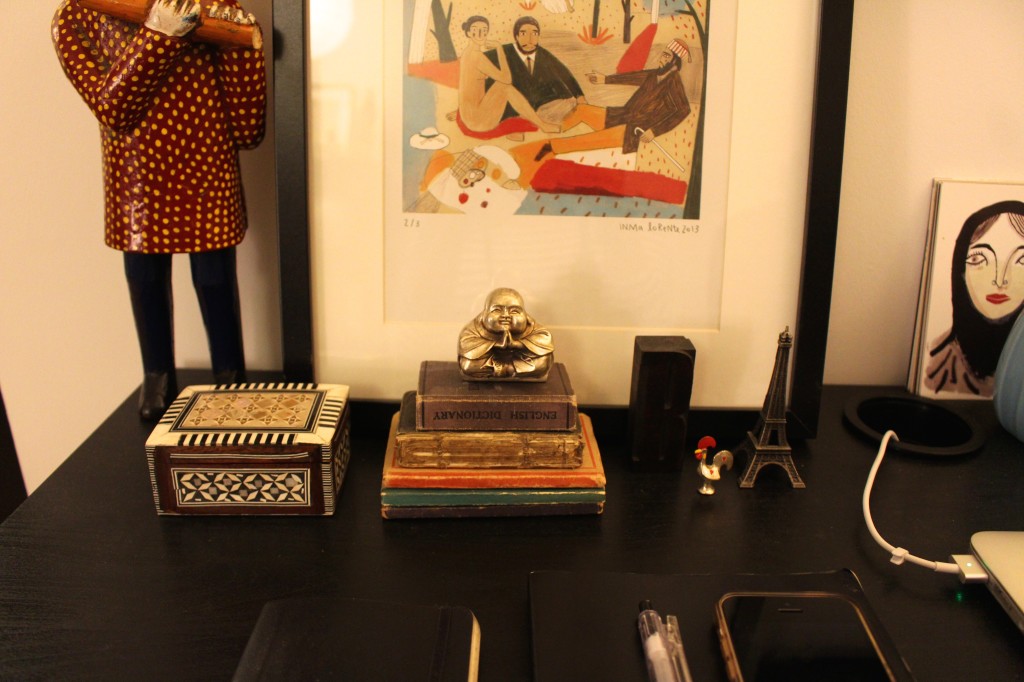 A box from India, little books (apparently older books write their text the other way on spines) from Wales, Slovenia, and Croatia, a Buddha from China, a letter B from London, a rooster from Portugal, and one of the first souvenirs I ever bought, an Eiffel Tower from my trip to Paris as a teenager
Well this is extremely vague, I know. Really, I just wanted to write the word "tchotchkes" on my blog. Honestly, though, there are SO many cute little things you can pick up from around the world… even from cheesy souvenir shops that sell those "I love CITY NAME" bags in them. While I almost always buy from antique or local markets, there can be some fun stuff to be found in just about any souvenir store.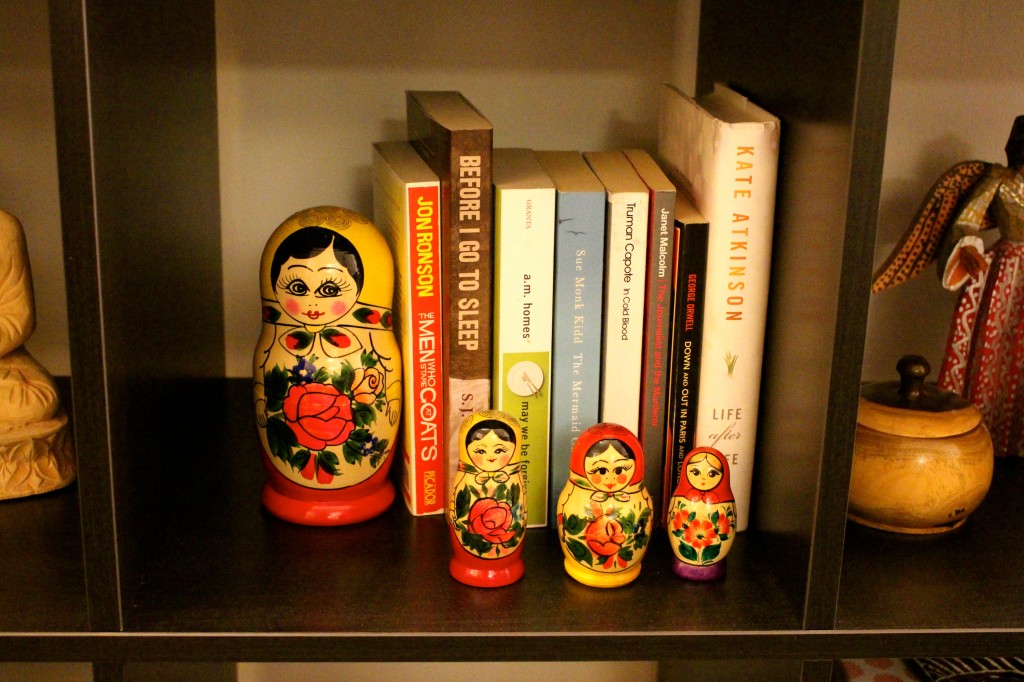 Matryoshka dolls from Russia, Hungary, Slovenia, and Czech Republic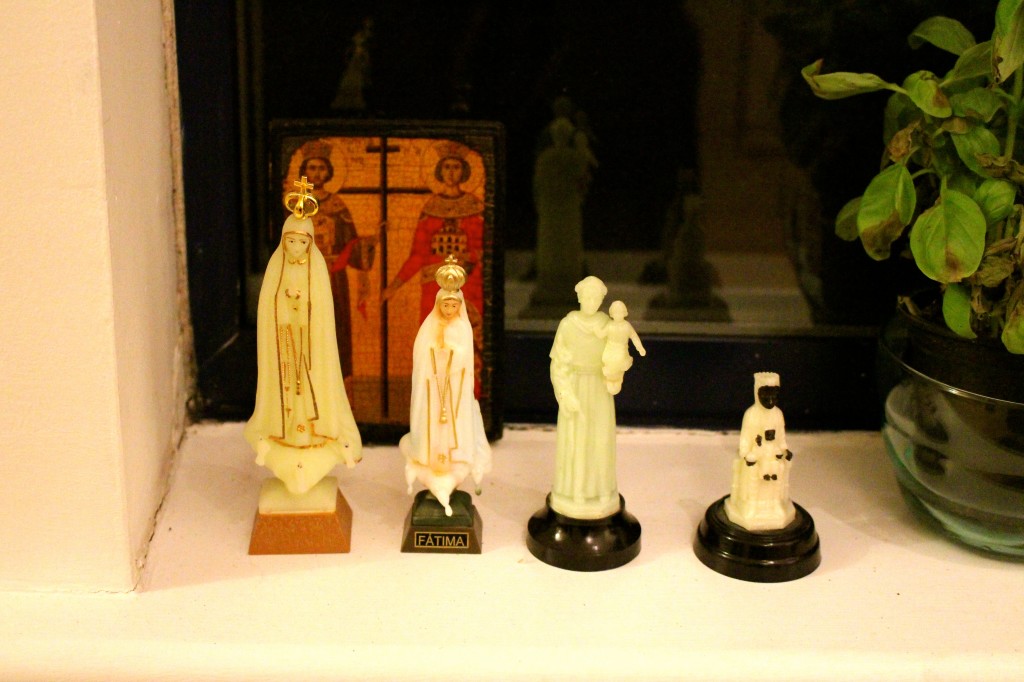 I collect a lot of religious icons (from every religion) and am especially in love with glow-in-the-dark ones. Here are some from Portugal, Spain, Colombia, and Poland
7. Found Playing Cards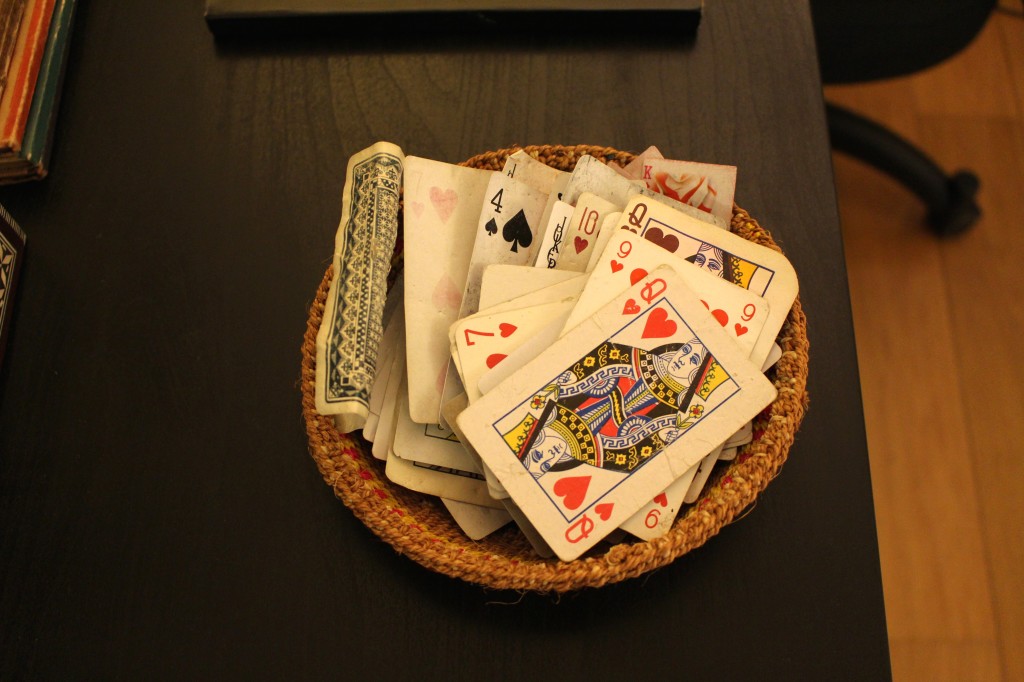 This is one of my absolute favourite collections. It is astounding how many orphaned playing cards there are in the world. Honestly, I see them on the ground all the time, though they were especially frequent in Asia. I've never tried to make a full deck, but I bet I am coming close. Whenever I find a new one, I write where and when I found it on the back of the card. Right now they're just on display in this bowl I bought in South Africa, but one day I might put them up on a wall. I have never watched all of Sex and the City, but I saw the episode where Carrie's boyfriend Berger does the same thing and for a split second thought that a fictional character was my soulmate.
8. Art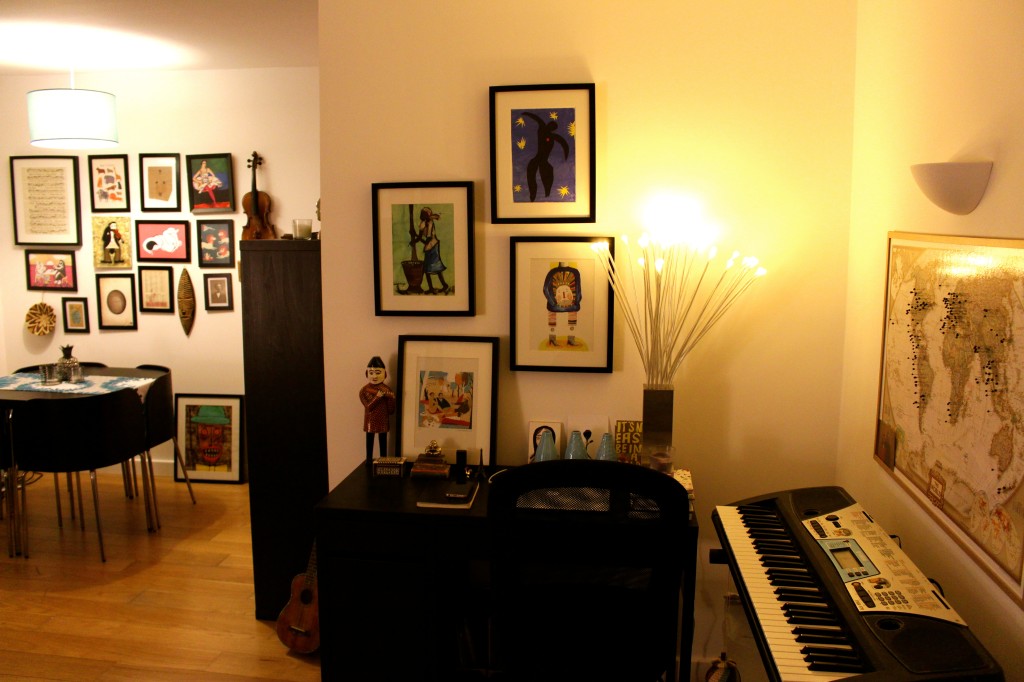 Current art set-up in my flat in London (spot the insanely creepy clown painting that an artist in Chile gave me for free because he was wearing red shoes and I was wearing yellow shoes and he felt we bonded. Still haven't found a spot for that terror yet)
When I tell people I collect art, they look at me like I'm out there bidding on rare Picassos or something. Not true – I have never paid more than $20 or $30 for any piece. Usually they cost more like $10, and are easy to find at markets. I buy a lot of prints (three of the four pieces above my desk are prints – the painting from Zambia is original, but the top one is a Matisse print and the others are prints of Portuguese artists I met at a gallery opening in Porto earlier this year). I don't really care about the originality or the value of the painting or piece – if I like it, cool. I often try to buy from local artists so that I can meet them, and I always tell them that I will hang it in my flat in Canada or London or wherever (like when I spent some time with the artist Guillermo in Colombia). All it takes is a cheap IKEA frame to make it look really great. I now have more art than wall space!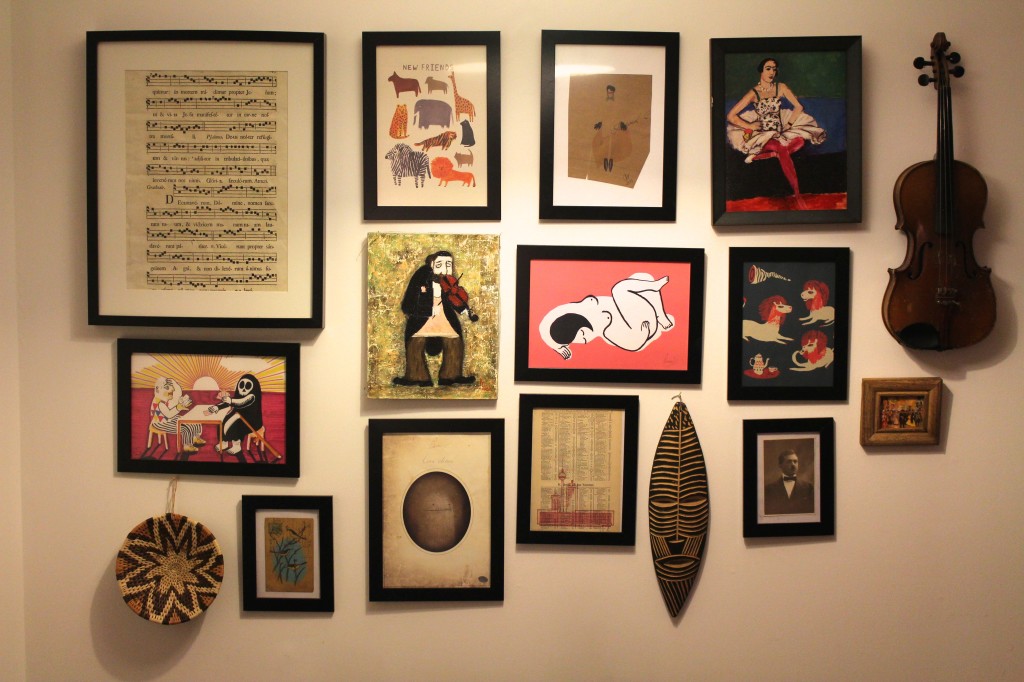 Moving down in columns from the top left: Music sheet from Paris, marker design from Tel Aviv, bowl from Botswana, postcard from India, print from London, painting from Russia, print from Berlin, painting from London, marker design from Tel Aviv, print from Berlin, copy of a Degas from the Hermitage in St. Petersburg, print from Berlin (it was a good haul), mask from Zambia, photo from Peru, violin from Broadway Market here in London, painting from Mexico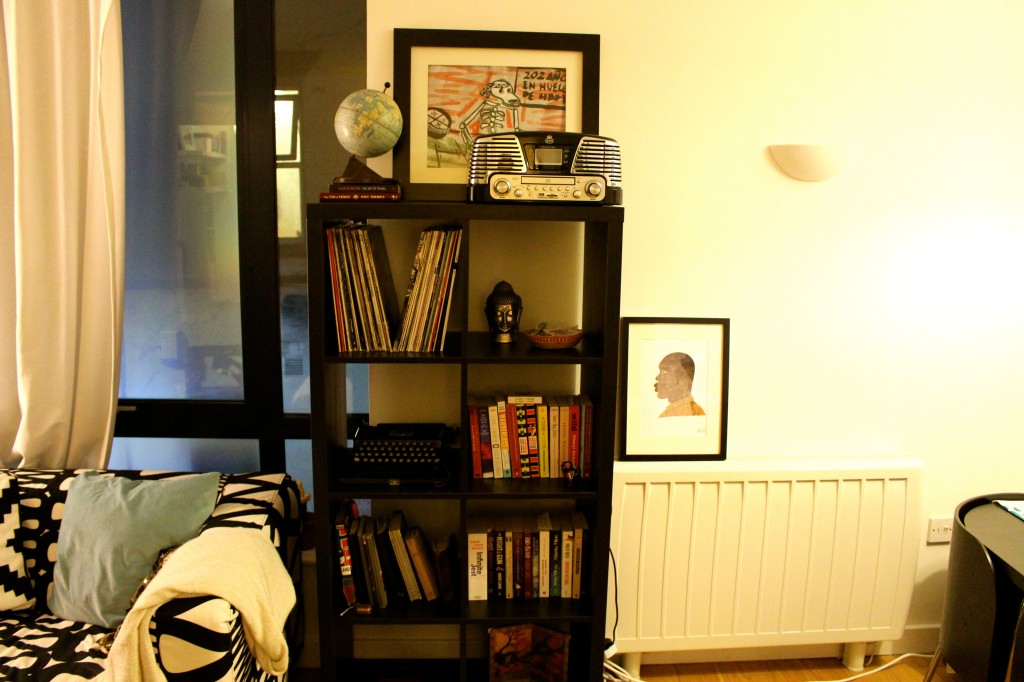 Painting from Chile on top of the shelves, and picture made from butterfly wings (don't hate me) from Spain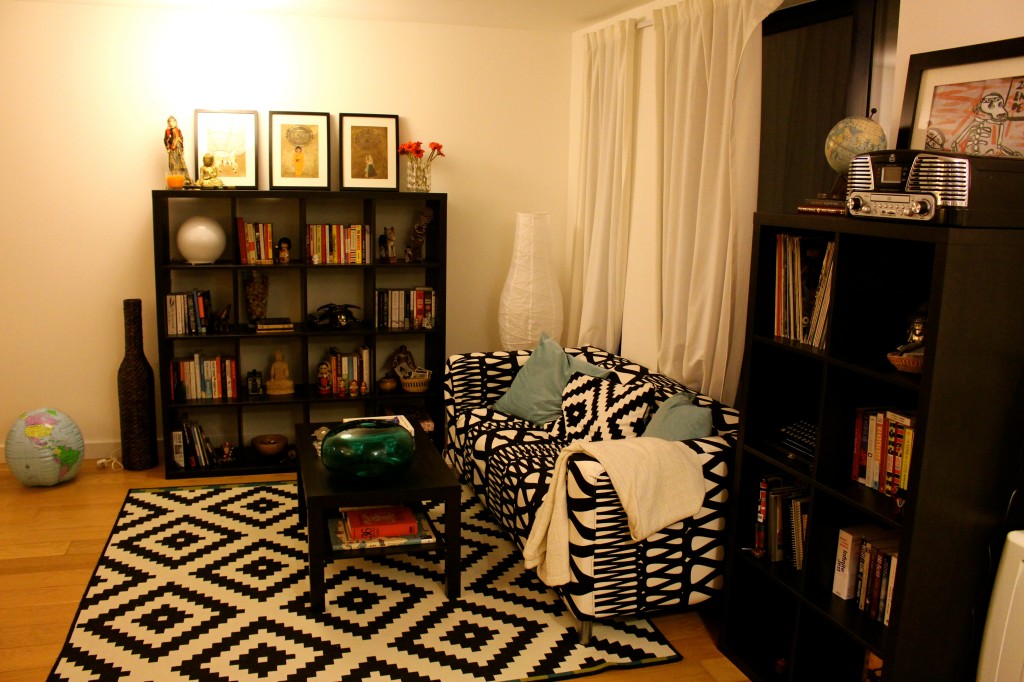 Night-view of my flat; the pieces above the shelves are old telegrams from India with paintings on top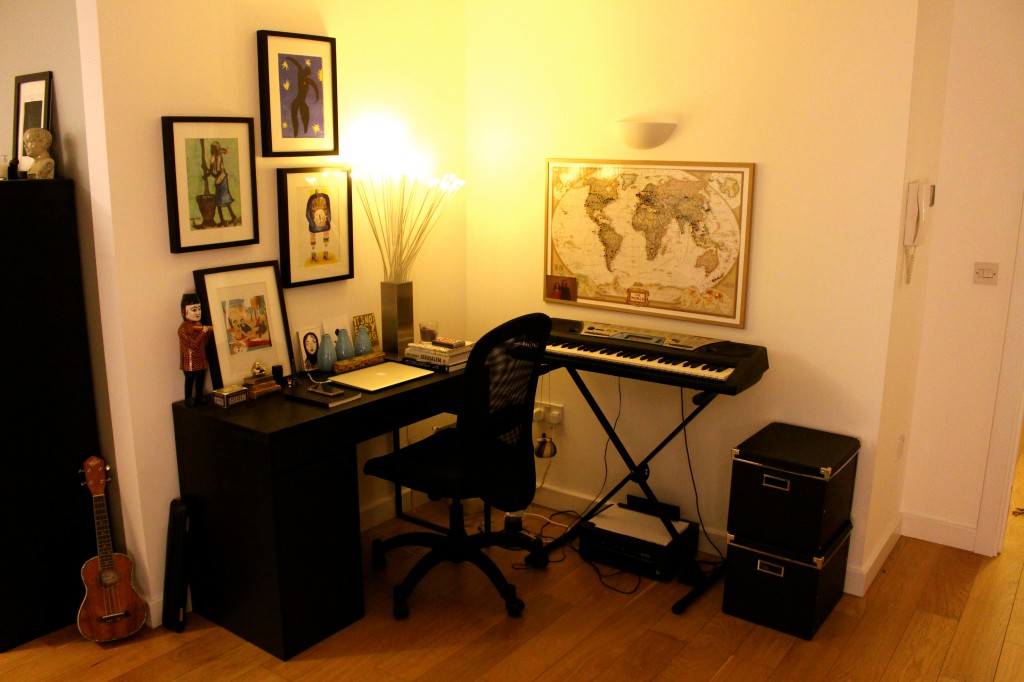 Another view of the desk, with my cork board map from National Geographic visible
Those are just a few of my idea for cheap souvenirs from around the world. There are many others, of course: postcards, beach glass, thimbles, spoons, stamps, magnets, key rings, pens, matchbooks (definitely a dying one), old books / art books (my heaviest collection), Christmas/holiday ornaments, and even old cameras. Just as my house in Canada was, my flat in London is quickly filling up with cool yet affordable things. I mean, these photos are only of the main room… you haven't even seen the kitchen, bathroom, hallway, or bathroom (yes I have souvenirs in my bathroom). I have to admit that my favourite souvenirs are the photographs I've taken and the journals I've kept… but the silver-embossed yak skull I bought in Nepal runs a close second.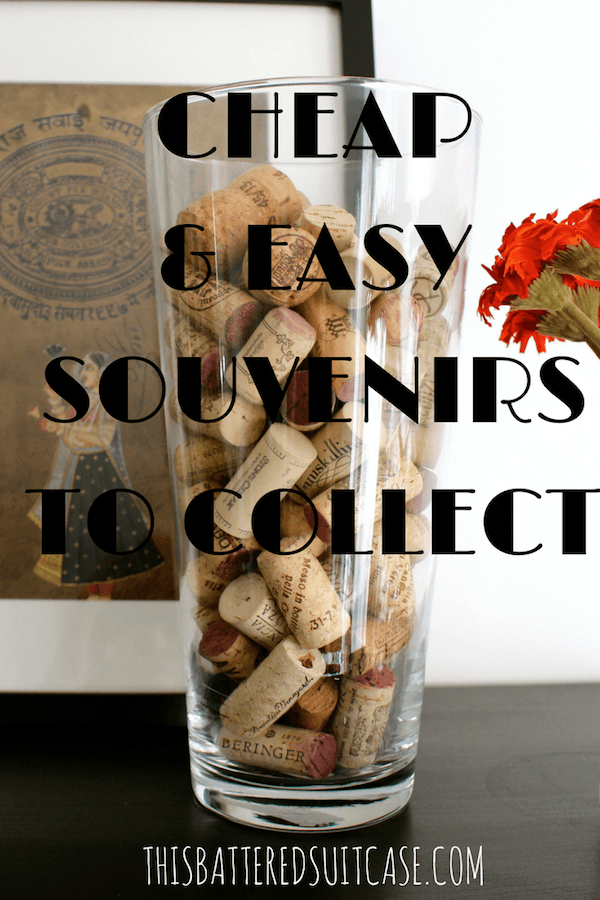 What are your favourite souvenirs to collect? What are a few other cheap souvenir options?