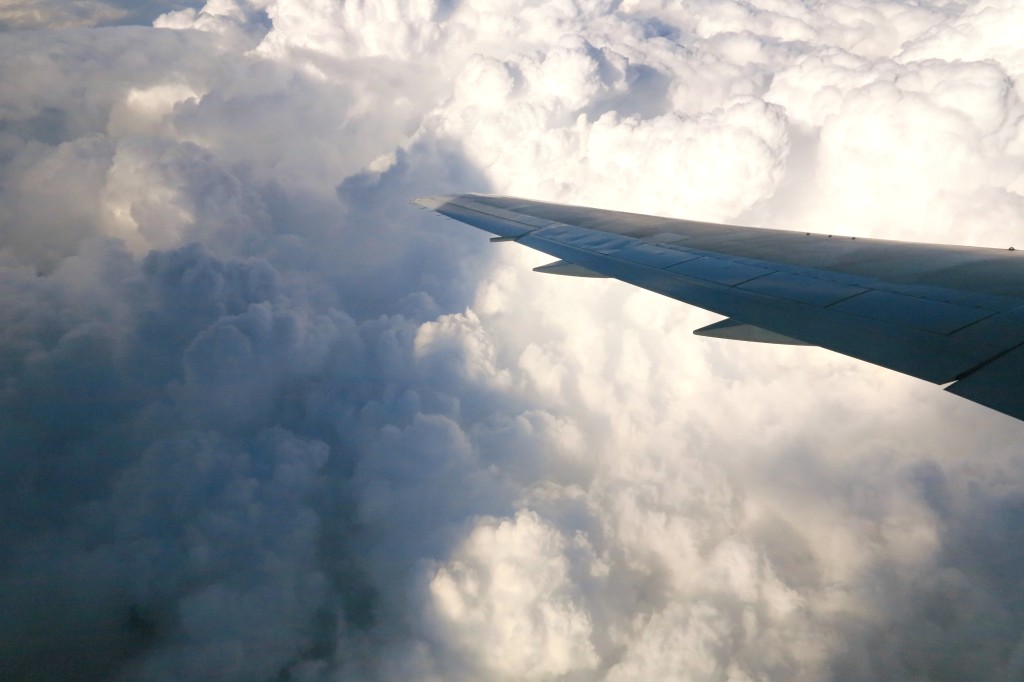 Flying Over Brazil
I've written about music a few times on this site; specifically, the music I listen to when I travel as well as a list of songs to listen to when you're homesick. To me, music and travelling go hand in hand. I'm either surrounded by the music of the country I'm in, or, on long bus journeys or train rides, I'm listening to my own favourites through my headphones.
But there are some great songs that are about travelling themselves, ones that either capture what it feels like to be on the road, or perhaps ones that inspire you to get up and go. When I first started making this list of travel songs, or songs about travelling, these were the ones I wrote down first – perhaps inspired by the fact that I finally purchased a record player here in London (even though I have three in Canada) and brought back 30 of my favourite albums, they are all of a certain time. You won't find a song that was released after 1977 on this list. I don't believe that this was intentional, but I hope you can agree that these are some damn good songs. In no particular order, here are some of what I consider the best travel songs.
1. The Sonics "Have Love Will Travel"
The Sonics are one of my favourite bands, and I love how simple their music is. The lyrics to this song are equally as simple, with lines like "Well I travel from Maine to Mexico, just to find a little girl who'll love me so". Such a good rock and roll song, and there are few joys that rival cranking this on the car radio with the horizon in the distance.
2. The Kinks "This Time Tomorrow"
I love, love, love the lyrics to this one. I won't spoil it for you if you haven't heard it yet, but I so often think of these lines when I'm travelling. I distinctly remember listening to this as I sat on a bus in Bolivia, watching yellow fields sprawl out in front of me. I had no idea where I'd be the next day.
3. Chuck Berry "No Particular Place to Go"
Another classic rock and roll song. I love those kind of holidays, the ones with no particular place to go, the ones where you travel for the sake of it, the ones you take just to see and experience something new.
4. Lee Hazlewood "Forget Marie"
Well this is a little bit of a heartbreaker, but I've always loved this song. It is short but sweet, telling the tale of a man waiting with his suitcase for the bus that will take him out of town, away from his beloved Marie, so that he can try to forget her. Perhaps a few of us have taken a similar trip before.
5. Bob Dylan "Tangled Up in Blue"
It's Bob Dylan. There's not much more that needs to be said. This is a story of a rambling man, a rolling stone.
6. John Denver "Leaving on a Jet Plane"
I hate the tragic irony in this video (including the introduction) but John Denver's version of this song is my favourite. I don't think I could write a list of the best travel songs and not include this one – it's a classic.
7. Simon and Garfunkel "Homeward Bound"
I have to be in the right mood to listen to Simon and Garfunkel… but I think that we can all identify with the emotions in this song from time to time. I'm sure we've all experienced that little fluttering of homesickness at some point, that desire, even just for an instant, to be around the familiar, whether that's a place or a person.
8. Iggy Pop "The Passenger"
I have read some very intense theories about what this song means, and about the passivity of the role of the singer on his journey. I mean, aren't we all passengers sometimes? Camus theorists aside (seriously), I think that this is a fantastic song sung by one of the best performers out there.
9. Canned Heat "On the Road Again"
I have this strange and intense love for the band Canned Heat, and I absolutely adore this song. It makes me want to throw a battered suitcase (heh) in the car and head off along some unknown road (minus the three hours it would take me to get out of London). Sometimes I think I was born in the wrong generation. Side note – isn't it weird that in forty years, there might be some teenager sitting in her room with posters of One Direction and coveting CDs of Katy Perry or someone equally terrible and she'll say, "I think I was born in the wrong generation." That freaks me out a little bit. Okay but all of that aside, this is a really good song and I do happen to own it on vinyl.
10. Joni Mitchell "California"
Another song about missing home (although she is originally Canadian). I just love this song, and this whole album, and just everything that Joni Mitchell has ever recorded. "So I bought me a ticket / I caught a plane to Spain / Went to a party down a red dirt road / There were lots of pretty people there / Reading Rolling Stone, reading Vogue / They said, 'How long can you hang around?' / I said a week, maybe two / Just until my skin turns brown." Genius. Another one of my favourite songs about California is this one, by none other than Robert Johnson.
11. War "Low Rider"
I'm not sure that there is a better road song out there.
12. Wilbert Harrison "Kansas City"
This is a little shout-out to any readers living in Kansas City, because I LOVE THIS SONG. There are so many songs about London and New York and just about every famous city in the world that I thought I would choose one about Kansas City instead. Bonus: this video is hilariously awkward.
13. The Beatles "All My Loving"
The Beatles were my favourite band when I was growing up, and it fact it was this song that inspired me to write down this list. Although the lyrics are now over 50 years old, they still ring so true for any traveller who has to leave a loved one at home. It's just the sweetest little song.
This is just my first attempt at some of my favourite travel songs, either the ones about the act of travelling, the ones about inspiring you to travel, or the ones about missing home. I'm sure I'll do another list (and perhaps add a few modern songs) soon.
What are your favourite travel songs or songs about travelling?