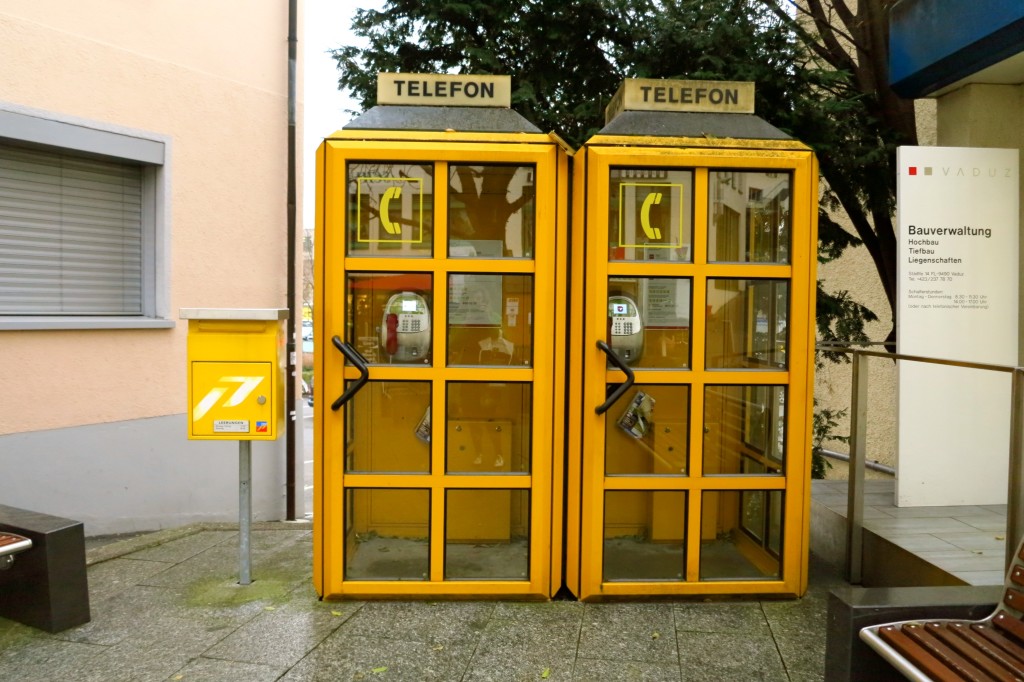 Phonebooths in Vaduz, Liechtenstein, because ironically I don't have any photos of my phone
The title of this post is a little preachy, I know. And as someone who makes a living completely from work done online, it also seems a bit hypocritical. We've all heard this countless times already (ironically, on our social media feeds) and videos like this one have gone viral. But it is extremely difficult to stay away from the device that's become iconic of our generation, especially as it gets better and better, and as new devices connected to it  – I'm thinking of Apple's new Watch – are released.
Last night, I headed to London's Tooting Bec area for the first time. I was there to attend the monthly Travel Massive, an event I try to attend whenever I can. I had only arrived back in London the day before, after a really relaxing three weeks spent in Toronto, Phoenix, and Winnipeg. I realise now that what made my time so relaxing was that I didn't use my phone. Not wanting any international charges, I turned off my phone's data; whenever I took it out with me it was only to use it as either a camera or as a way to tell time. I did have access to wifi whenever I was at either of my parents' houses, but even then I barely used it.
Last night, then, I felt I was hyper-aware of how much we use our phones, even in big, social crowds. I am not calling out this particular group in any way – most people who attended last night are bloggers or in the travel industry online, and so it makes perfect sense to check and / or use a smartphone at an event like that. I was simply aware of how often people did seem to do just that: check their phones. My habits of North America still resonating, I only checked my phone once, for the time. All too often, however, I've been mid-conversation with someone when he or she will stop and check a phone, or even respond to a text while I am standing there, mid-sentence. I noticed it on dates recently, too; I don't recall anyone actually using their phone in front of me, but whenever I'd approach the table after using the bathroom or buying drinks at the bar, the guy would be on his phone, killing time.
Don't get me wrong – I love my phone. I use it for email, Instagram, Facebook, Twitter, WhatsApp, maps, the weather, and a host of other apps. I also, you know, text and call people on it. I suppose I'm just tired of how addicted I am to it, and am growing weary of how addicted our entire society seems to be. Today, while going for a walk to Brick Lane, I forgot I even had my phone on me. I was gone for two hours and didn't check it, which doesn't sound that remarkable, but even a month ago I would have checked it every ten to fifteen minutes. When I wake up, the first thing I do is look at my phone. It's often the last thing I do before bed, too. For me, this doesn't feel healthy. While on my walk today I noticed how many people were on their phones – those in cafés, those having a cigarette, even those cycling (don't get me started on that). I'm trying now, whenever I have a few minutes to kill, to just stand there, or to look at my surroundings. I believe it was Louis C.K. who said that he wanted his kids to feel boredom sometimes, and to not instinctively reach for a device whenever there's a slow moment.
I wrote about this last year, too – how I regretted the amount of time I spent on a laptop compared to how much time I used to spend with a journal. Some days it feels that my entire life is consumed by technology, but I'm the one who is encouraging it; after working for a long time, my break is often spent not reading or going for a walk, but perusing fun websites like Imgur or Buzzfeed. My break from the internet is to spend more time on the internet. Sometimes, even when I'm watching a movie, I'm also on my phone.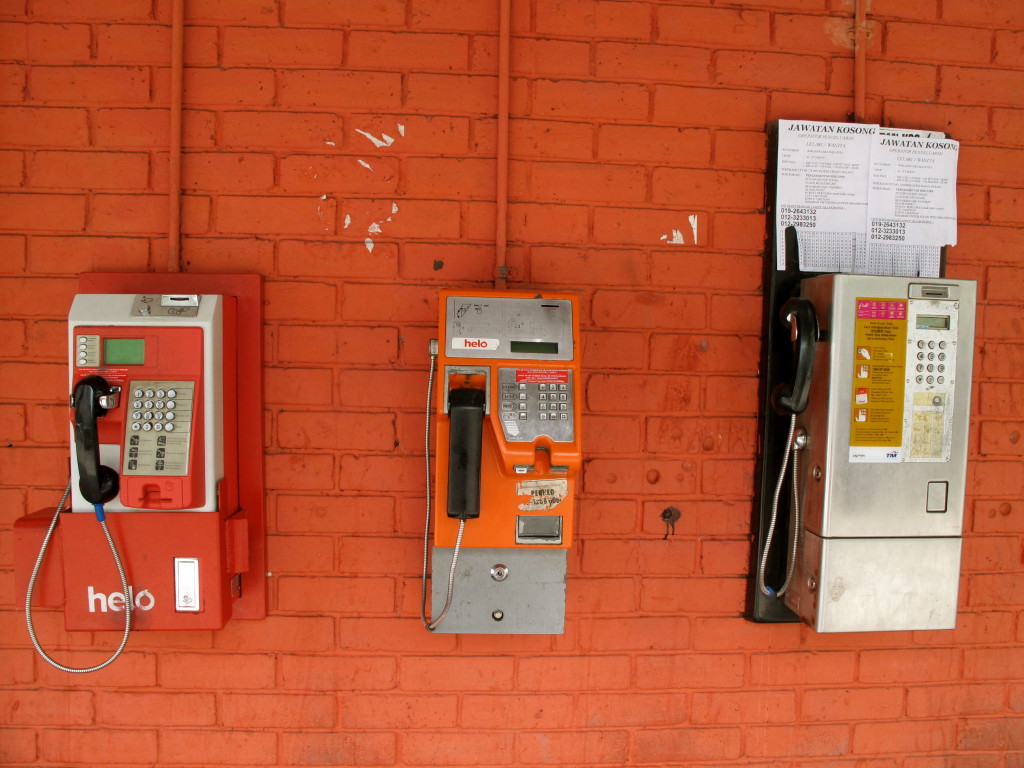 Seriously, why do I not have a photo of a smartphone? Payphones in Kota Kinabalu, Malaysia
Upon my return to London on Tuesday, I realised something else. One of the reasons I love travelling so much is because, so often, I'm completely cut off from being online (this obviously doesn't apply to work trips or press trips, when I obviously know the conditions and am happy to be online along the way). During my recent trip to Spain, for example, I only had access to the internet when I was at my hostel, which meant that every time I left to explore or go to the beach, I couldn't check anything online even if I wanted to (I'm aware that I can easily do this by getting a local SIM card or through other means, but, for exactly this reason, I don't). I believe that that's why – on top of, you know, the beer and the sea air and the great conversations with new friends – I felt so relaxed in Alicante. Then, when I'd return to my hostel, I was more productive in the few hours I had online than I usually am in a full day in London. Basically, I am a better and more appreciative traveller when I'm offline.
I fully appreciate that I am sounding like a raging luddite, but spending three weeks with not as much time online really helped me get my priorities in order, and also helped me realise why perhaps I was feeling a bit uninspired as of late. I've now constructed a schedule that I intend to stick to – instead of sitting down at my laptop without any sort of plan for the day, therefore blurring the lines between work time, school time, blog/freelance time, and what I shall only deem as fun time (that sounds creepy, but actually just means watching videos of kittens. Wait. Still creepy). I am now dedicating a few hours to each every day, with some obviously getting more time than others (sorry kittens). Today, with my new schedule, I managed to get everything done that I wanted to with tons of time left over to go for that walk, run a few errands, make an awesome dinner, and read 200 pages of a book. I also felt better and more accomplished than almost any other day over the summer. I intend to get away from the computer more and to, yes, put down my damn phone. 

After all, there are very few emails, notifications, comments, or likes that can't wait a few hours, not when there's a sunset to watch, a friend to laugh with, or a world to explore.
What do you think? Are you addicted to your phone? Do you think you could or would you like to spend less time on it?