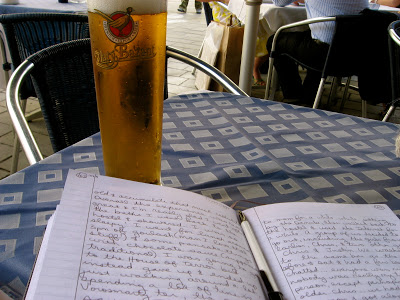 Bratislava, Slovakia
When I was fresh out of university, I set forth on my first solo adventure – I travelled to Europe for four months, starting in Amsterdam and looping around the continent until finishing in London. I went through multiple countries and multiple pages of a treasured journal, one that sees me through romances and failures and self-discovery (and a lot of beer). I had always written a lot in my life – I have at least 20 journals and scrapbooks
dating back to when I was five years old
.
Back then, in 2006, my hand luggage consisted of little more than the travel necessities (wallet and passport), one tiny digital camera, one book, and my journal and pens. Last year, through Central and South America, my hand luggage contained three cameras, one laptop, one hard drive, one smart phone, one Kindle, oh yeah, and my journal and pens. Guess which one got the least amount of use?
I used to write voraciously in journals, big scrapbooks full of collages and soaring life goals or tiny Moleskines filled with to-do lists and proclamations of where I'd be in three years (both were usually abandoned or amended before I could cross them all off). Over the years, however, I've written on paper less and less, much to my disappointment.
As I wrote in a recent post
, one of my biggest regrets is that I didn't keep more detailed journals throughout Asia and South America – they were often just random quotes, quick notes, or the occasional cartoon.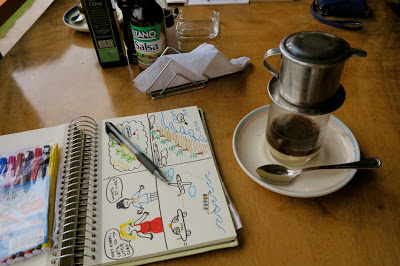 I didn't say they were GOOD cartoons. Little Corn, Nicaragua
So what happened? Well, this blog happened. And
Facebook
. And
Twitter
. And
Instagram
(yes, those were shameless plugs). I'm a fairly active traveller, in that I like to get out and explore, or, if I have downtime, I like to hang out at a bar or hostel lounge and talk to other people. When I travel, I devote very little time to going online, which is one of the reasons I've accepted I will never be a hugely successful blogger. In the past few years, however, if I
do
have some time to myself, I spend it by updating this blog, editing photos, writing emails, etc. I am then left with very little time to spend with my journal.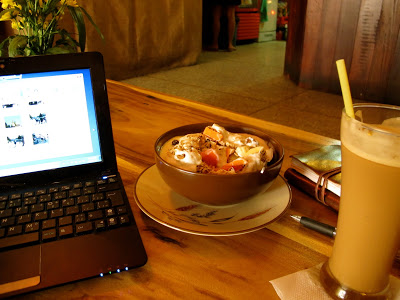 There's my journal shoved in the corner. Bangkok, Thailand
Digital media and social networks are amazing – we can easily go back through our blogs or other networks to read what we were doing at any given time throughout our travels and our lives. What they don't tell, however, are all the little details. I can't even imagine how many times something momentous or hilarious or scary has happened, only for me to say, "I'll write about that later." I probably wrote about it 25% of the time. When I was younger, and without a laptop to cart around, I'd write in my journal almost every night. I'd write down every single name of every single traveller I met or chatted to – now I just add the occasional person to Facebook and
tend to forget the names of others
.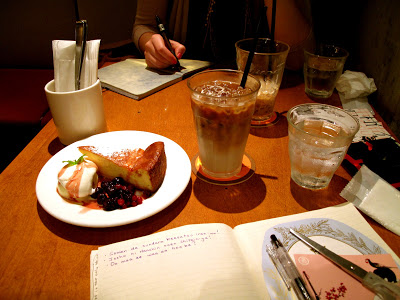 Osaka, Japan
I am so thankful for this blog, don't get me wrong, but I write knowing that it will be shared with a public audience. I don't write about every meal I eat, or every bus I take, or every person I kiss. I pick and choose what I feel like sharing. My journals from the past are mundane at times, but tell a detailed and chronologically-accurate story. I used to love spending an hour a day writing it all down. Now, if I'm rushed for time, I just send an arbitrary tweet: "I'm in Arequipa and it's so beautiful!" I have a lot of Word documents of stories I'll never post here, but they're still not the same – they're carefully crafted pieces, ones I edited, sometimes erasing entire paragraphs. They don't have the honesty and permanency of a paper journal.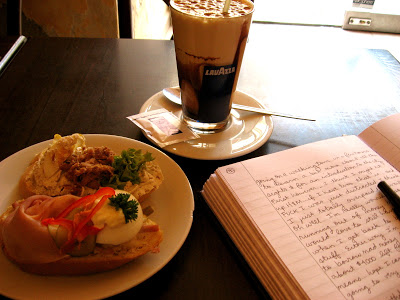 Spot the F-word. Prague, Czech Republic
This is not to say that I don't journal at all – I just spend far more time on my laptop than with a pen on a page now. I also spent a lot less time solo last year; I do the most writing when I'm alone, naturally. It kills me that I may have forgotten some experiences or details while travelling because I've spent too much time online as opposed to writing down the day's events. I also take a lot more photos these days, so I have that as a record, but there's nothing like your own words to recall a day, whether you climbed Machu Picchu or spent it on a boring bus. There's an adventure to be had everywhere, after all.
Kerri and her journal. Seoul, South Korea
Excerpt from the very first page of my journal, May 11th, 2006:
I am sitting in Damsquare in Amsterdam, across from the Royal Palace and Nieuwe Kerk, and just a stone's throw from the Red Light District. The square, up until a few minutes ago, was filled mainly with pigeons, though now it's filled with kids. I don't hear anyone speaking English, but the palace bells are ringing to signify 12:30pm. So…how did I get here? It honestly feels like just yesterday I was booking the ticket, when that was actually more like three months ago. I just honestly cannot comprehend that I am in Europe right now…and I'm still terrified. I don't know what I'm doing. Am I doing this? Is this real? Am I crazy?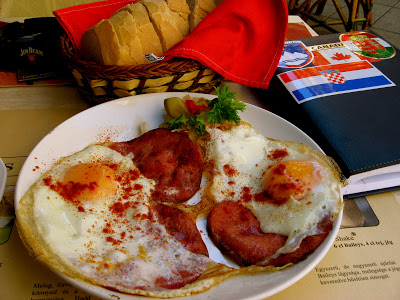 Delicious breakfast – and a journal. Budapest, Hungary
I have 300 handwritten pages of my 22-year old thoughts as a solo traveller, and that journal is more valuable to me than nearly anything else in my life. While I cherish my blog and all of the hundreds of thousands of words I've dedicated to it, there's something magical about the words we keep for ourselves, the words we scribble down in crowded coffeeshops, the words that write the little stories of the days that make up our journeys, the words that compose our lives.
Do you keep a journal? Has the Internet changed the way you document your travels?