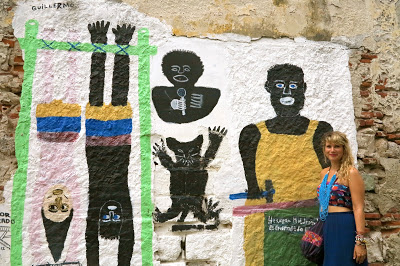 Cartagena, Colombia
I started collecting art when I was a teenager, on my first trip to France. Since then, I've bought paintings all over the world, a mishmash of styles and colours and techniques. I have artwork from Chile to Japan, Lithuania to Brazil, Laos to Russia to Mexico to Israel – somehow it all works, or maybe that's just that classic "beauty in the eye of the beholder" adage at work. It's become a small obsession, finding a colourful canvas I can roll up and take home with me. I'm an extremely sentimental and visual person; souvenirs, especially the artistic kind, are my weakness.
Street art, then, is also a great love of mine. When we think of street art, we think of Melbourne, London, Valparaiso, Berlin, New York, Buenos Aires. I hadn't given much thought to what would be on the walls of Colombia, but I was overjoyed to find an entire alley in Cartagena's district of Getsemeni devoted to beautiful, powerful, politically-driven art. I took dozens of photos, including a couple which were signed, seemingly absent-mindedly, by one name: Guillermo.
Later on that day, continuing my exploration of the area, I walked down Carrera 9. The street, like many others in Getsemeni, was lined with brightly-painted buildings, their pink and blue and yellow facades the entrances for small shops, restaurants, and homes. Hardly any cars drove down these streets, even though it was one block off of the busy Media Luna avenue. I passed by an open door, and happened to look inside; the room was skinny, almost like a hallway, and lined with paintings. It didn't seem like a gallery, it seemed like an art-lover's home. The paintings ranged in sizes and subjects, but I was immediately hit with that inexplicable thump in the chest, the one that tells you, I love this, I want to look at this. It usually happens in a museum or gallery, when I'll find something I love and just want to stop and stare and stay a while. This small room filled to the hilt with canvases had the same effect.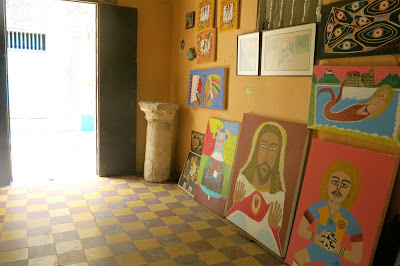 They were religious, political, cultural, but also colourful and simple, almost child-like in their execution. There were mermaids and football players, narwhals and cherry blossoms. Much like my own art collection, it was all random, but it all fit. A man walked into the room. "Hola," he said, very quietly.
This was Guillermo, the same man who had done some of the amazing street art we had seen earlier in the day. I told him we had seen his work, but, not knowing if he could piece together my broken Spanish, I showed him the photos I took. He seemed pleased.
"Yo amo todo," I told him, though I wasn't sure if that would sound like some ridiculous hippie overstatement wherein I just claimed to love the entire world. He smiled, but never said much in return, despite my awkward rambling. I had only studied Spanish for three months at that point, and my conversations were all in the present.
"Estoy turismo ahora, así que no puedo comprar nada. Pero…" I was sweating from the mental excursion. I tried to remember my one lesson in the future tense. "Pero voy a volver mañana." It was true, I was heading to the centre of Cartagena for more sightseeing, and I didn't want to buy anything I'd have to carry for hours. I promised to return the next day.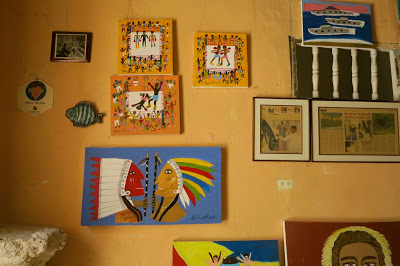 Cartagena quickly became one of my favourite cities I had been to in Central and South America until that point; I did little more than walk around and drink limonada, but it was the kind of place I could happily call home. I was love-drunk, and the three days I had planned to stay rapidly became ten. True to my word, though, I did go back to Guillermo's gallery the next day, only to find the door with the peeling white paint shut and locked.
I went back again, and again, but it was never open. I panicked – I needed to buy something of his. I wanted it on my own walls, I wanted to see it every day and be reminded of Cartagena. Finally, on my very last day in the city, his door was open once again. I heard music. Guillermo was in the back room, a small radio on the table, and he was dancing. He was listening to some cumbia, shuffling his feet in a slightly awkward but rhythmic jig. He was alone. I didn't want to break the spell, but he saw me.
"Hola señorita," he came over to me. "Hola señor," I replied. I wanted to ask, "Do you remember me?", but I couldn't remember the word for remember, how ironic. "Vuelvo otra vez", I stumbled out. "I return again." He smiled; for my return, for my terrible Spanish, or for both, I don't know. His conversation was still brief, but he was happy to have us and we spent ages poring over every painting. I wanted them all, but, travelling with a backpack, I knew my options were few.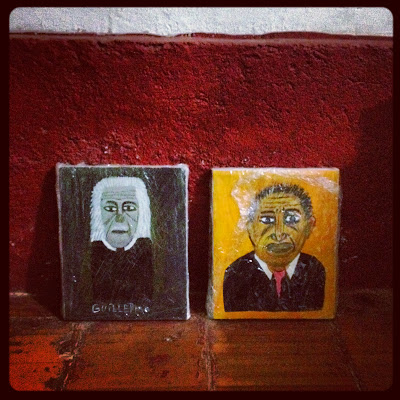 The yellow one is mine, the other was a gift to my father
In the end, I bought two. Thinking back, remembering all of the other pieces, I curse myself for not purchasing more. Had it not been my last day, perhaps I would have – bought whatever I wanted, and sent it all home. Although I was travelling with a backpack, the art was at a backpacker's budget: I spent less than $20 on those two paintings. I regret not buying more. I always regret not buying more, but it's easy to say that when I'm not limited by luggage weight restrictions and daily budgets.
"Un regalo para mi padre," I told Guillermo as he wrapped up the paintings in plastic. Again, just that smile. I paid him, and left. I had barely walked a few metres when I rushed back to the shop. "Una foto?" I knew I wanted to show my dad a photo taken with the artist. He complied, and we posed. I snapped a few more of the shop with his approval, but I felt embarrassed, and left again.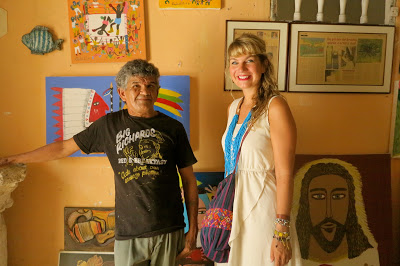 I'm starting to pack for my move to London next month – my whole life in two suitcases. It's not going well, and I'll inevitably ship a few boxes of favourite souvenirs, books, and records across the ocean. In my carry-on, however, will be the painting I bought that day in Cartagena by Guillermo, my favourite Colombian artist. Guillermo: a man who I can barely find on the internet, a man who paints sea creatures and celebrities, a man who dances when he feels like it.
Do you collect art when you travel? Have you ever been to Cartagena and seen Guillermo's work? If you have any information about him, please let me know.