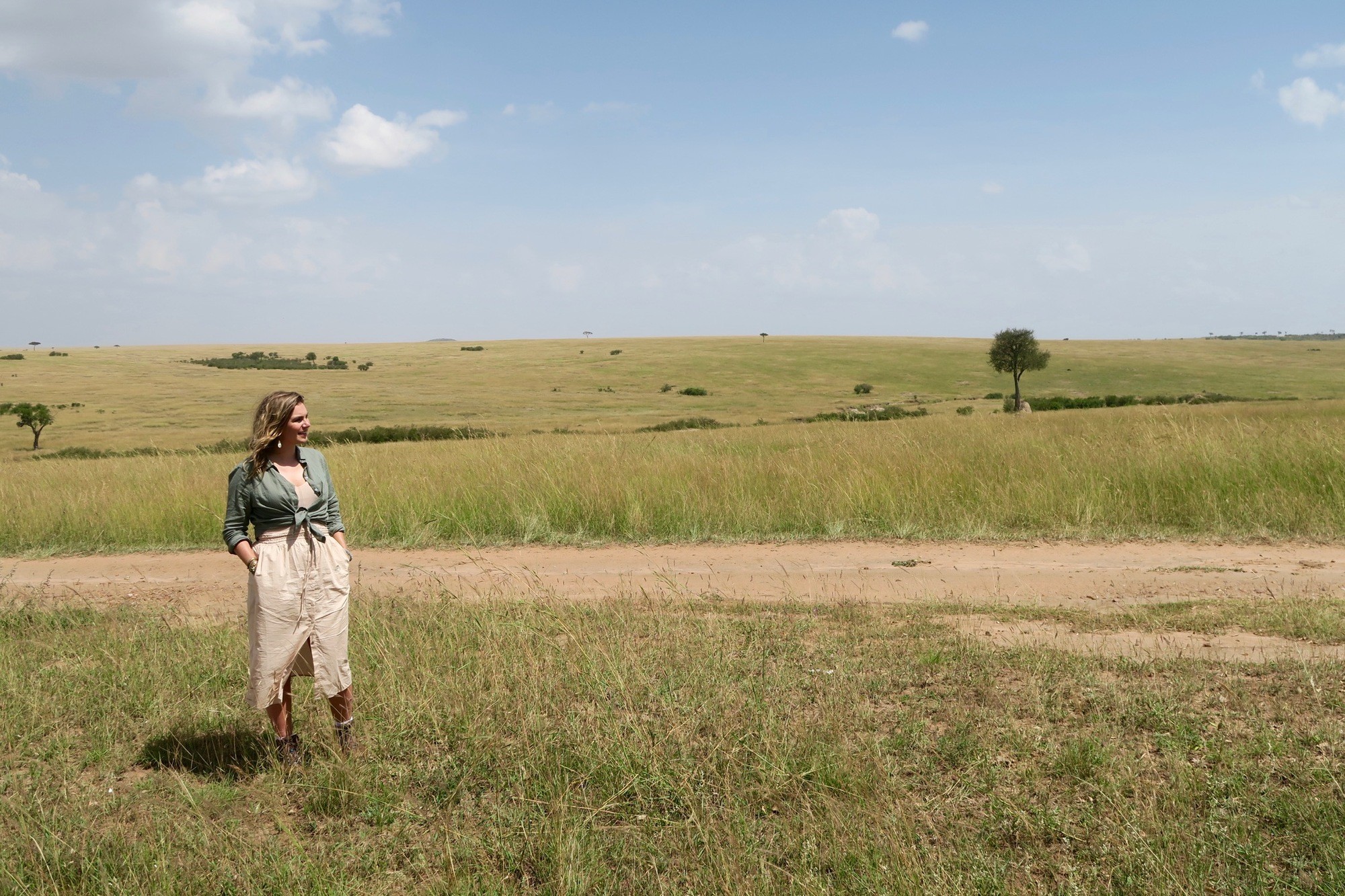 Kenya is by far one of the most beautiful countries I've ever been to, even though I barely scratched its surface. While travelling around Kenya I was struck by its geographical diversity; from cities to the sea, mountains to the plains, Kenya is a country where you can experience all kinds of landscapes and all kinds of weather. And when we think of Kenya, we very often think of going on safari. Add the fact that there are notable Muslim areas where, in order to be respectful, we should cover up, it means that packing for Kenya may seem daunting. Never fear! I have you covered.
From Nairobi to the Maasai Mara, here's what to wear in Kenya on safari and beyond.
Please note that this post includes affiliate links, though none of the products are sponsored (i.e. I purchased everything myself). I've had a lot of people tell me they like my what to wear posts but would appreciate links to clothing I'd recommend, so I'll try to do that from now on. As always, though, I would encourage you to try to shop locally whenever possible; my favourite travel wardrobes are always those that include a lot of the local clothing and jewellery!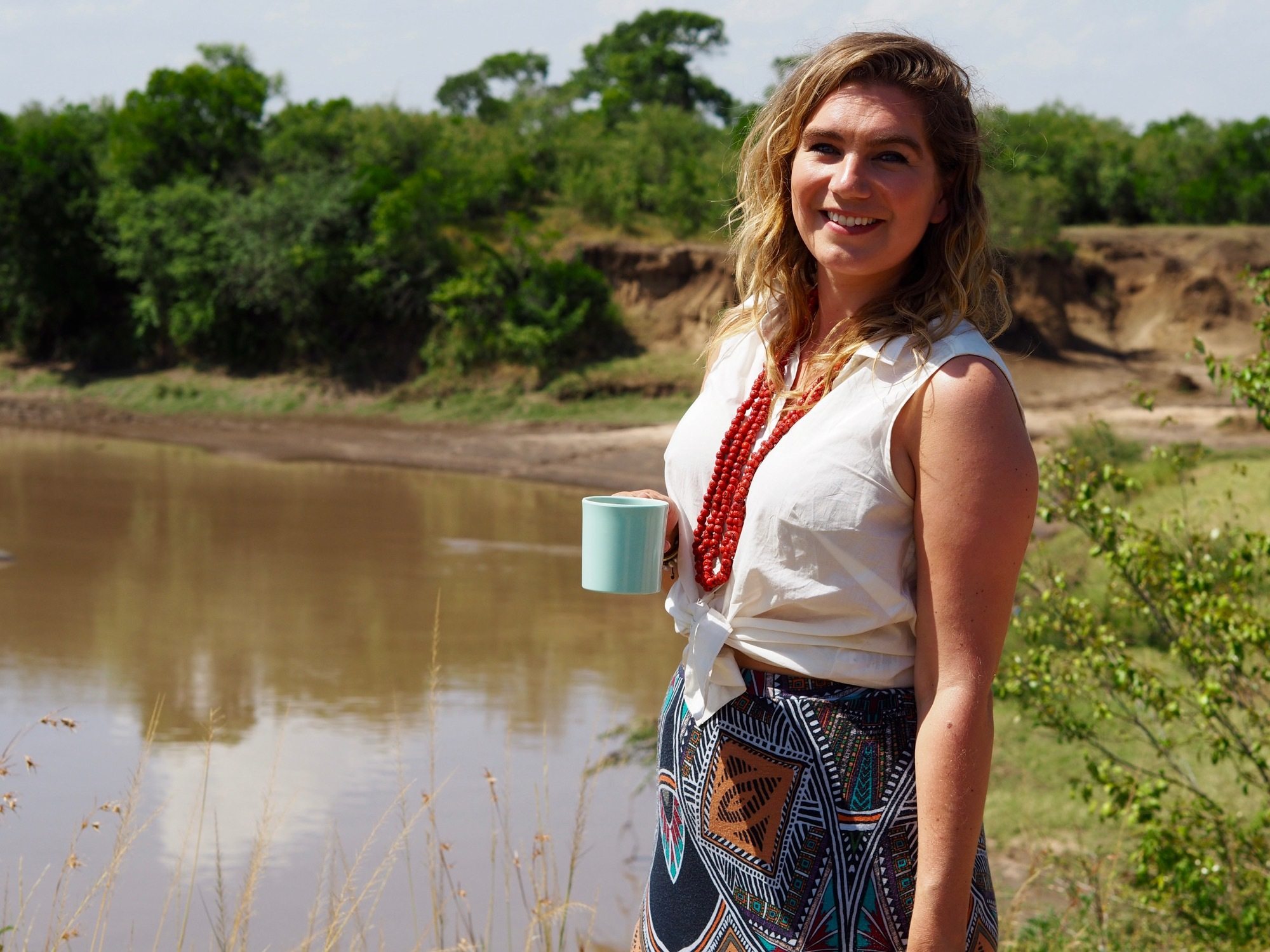 Before we dive into specifics, I wanted to first talk about packing for Kenya in general. C'mon now, admit it, when you think of what to wear on safari in Kenya, you probably think of this. Unflattering khaki outfits, a hat you'll never wear again, and a whole bunch of expensive, brand-name adventure wear you buy because that's what people wear on safari, right?
No. You really don't have to wear anything special on safari, despite what many other websites may tell you. Unless you are camping for days in the brush and do in fact need that special clothing, the average safari-goer is going to be sitting inside a vehicle for the majority of their time.
This means you should always focus on comfort above anything else, because you're going to be sitting in a cramped vehicle for six to twelve hours with the baking sun overhead. Oh and did I mention the tsetse flies?
I would also like to dispel two rumours that seem to prevail on every single packing list for Kenya I've ever read.
Rumour number one: Black clothing will attract the aforementioned tsetse flies, which are extremely annoying and hurt like hell if they bite you. OK, so the second half of the rumour is true – tsetse flies are indeed annoying and can hurt like hell. But in my experience, it didn't matter what colour clothing we were wearing… they attacked anyway. We luckily only experienced them badly once (and in Tanzania at that) but I wouldn't automatically avoid bringing black clothing on safari just for this purpose. If anything I'd avoid wearing black clothing on safari because it gets extremely hot while in the sun.
Rumour number two: Avoid wearing bright colours on safari because you will scare away the animals (hence the fact that safari clothing is often khaki). OK… no. If you are doing nature walks, then sure, I understand wanting to blend in with the background. But if you are going to spend the majority of your time sitting in a vehicle while on safari… wear whatever damn colour you want. Seriously. I saw dozens of people wearing bright pinks and oranges and greens and guess what? They were all watching the animals, too. Trust me, your pink t-shirt isn't going to be the distracting factor if you roll up in a giant safari truck.
Need just a little bit more assurance you can wear your favourite bright clothing while on safari?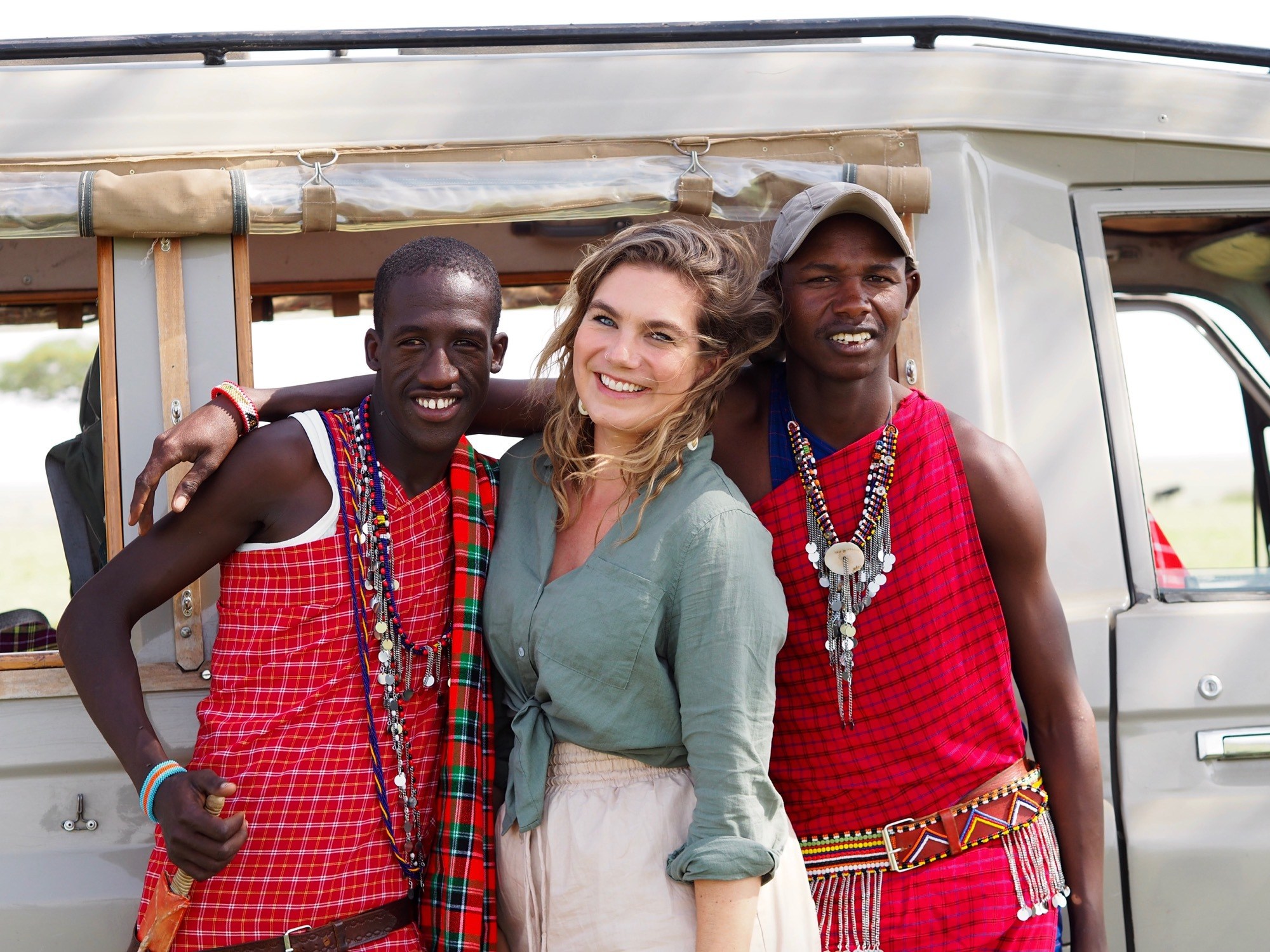 If the local Maasai men can wear this bright red, I'm sure it won't be the end of the world if you wear your favourite turquoise t-shirt. Traditionally Maasai people wear red to scare away lions, but again, you're going to be in a big truck. Lions aren't going to be like, "Oh look, there's a huge truck coming my way, but PHEW, I'm not scared because they're all wearing khaki."
Bottom line: wear whatever colour you'd like while on a safari vehicle tour.
So now let's talk specifics of what to wear in Kenya…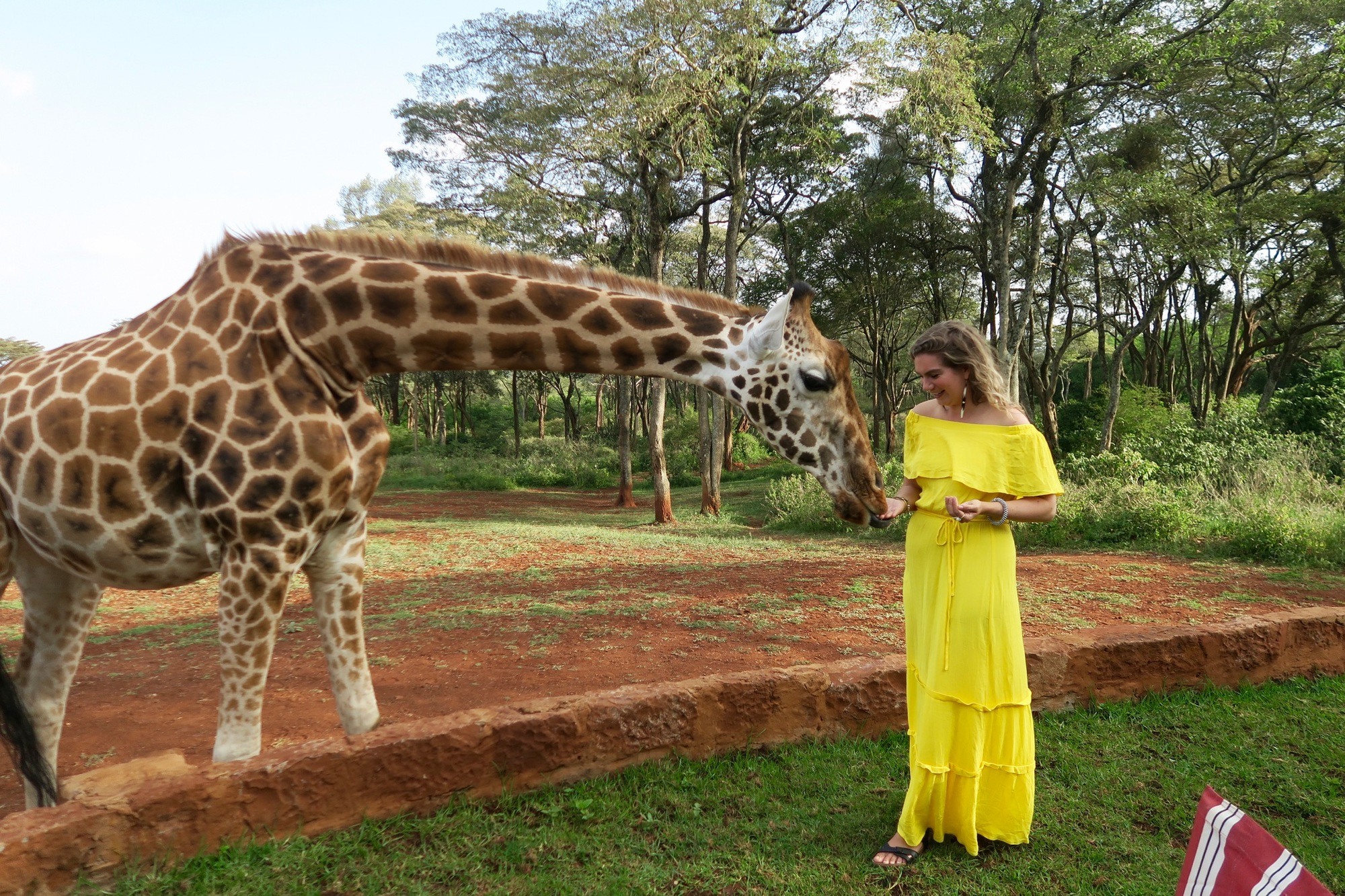 1. Dresses.
I am a big, big, big fan of dresses, both when at home and while travelling. They're comfortable, stylish, versatile, and you automatically have an outfit to go. I believe that dresses can be both casual and dressed up, and I love having a few in my bag whenever I travel, wherever I go.
For Kenya, I brought lots of long, colourful, flowy dresses that covered me up but were still stylish. I almost always travel with maxi dresses as I find them more comfortable… and I'd argue it's always better to err on the side of conservative when travelling to a country you don't know very well.
This dress is probably my favourite travel dress online right now, because you can easily dress it up or down, it comes in a bunch of colours, and it covers your shoulders. I also like the simple, easy style of this dress, although in a more conservative setting you'd have to cover your shoulders with a cardigan or jacket. I'm also pretty obsessed with this simple maxi dress, especially once you throw on a belt and a long necklace. Finally, this maxi dress is just incredibly pretty – I love that shape – and while I tend to stick to solid colours when I'm travelling for a long time, it's also fun to have a few prints to mix it up!
If you're after the dress I'm wearing at Giraffe Manor above, it is sadly no longer available from ASOS (I get almost all of my travel clothing from ASOS, Amazon, and H&M). This dress is pretty similar (and way cheaper than the one I bought!).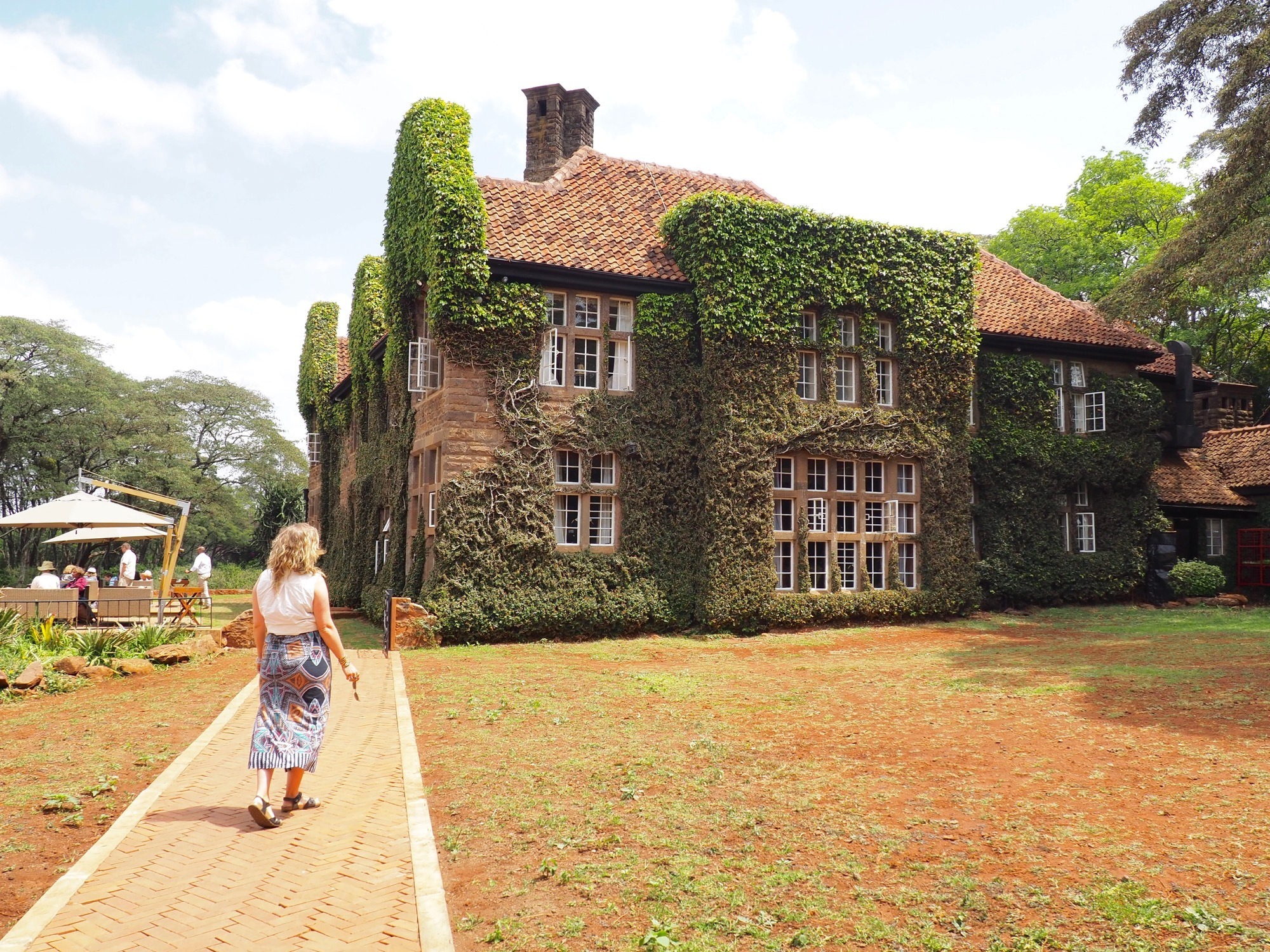 2. Skirts.
Alongside dresses, I always bring skirts when I travel, for similar reasons to above. They're super comfortable (I always go for elastic waists), really diverse, and make me feel stylish no matter where I am. Again, I typically go for longer skirts so that I can remain a bit more covered up; this one is perfect for travelling, and it comes in a variety of colours.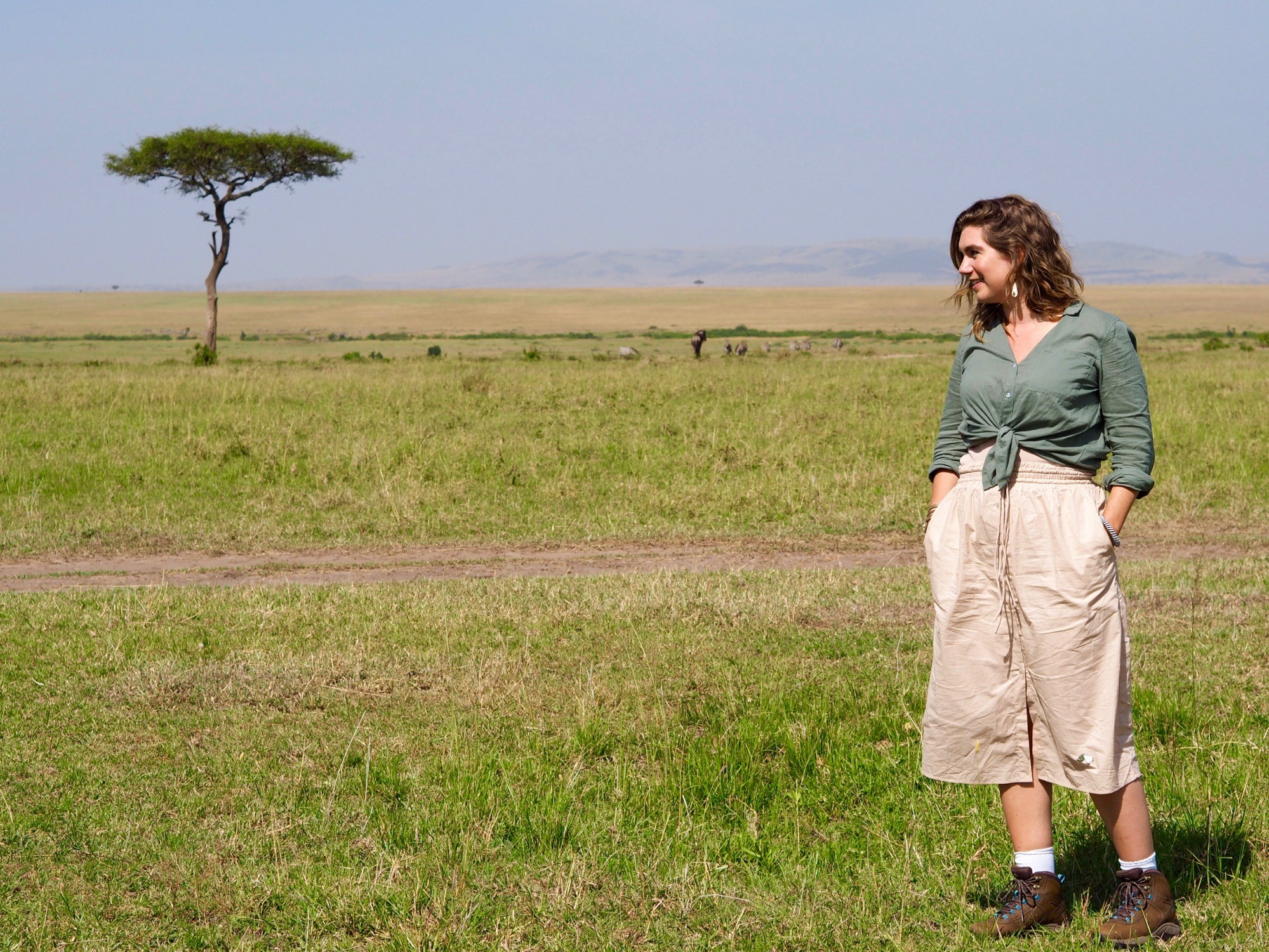 And yes, I even wore skirts on safari! I mean, really, if you're comfortable in skirts, I don't see why it's a problem. I felt comfortable, cool, and stylish, so it really was a win. This skirt is still available on ASOS and it comes in multiple colours! I may or may not own three of them…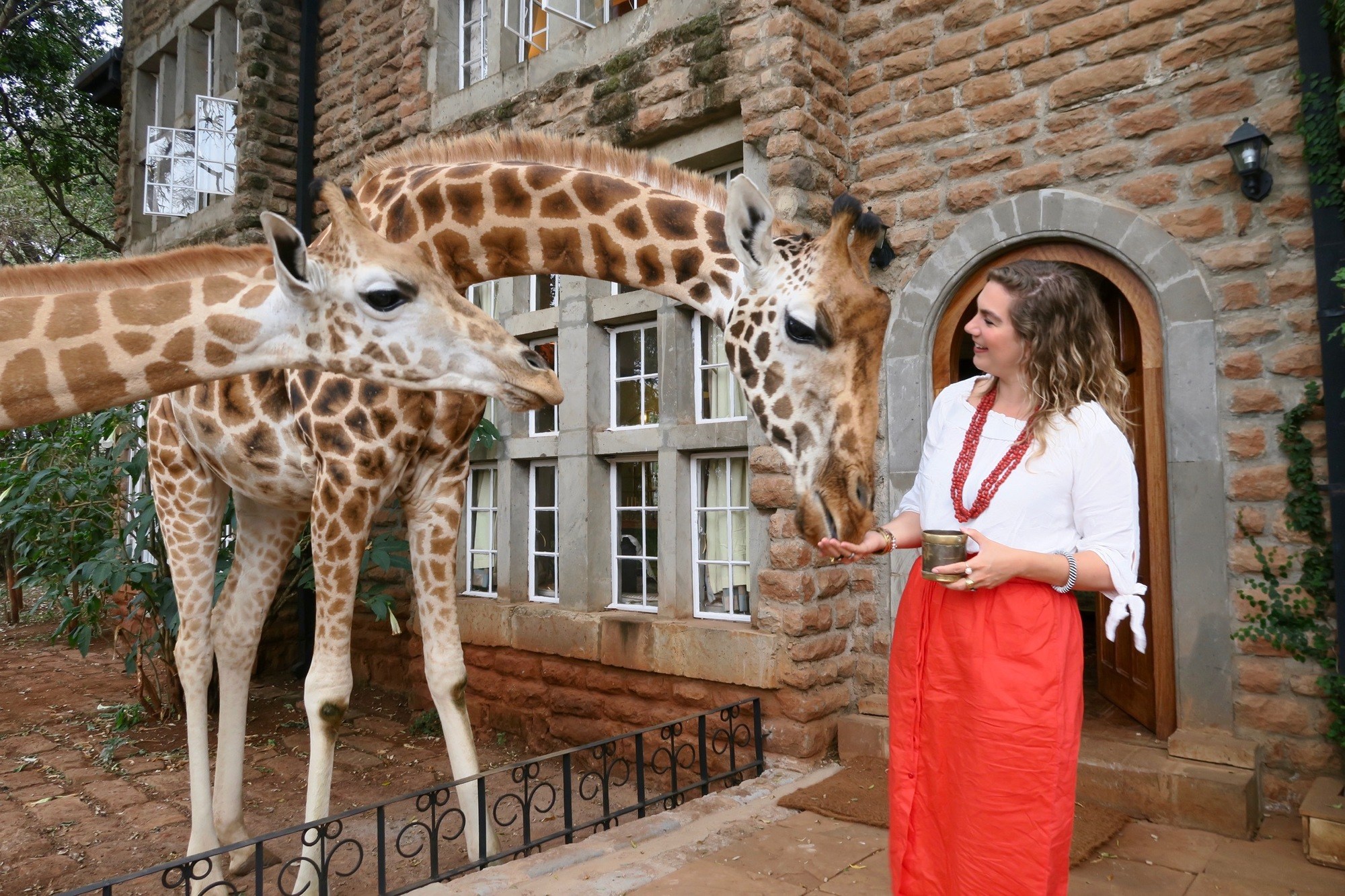 The same skirt in a different colour
One piece of advice… wear a pair of spandex shorts under your skirts. Sounds weird, but I actually wear a pair under every single skirt I wear (unless I'm wearing tights). Firstly, I don't have to worry about any awkward angles (think mid-2000s Lindsay Lohan) and secondly, I can combat the dreaded chub rub. Oh yeah. You know what I'm talking about… when your inner thighs chafe due to heat. Not pleasant to think about, I know, but trust me, a little pair of spandex shorts will be your best friend. I personally like these ones.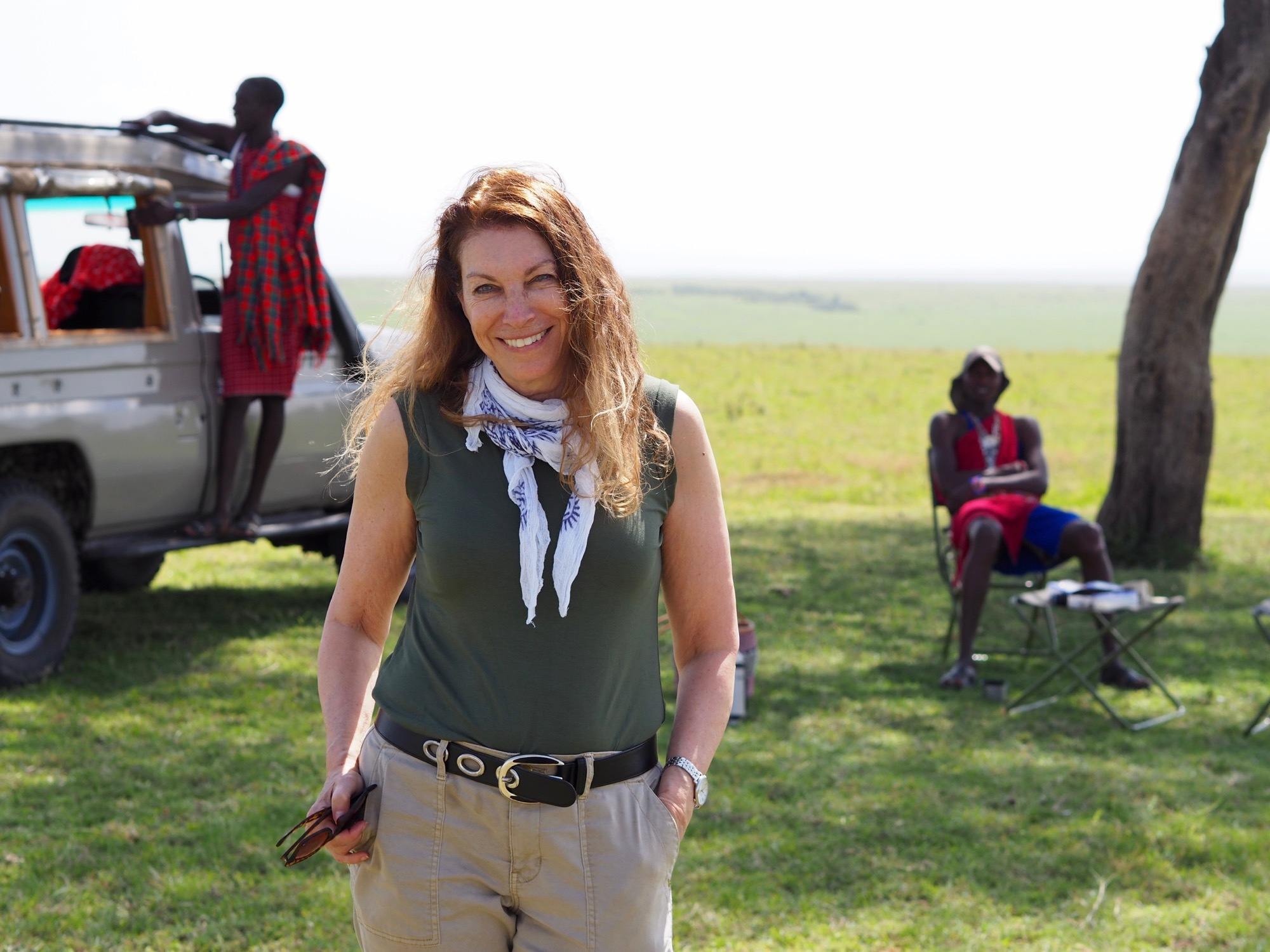 3. Trousers.
As my mum is modelling in the photo above, I would highly recommend bringing at least one pair of comfortable, durable trousers while in Kenya, especially if you're going to be doing any bush walking or hiking. I personally brought a pair of black leggings as well as a few looser cotton trousers from H&M, but that's because I knew I wasn't doing any serious outdoorsy stuff in Kenya.
I'd like to spend a lot more time on the African continent in the next few years, and a lot of that includes camping and bush walks, so I am looking to purchase these trousers as I'm a big fan of the Craghoppers brand.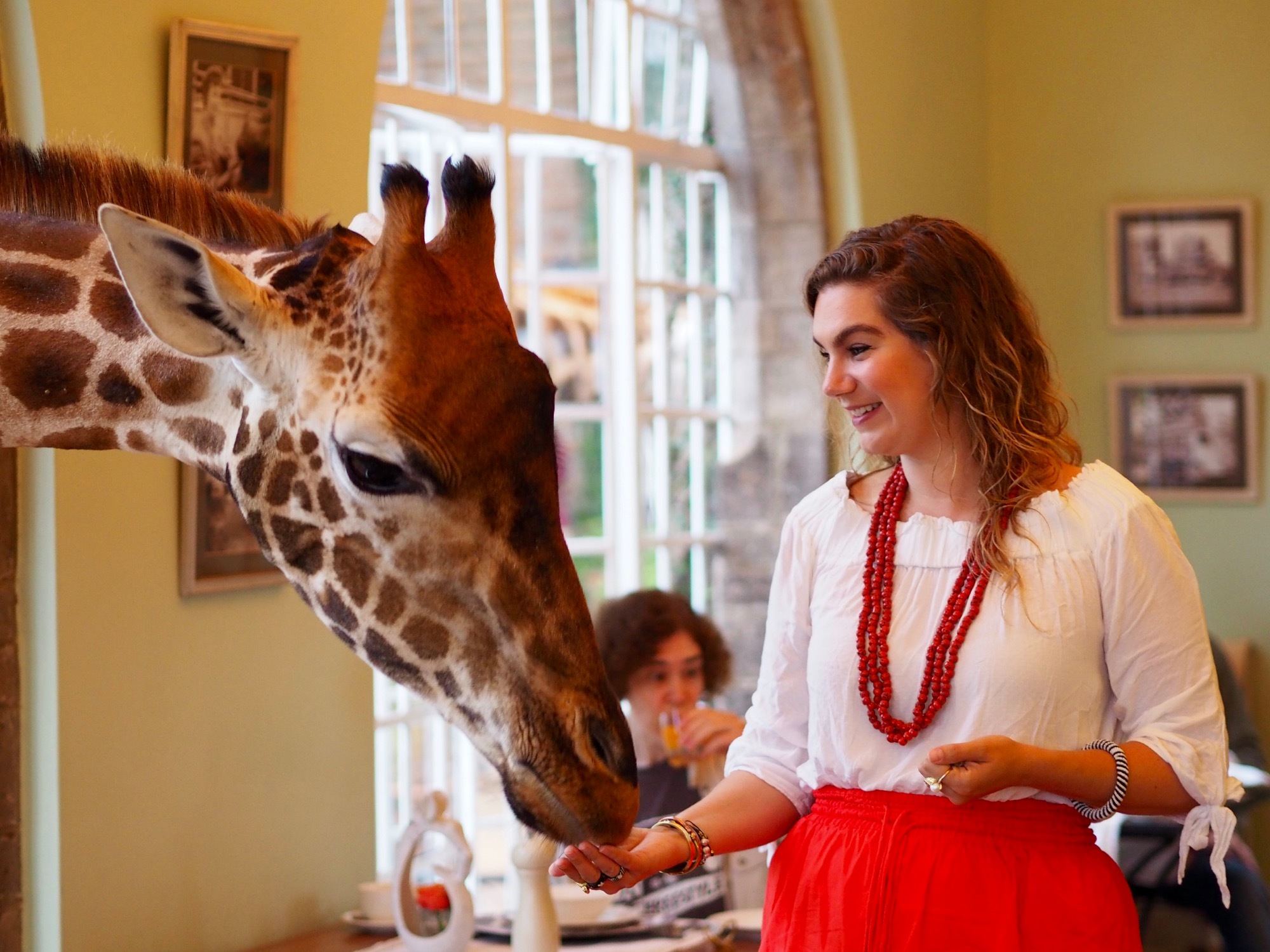 4. Shirts
I brought a variety of shirts and blouses with me to Kenya, and I was thankful for all of them. I think it's important to have a few different styles so that you can rotate them depending on the weather and humidity. You'll most likely be sweaty at some point on your time in Kenya (temperatures can get very hot, especially when you're on a lengthy safari) and so it's good to have lots of cool, breezy options. I always prefer cotton when I'm travelling.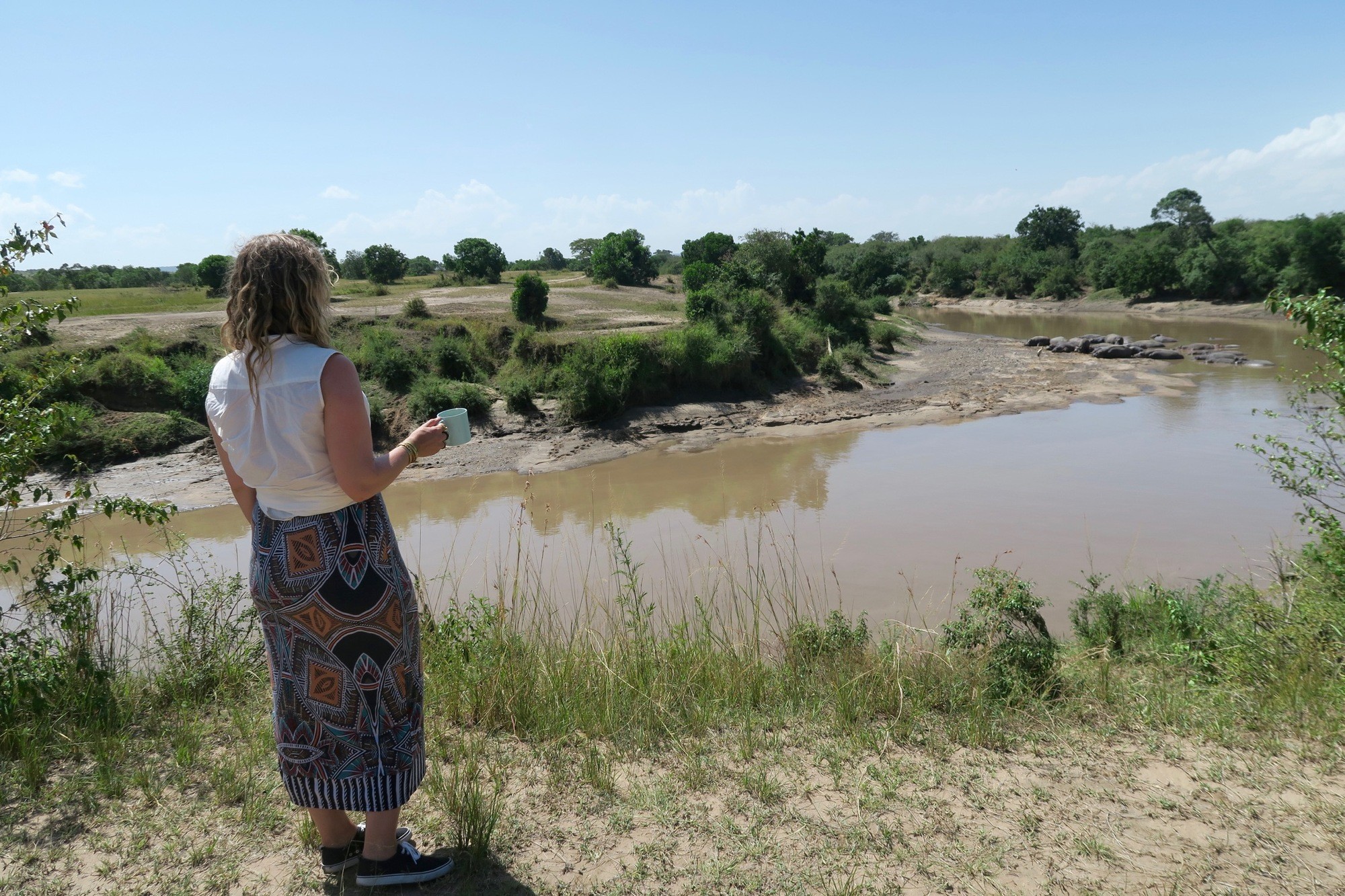 As you can see in the photos above, I preferred white, although they do indeed get very, very dirty on safari (lots and lots of dust in the air). They were easy enough to wash in the evening and were usually dry in a few hours because of the heat.
I brought the following shirts to Kenya:
-a sleeveless blouse, similar to this one
-two tank tops to wear on safari, although I wouldn't wear these in more conservative areas
-an off-the-shoulder top to wear in Nairobi and in the evenings, similar to this one
-a button-up cotton blouse from H&M which was a lifesaver on safari… it kept me protected from the sun but was still cool and comfortable!
I also had a long-sleeve t-shirt with me that I didn't wear.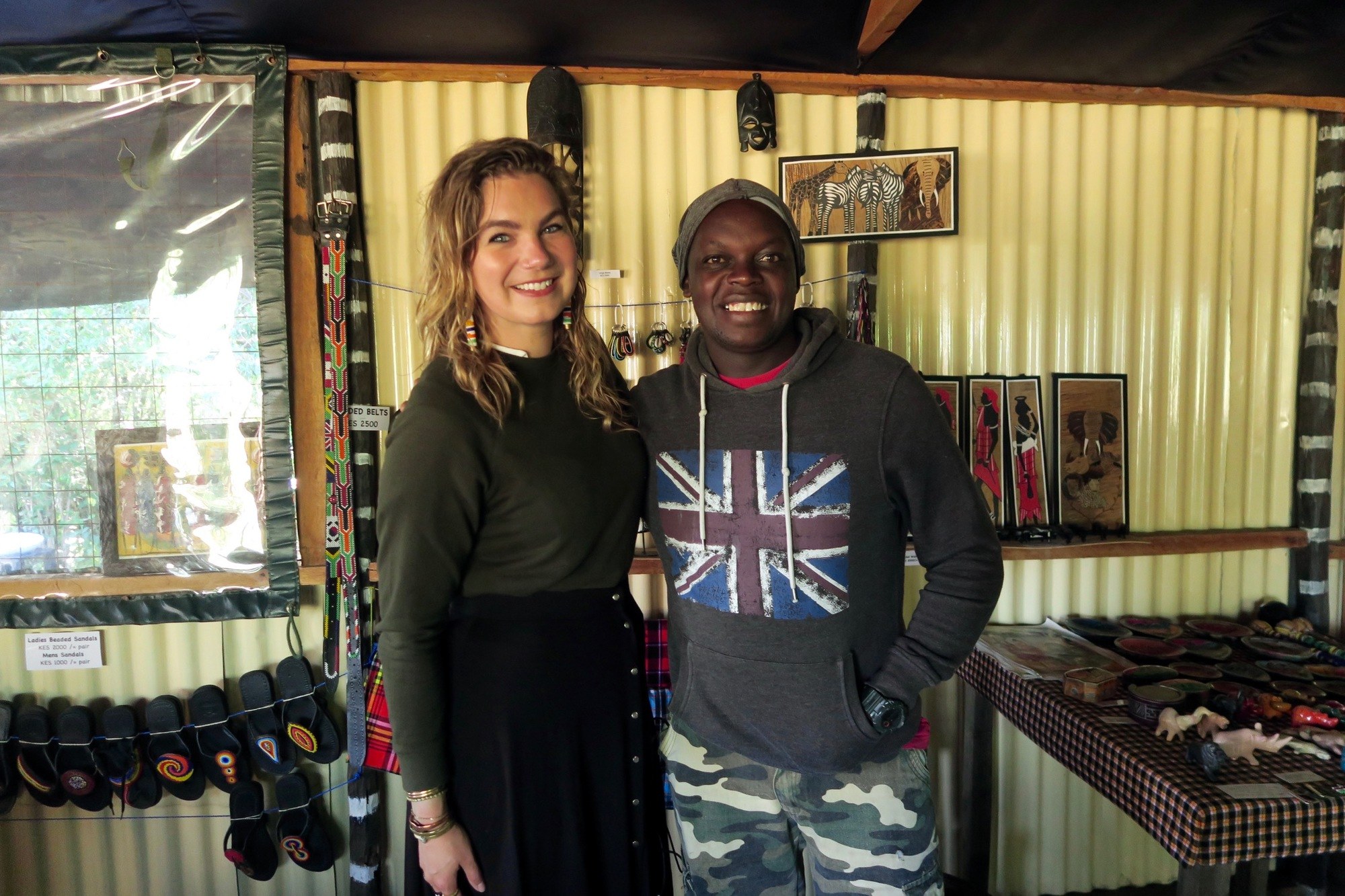 5. A sweater or sweatshirt
It can get quite chilly in in the evenings and early mornings in Kenya, so I found my hoodless sweatshirt to be invaluable (I have about six of these in a variety of colours; I love them for travelling as they're both warm and durable). Both ASOS and H&M frequently carry these styles.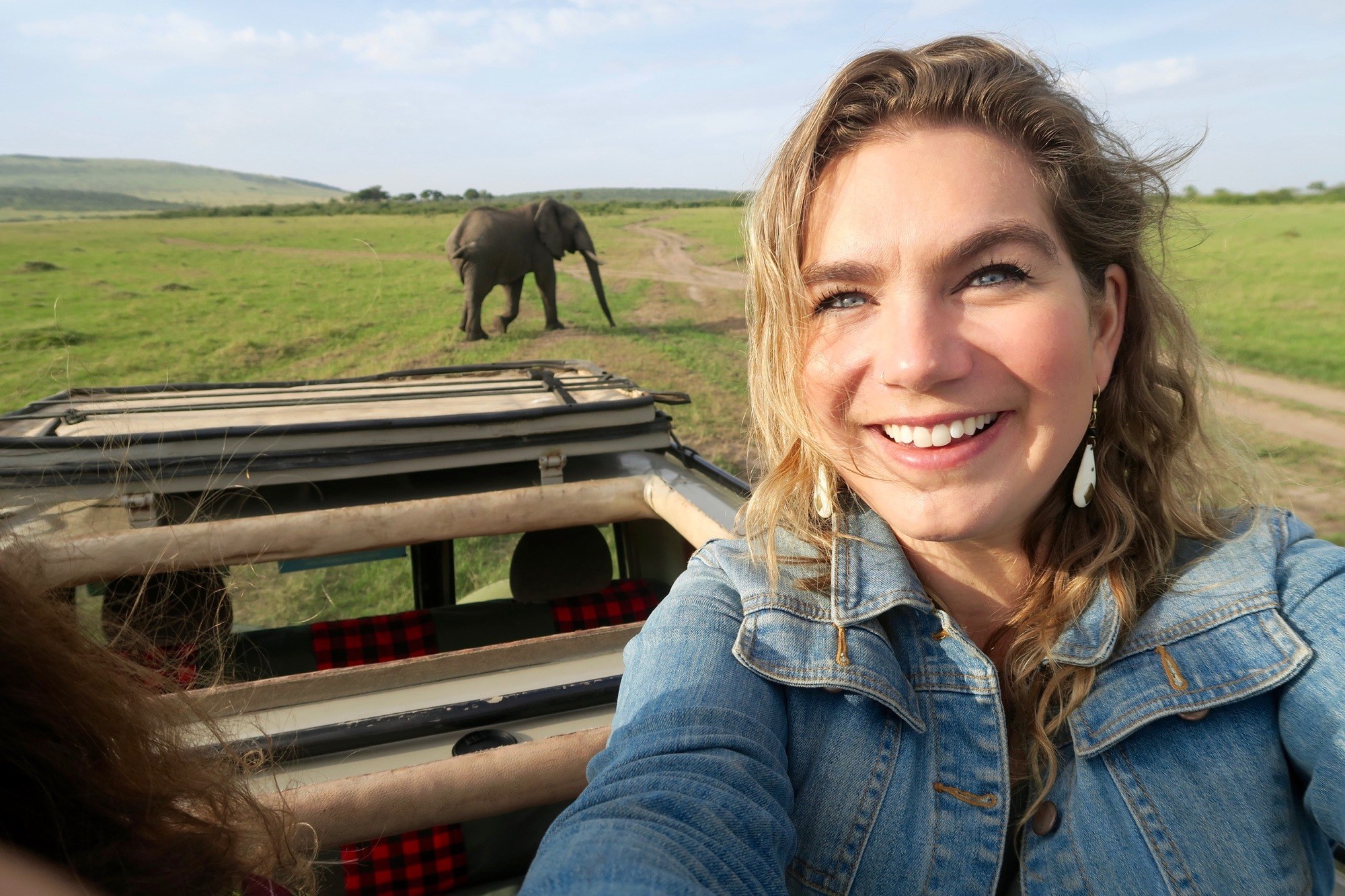 6. A jacket
As I knew I wasn't going to be doing too much outdoorsy stuff, I stuck to my faithful denim jacket (I have taken a denim jacket with me on every single trip for the past 11 years). I like a cropped look like this one. I also carried a rain jacket that could fold up easily; I didn't need it for Kenya but used it in Rwanda and Uganda. Again – it gets chilly in Kenya at times, so it's good to have a few layers!
Favourite photo I took of my mum in Kenya
7. Scarves
What is a packing list on this blog without a scarf recommendation?! Scarves are so useful while travelling – they can not only be used as actual scarves, they can be used as shawls (as seen above), sarongs/beach coverups, blankets, towels, pillowcases, and can even be fashioned into skirts and dresses if big enough. There are some scarves for sale in Kenya – you'll see the Maasai blankets in just about every tourist shop or market – but I brought a few lightweight ones with me knowing I wouldn't necessarily need them for warmth. Ones like this are super pretty and can add a pop of colour, and I always recommend a pashmina.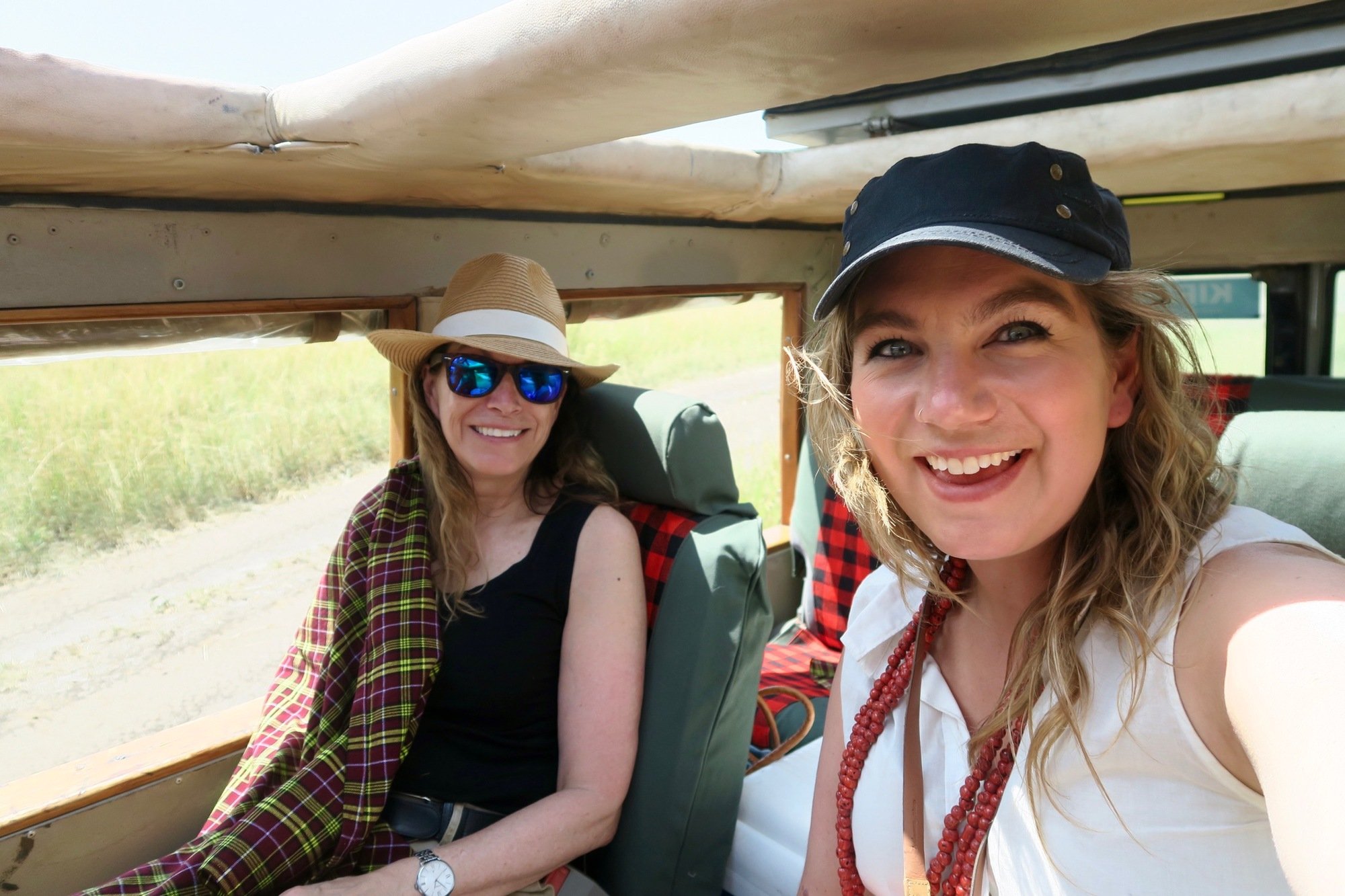 8. A hat
If you are going to spend any time outdoors in Kenya, I strongly recommend a hat. If you are going to be on safari in Kenya, you definitely need a hat. I am not a hat person but having something to keep my head cool and keep the sun out of my eyes was incredibly useful – especially when we were sometimes on safari from 6am to 6pm!
Again, you do you not need any type of special safari hat… a beach hat or baseball hat will do. Just make sure it keeps your face sheltered from the blazing sun!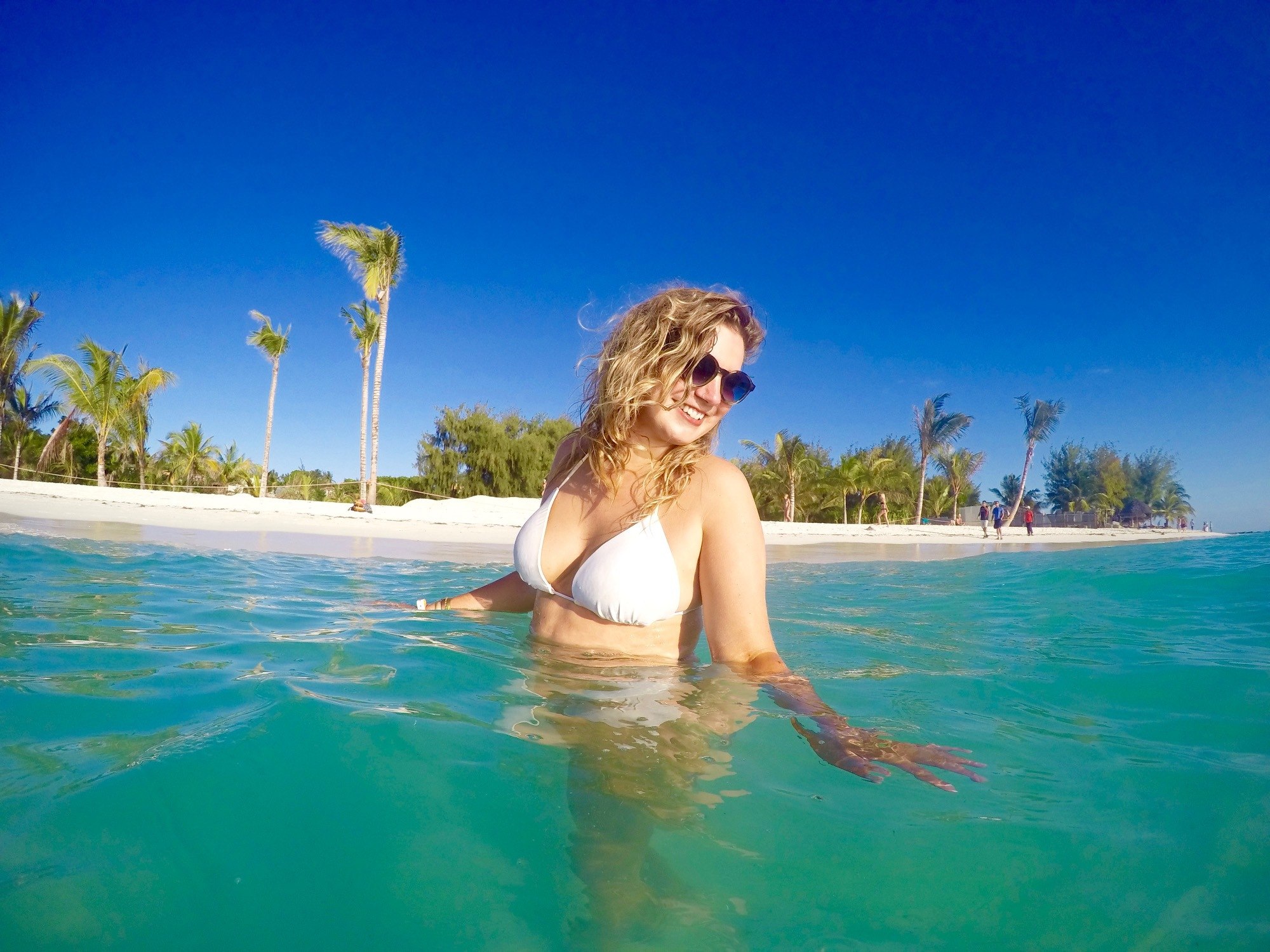 9. A bathing suit
So the photo I used above was taken in Zanzibar, but I did need a bathing suit for Kenya as some of the hotels and lodges I stayed in had pools. If you are going to be spending time on the Kenyan coast, you'll obviously need both a bathing suit and a beach cover up, though your scarf or pashmina can double for this.
10. Shoes
As you can see in the photos above, I had a variety of shoes with me in Kenya. I was actually very pleased with the selection I brought – I often overpack – and this time went for comfort above everything else. In my suitcase I brought the following shoes:
–Merrells hiking boots, which I wore while on safari. These later proved invaluable on treks in East Africa, so I definitely recommend bring a pair of sturdy, durable, water-resistant hiking boots.
–Birkenstock sandals. I had never owned Birkenstocks before and I was hesitant to buy them, but they turned out to be incredibly comfortable and worth the price. I went for a slightly different look to the regular style and felt I could even wear them out at night with dresses!
–Avarca sandals. I have totally fallen in love with these after purchasing them in Menorca earlier this year! They are so comfortable and I get so many compliments on them. I actually brought two pairs as they fold down so easily, and wore them with dresses and skirts.
-Flip flops – I'm always a fan of Havaianas! Easy to slip on for by the pool, in outdoor showers, etc.
–A pair of Keds. I have been recommending these for years as travel shoes – I've worn them all over the world. They're cute, comfortable, and classic.
Finally, don't forget to bring at least four pairs of durable, breathable socks.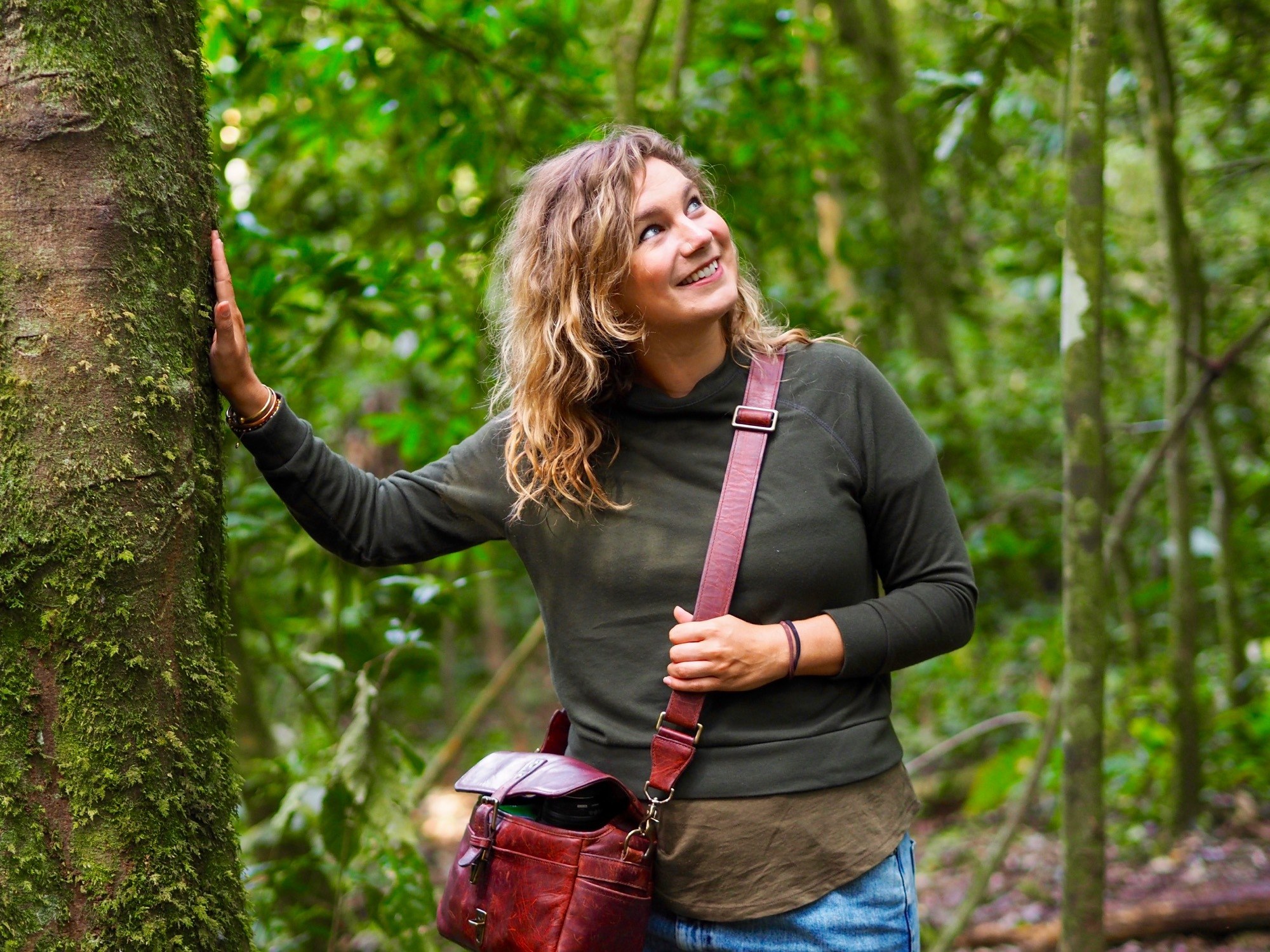 11. Bags
This photo was actually taken in Rwanda, but you can see my ONA camera bag here. I am OBSESSED. It's so beautiful – I get so many compliments on it – and it was great to hold all of my camera gear while out on safari.
I also had a small black purse with me – many travel bloggers recommend Pacsafe purses, and I'm a fan of their portable safes – as well as a Herschel backpack as my day pack. I feel like everyone and their mother owns this backpack in London but I can totally see why… it's not only stylish, it's durable as hell. I bought the brown one and felt it looked very safari-esque.
12. Jewellery
As you can see in the photos, I wore jewellery the whole time I was in Kenya. I never understand articles that tell you not to wear any jewellery when travelling because it might attract attention and make you a prime target for robbery. Um, I hate to break it to you, but just being a tourist is usually going to be attention enough! While I certainly wouldn't bring anything too valuable or sentimental with me (I met a few women on honeymoons who had left their engagement rings behind, and I totally get that), wearing a few bangles or beaded necklaces is completely fine.
I purchased a lot of jewellery, including bangles, rings, necklaces, and earrings, in Kenya, and I absolutely loved wearing them.
Bottom line – if you wear jewellery at home, don't be afraid to wear it while travelling!
13. Makeup
The absolute same theory goes for makeup – if you wear it at home, you can certainly wear it while on holiday in Kenya! I applied my usual makeup every day, even on safari. I'd just avoid anything too heavy – you'll most likely be sweating a lot – and, as always, I can't recommend this product enough. It totally changed my makeup routine as it ensures my eye makeup stays put all day, even in hot weather.
Other things to bring to Kenya:
-A great camera. I took the plunge and bought this Olympus mirrorless camera and noticed a huge difference in my photos. I also purchased a zoom lens to go with it; trust me, you will want a zoom lens while on safari!
–Mosquito spray. Absolutely essential in Kenya, as malaria is a threat.
-On that note, malaria tablets. In North America these are prescription, although in the UK you can buy them over the counter from a pharmacy. Expensive, but worth the extra protection against malaria!
-A first aid kit with all of your favourite/trusted medicines.
–Sunscreen with a high SPF. Also essential, as you'll most likely spend a lot of time in the sun.
–Travel sink packets for washing your clothes. I did see laundry services available at my hotels and lodges but sometimes you just need to wash something quickly, especially after a long day in the dust and the sun.
–A Pacsafe portable safe. I felt totally safe in Kenya but I liked the extra assurance that my belongings were safe in my room or tent. I had been meaning to purchase one of these for a long time and I really valued it while in East Africa for six weeks. It holds a lot, including two laptops.
-Finally, I brought a Samsonite hardshell suitcase with me to Kenya, and I have to say it was AMAZING. I was worried I would need a backpack (and if you are planning on doing a lot of camping I recommend bringing one) but for my trip – one that involved mostly hotels and lodges, this suitcase was great. I loved the built in lock, and despite being hardshell, I could fit SO much stuff in it! Don't forget packing cubes – I am such a fan of these, as it's so easy to keep all of your stuff organised.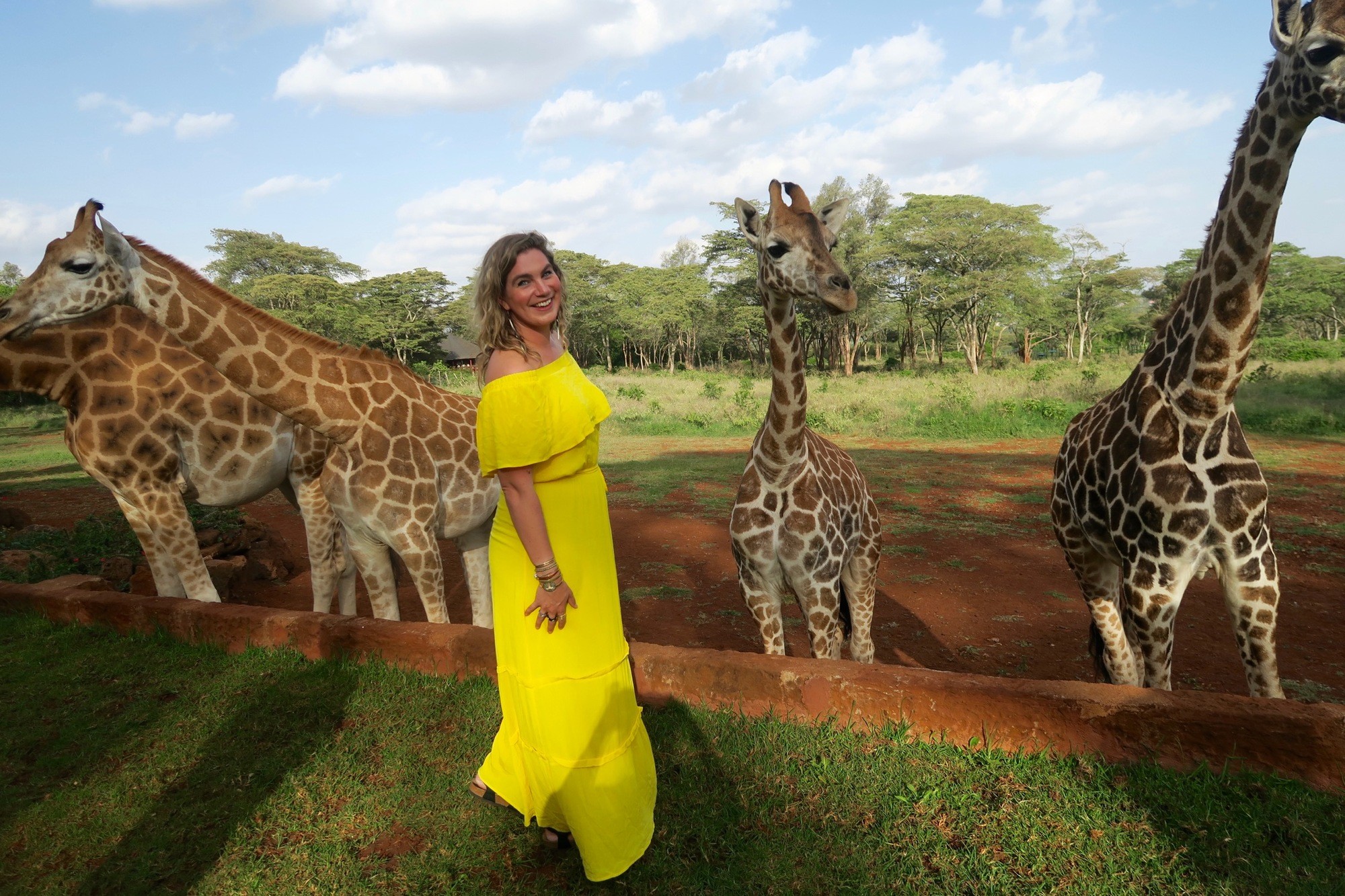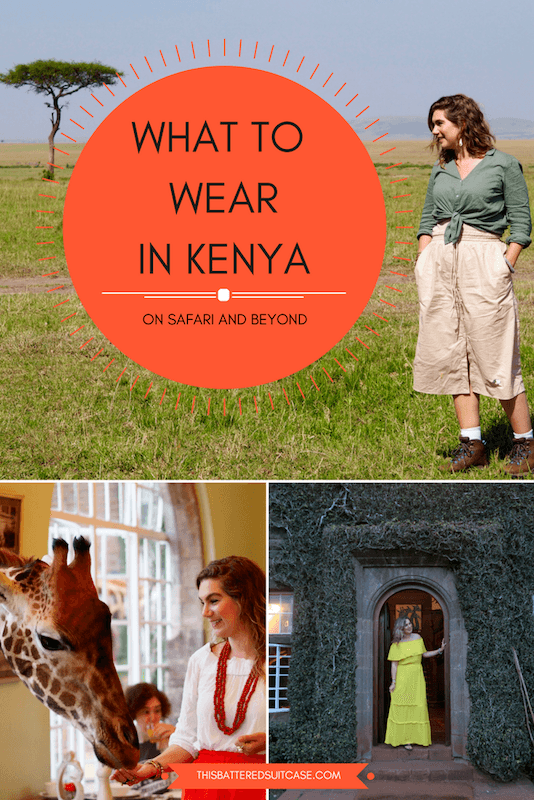 Make sure to check out the other What to Wear posts, including packing lists for Thailand, Cuba, India, Colombia, and more!
So there you have it… what to wear in Kenya. Have you been to Kenya? What would you recommend bringing?