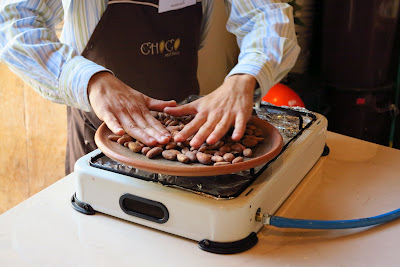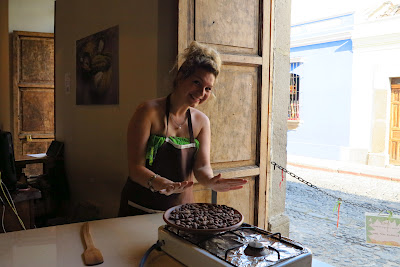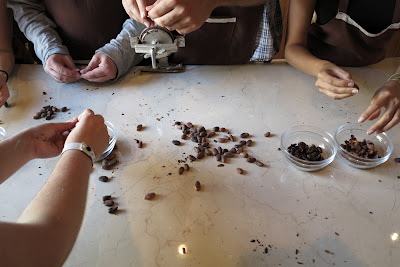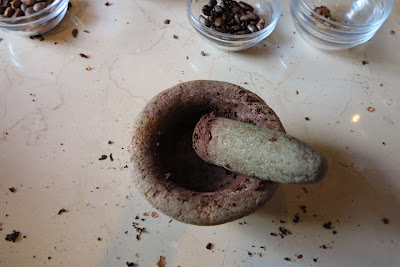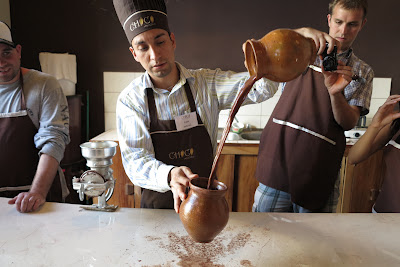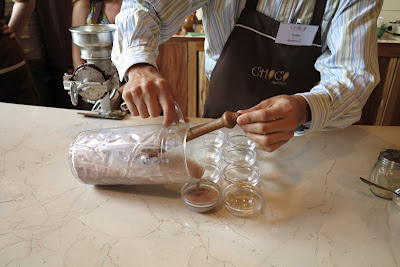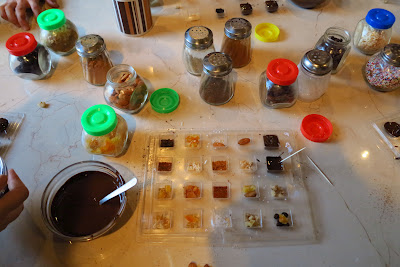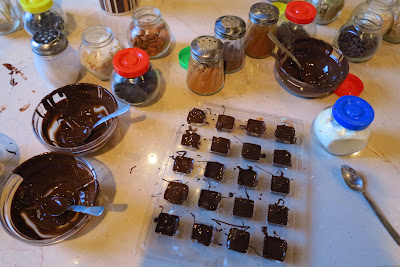 Antigua, Guatemala
"Chocolaaaaaate! Chocolaaaaaate!" Pablo, our wonderfully enthusiastic guide, sang loudly as he whipped our traditional hot chocolate into a beautiful foam. We each had a turn churning the frothy mixture of ground cacao beans, honey, cloves, and boiling milk, eventually pouring it into tiny clay cups for our drinking pleasure.
I had heard time and time again that I simply must attend one of the
Choco Museo
's chocolate workshops when in Antigua; I finally attended one yesterday afternoon, and it was definitely a treat (yes, pun intended).
Starting off with a brief history of cacao trees in Central America, it was clear how important and valuable the trees had once been; in the past, the beans were traded like gold. The cost of a few tomatoes? One bean. The cost of a rooster in its prime? 250. Centuries ago, chocolate was only for royalty, and it was mixed with human blood to appease the gods. Blood was eventually replaced with chili and other red spices, and it is still tradition to add some of these red ingredients to honour the deities.
We quickly moved on to roasting the beans, delighting each time one of them popped open. After roasting, we learned how to separate the husk from the nib, and made a tea out of the husks. With enough sugar, it was quite drinkable. Armed with our own mortars and pestles, we furiously ground the shelled nibs into a fine paste, which we eventually mixed with spices, honey, and hot water or milk. No spoons were allowed, of course; we mixed the concoction by pouring it from jug to jug, losing most of it to the counter in the end (we were not quite at expert Mayan status yet). I didn't expect to like the hot chocolate so much, but it was surprisingly easy to make, and even more surprisingly easy to drain my cup and want more.
Next came my favourite part: making our own chocolate squares. Using a 70% cacao chocolate base, we were given an array of ingredients to choose from: sea salt, ginger, coconut, orange peel, sweet milk powder, cloves, pepper, chili, macadamia nuts, almonds, and coffee beans. I carefully chose my combinations, mixing salt and almonds, ginger and coconut, coffee and chili. We then spooned in the steaming chocolate, and it was left in a refrigerator to set overnight.
I picked up the final product today, a giant bag of assorted chocolates that will inevitably melt in the hot Guatemalan sun. But each one is different, each one is delicious, each one was made by me, and it was such a unique and fun experience. I've had to stop myself from inadvertently snacking on them throughout the day and night; I'm going to try and make them last for as long as I can. If you are ever in Antigua, I definitely recommend this workshop – I can now officially say I've made my own chocolate, and I have the bag full of sweet treats to prove it.
Choco Museo
is located on 4th Calle, just off of Parque Central. The workshop lasts two hours and is 150 quetzales (just under USD20).