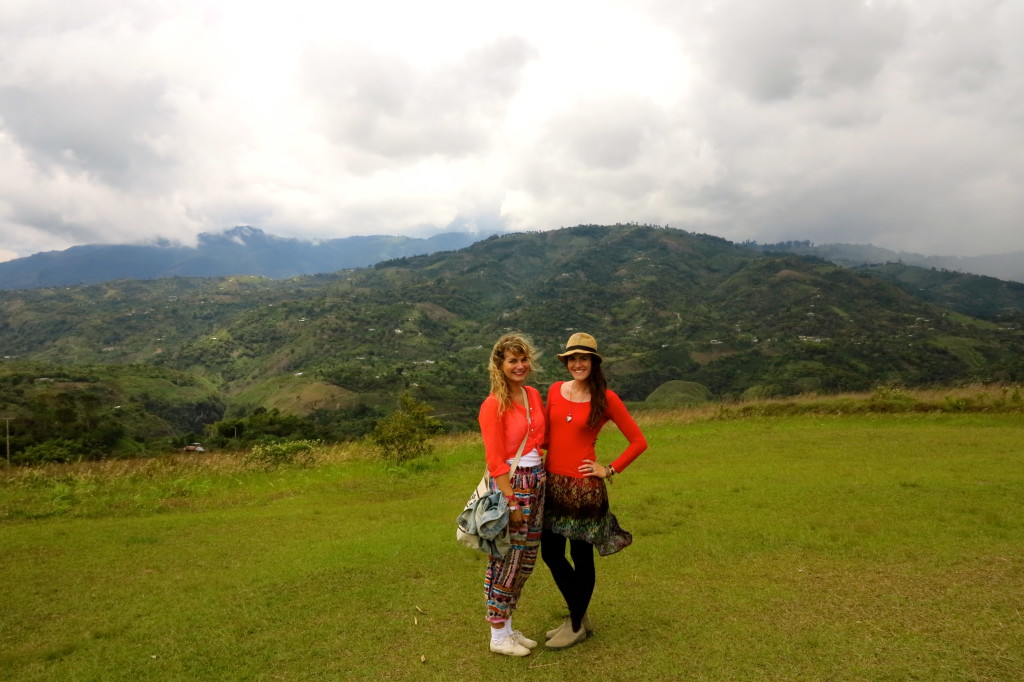 Kerri and I arrived in Cartagena by boat at the end of August. We had very vague plans for Colombia; we had heard of certain cities, Bogotá and Medellín and Cali, and had been told of the beauty of Tayrona Park. We didn't know much else about the country, though, despite our research beforehand. Often it's difficult to figure out exactly where you want to go until you're actually standing on a country's land, the terra firma beneath your feet and the promise of a new location in the air.
One month later, after a fabulous journey that lead us from Cartagena to Santa Marta, Taganga, Tayrona, Medellín, Guatapé, Salento, Cali, Popayán, and Silvia, our appetite for Colombia was not quite satisfied. One of us read something, or heard something, or saw something: how the seed was actually planted to visit San Agustín, I can't remember. Somehow, however, we decided to leave our heavy packs in our beloved Popayán and travel for a few days to the centre of the country, to the place of the ancient megaliths: San Agustín, Colombia.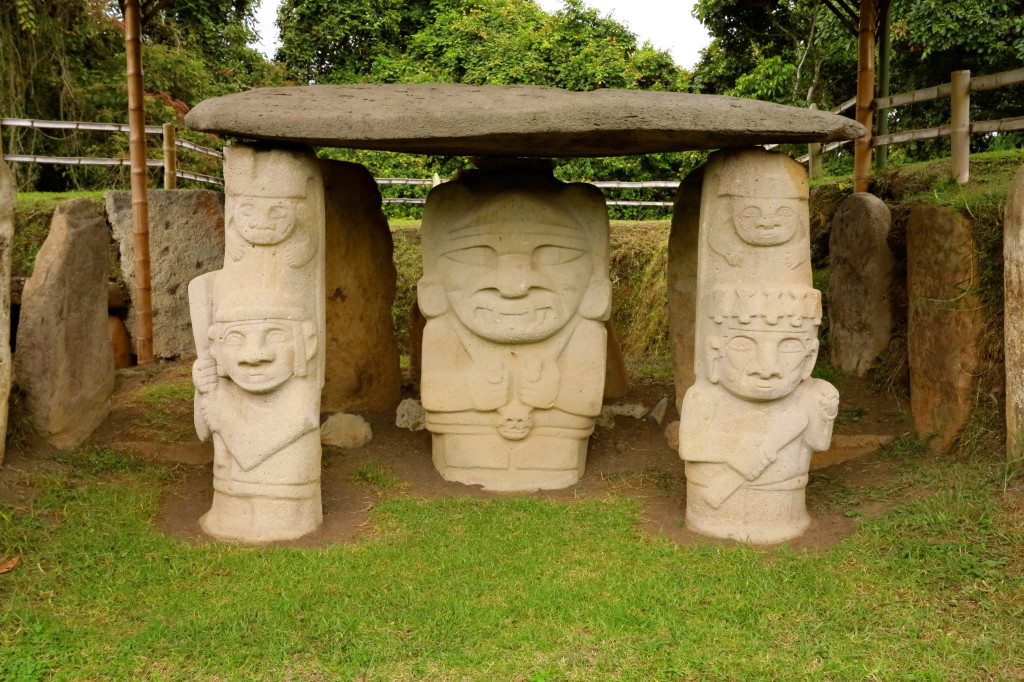 Famous for its Archaeological Parks and its fascinating history, San Agustín is home to the largest collection of megalithic sculptures in South America. Beautiful and ornate, these statues date back to the Andean times, ranging as far back as the 1st century. Some are nothing more than crumbled piles of rocks by now, but many, so many, are still standing. Despite a few photos I had seen before arriving, I wasn't prepared for the endless sea of fanged creatures, of stoic gods and monsters.
There was quiet and beauty in this windswept place, its green hills surrounded by valleys and mountains, raging rivers and crashing waterfalls. In the park, all of that seemed lifetimes away. With few tourists around, Kerri and I had the place to ourselves. Every so often we'd hear the low rumble of wind or the faint sound of birds in the trees. We imagined that not much had changed since these statues were carved all those centuries ago, when that great stone was manipulated into characters from stories, figures from myths.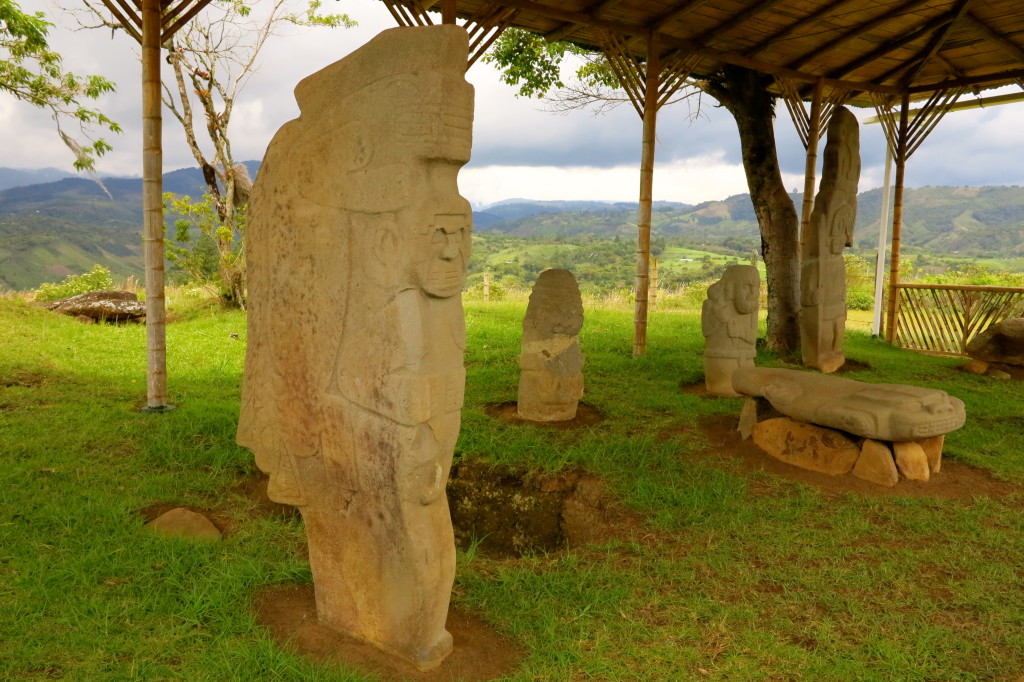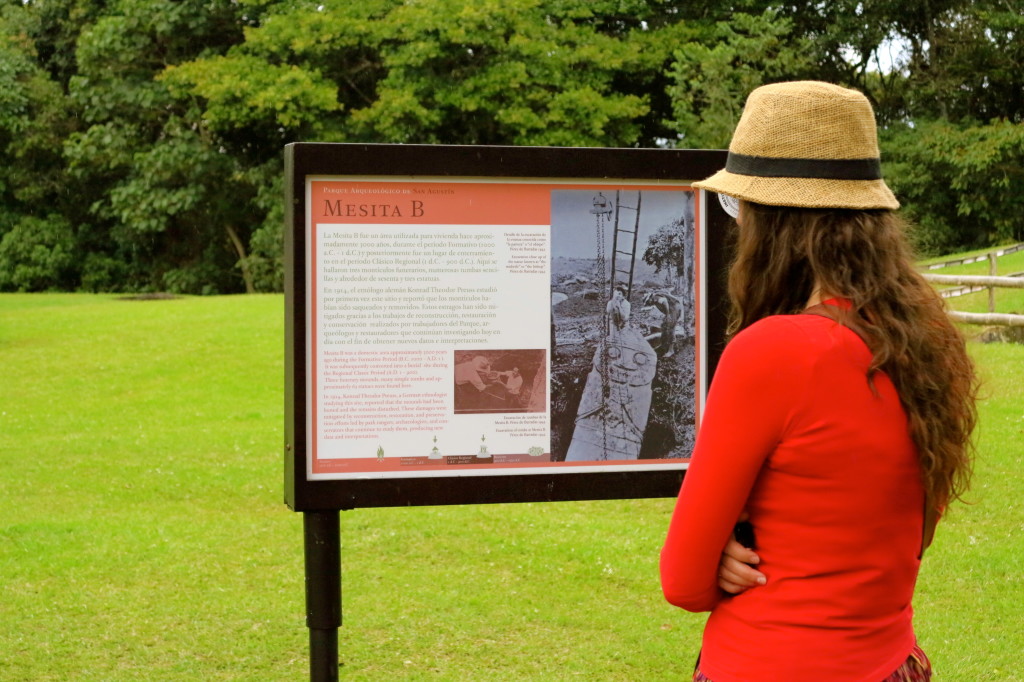 We did not do a tour that day, and chose to wander on our own; armed with a guidebook and dutifully reading all of the signs, we learned what we could and what we wanted to. I wonder if my opinion of the place would have changed if I had taken a tour, or if my memories are good enough. My memories: walking through a mossy forest, condensation from the trees dropping on our heads in great plops; gawking at the intricacy of these massive statues, imagining the passion and the skill that the carving took; listening to the Rolling Stones as we climbed up the mountain to the final Mesita. Our memories cannot always be sculpted by the actual history and circumstances of the place we're in; sometimes, oftentimes, our memories only hold the history and the circumstances we've made for ourselves.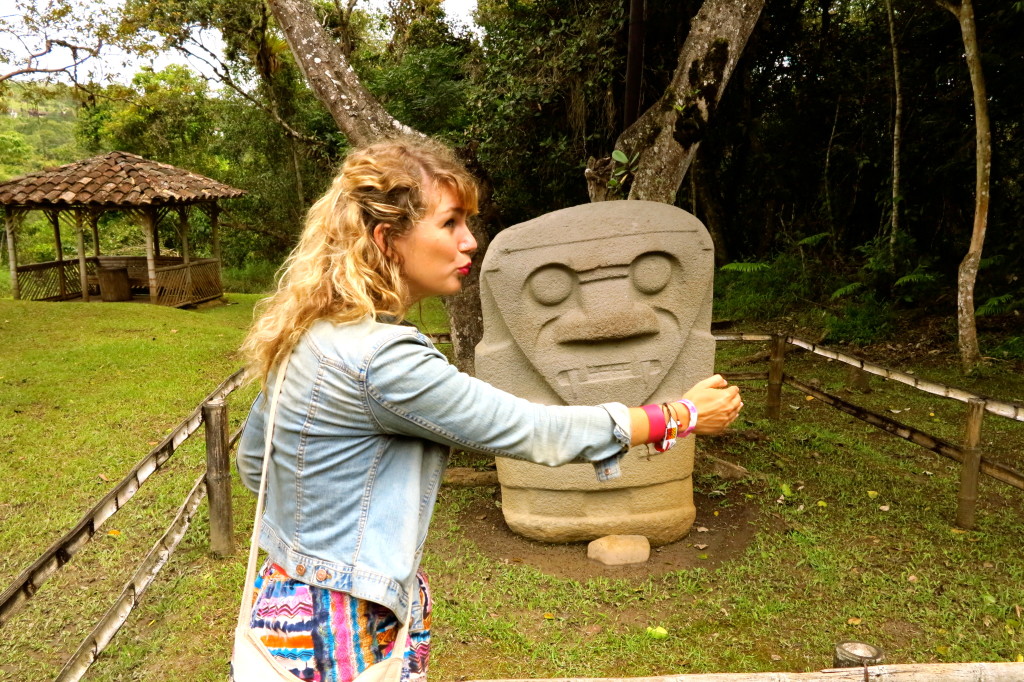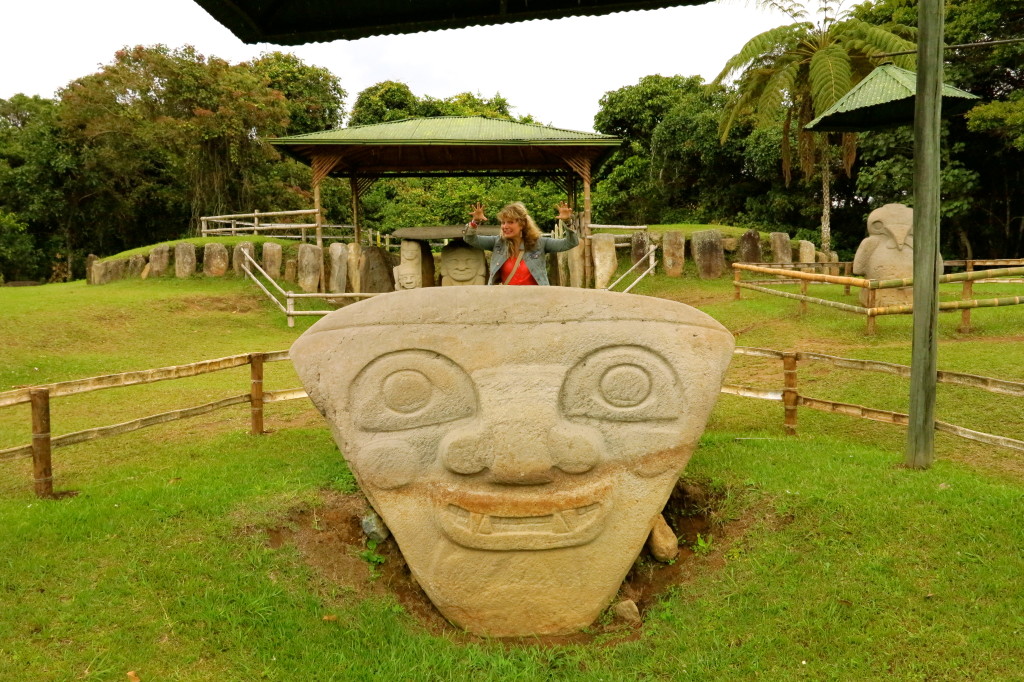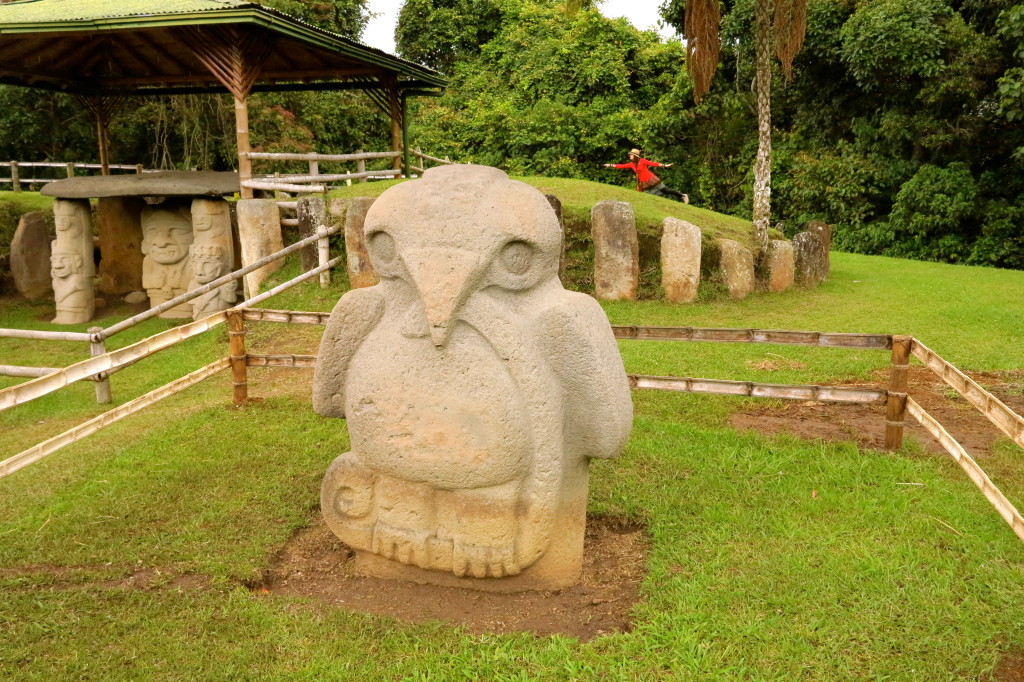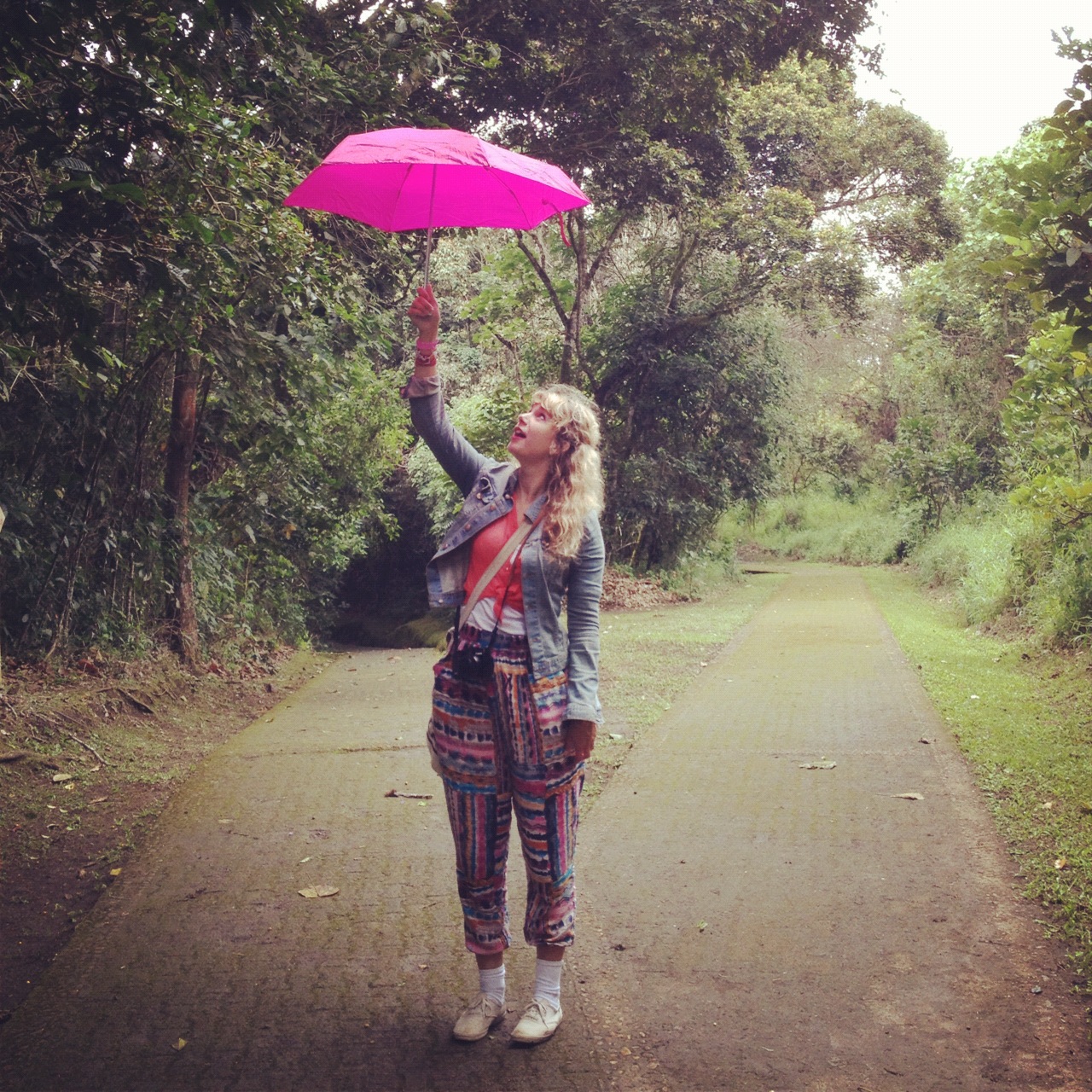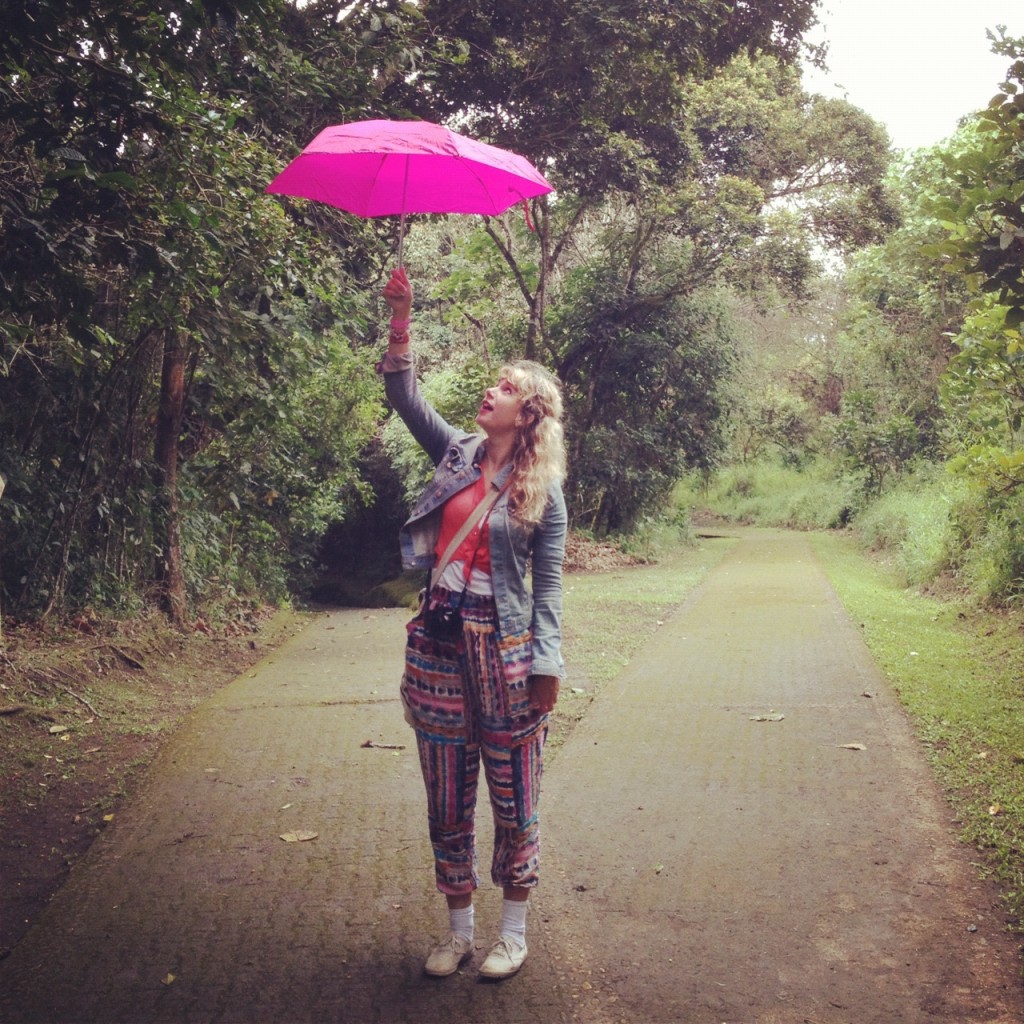 I learned a lot that day, and rereading the history of San Agustín makes me once again marvel at the sheer awesomeness of the place. That there are 600 known statues. That they've stood through earthquakes and erosion and lootings. That we still don't know very much about the people who created them.
But, if I'm being completely honest, what I remember most is laughing with my best friend, of taking silly photos, and of stories, both of the statues we travelled all that way to see and of our own. We learned a lot, yes, but we also had a damn good time; to me, that is the best kind of day, that is the apex of a trip. The bus ride from Popayan was horrible and we couldn't find any decent food in town and in an attempt to get into rural life I ordered a pint of fresh milk which turned out to be freshly squeezed from an udder and had mysterious creamy chunks floating in it (but I still drank it, using my teeth as a sieve) but all of that gets washed away, all of those strange and trying times become smaller beats in a bigger rhythm.
San Agustín is marvellous; I cannot recommend it enough. Go there, go with an open mind, go with someone who makes you laugh. Go with sensitivity and respect and appreciation. Go there and create a history of your own.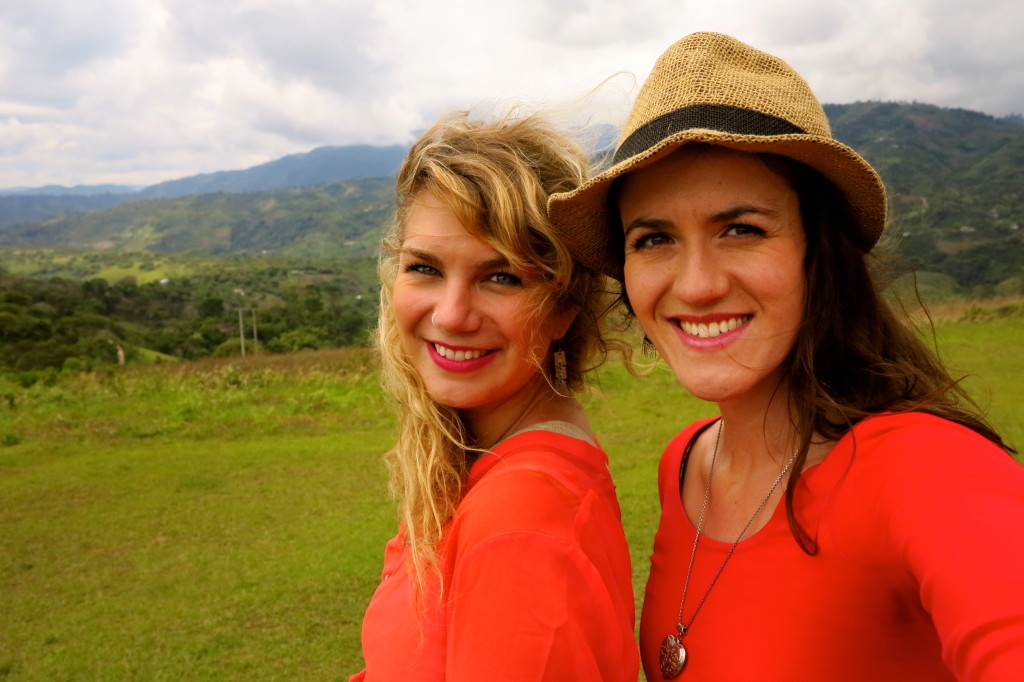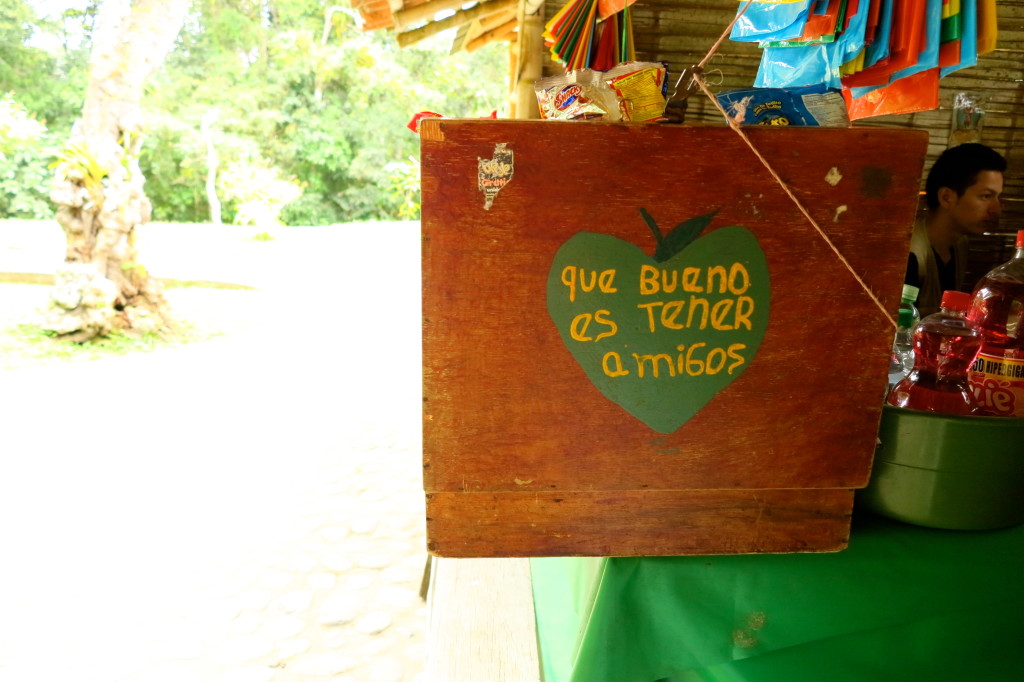 It is good to have friends
Getting to San Agustín is a bit difficult; the roads from Popayán are very bumpy and can be dangerous. You can also take buses from Bogotá or Tierradentro, but always try to travel by day. The best time to visit San Agustín is probably from December to February, the driest months, as April to June is quite rainy and wet. We went in September and the weather was cool and enjoyable. We stayed at La Casa de Francois and it was one of my favourite places to stay in all of South America; a farm located just outside the city, the food (all grown on the farm itself) was amazing, the service impeccable, and the showers hot. There is plenty to do in San Agustín and the surrounding areas, so just walk around and see what you find!
Have you heard of San Agustín before? Would you like to go? Do you often remember the details of a place, or are your memories shaped by your own circumstances and by the people you're with?