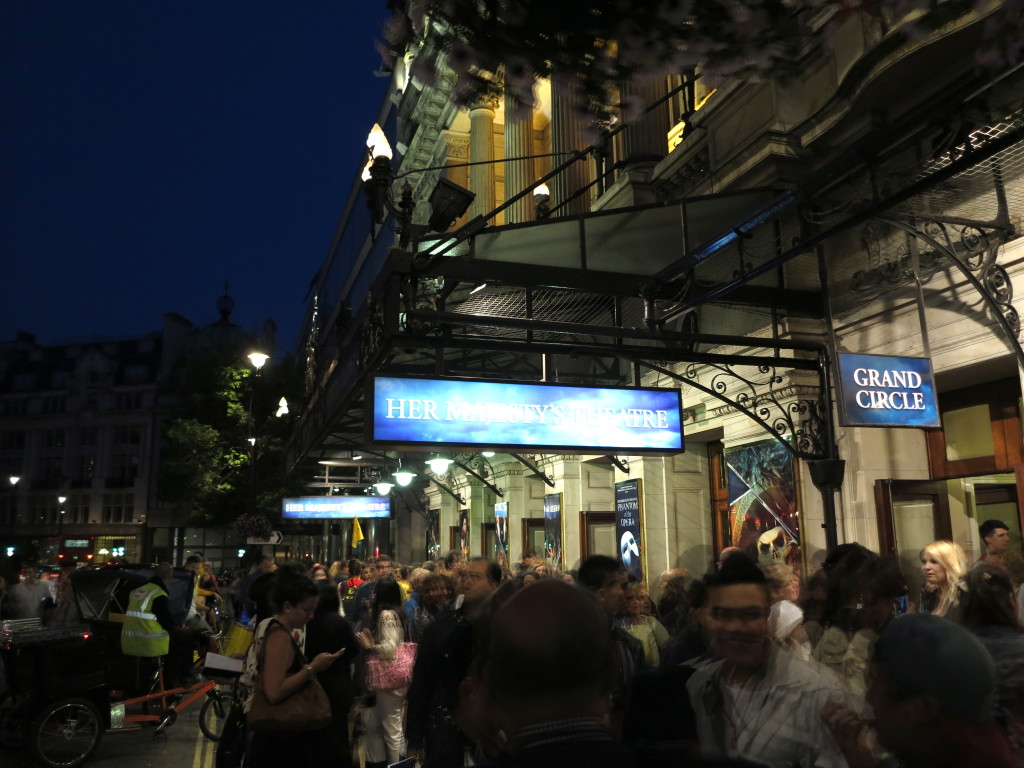 Terrible photo of Her Majesty's Theatre
Since moving to London almost one year ago (I honestly don't know where the time has gone) I have written a few posts about living here, and what makes this city so great. If you've followed along, you may have noticed a trend. I wrote about my favourite cafés in the East End, and about one of my favourite ideas for a café (in East London's Shoreditch) and about Broadway Market (in the East London borough of Hackney). And while I did write about London Cru and the Saatchi Gallery, which are both in West London, I almost always write about East London, and for good reason: I live here. I rarely travel anywhere that isn't accessible by walking or a short bus ride (and recently, Boris Bikes, which I've finally found the confidence to use). There's one thing in the West End that has always tempted me to battle the crowds in Leicester Square, though: musicals.
I grew up loving musicals. Actually, that's wrong. I grew up loving three musicals in particular: Les Misérables, The Phantom of the Opera, and Miss Saigon. While I only saw the latter once, I used to love playing all of the songs on piano and singing along to all three. The former two used to play nearly every year in my hometown of Winnipeg; a touring company would come for a month or two and perform nightly. My family would dress in our finest and go downtown to see them, my sister and I often wearing matching dresses. At intermission we'd drink Sprite out of champagne glasses. And all the way home, we'd belt out the best songs from the shows; I'd always take the male part because of my alto voice, my sister the female soprano.
Our house was a very musical one, with a room dedicated to instruments. The baby grand piano that my sister, brother, and I all learned to play on became one of the great symbols of my youth, and I have many happy memories singing with my sister and my mum there. For my grandparents' 50th wedding anniversary, my sister and I sang the classic love song "All I Ask of You" from Phantom of the Opera while accompanied by my mum on piano (and yes, I was Raoul). Despite this early love of musicals, I had only seen one in the West End, Blood Brothers, when I visited London with my school at age 13. I hadn't been to any since.
When City Wonders recently got in touch with me then, and asked if I'd like to join one of their tours, I immediately picked their Phantom of the Opera tour. To be honest, I was so excited about it that I barely glanced at the others on offer, but I've since seen that they offer quite a few diverse and interesting options. It was the Phantom tour that caught my eye, though, as it offers quite a bit over its six hours: an outdoor walking tour of the theatre district, a backstage tour of the Phantom of the Opera theatre itself, dinner, and tickets to the show. I expected to have fun… I didn't expect my inner musical theatre geek to unleash itself quite like it did. But from the very first "haunted theatre" story, I was hooked.
I invited my friend and fellow blogger Kasha to join me, and she freaked out – she's a huge musical theatre fan, too, and her favourite musical is Phantom of the Opera. After meeting up to see the Matisse exhibit at the Tate Modern, we walked to Haymarket, home of Her Majesty's Theatre. It is this beautiful old theatre that has produced Phantom of the Opera for 28 years running, which makes it the world's  longest running show in the same theatre. There we met Phil, our guide; he proved to be extremely knowledgable of the area and its shows, and filled our afternoon/evening with humour, enthusiasm, and wonderful advice (I now know which shows NOT to see in London, but you'll have to take the tour to find out).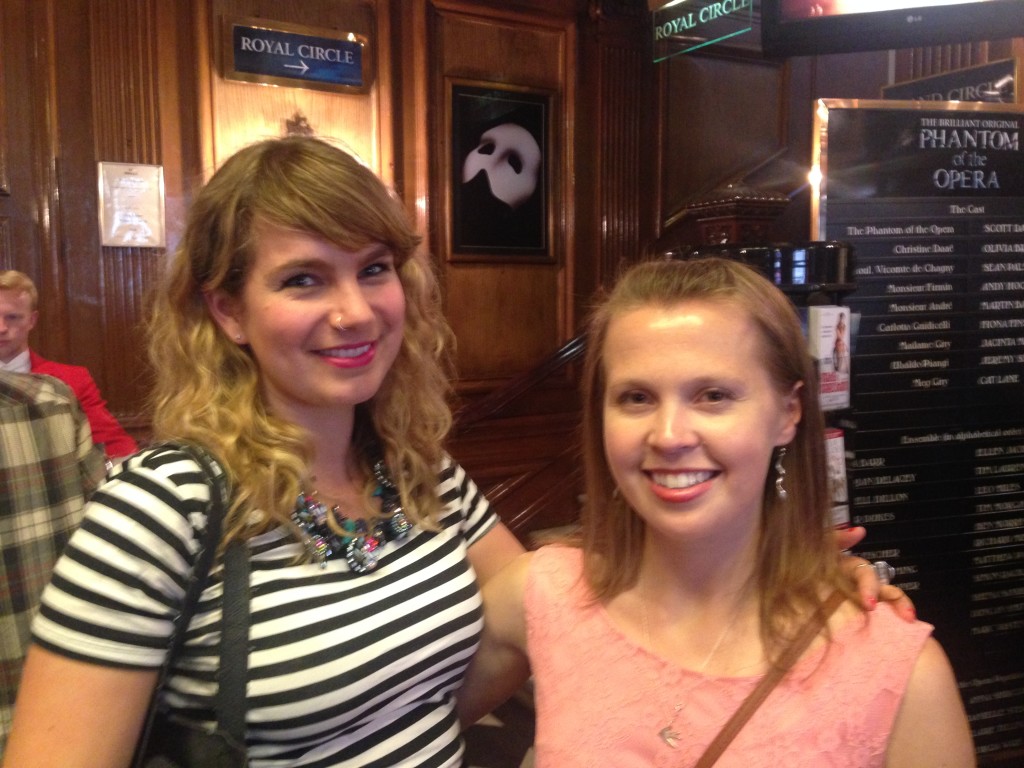 Kasha and I
Even though I have lived in London for nearly a year, there is still so much I don't know about it – in fact, I'd say I know less than the average tourist, as I never open a guidebook or take walking tours. I absolutely loved walking around the West End with a guide, then, despite the very obvious "we're on a tour" shuffle: flag to follow, cameras round our necks, crowding on the pavement, and sufficient oohing and aahing at all of the amazing history Phil pointed out. I learned more in that hour than I have in nearly a year of casually passing through West London, though.
After the walk, we had an equally fantastic backstage tour of Her Majesty's Theatre. I really don't want to spoil it for those of you who might do the tour, but let me just say that my eight-year-old self died and went to heaven. I think I actually squealed at one point. From the inner workings of the production, to the preparation of the props, to tales from the set (and even a few ghost stories) if you're a fan of musical theatre I definitely recommend trying to get backstage.
After a fun dinner spent chatting to our other tour mates (from England, Indonesia, and Singapore), we finally had our tickets in hand and entered the theatre through the front doors in time for the 7:30pm performance. There is nothing like the buzz in the air before a great show, of spectators finding their seats, of that magic that occurs when the lights dim and a hush falls over the crowd. Kasha and I certainly weren't disappointed with our seats as we were front row centre. I couldn't help but peek over the railing and see the orchestra; some of them even waved at me, and I jumped back in my seat like a child.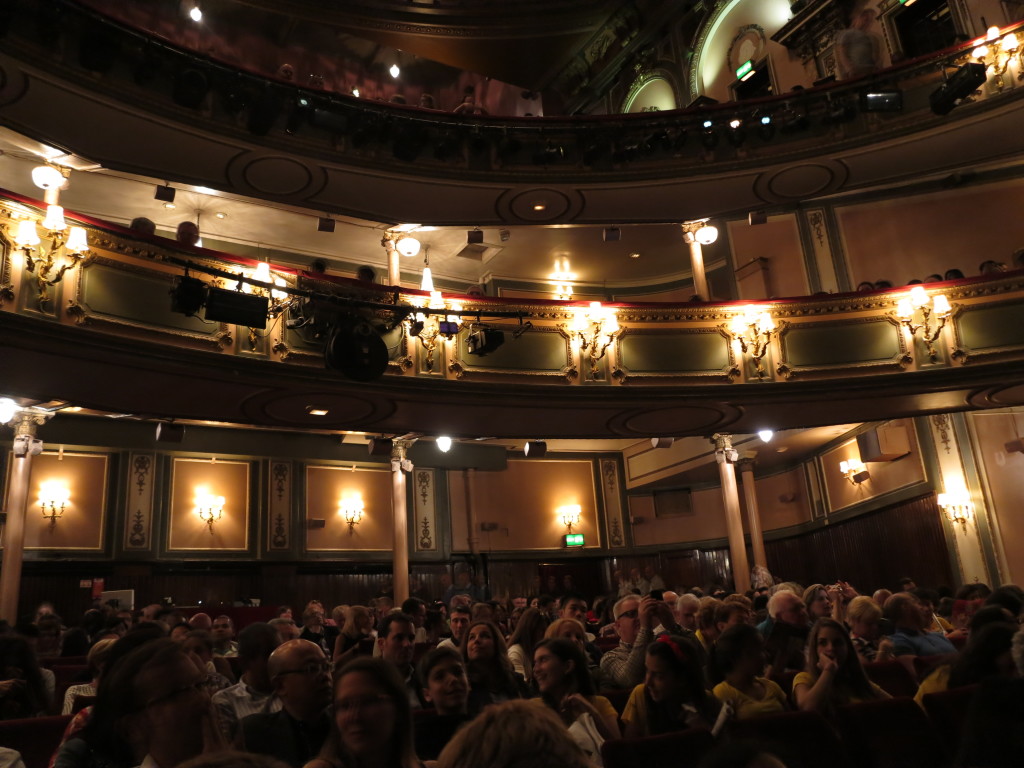 Inside the theatre
I won't go into extreme detail about the show, but I can say this: it is iconic for a reason. The London cast, led by Scott Davies, Olivia Brereton, and Sean Palmer, were excellent. Up that close, you could not only witness the singing talent of the cast, but the acting talent as well – each facial expression, each tear. Because of the backstage tour, we knew how meticulous and organised absolutely everything had to be in order to pull off such a grand show in such a small space, which made it all the more impressive. I can't tell you how many times Kasha and I grabbed each other's arms throughout the performance, but I was completely entranced. At the end of the show we both leapt up from our seats in standing ovation… and promised that we'd see more musicals together, because it was just that fun.
There are dozens of shows playing in London on any given night, but I was honoured to be able to see one of the classics, and one that has been running in London for 28 straight years. While I always recommend my friends and family to check out East London on a visit to the UK, I now have to add a West End musical to the list. For the last year, everyone has been saying that I simply must see one, and now I know why. Many thanks to City Wonders for their fantastic tour and for hosting Kasha and me a few weeks ago. If you're a musical theatre fan, or even just slightly curious about the history of theatre in London, I definitely recommend this tour.
Are you a musical theatre fan? Have you seen Phantom of the Opera? Have you ever seen a show in London's West End, or would you like to?