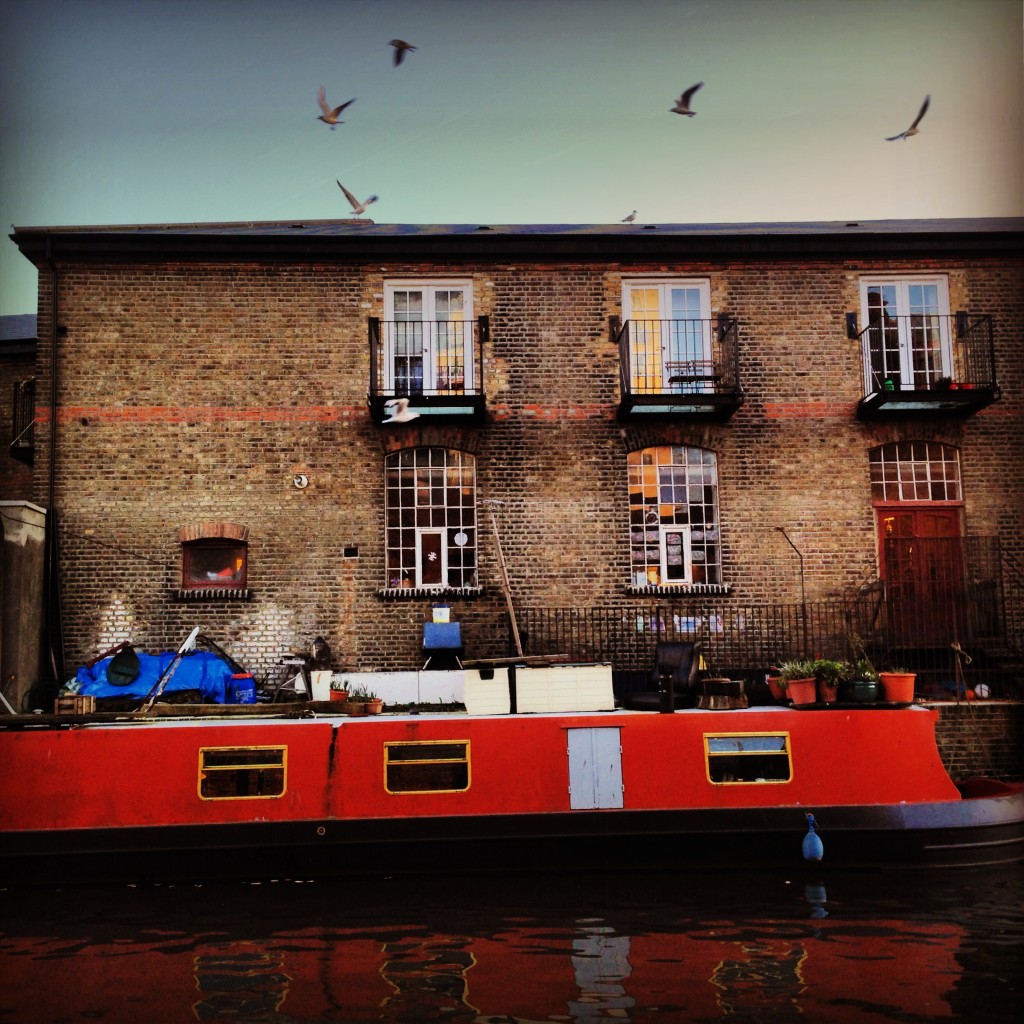 Along Regent's Canal
London is a city that is forever changing and evolving, and one person's perfect guide may be completely different to another's. Since moving to London eight months ago, I have received a lot of emails asking for advice on where to go around the city.
Let me make one thing clear: I am not an expert on London. In fact, I am probably the worst person to give advice on the city. There are entire areas of London I rarely visit, and if you plopped me in the middle of town I wouldn't know which way was up. In the past eight months, however, I've found a few cool spots that I would recommend and they almost all fall in East London.
There's a very simple reason for this: I live in East London. When people started complaining about the recent tube strikes I realised it barely affected me, because I walk everywhere. East London is known for being the trendy, hipster area, filled to the brim with skinny 20-somethings dressed all in black who live in overpriced studios, smoke roll-up cigarettes, spend £4 on a coffee, and ride a fixie bike. I would like to point out that I do indeed collect vinyl and enjoy the odd bit of kale but, on most days, I wear colour. I'm also 30 now, so I'm pretty sure I'm supposed to buy a fig tree from Columbia Road's flower market and start wearing gauchos.
I digress. To summarise East London as trendy and simply leave it at that would be undermining the area. There are so many cool things to do and so many great places to hang out; I started to list all my favourite places (markets, restaurants, galleries) and I realised that the list of cafés was astoundingly long. Simply put, East London has a lot of really good places to go for coffee and/or breakfast. If you live in London, you might know a few of these; either way, if you live here or you're just visiting, I recommend all of the following cafés. In my eyes, they're the best cafés in East London. You may or may not find me writing in one of them on any given afternoon.
Café Route: My friend Ali introduced me to Route, which is found just around the corner from Dalston Junction. Their breakfasts are amazing, and, having lunch there yesterday, I can attest that they do excellent frittatas and salads, too. The space itself is incredibly welcoming, with shared wood tables, beautiful high windows, and shelves full of tasty things for sale.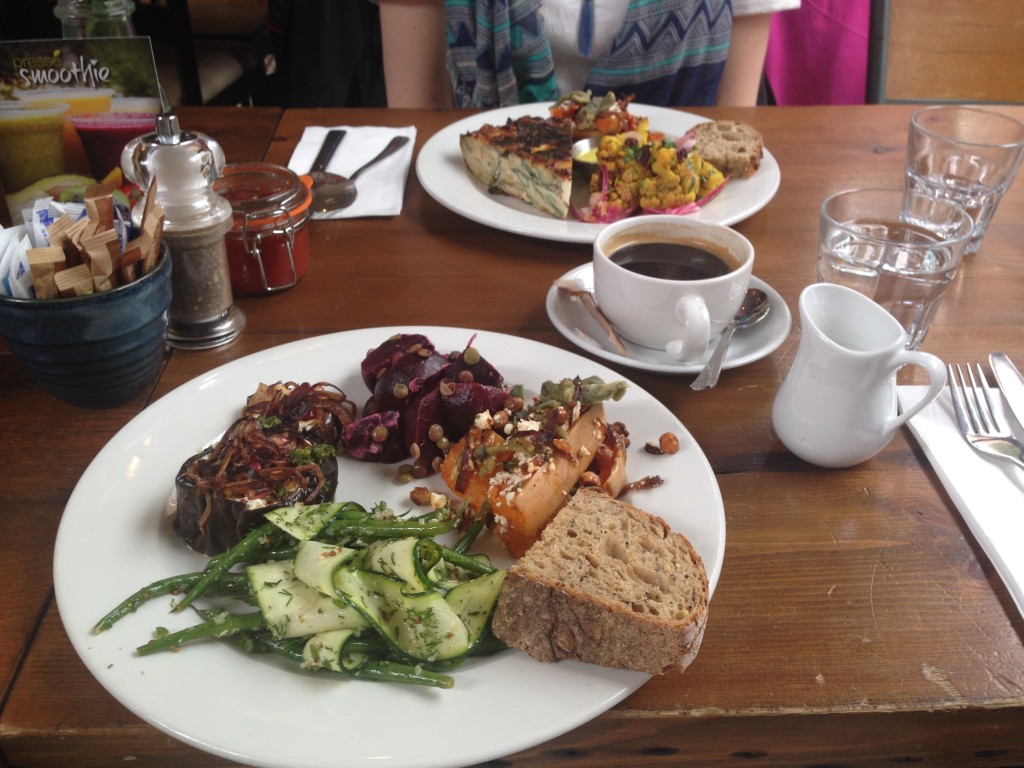 Lunch at Café Route
Nude Espresso: I first went to Nude last year and go back a few times a month. They're known for serving great coffee but their food is just as delectable, too. It's a great place to stop in after browsing on Brick Lane, but it doesn't have wifi, so don't plan on doing much blogging here.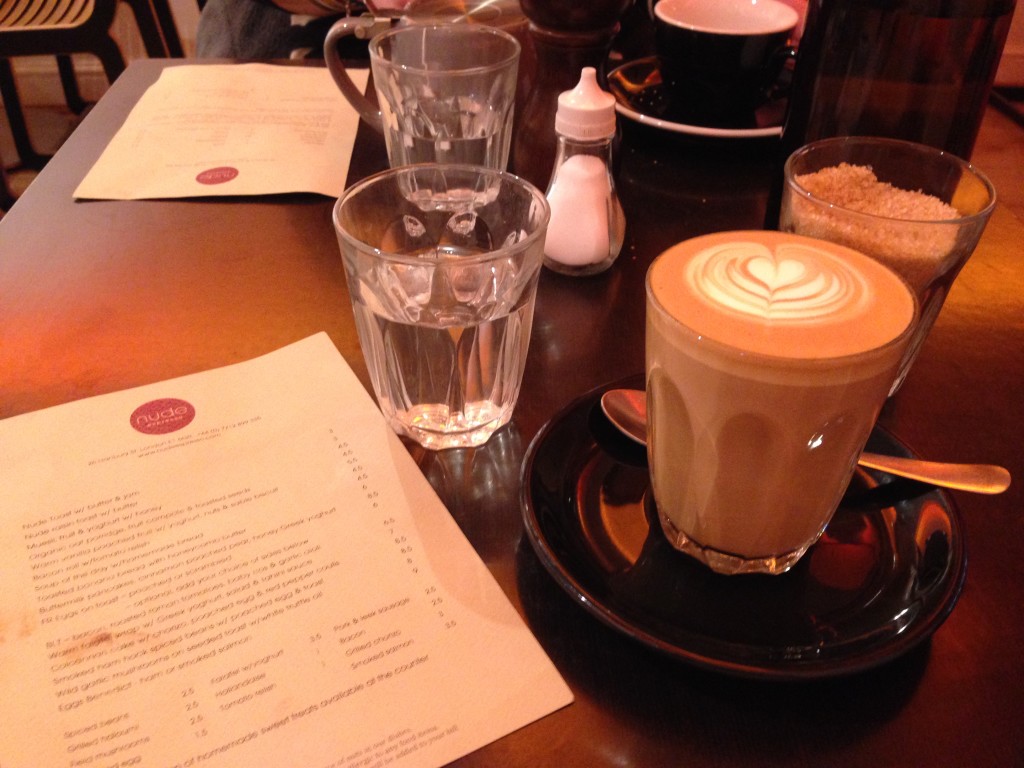 Coffee at Nude Espresso
Hackney Bureau: My friend Michael Turtle first took me to this café a few months ago, and now I'm hooked. My current flat is about a ten minute walk from here, so I go there all the time. They do an amazing vegetarian breakfast and even better eggs royale; it's wonderful to stop here during a walk along Regent's Canal. I am so happy that my new flat is even closer. Be warned that they don't have wifi, so bring a book or a friend.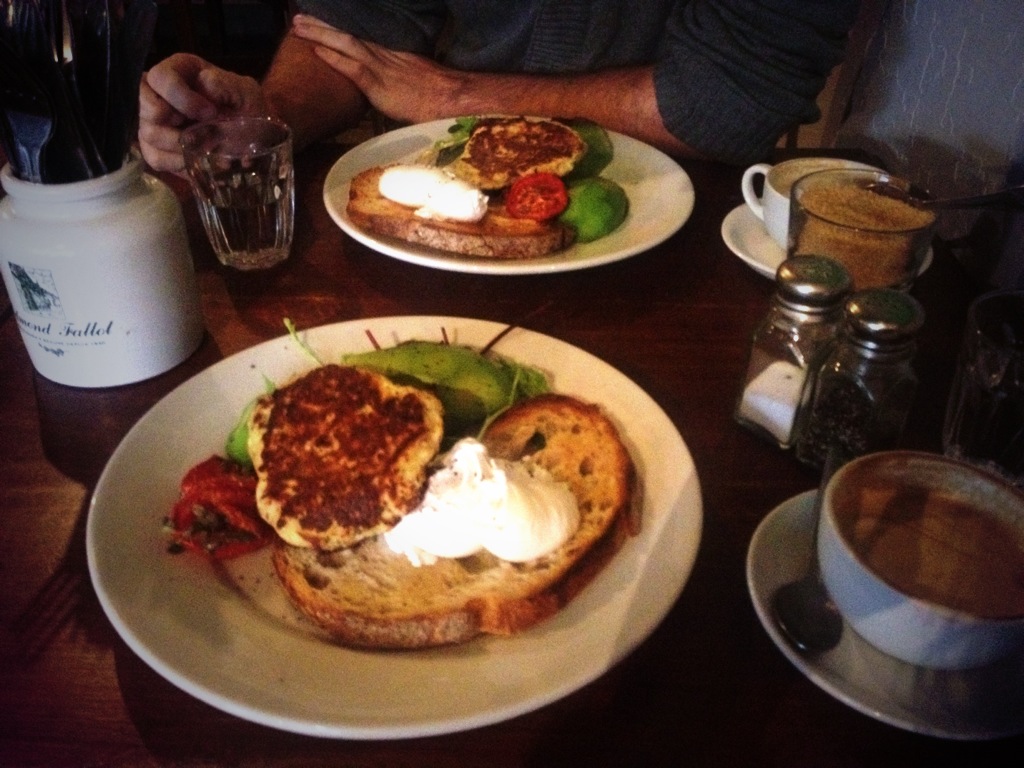 Vegetarian breakfast at Hackney Bureau
Ozone Coffee Roasters: I just tried this place on Sunday with Annora and Beverley, and it was wonderful. The eggs benedict are served on patties of bubble and squeak, for God's sake! I'm a sucker for gorgeous interior design, and this place definitely has it. The staff are also incredibly friendly. Found one block from the Old Street roundabout, this is a good place to go if you're in Shoreditch/Old Street.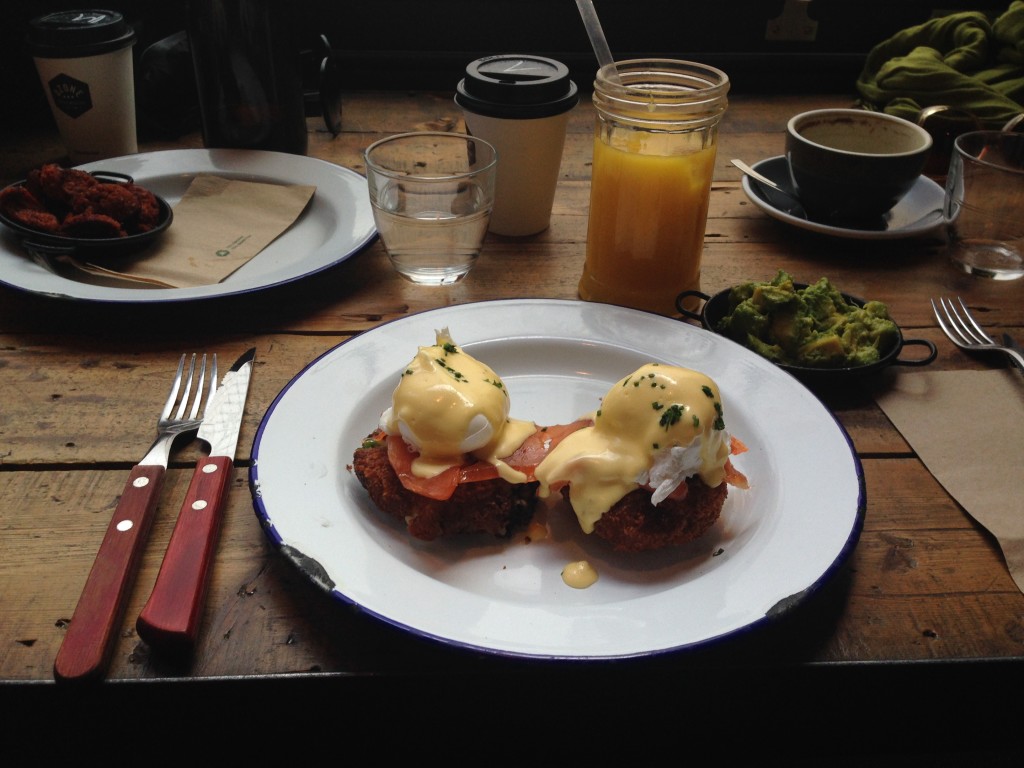 Brunch at Ozone Coffee Roasters
The Breakfast Club: Found near Hoxton Square, I went here a lot with my mum when she was visiting. The service was great and the food even better. It's always busy, but if you're walking around Shoreditch I recommend stopping to try one of their fantastic meals. Don't worry, they don't just serve breakfast.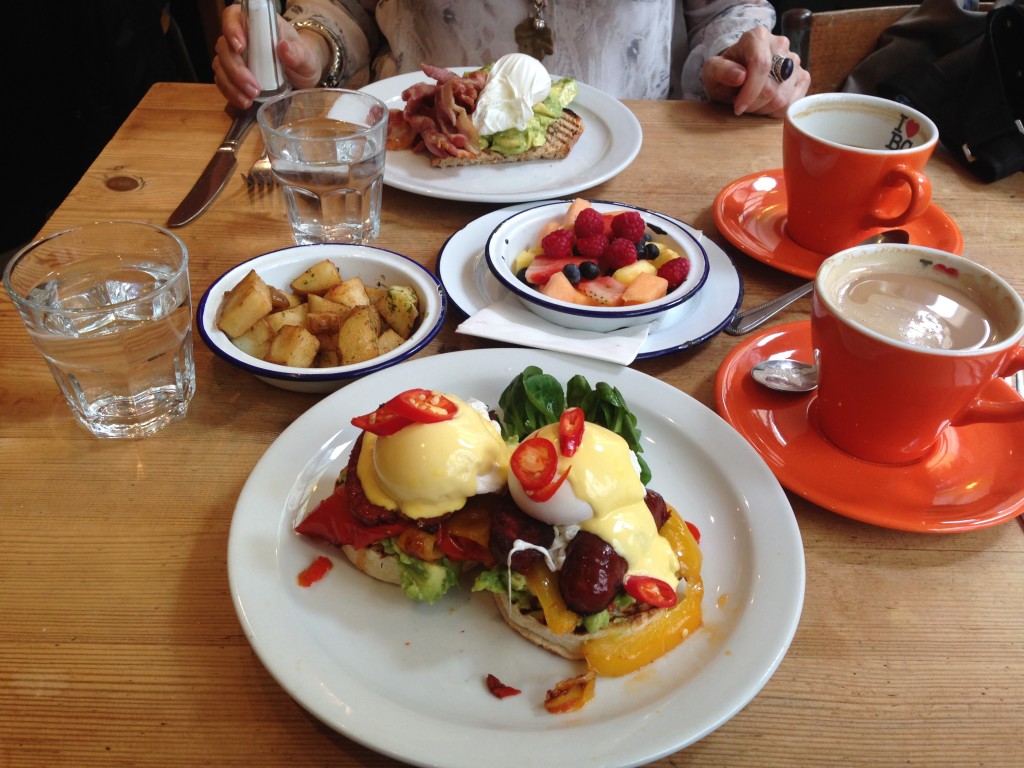 Amazing brunch at The Breakfast Club
The Old Shoreditch Station: I used to go here all the time, but after a rude encounter with a staff member who forgot my coffee, I don't go as often. I would still recommend it, however, simply for the people watching. Located on the corner of Old Street and Kingsland Road (which, at that corner, becomes Shoreditch High Street), try to get a seat near the window and watch all of the fashionable people walk by.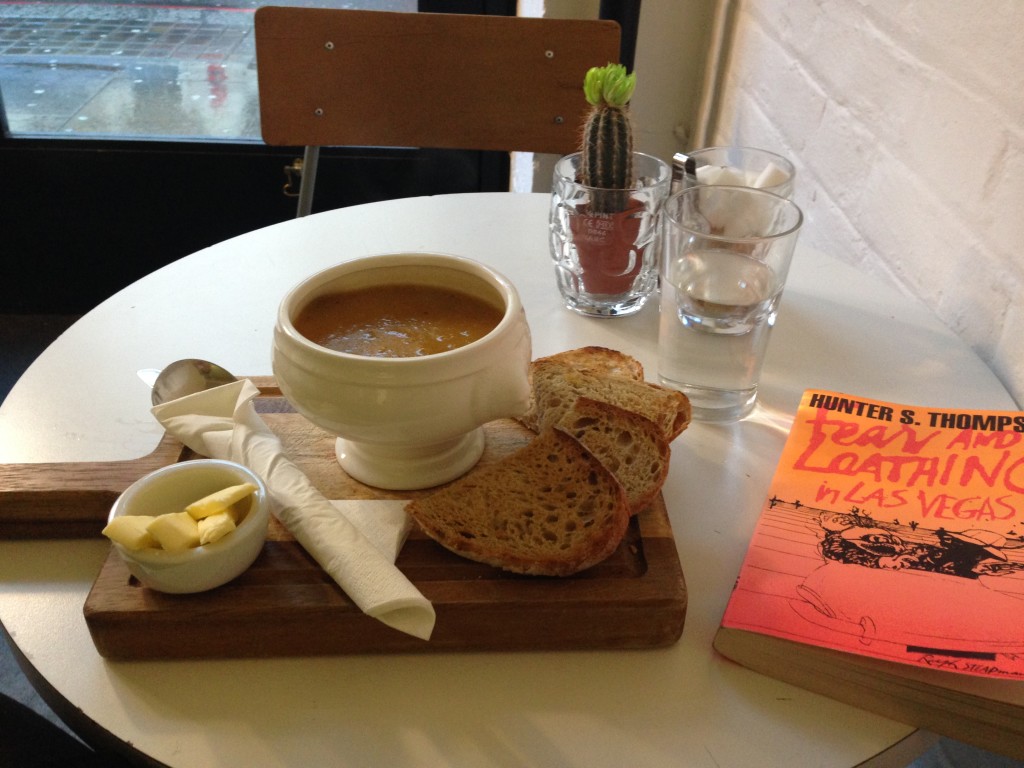 A snack at Old Shoreditch Station
Market Café: This one is also very near me, found on Broadway Market. As I go to Broadway Market every Saturday, I usually get my coffee and breakfast from the market itself; on other days, however, I go to the Market Café. They also do really delicious meals, and they stay open quite late, serving up cocktails and the occasional live jazz performance. It just feels like home when I walk in there.
The Book Club: I believe this place may have just changed names, but most people still know it as The Book Club. Found in Shoreditch, it's always packed at night, as it's a café/restaurant/bar. I love going for their cool atmosphere, delicious brunches, and really friendly staff. It's also across the street from one of my favourite comic book stores in the city, so you can't go wrong.
Towpath: This is one of my favourite spots in the entire city. As I live right on Regent's Canal, I often walk along it, especially to get to school and work. On a sunny afternoon there is nowhere nicer to sit and have a coffee. Only open in warmer months, definitely check it out this summer.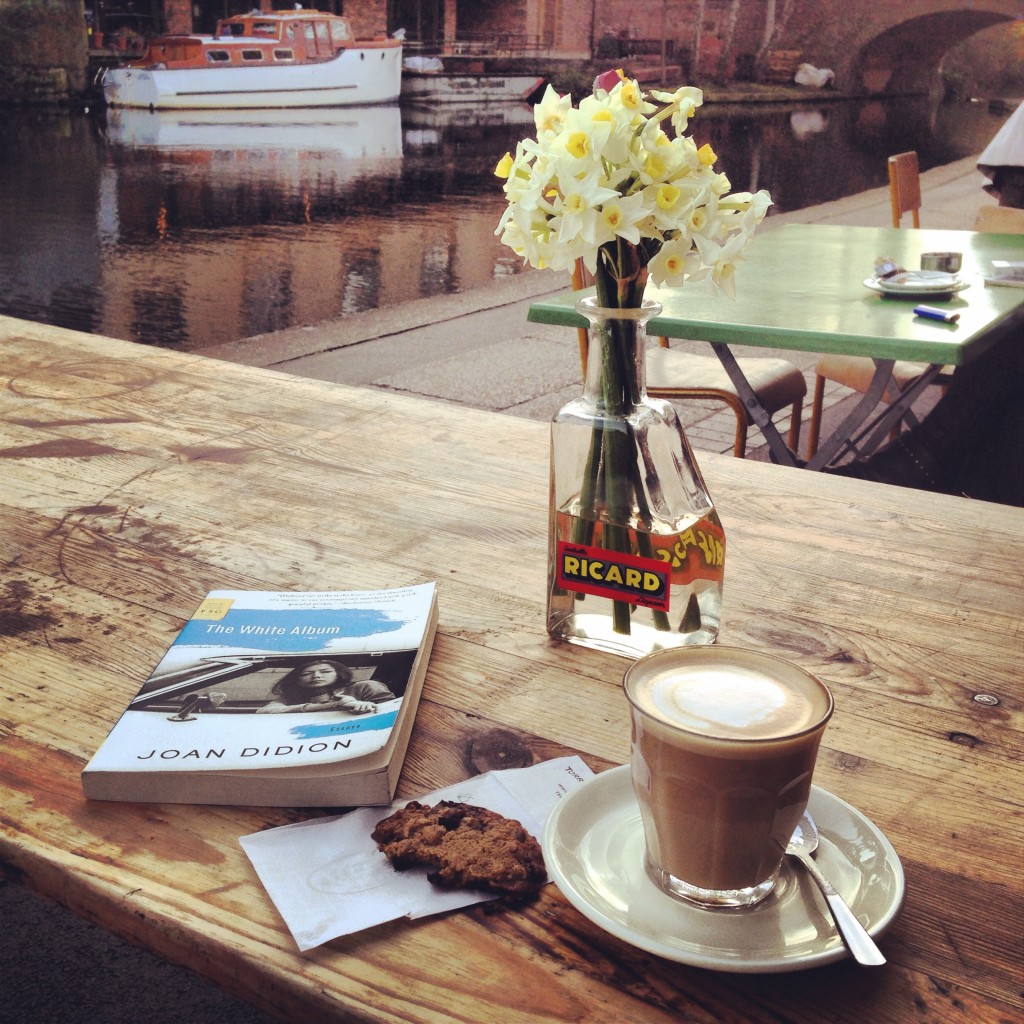 Reading in the sunshine at Towpath
There are lots of other cafés and places I'd love to try in East London; this is but a small overview of just my favourites. Have you ever been to any of these? How often do you go to cafés in your hometown, or when you travel?