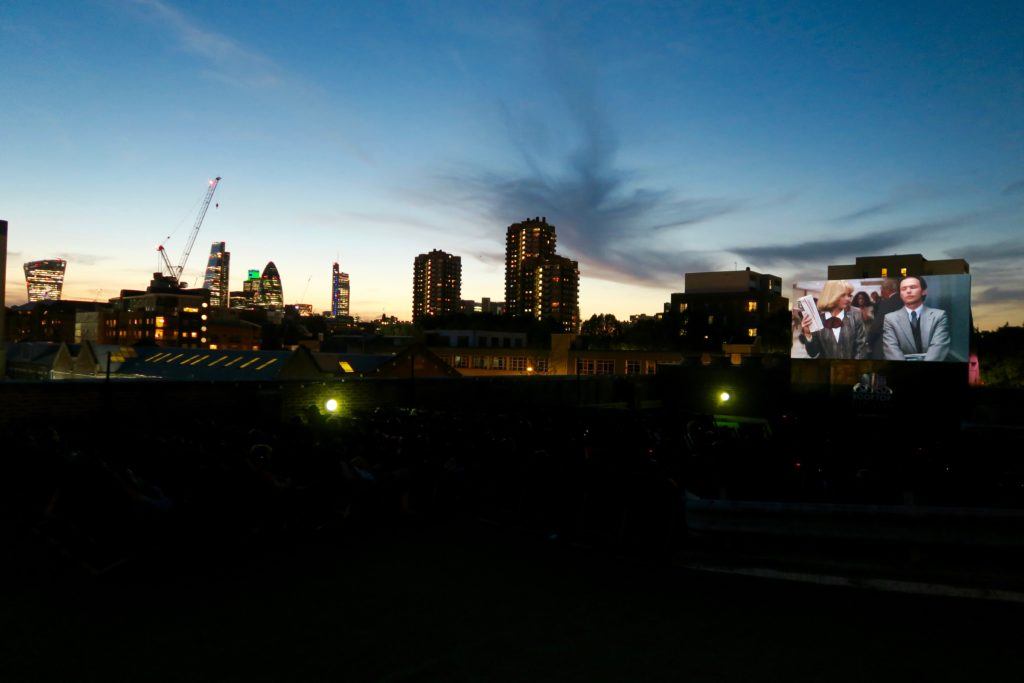 It's been a while since I've done a "Best of London" post – in fact, looking back through this blog's archives, I rarely write about things to do in London, despite having lived here for three years now. That's a bit odd, considering I feel like I'm always doing cool stuff in the city; anyone who has been to London knows there is seemingly no shortage of museums, galleries, shops, parks, markets, shows, concerts, neighbourhoods, restaurants, and bars to sample.
Last night, however, I did something new and wanted to share it: I went to my first rooftop cinema in London. Mainly dominated by the Rooftop Film Club (where you can find all the upcoming showings and book your tickets), there are venues all over London that allow you to take in a movie while enjoying the outdoors and getting a view of the cityscape. I was invited by my friend Marie-Eve of To Europe and Beyond, and we decided to see When Harry Met Sally at the Shadwell location, Tobacco Dock. The other locations include Shoreditch, Kensington, Peckham, and Stratford; I can't speak for all of the locations, but I believe that Shadwell and Peckham have the best views of London.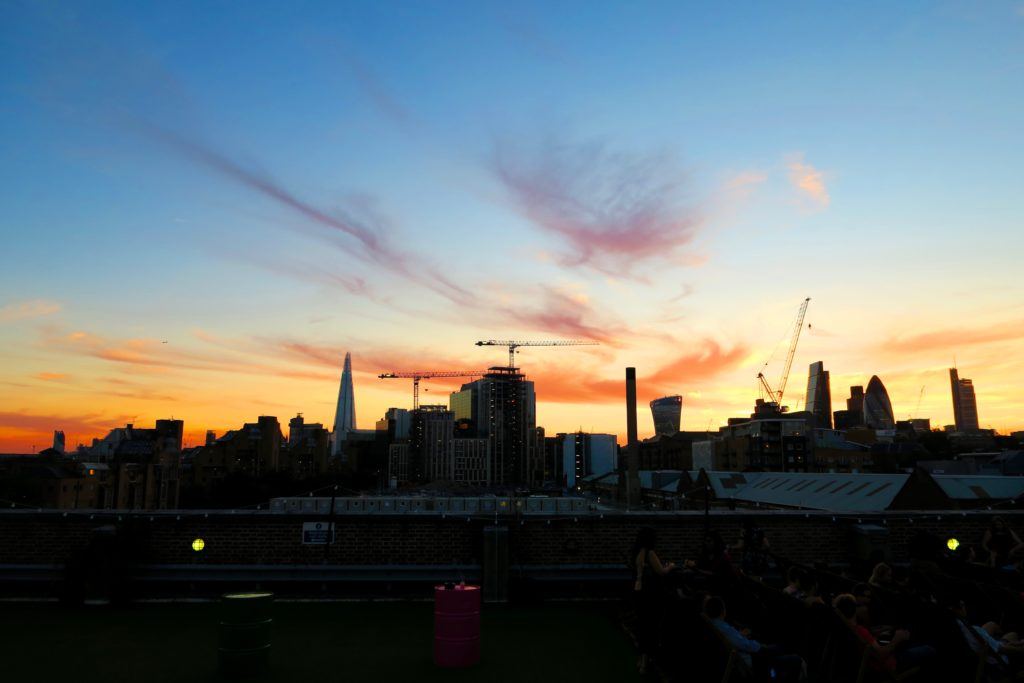 Arriving at the venue, you collect your tickets at the box office, where you're given a blanket and a set of wireless headphones. There are also a few food stalls and bars, so Marie-Eve and I got a couple of Aperol Spritzes (it really is my summer drink) and settled in for the show.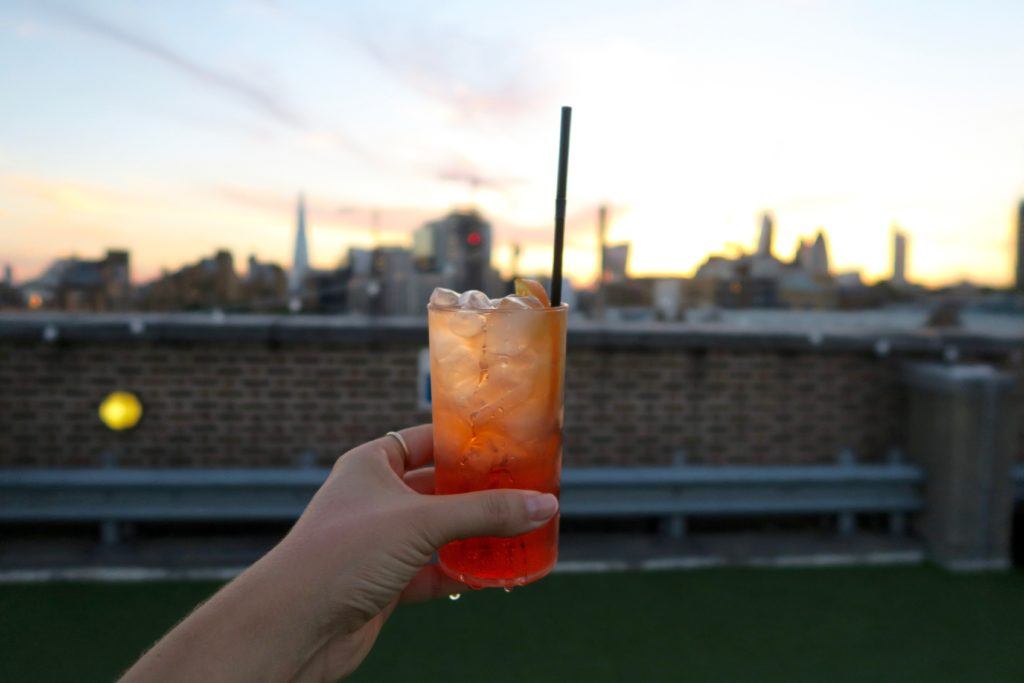 The sound was really good, as was the quality of the video – plus it was just incredibly fun to watch a film outside with a big group of people. I would definitely recommend going to a rooftop cinema in London if you get the chance. And while we lucked out with a beautiful evening (it was 30 degrees in London yesterday!), Rooftop Film Club runs in all weather conditions; if it's raining, they'll provide you with a waterproof poncho. Is it weird that I kind of want to watch a movie in the rain?! Either way, make sure you dress accordingly, because London can get quite chilly in the evening, even in summer.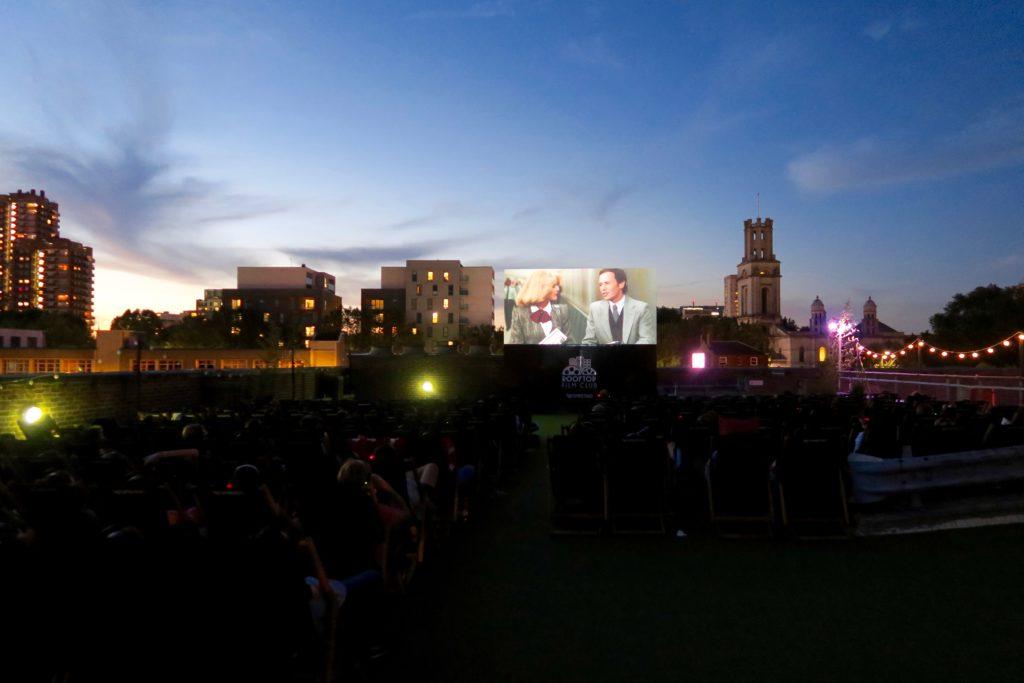 Rooftop Film Club also operates in New York and Los Angeles, and there are plenty of other outdoor cinemas around London; Time Out seems to have a good list of the outdoor cinemas month by month.
Have you ever been to an outdoor cinema? Is this something you would do in London?
For more Best of London, check out: Broadway Market, London Cru Winery, The BB Bakery Bus Tour, The Saatchi Gallery, and A West End Musical. I'm happy to write more about my favourite spots in London if you're interested!