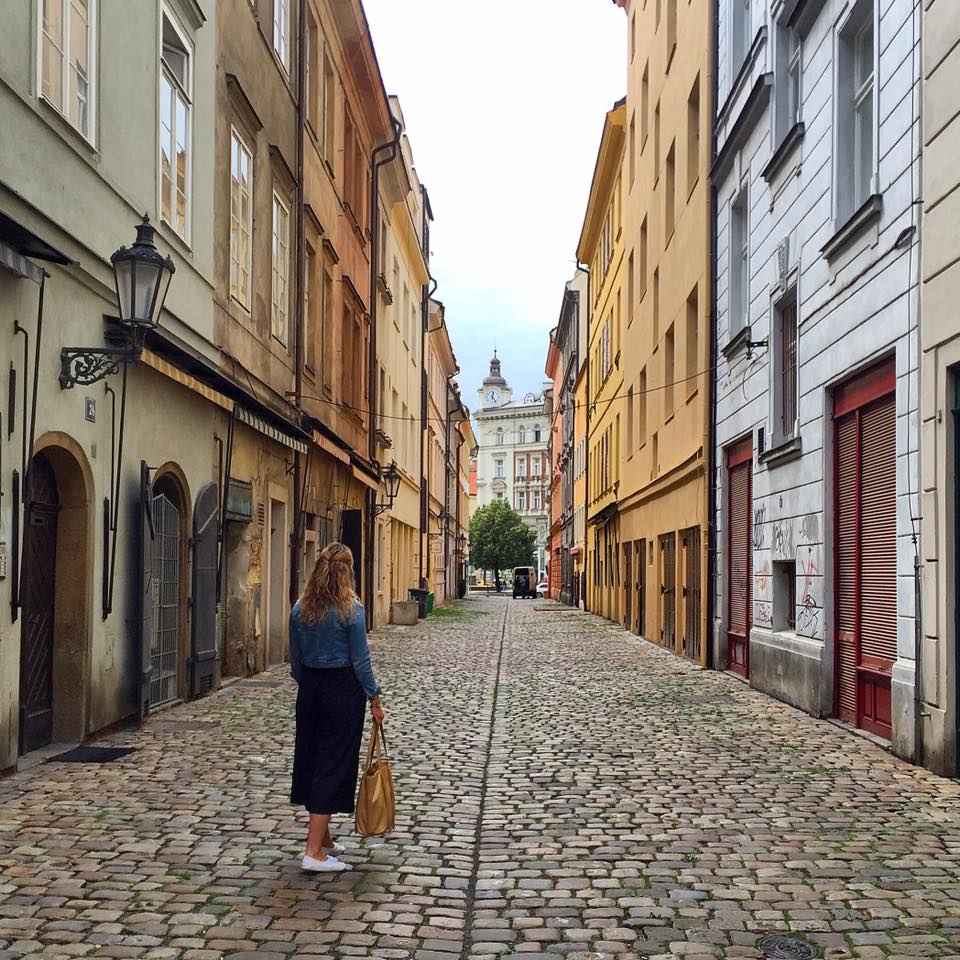 In Prague, Czechia
I've been really tired these days. Between a full-time job that has recently gotten a lot more demanding, to maintaining my duties to fulfil the requirements for my Graduate Entrepreneur Visa in the UK, to freelance work, to running this blog and its social media, to social events, to, oh yeah, travelling, I find myself constantly wanting a nap and constantly wanting someone to crack my back for me (it feels so damn good). Now, don't get me wrong, I'm not complaining about these things; I'm learning a lot, earning a little, and still seeing the world and getting to hang out with some of my favourite people in it. My life at the moment, while busy and stressful, is a pretty great one.
But I'd be lying if I said I wasn't making plans for the future, too.
My entire life, since I was a little girl, I've written huge lists of all of my life goals. Things as grand as "learn to speak French" and "travel the world" and things as innocuous as "buy a shelf that holds all of my records" and "learn how to make really good muffins". I once even made a video of this in response to a friend of mine doing the same thing, which I'll embed here, but please note this is a) five years old b) totally and utterly materialistic/superficial in many ways c) filled with jokes that fall very flat and d) weirdly critical of Nepal (or at least its water and its bugs) even though I had an amazing time there. Also, no, I don't know how I functioned with that much jewellery on, either.
p.s. I also cringe at the way I say, "To live in Paris". You're not alone.
But what's interesting about that video is that, five years later, I've actually achieved quite a few of those things, despite initially saying that the list was unrealistic – 28 of the 92, in fact, and if you're interested in knowing which ones, you can check out the description in the video. And watching it back, I don't think that many of them are unrealistic after all (except the yoga thing, dear lord I just cannot get into yoga). I would also change a few of them *cough having kids cough*… and I laughed out loud when I remembered that I wanted "a massive DVD collection". Yeah, that one has obviously changed as well, because… it's the future.
But all of this leads me to dreaming, or to staying ambitious. A dreamer is often thought of as someone with her head in the clouds, someone who has many lofty ideas but perhaps doesn't follow through on them; the word ambitious is much more linked to practicality and hard work, the person who climbs the corporate ladder or who barely sleeps so that she can launch another business venture. I personally think that dreaming and ambition go hand in hand – that perhaps ambition can't exist without the act of dreaming, the act of letting the mind wander.
Because at the end of the day, to be ambitious is to want more. And to dream – that is to want more as well. To want to travel somewhere. To want to do something. To want to add to your life in some way, whether that's as grand as exploring the world or as simple as baking muffins.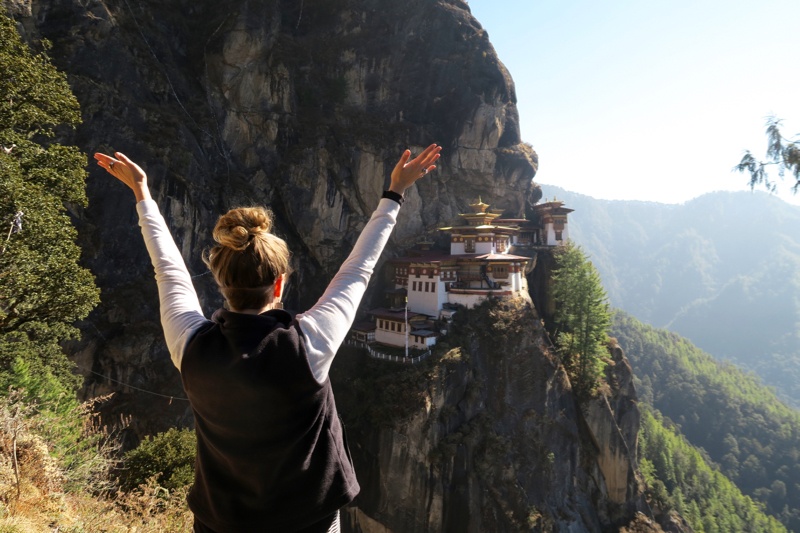 Number 10 on that list – to return to Nepal and visit Bhutan
I grew up in a family of ambitious people, only I didn't realise it until I was much older. Each of us in our own way has always been striving for something, enriching our lives and attempting to enrich the lives of those around us, whether that's learning a new language (my sister is multi-lingual), writing another book (my mum is an author), creating another song (my brother is a very talented musician), or even learning tennis (my father, now retired, plays regularly). Growing up, we were encouraged to try new things and dream big; no idea was ridiculed or scoffed at. Again – I didn't realise how incredible this was until I was much older, nor did I see how privileged I was to even be able to have those thoughts and imagine accomplishing them. And now I realise the importance of all of those dreams and those goals, even if they were lofty or even if a lot of them fell through… because before we can walk the walk, we do need to talk the talk. We need to let those dreams float around in our brains for a while, growing them slowly but ever so surely, until one day we realise that, hey, we might actually be able to do this, therefore spring-boarding our ambition into action.
Dreaming led me to those 92 things in the first place, and being ambitious drove me to accomplish some of them, even though I constantly worry that I'm not doing enough, or accomplishing enough, or living my life to the fullest. And, funnily enough, those ambitious family members of mine often talk about having the same thoughts. We're not mistaking this with unhappiness… we're just realising that we want to keep doing more. I think there's nothing wrong with that; almost every success, big or small, started with that hint of drive, with that spark of intent, with somebody saying, "I want to do something differently."
I think that many people who travel – if not all – are dreamers, and ipso facto ambitious. From that first wisp of wanderlust to the moment you step on the airplane, your life was filled first with the dreams of doing it to the act of making it happen. So much of my life is consumed by travelling (either dreaming of it, planning it, writing about it, or actually doing it) that I sometimes forget that not everyone's life is fuelled by this same dream, by these same ambitions. Instead of looking down on people who don't want to travel, it has dawned on me over the past few years that they may simply be focusing their dreams in another way. I wrote about this idea in The Danger of Someone Else's Dream – that maybe some ambitions are as simple as baking muffins, but that that doesn't make them any less real or important.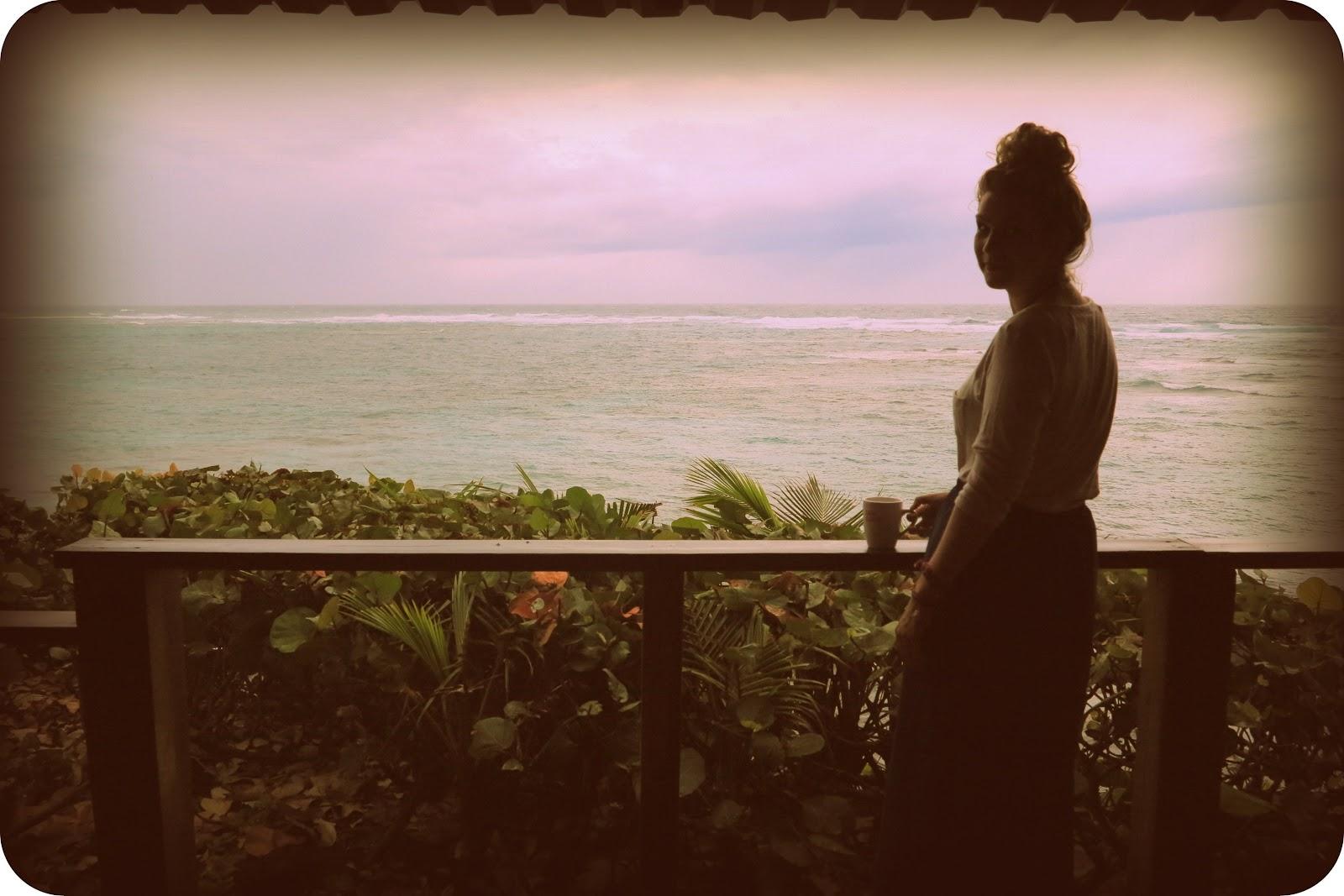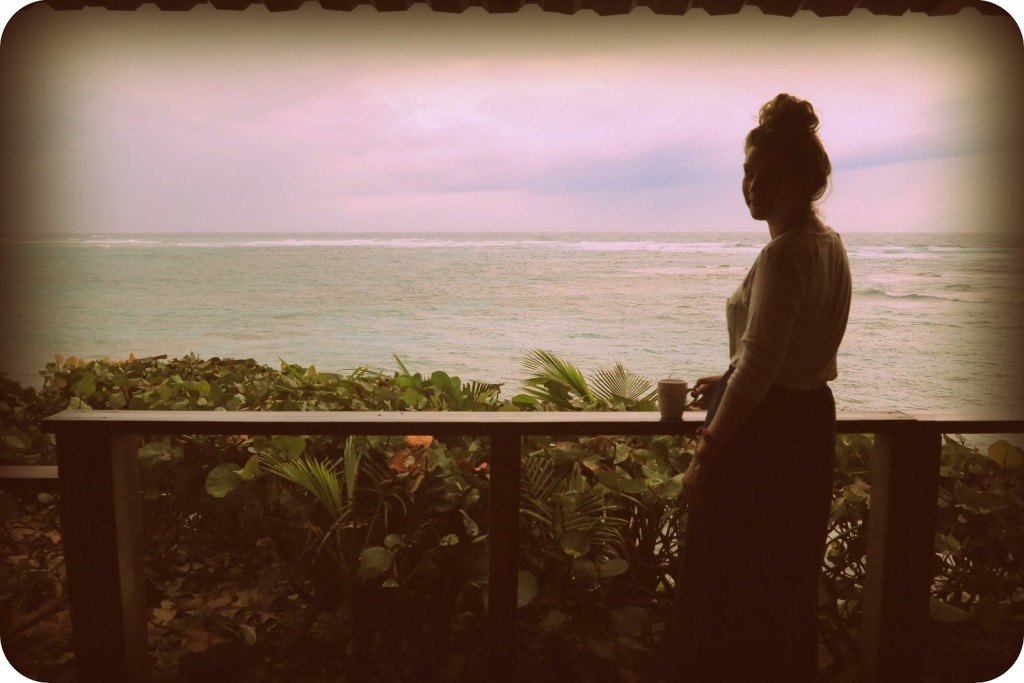 Looking all moody while making future plans (on Little Corn, Nicaragua)
Am I rambling? Possibly. I write all of this in a state of flux, because my three year anniversary of living in London is around the corner, and my ten year anniversary of travelling solo and living abroad has come and gone a few months ago (a blog post on that coming soon). My UK visa is up in five months, though I do have the option to renew another year. But because I will forever be that girl who makes lists, and who always lies in bed at night thinking of future plans, I'm currently filling notebooks full of dreams. I want to go spend some time in Indonesia. I want to grow this blog into something great. I want to scuba dive more. I want to travel through the Balkans. I want to go to Antarctica, and East Africa, and Central Asia. I want to move to New Zealand, or Germany, or Mexico, or maybe even back to Canada. And maybe some of those things will happen, maybe none of them will happen. But I think it's so important to keep dreaming, to stay ambitious, to imagine – for ever and ever – that the world is your oyster.
Coming soon… I'm going to write a post on following through on those dreams, and how to actually walk the walk when it comes to your ambition. On how to take that oyster and find a beautiful pearl.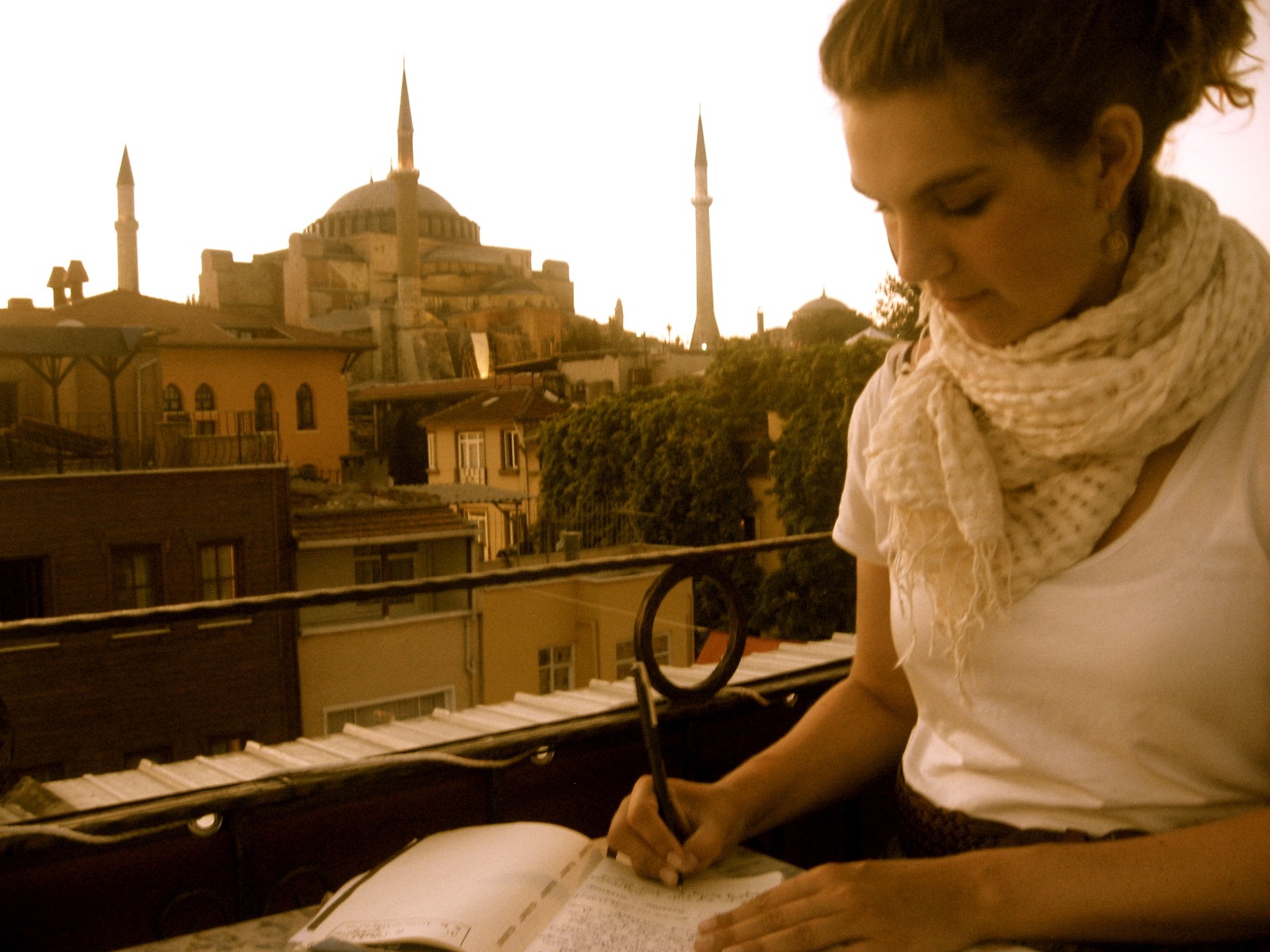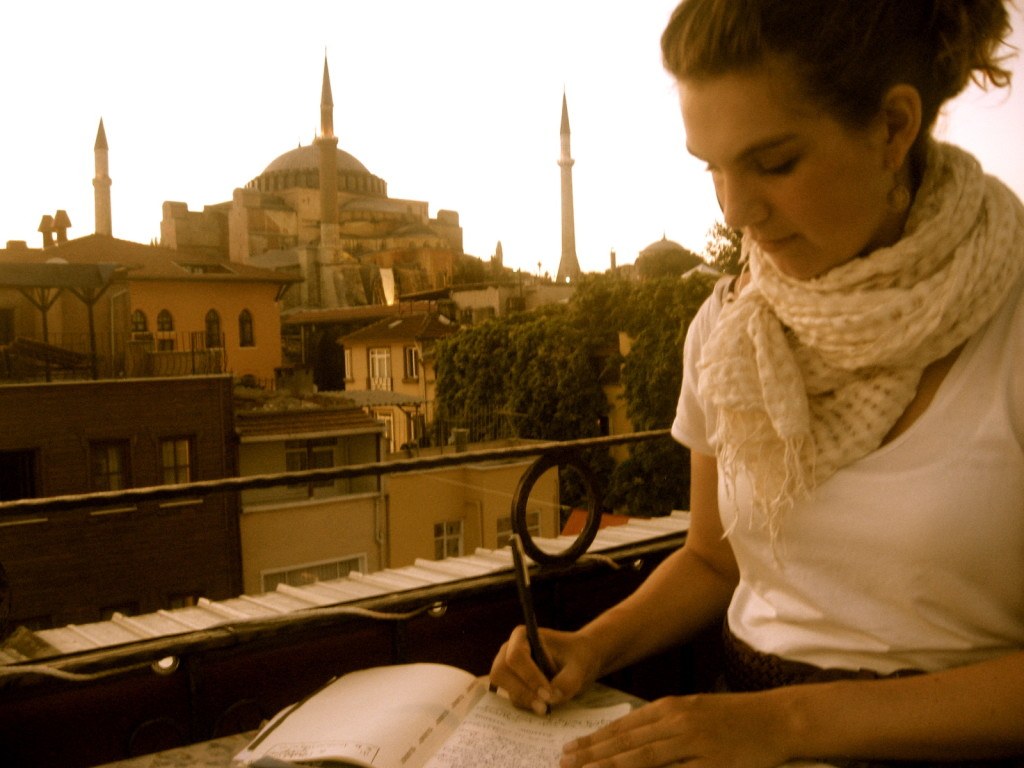 Always writing out dreams (in Istanbul, Turkey)
What are your dreams? Do you consider yourself an ambitious person?