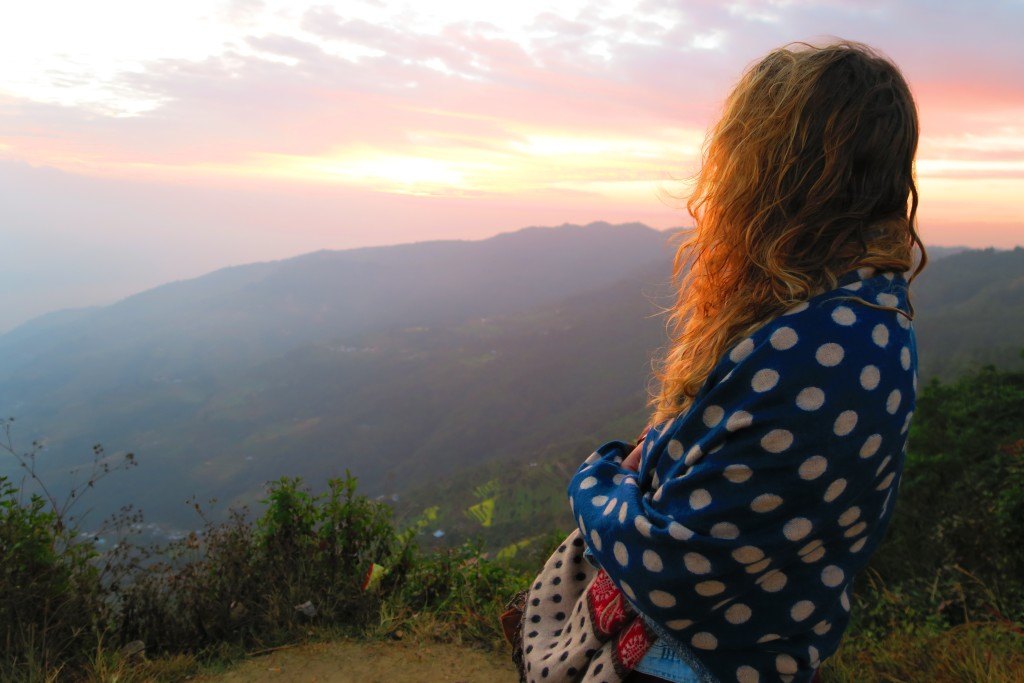 I recently got an email from a reader; let's call her Olivia. In her email, Olivia told me about her plans after college and of how she was excited to get a job in the field that she studied. She then asked me this question:
"I love the idea of travelling; I love reading travel blogs and studying maps. The thing is, I don't really know if I want to travel beyond a couple of weeks away at a time, and only with my boyfriend or my friends. I like my life here and I'm happy with what I've created. I feel like a fraud by saying that it's not really my dream to travel long-term or even to travel very far from home. What do you think? Am I being crazy and close-minded?" 
When I was a little girl I really only dreamt of one thing: to travel. It's what I wrote in all my journals, it's what I told people I wanted to do, it's what I thought about when I couldn't sleep. I would make lists of all the places I'd go and all the things I'd see.
Fast forward a decade (OK, two decades) and I have to admit that I've really followed my dream.
Since graduating university nearly ten years ago, I've been to nearly ninety countries, most of them on my own. I did four months backpacking Europe. I did nine months backpacking Asia. I did another nine months backpacking Central and South America. I lived nomadically for over seven years. Now, as someone who lives and works in London, I travel frequently, recently coming back from an incredible month travelling in Thailand, Nepal, and Bhutan.
Basically, my dream has come true, and, while I have worked hard to make that dream a reality, I also realise how much luck and good fortune is in my life, too. I try to never take any of it for granted.
Recently, however, I've realised I have new dreams. It's not that anything will ever replace that dream to travel; I believe it will be a lifelong affliction, this wanderlust. But now I'm dreaming of publishing a book, of starting my own business, of working hard enough to afford a nice lifestyle in London while still managing to travel monthly. As much as I relish the food markets and the beaches and the unmistakable rush of adventure when I travel, I'm also pretty happy to cook a big bowl of pasta, open a bottle of wine, and find a great show to watch on Netflix.
A dream come true – seeing one of my stories published in an anthology
To be honest, the thought of living nomadically exhausts me now. Does this mean I have travel fatigue? I would say no, not at all. It's just that – by choice – my lifestyle has changed, and my dreams have changed accordingly.
My dreams now reflect the new life I've created for myself, one where I get up in the morning and work, one where I get to see the same amazing friends a few times a week, one where I'm totally happy and engaged and just as fulfilled (though perhaps in a different way) as I have been at other stages in my life when I was travelling.
And all of this got me thinking about those childhood dreams of mine. I realised that travelling wasn't the only dream I had; I also dreamt of living abroad to teach English (which I did in Japan from 2008 to 2010), getting a master's degree (which I just accomplished), writing a book (which I also just accomplished), living in Europe (currently doing), learning Spanish (I can understand the gist of most telenovas by now, though to be fair there's usually just a lot of forlorn staring into the distance), and marrying Mark-Paul Gosselaar (still working on it).
There's a sentiment I notice on a lot of travel blogs, Instagram accounts, and Pinterest boards. "Stop living a boring life!" they proclaim. "I quit my soul-sucking 9-5 and am now travelling the world… and you should, too!" "The world is a book, and those who don't travel read only a page." Some of these things are helpful, inspiring even. But a lot of them annoy me, too. Over the years – through age, perhaps, but also life and travel experience – I've found myself rolling my eyes at a lot of these kinds of statements. They just seem so elitist, so holier-than-thou.
The reality is that the majority of the developed world leads these so-called "boring lives" working their 9-5s (or, in many cases, much longer) and maybe saving up to take the family on holiday once a year. Because for every blogger sharing their success story online about following their dream to travel the world, there are thousands of others who will never do the same.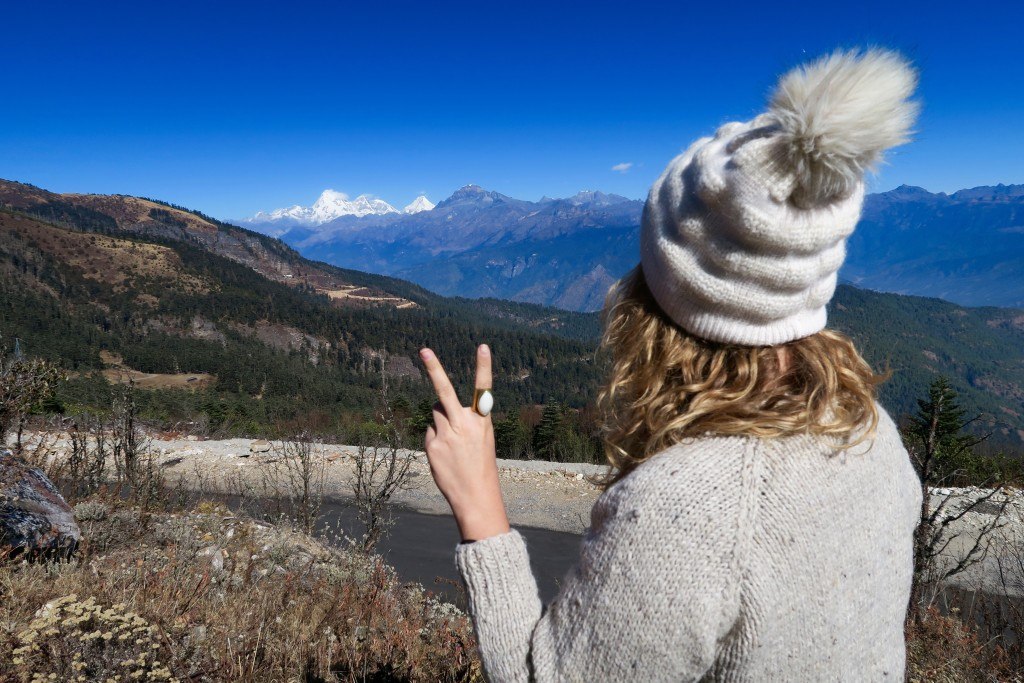 But here's the thing… is there anything wrong with that? Just because my dream was to travel, and I was able to make it happen, who's to say that that dream is right for everyone? Why does Olivia feel like a fraud for not dreaming of the same?
The truth is, as I've often mentioned on this blog, a nomadic lifestyle or travelling long-term does not mean you are exempt from all of the hardships that life can throw at you: illness, money woes, heartache, you name it. Just because you're on a beach doesn't mean you'll be happy. Maybe you like your 9-5 in an office because it means it affords you rent in a nice flat where you can live with your partner, it gives you health insurance, and it means you get to go on a holiday for a couple of weeks a year.
Maybe you're pretty happy with your life as it is, even if it means you only travel a little bit, or – gasp – not at all. It seems we're endlessly bogged down with stories of how terrible that lifestyle is, but the reality is that some of us must not mind it, some of us must even really enjoy it.
Don't get me wrong – if you find yourself nodding along when reading things like, "I quit my soul-sucking 9-5 and am now travelling the world…" then yes, you should probably reconsider your lifestyle and see if you can make it happen. But if that dream isn't your dream – if, like me, you're happy to just eat pasta and watch Master of None tonight – that's totally fine, too.
Or maybe, instead of a month in India, your idea of travel is a road trip to the next province over, or a week with the girls in Mexico. As I've said in my blog's bio for a long time: "I hope to inspire you to travel, in whatever way you feel comfortable; whether it's a luxury weekend away or a round-the-world budget adventure, I believe we all have the right to travel the way we'd like, so long as we are being morally, culturally, and environmentally responsible."
While I've written tons of articles on how to save money to travel the world, what to keep in mind if you're planning to travel long-term, and so on, it doesn't mean I believe that every single person will want to follow suit.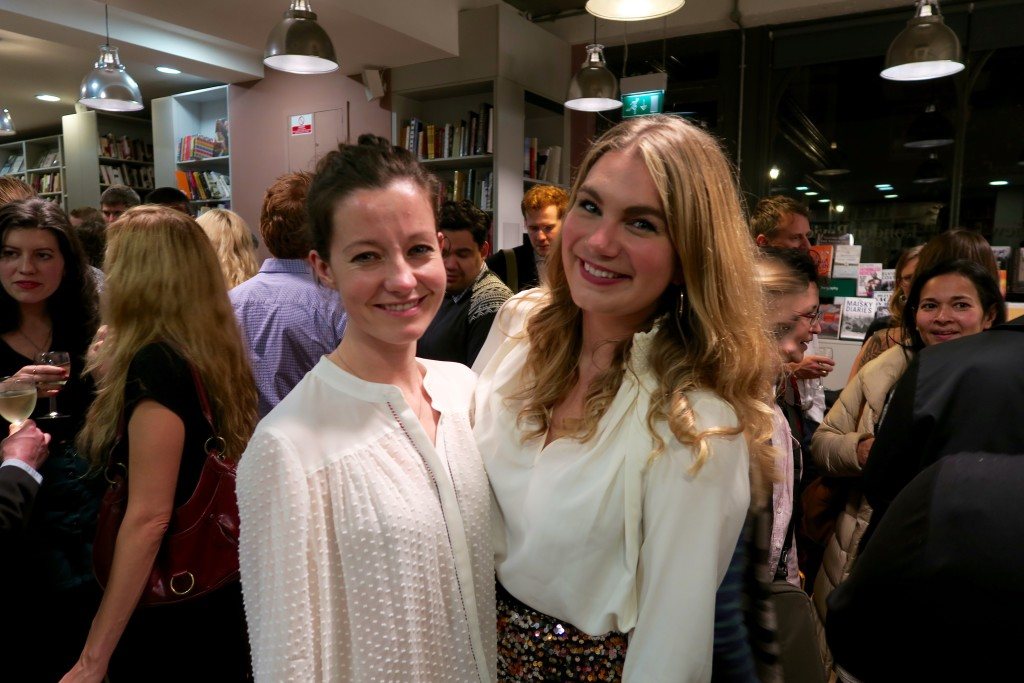 A great night in London with my wonderful friend Claire
Mark Manson (one of my favourite bloggers) wrote an article this summer called "In Defense of Being Average". In it, he explains how we're all pretty average at most things, and that that's OK. We only really hear about the people on either ends of the spectrum – either the girl who is absolutely amazing at what she does, or the girl who is so terrible at doing something that she becomes the unfortunate victim of a viral video.
We don't hear about all of the other people in between, which happens to be the majority of society. I think it's the same with travelling. We hear about these few magical unicorns that have been able to continuously (and happily) travel the world for many years on end, and perhaps compare ourselves to them. Even though I used to travel that way, and I'm now happy NOT to travel that way, I STILL find myself comparing myself to these people and thinking, "Why isn't my life like that?" before taking another sip of my Malbec while sitting in my pyjamas and reminding myself, "Oh yeah, because I don't want my life to be like that." Not right now, anyway.
What I'm trying to say is this: it's OK if your dream is not to quit your job and travel the world. It's also OK if it is. Granted, if you're reading this blog, you probably have some inclination toward travelling, but I feel like we're so bombarded by social media and blogs that tell us our lives are boring or mediocre if we don't live life a certain way, and I think it's all bullshit.
Other people's dreams are overrated; it's not very productive to compare your life to someone else's, especially if you only read about their life online, therefore never knowing the full story. We're all different, with different backgrounds and different resources and different stories. Figure out what your dreams are, and work toward those. Maybe your dream is to remodel a car, or to learn a new language, or to help build schools in your neighbourhood, or to sing with a band on stage, or to collect every single Cover Girl eyeshadow (yes, that was another dream of mine at one point in my life, don't judge).
While I think that some motivation online can help, whatever your dream is, don't be pressured into thinking that your dream is any less cool or worthy or fantastic than somebody else's. While I emphatically believe that travel makes our world a better place, that everyone should try it at least once if they are able, and that it helps broaden communication, foster international relationships, and is just plain AMAZING… I also recognise that not everyone may want to do it, or that not everyone may be able to do it.
To knock someone for not having the same dream – to suggest that they're not living fully, or, worse, that they're living a boring, dull, or meaningless life – is close-minded and pretentious. I think the same way about people who judge others for not wanting to marry or have children. Do I think that Olivia is wrong for not wanting the same things that I did? Absolutely not. We're just different people, that's all. I just think we're both pretty damn lucky for having the choice in the first place.
So that statement about only really dreaming of travelling when I was younger… it wasn't all true. I have dreamt of many things in various stages of my life – many of which never came true, but they helped shape my personality, my expectations, and my motivation to fulfil other dreams – and I'm sure I'll continue to create new dreams for myself in the future.
What I need to remember is that they are my dreams, and that it's OK if they're not the kinds of dreams I usually see on Pinterest accompanied by a photo of someone with her arms outstretched on some beautiful beach. Just because you dream of having a good job, buying a house, and marrying your partner doesn't mean you have a boring life, and it doesn't mean your dream is any less rewarding and enriching than another person's dream to travel the world. It may sound incredibly simple, but I know I need to remind myself of it sometimes.
Oh, and Mark-Paul, if you're reading this… please get in touch.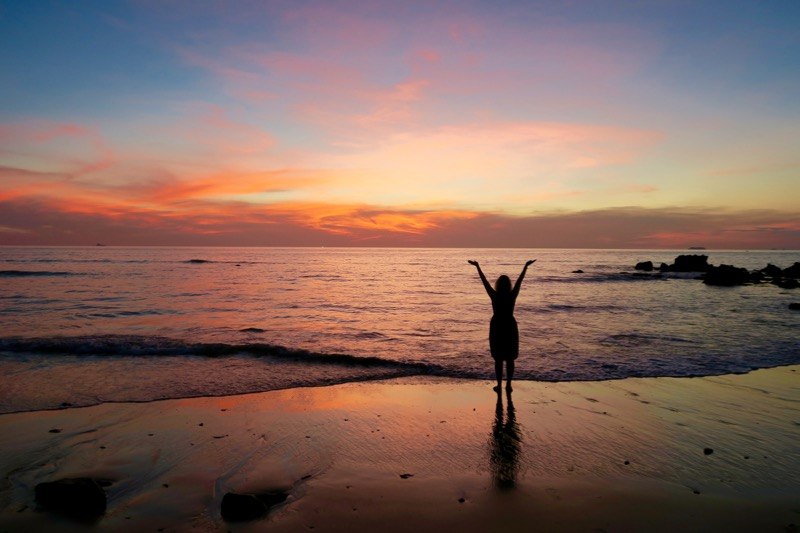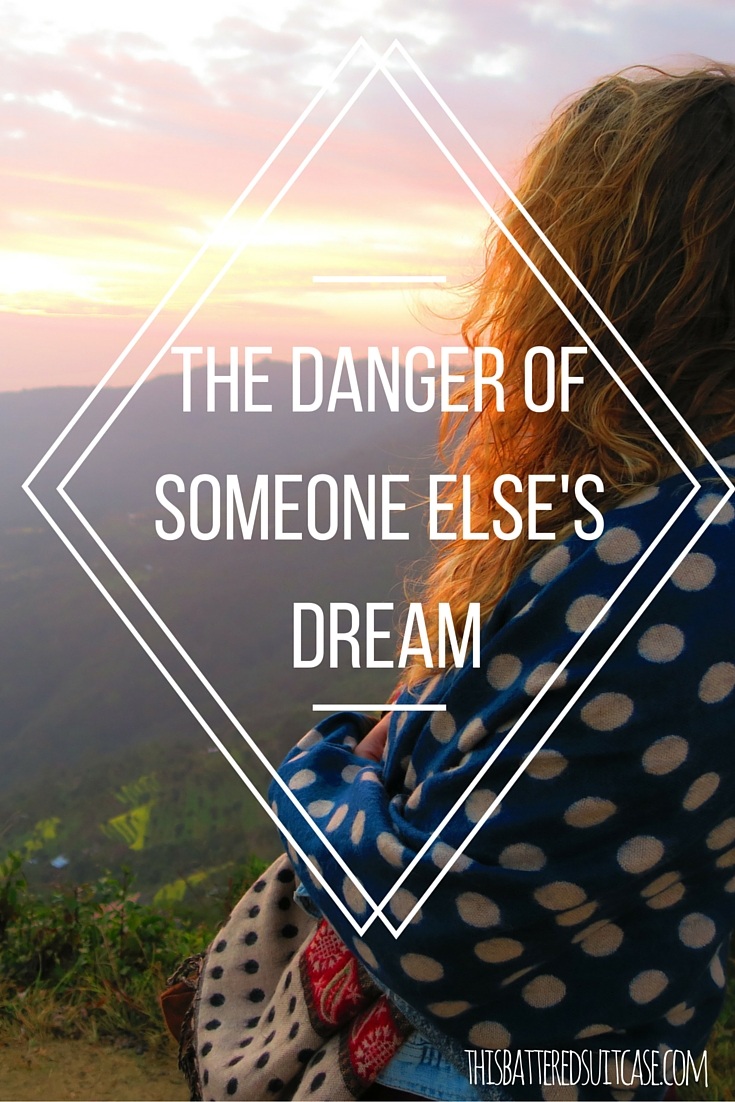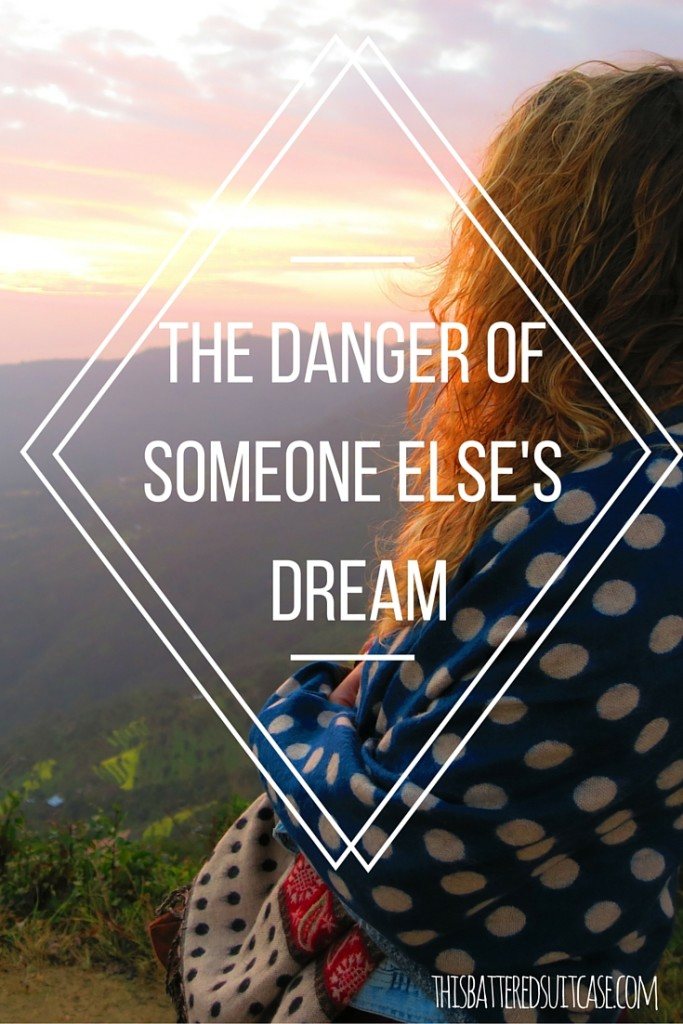 What do you think? What are your dreams? Do you ever feel pressured by social media or blogs to focus on a different kind of dream, or that what you have in your life "isn't enough", even if you're quite happy?