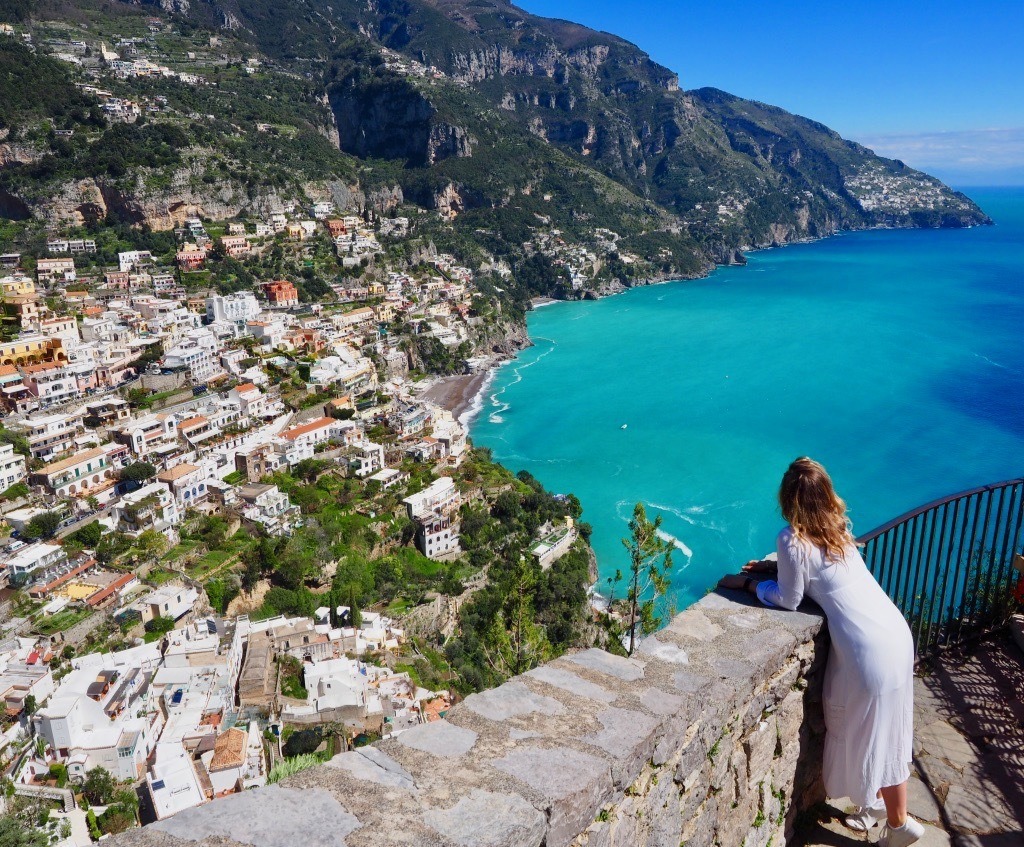 Please note: I spent ten days in Italy on behalf of Club Adventures. Although this was a paid collaboration, all opinions are my own. As always, I strive for absolute honesty and transparency on this blog! More on the tour below…
"I'm saving the Amalfi Coast for something special," I remember saying to a friend in London, years ago. I had just returned from Cinque Terre for the third time, another part of Italy that is raved about for its beauty. The Amalfi Coast, a 50-kilometre stretch of coastline along the Mediterranean, kept eluding me despite being so high on my dream travel list. Saying I was saving if for something special made me feel slightly better about not seeing it yet.
The truth is, I didn't know what that "something special" was going to be. As each birthday passed, as each celebratory moment in life went by – graduating with my MA, for example, or hitting a blogging milestone – I kept pushing my dreams of visiting the Amalfi Coast to the side. As someone who loves being single and loves travelling solo, it seemed silly to wait for a romantic occasion or available travel partner to see the coast with, and yet I also knew I didn't want to travel the coast alone; with its winding roads and stunning views, I didn't want to be responsible for driving. I knew I couldn't trust myself to keep my eyes on the road on one of the most beautiful road trips in the world.
And so, the Amalfi Coast always seemed out of my grasp. I visited Italy time and time again – a dozen times, in fact – and yet never made it there. I looked up the logistics of visiting solo again and again, only to come to the conclusion that, yes, it was definitely possible, but no, I didn't want to do it alone.
"I'm saving the Amalfi Coast for something special," became my mantra, the Amalfi Coast becoming that destination that was always in the back of my mind, that place I so desperately wanted to visit but didn't know how.
***
I've written about solo travel for nearly as many years as I've been blogging (that's 16, if you're counting). Just over 13 years ago, on May 11th, 2006, I set off on my very first solo trip. I had already spent the last four years living on my own in Halifax, Nova Scotia, far from my hometown of Winnipeg, but travelling independently felt different, felt new, felt both terrifying and exhilarating.
Over the next decade, solo travel became my preferred method of travelling. I loved the freedom it afforded me, I loved that it made me more confident, and I loved that it pushed me out of my comfort zone. By my 30s, I'd travelled to nearly 100 countries, most of them on my own. I'd also established myself as a solo female travel blogger.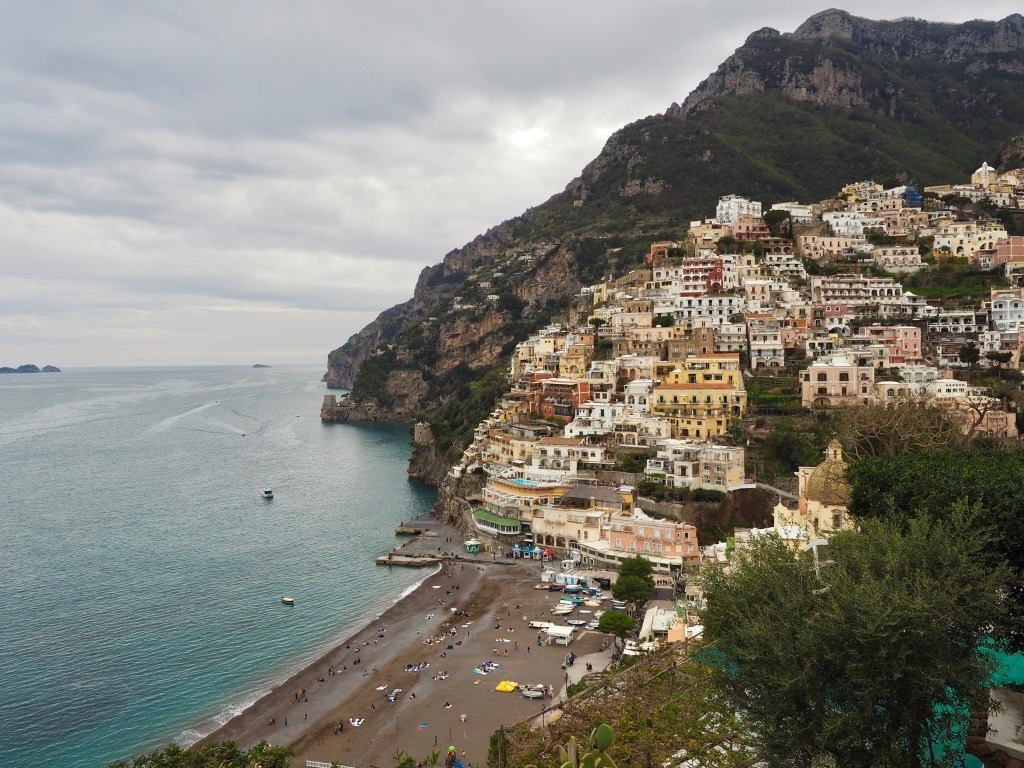 Still, I also started to appreciate just when I didn't want to travel solo. There were times I wanted to share the load of the travel planning, navigating, and budgeting. There were times I knew the trip would be that much better with someone by my side, like a holiday to Bhutan with my mum. And there were times I just couldn't quite figure out the logistics of travelling a country solo, especially one that required a road trip (like my overland trip to Namibia last year).
And though I'd done many smaller tours in my life – a four-day adventure to see Machu Picchu, for example – the idea of a "tour" seemed to go against the free-spirited solo traveller in me, the person who liked to dictate where and when I'd be going somewhere, the person who liked to regain control. I won't lie… a few years ago, if you had asked me to describe a tour, I would have described this stereotype: the crowded bus, the hordes of tourists with cameras round their necks, the limited time in each destination. I thought of a tour as something that would shackle me, something that would annoy me more than anything.
And maybe that's what some tours are indeed like. I did see tour groups that seemed to fit this description wandering around Europe last month: groups of fifty people following a guide with an umbrella in the air, needing to keep to the pack.
But the more I looked into the Amalfi Coast, the more a tour seemed to make sense. I just needed to find a tour that would take care of the logistics – transportation and hotels, mainly – but still let me do my own thing. The best of both worlds, in my mind.
You know where this is going.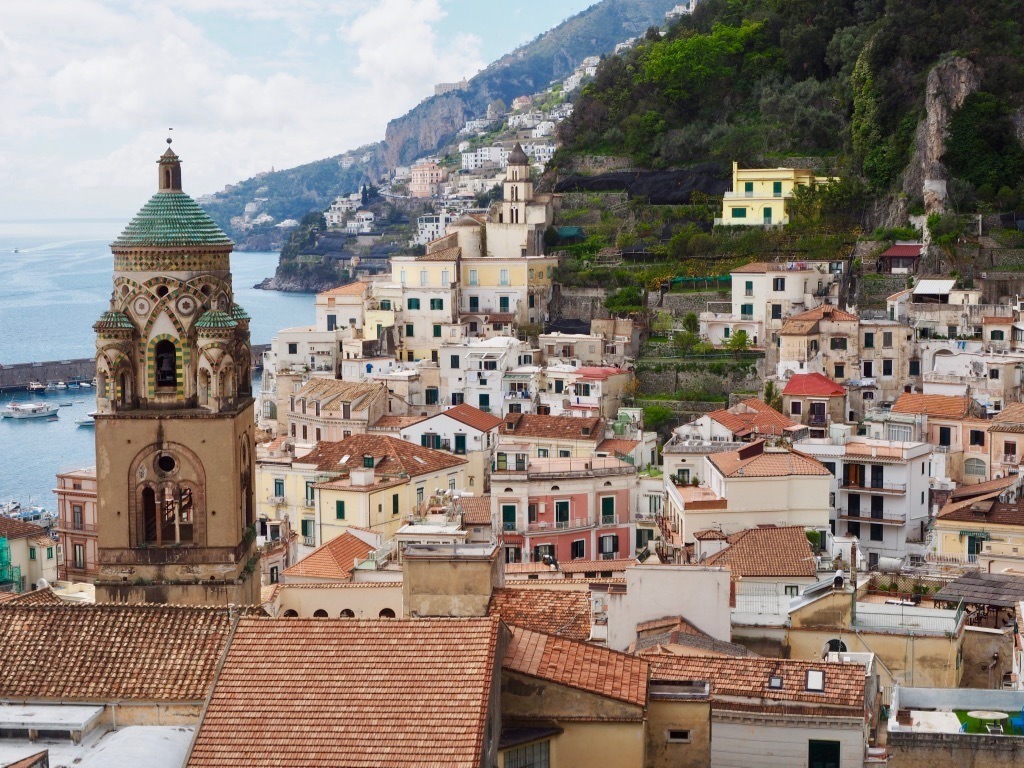 Over the past year, but especially over the past six months, I've been working really hard on being the healthiest person I can be, both in body and in mind. Part of that focus on health has been to cut back immensely on paid collaborations or sponsored trips for this blog. Although I only accepted about 10% of the offers in the past, I wanted to cut that down to almost nothing, so that I could focus on what I really wanted to write and post about. I vowed that, for 2019, I would only take two or maybe three collaborations in total.
The other part of that strengthening of my mental health has been to visualize a healthy and positive future for myself. Too often, in the past, I would imagine the future and think only negative thoughts: what if I lose my freelancing gigs? what if I can't afford to travel to X location? what if nobody wants to work with me again? what if everyone stops reading my blog?
In the past six months, I tried to turn that all around. I started thinking really optimistically about my work and my personal life. I started imagining my future differently: what if I'm lucky enough to visit Mozambique this year? what if my readership grows? what if I get a few really cool collaborations, like a trip to the Amalfi Coast? *cough*
I told you you knew where this was going.
I'm not saying that putting this out into the universe was the sole reason that Club Adventures reached out to me and asked if I wanted to try out their small group tour to the Amalfi Coast a few weeks later, but c'mon, I gotta give the universe some credit for that.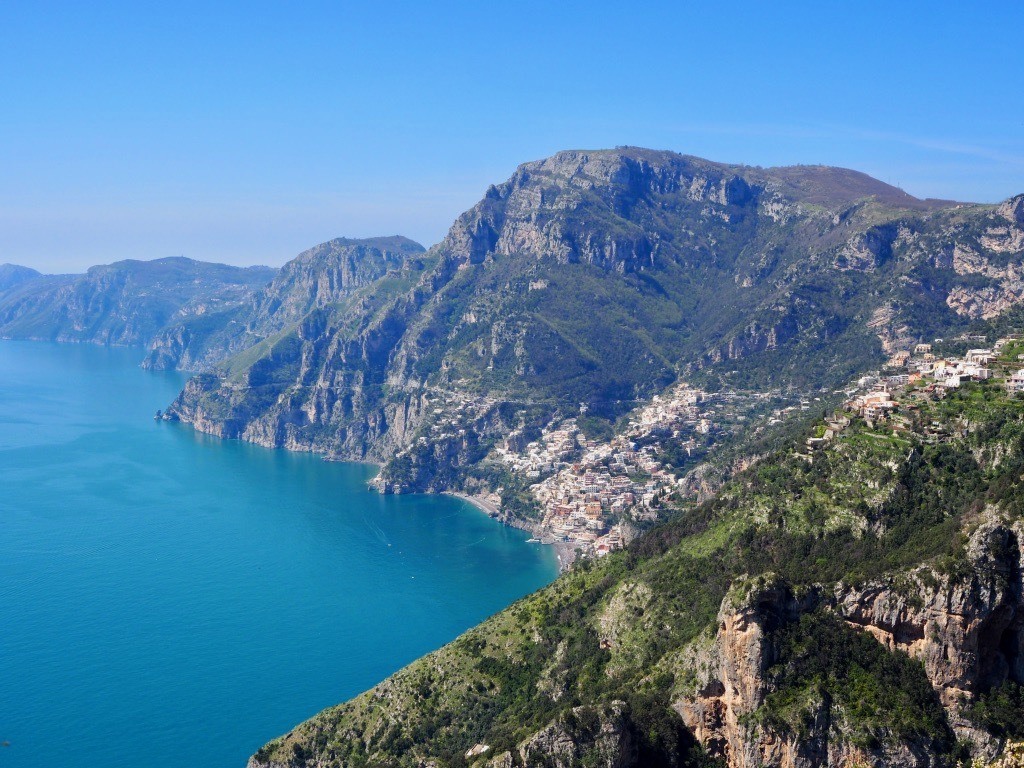 But maybe, in some ways, it did feel like fate. I was dying to get to the Amalfi Coast in 2019, and I had already started thinking about seeing it on a group tour. But much like my former online dating profiles (hah), I had a very specific list of requirements. I needed the tour to be small, no more than 10 or 15 people. I needed the tour to have a focus on local experiences, especially if they involved food and/or alcohol (I mean, this is Italy, after all). I needed all of the accommodation and transportation to be taken care of, but I also needed a lot of my own free time to wander, take photos, and experience the Amalfi Coast solo.
Enter Club Adventures. A tour company that sets you up with a local leader – someone who knows the area like the back of their hand – and also limits the tour to small numbers. They took care of the hotels and the transportation in Naples, Sorrento, and Amalfi, yet I had tons of free time to do whatever I wanted to do (i.e. sit in the main square of Amalfi and drink lemon spritzes). I could join the group for dinner if I wanted to, but was also free to go off on my own whenever I felt the need to.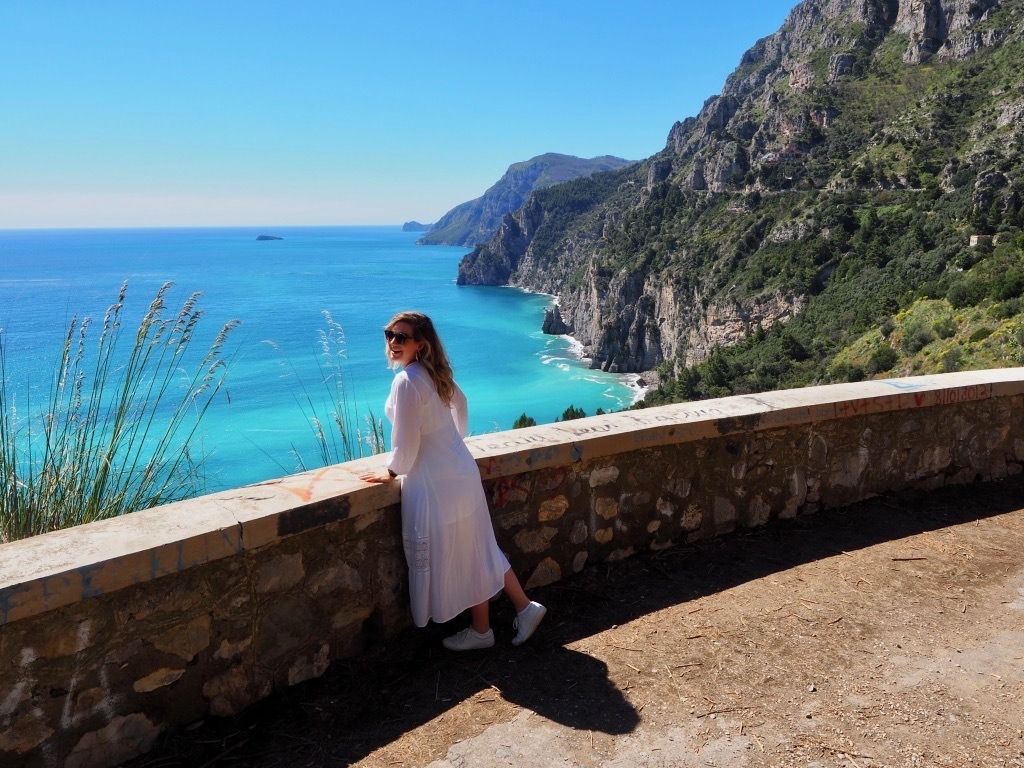 "I'm saving the Amalfi Coast for something special," I said for all of those years, but in reality I was just trying to figure out how the hell I could travel the Amalfi Coast comfortably. Looking back on my ten days on the tour, I wouldn't have changed a thing.
***
When the Amalfi Coast finally came into view on the winding roads from Sorrento, I couldn't help but tear up. It had already been an incredible six days on the tour; we explored Naples, from its underground caverns to its delicious food; we learned how limoncello was made at a local farm outside Sorrento; we took the boat to Capri, an island famous for its glamour; we met tons of locals who shared their way of living (and eating) with us. And now we had the Amalfi Coast in all its glory: the colourful buildings perched on jagged cliffs, the turquoise waters illuminated by the sun, the craggy coastline that went off into the distance as far as the eye could see, green hills and rocky landscapes crashing into the azure waters below.
It was, for lack of better words, love at first sight. All these years that I had been dreaming of seeing it, and it was more than worth the wait.
"I'm saving the Amalfi Coast for something special," I had said a thousand times. The truth is, the Amalfi Coast is special enough on its own, and I'm eternally grateful that I finally got to see it.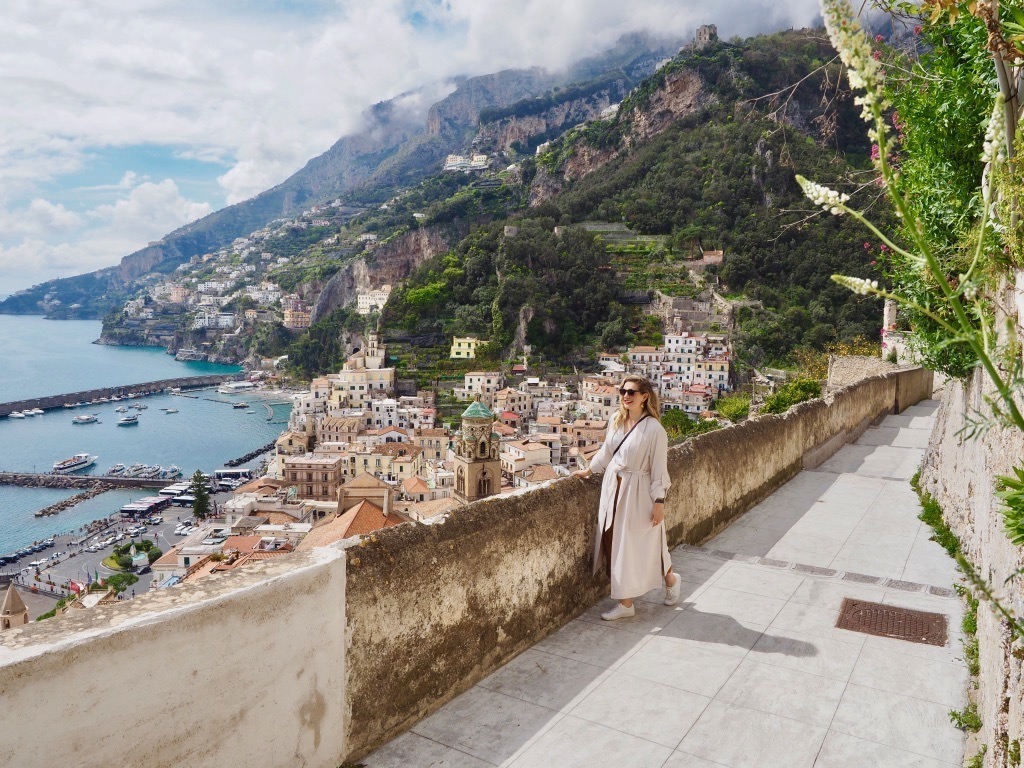 Thank you to Club Adventures for such an amazing tour, and for making my Amalfi dreams finally come true. I had an incredible time on their ten-day tour in Italy – more information about that specific tour here. I would strongly recommend this tour for solo travellers and for small groups/pairs alike; again, I loved the fact that all accommodation and transportation was taken care of, but that I had tons of free time, too. All the hotels and transportation options were extremely comfortable and central (we stayed right in the heart of Naples, Sorrento, and the town of Amalfi). A special thank you to my local leader, Andrea, for his wealth of information and fantastic photo-taking skills!