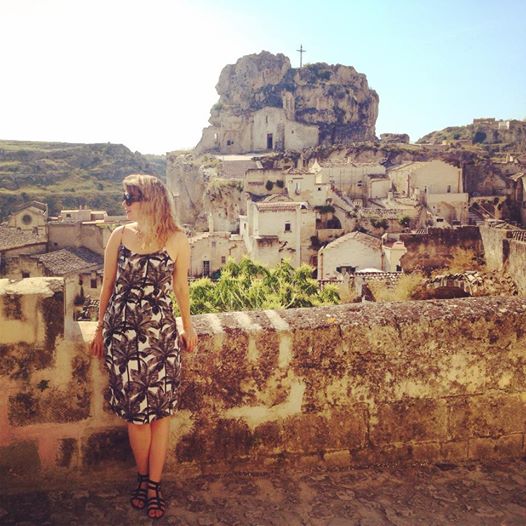 On a blogger trip in Matera, Italy
I recently went on a few dates with someone here in London. Things were going reasonably well, when on one date we had this conversation.
"So, have you told any of your friends about me yet?" I asked over a glass of red.
"Yes, but they don't know your name."
"Oh really? Why is that?" I was still flirtatious at this point.
"Because if they know your name," he sighed, "they can search for you and find your blog. I don't want them to read your blog."
I was taken aback. On our first date, I had joked with him that I didn't want him to read it, because there are certain stories (Exhibit A, Exhibit B, Exhibit C, Exhibit D, until eternity) that I would rather have told him myself. At the end of the day, however, I don't mind if someone I'm dating or if any friends, coworkers, or family members read this blog; it's who I am, and I'm an open book. He continued.
"I wouldn't want them knowing more about you than I do." The conversation had turned sour.
This isn't the first time this has come up. One ex-boyfriend refused to have his photo or even his name mentioned online. That was when my blog had first started, and I rarely put photos of myself online either, so it didn't bother me much.
I started blogging when I was 19. If you've followed my recent posts, that means I've been putting my life on the Internet for 11 years. If you wanted to, you could follow my life from undergraduate degree, to travelling around Europe, to living in Scotland and Russia and Japan, to travelling around Asia and South America, to moving to London, to my Master's degree, and everything in between (including two relationships). That could be a lot for someone to handle, I understand, which is why I don't expect anyone to read it. Even some of my own family members barely read what I write (*cough* Hi Kitt, hi dad *cough*).
The stigma of blogging has definitely subsided over the last decade, as so many people are online in some way, whether through blogging or social media. What used to be a strange phenomenon – writing and posting on the Internet for a bunch of strangers to read – is now quite common, and, in some cases, expected (for a business or magazine, for example). But I also realise that I feel differently about blogging than most, because my entire life is about blogging or writing in some way. Not only do I run this blog, but most of my friends are bloggers, and my work involves writing a blog and helping others blog. Even my Master's is connected to blogging, and I will be giving a short presentation on the benefits of blogging and writing online on a panel to a group of university students at the end of the month.
Blogging has also brought me a great deal in my life. I've already discussed how much I owe to this blog, and that's only growing; because of having a travel blog, for example, I was able to visit Basilicata over the weekend with Discover Basilicata. These are the kinds of opportunities I never could have dreamed of when I started that Livejournal all those years ago.
Occasionally, I run into this sort of person:
"Oh, you travel a lot? Do you have a blog?" This sentence is often accompanied with sarcastic intonation at the end and perhaps a head tilt. I used to laugh it off, confirming the statement with a hint of embarrassment. Now, however, I answer differently.
"Yes, I do, and it's a major part of my career." Said with confidence, most people become really interested; it's still a new career, and one that most people (like all of the city finance men I seem to attract) know nothing about. In my experience, I usually don't get along with people who make fun of blogging or who do not understand the merits of having a blog. Even after I explain all the magical things that can come out of blogging – the community and network of travellers being the most important – there are those that remain skeptical.
I decided to break things off with the guy I was dating; disrespect for my blog and my career was only one of the factors. I couldn't help but think of another man I dated a while ago. Even though it didn't work out with him either, he was always very sweet and complimentary of the stuff I do online.
"So, I found your blog the other day," he told me over coffee once.
"Ohhhhh God," I groaned, hiding my face. As I said, it's still a bit embarrassing when, you know, I want to sleep with someone who knows about #10 on this list.
"It's amazing!" His face lit up. "I loved the article you wrote about Sapa, and you totally made me want to go to Colombia. I even watched the video on your About page… I thought I might not make it through 18 minutes, but you were great." My embarrassment had quickly faded, and I was grinning instead. I put a lot of hard work into this blog, we all do with our blogs, and it's nice to have someone acknowledge it, to appreciate it.
I believe that the stigma of travel blogging will soon be completely eradicated. I, for one, am damn proud to be a travel blogger.
What do you think? Do you ever feel the stigma of having a blog? If you don't have a blog, what do you think of travel bloggers?