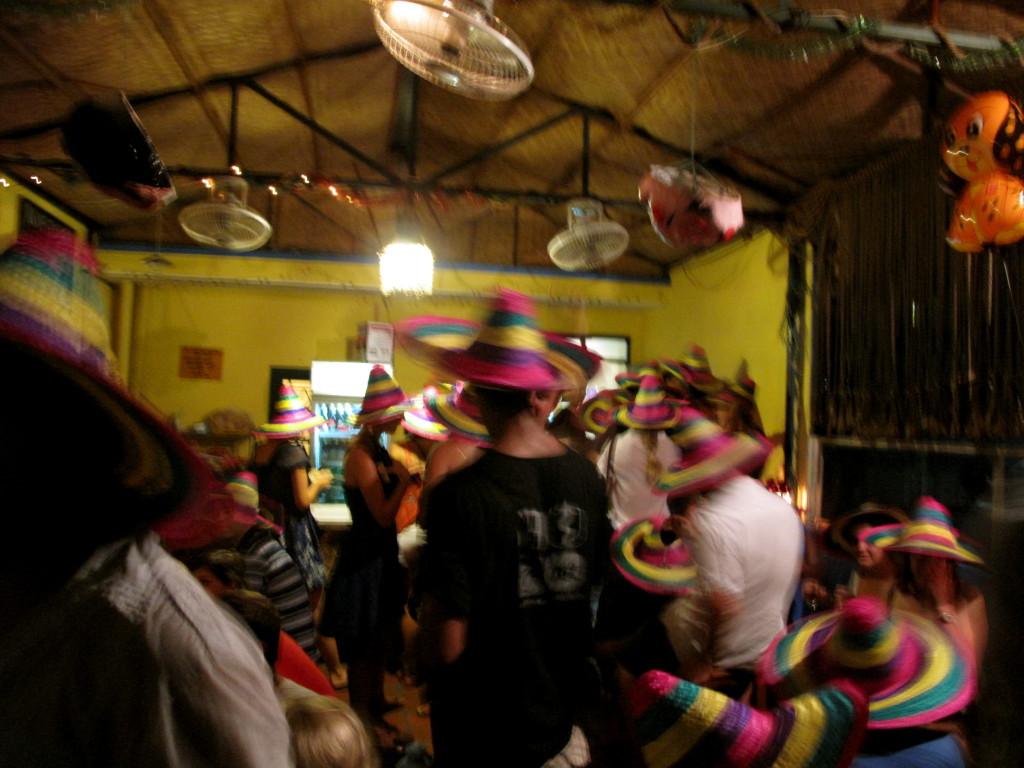 We met on a sweaty night in the middle of Hanoi, high up on a balcony full of backpackers. In the middle of the balcony was an old bathtub full of ice; staff members from the bar kept refilling it with bottles of beer, trying to keep up with the raucous crowd. For some inexplicable reason, everyone was wearing pink sombreros, and the place was filled with kids barely old enough to drink, sunburnt, be-hatted, throwing their heads back in drunken laughter.
I had arrived to Vietnam that day, my untanned skin giving away my newness, my arms suspiciously bare of ratty bracelets. I was on holiday for two weeks from my job. En route to the hostel from the airport, from the taxi window, I watched as the city of Hanoi sprawled out in front of me, families of five packed onto motorbikes weaving in and out of traffic at an alarming speed.
Beer in hand, I made chit-chat with groups of English backpackers under the black sky. Occasionally the guys would shake their heads like animals, covering the girls in droplets of sweat. The girls would screech in horror and joy, reveling in the attention. Music blasted over scratchy speakers, and once in a while the unmistakable sound of firecrackers echoed up from the street below.
And then: I can't remember if it happened in slow-motion, or if you really did just walk in so confidently, so nonchalantly, that everything stopped. That moment only happens in movies, I thought. I couldn't keep my eyes off of you as you walked across the room and sat down.
"The New York Dolls," were my first words to you. You looked up from your spot on the couch, registered what I had said, then looked down at your shirt bearing an image of the band.
"Yeah, you like them?" You had green eyes, a deep voice from another continent. You were tanned a dark brown to match your hair, and the only one in the room not wearing a pink sombrero.
And I was yours.
Before I met you, I had never slept with anyone who wasn't a boyfriend. I had never held someone tight on the back of a motorbike, I had never drunk whiskey in the streets.
That first night, you grabbed me around my waist and pulled me away from everyone, kissed me hard on the mouth. It was slippery with desire, with sweat.
"If this was Vegas, I'd be taking you to the chapel right now." Your breath was hot on my neck.
I loved you. I knew you two days and I loved you. You were taller than any man I knew, a giant making your way through the streets of Asia. You had this great booming laugh that shook the walls. You ordered pho in Vietnamese, made the shopkeeper blush. At night you'd hold me closer than anyone ever had, play me songs by Sam Cooke.
"This is our song," your tongue would find my ear, and I'd melt into your world.
Our second night together we cut open live snakes and ripped out their still-beating hearts, swallowed them whole. It was some tourist trap that promised virility and strength, both of us too young and lovedrunk to stop to consider the cruelty of our actions. The restaurant then grilled the snake, and we nibbled on the tough meat through gulps of snake wine, ice cold beer, shots of snake blood and vodka. Later you'd buy me a huge balloon shaped like a happy face, throw me over your shoulder and take me back to your hotel.
'That's me," you said as I lay on top of you in bed, pointing to the balloon.
"I guess the snake hearts worked then," I replied.
I was headed south, you were headed for Laos and beyond; our goodbye was casual. You told me we'd see each other again and I believed you.
Five weeks later I joined you in Sri Lanka. We had spent hours talking to each other online every day as you backpacked around Asia. I lied and told you it was fine with work; the truth is I was almost fired for taking so much time off. We spent a week entangled in each other's bodies on a beach in the south, our own paradise. It was a place where the fish jumped out of the ocean, hurtled themselves onto the sand for reasons we couldn't comprehend; their suicide became our dinner, accompanied with fresh limes and onions. We'd drink bottles and bottles of arak and ginger beer, stumble back to our shack guided only by the moon and the familiarity of the rocks. I'd fall asleep to the crashing of the waves.
For four months, we continued talking every day. You continued your travels through Sri Lanka and India; I continued my life teaching and living in Asia. Then, after only spending nine days together, you moved to be with me. I opened up my door and you stood there, towering over me, still covered in dust from another land. Despite the winter chill, you wore flip flops on your feet.
And you were mine.
I had never been so happy, or laughed more; I had never thought somebody so perfect. I'd run home from the subway station just so I could have five more minutes with you. I'd jump into your arms and we'd make love in our clothes. I'd ignore your shaking hands in the morning. We ignore a lot when we're in love.
You got a job in another city, a really good job, and you couldn't say no. After five months of living together, you left with the same backpack you had arrived with. I visited every other weekend, and we'd spend the days curled up together on your futon in your tiny apartment, nursing hangovers. Every night you'd be at the local pub. You could easily drink 20 beers a sitting.
How could I be so naïve? How could I not question the bin full of empty vodka bottles, or that every memory of you included alcohol, or the fact that every night before bed you'd stand at the kitchen sink, open a bottle of red wine, and chug the entire thing in one go? Ignorance is bliss, they say. Ignorance is bliss and love is blind.
Months later you would drink so much that a subway attendant would rush to my aide, fearing you were going to fling me over the platform's edge. You were yelling at me.
"Why don't you just fuck him then?"
You had never looked more menacing, looming over all the people waiting for the train. Your boss had put his arm around me at dinner, a dumb joke. Your eyes were bloodshot. You looked horrible and pale, bloated. You had been getting progressively worse and worse while living away from me, breaking down under stress and fatigue. You were drunk from morning until night. My laughter was no longer shared; now it was a nervous titter, a laugh of someone waiting for the ticking time bomb to explode.
"Let's just go home," I whispered. I had lived here long enough to know that any outburst of emotion in public was highly disrespectful. I was silently fuming with anger and shame; it wasn't the first time your drinking had made me feel this way.
"You know what?" you shuffled toward me, and once again I saw the attendant inch forward, anxiously watching our every movement. "You're a bitch."
"You know I don't like swearing," I tried to remain calm. "So let's just count to five, and we can pretend that never happened."
"One, two, three, four, five," you counted out loud. "You're a fucking bitch."
I broke up with you on that train platform, tired of waiting for the man I met in Vietnam to reappear. On the train back to your apartment you hurled all your worst insults at me, your head lolling from side to side. I prayed nobody spoke English. I had nowhere else to go but to yours – it was midnight.
You passed out immediately in bed, still in your work shirt and tie. I crawled in next to you. This was supposed to be my bed, my apartment; just three days earlier I had finished my last day at work. I had moved to this new city to be with you. I lay in bed beside you, your snores rhythmic and rattling. I thought back to our first nights together in Vietnam, when we slept as one.
And then – my first instinct was that you had brought a glass of water into bed, and had spilled it; why else would I suddenly be so wet? Horrified, I turned on the lights. You had urinated all over yourself, all over the bed, all over me. I shook you awake. Urine had seeped all the way up to your neck, and your tie was soaked.
Incoherent and confused, you stripped, throwing your clothes in a corner; they landed on the ground in a splat. I was too disgusted to help you. I showered, then made a bed on the floor of a spare blanket and some sweaters.
In the morning you didn't even know why I was angry. In the morning you didn't even know we had broken up. You didn't believe that you had wet yourself; I forced your nose into your soiled clothes like a disobedient dog.
I left you on the side of a road. I clambered into a taxi as you stood there, your face stricken. On the way to the taxi stand you had thrown up twice, from the alcohol or perhaps from the shame.
That night as I lay in a hotel bed you'd call me again and again, leave messages asking to at least stay friends. It was too late. I already had a ticket back to Canada, planned a life without you as I gazed out over the skyline. Somewhere amongst the glittering city lights I found my answer: I would do what I had always wanted to do. I would travel, live nomadically, set out with no end date and with no return ticket. On that beach in Sri Lanka, wrapped in each other's arms, we had discussed doing this together.
The last I heard you moved home. You used to write to me sometimes, short emails telling me about your travels, telling me how you wish things had been different, that we could have remained friends. I have never responded. Not responding is my only method of coping, not with your alcoholism, but with the fact that I didn't recognize it soon enough. Maybe I could have saved us. Maybe I could have loved you forever.
"Maybe they're just giving you all you've ever wanted," I said to you that first night.
You smiled. It was the best smile I had ever seen.
"And maybe you never ever know what that was," you recognized the lyrics; they were from "Vietnamese Baby" by The New York Dolls.
"And maybe you're just finding it out now," I smiled back this time. Warmth spread up from my feet all the way to my head; it was more than just the heat of Hanoi.
"Maybe I am," you laughed, taking my hand, leading me into that night that was so full of promise.