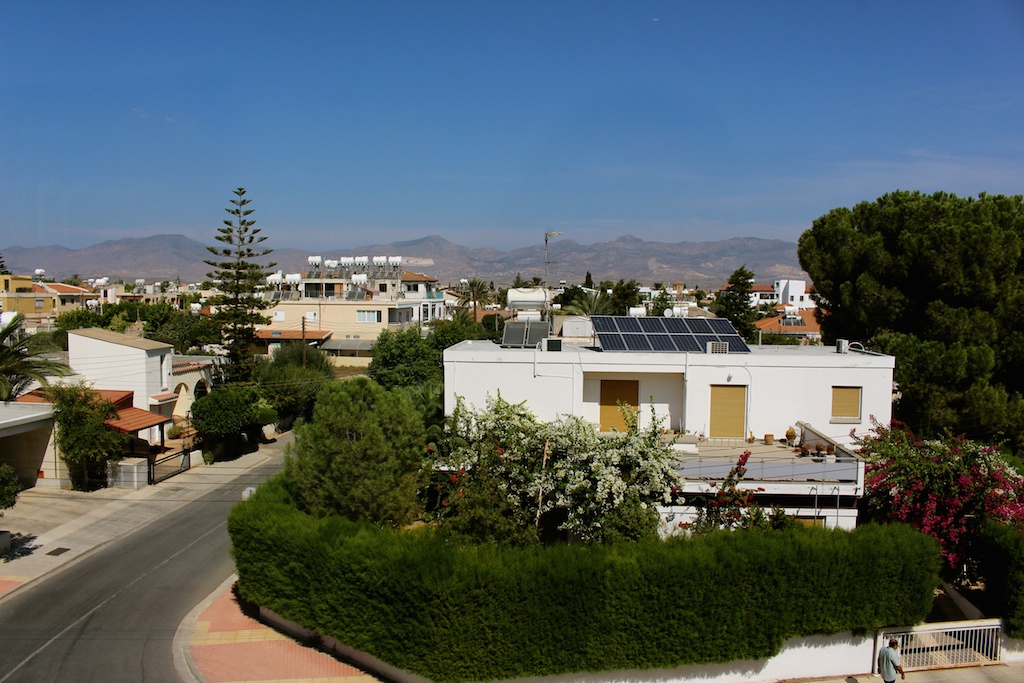 A view of Nicosia from the museum
One of the best trips I took in 2014 was my short holiday to Nicosia, Cyprus. I didn't know very much about Cyprus before visiting, let alone Nicosia; while many people I know who have been to the Mediterranean country have visited the coast, I hadn't met many who had explored its capital city. While I am a beach bum through and through, give me a city filled with fascinating history, delicious food, and cobblestoned streets, and I'll be very happy. Give me a modern art museum and I'll be even happier.
I feel like I write a lot of superlatives on this blog. It's a trope in travel writing – in bad travel writing, to be honest – and I hate that I'm often using words like "best" and "amazing" and "oh my God it was super awesome" (I don't think I've actually written that anywhere on here… yet). I don't often write about the dull bits of my travels, the boring and the bland, because I just don't feel that they deserve the space. Because of my full-time Master's degree and intense work/freelance schedule, blogging has (regretfully) often had to take a backseat. Simply put, when I do get a chance to blog, I want to write about the good things, the great things.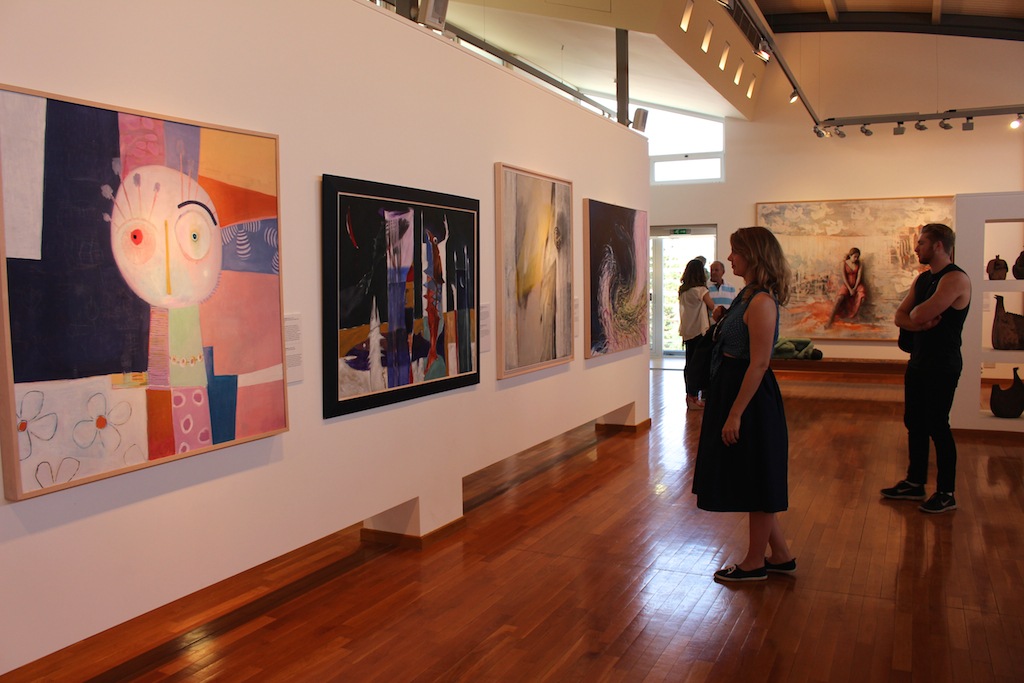 "Where are you going with this, you babbling idiot?" you may find yourself asking. Well, I'll tell you. The modern art museum in Nicosia – the Loukia and Michael Zampelas Art Museum – is by far one of the coolest I've been to. I'm a bit biased, of course; much like my feeling toward castles, while I appreciate the history behind a lot of art, I don't get that excited about anything that dates before the mid-19th century. While I don't care very much for classic art, I love modern art. My favourite artist is Matisse, followed by Degas, Cézanne, Modigliani, Khalo, Basquiat, and a whole lot of other artists you can see in most modern museums. I collect art when I travel (which you can see a lot of here, and here, and my most recent painting I bought in Nicaragua here) and I always gravitate toward big, bright colours, and big, bold shapes. It was no wonder, then, that I loved the Zampelas Art Museum.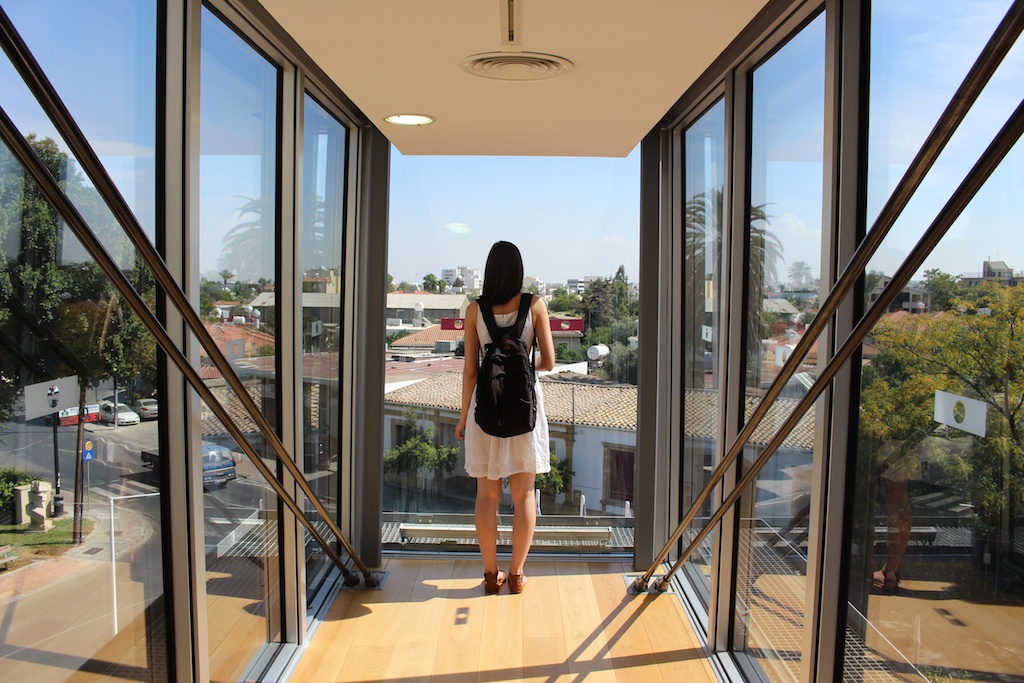 The lovely Char of Taylor Hearts Travel admiring the view
The museum itself is absolutely gorgeous – an architectural wonder made up of interesting shapes and clean lines, with lots of glass to let natural light in (I mean, look at it!). We visited on a sunny day in October, and were immediately greeted by a temporary exhibit of Steve McCurry's work; as he's one of the best, if not the best, travel photographers in the world, I was really excited. Venturing to the museum's other floors, however, it was incredible to see the range and scope of Cypriot modern art.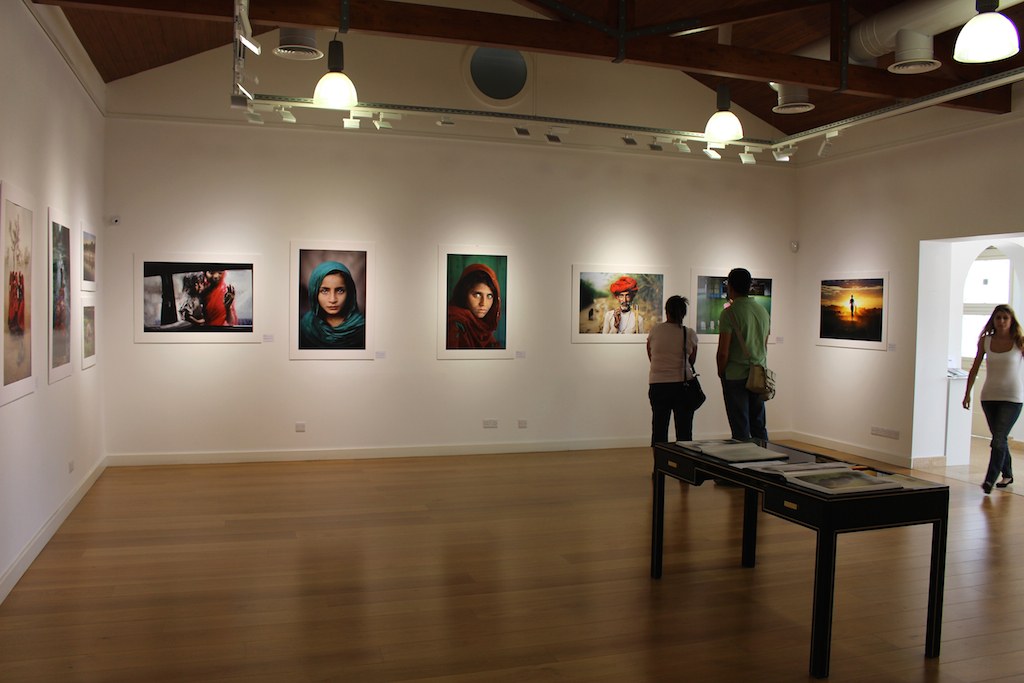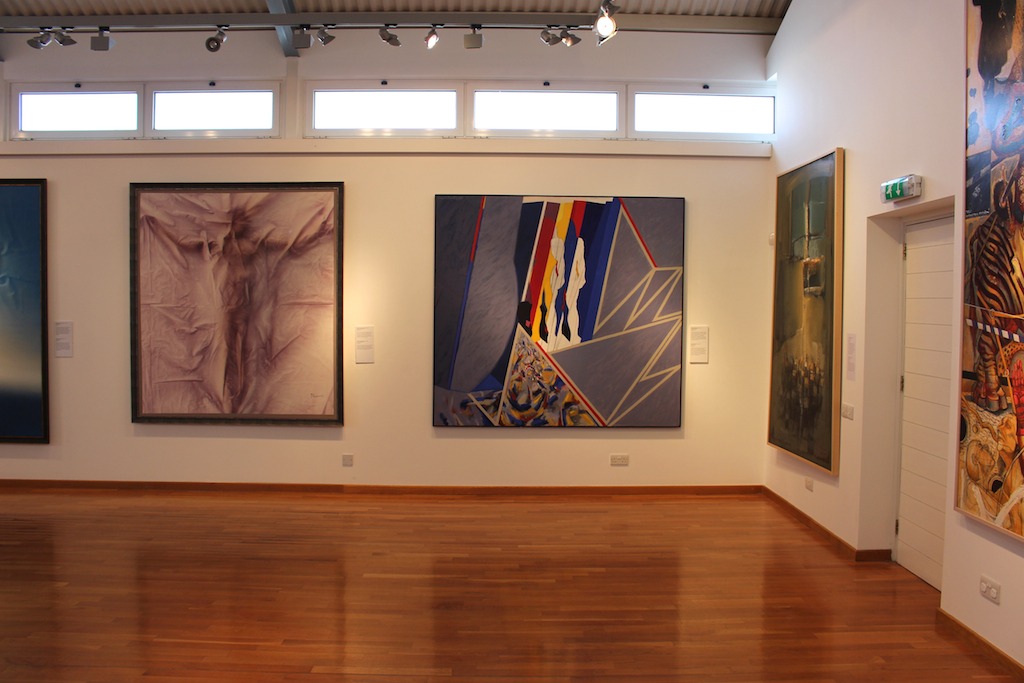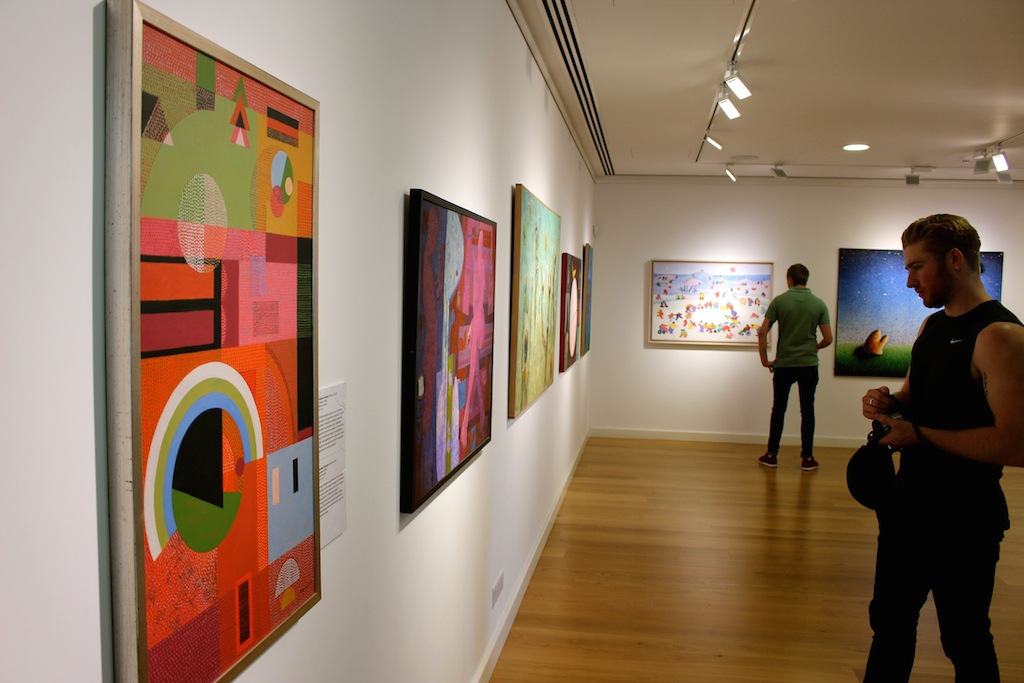 That's the thing about this museum – it's full of local art. You won't find many (if any) Matisses, or Degas, or Modiglianis… but I appreciated that. If I'm in Cyprus, I want to see Cypriot art. The higher floors were full of permanent exhibitions of exactly that, and wandering around the museum was one of the highlights of my trip to Nicosia.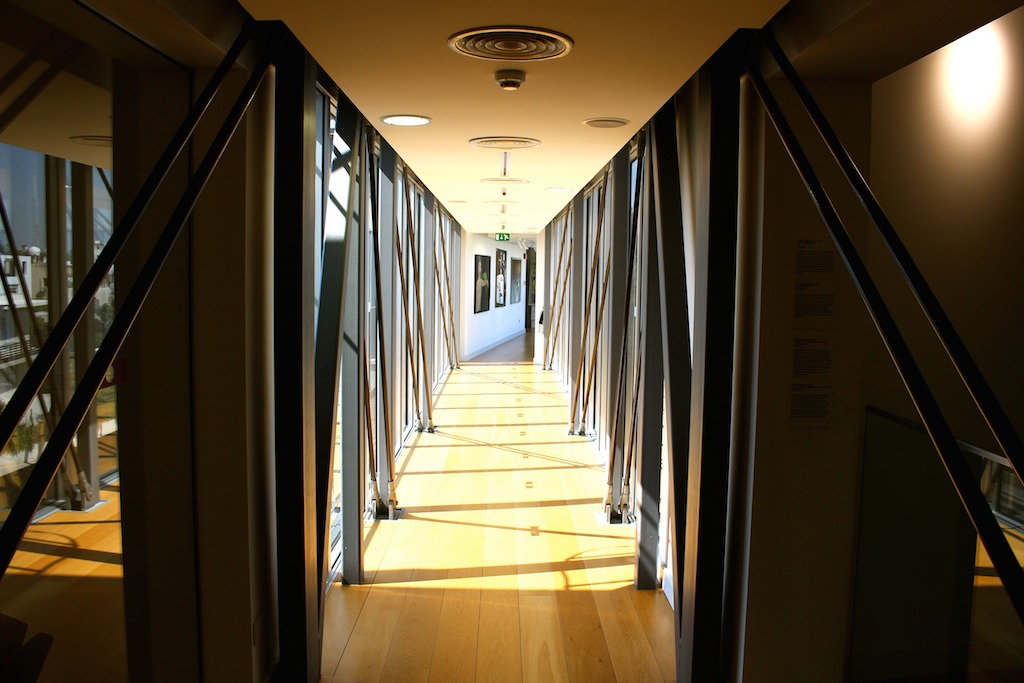 One of the best parts of our visit was that Michalakis Zampelas himself joined us for a coffee and a chat. A kind, articulate man, he was the mayor of Nicosia from 2002 to 2006, and has long been a supporter of the Cypriot arts. He started collecting art with his wife, Loukia, over 40 years ago; he told us the story of the first painting he bought. He couldn't afford it at the time, so he promised the dealer he'd pay £10 here, £10 there, until he owned it. He is a man of passion, and a man who loves the talented artists of his country; I have deep respect for that, and loved the museum even more for it. As the museum's website states, "The Loukia and Michael Zampelas Art Museum reflects the desire of Michalakis and Loukia Zampelas to contribute to local art and cultural events, to bring art closer to their fellow citizens, and to exhibit the beauty of Cypriot heritage to the wider world, leaving an 'eternal treasure' in Cyprus and abroad." The Zampelas are also deeply involved in art education in Cyprus.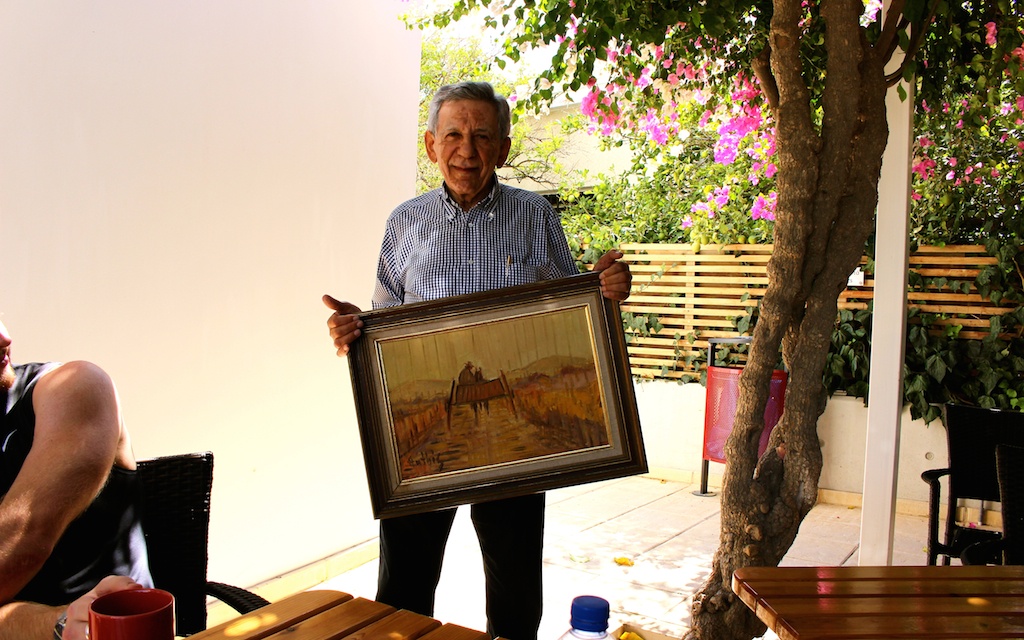 Mr. Zampelas and his first purchased painting
There are many reasons why I think Nicosia deserves all those superlatives. The Loukia and Michael Zampelas Art Museum deserves them all, too: beautiful, thought-provoking, and, well, what can I say… super awesome.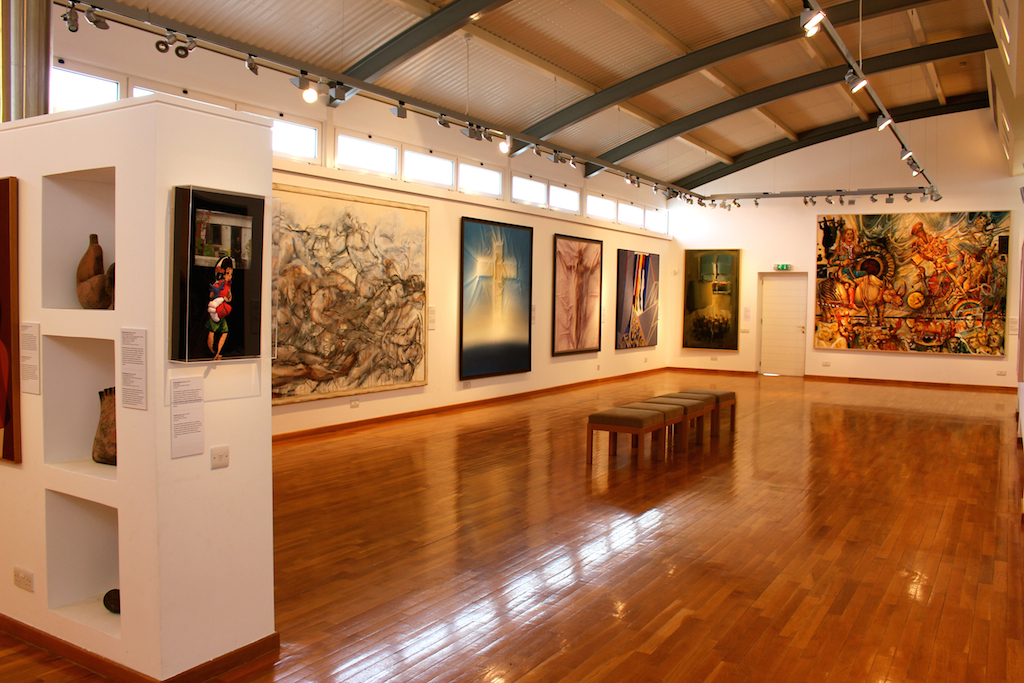 The museum is found at 27 Arch. Makarios III Avenue in Kaimakli, Nicosia, approximately 30 minutes by foot from the Elefteria Square in the Old City. It is open every day except Sunday, but make sure to check the website for its hours, which vary depending on season. We spoke with many members of the museum staff and they were all extremely gracious and knowledgable.
Do you like modern art? Have you been to Cyprus? 
Many thanks to the Cyprus Tourism Organisation for inviting me to explore their beautiful country.