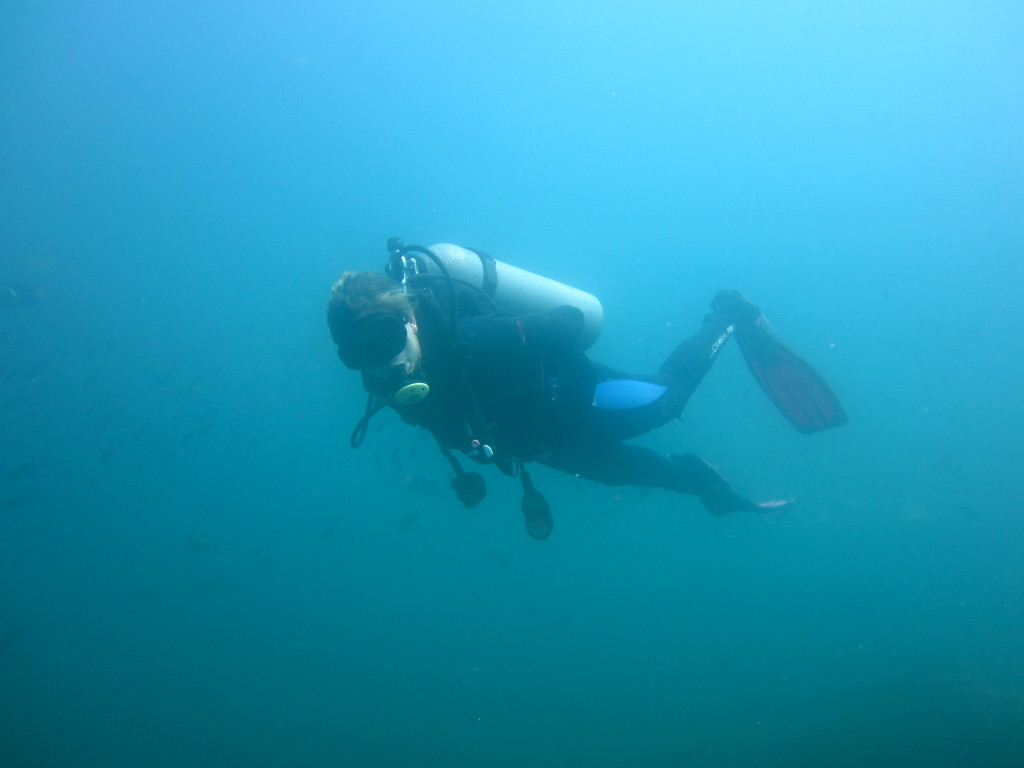 One hand is over my face, sprawled across my mouth and nose to hold my mask and regulator in their places. The other hand is at my waist, gripping my weight belt. I feel that familiar sensation in my stomach, the ambiguous churning that could be excitement or fear. My breathing is already rhythmic, meditative, the heavy rasps of the regulator audible over the waves lapping against the boat.
"Go when I say go, and have a wonderful dive," the divemaster singsongs. "One, two, three, go!"
***
Kerri and I arrived on the Galapagos Islands of Ecuador with the same expectations as everyone else; we wanted to see nature in its most untouched state, to share land and sea with creatures that don't know how or why to fear us. But before we started planning trips to different islands and tours to spot baby sea lions and blue-footed boobies, we knew we wanted to dive.
Diving in the Galapagos is not for the novice; having at least a few dives under your belt is expected, and, in the safest shops, required. I'd already dived in Asia and Central America, and had recently received my Rescue Diver certification in Taganga, Colombia. With nearly 40 dives to my name, I felt ready to take on the infamous waters of the Galapagos. We had heard whispers of schools of hammer head sharks in the hundreds, of sea lions that swim alongside you and play in your wake.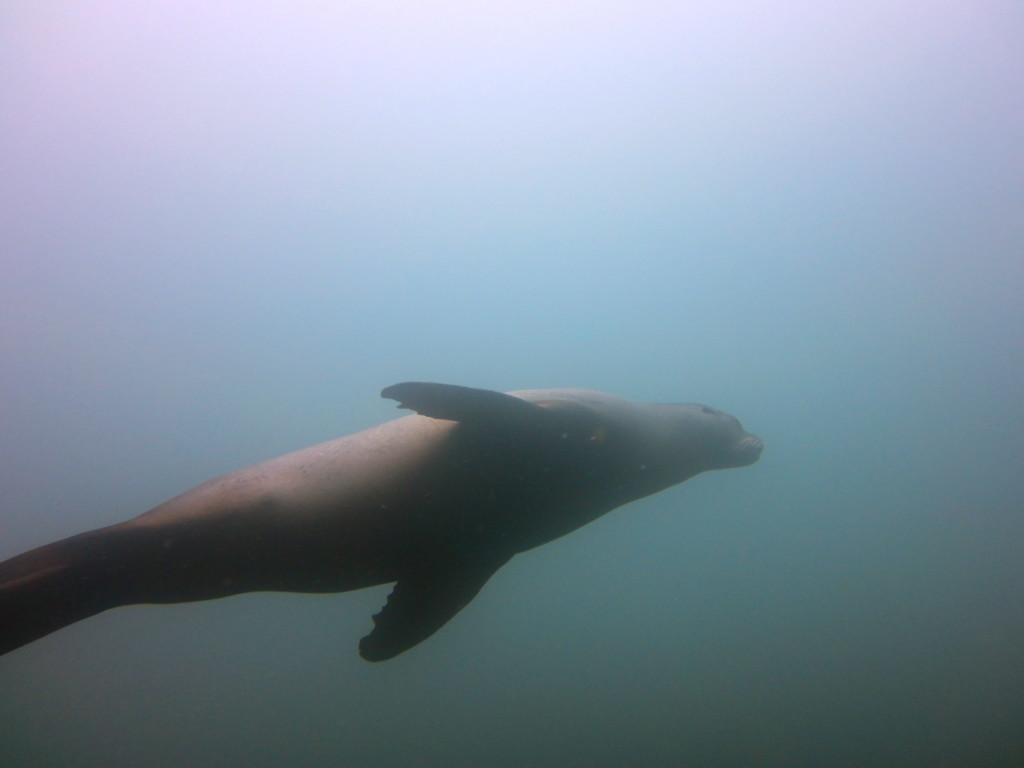 The first day on the island of Santa Cruz, in the town of Puerto Ayora, we walked from dive shop to dive shop, comparing prices. Walking all the way through town and toward the Charles Darwin Research Station, we arrived upon Scuba Iguana. It came highly recommended; in fact, it was one of the only dive shops on the island that was recommended at all. Horror stories of faulty equipment, under-qualified guides, and even deaths seemed to haunt many of the other dive shops.
At $175 USD for two dives, we both hesitated before handing over our credit cards. In Honduras or Indonesia, for example, I hadn't paid over $30 a dive. But we know those moments, the ones that are worth going over budget. We all have them when we travel. Payments approved, we were fitted for our equipment and then bid farewell, ready to return the next day.
***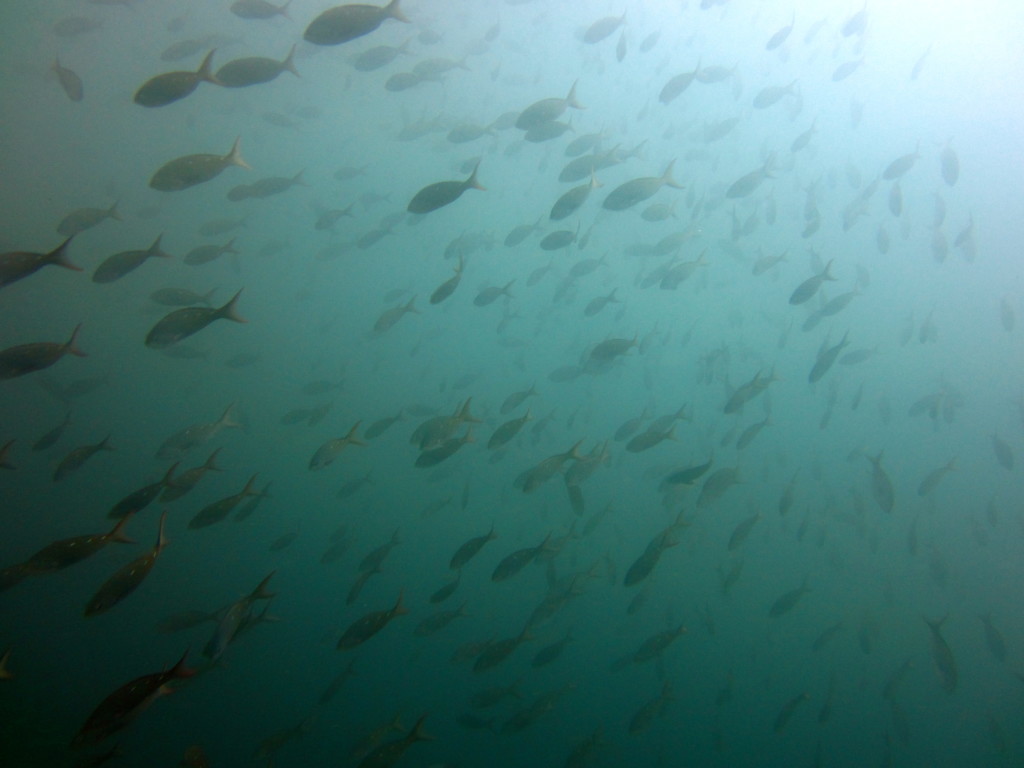 The next morning we meet the rest of the divers and our guide for the day, Quike. We head to North Seymour and Mosquera to dive. The boat ride out to the dive sites is, as always, a quiet one; people lose themselves in thought in the early morning hours, transfixed by the horizon as the boat bumps over waves. We all stare out at the ocean before us, its black waters seemingly impenetrable. It's hard to imagine all the life that teems below.
We anchor, bob along as wetsuits are zipped, flippers donned, all the necessary checks done. Bruce Willis Ruins All Films, we chant. BCD (vest),Weight belt, Releases, Air, Final okay. We check our own gear and our dive buddy's gear. Each of us holds up an 'okay' sign with our hands as we teeter on the edge of the boat, our tanks facing the water, ready to roll in.
"One, two, three, go!" Quike calls out, and we throw ourselves backwards. It's a game of trust; we let go, and the ocean catches us. Only in this game, the ocean keeps us. If we're not careful, it can keep us forever.
The moment you make contact with water is always a blur: the enveloping cold, the rush of bubbles, the scramble to resurface. Our vests are inflated with a push of a button. Another 'okay' symbol; everyone is accounted for, and is ready. It's time to go down. Another push of the button and the vest deflates. We exhale, collapsing the air out of our lungs. We sink.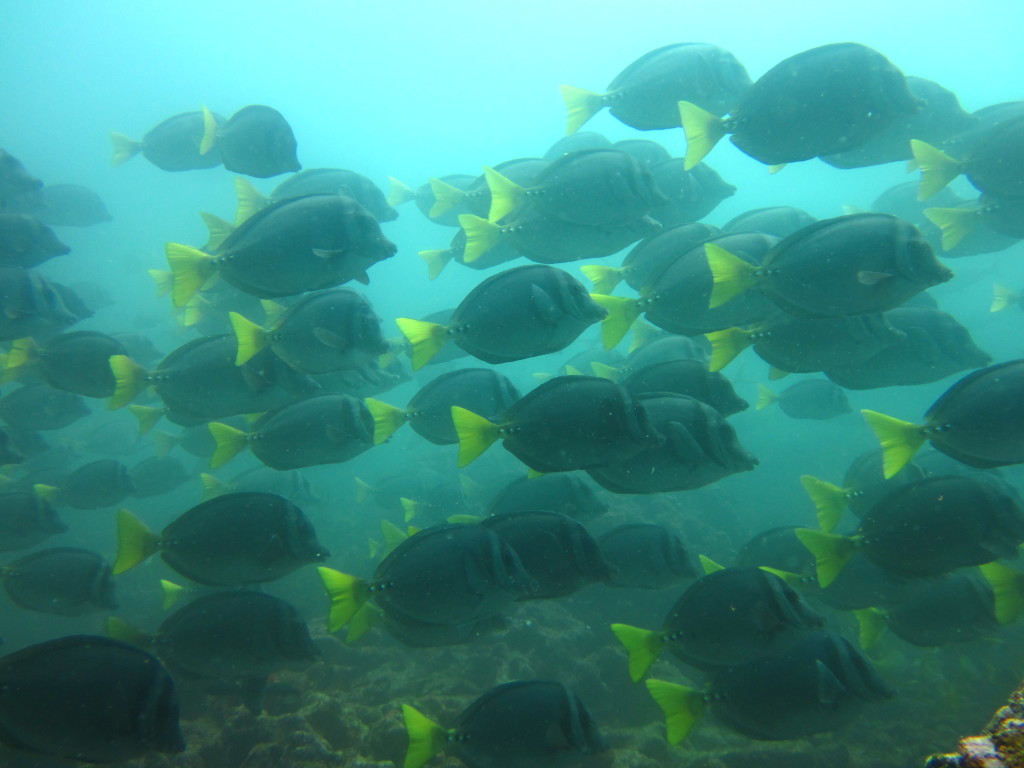 ***
People often ask me if scuba diving is really that different from snorkelling. I have had incredible experiences snorkelling; days later, in fact, I'd snorkel beside a turtle for nearly an hour as it found its lunch in some rocks. It was so blasé about my existence that, even when trying to keep a reasonable distance from it, it would swim over to me, knock into me, or graze my hand with its flipper. "Sorry," I wanted to mumble through the snorkel, stunned by the surreal experience.
Nothing, however, beats scuba diving.
When you dive, a transformation occurs. You are no longer looking at the sea life from above, you are living and breathing and moving amongst it. I have never felt so awed or so calm as when I'm underwater.
I wasn't always this way – for most of my childhood and my teenage years, I wouldn't even go in the ocean. Its vastness and its deepness overwhelmed me. It wasn't until I sunk into its depths, faced my fears head on, that I learned to love its beauty and its power.
***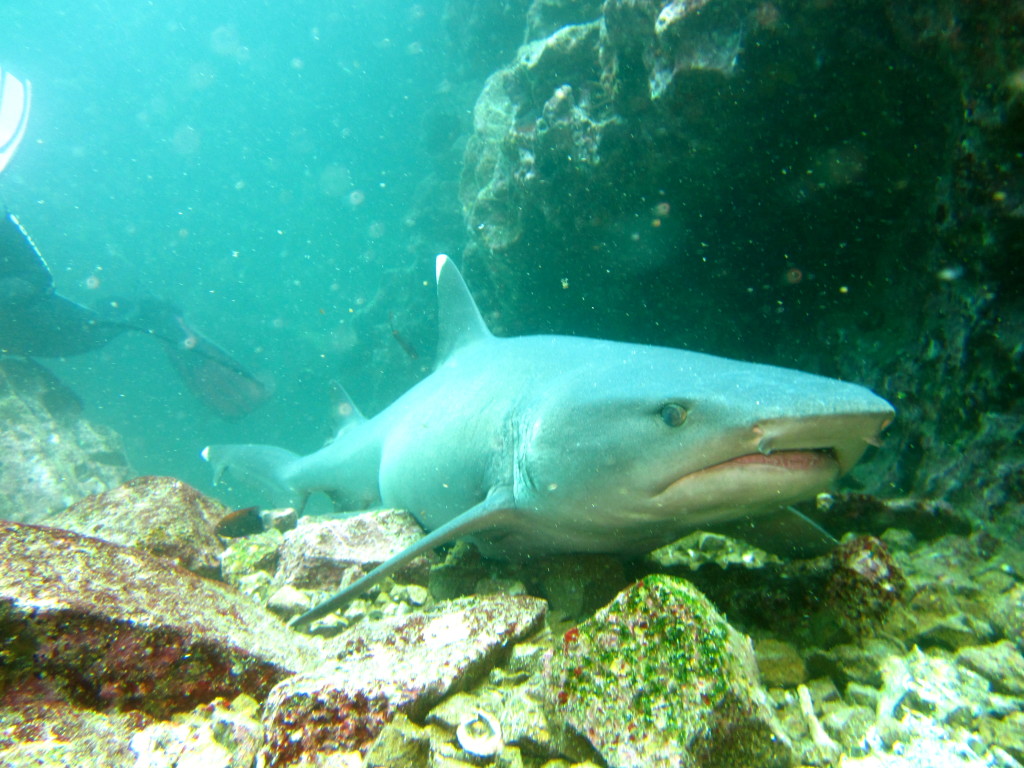 We are at at depth of about 15 metres, and I've nearly landed on top of a resting shark. I'd reach out to show my dive buddy but she's focused on another shark, a few metres away. We're surrounded by them, at least a dozen; white-tipped reef sharks ranging in size swim around us, or simply stare at us with unmoving eyes, gulping water through their gills as they relax in repose. We stare back, mesmerised.
Over the next hour we weave through the coral and caves, coming face to face with more sharks, sea lions, barracuda, Galapagos eels, puffers, grunts, groupers, rays, and all the fish I could name: angels, surgeons, damsels, hogs, butterflies. Even as I'm in the middle of it I know it is the best dive of my life. The murky water holds more than I could have ever hoped.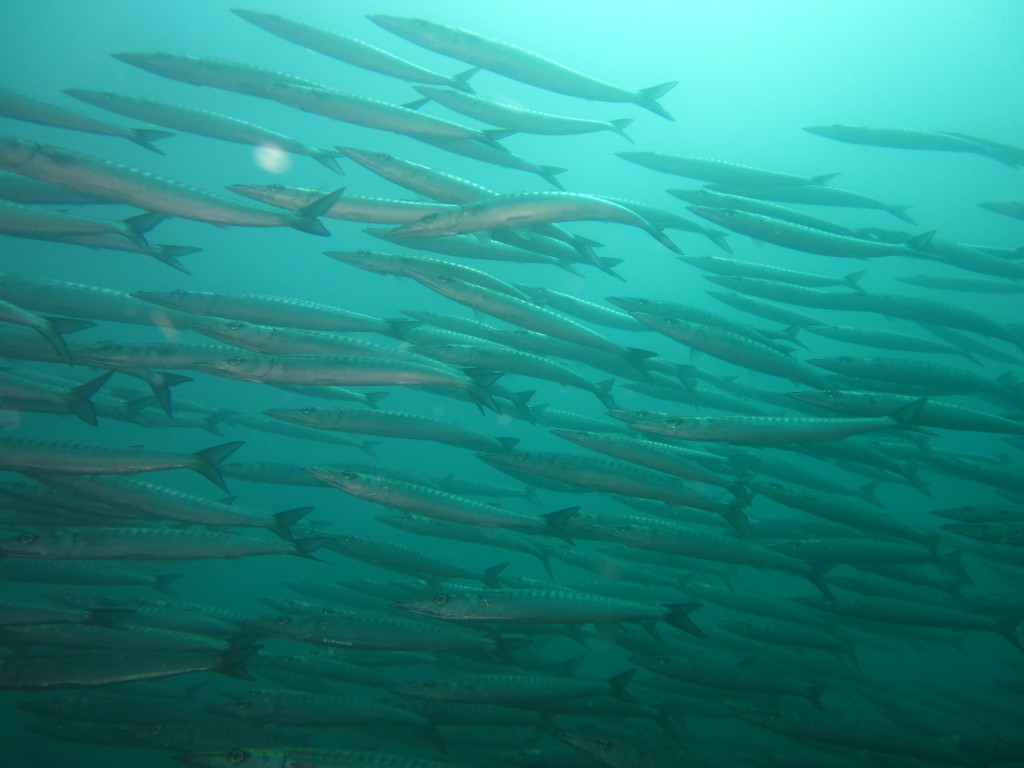 A pair of divers start to get low on air, so they surface. Soon after, my dive buddy also surfaces. It is just Quike and I left, trying to spot what we can as we practice our buoyancy, flip and float upside down, surrounded by all that blue. And then: the best moment of my life to date.
The water goes black, as if the sun has been blotted out from above. I look up: above us, so close I could touch it, is a five-metre manta ray. It flies, flapping its wings with such grace that I forget to breathe. Quike catches this all on camera, including my best attempt at an underwater victory dance, overwhelmed by what I've just seen.
Our tanks nearly empty, we make our way to the surface, reborn into air. The boat comes to pick us up, hauls us in. My face stings from the salt water; it will soon dry and cake in the sun. My fingers will grow plump, return from their pruned state.  We will all fall into contemplation again as the boat bounces over the water, quieted by what we saw. Our hair will whip in the wind and we will dream of diving once more, of sinking into that mysterious world that lies beneath.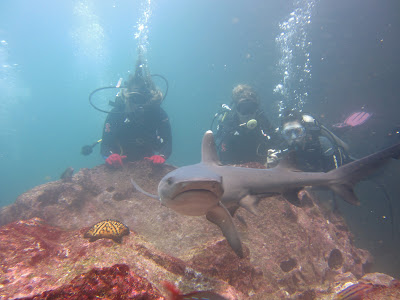 Have you ever been scuba diving or would you like to go? Does diving in the Galapagos appeal to you?